Wide Bay Burnett Region Offers Attractive Combination of Lifestyle And Employment Opportunities
Queensland's Wide Bay Burnett region experienced above-average growth in population, employment and gross regional product (GRP) in 2021 as it continued to benefit from a Covid-induced spike in both 'tree changers' and 'sea changers' shifting to the region's diverse rural, regional and coastal towns and cities.
The region – located in south-east Queensland, between 160 and 350 kilometres north of the Brisbane CBD and comprising the key local government areas of Bundaberg, Cherbourg, Fraser Coast, Gympie, North Burnett and South Burnett – posted a 5.69 per cent increase in GRP year-on-year, well above the state average of 2.31 per cent, according to data compiled by the National Institute of Economic and Industry Research (NIEIR).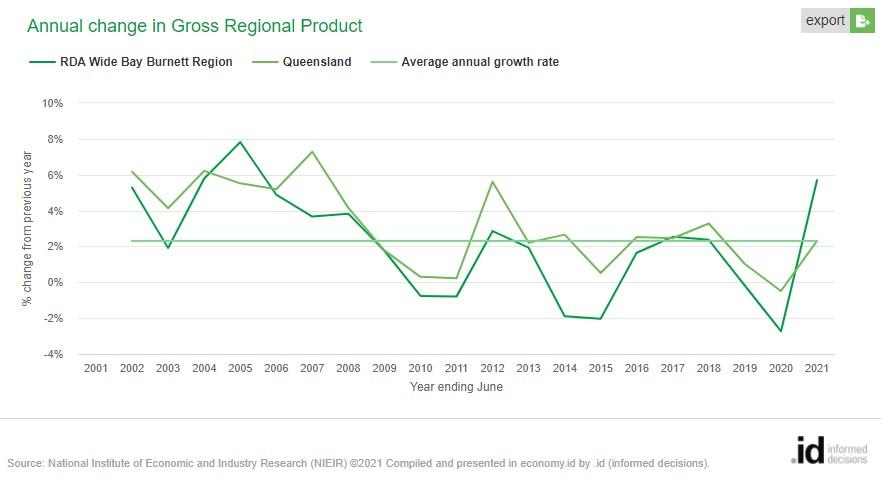 Economic expansion was fuelled by strong population growth, which increased by 1.12 per cent to 305,472 as of June 30, 2021, significantly higher than the state average of 0.92 per cent.
Full-time equivalent employment (FTE) jumped by almost 4 per cent, driven by health care and social assistance (+1,523 FTEs), agriculture, forestry and fishing (+1,270 FTEs), manufacturing (+811 FTEs), and construction (+703 FTEs).
Wide Bay Burnett Region: History & Growth
Last year's rapid expansion continues a strong growth trend that has been evident in the region since the 1950s.
With European settlement dating from the 1840s, the Wide Bay Burnett's population was minimal until gold was discovered in the 1860s.
Growth took place from the late 1800s into the early 1900s, spurred by gold and copper mining, the opening of railway lines and the establishment of sugar-cane growing.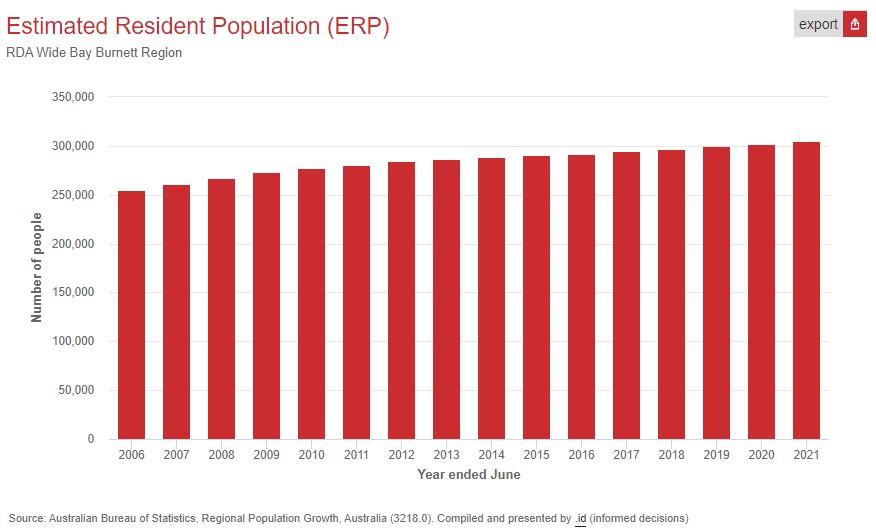 Population growth resumed from the 1950s, aided by tourism, with substantial growth in the townships of Hervey Bay and Maryborough during the 1970s and 1980s.
The population of the region increased from the 1990s, rising from about 191,000 in 1991 to over 291,000 in 2016. Most of this growth was in the Fraser Coast Regional Council area (particularly in Hervey Bay) and the Bundaberg Regional Council area, and to a lesser extent, in the Gympie Regional Council area.
Growth is expected to continue, with the region's population forecast to jump to an astonishing 430,000 by 2031, cementing its position among the largest and fastest-growing region's outside of the state's capital.
Wide Bay Burnett Region: Regional Economy
Encompasses a total land area of about 48,600 square kilometres, today the Wide Bay Burnett region boasts a diverse economy.
With almost 40 per cent of the population over 60 years of age, health care and social assistance is the single largest industry sector, accounting for 17 per cent of regional employment compared with 13.3 per cent state-wide.
Agriculture, forestry and fishing remains a significant employer, responsible for 12.6 per cent of FTE jobs versus 4.1 per cent state-wide, with farming activity concentrated around the key towns of Bundaberg, Maryborough, Gayndah and Kingaroy. Rural land is used largely for forestry, agriculture and horticulture, particularly sugar cane, fruit, vegetable, cereal and crop growing and cattle grazing.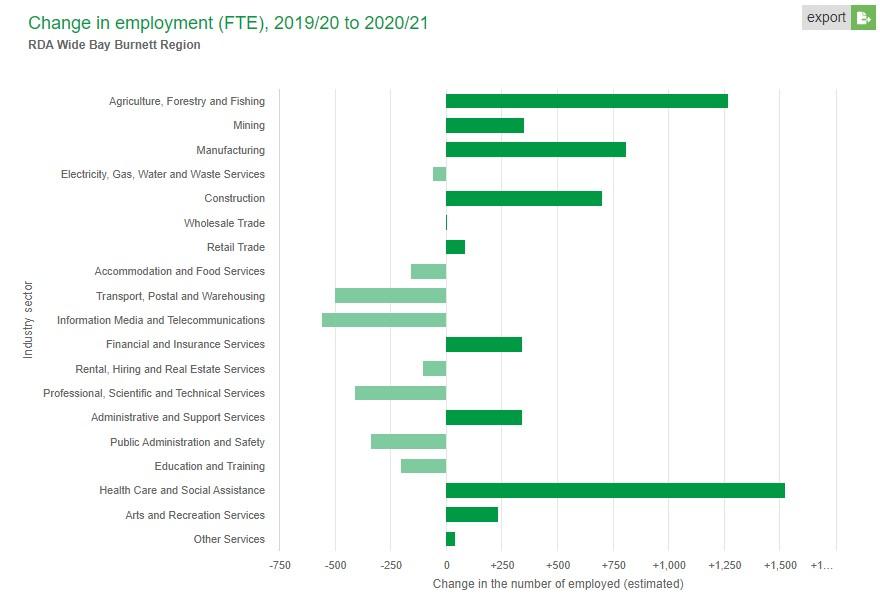 Tourism is also an increasingly important industry, particularly along the coastal townships of Burrum Heads, Hervey Bay, Tinnanbah, Tin Can Bay, Rainbow Beach and Fraser Island, with accommodation and food services accounting for almost 5 per cent of total employment.
Underpinned by rapid population growth, construction (10.4 per cent) and retail (8.6 per cent) are also key sources of jobs in the region.
The region is also home to a gold mine near Mount Perry, a Siltstone quarry at Eidsvold, and the Meandu coal mine and power stations at Tarong.
Wide Bay Burnett Region: Housing
Not surprisingly, the value of building approvals has skyrocketed off the back of strong population growth.
The value of residential building approvals topped $846.941 million in 2020-21, up from $527.14 million in 2019-20.
This dramatic growth continued in 2021 and into 2022, with the value of residential building approvals topping $529.358 million in the financial year to end of February 2022.
At the same time, the value of established houses – which account for a high 83.9 per cent of all residences in the region, compared with just 10.5 per cent for medium and high-density – has gone through the roof over the same period.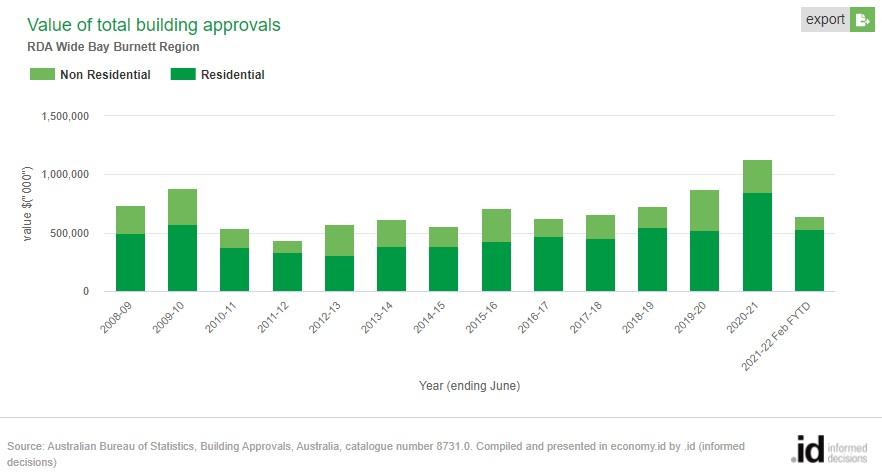 According to CoreLogic's Regional Market Update, released February 2022, the median value of houses in the Gympie shire leapt 32.2 per cent to $541,593 in the year to January 31, 2022, the median value of houses in the Bundaberg shire jumped 24.9 per cent to $385,168, while the median value of houses in the Fraser Coast shire soared 27 per cent to $508,061.
Inland, the median value of houses in the North Burnett shire increased 15.7 per cent to $183,224; and in the South Burnett median house values rose 18.7 per cent to $270,756.
Wide Bay Burnett Region: Major Attractions
As well as boasting a diverse, rapidly-growing economy, the Wide Bay Burnett region also offers an attractive lifestyle, both for the young and the old.
With average lows in winter of 16 degrees and 26 degrees in the summer months, the region doesn't get too cold, and it doesn't get too hot, making it an ideal place to live.
Consisting of countryside to coastal towns and cities, there's also lots to do and explore, from rustic country landscapes surrounding timeless towns or taking a short drive and visiting the region's myriad seaside cities and towns.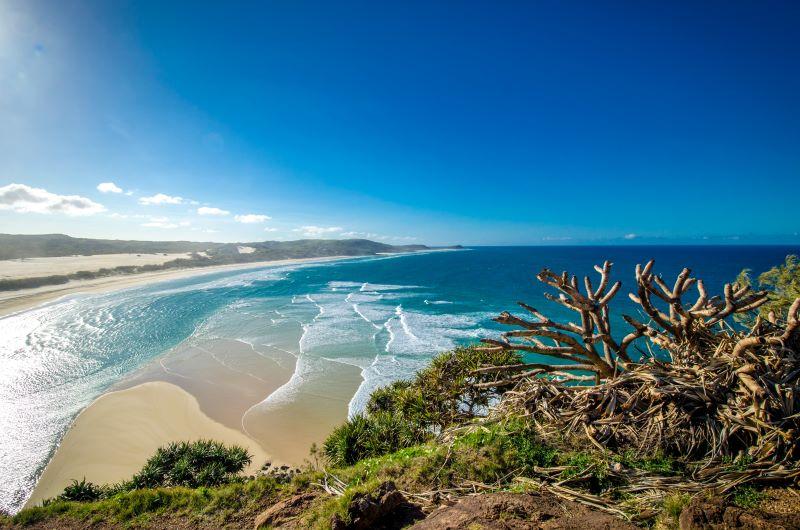 The coastal centrepiece is the world-renowned Great Sandy Marine Park, which extends from Baffle Creek in the north to Double Island Point in the south, and includes the whale-watching capital of Australia, Hervey Bay, the Great Sandy Strait, Rainbow Beach, Tin Can Inlet and the waters off the east coast of Fraser Island, the world's largest sand island.
Dotted along the coast are myriad small hidden treasures of towns known for their outstanding fishing, boating and other water-based activities, including Tinnanbah, Little Tuan, Boonooroo, Woodgate, Bargara, Burrum Heads, Maaroom, Poona, and Tin Can Bay plus many more.

Heading inland, the region boasts myriad national parks, including the Jurassic-era Bunya Mountains between Kingaroy and Dalby, and the Booie Ranges north of Kingaroy, which offer panoramic views spanning hundreds of kilometres.
In the north, Cania Gorge National Park has dramatic sandstone cliffs, gorges and caves filled with abundant wildlife.
Auburn River National Park west of Mundubbera has striking granite boulders along the river forming interesting water holes to explore. Nearby, Coalstoun Lakes National Park is the home of two extinct volcanic craters that form lakes brimming with birdlife in wet years.
Mt Walsh National Park casts dramatic mountain views over the Biggenden township, while Woowoonga National Park, to the north of Biggenden has challenging bush walking trails through towering hoop pines.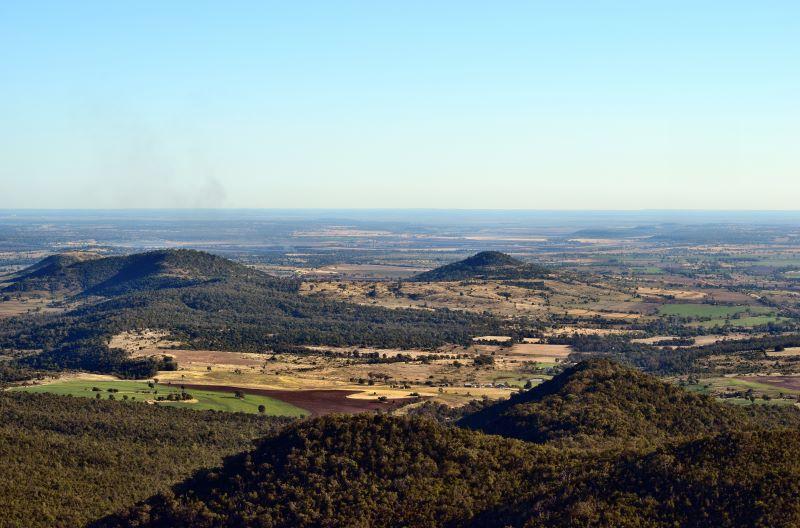 There's also the magnificent Mary River, which offers breathtaking places to explore, tranquil picnic spots, camping, fishing and perfect conditions for kayaking.
From there visit the wineries, cellar doors, boutique breweries and distillers, restaurants and cafes, boutique accommodation, and galleries and museums dotted across the Wide Bay Burnett region, including the popular South Burnett Wine Trail.
Or for history buffs explore the historic towns of Bundaberg and Maryborough, including the latter's Military & Colonial Museum and ANZAC Memorial in Queens Park.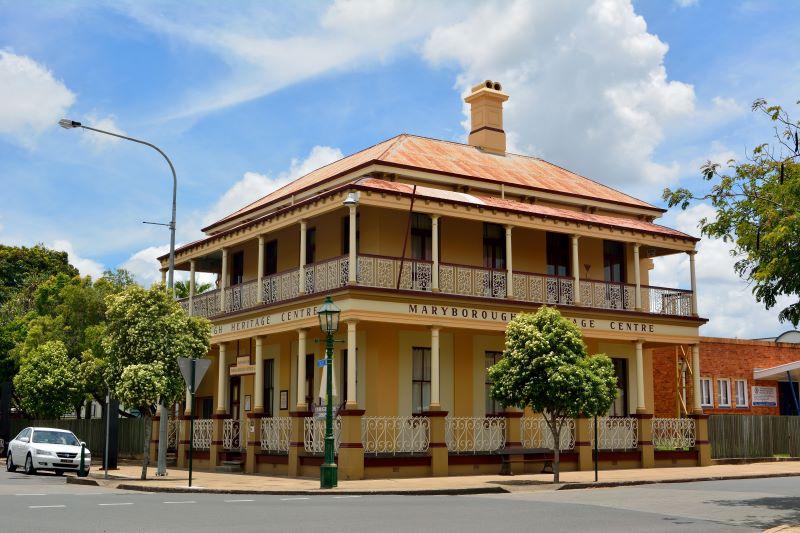 From the coast to the countryside, the options and enjoyment to be had in the Wide Bay Burnett region are simply endless!
If you're looking to make a 'tree change' or 'sea change' to the Wide Bay Burnett region, check out our favourite rural properties for sale Wide Bay Burnett region below – or click here for almost 650 rural properties for sale Wide Bay Burnett region.
This immaculate rural property for sale Wide Bay Burnett has an undeniable freshness and effortlessly combines its modern design with acreage living in natural surrounds.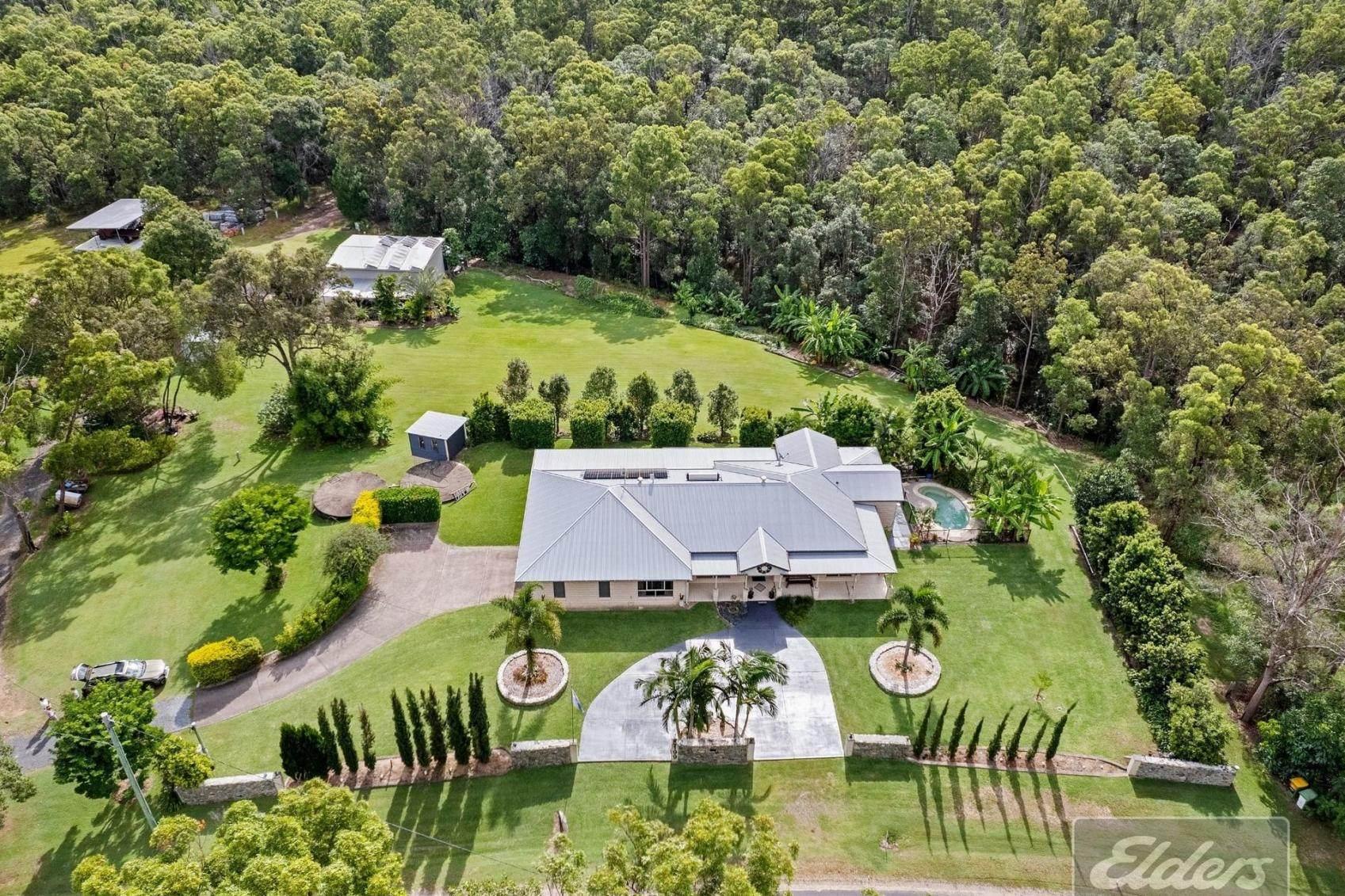 Sited on a gently sloping 1.4-acre acreage, this property absolutely masters that concept with its feature stone front entrance and sandstone block exterior homestead appearance. The home entrance centres around huge French doors leading to a formal entry. Inside is a crisp and flowing layout that centres on a spacious open planned living area with 2.7m ceilings that enhances natural light and the lush leafy surrounds.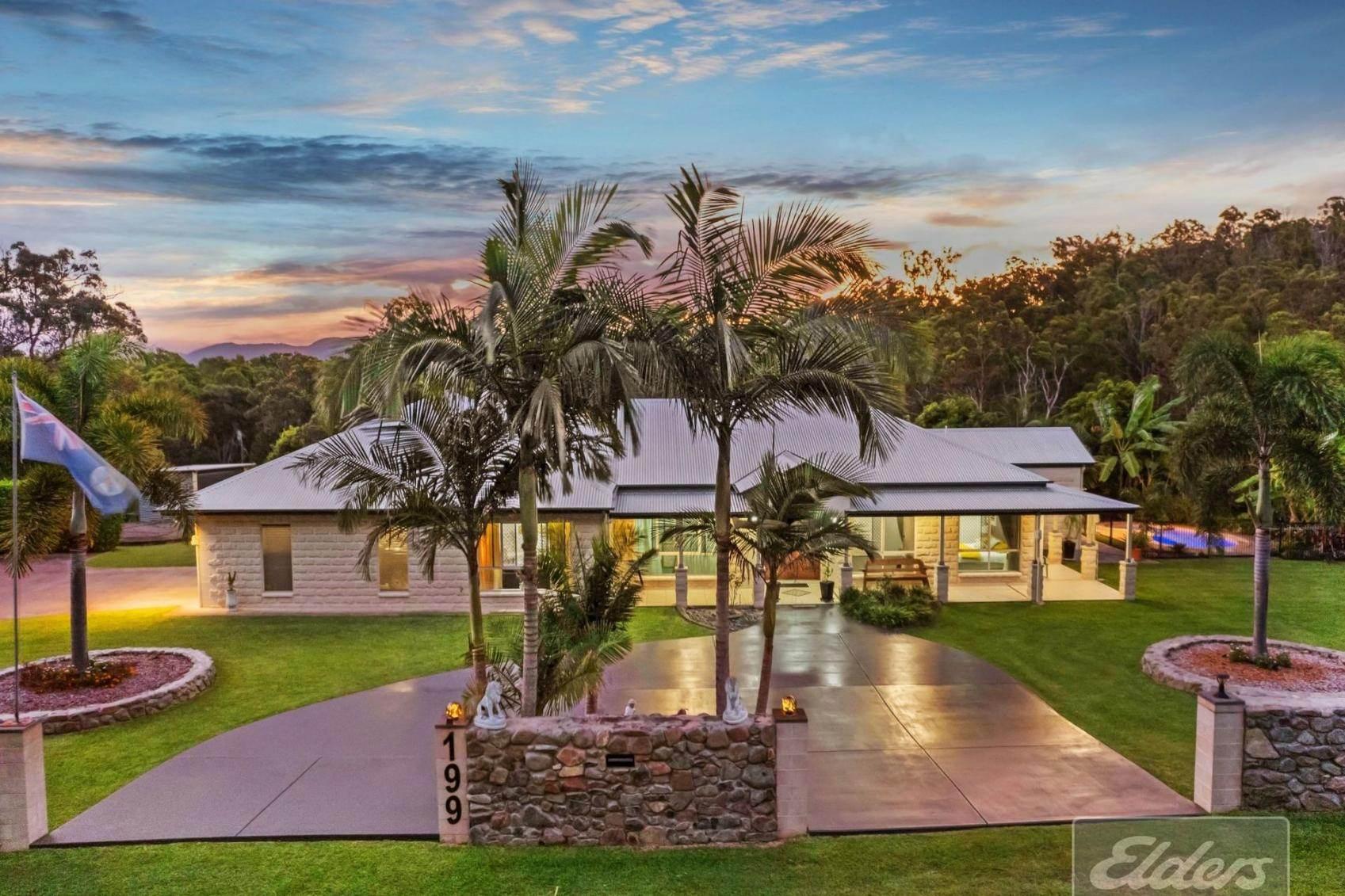 The floorplan is designed to encourage indoor-outdoor living with an easy flow to a large entertainment area. The property is also embraced by landscaped and manicured grounds featuring established gardens, fruit trees and sunlit lawns with an easy to maintain kidney-shaped inground pool.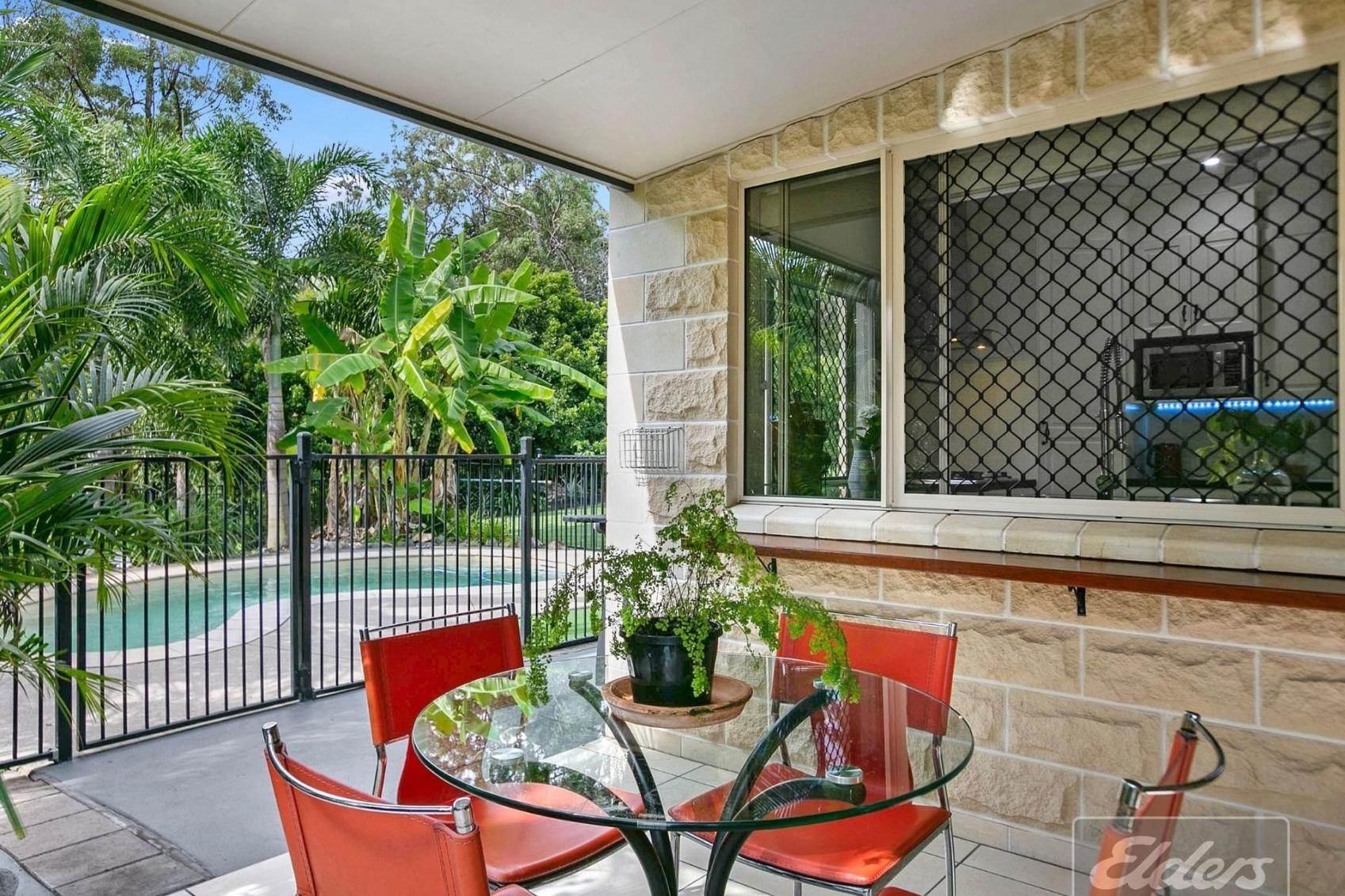 A chef's kitchen is fitted with island bench, 40mm stone bench top and quality 900mm five-burner gas cooktop and appliances, as well as a built-in coffee nook and pantry.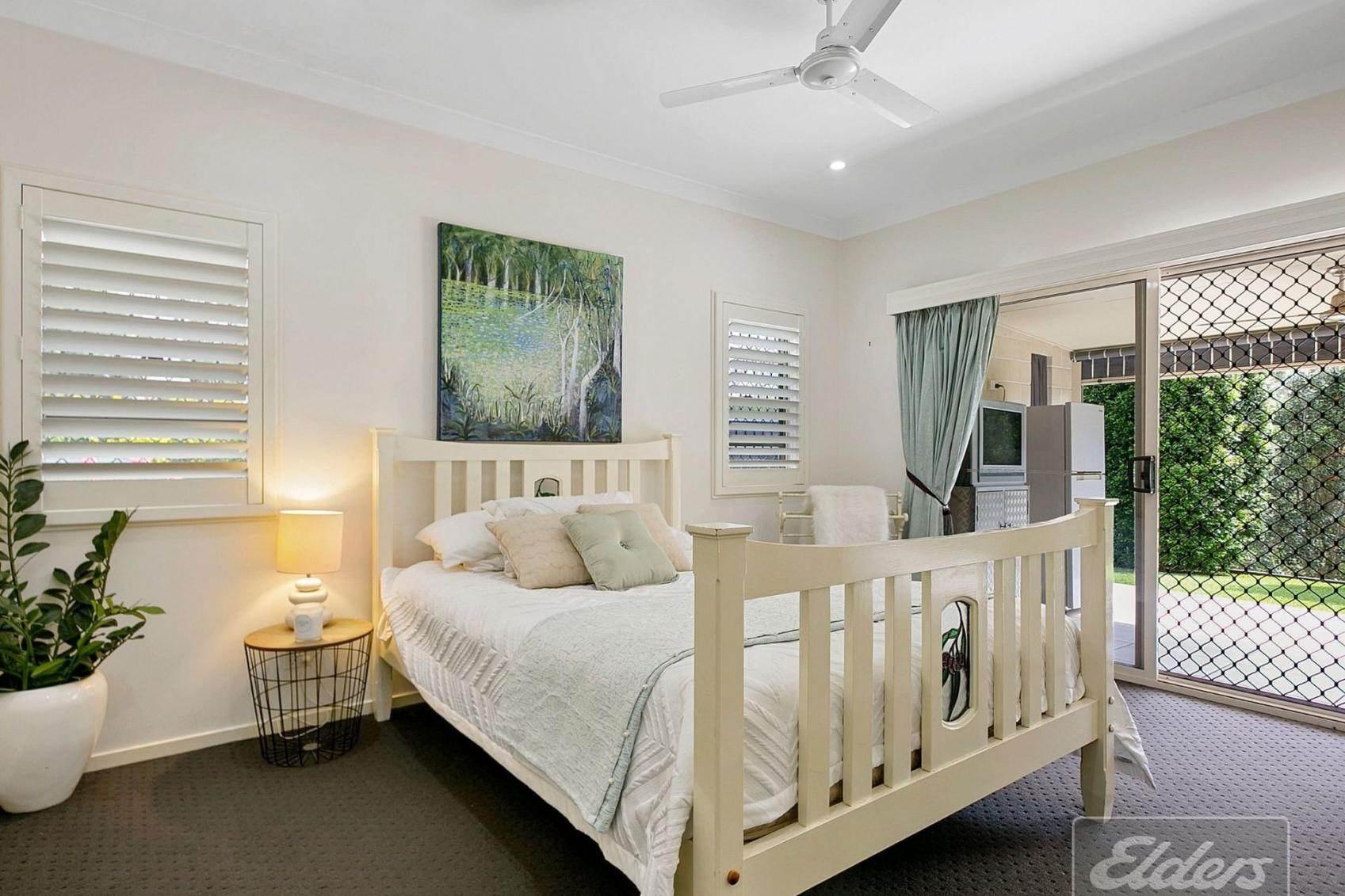 Each of the four bedrooms have built-in storage, including the master wing that incorporates a walk-in robe, beautiful ensuite bathroom with double shower, floor to ceiling tiles and designer vanity.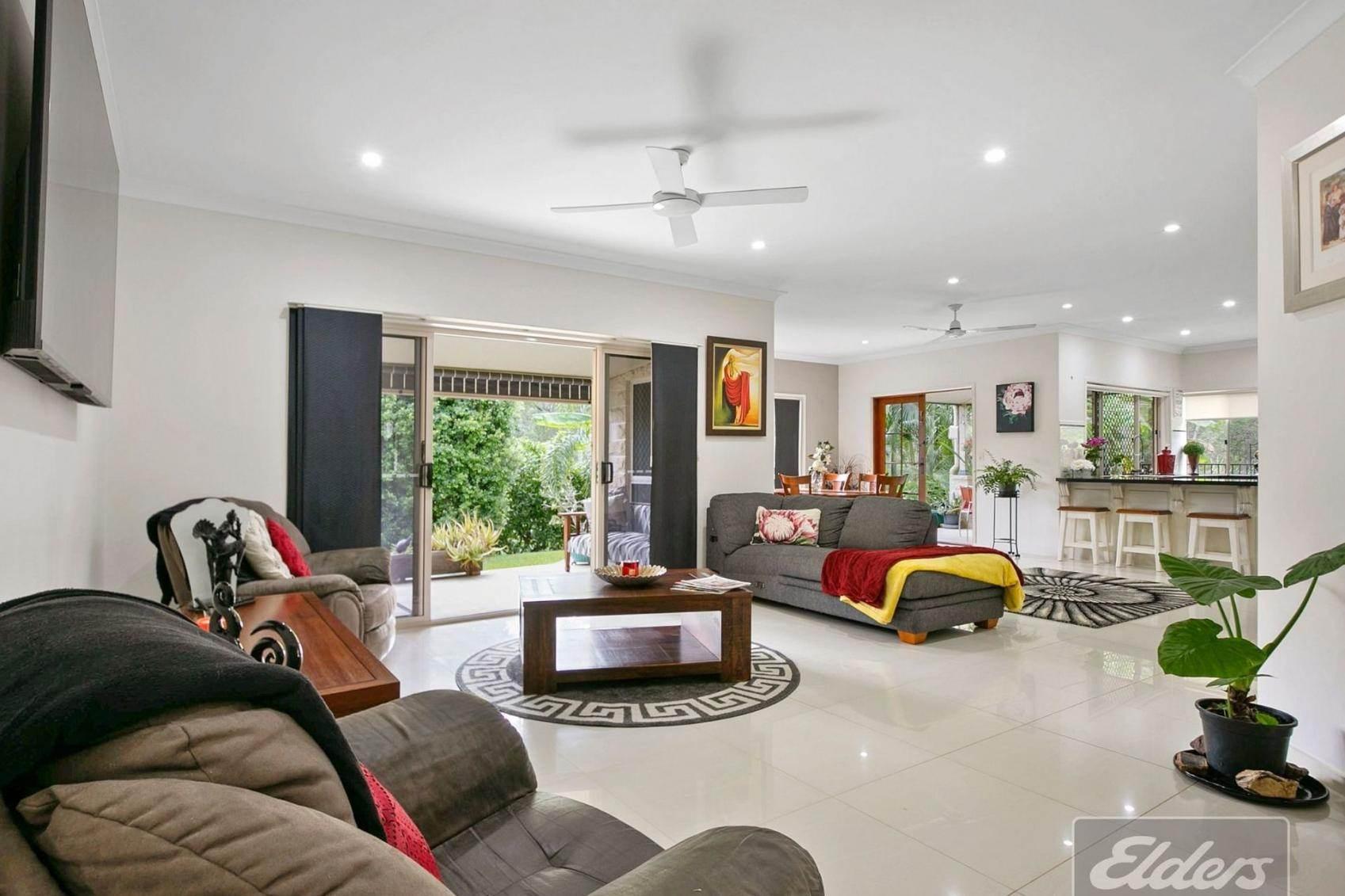 Apart from the double lockup garage in the home, there is also a huge lock-up powered shed ideal for caravan/RV owners with mezzanine and full-length carport.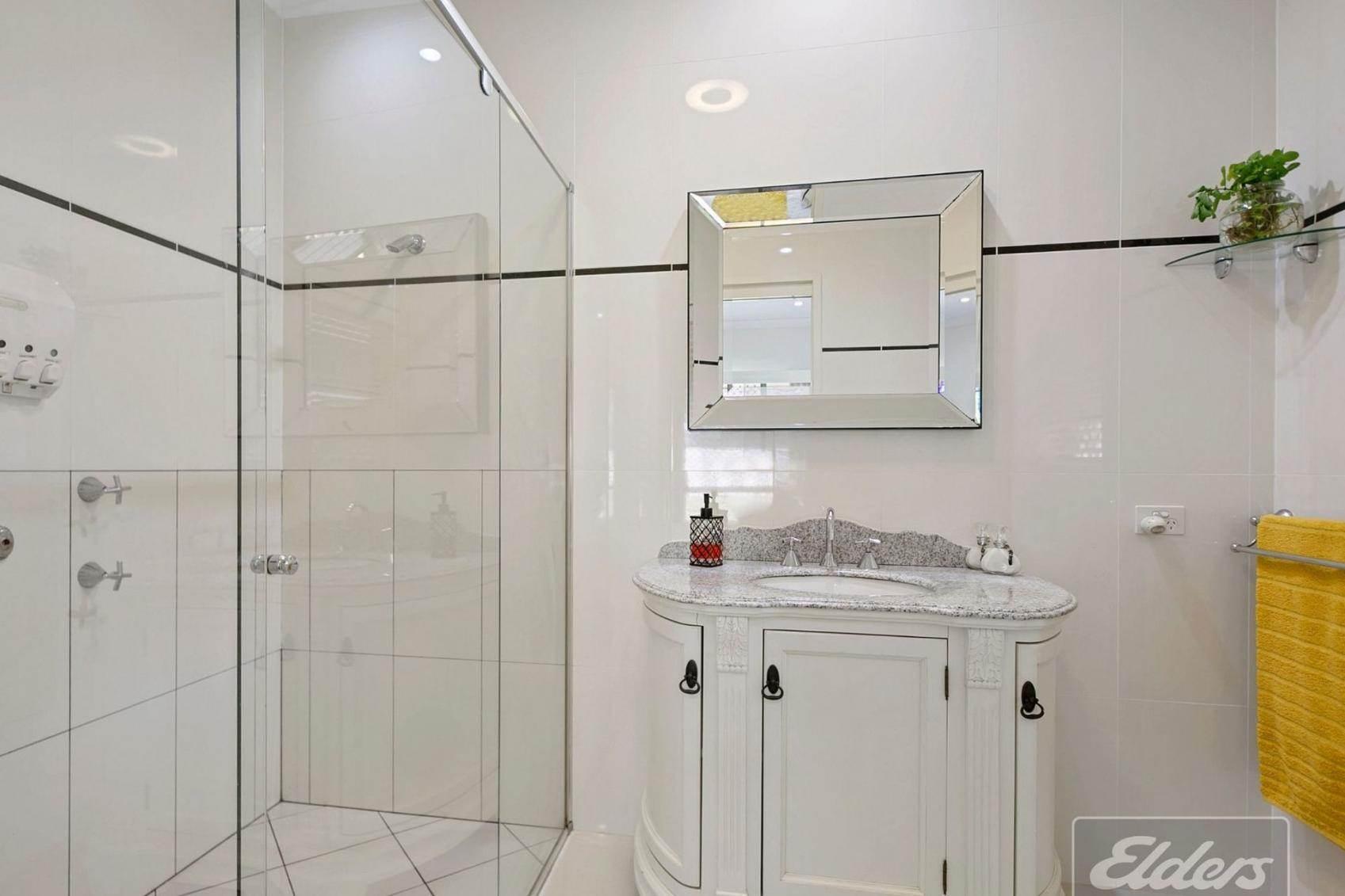 More than enough water is provided by two 44,000-litre inground tanks and an additional 8,000-litre tank on the shed. Your power bill will be substantially reduced or non-existent with 8kw of solar panels.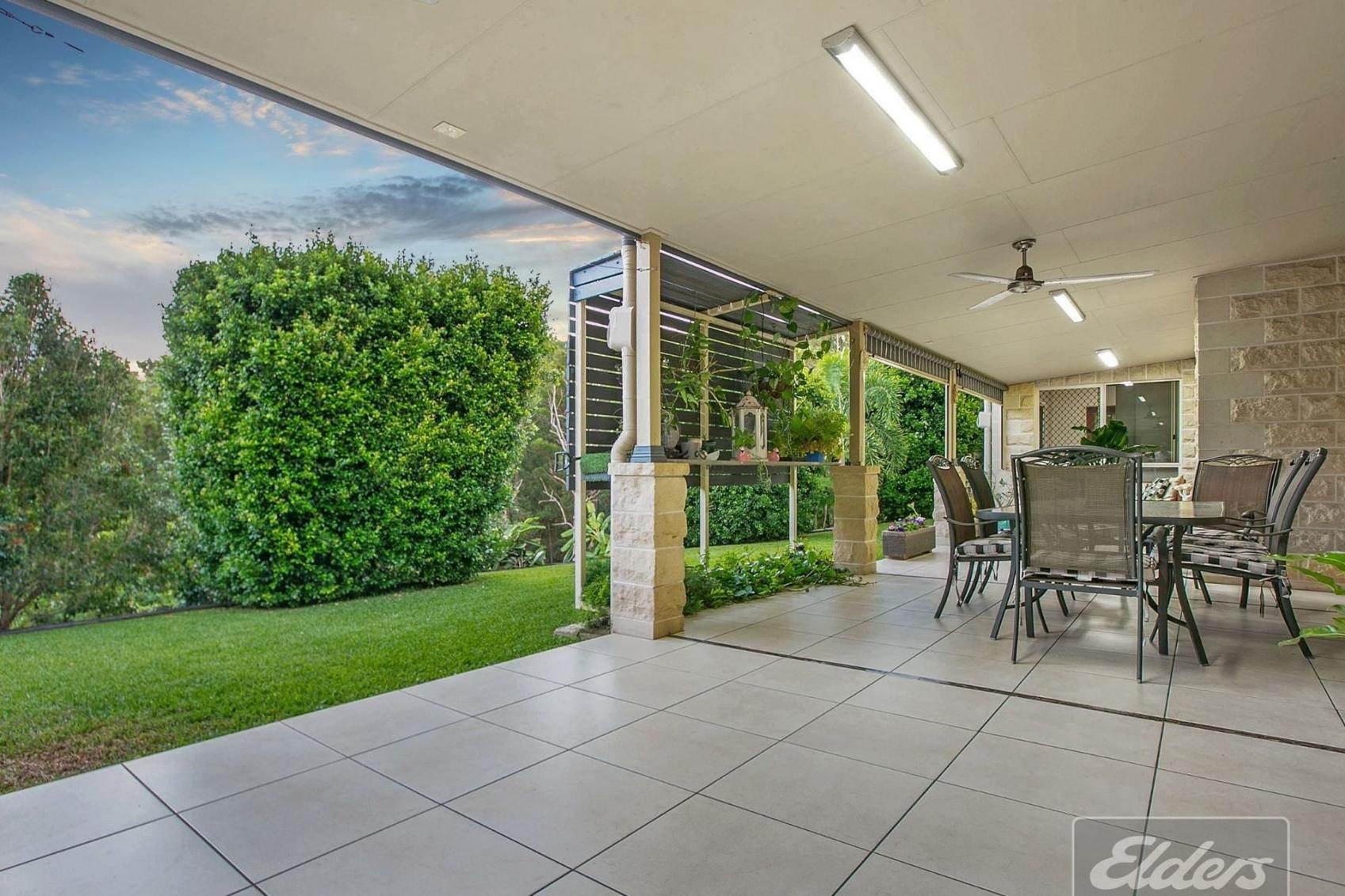 This is one of the finest acreage properties to come onto the market in this sought-after district and promises to provide the utmost in quality, comfort and acreage lifestyle.
Click on the highlighted link for more information on this rural property for sale Wide Bay Burnett.
An estate that will take your breath away, 'Waterview Estate' is arguably the most prestigious home in Bundaberg, set on three titles deeply steeped in the history of the Burnett region.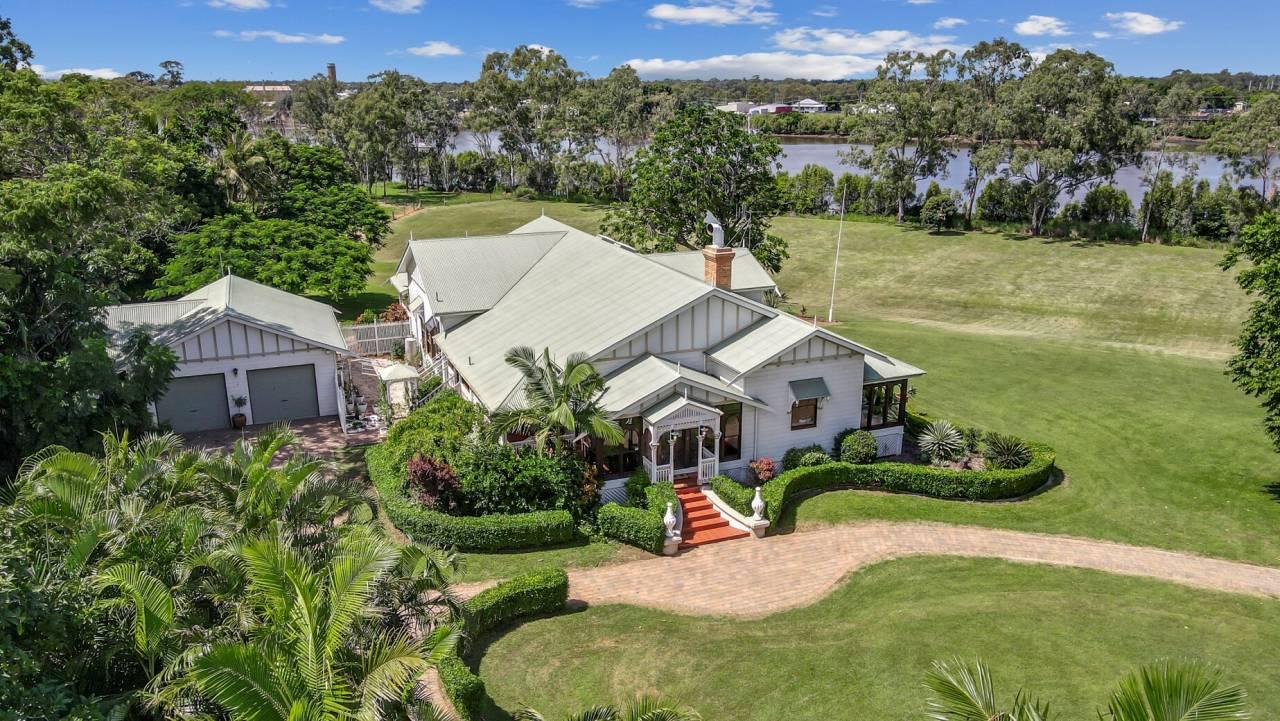 A special residence perched on 12 acres along the Burnett River, it was founded before Bundaberg became a town. The views of the Burnett River and sweeping lawns and gardens make it a place of tranquillity yet located in the middle of town.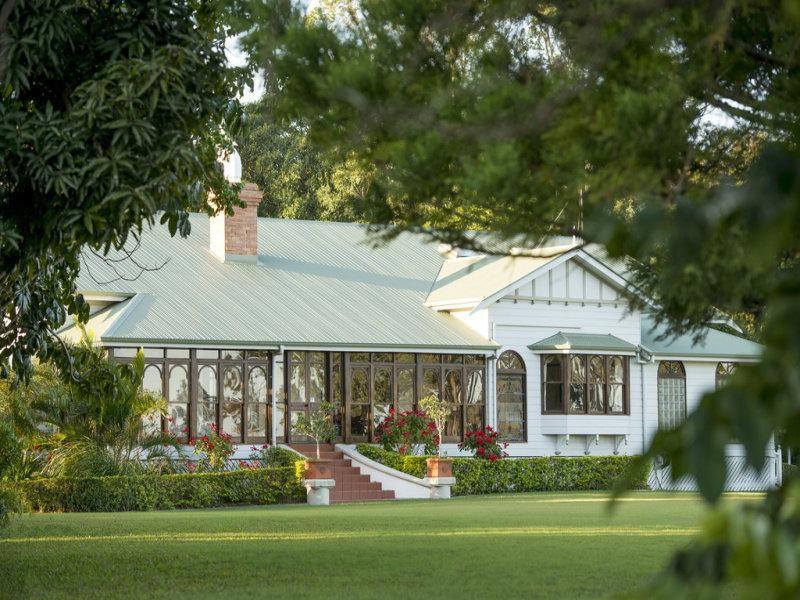 'Waterview Estate' was originally established in 1868 by Samuel Johnston who built a sawmill, a sugar mill and eventually a distillery. The original homestead was relocated in 1900 during the construction of the Burnett Bridge.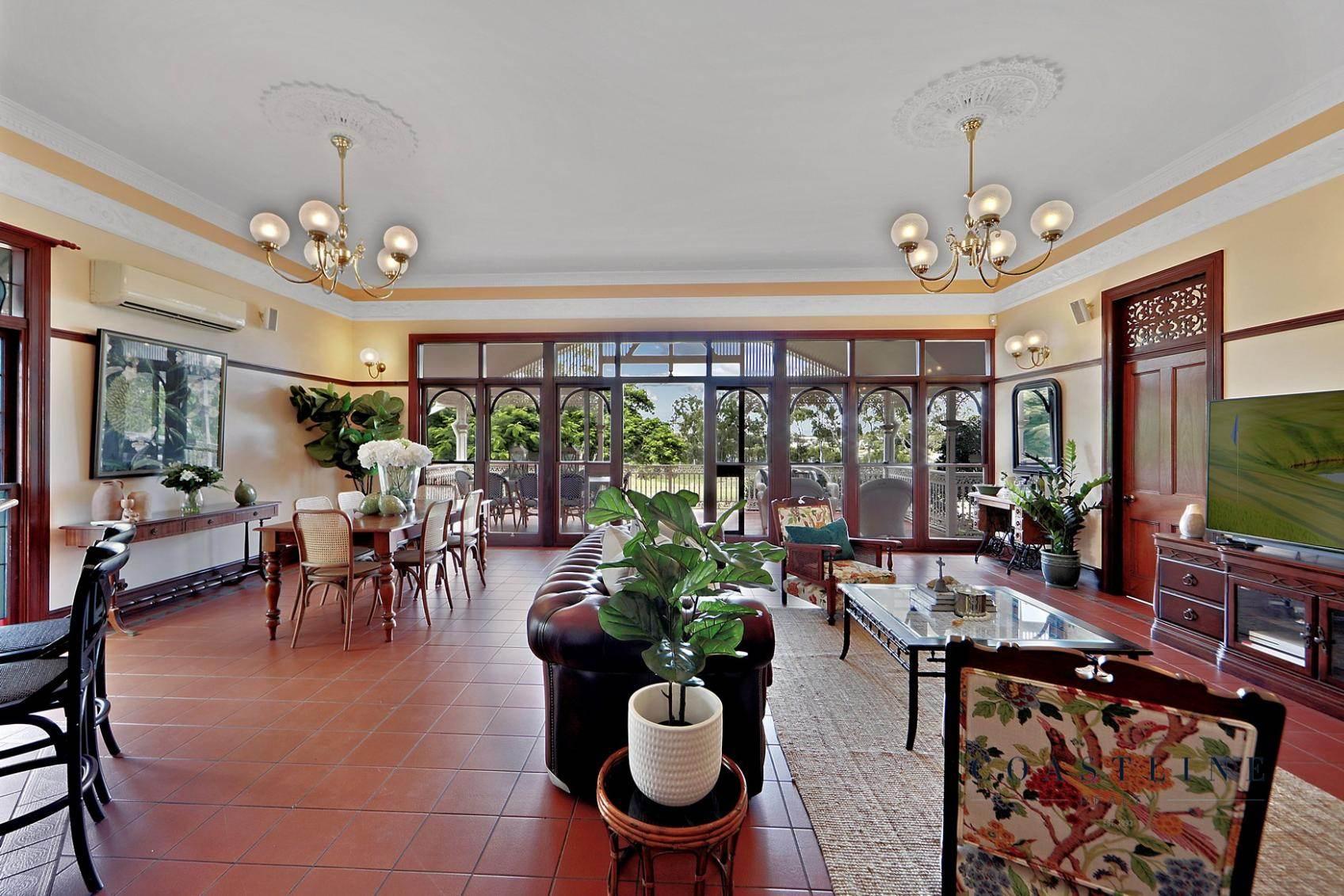 The brilliant array of century old fig trees that line the driveway and the established gardens across the entire property provide an exquisite setting.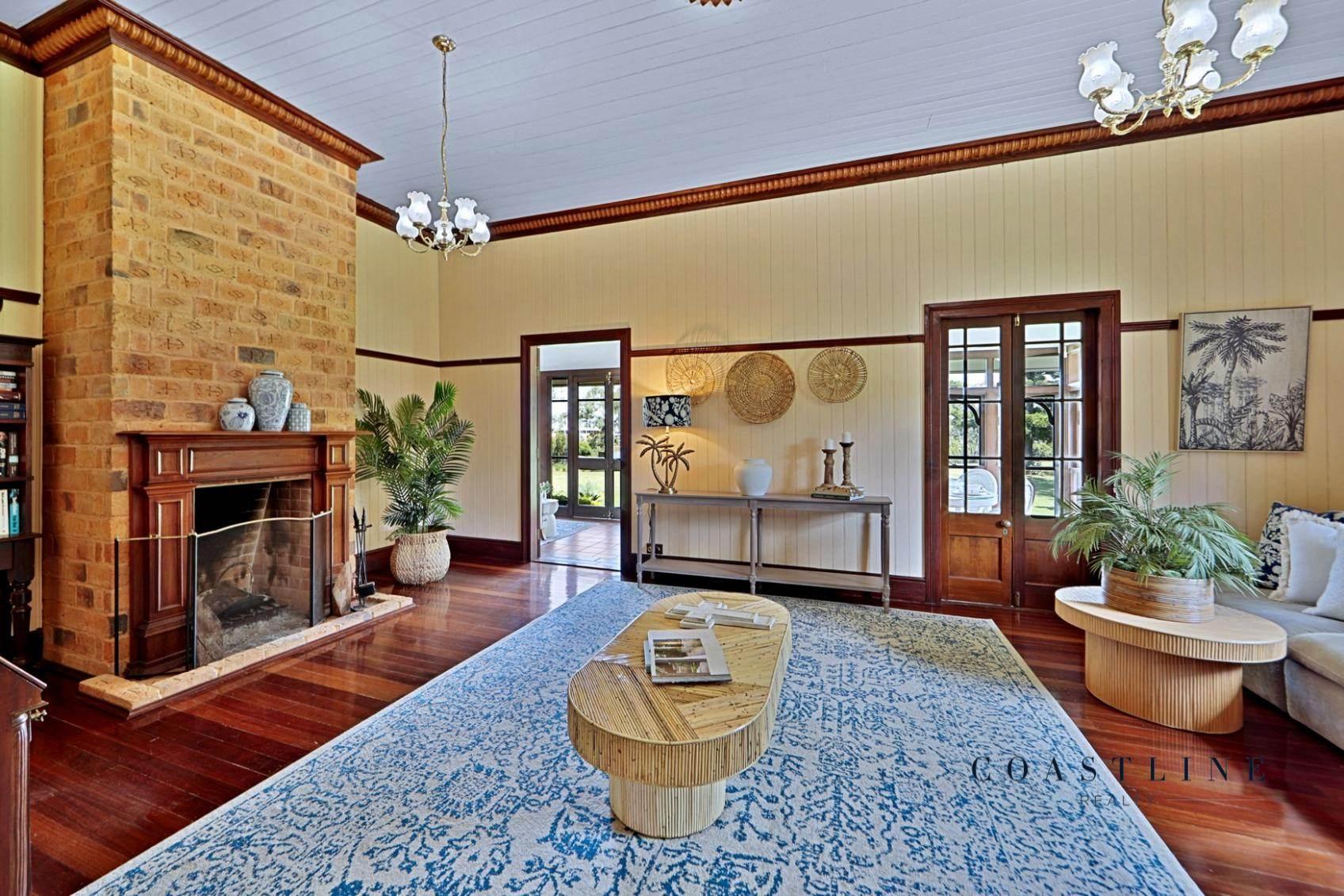 In the early 1990's some of the original homestead was incorporated into the fully refurbished and rejuvenated home which won a Master Builders Award. The homestead has retained its original colonial style and features red cedar doors and skirting boards, high ceilings, ornate cornices, and some of the original hardwood VJ walls and ceilings.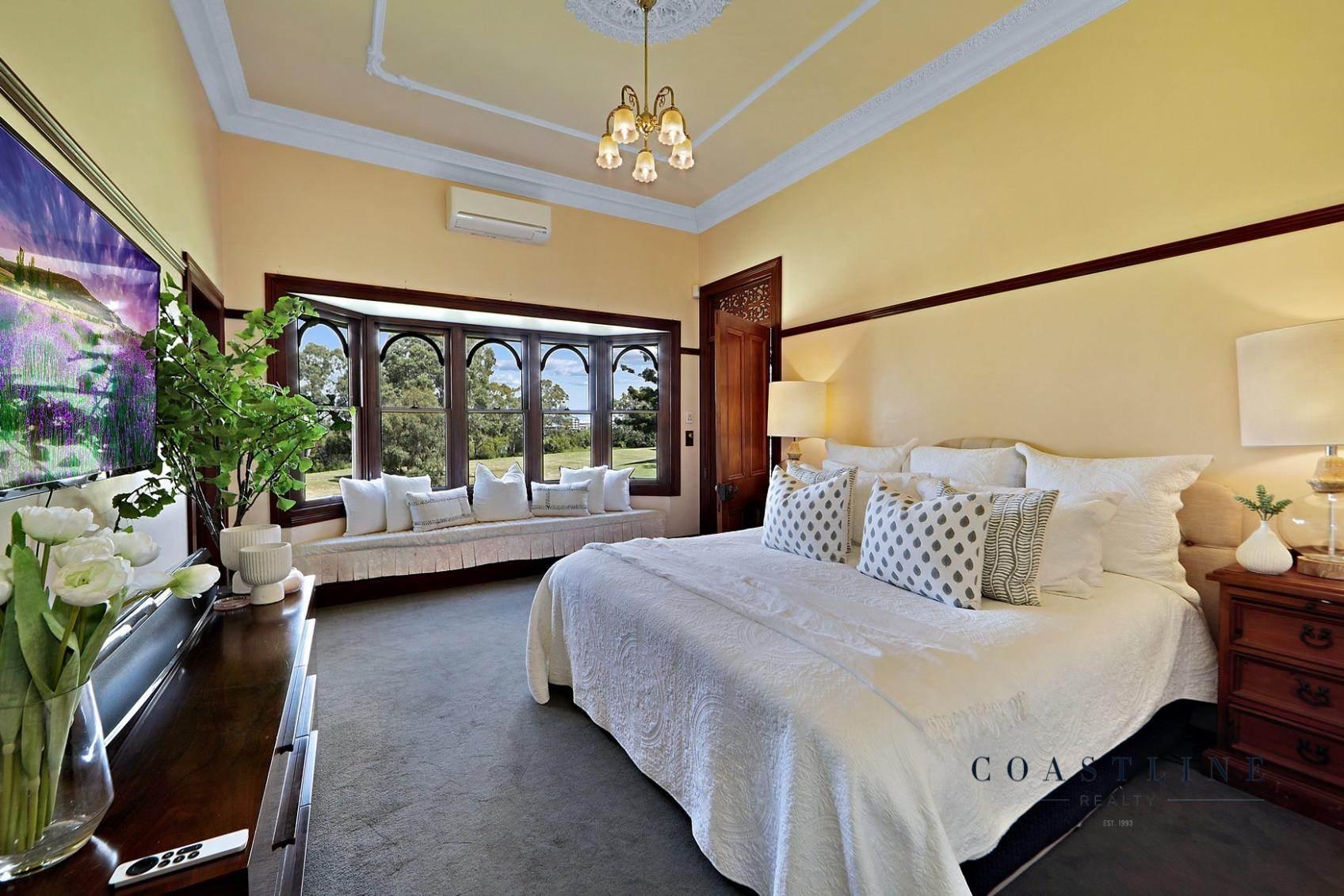 The standout feature is the 'convict brick' fireplace in the formal lounge room which was painstaking retained and re-assembled from the original homestead. Other key features include four oversized bedrooms plus a purpose-built office, three bathrooms, formal dining room, formal lounge with fireplace, open plan lounge dining area connected to an open veranda, and double garage plus additional workshop/storage bay.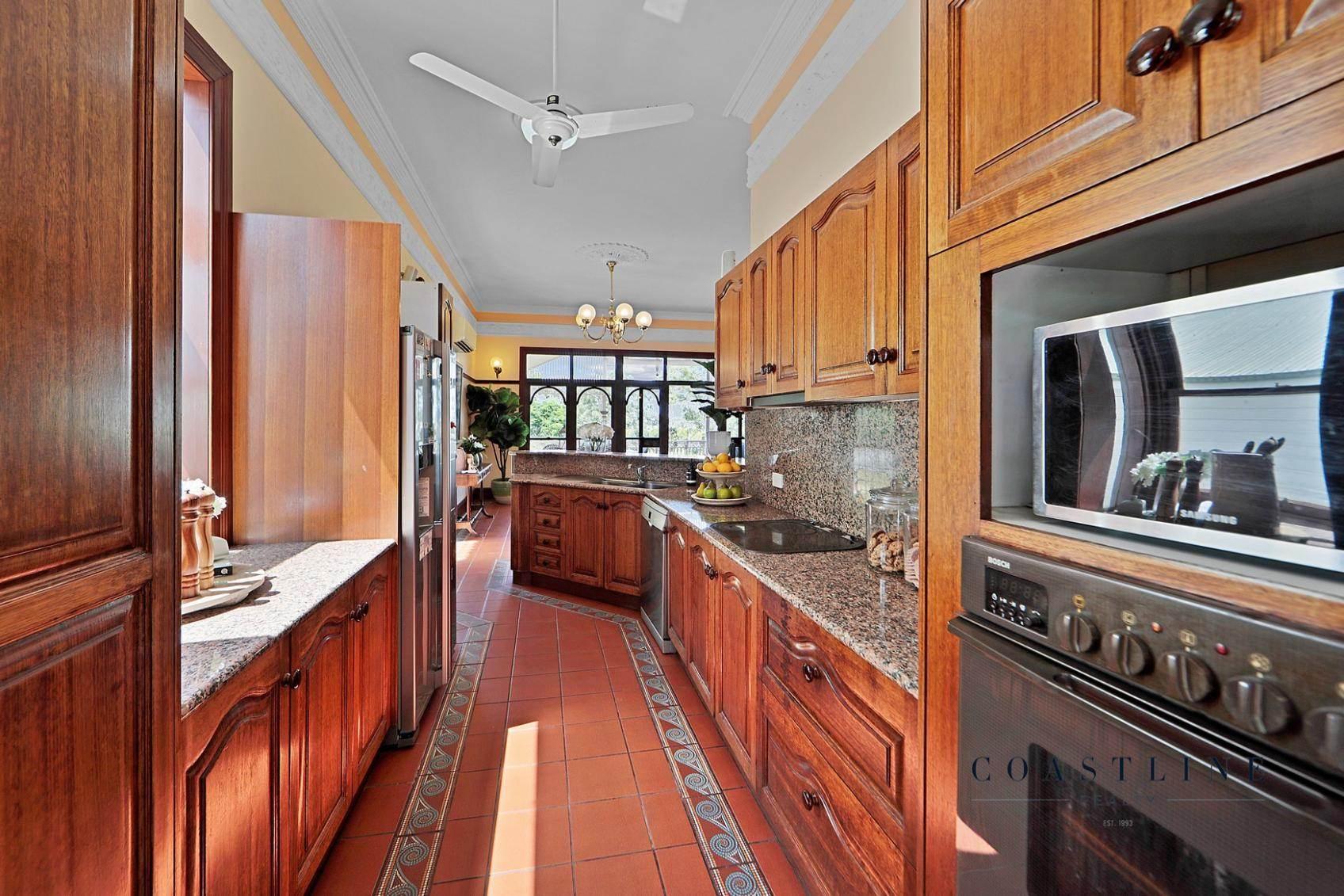 'Waterview Estate' catches the eye from every angle with wide grand staircases connected to the front and side entrances and balconies and sunrooms on all sides, each with their own unique outlook of the natural surrounds.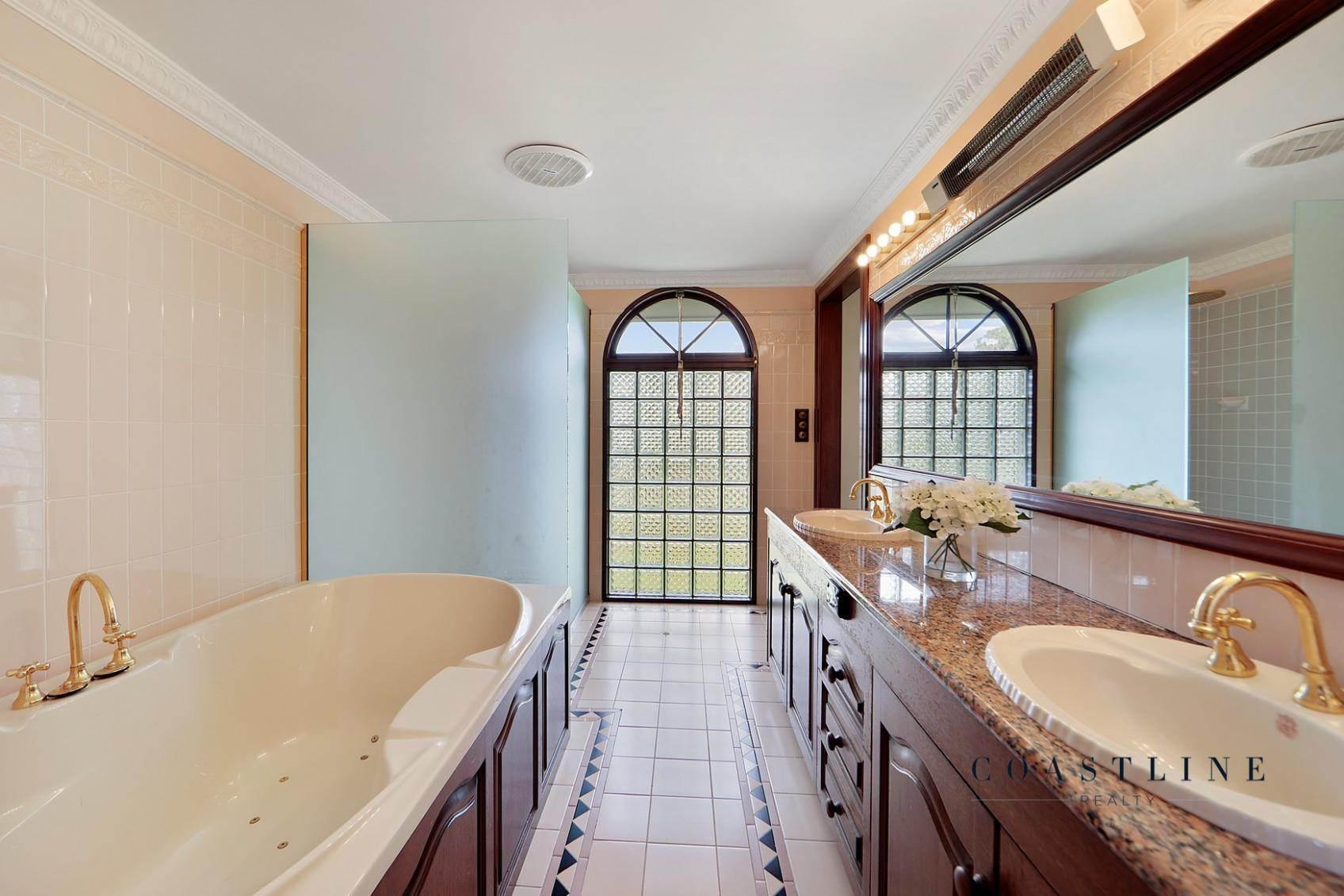 It has in the past been operated as a BNB and a sought-after wedding venue. There is plenty of potential for the astute investor or business operator to make a solid income from the property.
Click on the highlighted link for more information on this rural property for sale Wide Bay Burnett.
This 21.47-acre rural property for sale Wide Bay Burnett, located on Tinbeerwah's plateau with views to Mt Cooroy, has been tightly held for almost 20 years, and enjoys a prime location in Noosa's hinterland with opportunities galore.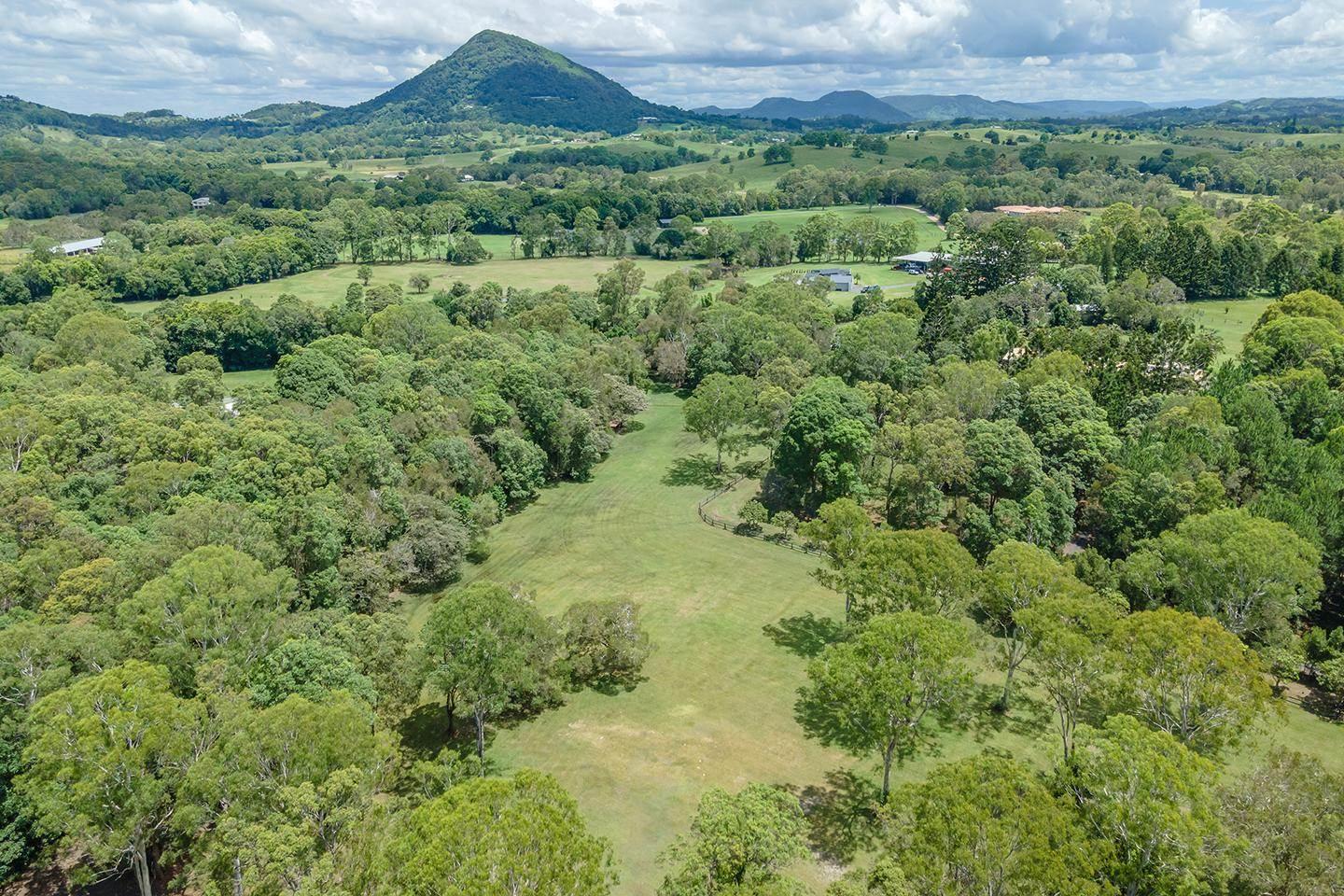 The fertile useable land has desirable two road frontage with easy level access to all infrastructure on the property, which includes mostly cleared horse-friendly grassed paddocks dotted with trees for shade and beautiful natural rainforest through the middle.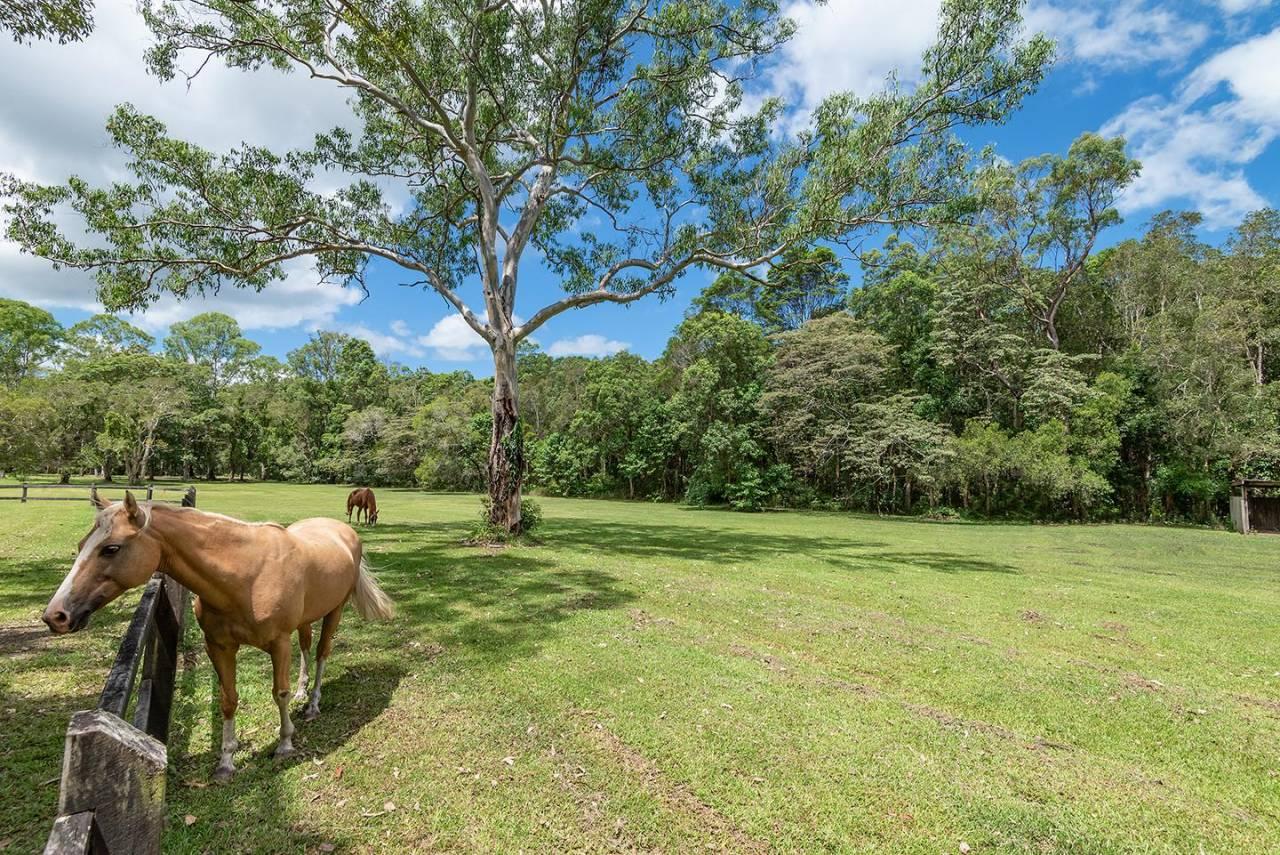 The existing brick home is set well back from the road offering complete privacy in a peaceful setting.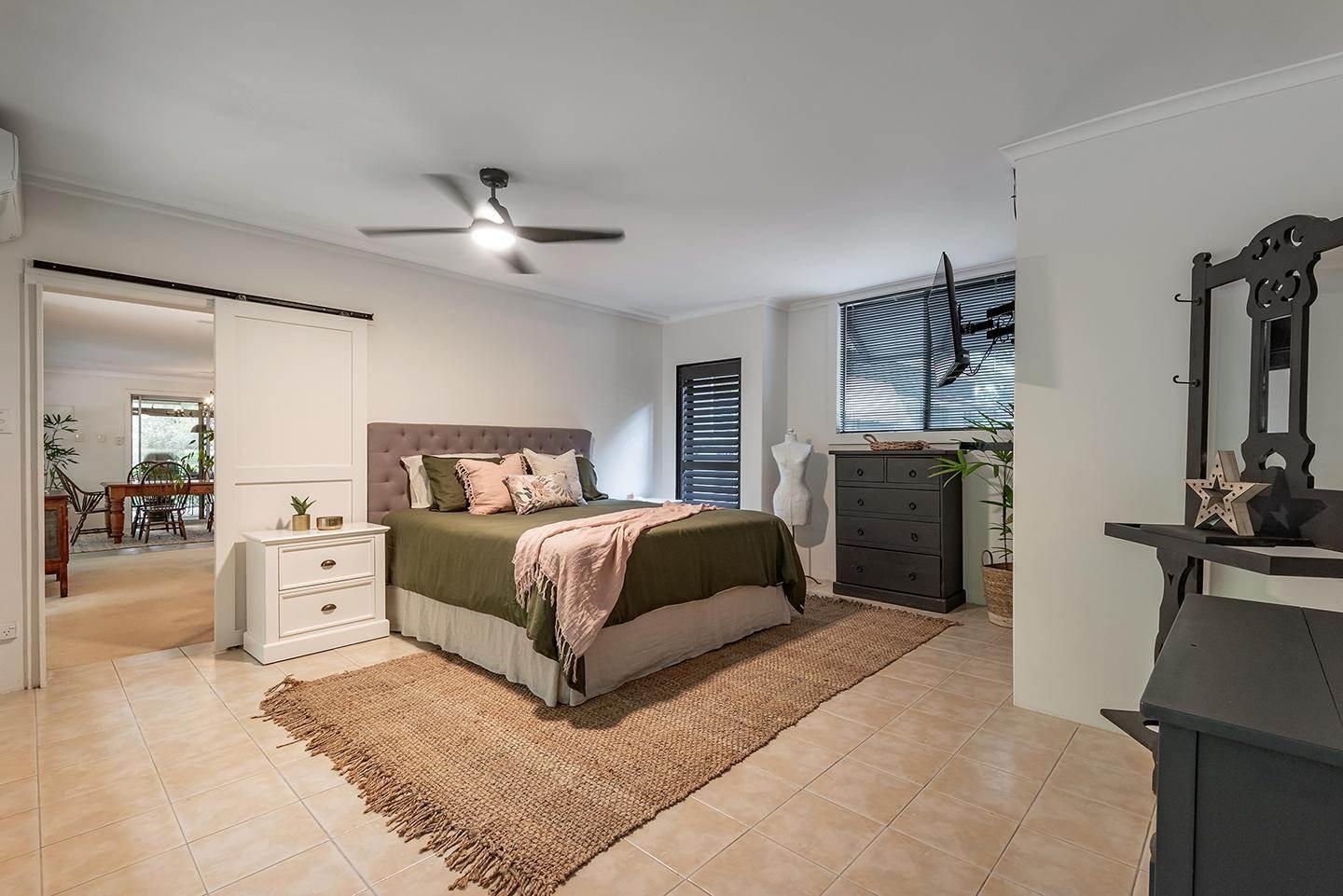 Featuring a brand-new kitchen and modernised ensuite, the three-bedroom home has two bathrooms, air-conditioned open plan living plus a huge covered outdoor entertaining area complete with a fireplace and outdoor cooking station.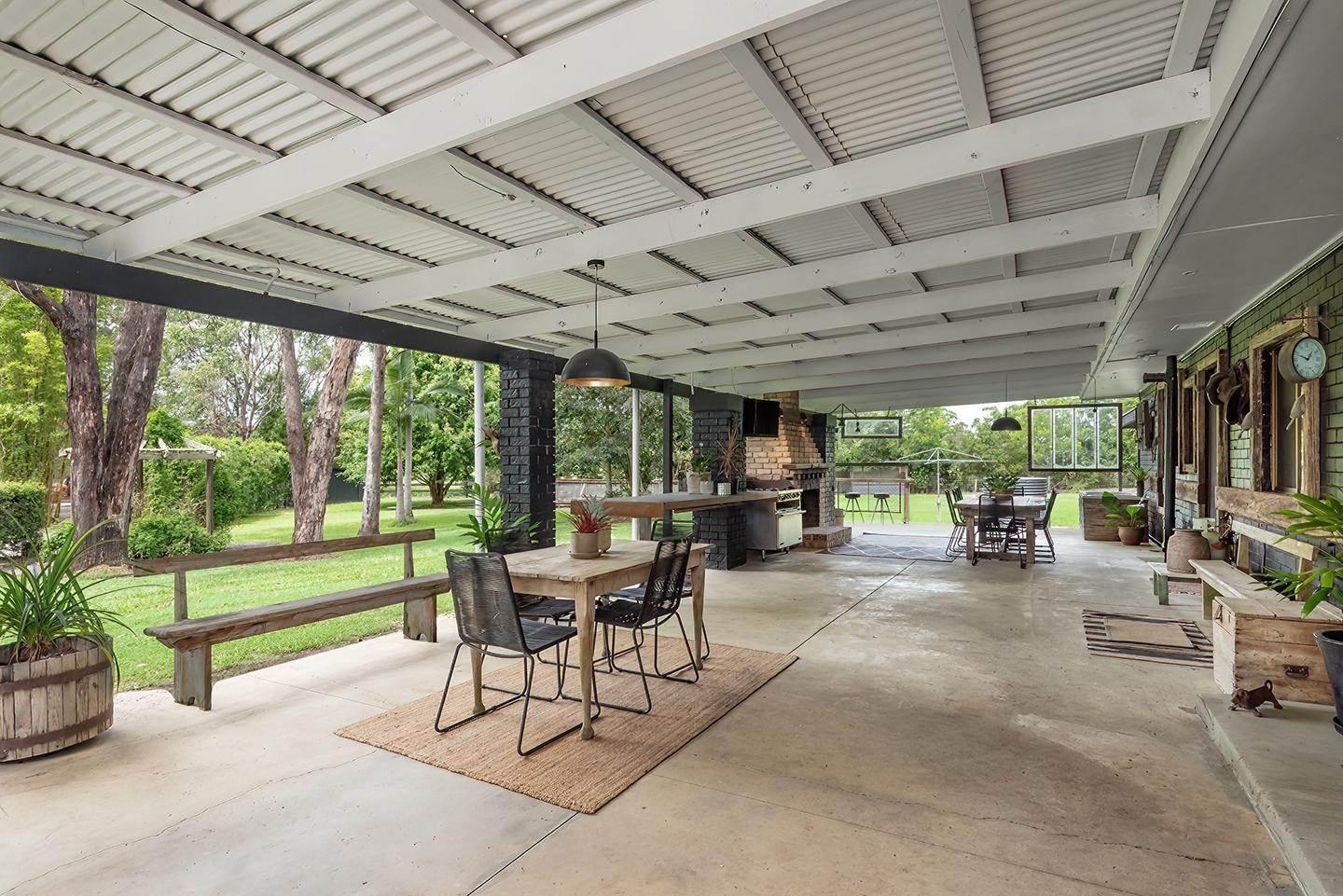 Set nearby is a fantastic five-bay shed offering terrific storage for all the boy's toys with plenty of workshop space too.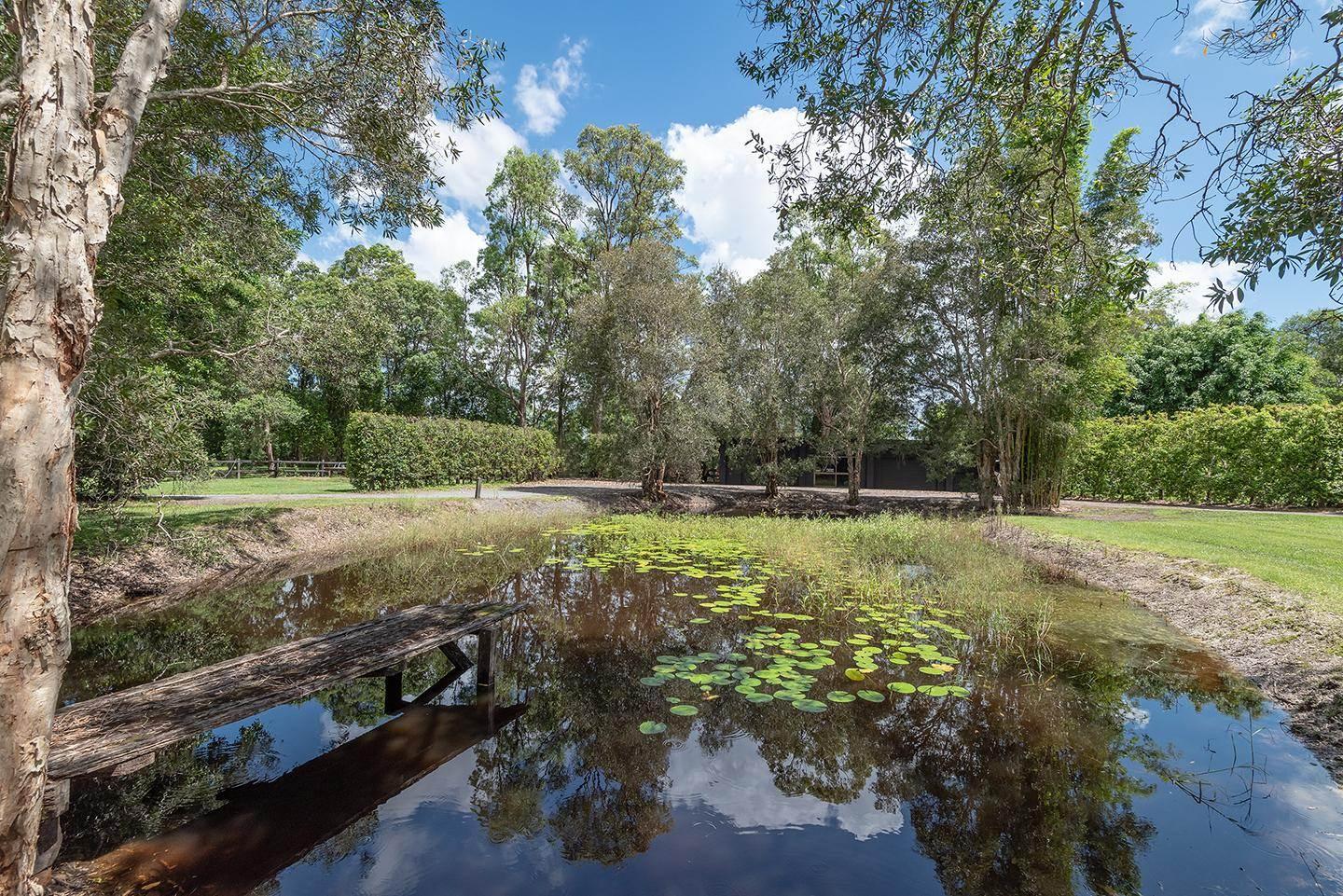 Overlooking the ornamental dam is a one-bedroom bungalow which could be used for guest or family stays. Another exciting feature of this property is the American-style barn, currently set up as a home gym with a separate section, complete with mezzanine level, which could easily be turned into liveable accommodation or amazing work from home space.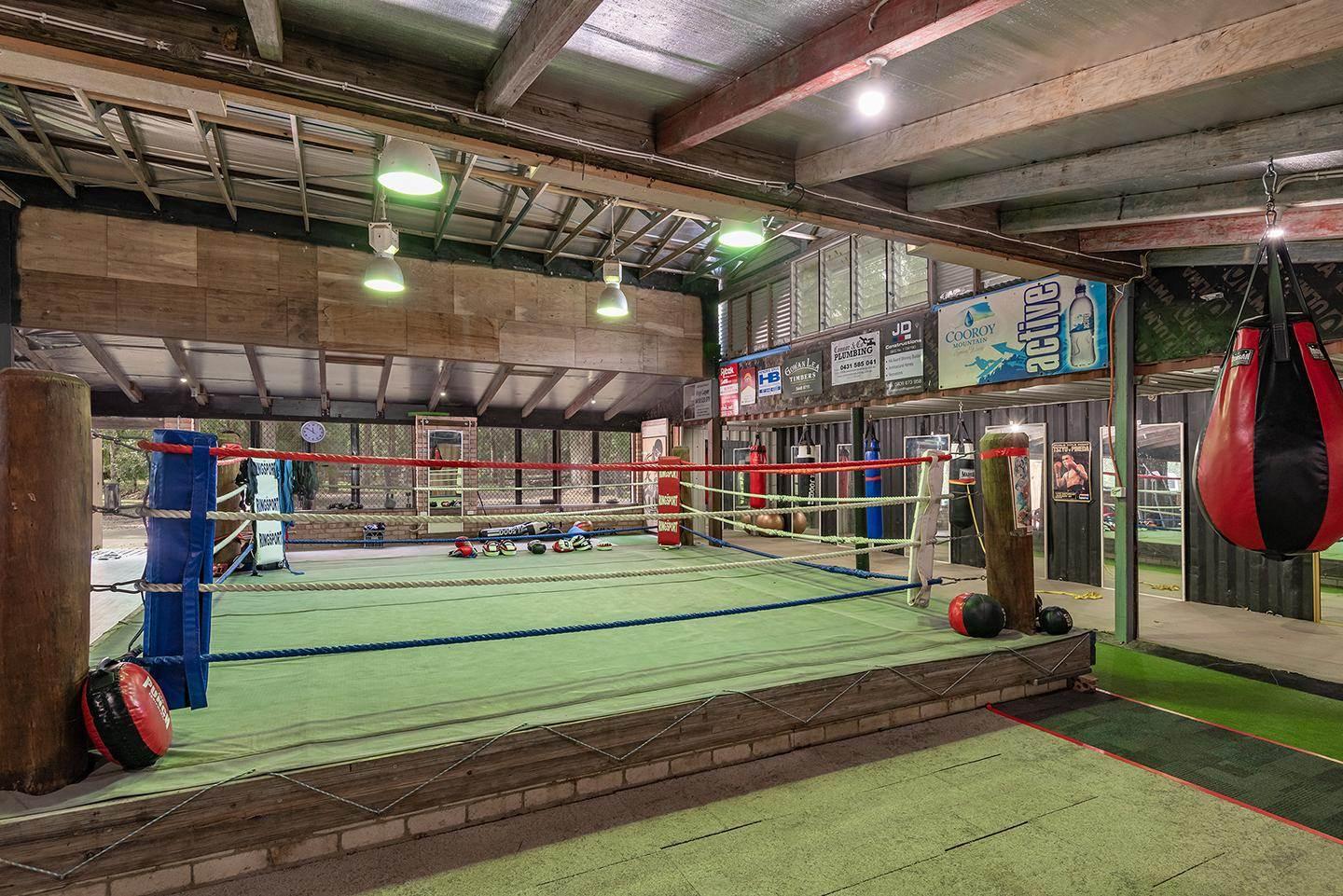 Other features include three large horse fenced paddocks with water to all, three stables, two day shelters, unlimited water from the bore, and three-phase power to the shed and barn.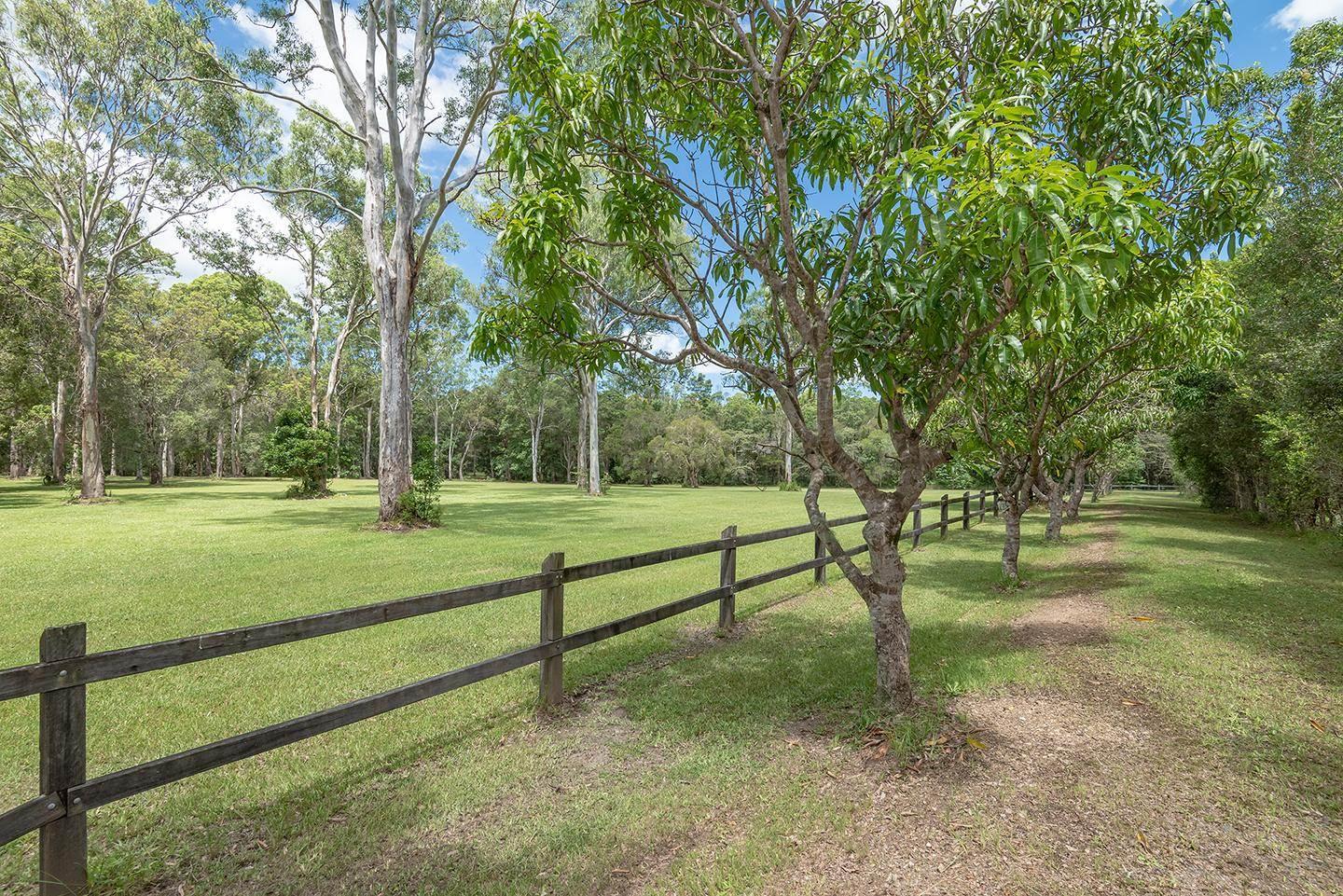 Click on the highlighted link for more information on this rural property for sale Wide Bay Burnett.
Located in a strategic location and spoilt with rural views, the Rusty Gate Grove Bat & Winery is a destination attracting patrons from the greater Wide Bay region and beyond. The perfect location to tie the knot, owners are inundated with enquiries for weddings, vow renewals, birthday and engagement parties.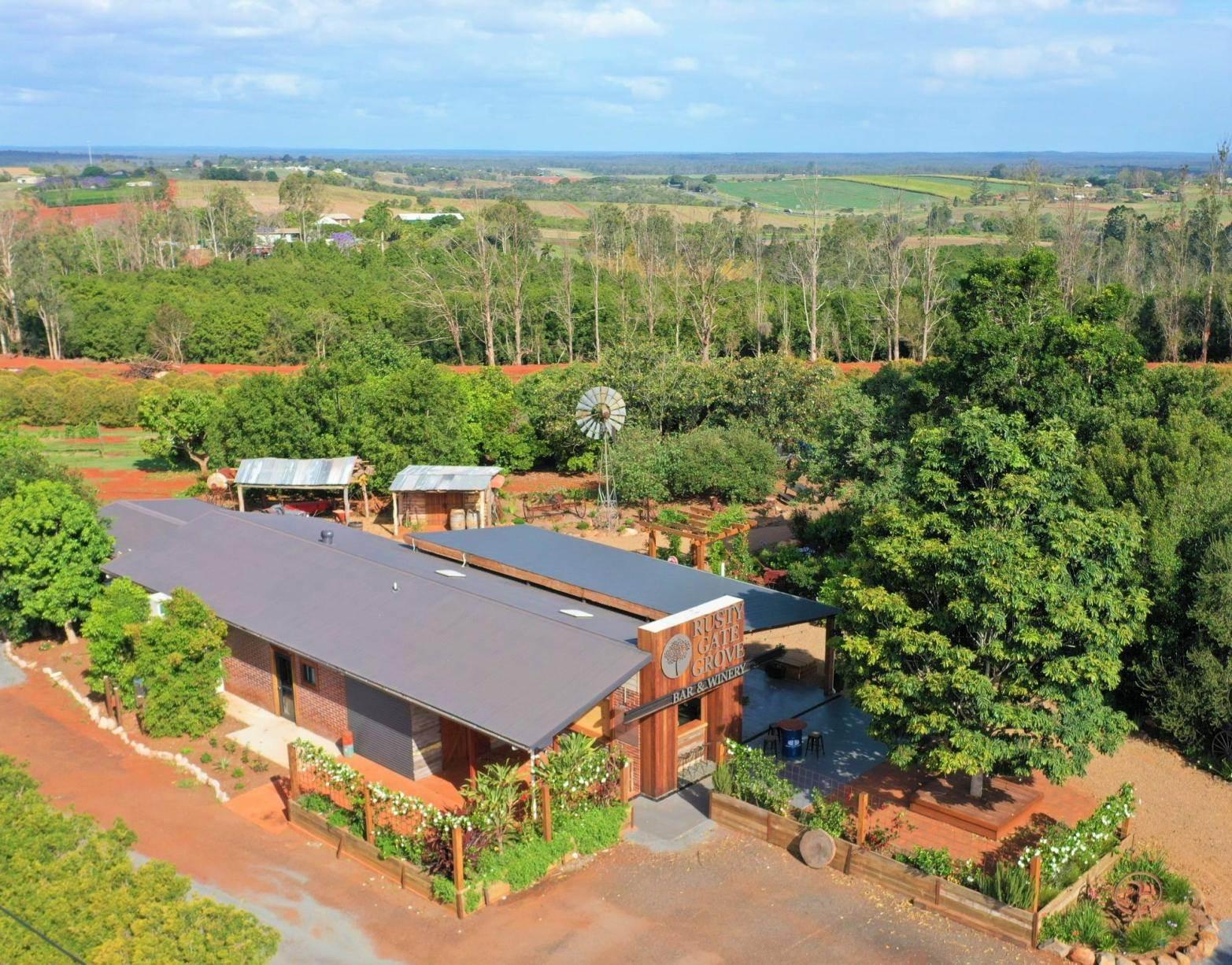 Each detail has been perfectly designed and throughout with the venue themed around the region, red soil, farming and its people. Rusty Gate Grove traded for two months and has demonstrated to owners that its potential is much larger that they anticipated or have time for, with multiple enterprises already up and running.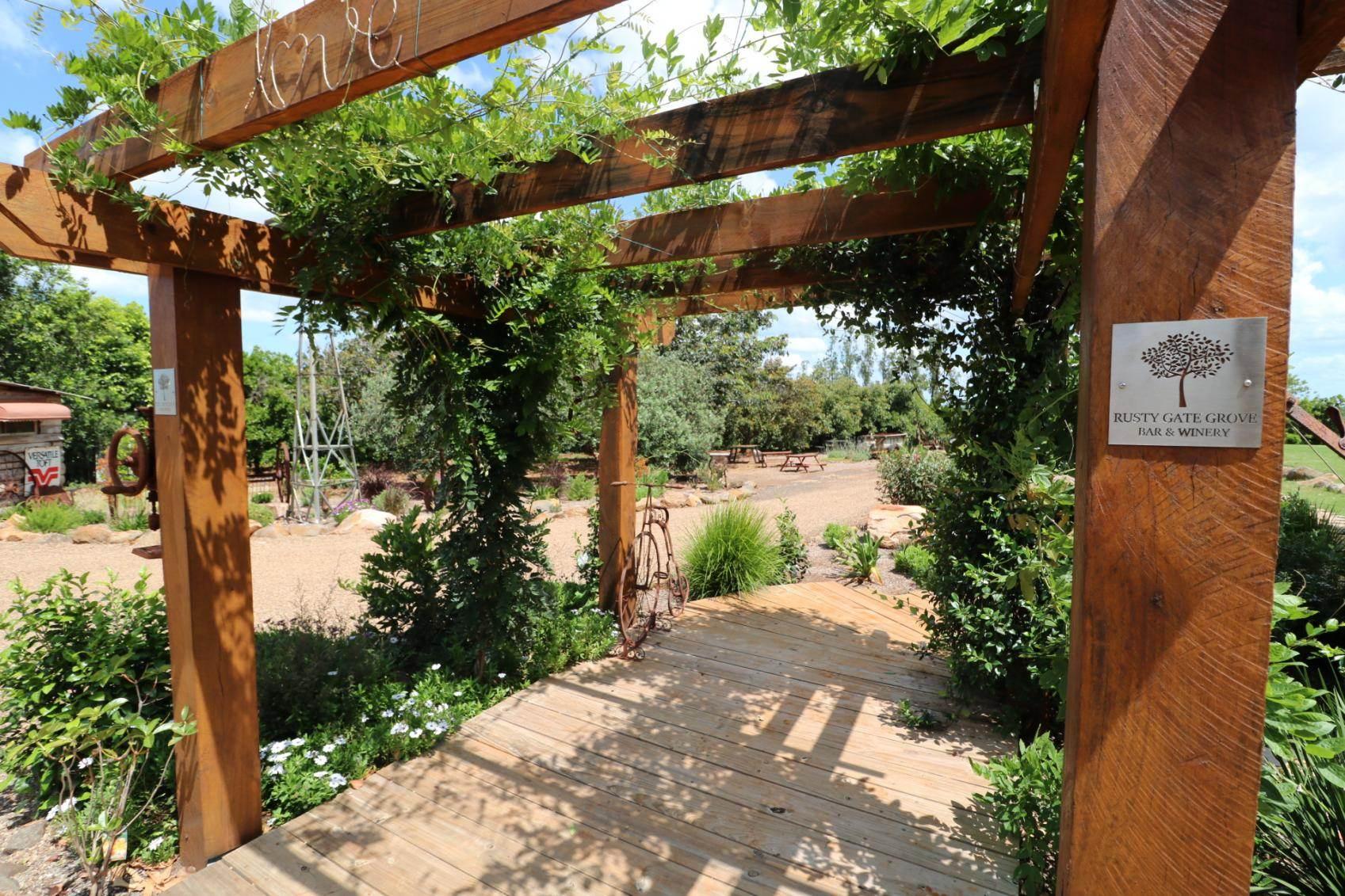 This creates an ideal opportunity for new owners to step in and reap the rewards of all the hard work and immediately see turnover with an excellent reputation and reviews in place to return to trade.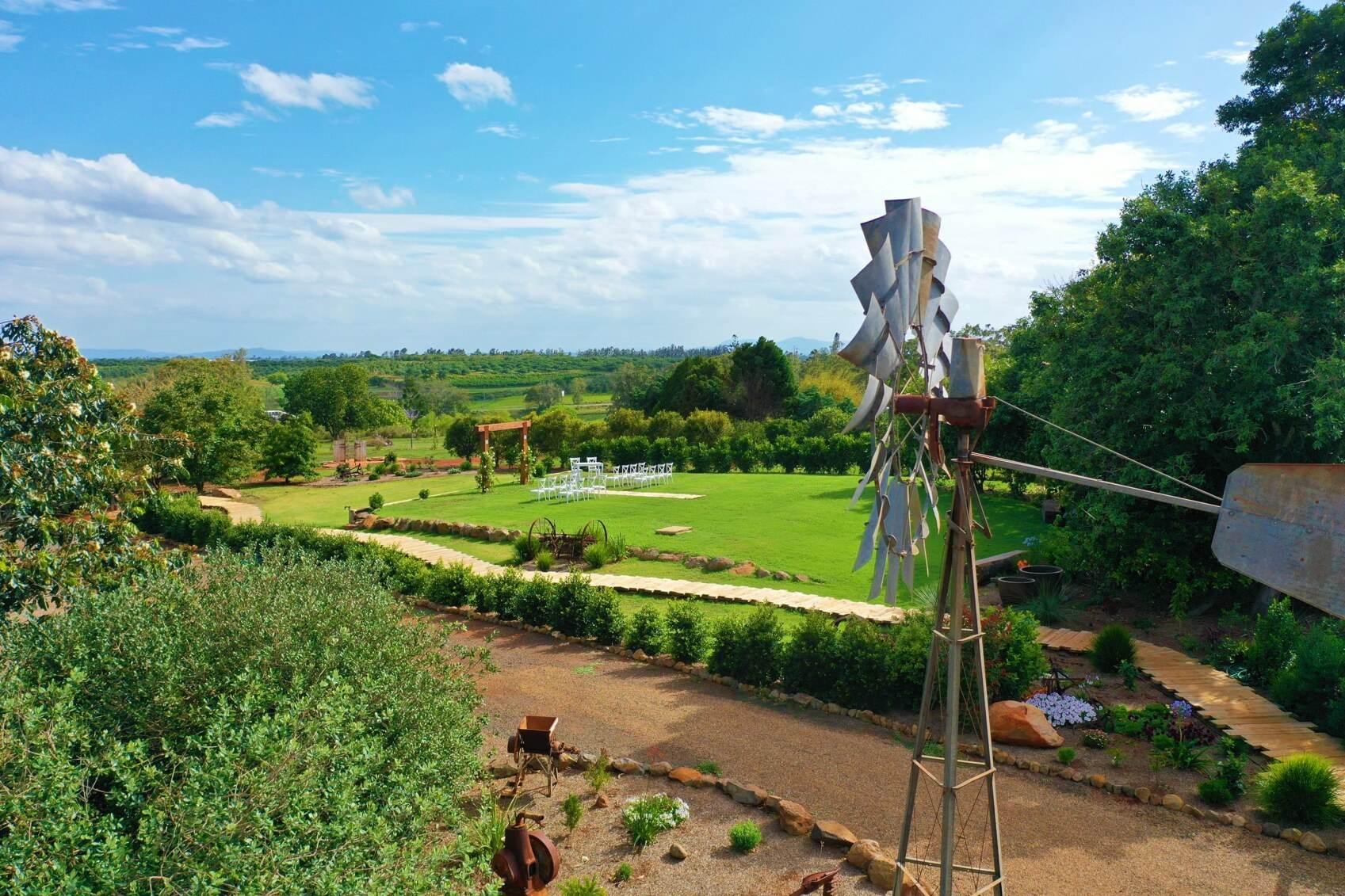 The property comes complete with everything you will need including tables and chairs, picnic tables, farm-themed bar tables, cutlery, utensils etc.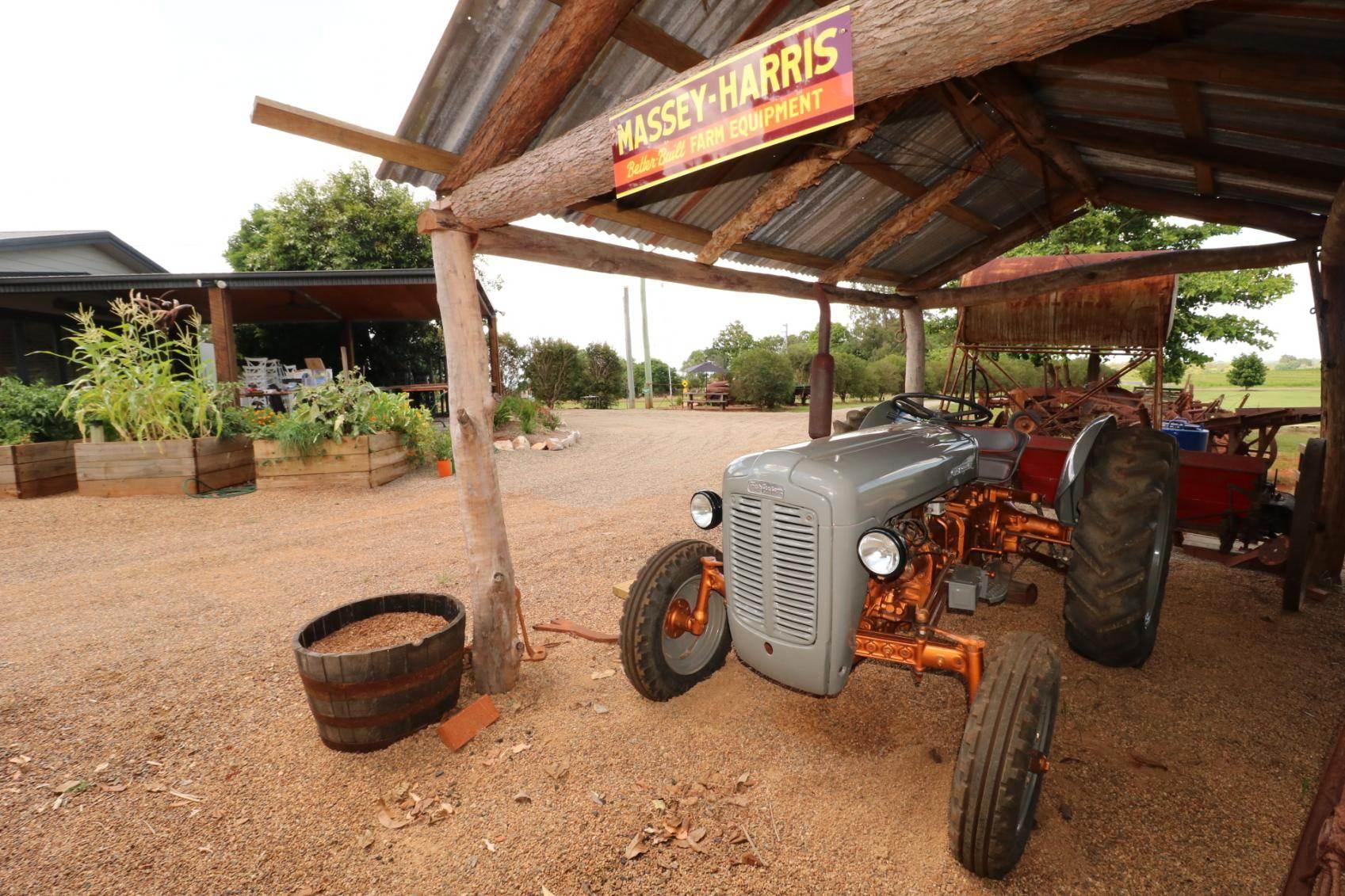 Licensed to operate seven days a week, there is a full commercial kitchen, three bars, two cold rooms and six designated spaces for functions.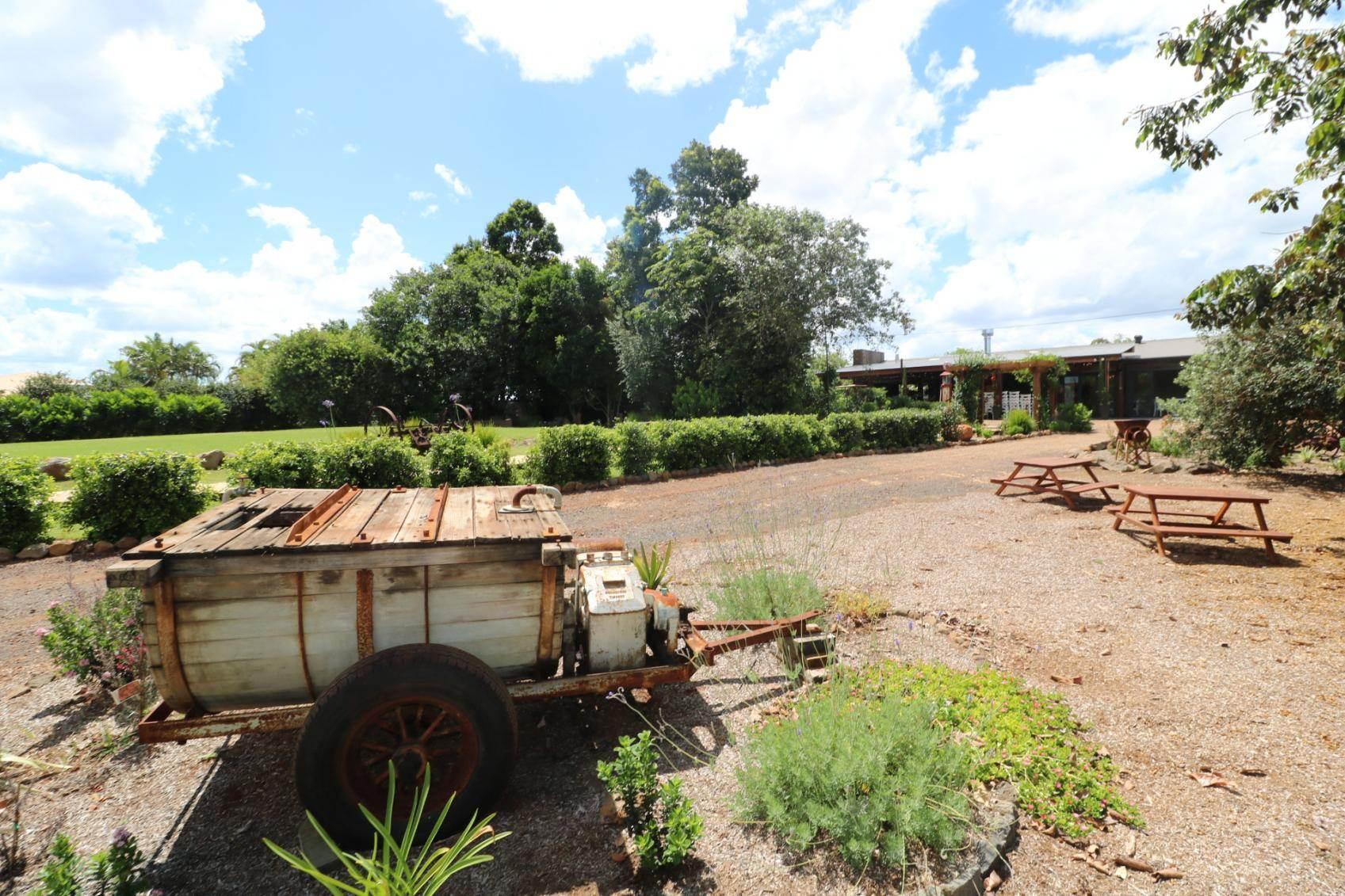 With vacant land at the rear of the property and direct access from Lucketts Road, there is possibility for cabins opening up accommodation income.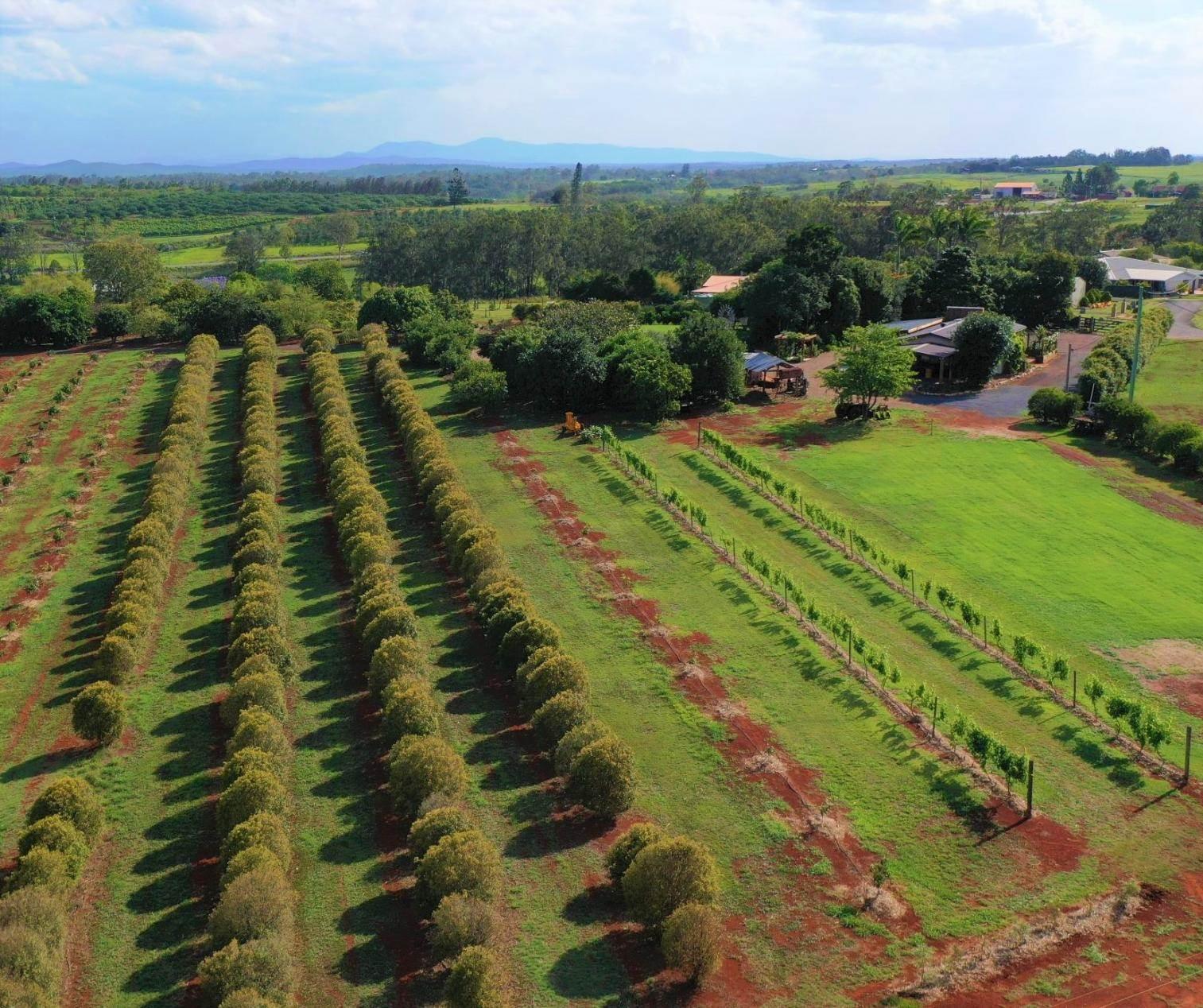 The property is serviced with three water sources: town water to venue and gardens, Sunwater allocation (10 megalitres) and unequipped bore.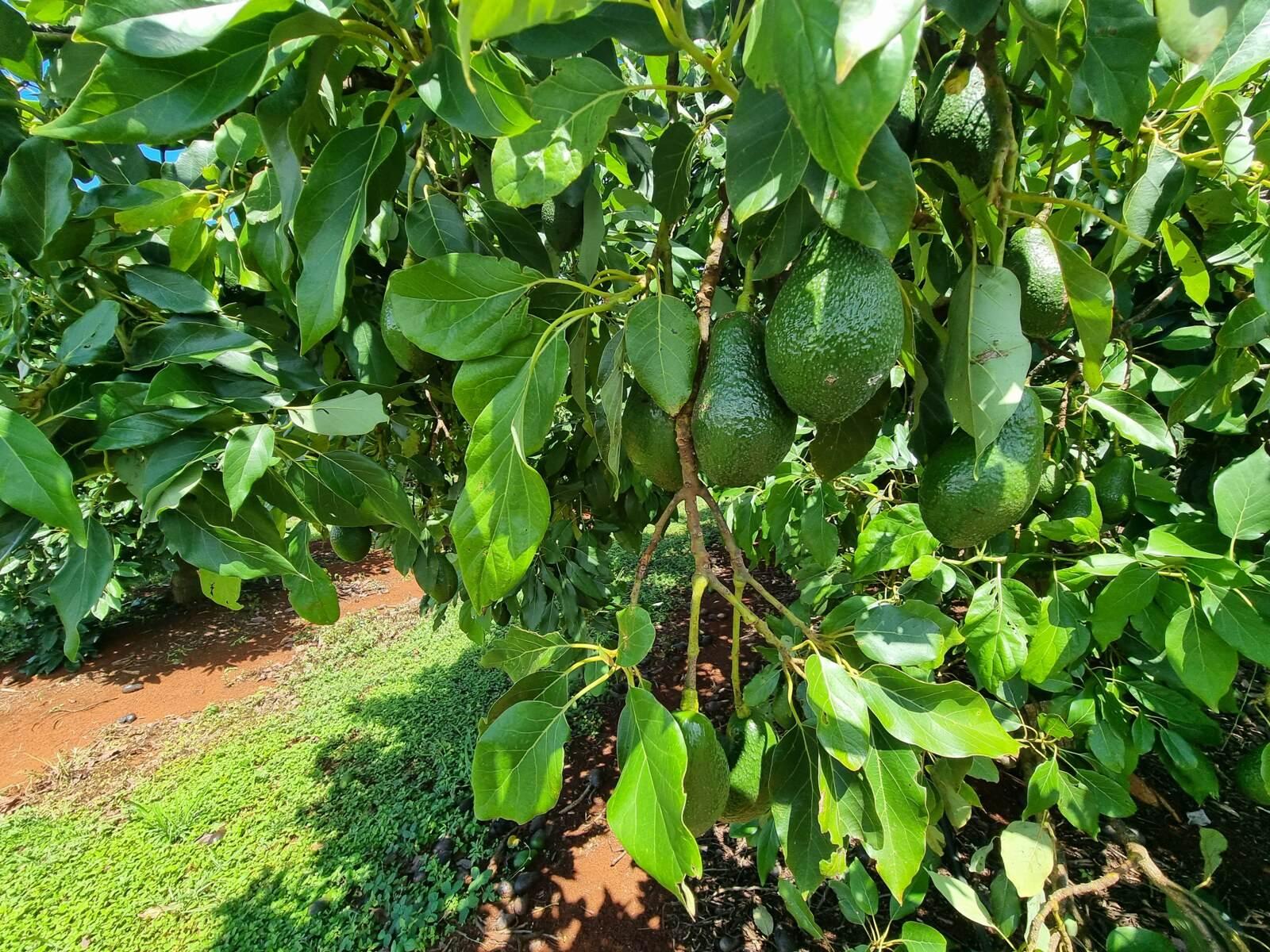 With seasonal stock coming from your very own farm and catering to these featured produce lines means you create your own markets. The property is a working 11-acre farm producing a wide variety of tropical and rare fruits, with avocado the predominant fruit.
Click on the highlighted link for more information on this rural property for sale Wide Bay Burnett.
This is a spectacular rural property for sale Wide Bay Burnett on the outskirts of Bundaberg combining striking architectural design, 25 acres of fertile farming soil, 50-megalitre water allocation and beautifully elevated to take in the rural surrounds and breezes.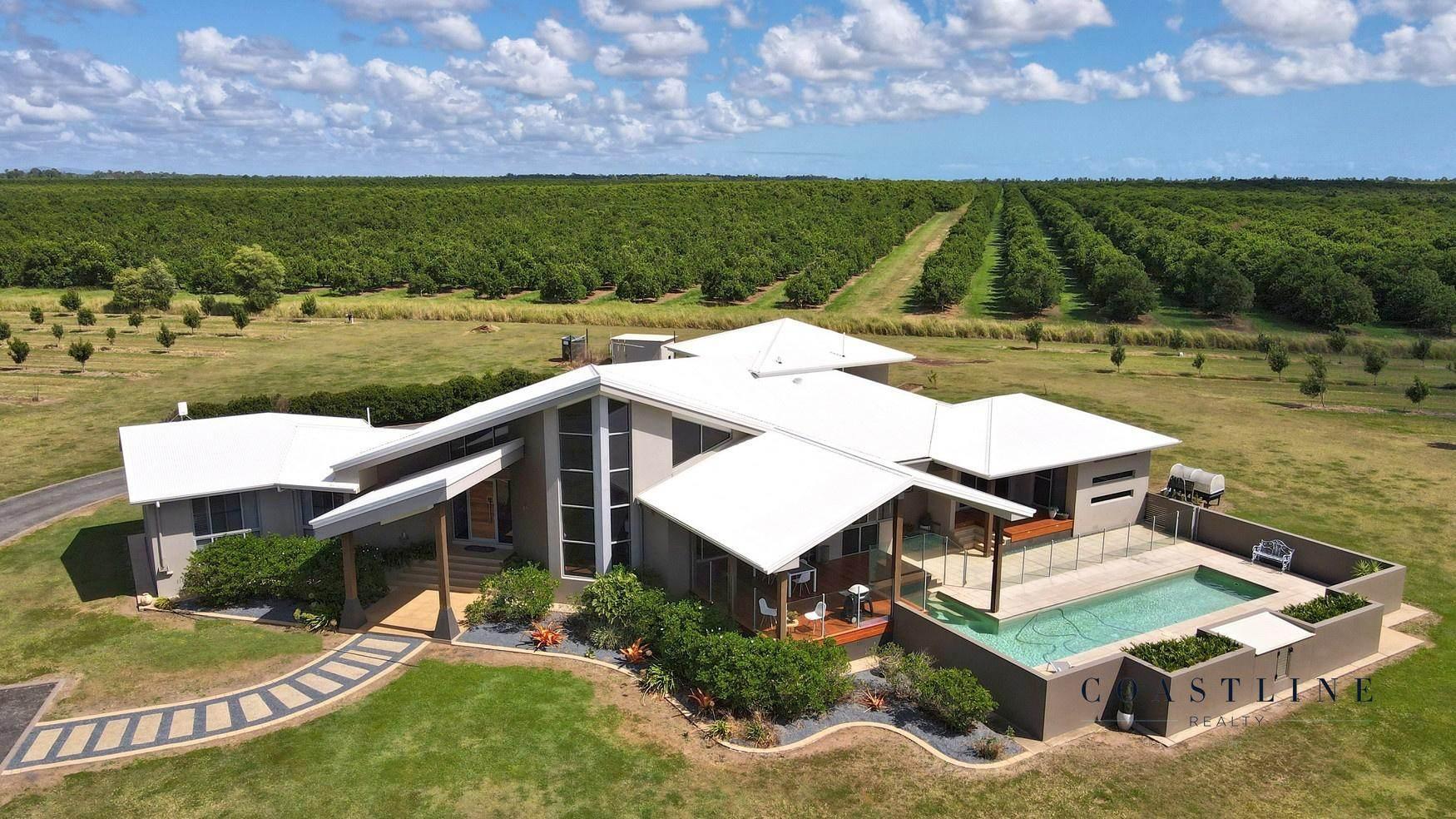 For the horse enthusiasts, there is a separate horse paddock at the front of the property, or for the savvy investor, this paddock also has a pending approval for subdivision.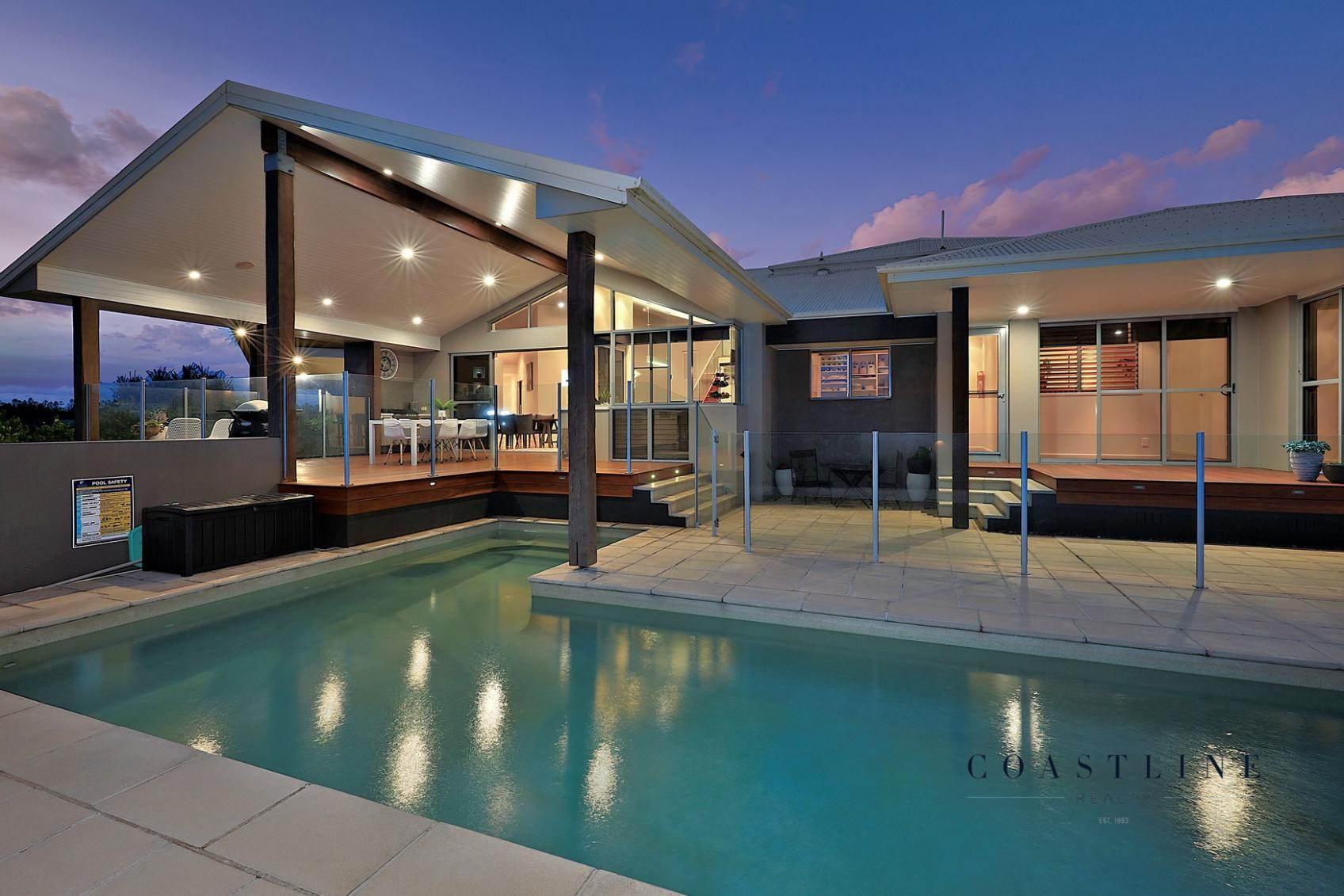 Entry to this home is via a grand driveway framed by established pandanus trees. The home features stunning timber floors throughout and an abundance of natural light and soaring windows, taking in the rural and inground pool views from every room of the home.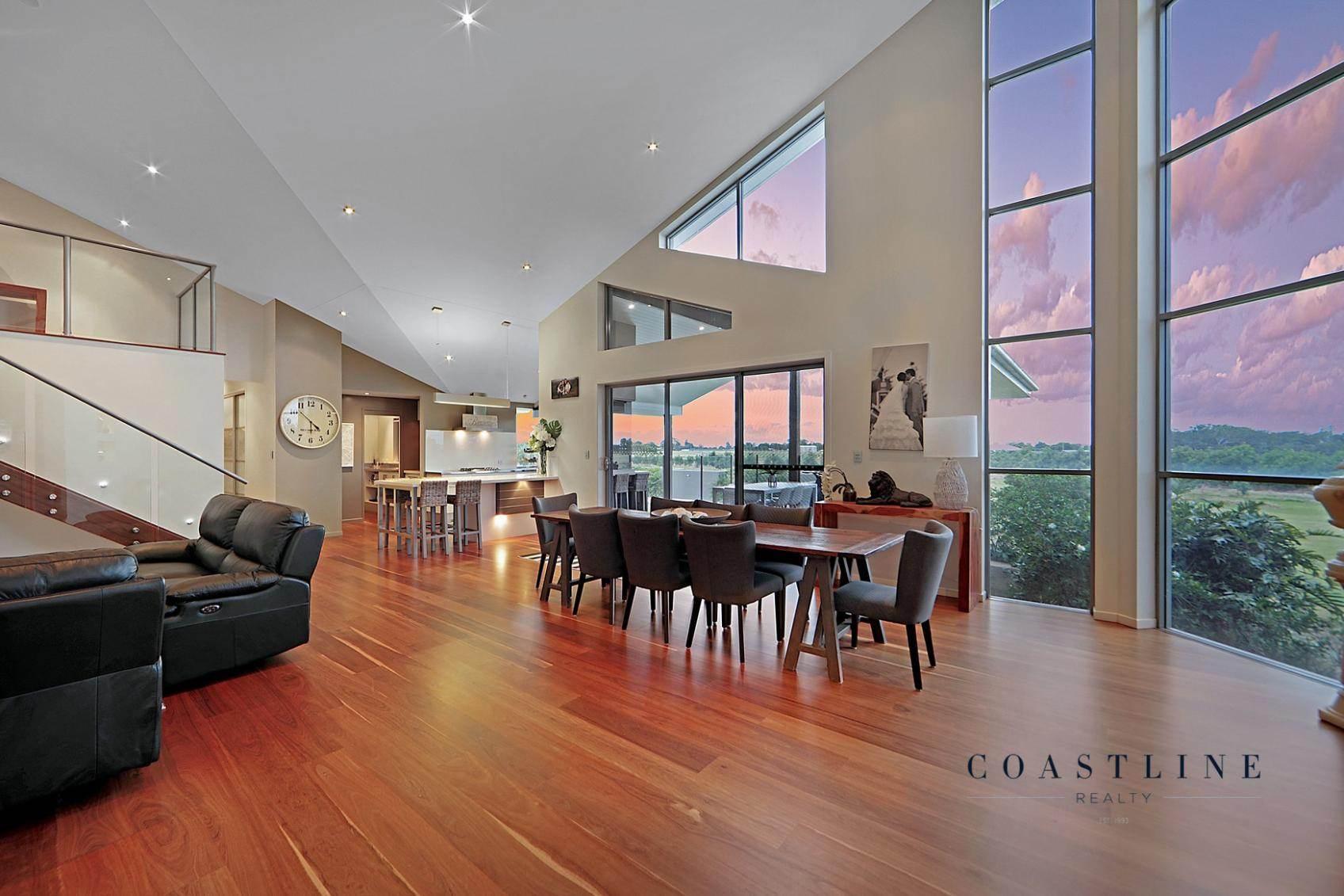 The home features a spectacular open plan living space with grandeur and warmth, and boasting a kitchen with butler's pantry, servery to the outdoor entertainment area, island breakfast bar, coffee station, stone and two-pack finishes, soft close drawers, plumbing to the fridge, and upmarket Miele appliances including a gas cooktop and integrated dishwasher.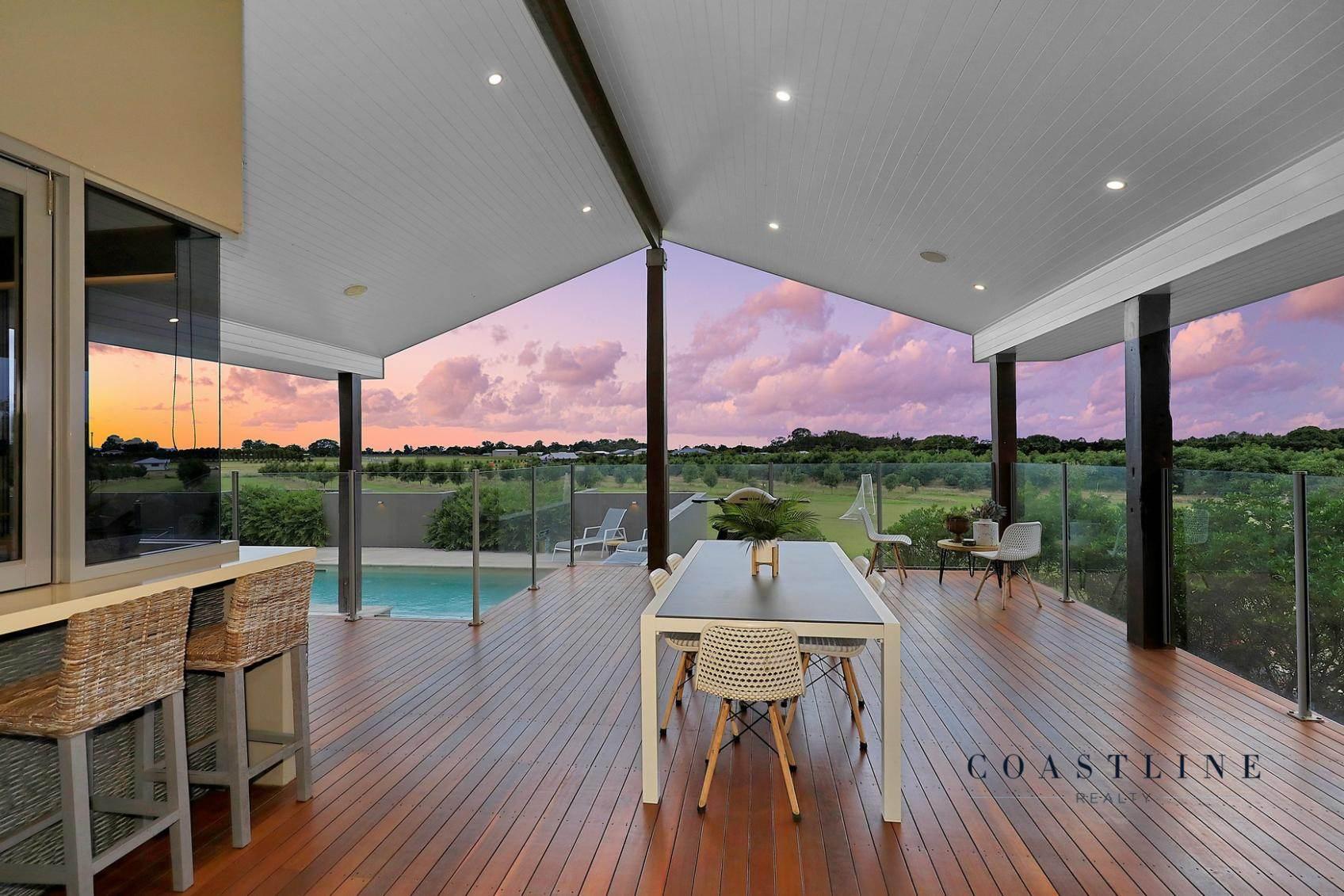 The living area flows out to a huge entertainment space – complete with built-in outdoor BBQ and bar seating at the inside kitchen servery that wraps around this side of the home.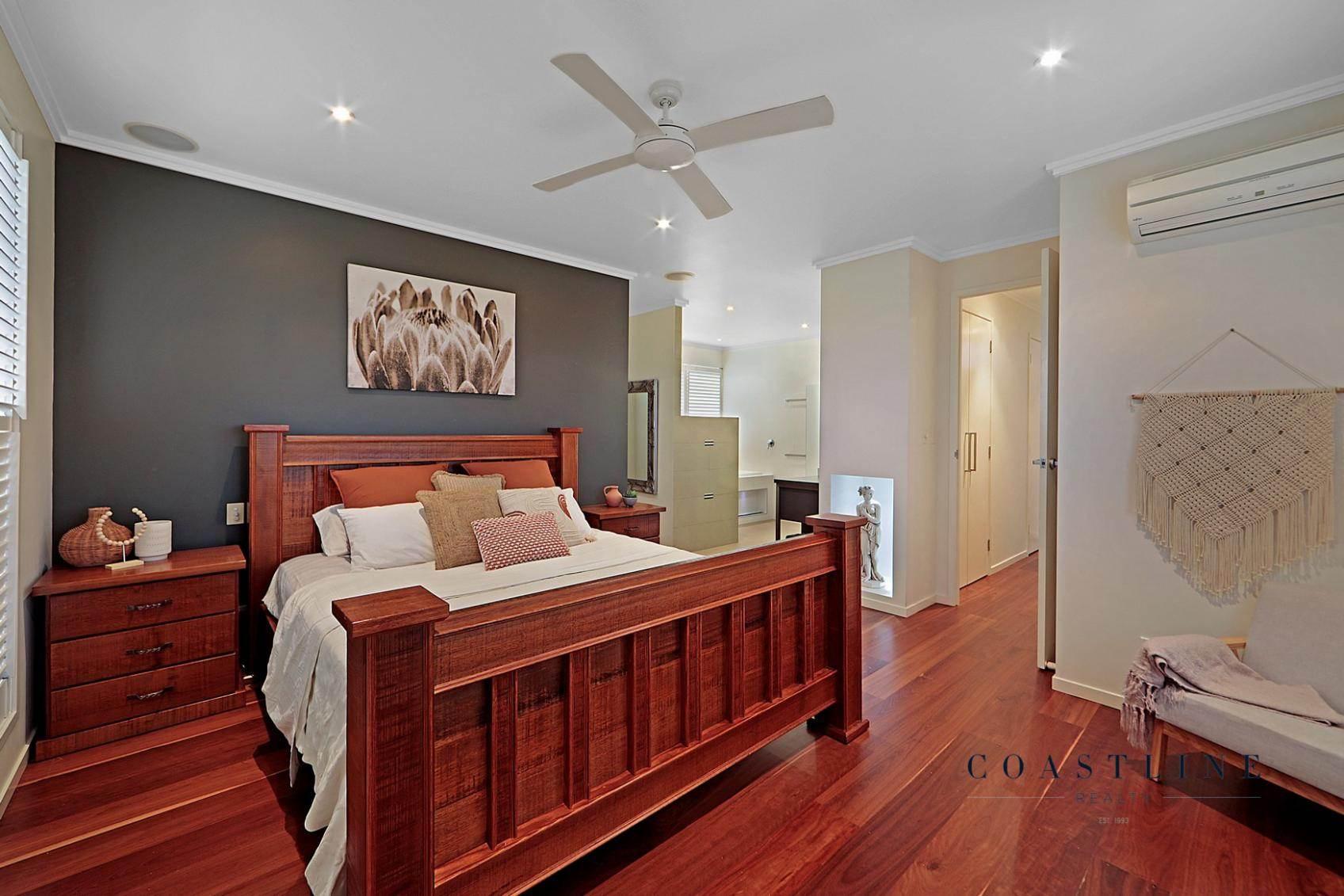 The height in the main living area allows for a second level containing a huge private guest space or kids retreat. This space also offers access to the attic and built-in cupboards.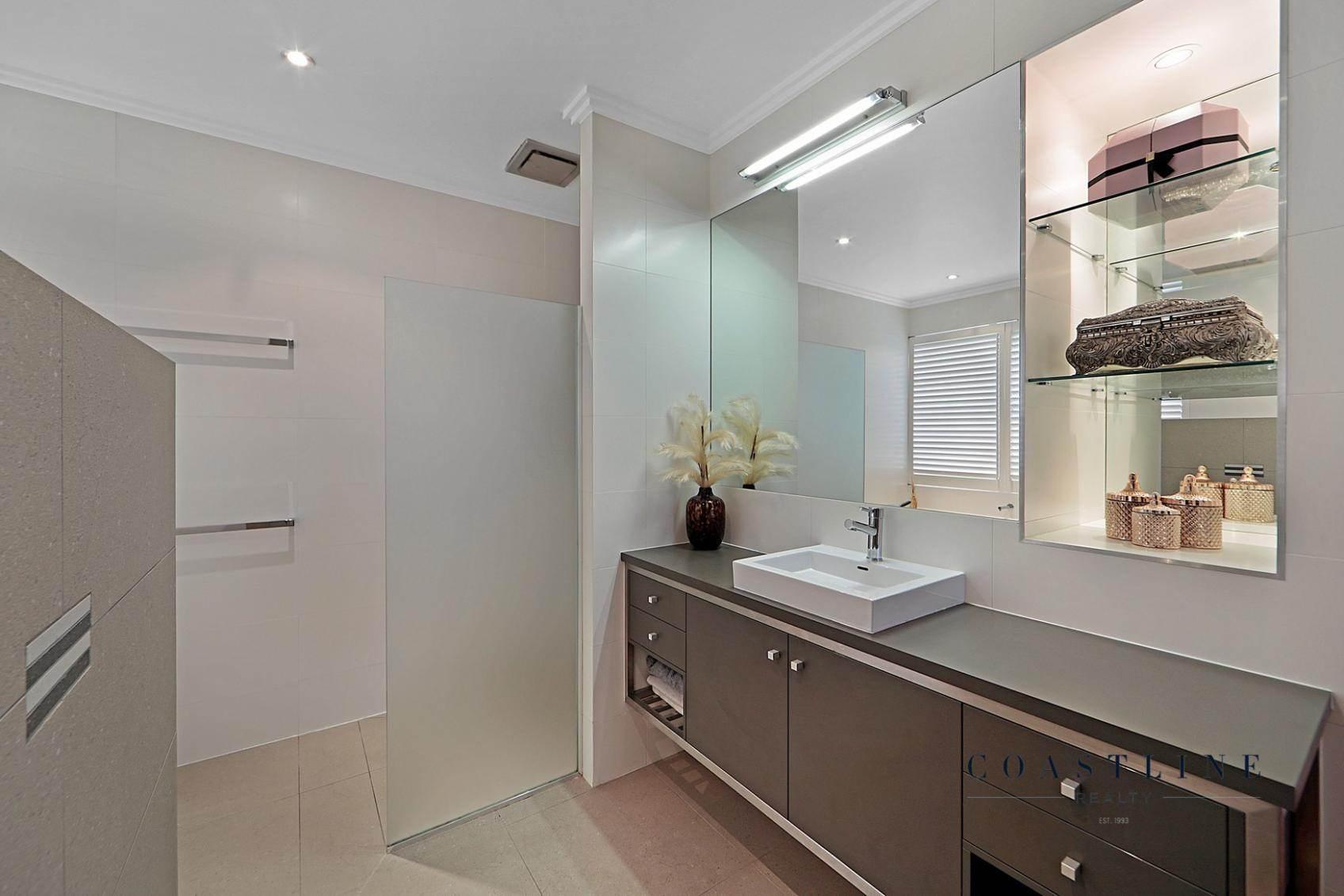 The master bedroom is separated from the other bedrooms, with a luxurious open-style ensuite, deep soaker bathtub, walk-in shower and private toilet. The king-size second and third bedrooms feature built-in robes.
The acreage includes 500 irrigated avocado trees and 530 irrigated macadamia trees plus fully fenced paddocks for cattle or horses.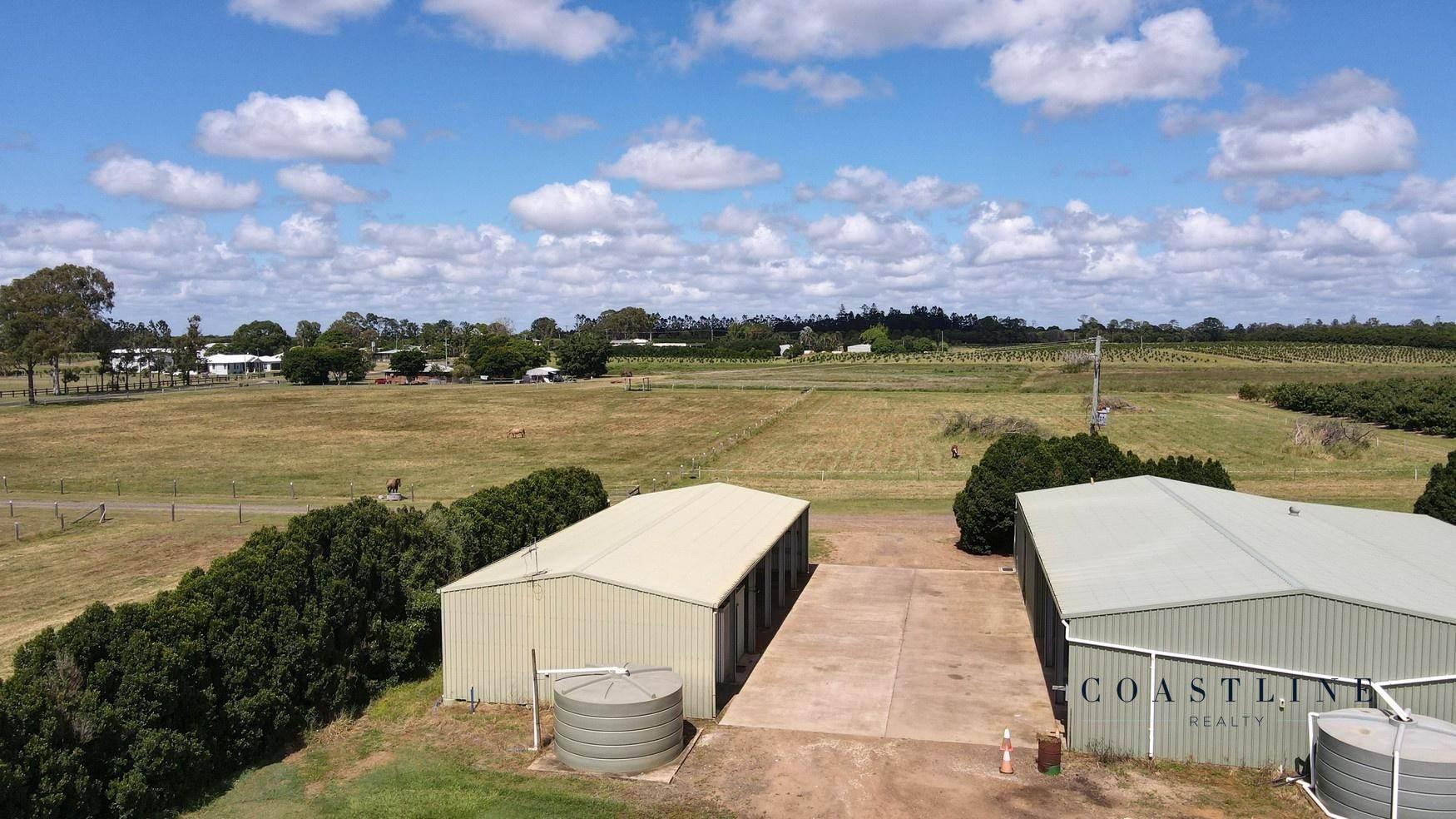 Other infrastructure includes two large sheds, 50-megalitre water allocation, bore with submersible pump plus four additional water tanks
An absolute statement property, this rural property for sale Wide Bay Burnett offers a spectacular lifestyle only 10kms to the Bundaberg CBD and 13kms to the beautiful sandy stretch of Moore Park Beach.
Click on the highlighted link for more information on this rural property for sale Wide Bay Burnett.