Horticulture farming in Victoria review
The Australian horticulture industry is the nation's second largest rural production industry after wheat, with fruit and nuts comprising 52%, vegetables 31% and nursery/ornamental crops 17% of the gross value of production (GVP). Horticulture farming in Victoria is one of the strongest industries within Australia, and the country is considered a producer of high-quality horticulture produce.
Horticulture Farming in Victoria
The major horticulture areas in Victoria are the Goulburn Valley and the Sunraysia.
Goulburn Valley
The Goulburn Valley, known as the "food bowl of Victoria", has very fertile soils consisting of Fine Sandy Loams which dominate the fruit growing areas and are highly suited to irrigated and perennial horticultural crops. Examples of these crops include:
Fruit - Pears, apples, oranges and peaches
Nuts - Walnuts and Pistachios
Wine Grapes - Cabernet Sauvignon, Chardonnay, Marsanne, Riesling, Shiraz
With regard to water, the Goulburn Valley has an irrigation system that allows growers to order water online from a high quality supply distributed through the automated channel network.
Sunraysia District
The Sunraysia district got its name from a public competition in which locals were asked to come up with a name describing the dried fruits grown in the Mildura area. The name that was chosen was Sun-Raysed, which was later changed to Sunraysia to describe the district.
The Greater Sunraysia district forms part of the Fruit Fly Free Exclusion Zone, a Pest Free Area (PFA) located between north-west Victoria and south-west New South Wales. It is renowned for the production of high value horticultural crops including citrus, table grapes and stone fruit. It supplies 80% of Victoria's grapes. The local area produces more than 70% of Australia's dried vine fruits.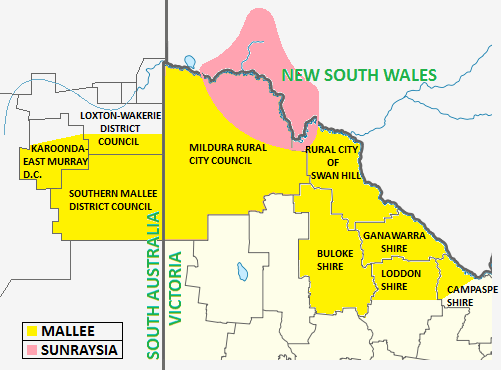 If you're looking to get into horticulture farming, have a look at some of our favourite Australian horticulture farms for sale below.
---
124 South River Road,
South Plantations, WA
15 ACRES WITH 2 DWELLINGS – ZONED INTENSIVE HORTICULTURE
Phone enquiries - please quote property ID 25134.
This is a great opportunity to purchase this beautiful, well maintained and cared for, rural property. Consisting a 15 acre plantation with a renovated family home, as well as a second dwelling which currently houses a shared farmer. Solid rental potential.
The main dwelling has a renovated kitchen, floors, bathroom and toilet. It has two lounges and two dining rooms, as well as 5 bedrooms - including master with ensuite and walk-in robes. All rooms have robes, except for one single room/study.
Double garage. Patio out back and front. Well maintained and loved family farm.
This farm is great for self-sufficiency & is nestled between the stunning Shark Bay and Coral Bay/Exmouth. With the beautiful Ningaloo Reef, Red Bluff, Blow Holes, Burnier and Dorre Islands on your doorstep.
Regretful sale. Enquire today.
DISCLAIMER While proudly assisting home owners to sell since 1999, No Agent Property takes every care to verify the accuracy of the details in this advertisement, but the correctness cannot be guaranteed.
1 Wallace Road,
Woongarra, QLD
46.6 ACRE HORTICULTURE FARM
This 17.21 Hectare (46.6 acres) property is located just outside of Bundaberg in Woongarra . Generous 74 meg bore allocation. 2 sealed road frontages, a 20x10m open front shed for machinery. Currently the property has 1.6 hectares (3.95acres) of dragon fruit with a high return, the rest of the property is under sugar cane.
Soil types vary from red soil running to chocolate soil with underground mains throughout for easy irrigation. Potential for a vast array of crops and is priced to sell at $790,000