Bathing in Lake Bonney. Image credit: Kristy Billing @gypsyandherwild
Berri Barmera, South Australia: The wine capital of the outback
Where our continent's mightiest river carves through the South Australia desert leaving a trail of oasis-like banks and creeks, lies the beautiful and unique Shire of Berri Barmera South Australia. Its location, just a two and a half hour drive from Adelaide, makes this one of the most accessible and convenient outback shires in the country, but don't be fooled by it's proximity to the coast; this is true bush land. The area was first settled in the late 1910s, when thousands of young men from Adelaide returned from World War I to an allocated Soldier Settlement Plot. Not long from a strange and hostile land far away, these brave battlers, families in tow, set off for an entirely different frontier in the riverlands. 8 of these pioneers found a new home in what is now the Shire of Berri Barmera, and their stories and the families they raised are an essential piece of this region and its history.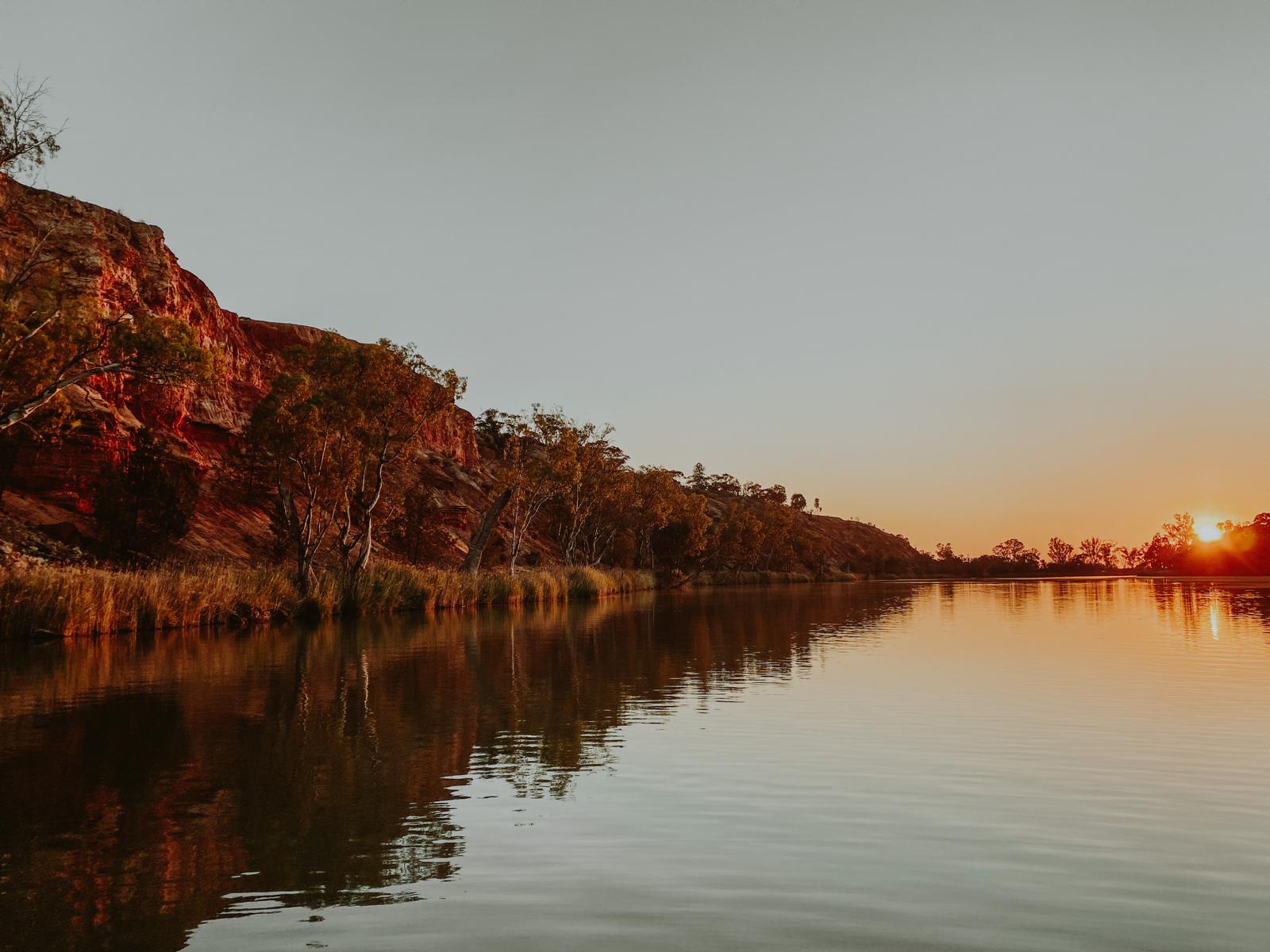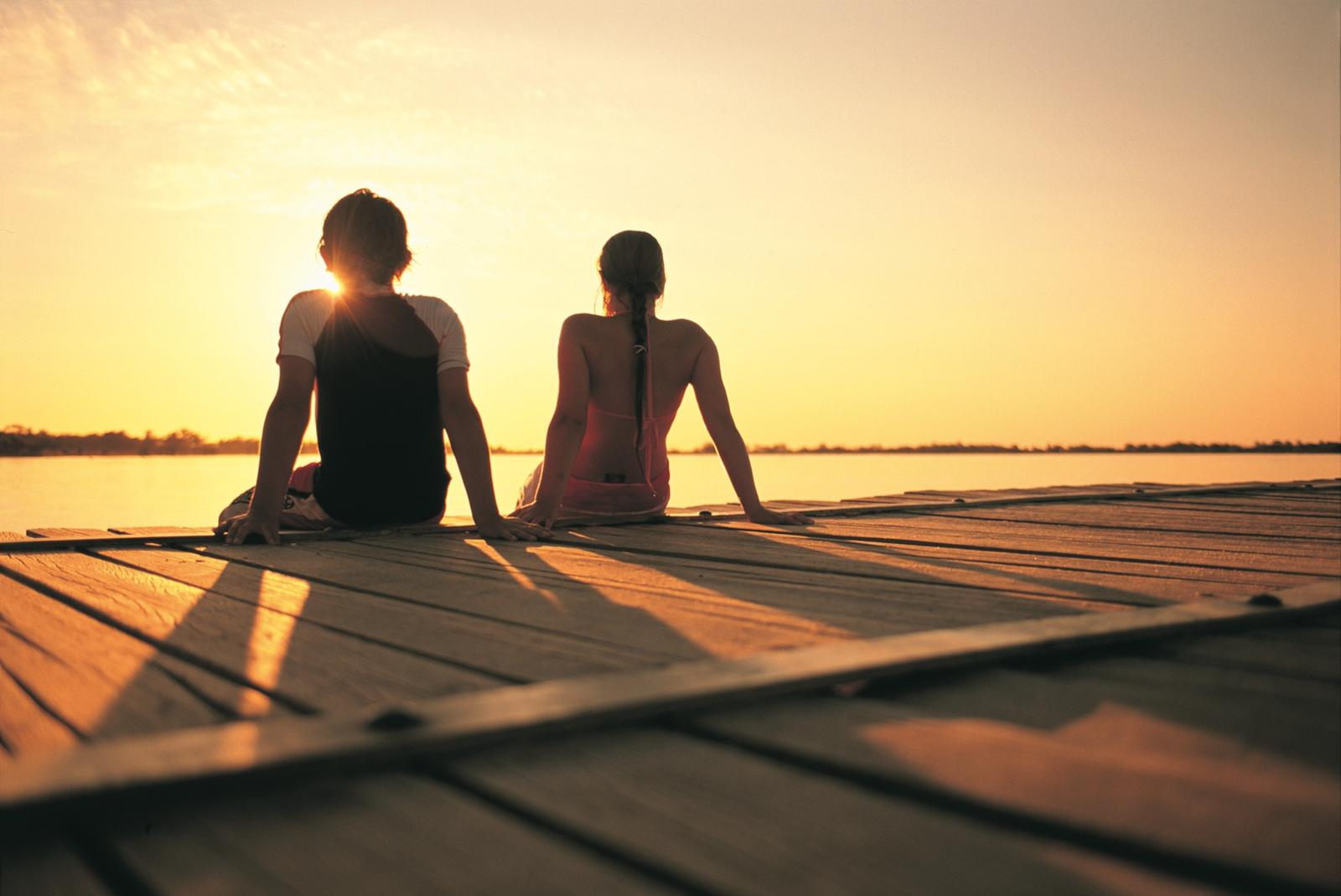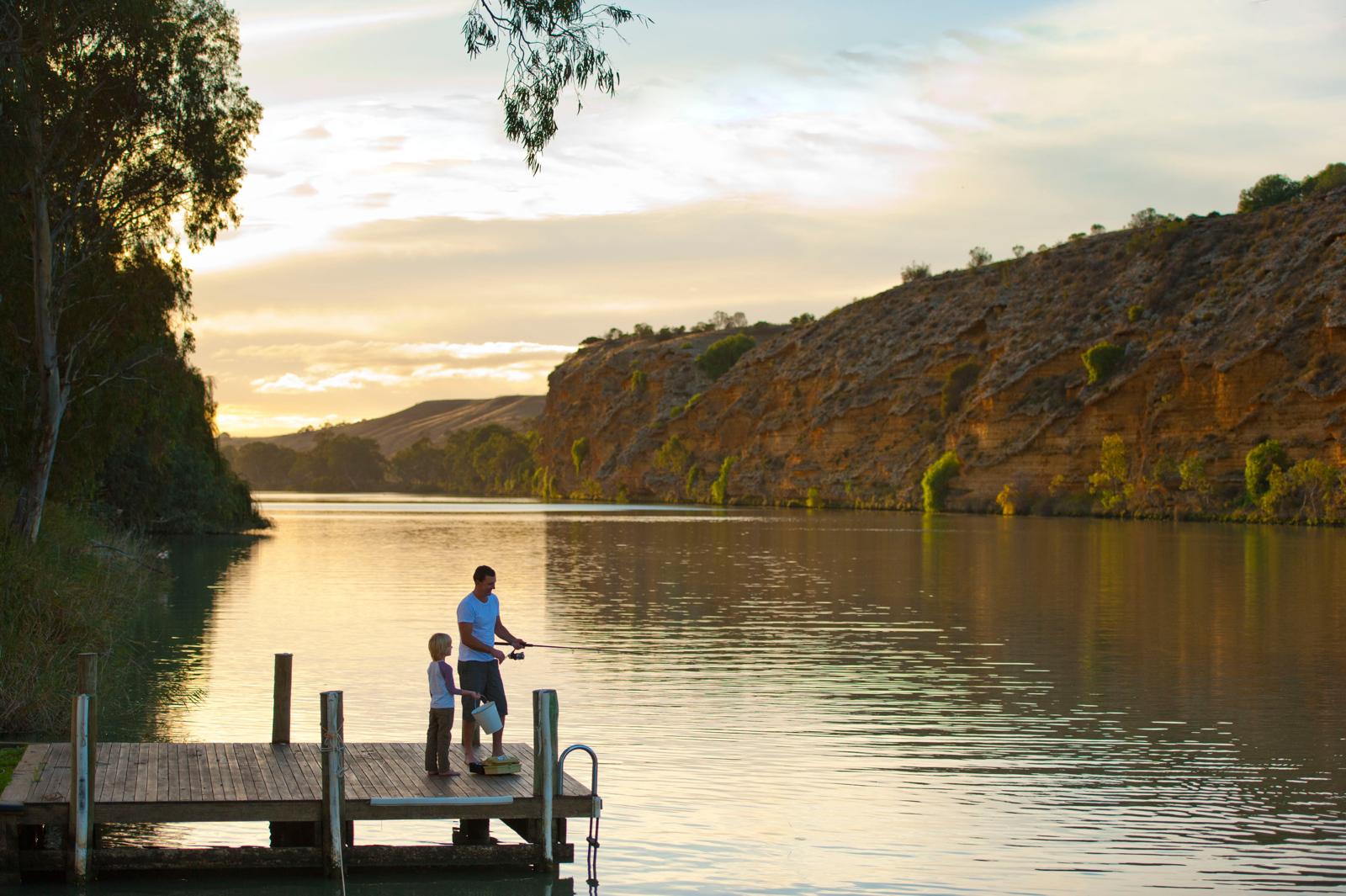 The stunning riverbanks and lakes of Berri Barmera. Image credit: South Australian Tourism Commision / Adam Bruzzone
Berri Barmera is one of South Australia's best wine regions, as it's semi-arid climate is perfect for growing fruits of all kinds, but especially wine grapes. One standout feature of the region's wine industry is Berri Estates, owned by Australian wine giant, Accolade Wines. Incredibly, this is the single largest grape processing location in the Southern Hemisphere, with a whopping 220,000 tonnes of grapes crushed on sight annually. The site is by far Australia's largest producer of cask wine, accounting for nearly half of the product sold on our shores, and is unsurprisingly the largest single employer in the Berri Barmera region. The shire is also home to a variety of boutique vineyards and wineries that offer more refined ranges of locally grown and fermented wines, such as Kingston Estate Wines in Kingston and 919 Wines in Glossop.
Banrock Station Wine and Wetland Centre is perhaps the most impressive wine destination in the Shire of Berri Barmera, and is an absolute can't-miss for those on their way up or down the murray. Situated about halfway between the small villages of Overland Corner and Kingston-on-Murray, in the regions West, this is an ecological and viticultural treasure trove. Settle in for a tasting session of Banrock Station's acclaimed range including the crowd pleasing Pink Moscato, as well as tried and true classics like their Merlot and Sauvignon Blanc. There aren't many better places to see the unique flora and fauna of the Murray wetlands, and self guided is the standard as you're free to let your adventourus spirit wonder at Banrock Station.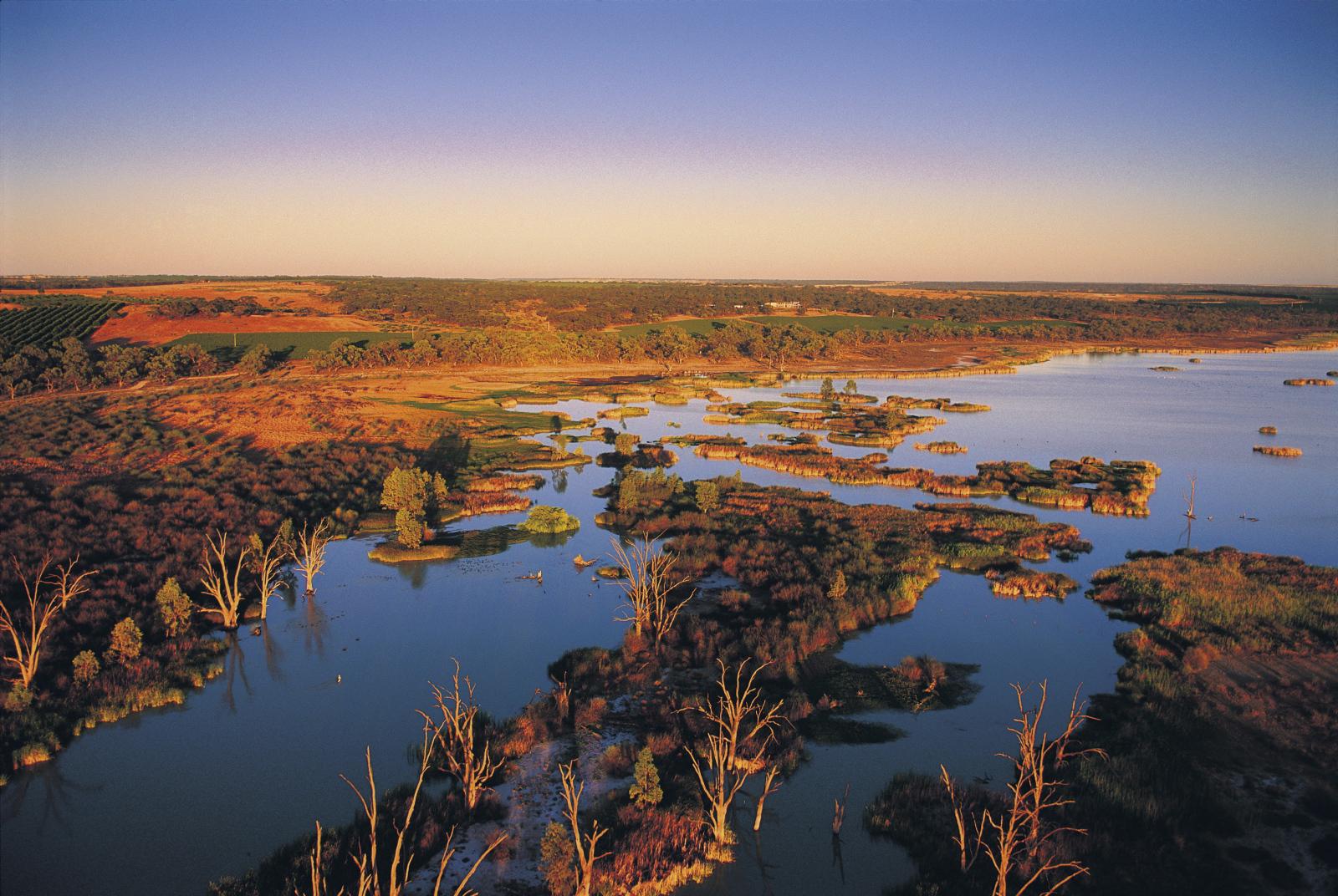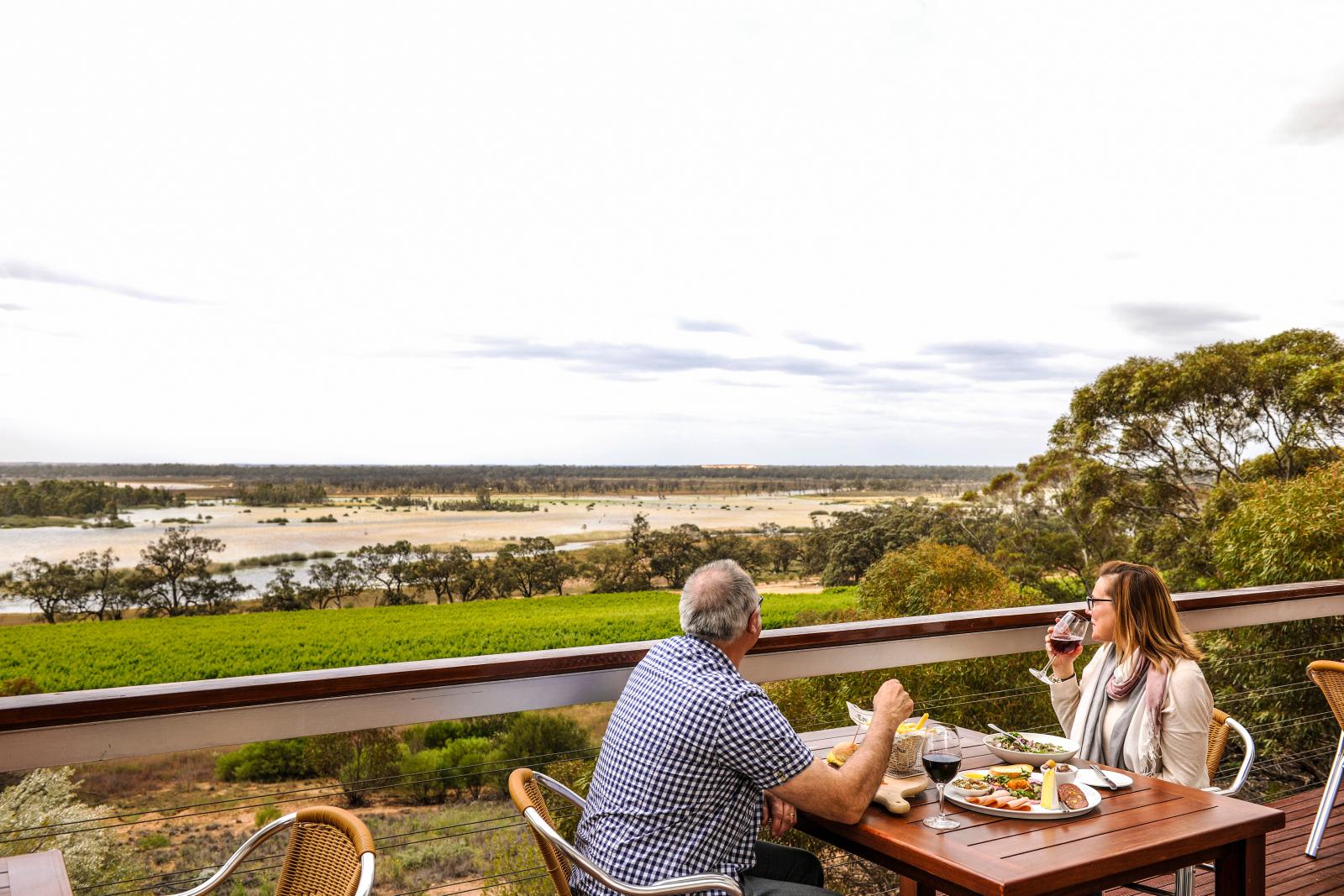 Wetlands and the restaurant at Banrock Station. Image credit: South Australian Tourism Commision / Adam Bruzzone
Where to live in Berri Barmera, South Australia
Though Berri and Barmera are the two largest in the region, there are a total of 8 towns in the Shire with each being a unique and inviting place to live. These include Glossop, Cobdogla, Loveday, Monash, Winkie, and Overland Corner.
Here are our four favourite spots to live in the region, starting with Berri, whose name derives from the Indigenous 'bery bery' meaning bend in the river. Certainly an appropriate name, as Berri is deeply characterised by its location on the banks of the mighty Murray River. The waterfront is the hub of the town, and recreation on the river such as swimming, boating, and picnics by the water, are popular pastimes in Berri. There's also great choices for eating out in Berri, including restaurants serving authentic Indian and Chinese cuisine, and the Big River Tavern at the local golf course is a local's favourite for dining out.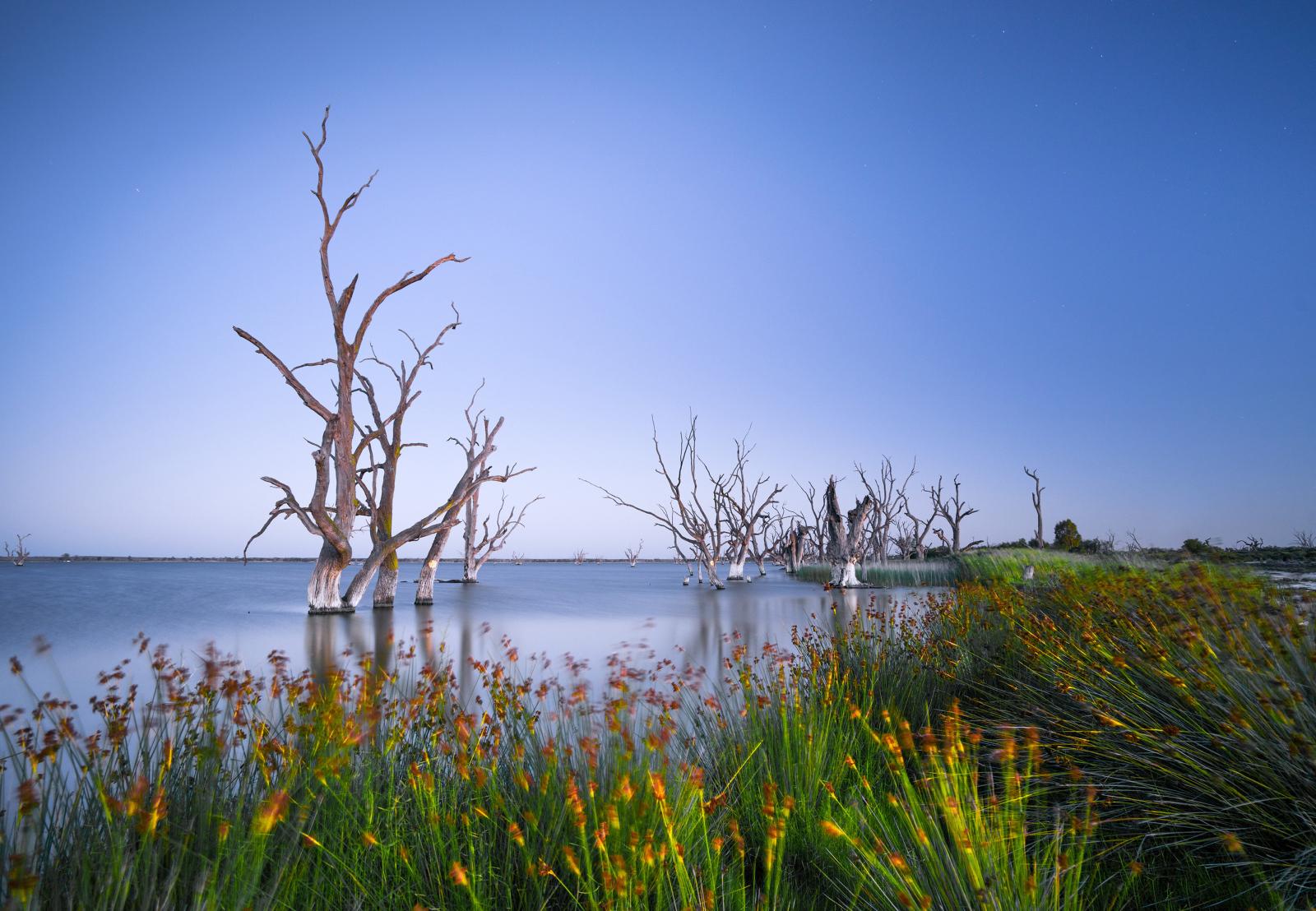 Lake Bonney in Barmera. Image credit: Ben Goode
Barmera is also known for its stunning waterfront, but rather than the banks of the Murray, the town is spread up against picturesque Lake Bonney, a large freshwater lake fed by the Chambers Creek wetlands. It's the perfect place to spend a summer's afternoon in the riverlands, with activities such as canoeing, yachting, and waterskiing being popular attractions. The charming main street of Barmera is one of the best and most cohesive displays of Art Deco architecture anywhere in Australia. It's also home to the historic Bonney Theatre, which is a part of Barmera's rich culture of country music that includes a Hall of Fame of Aussie country artists, and the annual Barmera Country Music Festival.
Glossop is situated about half way between Berri and Barmera, and is probably best known for being home to Australia's largest winery in Berri Estates, but the variety of vineyards and wineries here goes far beyond the mass produced. 919 Wines, is a particularly popular and acclaimed local winery in Glossop, and the family business truly lives up to their mantra of purity, integrity, and sustainability. On the quainter side of things, Aggie's Fresh Fruit Stall is a charming roadside stand in Glossop where you can buy daily fresh picked fruits and learn about citrus and stonefruit growing in the region, and the Bella Lavendar Estate is a tranquil functioning lavender farm with a Mediterranean style pizza cafe, and even a putt putt golf course.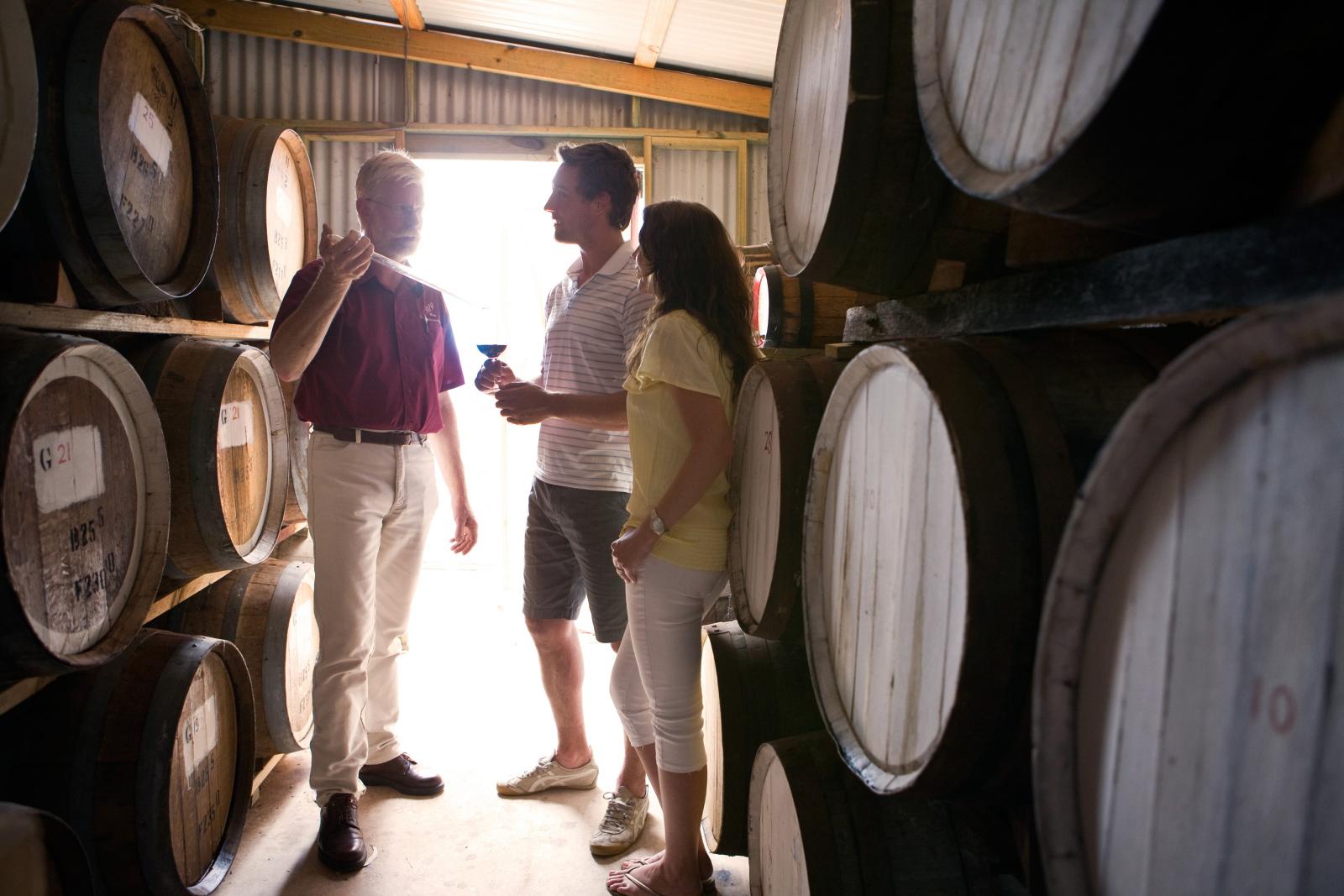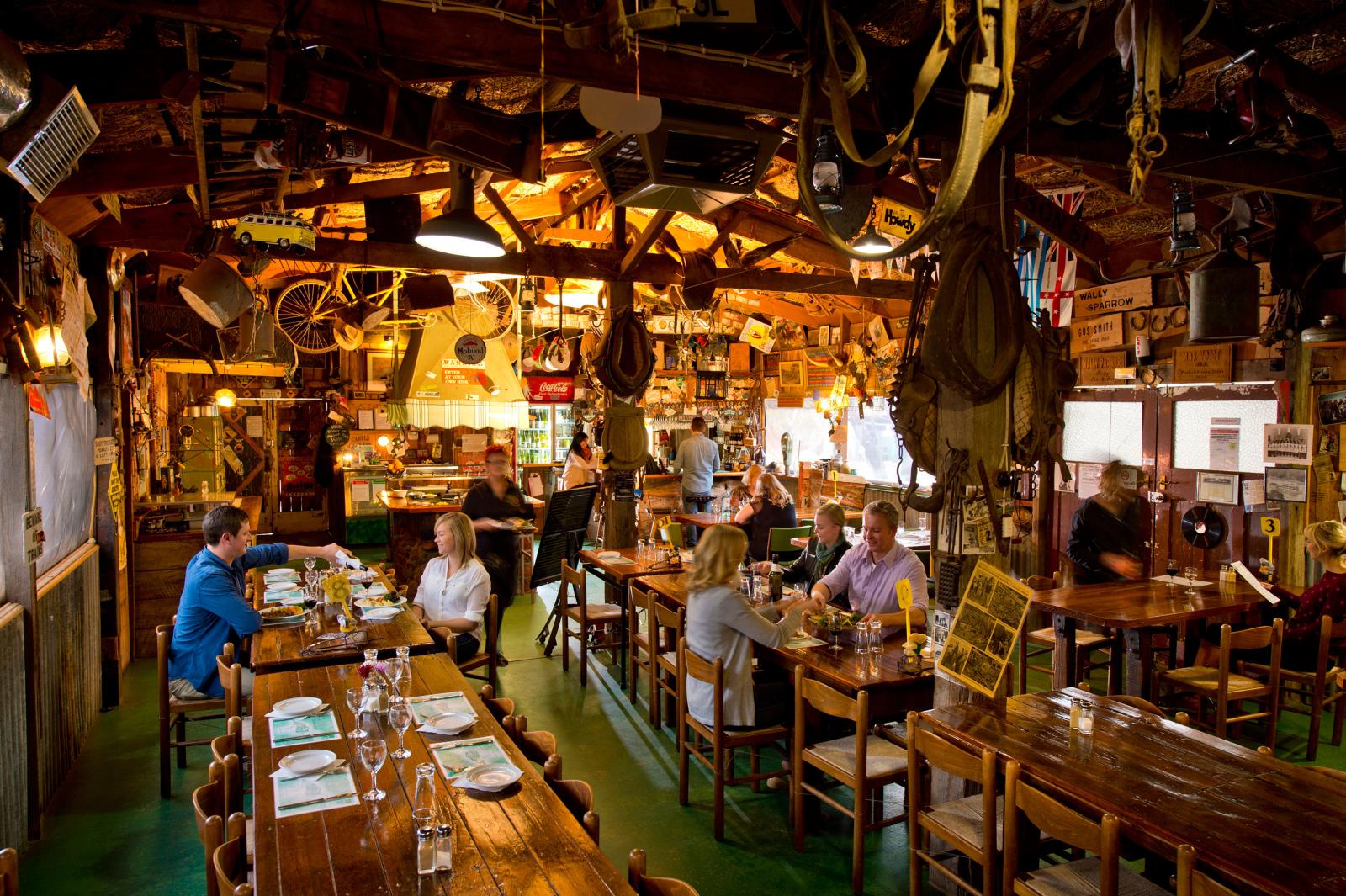 916 Wines and Mallee Fowl Restaurant. Image credit: South Australian Tourism Commision / Adam Bruzzone / James Knowler
Just a short drive up north from Glossop, the sleepy town of Monash was once known as 'Lone Gum', for the still standing red river gum that has lived a century in this plain, starkly removed from the rest of its kind. Nowadays the town is home to two of the areas most beloved locales. The Monash Adventure Park is a delight for kids and parents alike, with attractions like the leaning towers, the wave bridge, and a huge maze to lose yourself in. There's also a lake with paddleboats for hire. To the East of the town, roadside on the Sturt Highway, the Mallee Fowl Restaurant is a thematic marvel, celebrating the unique and stunning atmosphere of the riverlands and all the wonderful Australiana it has played home to. Not only is it the riverlands longest running restaurant, but they have an outdoor stage where you can catch a live set after your meal and truly sink into the local vibe.
Health and amenities in Berri Barmera, South Australia
Health services in the Shire of Berri Barmera are administrated by the Riverlands Community Health Service. There are two hospitals in the region, with the larger being Riverland General Hospital in Berri. It is a comprehensive medical facility offering high quality general, surgical, and maternal care. The alternative is Riverlands Regional Health Service, located opposite the golf course in Barmera, which is a slightly smaller but adequate facility that offers most services available at the General Hospital. Berri is also the location of the Riverland Veterinary Hospital & Emergency Care.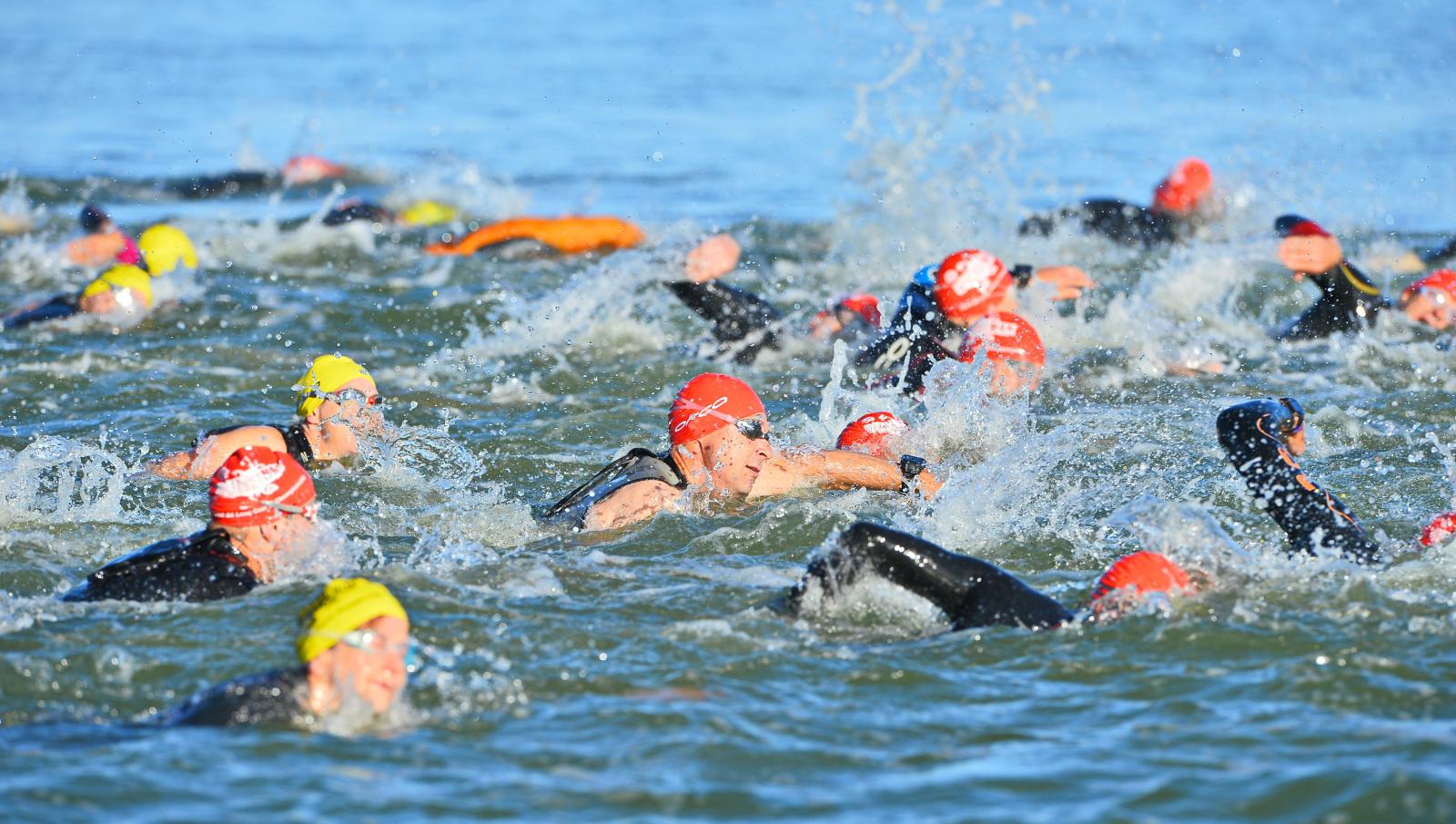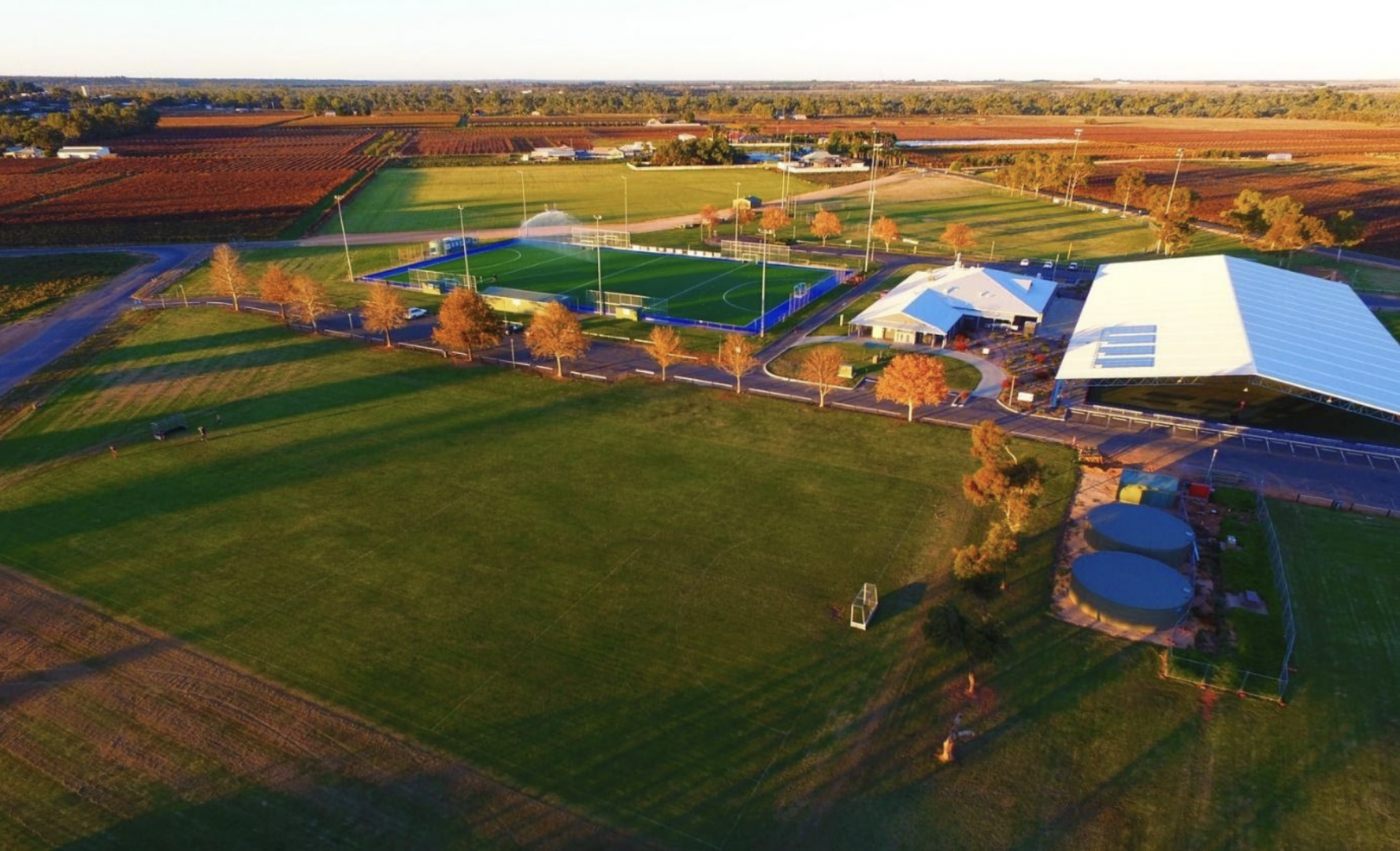 The Murray Man Triathlon and Berri Sports Stadium. Image credit: Grant Schwartzkopff / Berri Barmera Shire Council
Berri Barmera has a rich sporting culture and a wide range of facilities to accomodate whatever your favourite game might be. There are a number of golf courses throughout the region, as well as ovals in each town offering team sports like aussie rules, cricket, soccer, and rugby. The grounds at Berri Sports Stadium include an indoor multipurpose court where basketball and netball are popular games, as well as outdoor facilities for hockey, baseball, and softball. If you consider yourself something of an athlete, the annual Murray Man Triathlon, held on the northern shore of Lake Bonney, is your chance to test yourself against the best.
There are a variety of options for education in Berri Barmera. While Glossop High School is the only option for high school aged children, with it's Year 8-10 campus in Glossop and Year 11-12 in Berri; one in Glossop, there is also Loxton High School which does not fall under the Berri Barmera Shire, but is only a 20 minutes drive south from Berri. There are primary schools in Berri, Barmera, and Cobdogla, and Moorook Primary School is also just outside of the shire's borders but easily accesible from the region. Those living with intellectual disablities can recieve a quality education that meets whatever their needs may be at the Riverland Special School in Berri.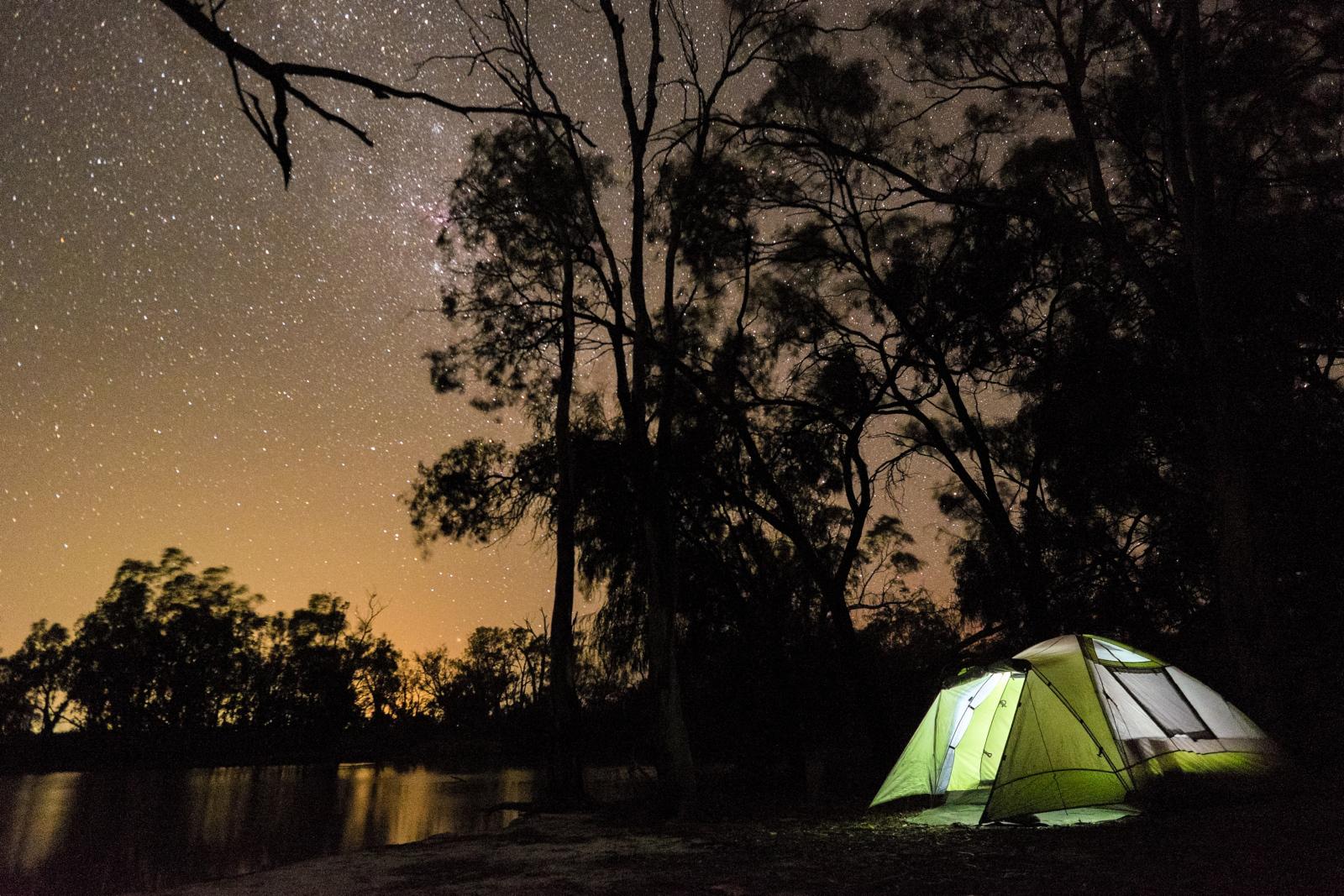 Camping by the Murray River in Berri Barmera. Image credit: Francesco Vicenzi
For further information
If you're interested in visiting or relocating to Berri Barmera, find more information on the Berri Barmera council website, or contact them at bbc@bbc.sa.gov.au or 08 8582 1922.