A couple enjoying views overlooking Rowlee Wines vineyard. Image credit DestinationNSW
A weekend getaway in Orange, NSW
Situated in the Central West of New South Wales, the charming city of Orange is just a 3.5-hour drive from Sydney. Here, you will find green rolling hills, highly acclaimed vineyards, abundant orchards, award-winning restaurants and boutique shopping.
For a weekend away from your busy life, or perhaps a few days away to celebrate your new-found freedom after lockdown, there's nothing like a visit to Orange, known widely as one of Australia's most exciting food and wine cities. Perfect for a girls' weekend, a romantic couple's escape, or a fun-filled family romp, you will feel completely revitalised after your visit to this delightful corner of NSW>
Eating in Orange, NSW
Byng Street Café
A local's favourite, Byng Street Café is the ultimate corner store, with a cute café, delectable deli, fresh bakery, bistro and great coffee. A take on the classic menu for both breakfast and lunch, this café is modern yet nostalgic. For your morning coffee runs, visit Byng Street and meet the friendly local staff.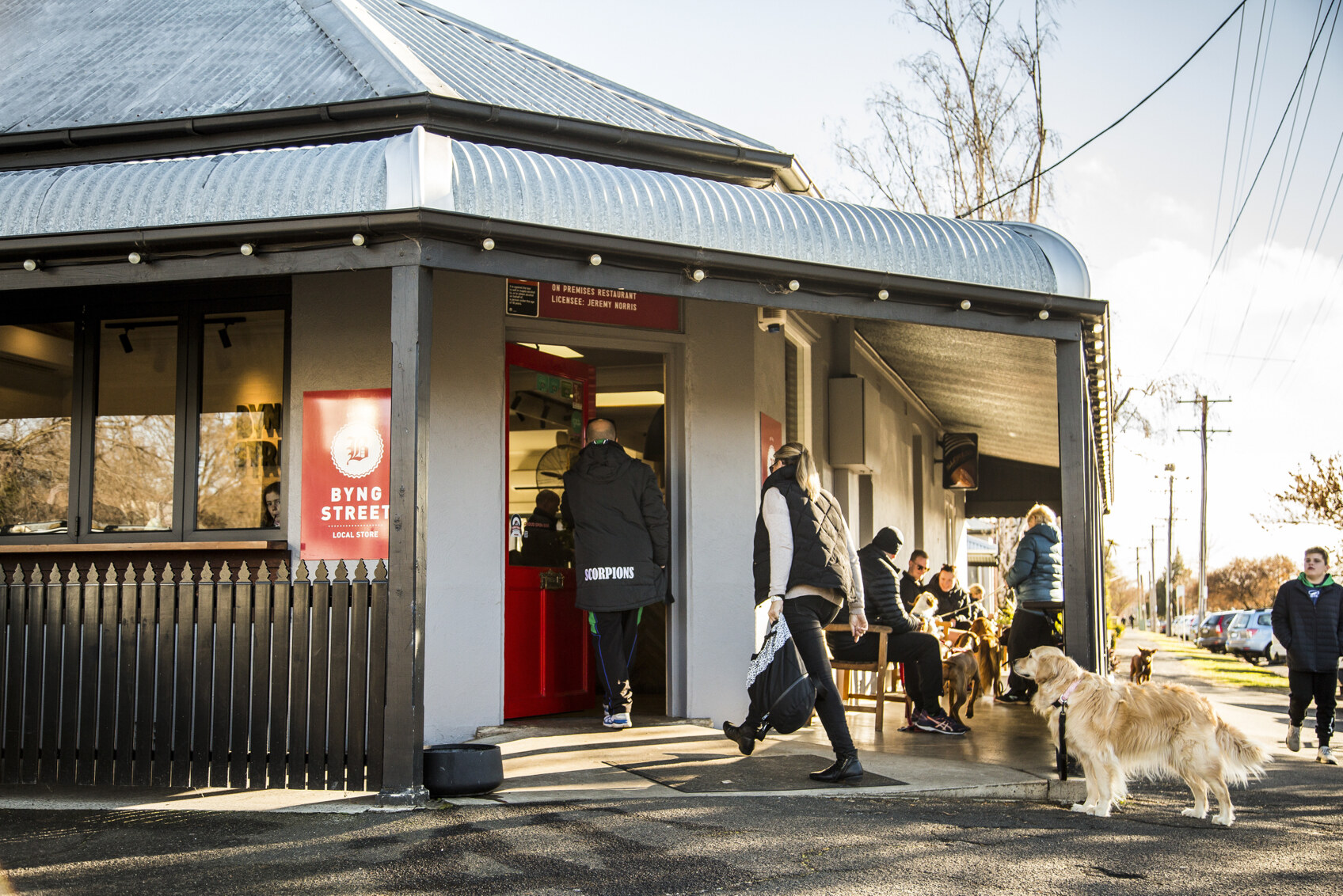 Patrons entering the Byng Street Cafe in Orange. Image credit DestinationNSW
The Agrestic Grocer
This grocer covers all bases. The Agrestic Kitchen caters all week for breakfast and lunch, whilst also producing their own range of jams, pickles, chutneys and relishes, so you can savour every bit of goodness. The weekends are celebrated with live music, from local and not so local artists. Make sure to book, as this place is popular and gets busy.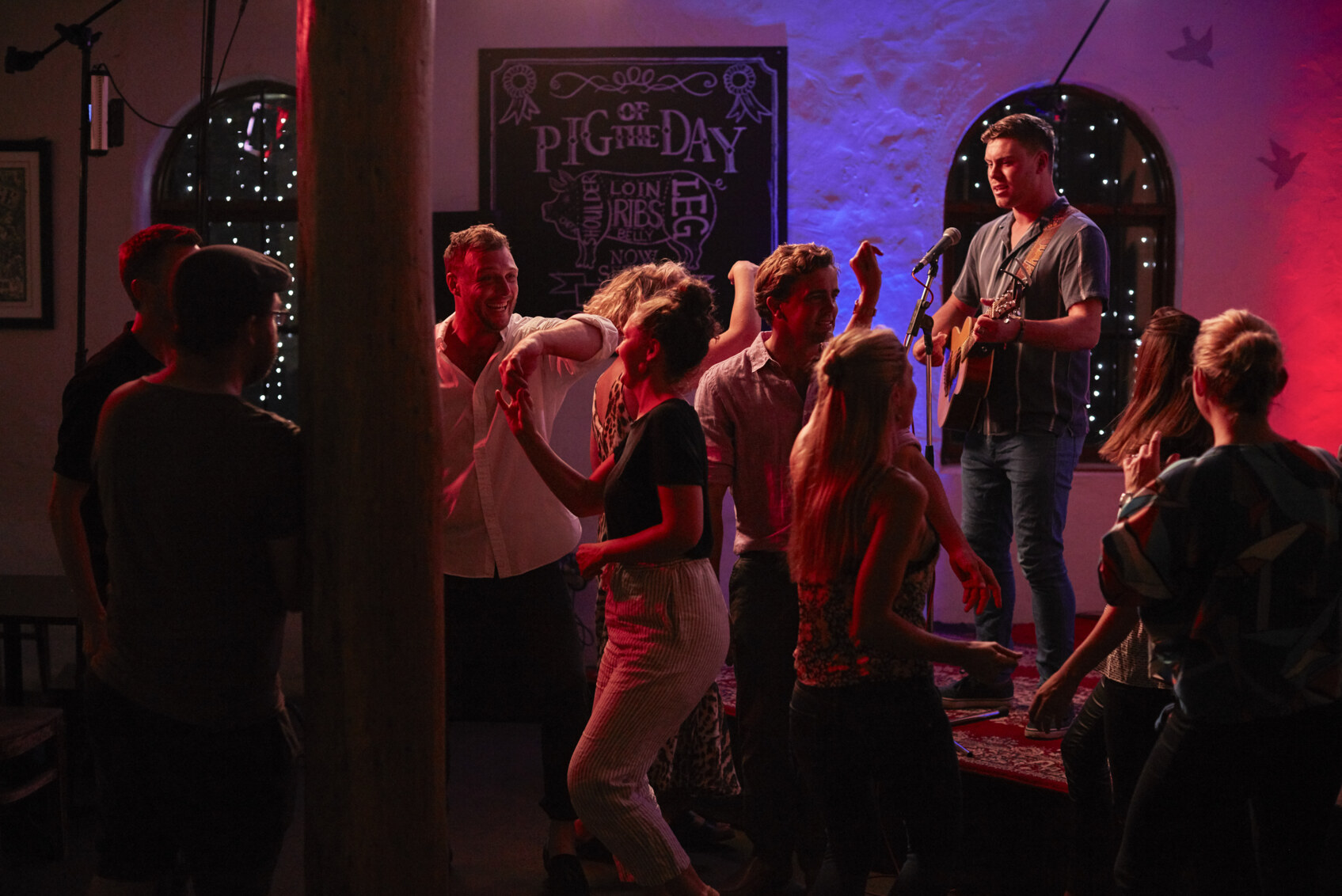 People enjoying live music at The Agrestic Grocer, Orange. Image credit DestinationNSW
Charred Kitchen and Bar
A heavenly dining experience perfect for your first night in Orange, Charred Kitchen and Bar uses only the best locally and internationally sourced ingredients to create delicious food. Here, your taste buds will be taken on a culinary journey - the menu takes inspiration from the chefs' travels across the world. Come for happy hour or stay for a few drinks post meal, at Charred's bar. The name "Charred" comes from their newly commissioned "Lucifer" wood and charcoal oven, which imparts a unique flavour to the restaurant's dishes. Charred is the complete dining experience, with a great atmosphere and even better food.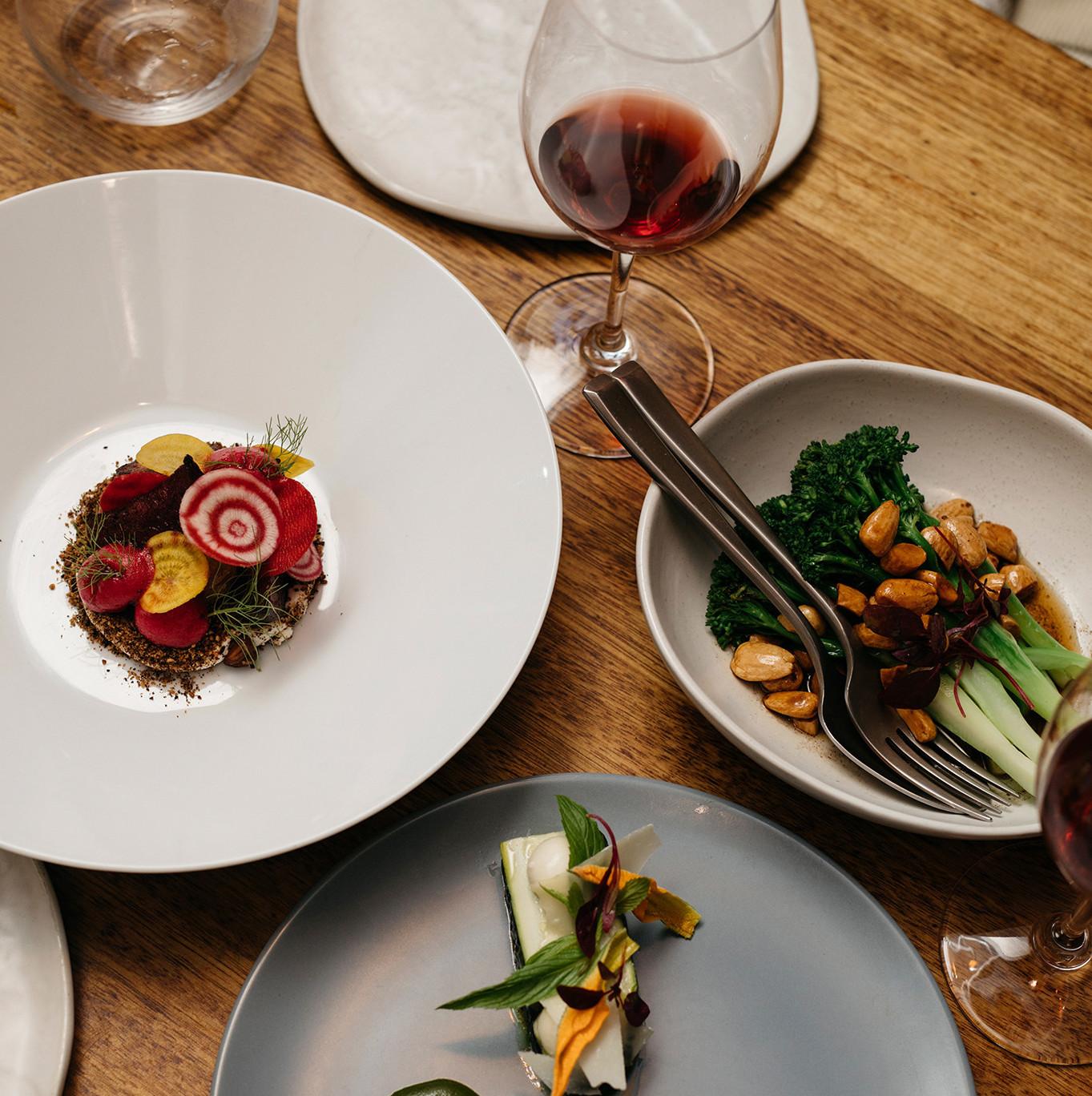 Delicious meals served at Charred Restaurant. Image credit DestinationNSW
Tonic Restaurant
Dress up and end your weekend at one of Central New South Wales' most awarded eateries, Tonic Restaurant. Not only did the head chef Tony Worland spend time in London working for Gordon Ramsay, he came home to work with Matt Moran at Aria in Sydney. With this great experience under his belt, Tony and his wife truly know their ways around a kitchen, and this shines through in the delicious food they create. Located in the town of Millthorpe in the heritage-listed Hall of Commerce building, its innovative menu centres on locally-sourced food, maintaining a fresh and balanced menu all year round. The beautiful interior space, warm atmosphere and great food makes a meal at Tonic the perfect ideal way to finish the day.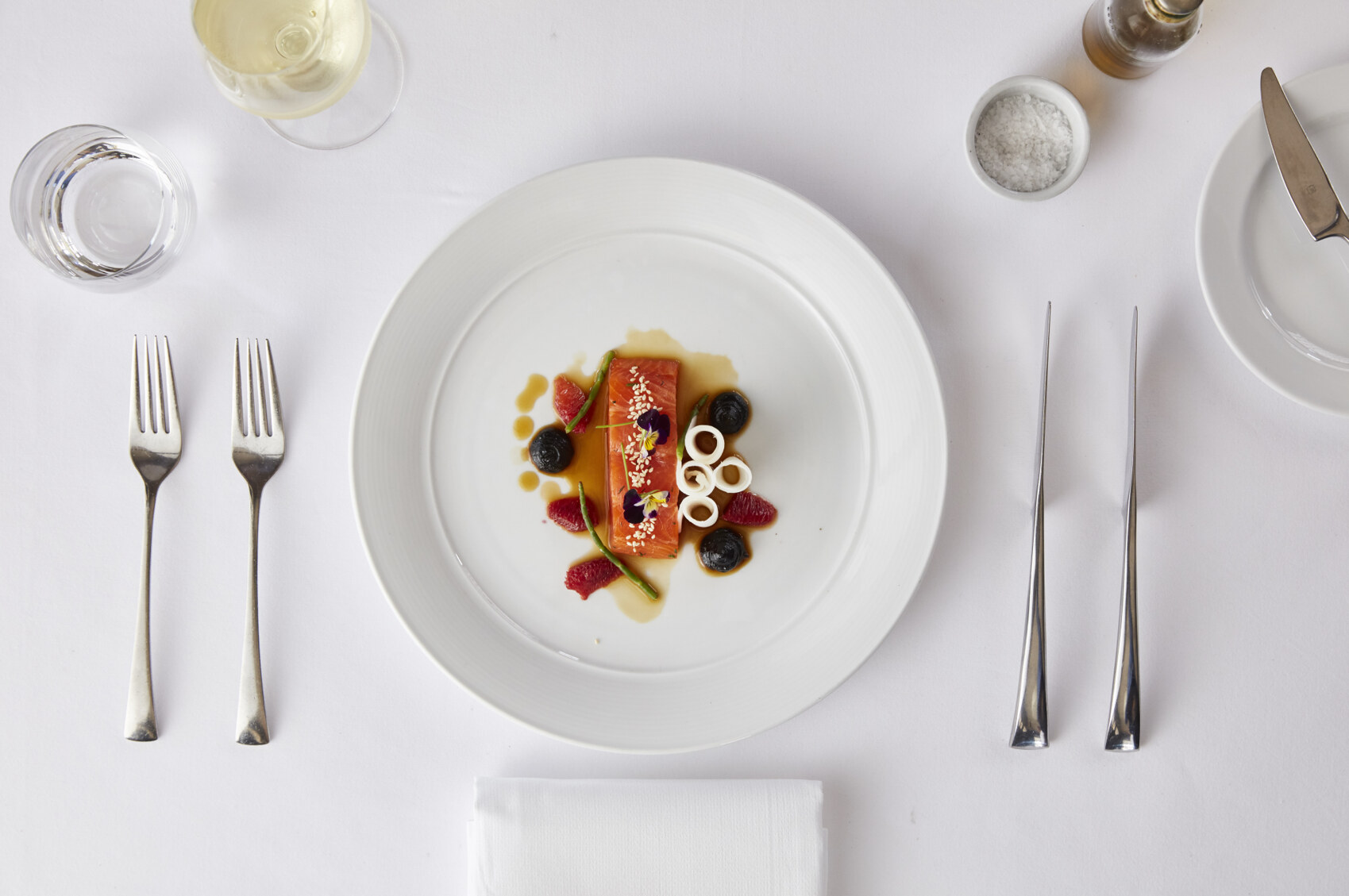 Quality food and drink at Tonic Restaurant, Milthorpe. Image credit DestinationNSW
Best Wineries in Orange, NSW
Phillip Shaw Wines
Orange is known for its many wineries, but Phillip Shaw Wines takes a unique and unconventional approach to winemaking. Subtle depth and complexity are all defining factors in their wine. Come and be transported to the world of wine at Koomooloo vineyard, with intimate tastings and the opportunity to taste wines of a variety of tastes and styles. Complement your wine tasting with locally sourced cheese, prosciutto and other accompaniments. If you prefer a more in depth experience, you can tour the winery and vineyard and then finish with tastings at the Cellar Door. A fully immersive experience Phillip Shaw is captivating and unforgettable.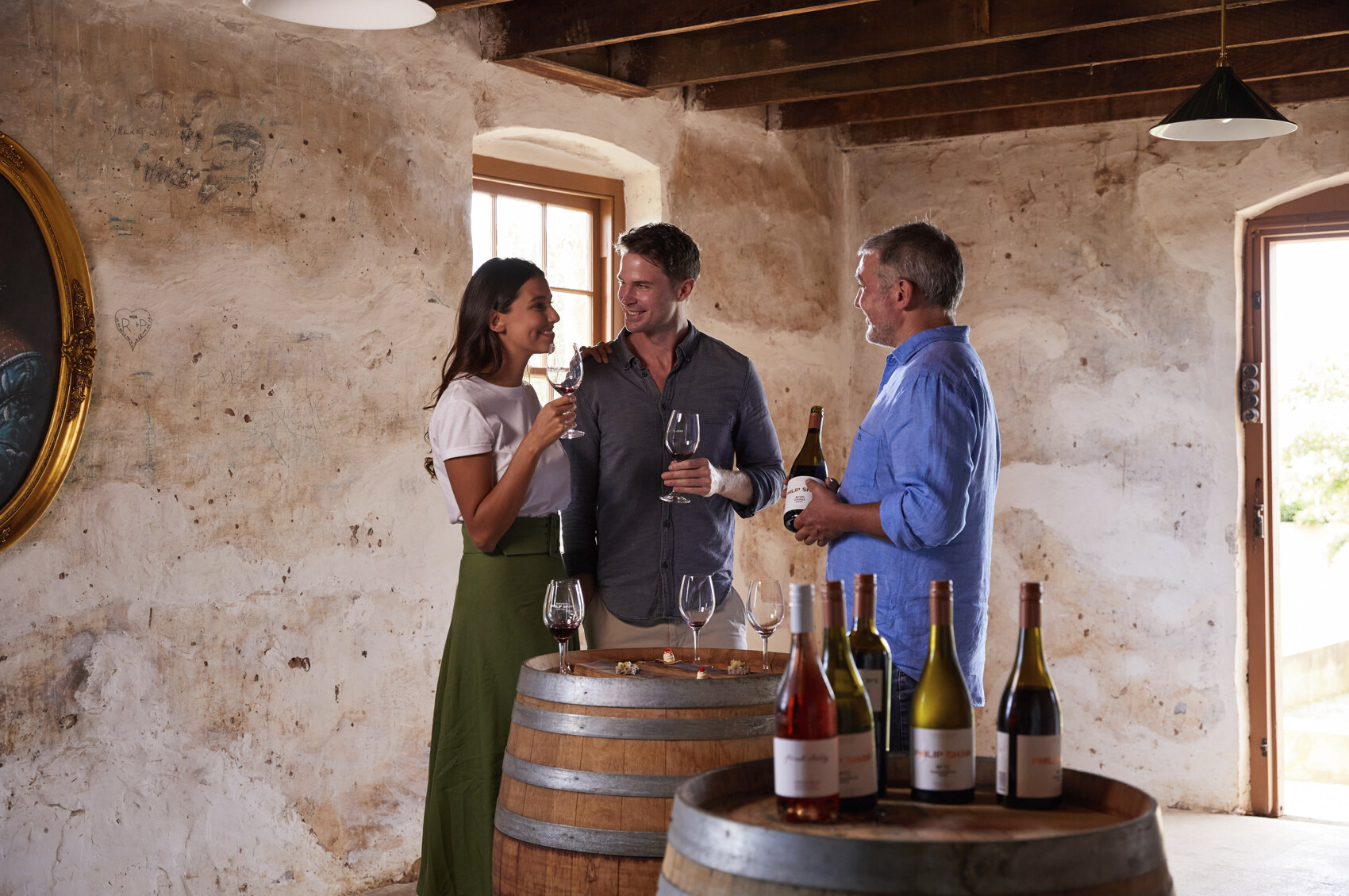 Couple enjoying a wine tasting session with winemaker Daniel Shaw at Philip Shaw Wines, Orange. Image Credit DestinationNSW
Rowlee Wines
Spend a relaxing afternoon at Rowlee Wines, sipping wine and getting lost in the moment. This vineyard uses the cool climate, high altitude and changing seasons to its advantage, delivering quality tasting wines. A variety of experiences are available including tastings at the Cellar Door, picnic hampers to enjoy on the grounds or an overnight escape at the luxury guesthouse.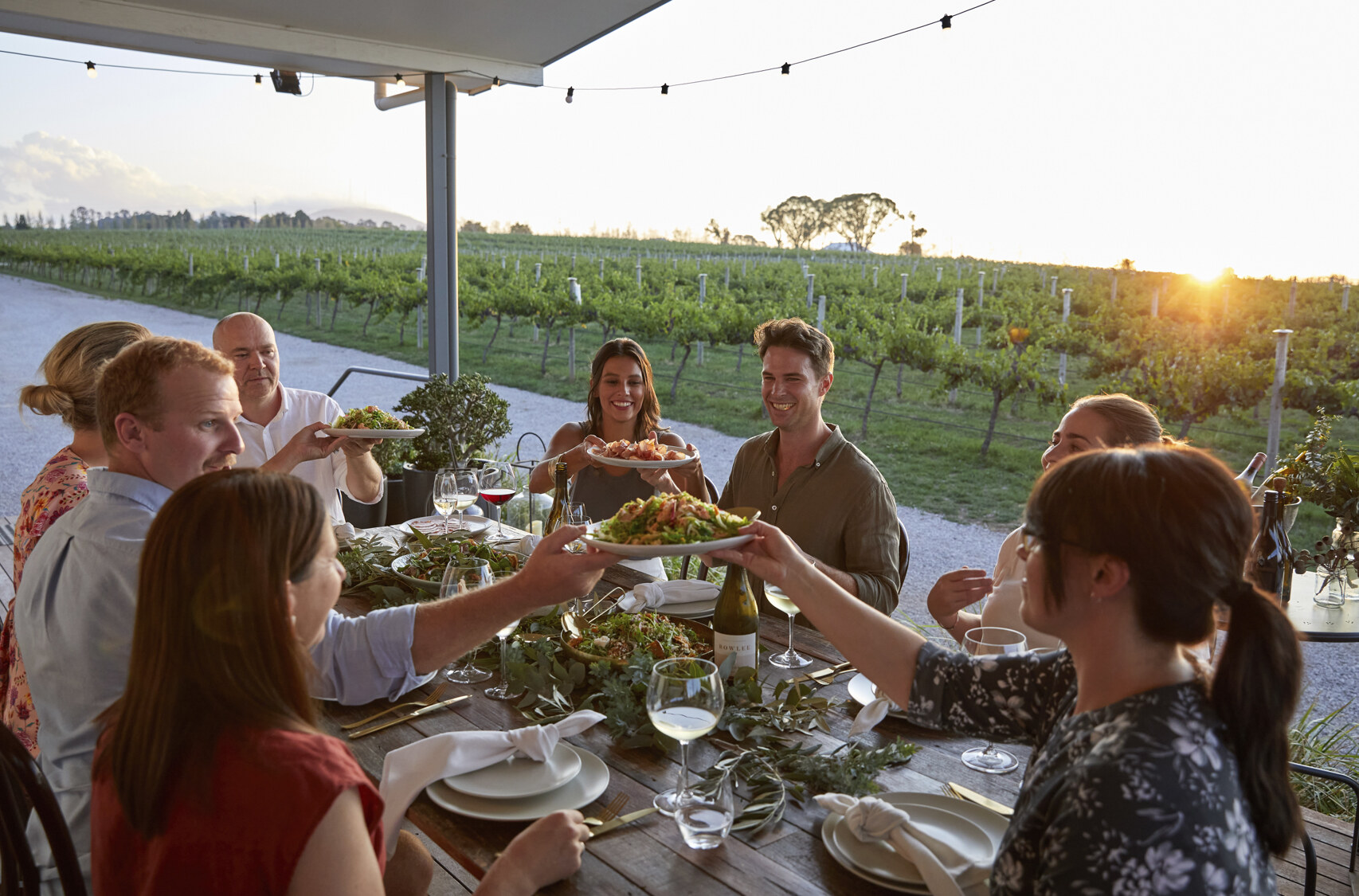 Group of friends enjoying a vine to table experience at Rowlee Wines, Nashdale. Image credit DestinationNSW
Shopping in Orange, NSW
The Sonic
Have a browse at The Sonic, a must-see in Orange where you'll find all things fashion, art and coffee. They have given the old Masonic Hall in Orange a new lease on life, with cool, modern interiors and an inviting entrance that will not leave you disappointed. Great quality clothing, stunning homewares, groovy art and first class coffee are on offer here. More than one coffee stop is allowed, you are supporting the local community, not just that pesky coffee addiction.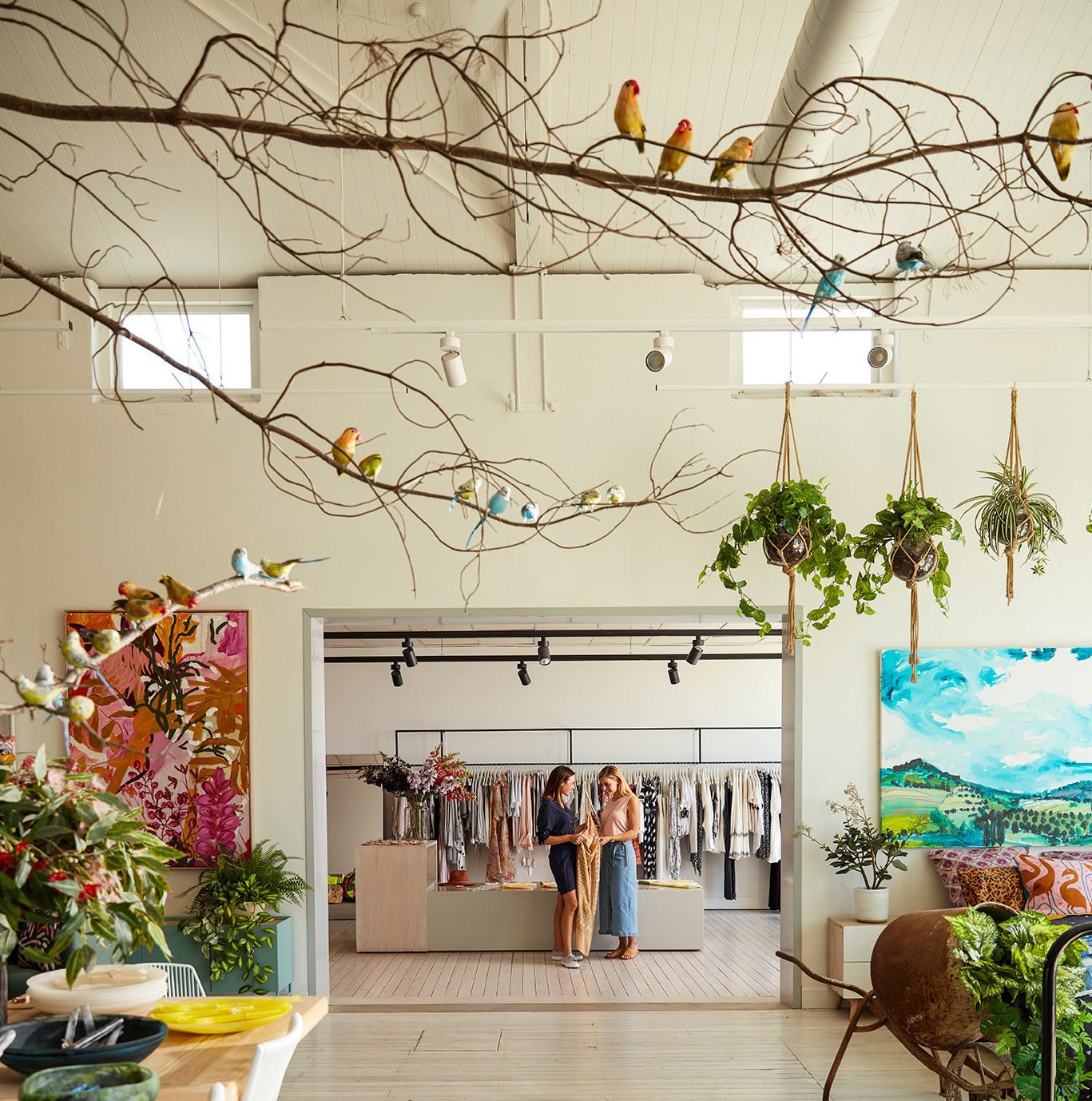 The Sonic building, home to fashion, homewares and coffee. Image credit DestinationNSW
Orange Farmers Market
Local markets always have such great energy. You really get a sense of the community, and the Orange Farmers Market is no exception. Held on the second Saturday of each month, food, produce and craft lovers can enjoy an assortment of fresh, local goods. Support Orange's local community and meet some residents, you won't regret it!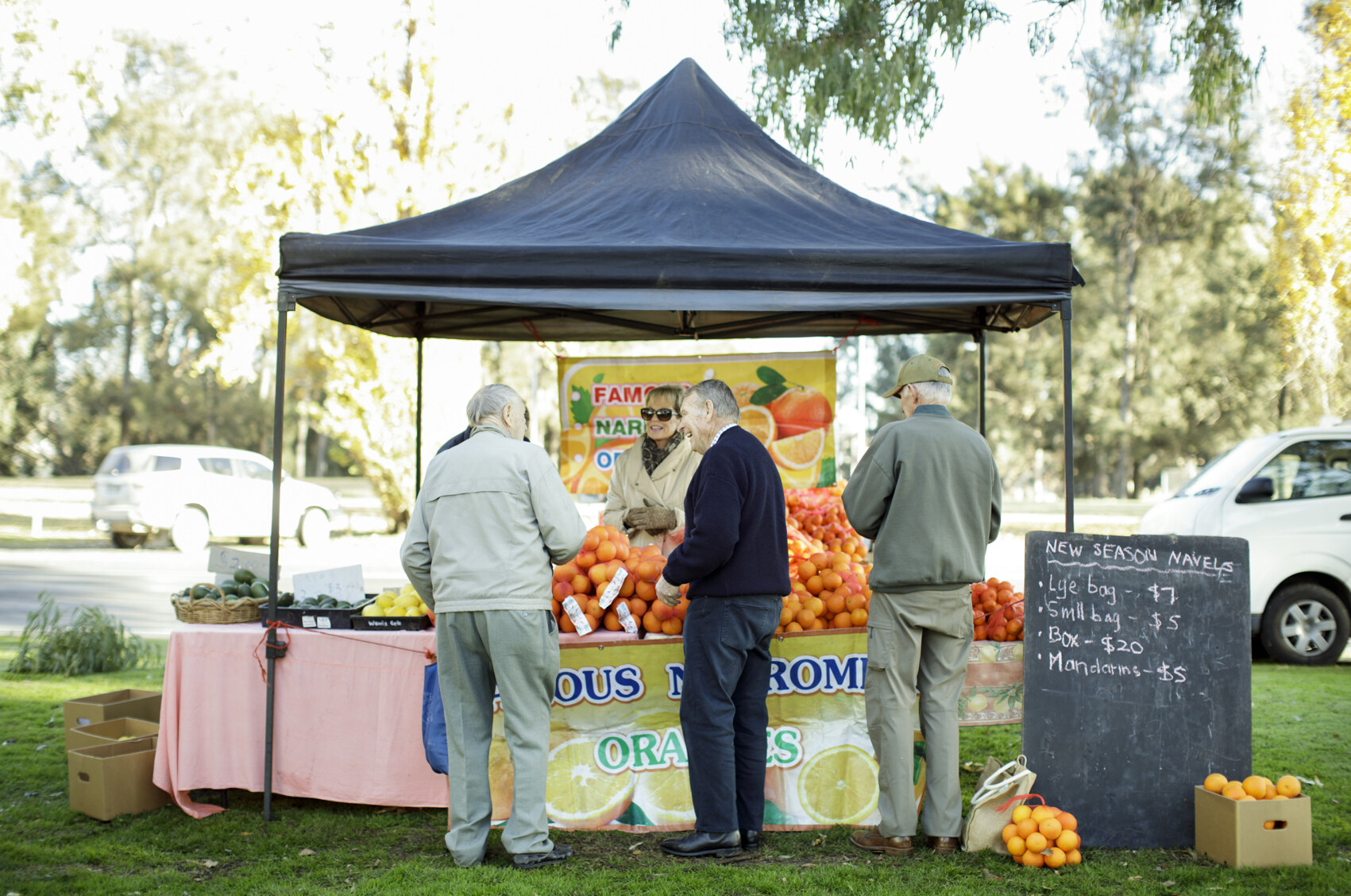 Locals buying bags of famous Narromine oranges at the Farmer's Market. Image credit DestinationNSW
Where to Stay in Orange
Nashdale Lane
Unwind and immerse yourselves in the serenity of Orange's natural beauty at Nashdale Lane. Located on a stunning vineyard, enjoy luxurious accommodation, fine wines, quality produce and a dazzling night sky. Nashdale Lane's glamping cabins are designed as an adults' oasis where you can expect all the comforts of high-end accommodation with a camping feel. Each cabin is fully fitted out with quality amenities, including hardwood flooring throughout, private toilet and bathroom facilities, stylish kitchen,and custom-made joinery including a four-poster Queen-sized bed and sunken outdoor lounge and alfresco deck/ BBQ area. A romantic setting with sensational views across the vineyard: is there a more perfect weekend getaway?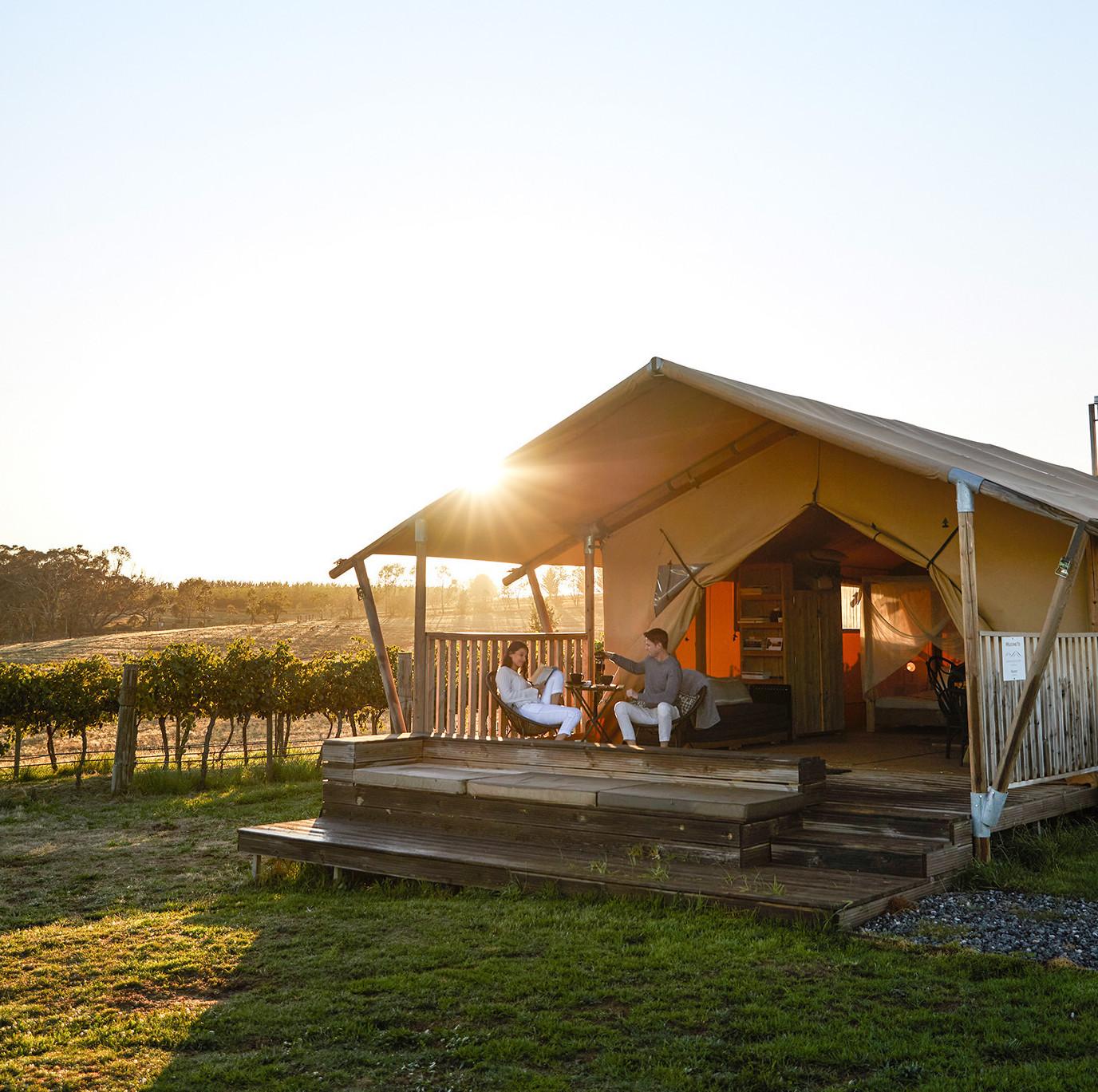 Couple enjoying a glamping experience at Nashdale Lane Wines. Image credit DestinationNSW
The Byng Street Boutique Hotel
After grabbing your coffee from Byng Street Café, why not stay down the road at the Byng Street Boutique Hotel? The hotel offers a unique accommodation experience located in the heart of Orange's heritage precinct, so you can enjoy a comfortable stay with style and sophistication. Breakfast is included, so visitors can take advantage of the beautiful Yallungah Dining Room, located in the original homestead. It serves a delicious two-course à la carte breakfast showcasing fresh local produce every morning.
---
For further information
If you're interested in visiting Orange, find more information on Orange's council website, or contact them by email at council@orange.nsw.gov.au or by phone at 02 6393 8000.