Onkaparinga Council South Australia - where the coast meets the vines
The Onkaparinga Council South Australia is the only place in Australia where pristine beaches and unique villages are part of an internationally renowned wine and food region within 40 minutes of a capital city.
It encompasses the tourism destination, McLaren Vale and Fleurieu Coast, offering some of South Australia's best food and wine experiences, and boasting an unmatched combination of affordable housing options, available land for development and Mediterranean climate.
Onkaparinga Council South Australia offers a unique lifestyle
Onkaparinga is awash with premium restaurants and cafés presenting paddock-to-plate inspired menus, alongside more than 80 cellar doors in the world-famous McLaren Vale wine region.
The city's also home to SA's first farmers market—the beloved Willunga Farmers Market—and a recent emergence of craft brewing and distilling, with a number of new taphouses and distilleries to experience.
The 31 kilometres of pristine beaches in Onkaparinga Council South Australia present a range of aquatic experiences, from diving at Port Noarlunga and Aldinga (two of the most dived spots in SA), to surfing in Australia's first regional surfing reserve, the Mid Coast.

Surfers at the stunning South Port beach in Onkaparinga Council South Australia
Nature and wildlife abound with camping, hiking and biking among the rugged beauty of Onkaparinga River National Park, alongside Onkaparinga River Recreation Park, which boasts wetlands, boardwalks to explore and kayaking opportunities.
Onkaparinga Council South Australia's coastal and historic villages each offer their own unique vibe. The relaxed coastal atmosphere at Port Noarlunga and Aldinga's Old Coach Road, combined with the eclectic and vibrant village of Willunga and the picture-perfect township of Clarendon, provide immersive local experiences and a sense of discovery.

Onkaparinga Council South Australia's heritage-rich town of Willunga
The city hosts a thrilling annual stage of international cycling event, the Santos Tour Down Under, alongside a stacked calendar of events, including the Willunga Almond Blossom Festival, Fleurieu Folk Festival, Fleurieu Film Festival, the Sellicks Beach Historic Motorcycle Race and Tasting Australia events.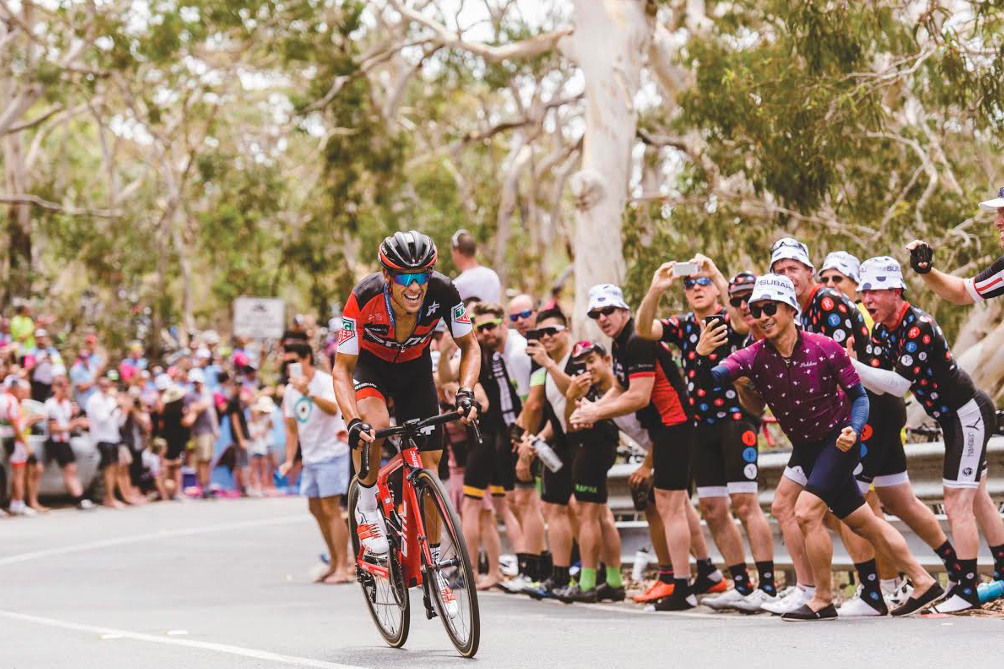 The thrilling Onkaparinga stage of the Santos Tour Down Under
Fertile lands in Onkaparinga Council South Australia
The McLaren Vale wine region in Onkaparinga Council South Australia covers an area from Hallett Cove, to Clarendon and along the ridge of the foothills to Sellicks Beach. Its climate is Mediterranean, boasting warm summers, moderate winters, winter-dominated rainfall, low relative humidity and relatively high evaporation.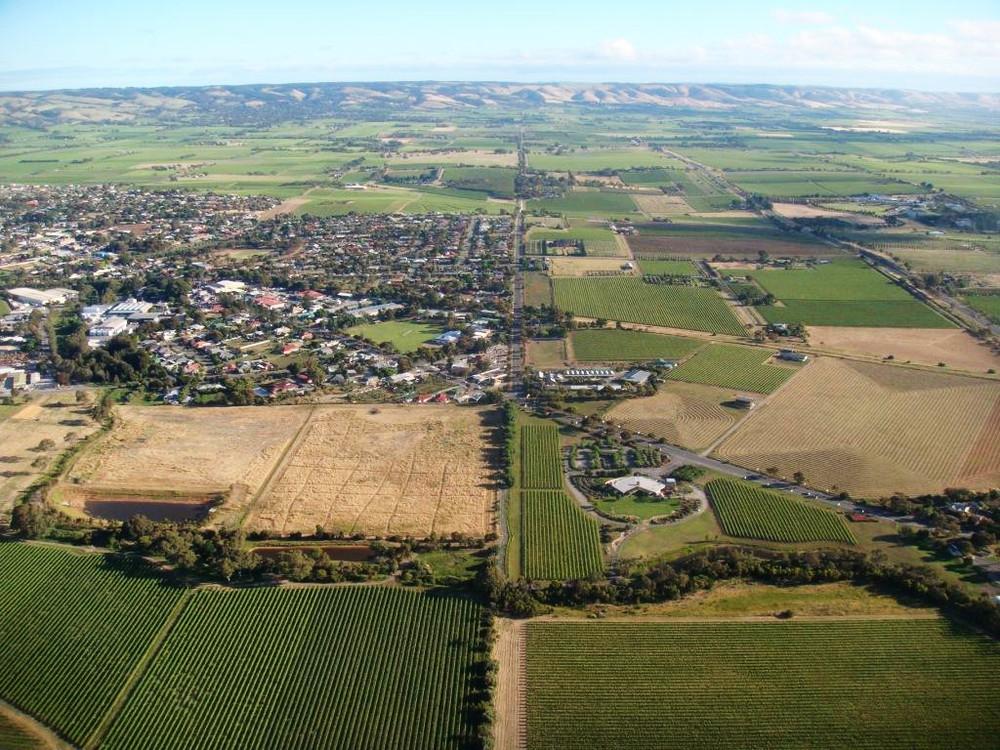 McClaren Vale from above
It's also one of the most geologically diverse regions in the world, with more than 40 unique geologies present, varying in age from 15,000 years to over 550 million years.
This varied terrain means a wide variety of soil types, from red brown sandy loams, to grey brown loamy sands with yellow clay subsoils interspersed with lime; to distinctly sandy soils and patches of red or black friable loams.
Agriculture in Onkaparinga Council South Australia
Onkaparinga has a proud agricultural tradition and includes a mix of urban and agricultural areas. Sixty-five per cent of its 518 square kilometres is used for primary production.
Wine grape growing accounts for 35.7 per cent of agricultural, forestry and fishing businesses, followed by livestock farming (16.1 per cent), and fruit, nut and vegetable growing (3.2 per cent).

Locals at McClaren Vale in Onkaparinga Council South Australia
Of the 7308 hectares of area under vine, 54 per cent is dedicated to Shiraz, but the region also excels with Cabernet Sauvignon, Grenache, Mataro (Mourvedre), Chardonnay, and Mediterranean varieties such as Fiano, Vermentino, Barbera, Montepulciano, Nero d'Avola and Tempranillo.
In 2018-19, beverage manufacturing contributed the most to the region's total exports ($445.9 million; 23 per cent), accounting for 15 per cent of the state's total exports of beverage products, with Onkaparinga Council South Australia's wine grape crops having an approximate value of $22.8 million.
The McLaren Vale wine region has an international reputation for clean, green and sustainable produce, with 37 per cent of its vineyards being Certified Organic/Biodynamic (compared to four per cent nationally).
Other industries
The economy of Onkaparinga Council South Australia is driven by established and emerging small, medium and large business enterprises, and its wine, food and tourism underpin the rural and coastal areas.
McLaren Vale and Fleurieu Coast tourism is centred on wineries, gourmet food production, vibrant villages, festivals, events, arts and culture, and kilometres of spectacular beaches, with the city receiving more than 1.2 million visitors in 2017/18, generating $210 million in visitor expenditure (a 79 per cent increase from 2013).
A new wave of innovative tourism development has emerged within the city, with the iconic d'Arenberg Cube creating a game-changing tourism experience, while more than $70 million of accommodation is planned for McLaren Vale, including South Australia's first luxury winery resort at Wirra Wirra Vineyards.

The d'Arenberg Cube, a key tourist attraction in Onkaparinga Council South Australia
The city also supports a number of world-class advanced manufacturing businesses, and there are a number of industrial precincts available for development or occupancy.
Whatever you're looking for in a rural property, you'll find it among Onkaparinga's unique blend of coast and vines, just 40 minutes south of Adelaide.
Onkaparinga at a glance
Population: 172,938
Area: 51,816m²
Average max temp: 21.7°C (Noarlunga)
Average min temp: 12.8°C (Noarlunga)
Mean rainfall: 442.1mm annually (Noarlunga)
For further information:
Considering a move to Onkaparinga Council South Australia, or just want to learn more about this fascinating region that combines coastal living with a world-class food and wine scene? Have a look at the Council's website here.
Be sure to check out some of our favourite Onkaparinga farms for sale below, too!
Author: Erin Thompson is the Mayor of the City of Onkaparinga. When she's not working, you'll find her at the beach with her family, paddleboarding or exploring the fabulous wine region of McLaren Vale.
---