Queensland's Darling Downs and Granite Belt region
When looking to buy QLD rural real estate, there are wide range of regions to consider. GoRegional reviews one of Queensland's most productive farming regions: the Darling Downs.
The Darling Downs is a farming region on the western slopes of the Great Dividing Range in southern Queensland. The region produces around one quarter of Queensland agricultural output. The region has developed a strong and diverse agricultural industry largely due to the extensive areas of vertosols (cracking clay soils), particularly black vertosols. The Darling Downs contains the largest deposit of rich black agricultural soils in Australia.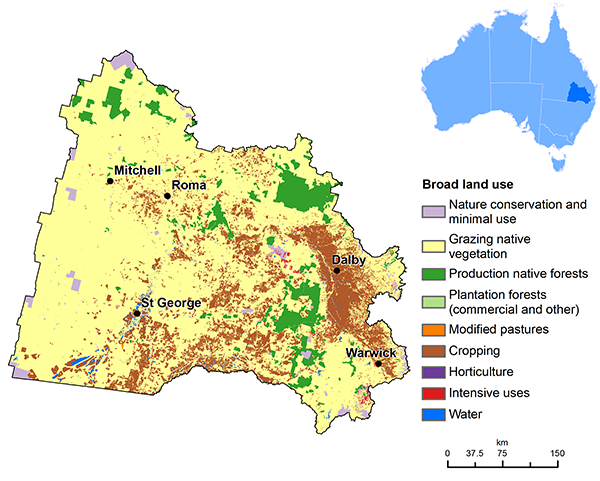 The most important commodities in the region based on the gross value of agricultural production were cattle and calves, followed by cotton and wheat. The lower temperatures of the milder summers in the Stanthorpe and Killarney regions allows farmers to grow lettuce, celery, brassicas and potato.
The annual rainfall ranges from 600 mm (24 in) in the far west of the region, to 1,000 mm (39 in) in the east. Water for irrigation is mostly sourced from groundwater from alluvial aquifers. Water is also extracted from streams, off-stream reservoirs and on-farm dams.
We've selected some of our favourite farms for sale from the Darling Downs and Granite Belt regions for you to look through below.
---
536 Glover Road,
Manapouri, QLD
Wattle Brae Homestead
Situation: Centrally positioned 40km Toowoomba, 45km Warwick, 1.5 hours to Brisbane.
Facilities: Bitumen road frontage, school bus at property for primary and secondary schooling at Clifton. Toowoomba school bus service app 10km from property, NBN, WiFi.
Area & Tenure: 99.39HA 245.59 Acres in 2 Freehold lots.
Country: A very productive and scenic parcel of country which ranges from dark to chocolate soft farming country of approx. 100 acres rising to gentle elevated Mountain Coolibah, Box and Gum tree grazing country.
Water: Electric equipped bore app 120' deep. Blew app 900GPH. The submersible pump delivers water to a 5000 gallon head tank, garden watering system in numerous zones and 5 x 8' stock troughs. Bore water is used throughout the home, rain water storage 1 x 500 gallon tank
Fencing: Property divided into 7 paddocks of various sizes. The fencing is designed to cater for horses.
Homestead: Designed by renowned Architect Ron Johnson, who has worked closely with the owners to build this spacious home which is positioned and designed to cater for family living and large entertaining events. The home has four bedrooms, the main is very large and is positioned to enjoy the North Easterly conditions, a very large ensuite and walk in robe is adjacent. Three bedrooms of which one has an ensuite and a 2nd bathroom. Large upstairs office, guest bedroom and ensuite. The owners and Architect have designed the living and dining areas into two rooms with the kitchen placed in a central position. The kitchen features Argentine granite bench tops. All electric stove, Island bench, pantry and large underground wine cellar, Tallow and Iron Bark beams (from the Stradbroke Wharf) are a feature along with the Western Red Cedar double hung windows throughout the home, all of the rooms open onto a large paved area which allows for indoor/outdoor entertaining adjacent to fenced in ground heated pool and covered sitting area. Other features of the home are Italian Pazotti floor tiles, 8 zone in floor heating system, Higgins wool insulation, New Zealand wool carpet, numerous air conditioners and wood heater, 2 car garage. The home is set in a slightly elevated parklike garden setting complete with an establised orchard, vegetable beds and fenced poultry yard. The Homestead setting offers sweeping views to the Great Dividing Range to the North East and views over the property and surrounding country side. For the aircraft enthusiast, there is a helipad in place adjacent to the house and plenty of room for a potential air strip. For future development, the owner has designed another large building to incorporate a workshop and vehicle storage along with a tennis house which will overlook the proposed tennis court.
Horse Facilities: Floodlit full-size dressage arena, 3 4mt x 4mt stables, equipped with a feed and tack room, concrete wash bay. Numerous post and rail holding yards.
Improvements: 16m x 10m machinery or hay storage shed.
Remarks: Wattle Brae Homestead is a quality property which has been in the
Turkington Family for 5 generations, first purchased in 1910. This desirable home is positioned in a picturesque rural setting. Properties of this calibre are extremely hard to find. The owners have commenced their new project and invite all serious buyers to inspect.
1071 Oakey-pittsworth Road,
Aubigny, QLD
1071 Oakey-Pittsworth Road, Oakey
Situation: 1071 Oakey-Pittsworth Road, Aubigny

Facilities: Daily mail, 3 phase power

Area & Tenure: 257 acres in three titles. 97 acres in home block. 160 acres in two lots.
Owner MAY consider selling the home block and the 2 cultivation blocks
separately.
Country: 160 acres of flat rich dark soil cultivation country.
97 acres with reddish brown soil types.
150 acres is currently planted to Planet Barley
Water: Bore equipped with electric submersible pump.
Yards: Steel panel & wooden yards with steel crush.
Homestead: 3 bedroom chamfer original farm home in good condition.

Improvements: 3 sided machinery shed, steel double garage, lowset machinery, single
garage, old dairy shed and small utility sheds.
Remarks: A very well positioned property on the major Oakey-Pittsworth Road, close to
the Cecil-Plains Road
148 Murphys Road,
Linthorpe, QLD
Rocklea Park
Location:
Situated within only 25 minutes from Toowoomba's CBD and 10 minutes the Wellcamp Airport. Also centrally located 10 min Oakey and 20min to Pittsworth.
Area & Tenure:
80.013 Acres/32.38 Hectares
Rates:
$1043 yearly
Facilities:
Daily mail, and council garbage pickup.
Two primary schools in the vicinity of ten minutes' drive, including daily bus run.
High Schools are approximately 10 minutes to Oakey, 25 minutes to Toowoomba and 20 minutes to Pittsworth. One-hour 20min to Brisbane City.
Country:
Extremely well-balanced gently sloping fertile country ranging from rich black to lighter brown predominantly being basalt country. Approx. 30 acres of cultivation with 5 acres of freshly planted forage sorghum and 5 acres of lush Urochloa grass. The remaining 50 acres is natural and improved pastures. Flood free.
Water:
2 Equipped Bores. Excellent stock and domestic bore logged at 3200 GPH plus another windmill logged at 1200 GPH that pumps into 2x 10,000gallon tanks, plus 3 X 5,000gallon rain water tanks in the house yard. In total there is 35,000 gallons worth of tank storage on the property and a large dam in the north western corner of the block. Approx 1.5km of underground pipe connected to 2 existing troughs with the provision of another 5 troughs waiting to be connected. A sprinkler system is set up in 2 of the smaller paddocks, perfect for Lucerne, vegatables or an orchid.
Fencing:
Extremely good stock proof fencing predominately ring-lock fencing, the property is divided into 7 paddocks of various sizes with the added benefit of a lane way systems. All paddocks have quality steel framed shade shelters at 4 x 7 meters wide. The property is suitable for horses, sheep, cattle or crops.
Homestead:
Delightful 3-bedroom timber home fully fenced on 1.5 acres with a lovely deck at entry that opens to the light filled warm sunroom, the perfect place to enjoy the morning coffee. The home features high VJ ceilings and walls and two separate living areas, large bedrooms, reverse cycle air-conditioning and fire place, bathroom, central kitchen with a beautiful outlook of the northern side of the property, separate laundry. The external walls have had a recent coat of paint and the home has new gutters and sits on steel piers. The home set amongst an oasis of lush trees and gardens offering plenty of privacy, shade and entertaining areas.
Complimenting the homestead is a fully equipped granny flat or workers cottage featuring one bedroom, kitchen, bathroom, laundry and lounge room with a veranda set in its own fully fenced yard surrounded by established trees. Currently rented for $250 per week.
Improvements:
Further improvements include a approx. 9 x 6 m double garage and carport near the main home plus a 9 x 6 steel shed and work shop, stables, tack shed, machinery shelter timber and steel set of cattle/sheep yards and ramp.
Hanger shed approx 15 meters long, 5 metres wide and 4.5 meters high and grassed airstrip, 1000 feet, unused.
Remarks:
Astute Buyers will appreciate the value that Rocklea represents, lifestyle properties on the Western side of Toowoomba are in huge demand. With nothing to do but move straight in this neat and tidy property is a credit to its owners.
Don't delay - contact us at Elders today to arrange your private viewing. You will be pleasantly surprised, this well - maintained property offers a convenient location and lifestyle that all families deserve.
***We are all in this together***
Due to the current restrictions on property viewings, please call the Elders Real Estate Agent listed to arrange a private viewing of this property.
In the interests of our team, clients and community, we ask that you please follow these tips;
*Practise good hygiene
*Please do not touch any fixtures or fittings
*Maintain social distancing
We ask that you please notify us if you:
* Have been diagnosed with Coronavirus (COVID-19)
* Are feeling unwell or are suffering from a cold or flu-like symptoms
* Have returned from overseas travel in the last 14 days
* Have come into contact with someone who has returned from overseas travel in the last 14 days
* Have come into contact with anyone who has been diagnosed or exposed to COVID-19 in the last 14 days