A classic Aussie chunky beef pie
The great Australian pie
The meat pie. Is there anything more quintessentially Aussie? A rich and deep brown gravy, tender and juicy beef, all wrapped in deliciously flakey pastry. It's the perfect snack to get you going in the morning, and no matter where you're driving to or from, you're a pitstop away from a satisfying and portable meal. We even have two competing national pie award shows, in recognition of the fact that some pies are just so good that they're worth the drive all on their own. Dotted around our regions, there are some truly special pie shops. Here, we'll be rounding up the very best of the best and giving you our top picks for the best country pie shops in Australia.
In sleepy Kyneton, about an hour Northwest of Melbourne, Country Cob Bakery is one of Australia's most acclaimed and awarded regional businesses. The winner of three consecutive 'Plain Beef Pie of the Year' gold medals at the Australia's Best Pie Competition, this local gem uses only the highest quality ingredients to craft their hearty and traditional pies. Country Cob was founded in 2016 when brothers Chan and Ryan Khun, first generation migrants from Cambodia, closed their original bakery in the Melbourne suburb of Doncaster, and headed up north for a new challenge in the central Victoria countryside. 5 years later they have opened new stores in Boronia and Springdale, and continue to serve world class Aussie bakery fair from their three locations as well as on their new online store where residents of Melbourne and a number of regional areas in Victoria can order Country Cob's famous pies ready to bake in their own home.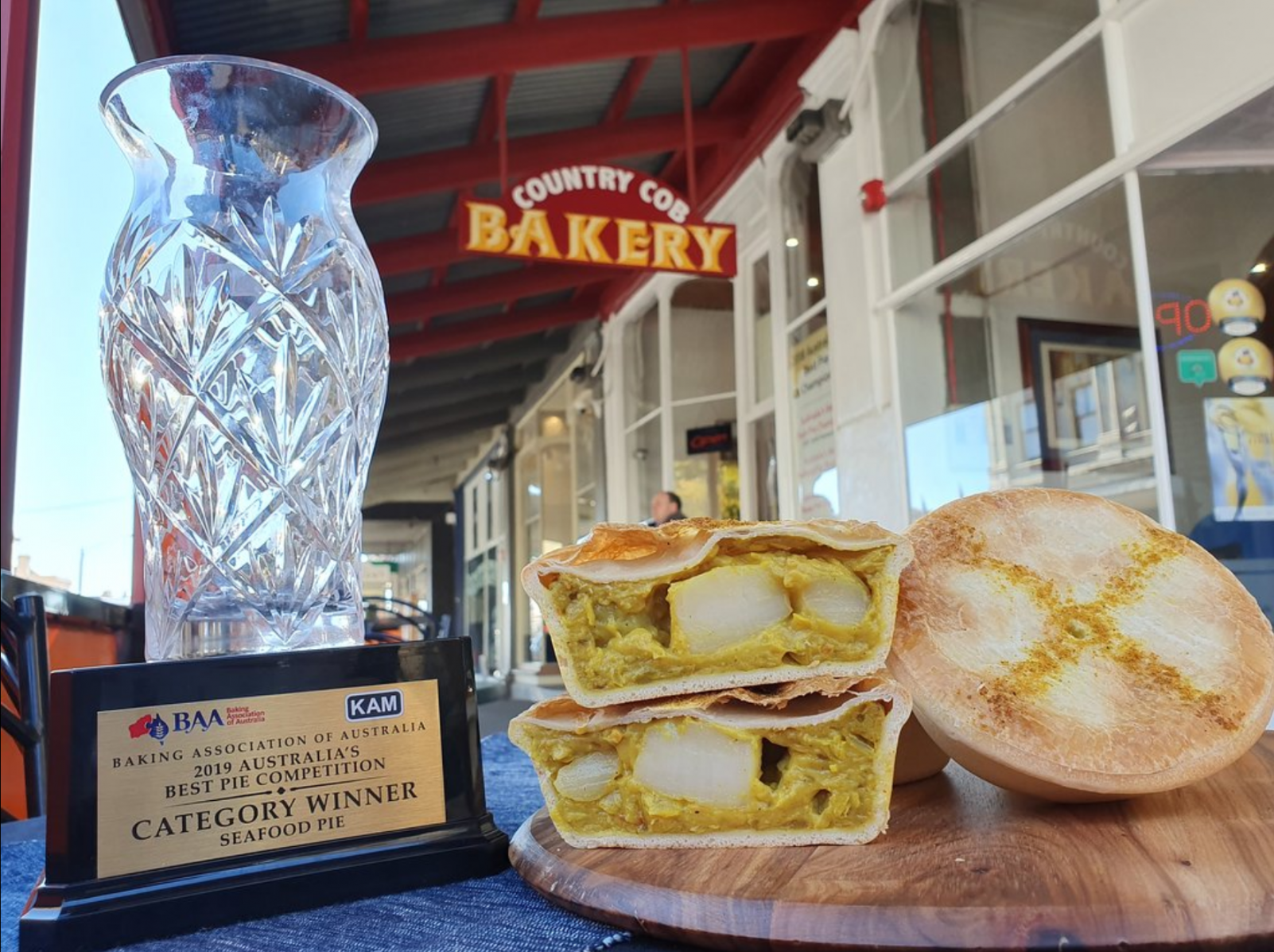 One of their many gold medalists with it's trophy. Image credit: Country Cob Bakery
Yatala Pies is Queensland's biggest and most iconic pie shop. Located in the Yatala area about halfway between Brisbane and the Gold Coast, right off the Pacific Motorway, this unmissable bright red structure is simply the ultimate pit stop for the pie-lover. Incredibly, Yatala Pies has been serving the local community for over 130 years, but in the last decade this historically humble shop has seen unprecedented growth and newfound national recognition for their delicious and diverse pies. In just 10 years Yatala Pies has gone from selling around 200 pies a day to over 3,500, not least thanks to their frankly revolutionary 'pie drive-through', which is an idea we think the whole country can get behind. If you're craving something a little different inside your pastry, the new gourmet range includes unique takes on the meat pie such as a Lamb Coconut Curry filling, and the iconic Aussie food cross-over event we didn't know we needed; the Chicken Parmigiana Pie.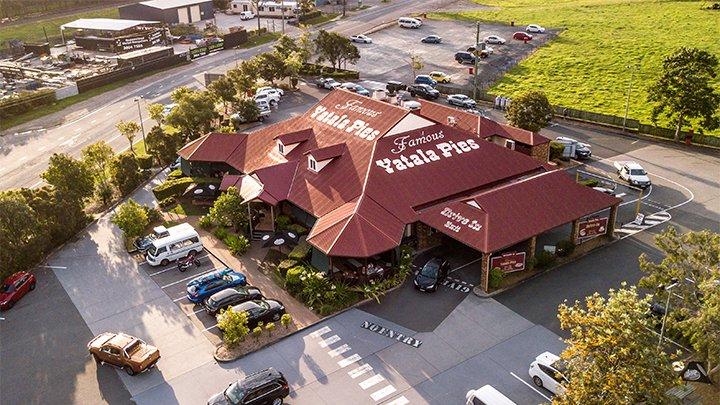 Aerial view of Yatala Pies. Image credit: Yatala Pies
At the southern tip of Victoria's Port Phillip Bay, the popular destination town of Ocean Grove is home to one of Australia's most beloved pie shops. Rolling Pin Pies and Cakes is an award winning Aussie bakery just a five minute walk from Victoria's stunning seaside. Local couple, Geoff and Susie Chalker, opened shop here in 1997 with a dream of bringing their home perfected pie recipes to the local community, and after 24 years in the business Rolling Pin is thriving more than ever. With daughters Kristy and Stacey now manning the store, this vibrant family business took out the coveted Australia's Best Pie award in 2021 for their signature Surf and Turf Pie. Once you've dined out on their extensive variety of pies, wind down your meal with a delicious treat from their dessert section, including decadent cakes and tarts as well as a range of sweets and biscuits perfect for the kids.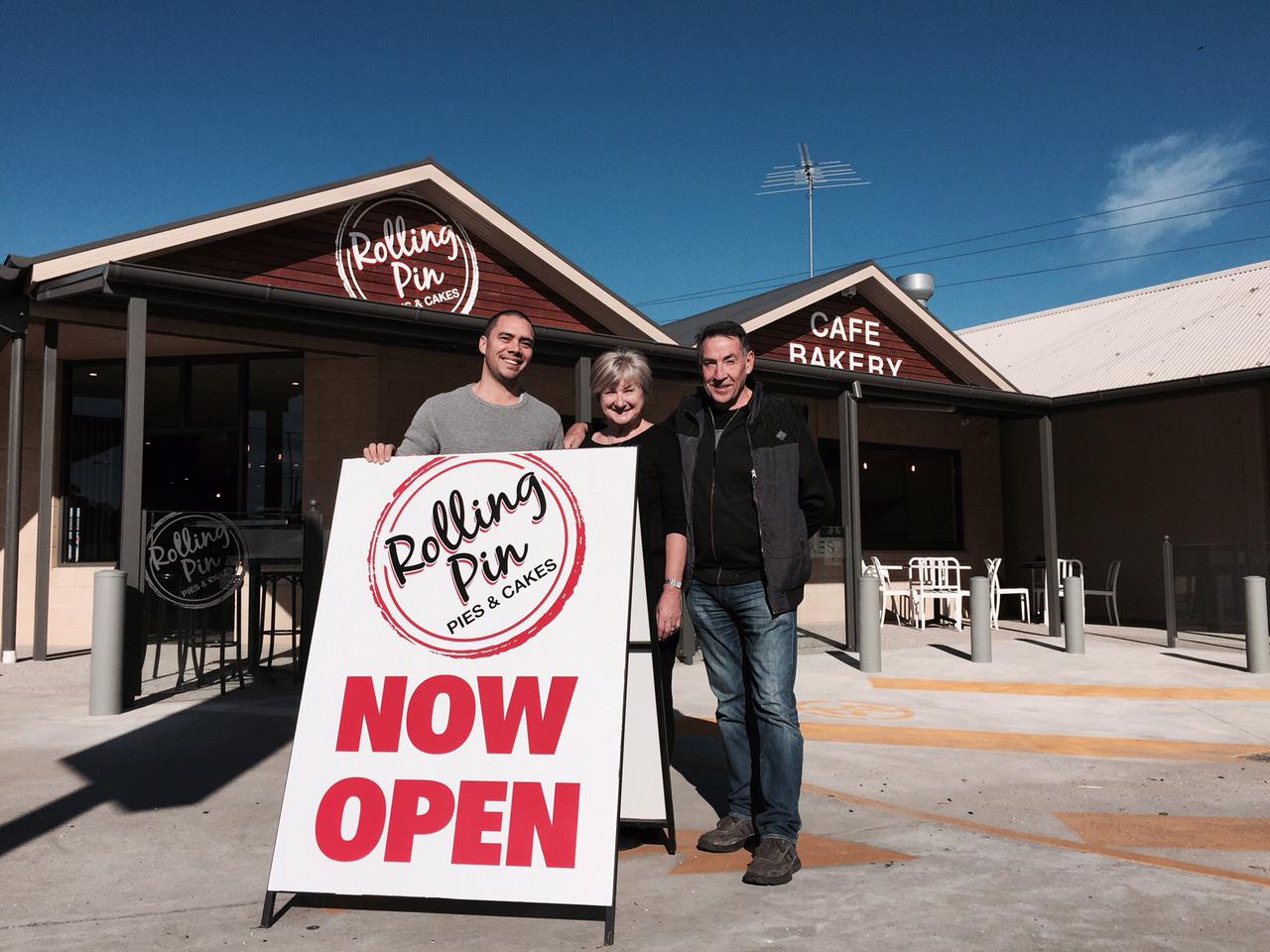 The team at Rolling Pin. Image credit: Rolling Pin Pies and Cakes
On the outskirts of the quiet Southern Highland's town of Robertson, Robertson Pie Shop is a beloved and famed fixture of the region. From it's location at the intersection of the Illawara Highway and Jamberoo Mountain Road, this little shop has been serving savoury and sweet pies since 1961, and for the last 37 years had been owned and operated by local couple, Will and Jenny Bleeker. Using only the highest quality locally sourced meat from Mauger Quality Meats, the Robertson Pie Shop offers three iconic signature pies, the breakfast special Egg, Bacon, Chorizo, & Cheese, the mouthwatering Beef Bourgignon, and most popular of all; the creamy and indulgent Chicken, Leek, & Camembert. The famous neon sign displayed inside should tell you all you need to know about how seriously the art of pie making is taken in this Southern Highlands staple.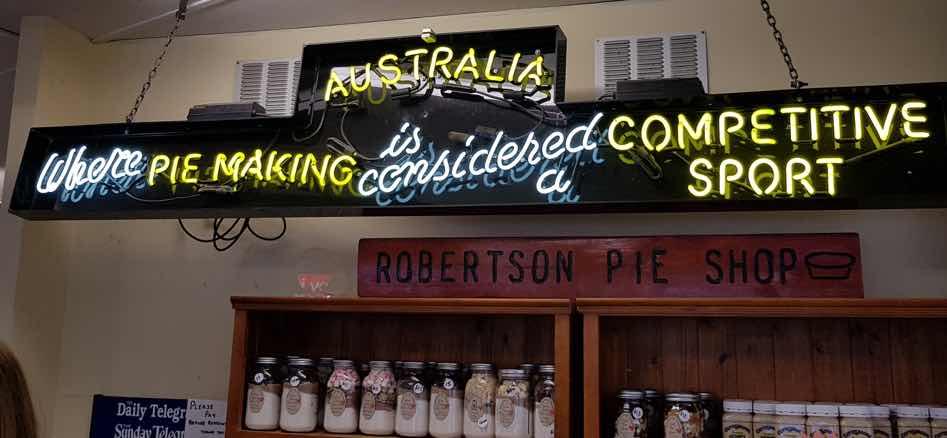 Robertson Pie Shop's hilarious neon sign. Image credit: Sling Adventures
For the love of pie
If you want to learn more about Australia's pie culture and country bakeries, check out these links:
The Great Aussie Pie Competition
Baking Association of Australia