Boab trees baking in the sun in Derby-West Kimberley. Image credit: Tourism WA
The sun shines on Derby-West Kimberley
In WA's North, in the spectacular and world famous Kimberley region, the Shire of Derby-West Kimberley is one of Australia's most distinct and enchanting slices of country. This sun beaten paradise is sparsely populated and blanketed by true wilderness.
The coastal town of Derby, one of Western Australia's most renowned regional destinations, is it's jewel and main hub. Founded in 1883 in the traditional lands of the Nyiginka people, this unique town lies on the mighty delta of one of Australia's great rivers, The Fitzroy, and is known for having the highest tides of any Australian port, with an extroadinary 11 metres of tidal fluxuation every six hours. Vast mudflats and teeming estuarys surround the town on all sides and glisten in Kimberley sun. There's a distinct atmosphere to this town, with it's roads built wide for teams of camel riders and lined with otherworldly Boab trees, and its location perched remotely in one of Australia's great natural expanses. It hosts a community of great cultural value and diversity, with a thriving Indigenous Australian population.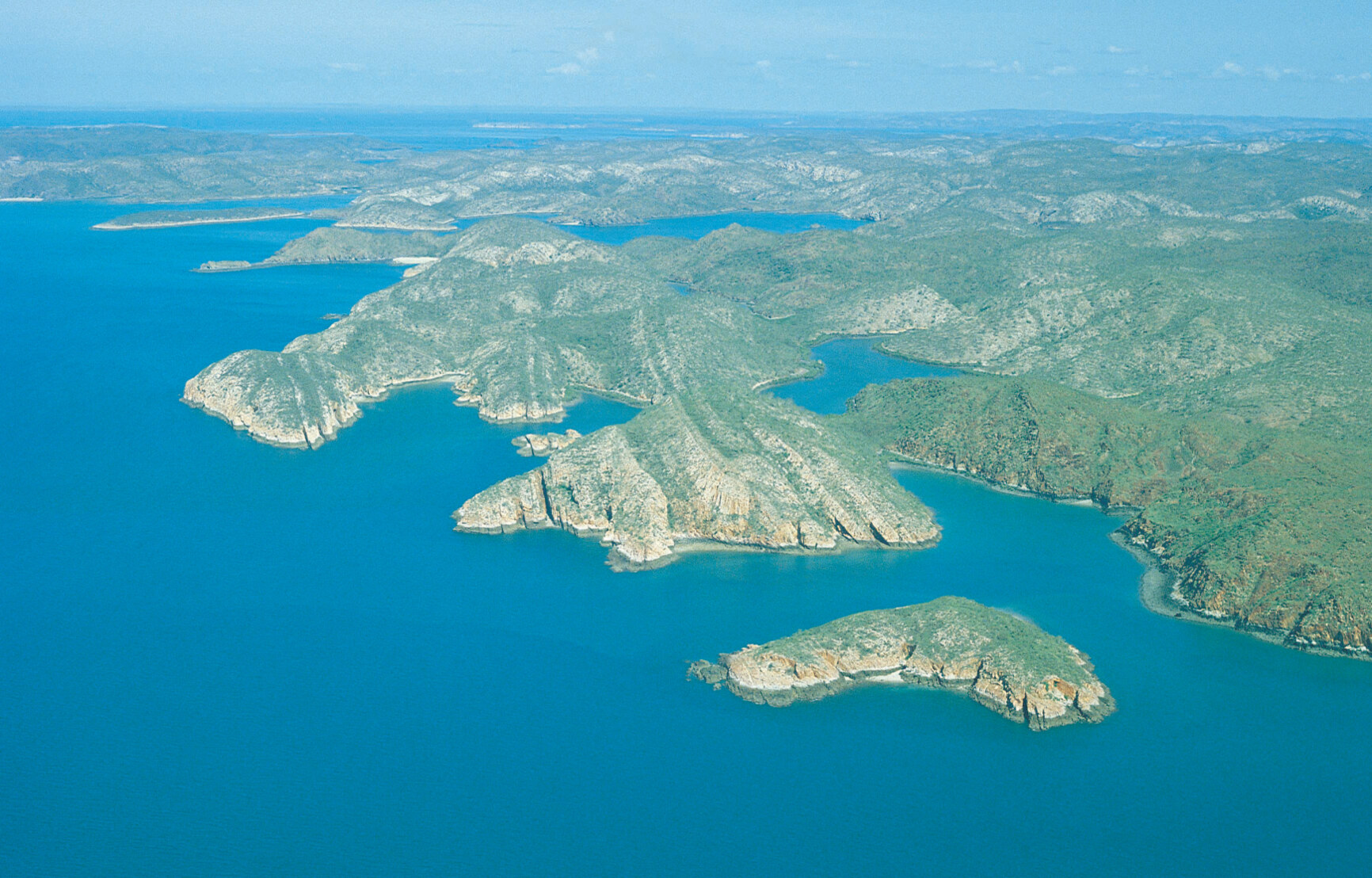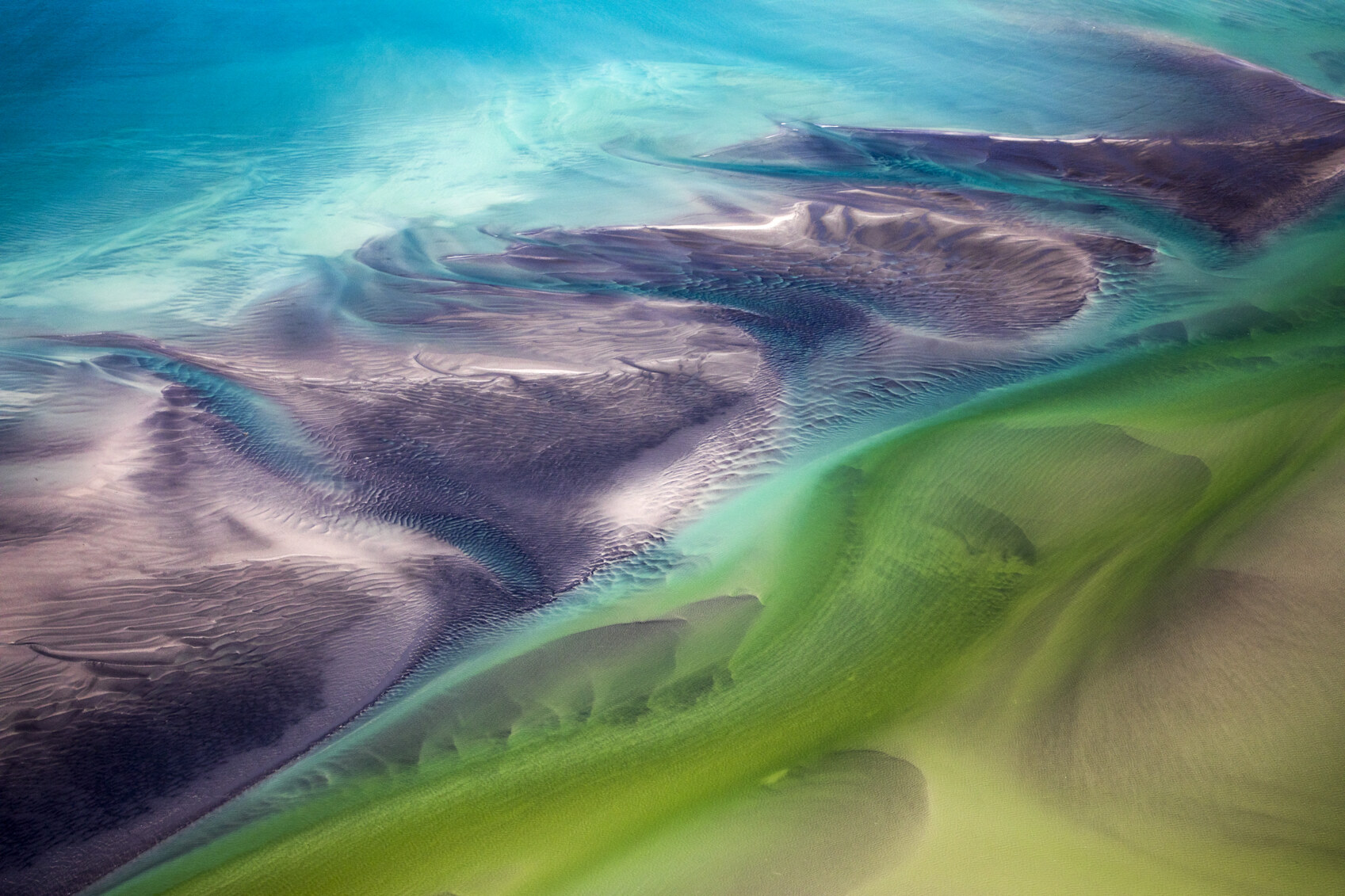 The picteresque waters of the Buccaneer Archipelago. Image credit: Tourism WA
Just a few hours seaplane or cruise North from Derby, the magnificent Buccaneer Archipelago is one of the most rugged and unforgettable pieces of the Kimberleys. These stunningly beautiful sun swepped isles are a true untamed wilderness, over 50 kilometres from the nearest constantly inhabited settlement. They are also home to one of Australia's most unusual natural wonders, the famous Horizontal Falls; an extroadinary phenomenom where the unique formation of two adjacent narrow gorges between islands causes seawater to rush through them like a waterfall, reversing directions with each changing of the tides. David Attenborough once called this "one of the greatest wonders of the natural world", and you can experience it up close and personal in one of the many boats that offer visitors exciting rides through the falls.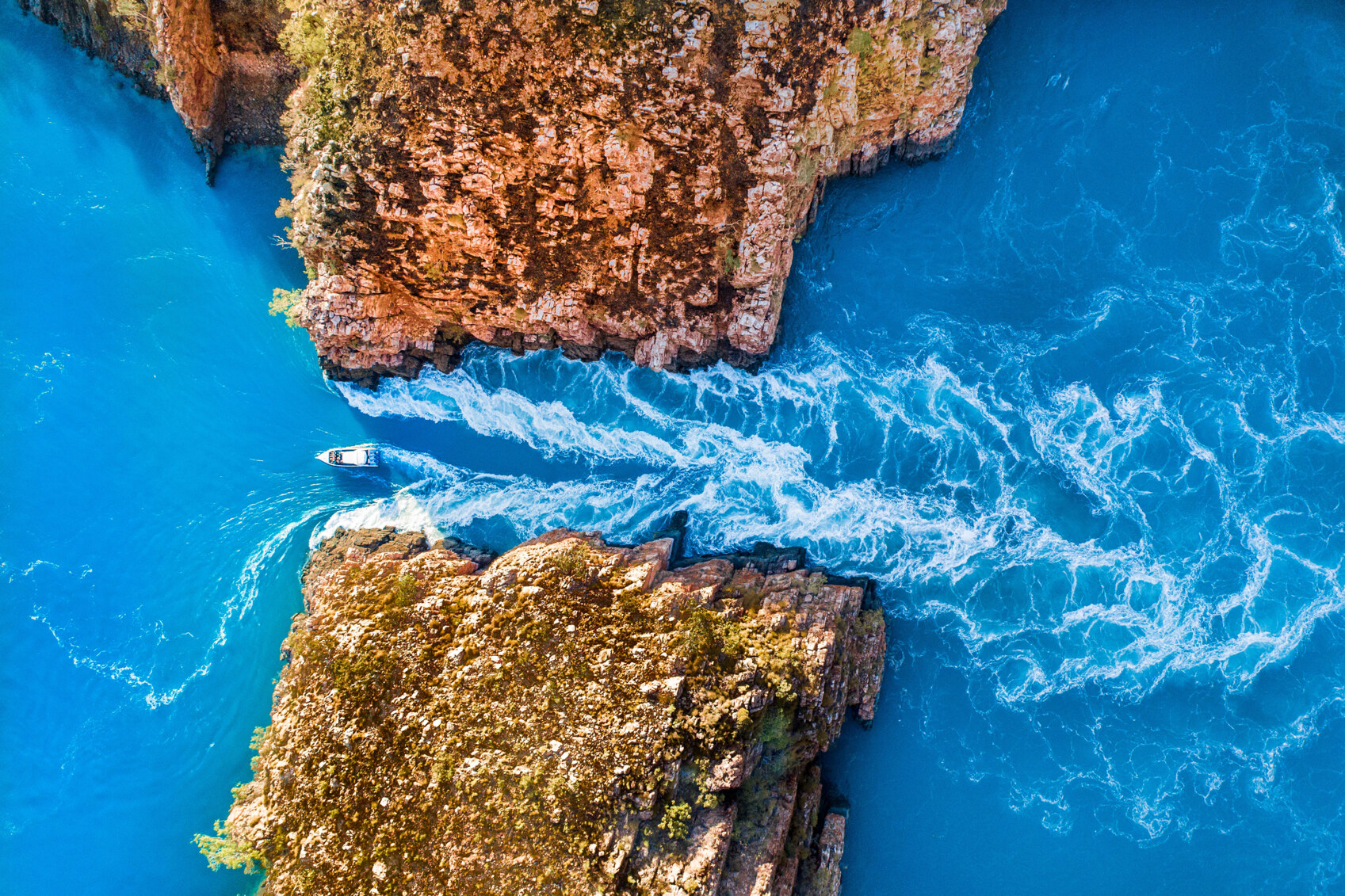 The spectacular Horizontal Falls. Image credit: Tourism WA
In the land of the Boab trees
Perhaps the most famous symbol of Derby is the distinctive and alien Boab tree. The mudflats and desert plains the surround the town are flush with this awe inspiring foliage, and visitors travel from across the country and the world to see them in person. Known as either gadawon or larrgadiy to Indigenous Australians, these unique trees have been used for millenia as sources of water, food, and medicine. The white pulp that forms inside the seeds is an Indigenous delicacy, the taste of which is often compared to cream of tartar, while the leaves of the tree have long been thought to have great medicinal properties, which is now believed to be attributed to their uniquely high iron content. They also have immense cultural significance, as these behemoths are the canvas for some of the oldest and most transportative Indigenous artworks found anywhere in Australia.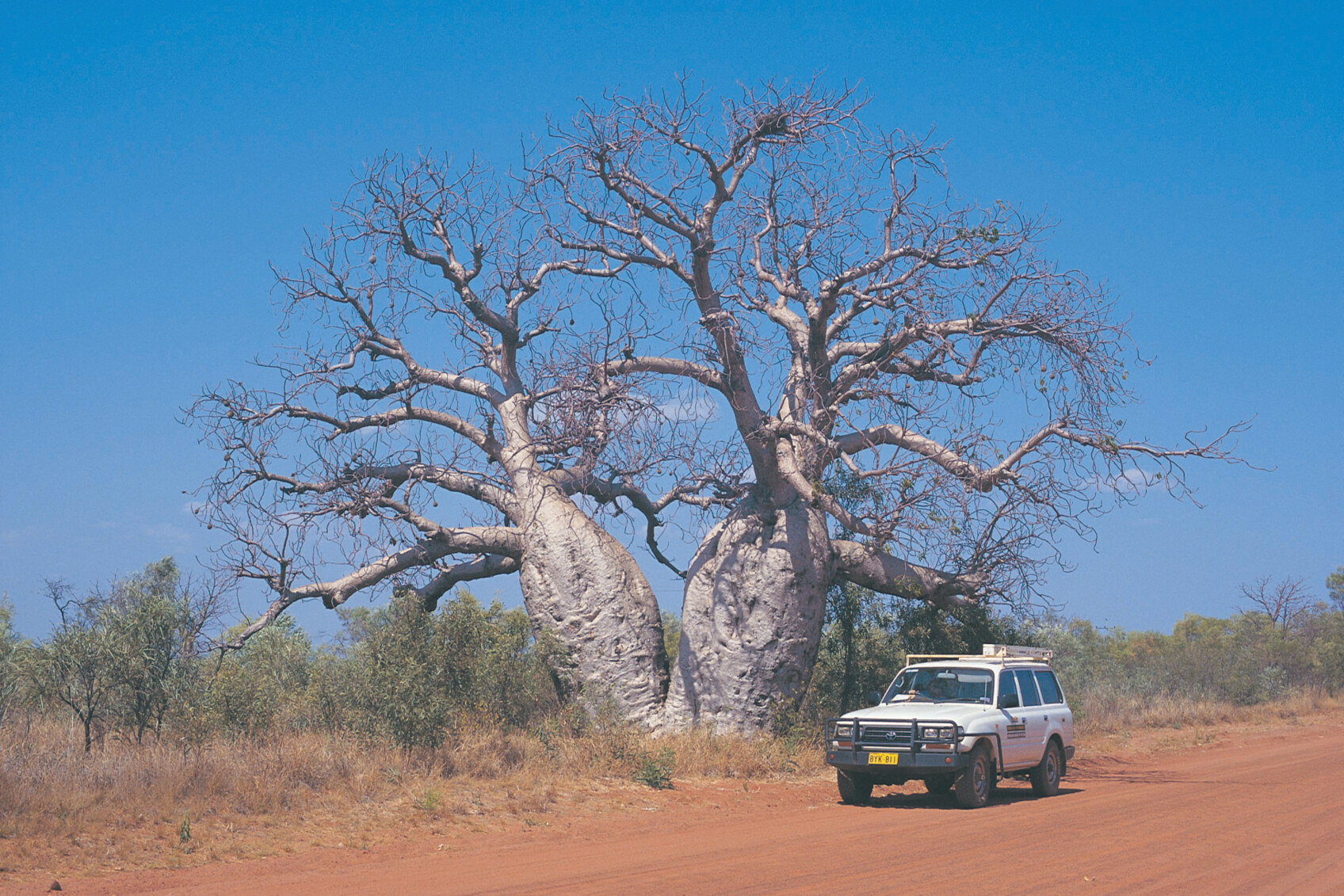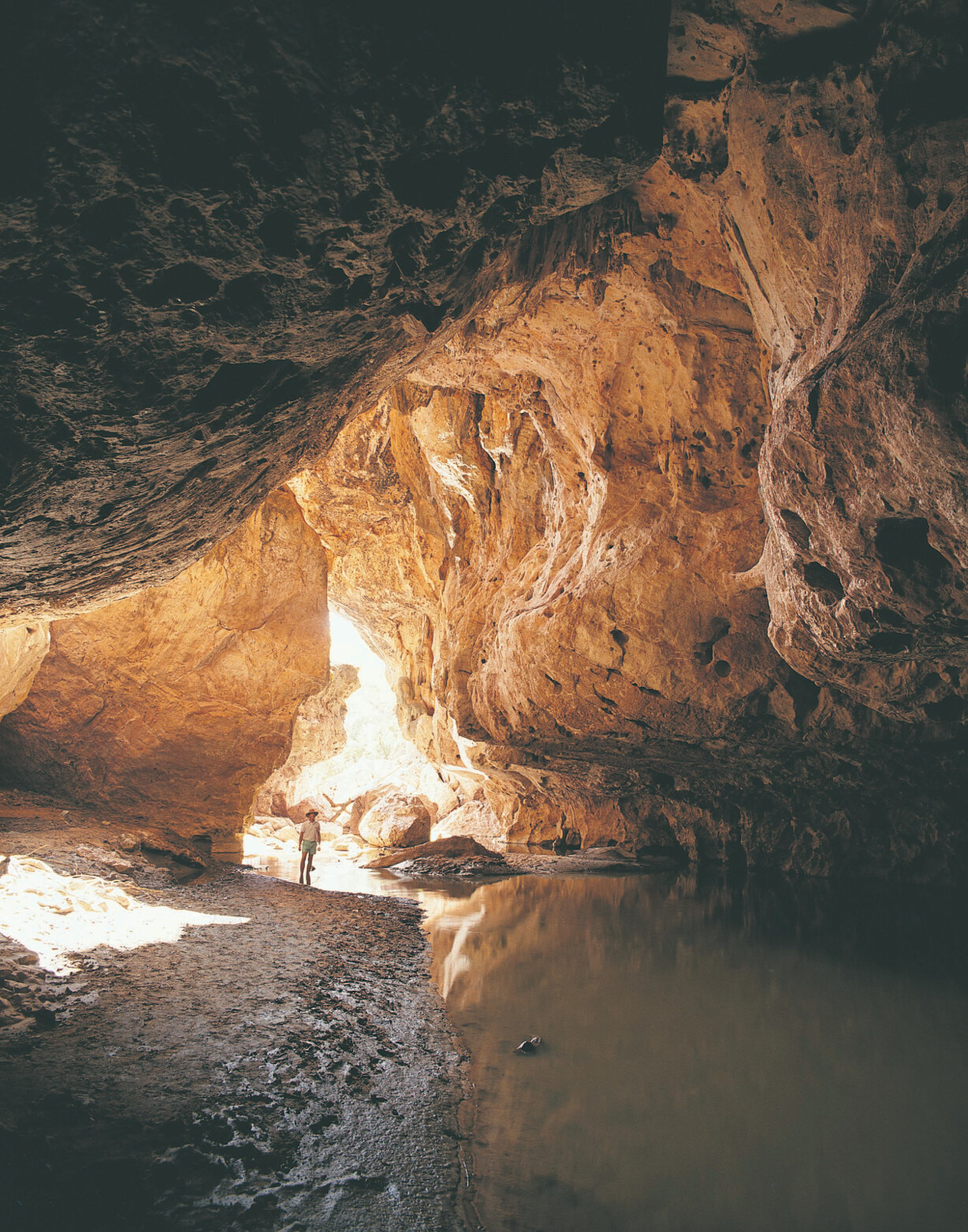 Boab trees in Derby and the captivating Mimbi caves. Image credit: Tourism WA
In the far South Western corner of the Derby-West Kimberley, take a journey into a cave system 350 million years in the making. The Mimbi Caves is one of the most breathtaking underground worlds in the Southern hemisphere, and has been revealed to the public through the 100% Indigenous owned and operated Mimbi Caves Tours & Campground. The wild formations and winding tunnels of these fascinating caverns are the perfect place for adventurers to explore, learn, and lose themselves in nature (metaphorically of course).
Work and culture in Derby-West Kimberley
In the Shire of Derby-West Kimberley, there are plenty of diverse employment opportunities and a variety of thriving sectors. The mining industry is particularly active and important to the local economy, with a number of valuable ores and gems hiding under the sands in this expanse not far north of the legendary mineral deposits of the Pilbara. Lead and zinc are found inland at Cadjebut, and a huge iron ore mine lies on Koolan Island at the northern tip of the Buccaneer Archipelago. As well as this, there is diamond mining at Ellendale, oil reserves in Blina, a granite quarry in the Wunaamin Miliwundi ranges, and a brand new $200 million mineral sands mining project currently in development in Thunderbird.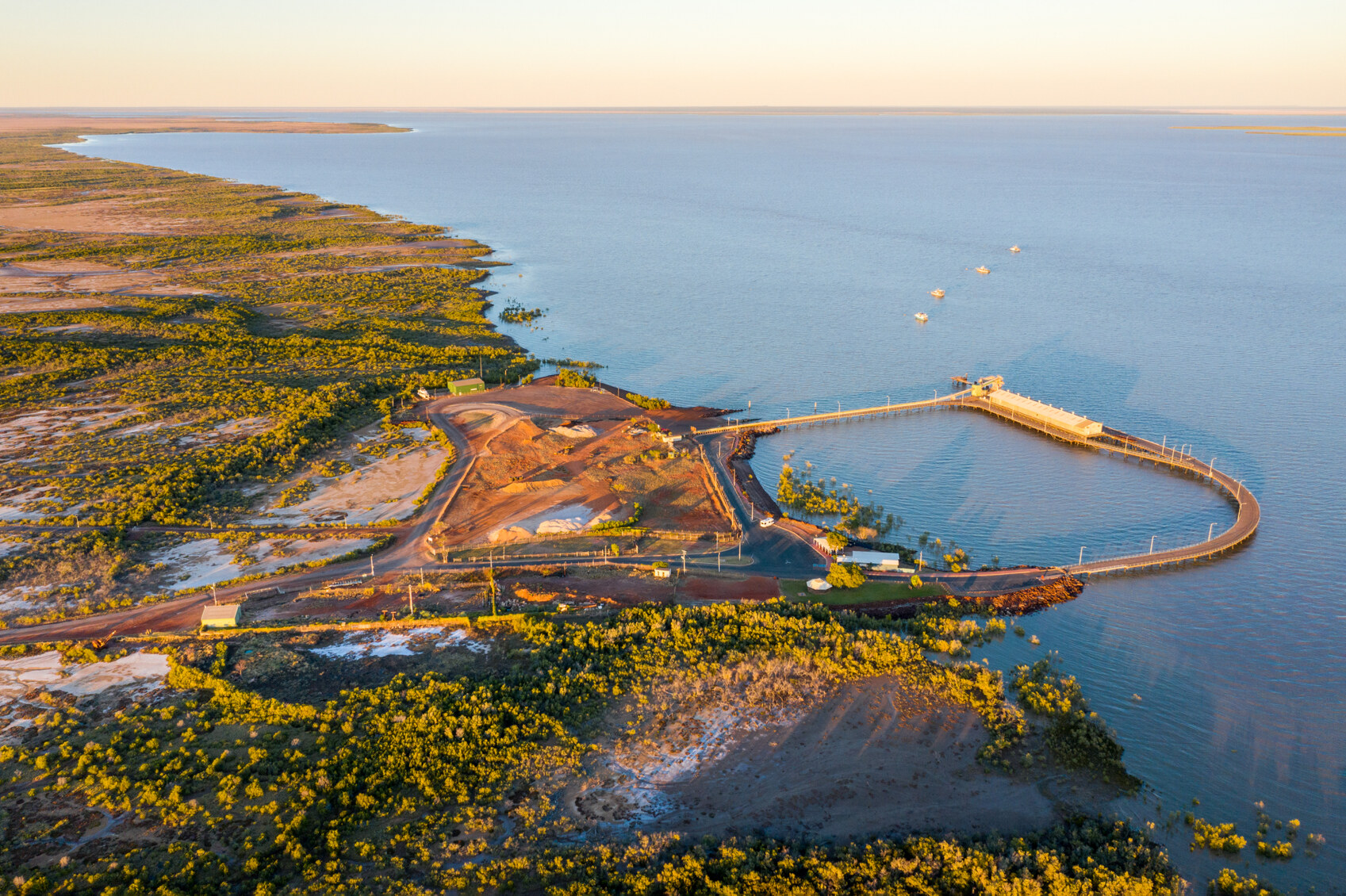 The jetty at Derby, where shipments of minerals and cattle products head South. Image credit: Tourism WA
Pastoral farming and the rapidly growing tourism sector make up the majority of remaining workforce in Derby-West Kimberly. Those interested in the agricultural lifestyle will find a welcoming landscape and community in this remote countryside, and the recent $40 million Water for Food state government initiative aimed at providing support to regional agricultural communities means there's hardly been a better time to get into the Western Australian farming life. In tourism, there is plenty of room for growth as each year more keen travellers are feeling the draw of this great Northern expanse has to offer. Whether it's scenic cruises along the stunning Kimberley coastline, guiding brave spelunkers into the cavernous heart of the outback, or something else entirely, the opportunity is there to find your next career in the great Western Australian wilderness.
Derby is also one of Australia's great towns for experiencing Indigenous art and culture. The Mowanjum Community, about six kilometres South-East of Derby, is a community of rich history and great artistic value that was initially founded as a Christian mission in 1912 and today is called home by between 300-500 Indigenous Australians, depending on seasonal variation. Perhaps most famously though, it is the site of the Mowanjum Aboriginal Art & Culture Centre, a landmark creative hub for the proud people of the Worrora, Ngarinyin, and Wunumbal tribes, where Indigenous art is celebrated in all its forms and artists can come to learn and create. One notable feature of this spectacular living gallery is the plentiful collection of artwork created in reverence of the legendary Wandjina, the fabled ancestral spirits and creators of the land who are the only universally shared belief of the many Indigenous cultures of the Kimberley.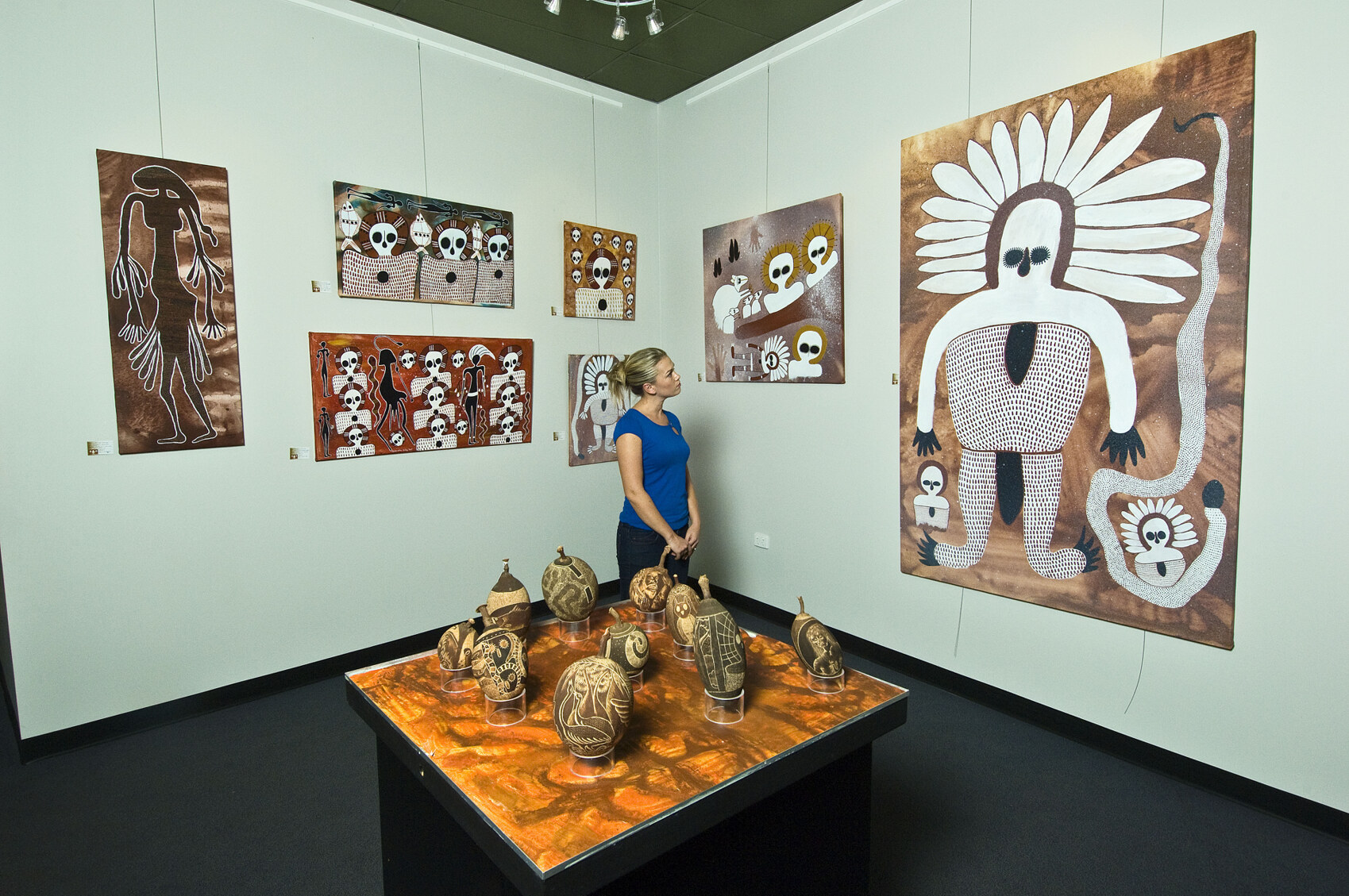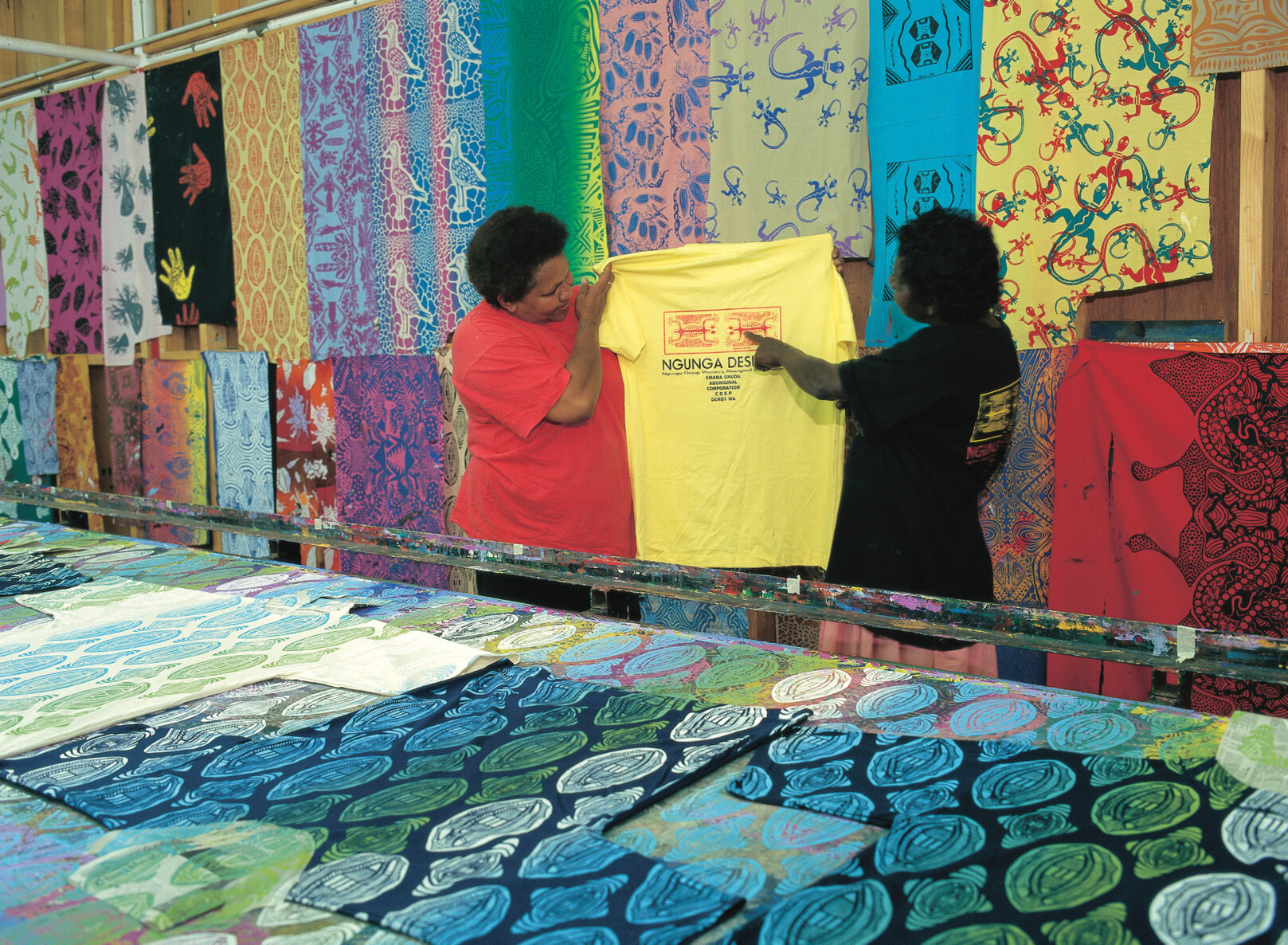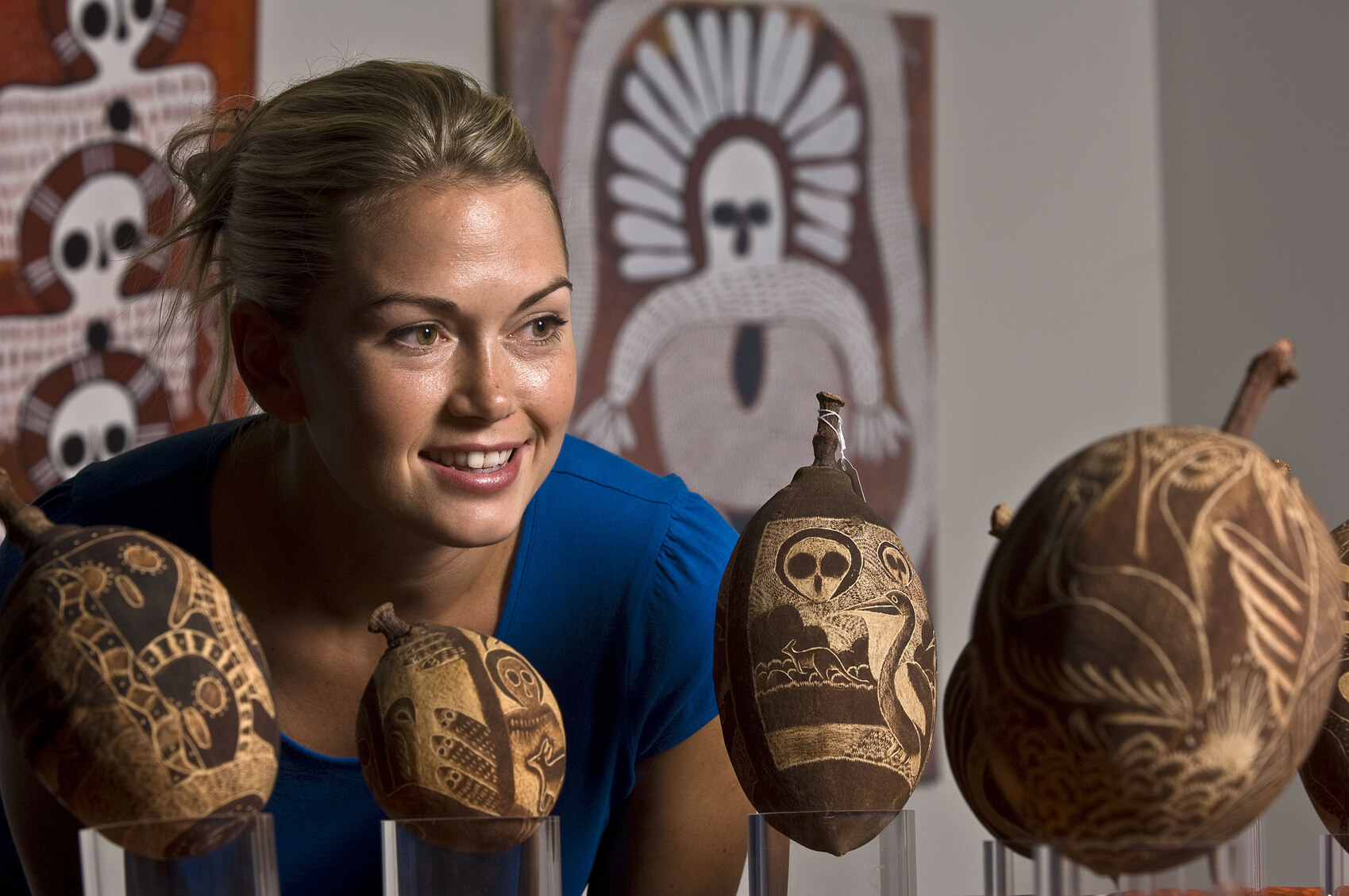 Indigenous art and culture on display in Mowanjum and Derby. Image credit: Tourism WA
Health, education, and amenities in Derby-West Kimberley
Medical services in Derby-West Kimberley are administered by Rural Health West as part of the Kimberley Health Region. Derby Regional Hospital is the main medical centre in the region, and is well equipped to provide medical, surgical, maternal, paediatric, and emergency services from it's location on Clarendon St. There is also Fitzroy Crossing Hospital, which provides medical and emergency care as well as housing a maintenance renal dialysis unit. The Royal Flying Doctor Service is active in this shire and historically Derby has been their primary base of operations in the Kimberley area.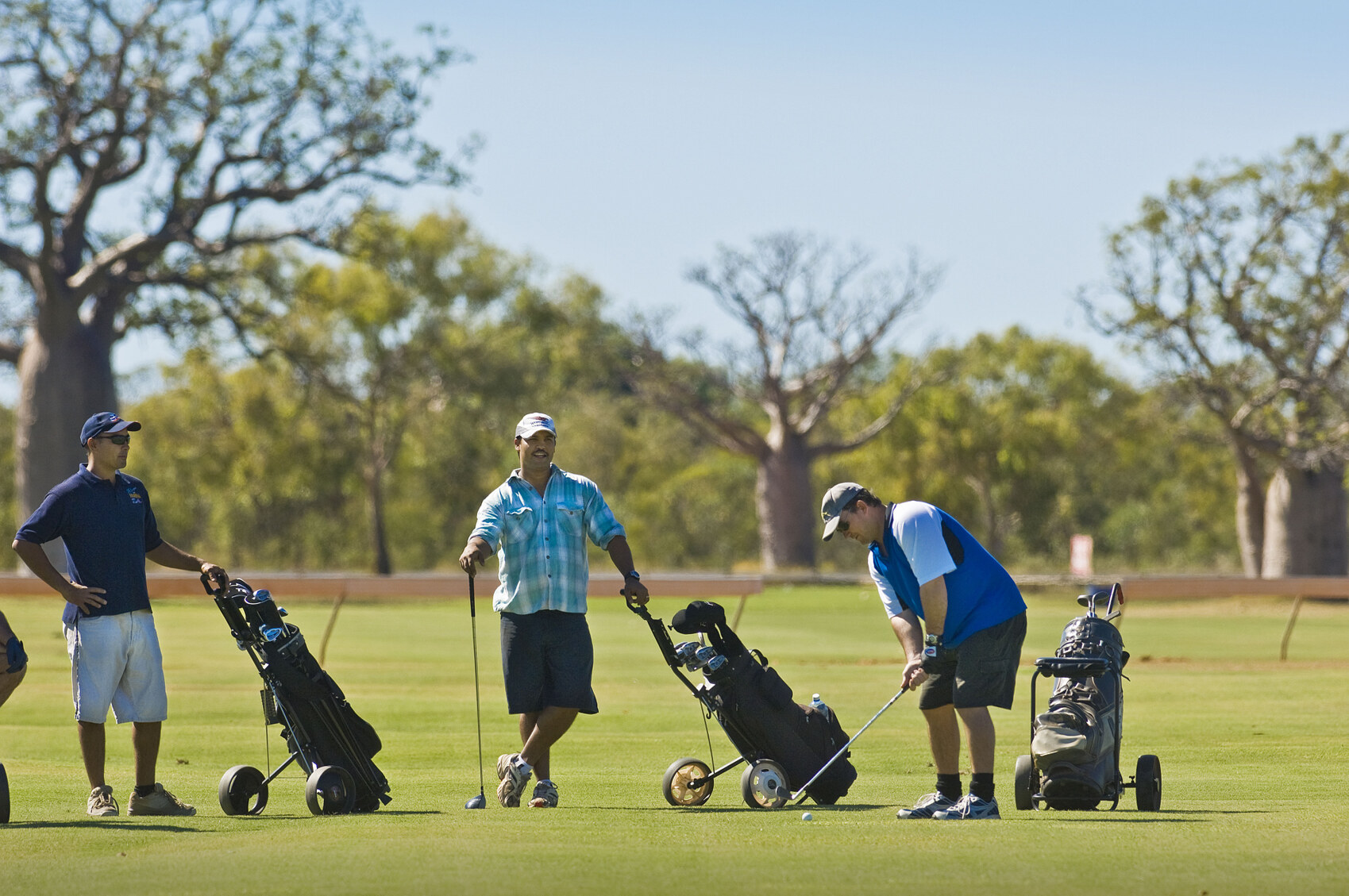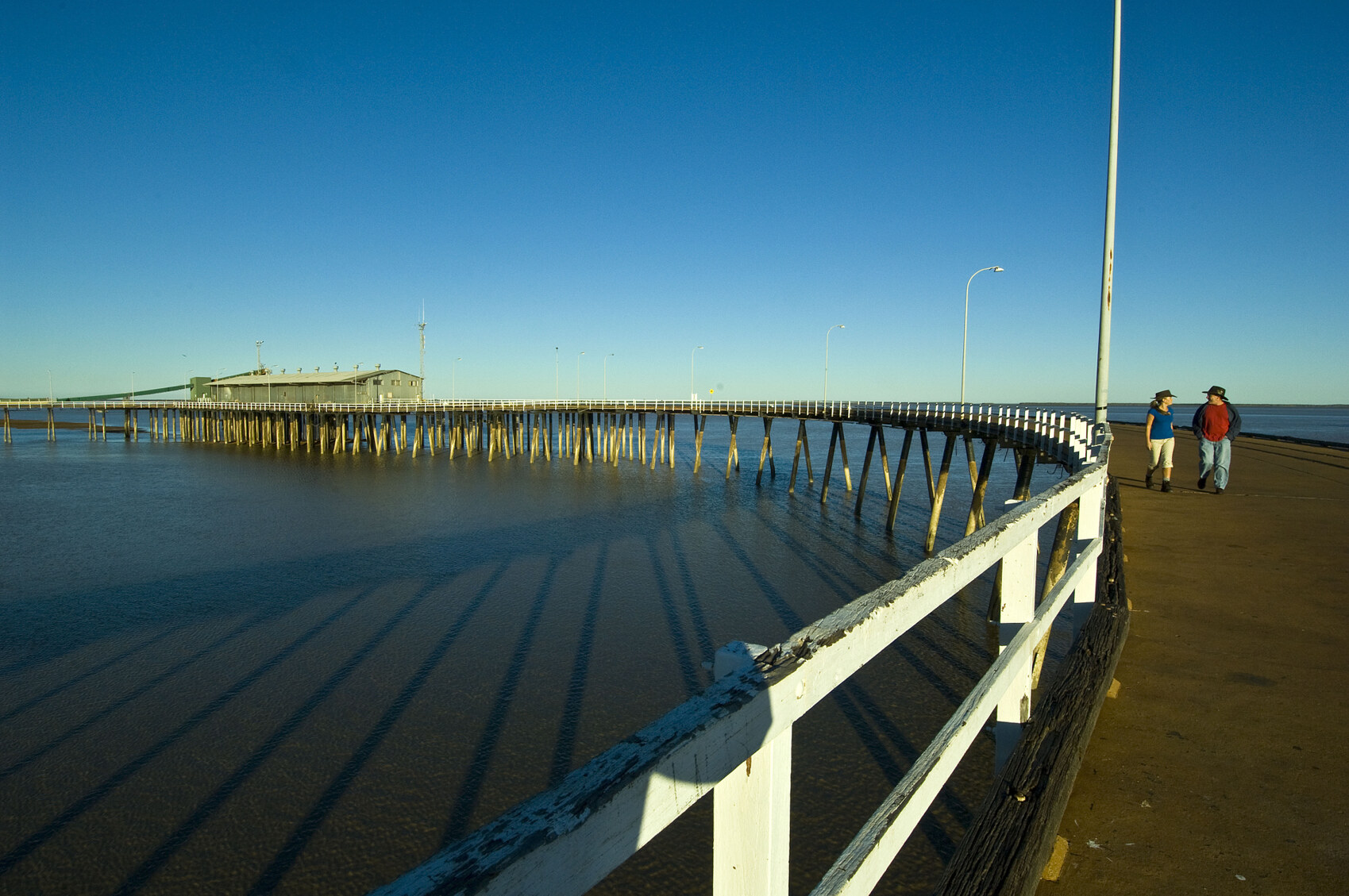 A round of golf and a stroll along the jetty in Derby. Image credit: Tourism WA
Derby District High School and Fitzroy Valley District High School provide education from K-12 for young people in the Derby and Fitzroy Crossing respectively. Derby is also the operating base of the Kimberley School of The Air, which provides valuable education to even the most remote corners of this regions great desert.
Derby Racecourse and Golf Course and the Derby Recreation Centre is a popular spot for locals to relax and get in touch with their sporty side, with 9 holes of golfing goodness, a horse track running around them, and available just around the corner, multipurpouse courts for tennis, basketball, netball, and volleyball, a lawn bowls field, and an oval field for Aussie rules football and cricket.
For further information
If you want to know more about living in the Shire of Derby-West Kimberley, visit their website or contact the Shire Council at sdwk@sdwk.wa.gov.au or by phone at 08 9191 0999.