Escape to the Central Coast Council Tasmania
With its perfect blend of urban and rural, convenient amenities and wide-open spaces, it's hardly surprising that the vibrant and friendly community of Central Coast Council Tasmania is thriving.
The Central Coast Tasmania region offers beautiful recreational resources including parks, gardens, sporting facilities and community meeting places. It also is offers access to quality education, both public and private, from kindergarten to secondary school, and boasts top-notch medical facilities.

The Ulverstone Clock Tower, a key tourist location in the Central Coast Council Tasmania, in spring
"We did the research on schools and access to higher education for our three children. (The Central Coast region) ticked all the boxes, especially with easy access to everything! Having a well-established church community here made the relocation from Wollongong a lot easier. Our kids love it."

~ Greg Johnson, who moved to Ulverstone from Wollongong, NSW
Where is the Central Coast Council Tasmania?
The Central Coast Municipal area is set in the heart of the North West Coast. It is bordered on the east by the Forth River, in the west by the Blythe River, and is strategically positioned between the Tasmanian cities of Burnie and Devonport.
Industry and agriculture in the Central Coast Council Tasmania
Agriculture represents the predominant land use and the most significant part of the economy within the Central Coast Council Tasmania region, with 382 registered businesses in the sectors of agriculture, forestry and fishing as of 2009.
The area is renowned both nationally and internationally for its significant natural assets that facilitate agriculture, including rich, fertile soil, lush pastures, clear waterways, and optimum sunlight hours.

The fertile land of Gunns Plains in the Central Coast Council Tasmania
"The mild climate and the soil here are perfect for growing good quality vegetables. The services that are needed to support businesses are all here…Everything is on our doorstep." –

~ Neil Armstrong, business owner, Central Coast Council Tasmania
The Central Coast Council Tasmania's cultural activities
The Central Coast Council Tasmania region has a diverse and busy events calendar that should appeal to everyone from foodies to families with kids.
The Ulverstone Twilight Rodeo, considered one of the best in Australia, is held in early February each year and draws over 5,000 spectators. In addition to the main rodeo event, there are other Western equestrian events on display, including barrel racing, bull riding and steer wrestling.
Ulverstone also hosts an annual Festival in the Park, a celebration of lifestyle, food, wine and entertainment on Tasmania's North West Coast.
For those who enjoy live music, Forth Valley hosts an annual Blues Festival in March. The Forth Valley Blues Festival has been going on for more than 20 years, and always offers an impressive line-up for blues fans across Australia and beyond.
Outdoor adventuring in the Central Coast Council Tasmania
Leith & Turner's Beach on the Tasmanian Central Coast are wonderful places for a relaxing picnic, with a stunning coastline crisscrossed by walking and cycling tracks. Visitors can also pick berries, purchase pre-picked fruit or dine in at The Berry Patch, a farm and restaurant near Turner's Beach.
For those who enjoy experiencing the outdoors on foot, the picturesque Leven Canyon is accessible via a number of excellent walking tracks. The canyon is a magnificent site in all seasons, as is the Leven River that flows through it, and no trip to the region is complete without stopping to admire it.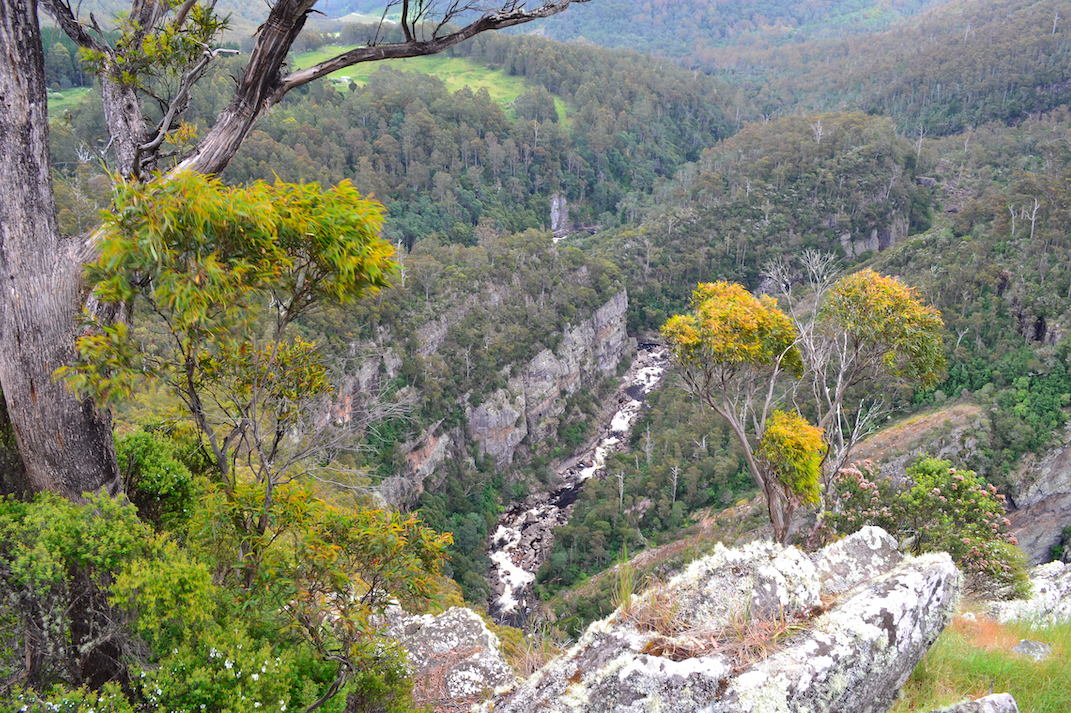 The scenic Leven Canyon in the Central Coast Council Tasmania
Fast facts about the Central Coast Council Tasmania
Major townships: Ulverstone, Penguin, Forth, Turners Beach, Leith
Population: 22,000
Area: 932 km²
Mean temperature and rainfall by month:
For further information:
If you're considering a move to the Central Coast Council Tasmania area, or just want to learn more about this little slice of Tasmanian paradise, check out the Council's website here and the 'Coast to Canyon' tourism site for the region here.
Be sure to check out some of our favourite Central Coast farms for sale below, too!
Author: Susanne Clear is Tasmania's Central Coast Council Visitor Services Officer located at the Ulverstone Visitor Information Centre. She has participated in the tourism industry for over 30 years and was awarded the 2011 Cradle Coast Regional Tourism Award for Contribution to Local Tourism. Known to most as Suse, she is responsible for the visitor services team, providing information to visitors and telling people where to go, nicely.