Escape to Tasmania's Central Coast
With its perfect blend of urban and rural, convenient amenities and wide-open spaces, it's hardly surprising that the vibrant and friendly Tasmanian community of Central Coast is thriving.
The Central Coast region offers beautiful recreational resources including parks, gardens, sporting facilities and community meeting places. It also is offers access to quality education, both public and private, from kindergarten to secondary school, and boasts top-notch medical facilities.

The Ulverstone Clock Tower in spring
"We did the research on schools and access to higher education for our three children. (The Central Coast region) ticked all the boxes, especially with easy access to everything! Having a well-established church community here made the relocation from Wollongong a lot easier. Our kids love it."

~ Greg Johnson, who moved to Ulverstone from Wollongong, NSW
Where is the Central Coast?
The Central Coast Municipal area is set in the heart of the North West Coast. It is bordered on the east by the Forth River, in the west by the Blythe River, and is strategically positioned between the Tasmanian cities of Burnie and Devonport.
Industry and agriculture
Agriculture represents the predominant land use and the most significant part of the economy within the Central Coast region, with 382 registered businesses in the sectors of agriculture, forestry and fishing as of 2009.
The area is renowned both nationally and internationally for its significant natural assets that facilitate agriculture, including rich, fertile soil, lush pastures, clear waterways, and optimum sunlight hours.

The fertile land of Gunns Plains
"The mild climate and the soil here are perfect for growing good quality vegetables. The services that are needed to support businesses are all here…Everything is on our doorstep." –

~ Neil Armstrong, business owner, Central Coast
Cultural activities
The Central Coast region has a diverse and busy events calendar that should appeal to everyone from foodies to families with kids.
The Ulverstone Twilight Rodeo, considered one of the best in Australia, is held in early February each year and draws over 5,000 spectators. In addition to the main rodeo event, there are other Western equestrian events on display, including barrel racing, bull riding and steer wrestling.
Ulverstone also hosts an annual Festival in the Park, a celebration of lifestyle, food, wine and entertainment on Tasmania's North West Coast.
For those who enjoy live music, Forth Valley hosts an annual Blues Festival in March. The Forth Valley Blues Festival has been going on for more than 20 years, and always offers an impressive line-up for blues fans across Australia and beyond.
Outdoor adventuring on the Coast
Leith & Turner's Beach on the Central Coast are wonderful places for a relaxing picnic, with a stunning coastline crisscrossed by walking and cycling tracks. Visitors can also pick berries, purchase pre-picked fruit or dine in at The Berry Patch, a farm and restaurant near Turner's Beach.
For those who enjoy experiencing the outdoors on foot, the picturesque Leven Canyon is accessible via a number of excellent walking tracks. The canyon is a magnificent site in all seasons, as is the Leven River that flows through it, and no trip to the region is complete without stopping to admire it.
The scenic Leven Canyon
Fast facts
Major townships: Ulverstone, Penguin, Forth, Turners Beach, Leith
Population: 22,000
Area: 932 km²
Mean temperature and rainfall by month: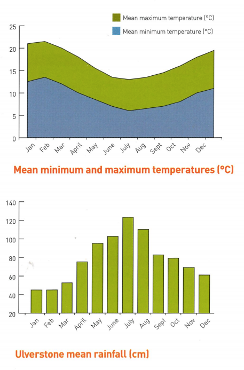 For further information:
If you're considering a move to the Central Coast area, or just want to learn more about this little slice of Tasmanian paradise, check out the Council's website here and the 'Coast to Canyon' tourism site for the region here.
Be sure to check out some of our favourite Central Coast farms for sale below, too!
Author: Susanne Clear is Tasmania's Central Coast Council Visitor Services Officer located at the Ulverstone Visitor Information Centre. She has participated in the tourism industry for over 30 years and was awarded the 2011 Cradle Coast Regional Tourism Award for Contribution to Local Tourism. Known to most as Suse, she is responsible for the visitor services team, providing information to visitors and telling people where to go, nicely.
---
515 Kindred Road,
Forth, TAS
LIFESTYLE PLUS INCOME!
Exceptionally diverse property only 5 minutes from Forth and 15 minutes to Devonport, a picturesque tourist town/city serviced by Devonport Airport and the Spirit of Tasmania sailing/travelling from Melbourne and delivering plenty of potential customers!
Stunning location nestled in the hills with private views from your balcony!
Licenced for 60 cats with separate accommodation providing a solid, steady income all year.
"Briarside" homestead (c.1920), is a 100 year old character home fully renovated 1990, comprises 4-double bedrooms plus study, 2 bathrooms, 2 living areas, dining with feature Baltic flooring. Separate kitchen with adjoining butlers pantry. 2 decks with direct access to well established mature secluded gardens surrounding the homestead with expansive lawns, feature hedges, gazebo and feature Maple, Silver Birch and Sycamore trees with extensive planting of roses, azaleas, camelias, fuchsia and more.
Self contained recently renovated 1-bedroom cottage - ideal as renter or separate guest accommodation, retreat or potential bed & breakfast (STCA).
1.577 hectare (approx. 4 acre) property has permanent spring fed dam with garden water from dam. House & cattery water from rainwater tanks.
"Briarside Cattery" established for 23 years includes reception room, 30 cat suites and is wood heated with additional electric heating.
"Briarside" offers a complete package with quality homestead, rental unit potential and established business.
The owner reluctantly offers this property for sale. Inspection by appointment only. Property Information Report available on request. Please visit Briarside Cat Boarding website for further business details.
46 Chuggs Road,
Forth, TAS
Superb rural investment
"Bryn Hafford" is a superbly positioned large farm with 2 residences right in the heart of the farming district of Forth. Boasting 83 hectares (205 acres) on four titles with outstanding views, some of the finest soils and 5 dams boasting 158ML of irrigation water, there is little restraint in achieving your agricultural pursuits. The water is supplied through underground mains via 2 irrigation pumps and 2 transfer pumps making the use of and reuse of water an efficient process.

The soils consist of 44 hectares of highly productive red basalt being used to produce crops such as Potatoes, Wheat, Poppies, Peas, Carrots and Onions. For additional long term income 22 hectares approx has been dedicated to Blue Gum plantation with the remaining 15 hectares used for grazing and shelter. There is a single stand shearing shed, 2 large machinery sheds, 2 smaller sheds and a locked chemical shed providing ample storage for every need.

There are plenty of options for accommodation, the first consisting of a large refurbished 3 bedroom home providing plenty of space for the family with an adjacent smaller 2 bedroom home which is currently rented. Both homes have impressive dual views of Bass Strait and Mount Roland

With reliable rainfall, good soils capable of high production this farm is worthy of your inspection.
Roberts Real Estate have obtained all information in this document from sources considered to be reliable; however, we cannot guarantee its accuracy.
Prospective purchasers are advised to carry out their own investigations. All measurements are approximate
596 Lowana Road,
Gunns Plains, TAS
50 Acres with River Frontage
* Large double-glazed home overlooking the property
* 4/5 bedrooms with built-ins (master with ensuite)
* Ducted wood heating to bedrooms
* Wood Stove with boiler/electric hot water
* Double garage with automatic door
* Large workshop under main roof
* Covered outdoor entertaining area with pizza oven
* Orchard & vegetable garden
* Approx. 50 acres (2 titles) with Leven River on eastern boundary
* 40 acres river flats, 10 acres bush
* 66 megalitre licence from river
* Land capable of carrying 40 Angus cows with calves
* Cattle yards, hay shed, tractor shed, woodshed and utility shed
203 Isandula Road,
Gawler, TAS
SOLD - 203 Isandula Road - Just minutes from the Coast
Just 3-4 minutes from the coastal town of Ulverstone with all the benefits of prime agricultural farming and lifestyle options in the one package. Rich fertile productive red basalt soils, plentiful water; spacious, bright, quality residence and outbuildings comprising a total of 85.7 acres. A comfortable 209 square metre period weatherboard home Circa 1920 with 3 bedrooms, office, open plan kitchen and dining area, two living rooms, bathroom and laundry. This home is bright and flooded natural light from generous windows and aspect to the daylight sun.
Set on undulating slopes, very sheltered from prevailing south westerly winds, with irrigation allocations of dam storage 18.5 megalitres and irrigation scheme 15 megalitres to underground mains and 8 hydrants that provide predominantly gravity fed irrigation, along with gravity spring fed domestic supply this property is blessed with water resources including potential to increase substantially if desired. Ample shedding completed this package which is sure to be sought after. This would have to be of one of the best lifestyle farming opportunities to currently become available on the market. Positioned idyllically just inland from central Ulverstone between Devonport and Burnie and only a few kilometres (by road) from Ulverstone's Beaches for further recreational opportunity it really does tick all the boxes both for lifestyle and professional convenience.
This property has so much to offer yet so private you would hardly know it was there! That makes it so attractive; it is hidden away yet has just a couple of kilometres from the Leven River and Bass Strait among the heart of surrounding premium farmlands of Gawler. Boasting a rural setting and high level of privacy, it has generous indoor areas for family and friends to relax. The homestead features spacious rooms, comfortable settings, generous amenities, quality fixtures and furnishings.
The main homestead is pleasantly set back and accessed by a sealed laneway; the residence, outbuildings and infrastructure are situated in a convenient central position into the property and features easy to maintain lawns and gardens with generous yards. The homestead (circa 1920) features bright elevated ceilings, a spacious open plan kitchen and dining area, ample cabinetry, island bench, electric oven and dishwasher. Formal dining area and connected lounge rooms look north over the patio and front paddocks of the property. Three generous bedrooms are a feature of the home; the vendors currently utilise what could be a fourth as an office and sitting room. All bedrooms feature built in cabinets, while the master features a walk in robe. The bathroom features separate bath and shower along with separate WC, a generous size laundry also allows plenty of space for boots and all-weather attire that goes along with rural life. The homestead is heated in winter with options of an inbuilt fan forced electric or a freestanding wood heater. The homestead has had regular maintenance and renovations since built keeping the home fresh and bright.

Domestic and stock water for the property are sourced via natural spring feed from a subterranean aquafer and is gravity fed. Water for commercial use in irrigation is provided by a 15 megalitre water right from the Kindred North Motton Irrigation scheme supplementing the properties two dams with combined licenced storage allocation of 18.5 megalitres, 4 inch underground mains are established with hydrants for irrigation of the property by travelling soft hose irrigators and is also predominantly gravity fed. The property is predominantly comprised of the prime red basalt soils common to the premium cropping belt of the farming lands of the North West Coast.
The property has a rich history of running livestock and periodic cropping on the highly fertile soils. The livestock are afforded shelter in the lee of the slopes and established native shelter belts from the prevailing south-westerly elements during the winter months, those same shelters enhance the privacy of the property from surrounding properties that many other properties do not have.
This is a property that due to its position, commuting options by road (including access to the Bass Highway only a couple of kilometres) and the town centre of Ulverstone really does fit the real estate cliché of Location, Location. It is a very pleasant and productive property as is where is, but coupled with its further potential it can only appreciate in quality and value for an astute purchaser.