Dairy farms for sale review
Dairy farming takes place in most states in Australia. The dairy industry stretches from North Tropical Coast and Tablelands of North Queensland to the West Coast of WA and to Tasmania to the south. If you're looking for dairy farms for sale, it's important to do your research before you buy. GoRegional reviews what's available and provides insights to the regional dairy industries.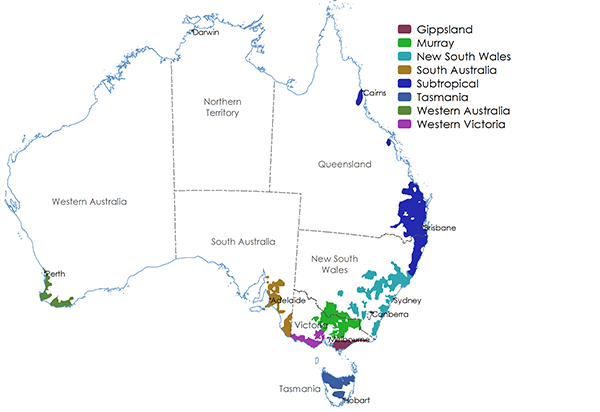 The dairy industry makes an important contribution to the Australian economy. In 2015–16 it accounted for around 8 per cent ($4.3 billion) of the gross value of agricultural production and around 7 per cent ($3.0 billion) of agricultural export income.
Australian dairy farm income can fluctuate significantly from year to year. This largely reflects changes in world prices for traded dairy products, the effects of varying seasonal conditions on milk production and the cost of farm inputs. If you're looking for more information on the dairy industry, you may want to check out the Agriculture.gov dairy page to see if buying a dairy farm is the right choice for you.
The listings for some of our favourite Australian dairy farms for sale can be found below.
---
584 Strathallan Road,
Bamawm, VIC
Elite dairy enterprise - 440 AC (approx)
Designed to be stress-free for man and beast and providing a "cutting edge" highly efficient operation with a living standard you would expect.
Clearly a stand-alone property for the professional dairy person.
HOME:
The home comprises 36 squares of living, six bedrooms, two living areas and the garden and surrounds provide a lifestyle perfect for family living with established gardens separate driveway, inground pool and outdoor entertaining.
IMPROVEMENTS:
Extensive machinery shedding, three-phase power, two calf sheds and separate paddocks, hard stand area with commodity bunkers hay shed and recently completed deep straw compost loafing barn (350 cow capacity)
DAIRY:
The platform is a 44-stand, Bonlac 1995. Upgraded in 2013 to include a full MILFOS plant, including ACR's, retention arms, pulsation and milk metering system, including litres, fat, protein, lactose temperature, conductivity. The platform also boasts a teat wand and auto draft. The system is Bluetooth, infrared and controlled with a full Jantec database computerised system. The Jantec software allows for total herd management and auto feed. The farm's factory cell count is measured in 2 digits since the installation of this technology. Other upgrades include GEA variable speed vac pump and a multi-stage variable speed pressure pump.
The dairy also provides an office block housing the database and auto-irrigation systems which are by choice stand-alone and internet free. These systems are hardwired to the house office. Facilities include a kitchenette, bathroom, along with TV and video facilities.
Fully sprinklered and grooved yard, with comfort matting, strategically utilised.
Dairy feed system incorporates two feed heads, crushed grain and profeed. 1x Bamawm roller mill, 100-tonne grain capacity, 1 x 15-tonne milled grain silo, 1 x 25-tonne promix silo, 1 x 8-tonne lead feed silo.
WATER:
Auto irrigation controls approximately 80% of the farm, plus 1 x re-use pump and 1 x lift pump. There are three delivery shares connected to backbone channel. Early season the bore does roughly 14 megs per day, falling around to 11.5 mid-summer. 490 meg of licence.
Wastewater is delivered to farm gate at 11-13 megs per day dependant on other users. This share equates in the region of 250 megs per annum, which is only likely to increase due to the growth of Echuca and Rochester.
PRODUCTION:
Silage production for 2017 approximately 420 dry-tonne of shaftal and ryegrass and approx. 350 - 400, 8 x 4 x 3 square bales of quality clover hay.
As of November 2017, milking 260 + cows, with a further 60 to calve January/February. A balance of 120 thereabouts to calve for the autumn. The herd is predominantly a purebred Friesian herd with only A2 sires used for the last six years with the recent addition of cross-bred heifers. The herd has been bred for excellent health and fertility traits. They are breeding a slightly smaller framed animal with the gains being a higher feed conversion efficiency.
The farm boasts an excellent soil health history (fertiliser). Since ownership, the owners have employed a highly respected agronomist and have, as a result, put a significant emphasis on healthy soils. Not to mention massive inputs to achieve this, such as high applications of their compost, lime and foliar applied fertilisers and the production history is reflecting this with annually increasing fodder and milk production.
106 Sinclair Road,
Heywood, VIC
Large Scale Dairy, High Rainfall & Irrigation
Large scale dairy farm - 1012 acres - 409.5 hectares - situated in the renowned high rainfall Heywood area with the added advantage of irrigation (688 mega litre license). Currently managed as a corporate dairy farm under an organic management regime, milking between 400 - 500 cows, but has milked up to 700 cows. Suited for that purpose or a family operated dairy farm, alternatively, highly suited and adaptable for a beef breeding and fattening operation.
Featuring:
- Well maintained residences include 2 x 3 bedroom homes plus separate living quarters for casual employees.
- Centrally located 50 unit rotary dairy with 15,000L vat , 600 - 700 head flood wash cow yard & auto feed system.
- Huge hay shed with 500 roll capacity plus other machinery shedding.
- 75 ac /30 ha under as new pivot irrigation, plus hydrants for traveler and hard hose for approximately another 100 ac /40 ha. Hydrology tested for second pivot site. 688 mega litre irrigation license.
- Excellent farm layout with wide well formed and maintained lane ways to all paddocks.
- Uniformed subdivision of approximately 70 paddocks with road frontages on three sides.
- Versatile run of country with heavier black loam soil types running onto well drained grey and red loam banks.
- Indicative rainfall of approx. 34"/850ml PLUS annually.
- 5 silage bunkers.
A rare sized land parcel in this diverse high rainfall agricultural district. Centrally situated to South Australia (Mt Gambier 80km), The Deep Sea Port of Portland (40km), the regional center of Warrnambool (120km) and the service center and town of Heywood (18km).