The stunning colours of Mulla Mulla Drive in Ashburton. Image credit Elanor Lukale.
Explore life in Ashburton
The Shire of Ashburton is located in the Pilbara region of Western Australia. Ashburton is bordered by the Indian Ocean to the west and stretches to Mulga Downs in the east. One of the largest regions in Western Australia, the Pilbara covers 507,896 square kilometres of unique and breathtaking natural landscape, and Ashburton lays claim to 105,647 of them. The landscape is rich, wild and raw, ranging from deep rocky canyons to peaceful plunge pools, from scattered islands with dazzling white beaches to rich red plains.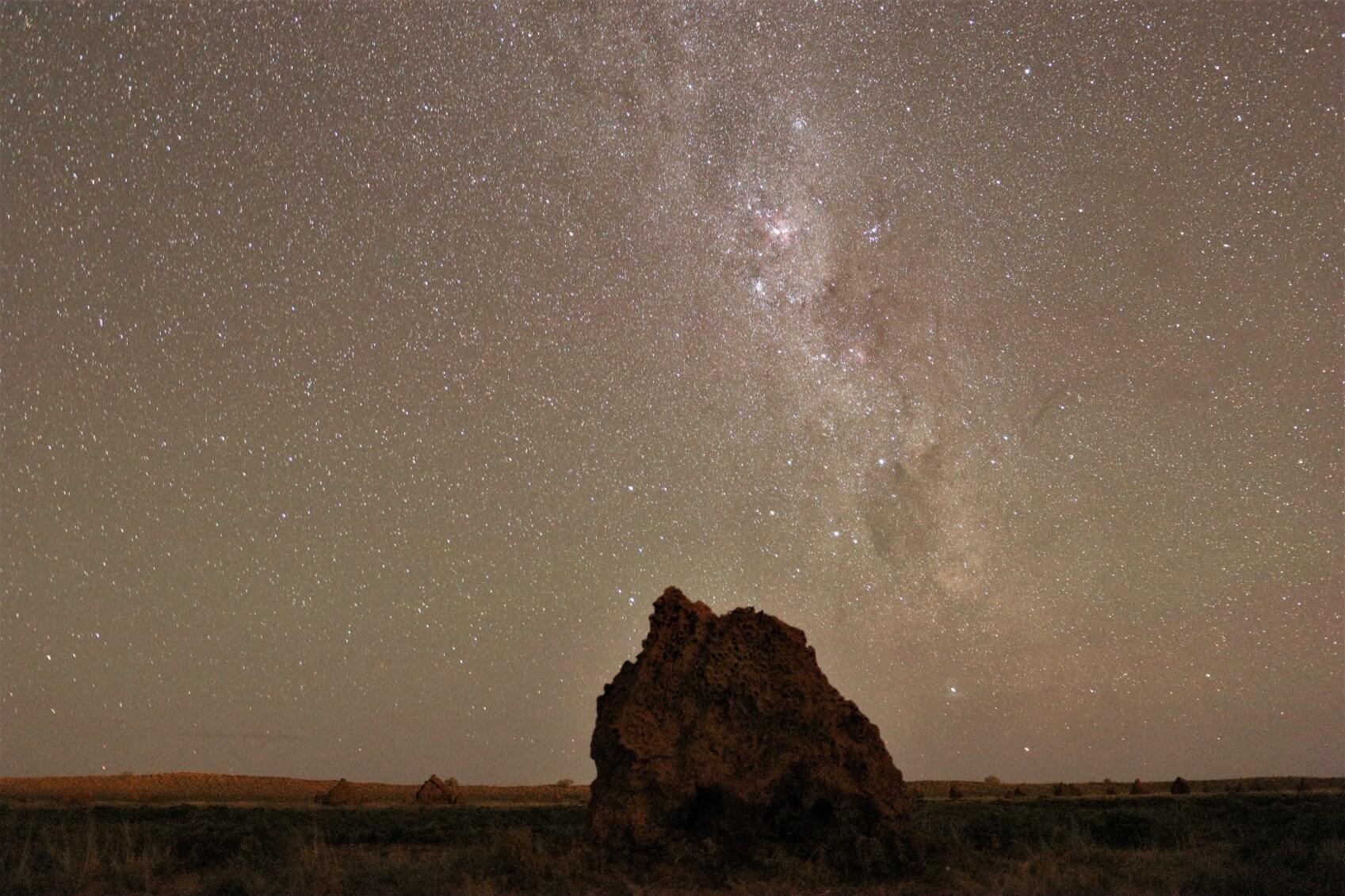 Pilbara night skies offer some of the best star gazing in the world. Image credit Shire of Ashburton.
The Pilbara is home to a massive mining industry and also plays host to some of the largest cattle stations in the country and much of the area is taken up by pastoral leases and other protected areas. The Shire has a rich indigenous history and present, and also encompasses the Aboriginal communities of Bindi Bindi, Wakathuni, Bellary, Youngaleena and Ngurawaana.
Whichever way you look at it, this is epic country. Ashburton boasts an ancient landscape, with geological formations over 2.8 billion years old, phenomenal night skies, sweeping horizons and some of the most stunning natural landscapes in the world.
Agriculture and industry in Ashburton, WA
While mining is now the leading industry, agriculture is still a major activity, with cattle dominating the sector. The Pilbara is a Bluetongue Virus-free zone, which makes it an attractive proposition for exporters. There are also ongoing plans for major irrigation trials in the region, opening the possibility of a more varied agricultural presence in the future.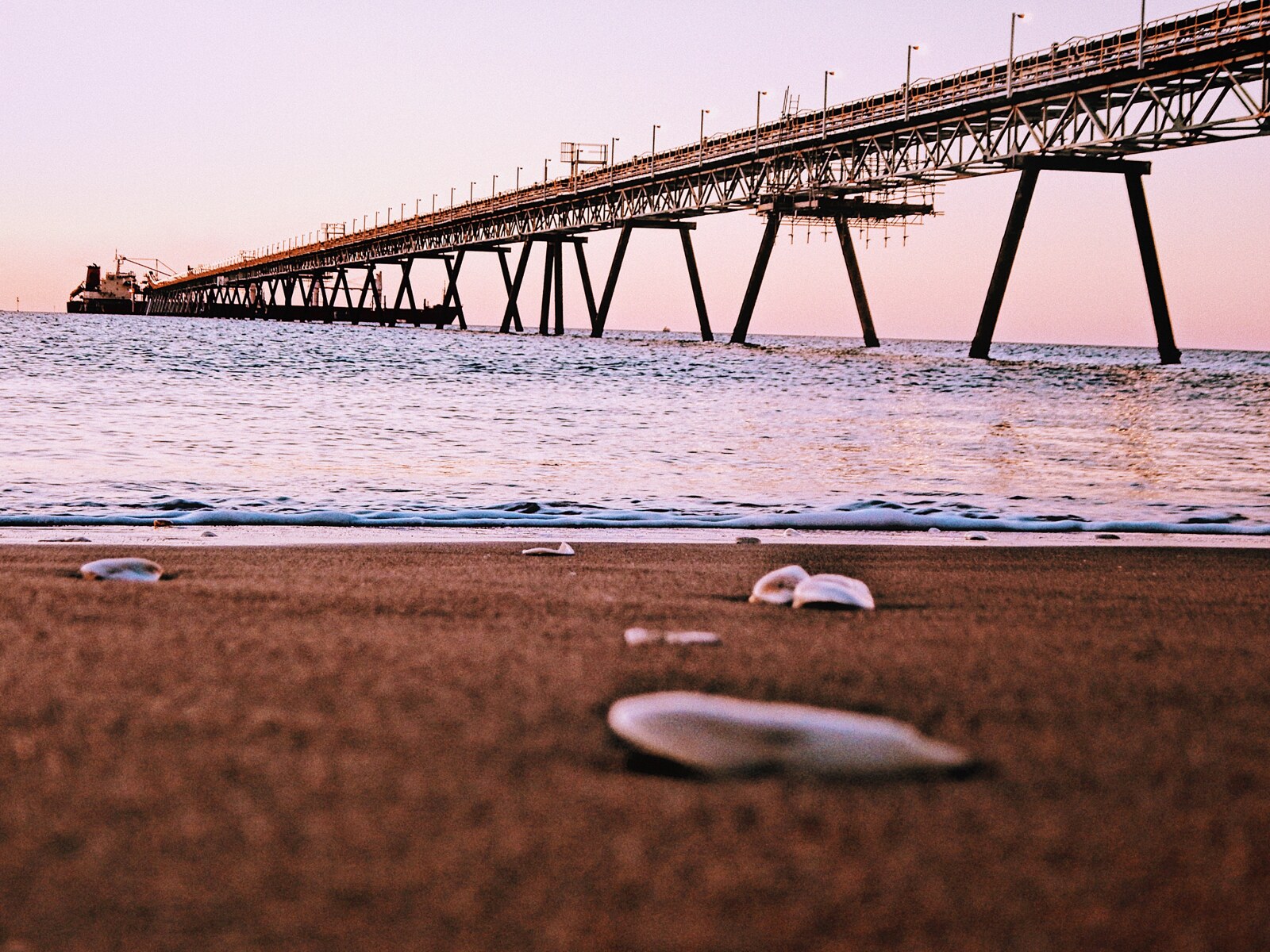 A ship at the jetty at Back Beach, Onslow. Image credit Teneka Clark.
Ashburton has a strong mining and hydrocarbon industry, with iron ore and liquid natural gas dominating. Paraburdoo and Pannawonica are iron ore towns and essentially run by Rio Tinto. Tom Price, the administrative centre of the Shire, is also a centre for iron ore and while it's no longer run by Rio Tinto the bonds remain strong. Onslow has the Chevron Wheatstone LNG project, the BHP Macedon Gas Plant and the Onslow Salt Mine.
Ashburton Shire is one of the busiest hubs on the Coral Coast and supports an active fishing and pearling industry, as well as offshore oil works. It also boasts the Port of Ashburton, a multi-user port that was originally set up to process and ship LNG but also handles condensate, project cargo, break bulk and general cargo.
Where to live in Ashburton Shire, WA
Ashburton runs from reef to range, offering a variety of locations, including Tom Price, Onslow, Pannawonica, Paraburdoo and even Mackerel Island. Tom Price is WA's highest town and the gateway to the Hamersley Range. It has a population of about 13,000, most of whom live in the mining towns or in nearby mining camps. Onslow is a coastal town with a thriving community and well established infrastructure, both maritime and social. Onslow has been sitting pretty at the mouth of the Ashburton River since 1885. Onslow is ideally situated for exploring the Coral Coast and islands and tourism has become a focus for the area.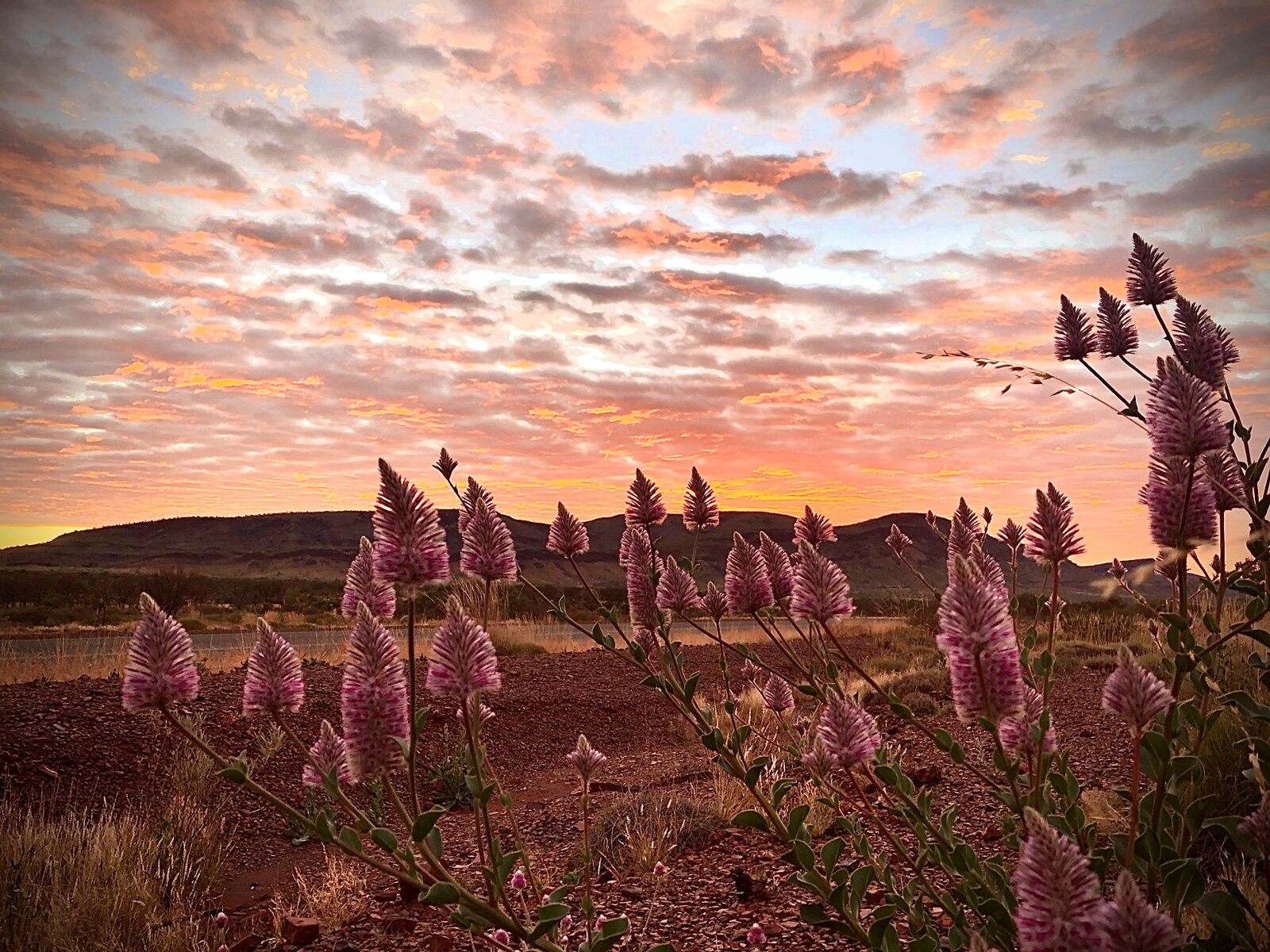 Sunrise over Mulla Mullas, a vibrant native plant. Image credit Janice Gubbing.
The 700-strong community of Pannawonica is undergoing a renaissance thanks to recent improvements in housing, services and community facilities. Life in Pannawonica revolves around mining and in 2016 it reportedly had the highest median weekly income of any town in Western Australia. Paraburdoo is another mining town located well to the east of the Shire. It offers a close-knit community, many of whom are workers from the nearby Rio Tinto Iron Ore mine. The town's friendliness and natural beauty are attracting families, and the local's pride in their town is reflected in recent back-to-back Tidy Town awards.
Culture and activity in Ashburton, WA
When you move to Ashburton you can expect to enjoy a tranquil, relaxed lifestyle with a very strong outdoorsy flavour. There are cultural events like the music festival Passion of the Pilbara, and the Nameless Jarndunmunha Festival, but the majority of activities revolve around the spectacular landscape. The Robe River Rodeo, the Onslow Rodeo and fishing competitions like the Beadon Bay Bash celebrate both country life and the land.
The region is one big spectacular landscape, but there are a number of must-see locations. Karijini National Park is an otherworldly landscape of spectacular gorges and dramatic waterways. Millstream Chichester National Park is a literal oasis in the desert. Mount Nameless, Jarndunmunha in the local Indigenous language, offers a brisk climb and sweeping views.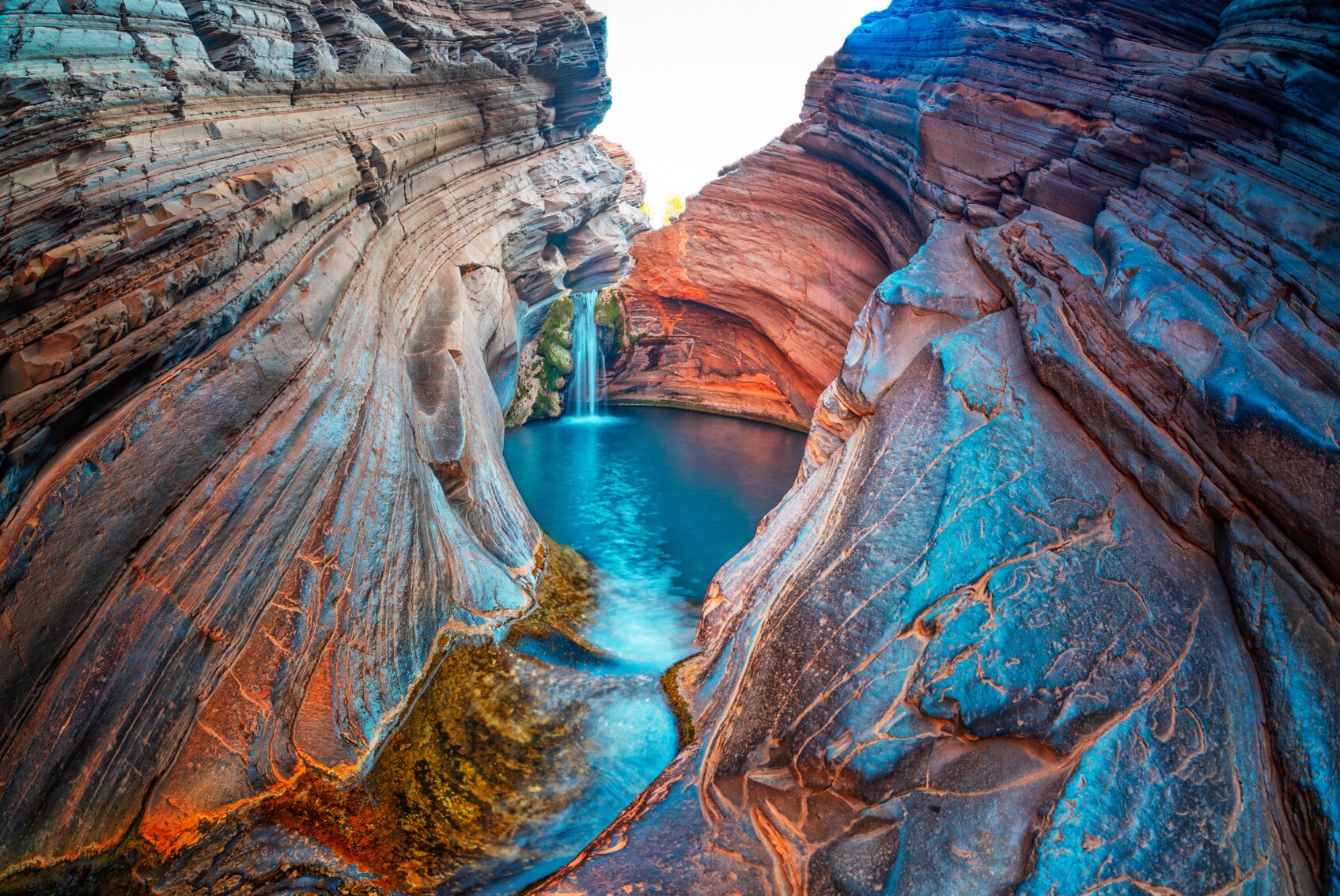 The stunning colours of the gorges and waterways of Karijini National Park. Image credit Diana Abeleda.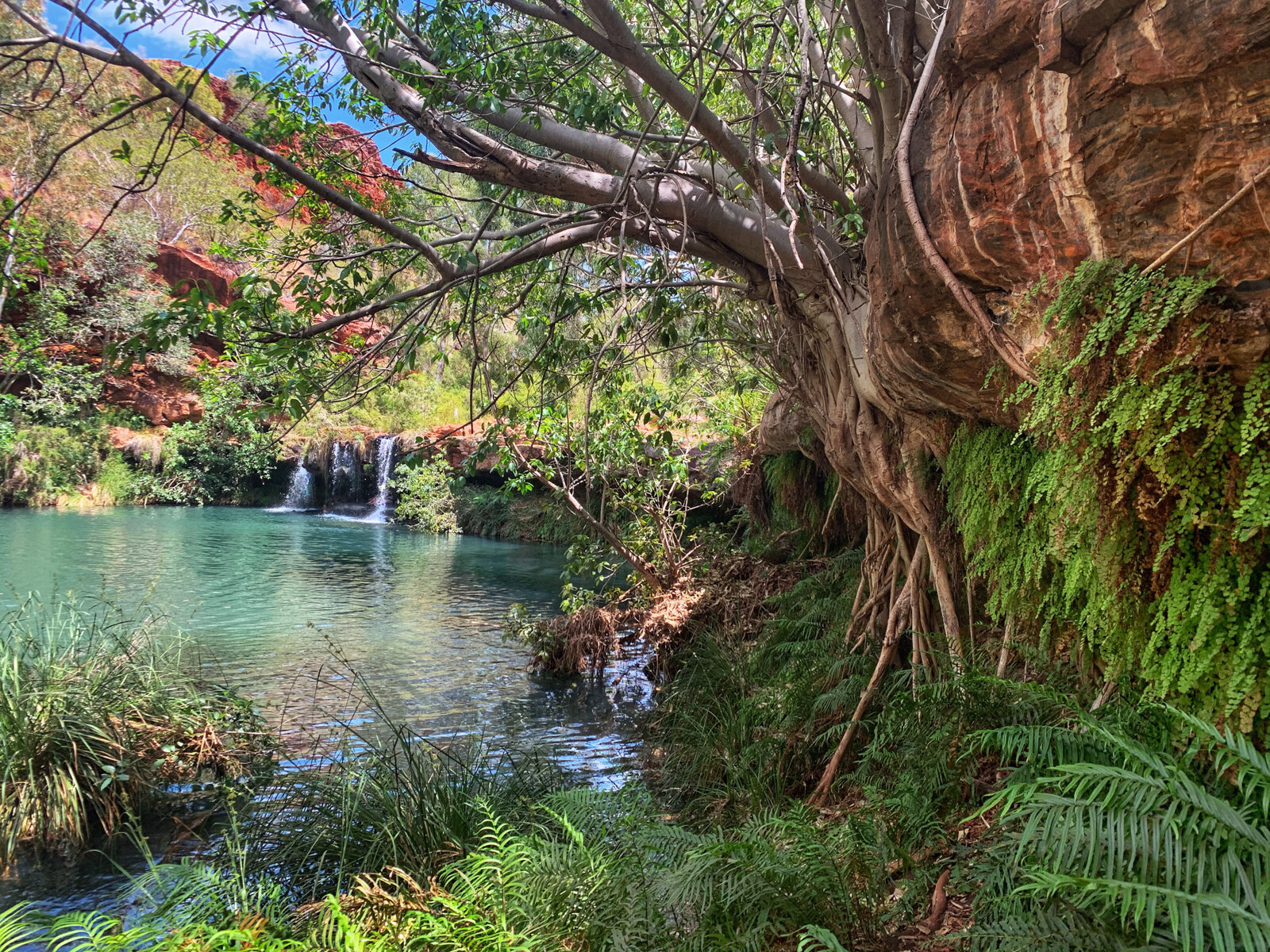 The magical oasis that is Millstream Chichester National Park Pilbara. Image credit Ally Wilson.
The Mackerel and Montebello Islands are in a marine park and offer access to more than 58,000 hectares of pristine ocean surrounding 265 low-lying islands and islets. The islands are fringed by coral reefs richly populated by colourful tropical fish, making them a popular destination for divers and snorkelers.
One very special way to see the region is to explore the Warlu Way, a self-drive journey that follows the path of the mystical Warlu sea serpent. Discover Indigenous Dreamtime legends as you travel from the pristine Ningaloo coast to Karijini National Park.
There's a strong sporting culture in the region and there are a range of community clubs and facilities on offer, including AFL, baseball, soccer, rugby, swimming and golf. There is also an active local community of anglers, with the islands, coast, rivers and creeks offering plenty of varieties of fish, as well as some good mud-crabbing.
Health, education and amenities in Ashburton, WA
The Shire of Ashburton is remote and sparsely populated and the current level of medical services reflects that. There are medical centres and some allied health practitioners spread out around the major townships. There is also Tom Price District Hospital, which includes an emergency department, and there are approved plans (and funding) to build a brand new replacement in the near future.
Most of the townships in the Shire have either a primary and secondary school, or a campus that caters to children of all ages. Tom Price has Tom Price Primary School, North Tom Price Primary School, Tom Price Senior High School and a TAFE campus. Paraburdoo has a primary school while Onslow and Pannawonica have K-12 campuses.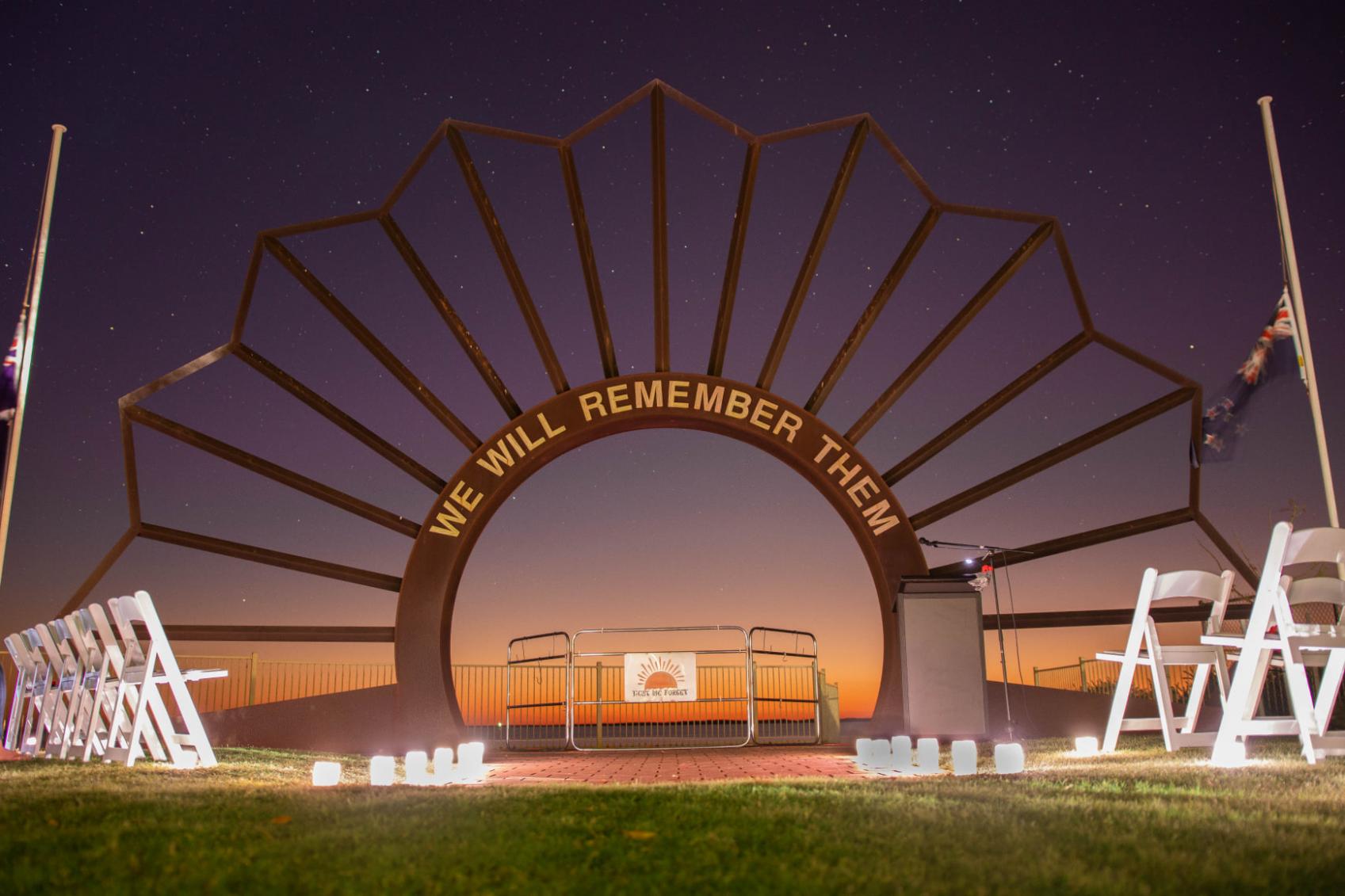 The Onslow War Memorial is a stylized interpretation of the Rising Sun cap badge. Image credit Shire of Ashburton.
In terms of local amenities, Tom Price has a supermarket, cafes, restaurants, a pub, postal services, doctors and medical clinic, a hardware store and the various services required by construction and mining. Onslow is the region's other centre, offering a post office, supermarket, mechanic, doctor and medical centre, a part-time vet, chemist, hardware store, and a pub. The region is at least 16 hours drive from Perth, however there are regular flights from Perth to Paraburdoo, and nearby Newman, Port Hedland and Karratha, plus coach services.
---
For further information
If you want to know more about living in the Shire of Ashburton, visit www.ashburton.wa.gov.au or contact the Shire Council at soa@ashburton.wa.gov.au or by phone on 08 9188 4444.