The dramatic coastline of Glenelg Shire. Image credit Glenelg Shire Council.
Discover the beauty of Glenelg
Glenelg Shire is nestled in Victoria's South West corner, in the stretch of the Barwon South West region known as the Discovery Coast. It covers an area of 6,219 square kilometres and has a population of around 20,000. Glenelg is renowned for its dramatic coastal and cultural landscapes, including the Budj Bim Cultural Landscape.
Glenelg and the Discovery Coast are the western gateway to the Great Ocean Road. Rolling hills and rich agricultural land to the north give way to a scenic and secluded river region to the west, pine plantations line the roads through the hinterland, while a huge expanse of coastal beaches and cliffs form the southern perimeter. Fishing and water activities thrive here, along with a host of diverse and progressive industries.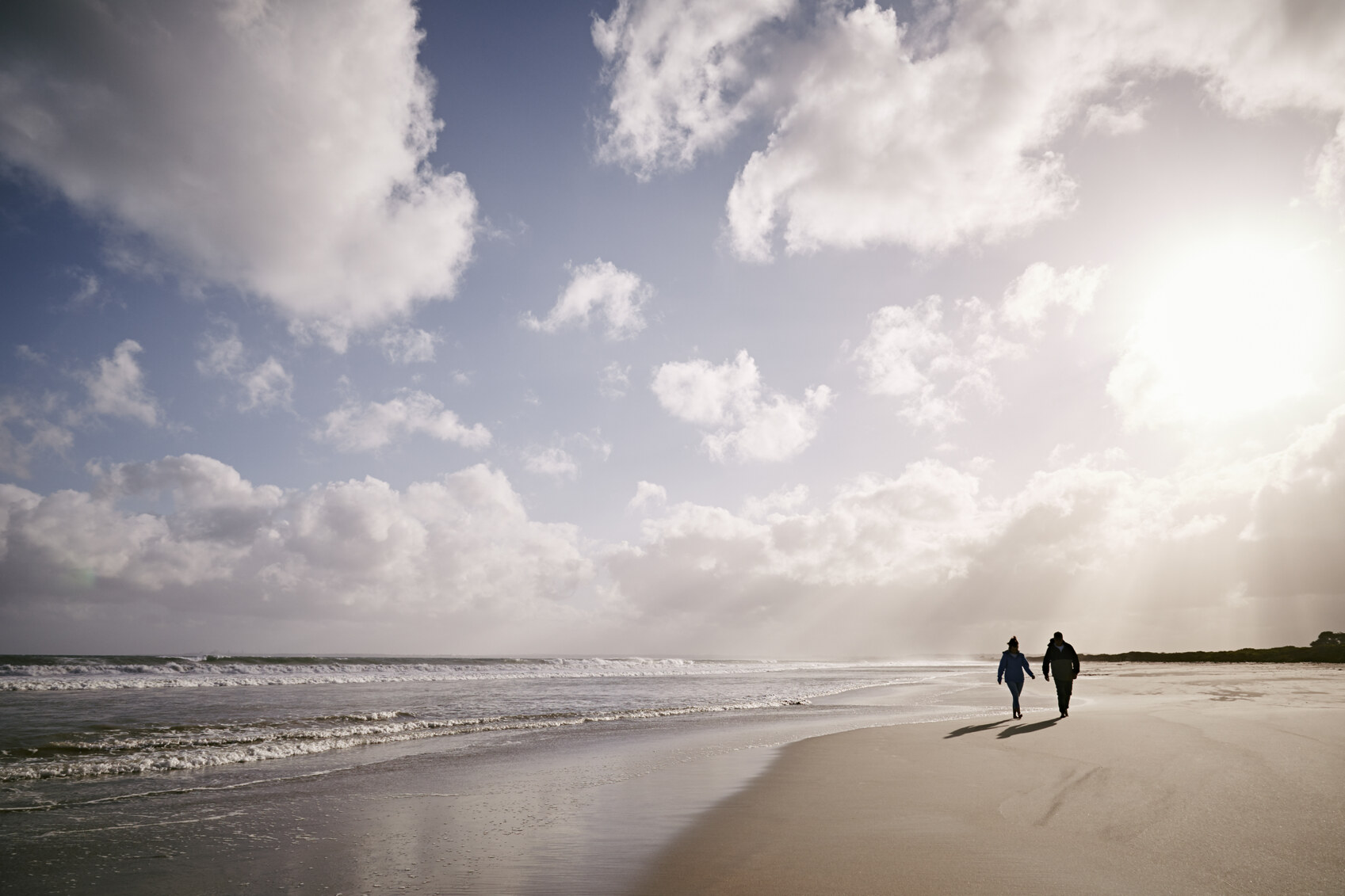 Glenelg Shire is blessed with endless beautiful beaches. Image credit Glenelg Shire Council.
Glenelg is a place of natural beauty and small-town charm, untarnished by over development and excessive commercial tourism. The area's diverse and beautiful landscapes offer residents and incomers a choice of location and lifestyle between sea, town and farm.
Agriculture and industry in Glenelg, VIC
Glenelg Shire has a diverse industry base with significant involvement in manufacturing, timber, community and health services, tourism, education, transport and retail, as well as agriculture. Timber production, grazing and manufacturing are the Shire's main economic activities. With its rich soil, good rainfall, abundant land and proximity to the Port of Portland, Glenelg is strategically located in the Greater Green Triangle Region that includes south west Victoria and south east South Australia. Agricultural products from the Shire include beef, dairy, wool, fat lambs, apples, strawberries, wine, potatoes, grapes and honey.
Located around a deep-water port, Portland is the major centre in the shire and home to one of only two aluminium smelters in Victoria. The Portland Aluminium Smelter currently underpins Portland's $1.2 billion manufacturing industry. The timber industry makes a significant contribution to the regional economy contributing some $778 million gross regional product annually and providing around 8,500 jobs. The fishing industry is another major contributor to the local economy, including support industries such as fish processing, marine engineering, transport, ship building and maintenance.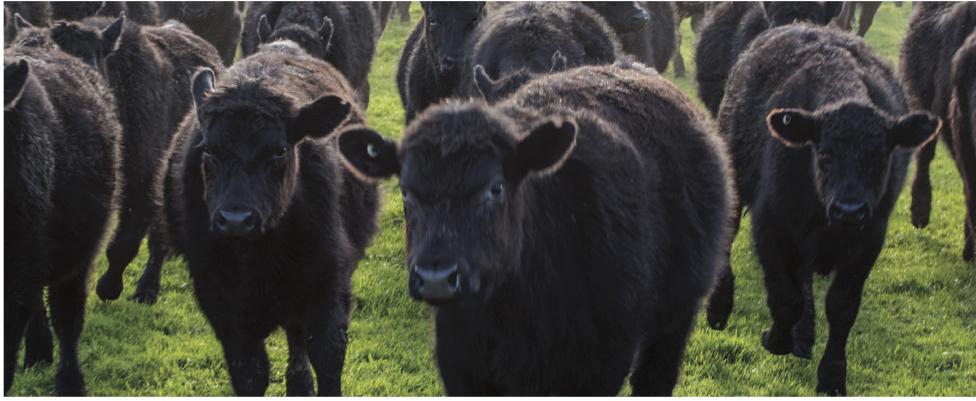 Agriculture, including grazing, thrives in Glenelg Shire. Image credit Glenelg Shire Council.
Glenelg has also become a major renewable energy hub through the Portland Wind Energy Project and the wind farm activities of Pacific Hydro Limited. Keppel Prince Engineering is involved in the fabrication and maintenance of towers and turbines. Building on the region's favourable wind generation conditions, manufacturing and transport infrastructure, there are emerging opportunities to develop renewable energy export industries such as green hydrogen.
Where to live in Glenelg
Glenelg Shire Council encompasses the communities of Portland, Casterton, Heywood, Dartmoor, Nelson, Cape Bridgewater and surrounds. Portland is the region's population, shopping and service centre and was the site of Victoria's first permanent settlement back in 1834. A large sheltered harbour provides calm waters for a marina, wharves and shipping berths, and the town features many heritage bluestone buildings.
In the north of the Shire lies the township of Casterton, the birthplace of the iconic farming dog, the Kelpie. Casteron has a striking natural landscape, including Bailey's Rocks, a unique outcrop of giant green granite boulders, and the 150 million year old Hummocks.
Dartmoor is situated on the banks and floodplain of the scenic and peaceful Glenelg River. In 1918, an avenue of Atlantic Cedars were planted as a memorial to those that served in the first World War. The Dartmoor Community and a local chainsaw artist, joined together to create nine tree carvings in the avenue of Honour, depicting service men and women in the army, navy and air force.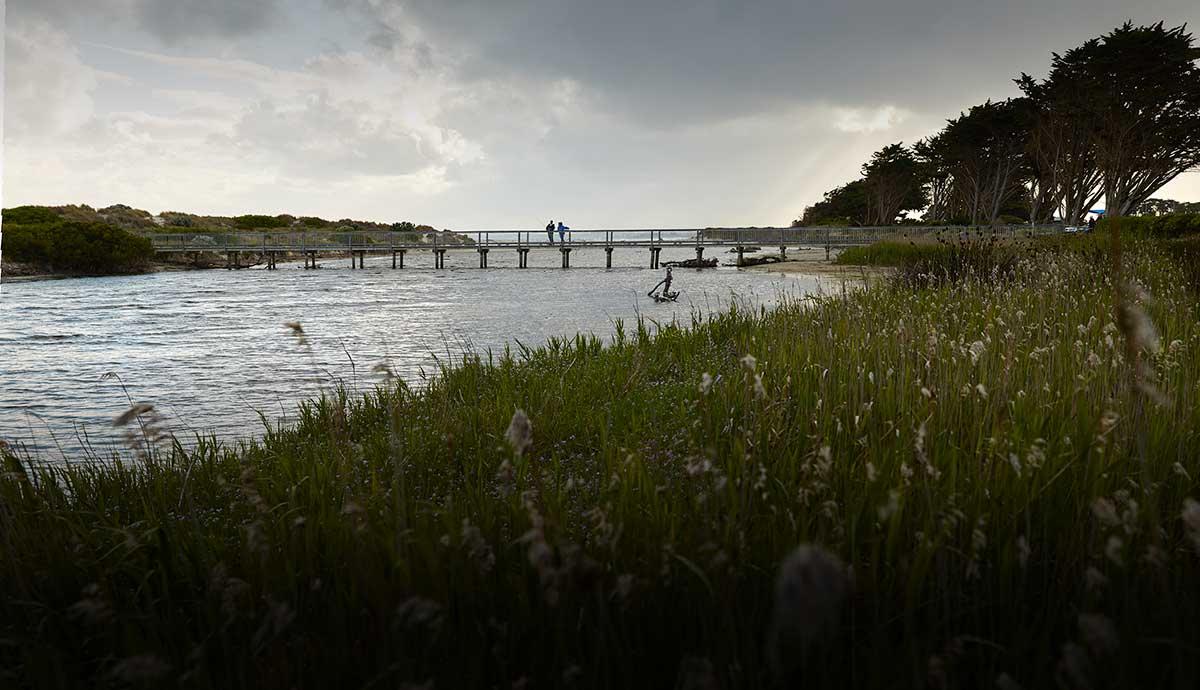 The Glenelg River meets the Southern Ocean at Nelson. Image credit Glenelg Shire Council.
The township of Nelson sits where the Glenelg River meets the sea, close to the South Australian border and surrounded by the thickly forested Lower Glenelg National Park. It is also home to a superb ocean beach. Nelson is a great spot for those who love bush walks, swimming, boating, canoeing and fishing.
Heywood is set in some of the Discovery Coast's best bushland, great for those who love an active weekend. Surry Ridge, the Cobboboonee State Forest and the Fitzroy River are all worth exploring.
Culture and activities in Glenelg, VIC
There's plenty to do in Glenelg and the Shire has a community social calendar that is full of iconic events such as the Australian Kelpie Muster, Upwelling Festival and the Wood, Wine and Roses Festival. Situated on the Great Ocean Road, it's also an ideal location from which to explore some of Australia's most iconic destinations. Glenelg's proximity to the Grampians National Park, Coonawarra wine region and South Australia's Limestone Coast is an added bonus. Approximately 15 minutes from Nelson, Princess Margaret Rose Cave is one of Australia's most decorative limestone caves, full of stunning stalactites and stalagmites, helictites, cave coral and other beautiful rock formations.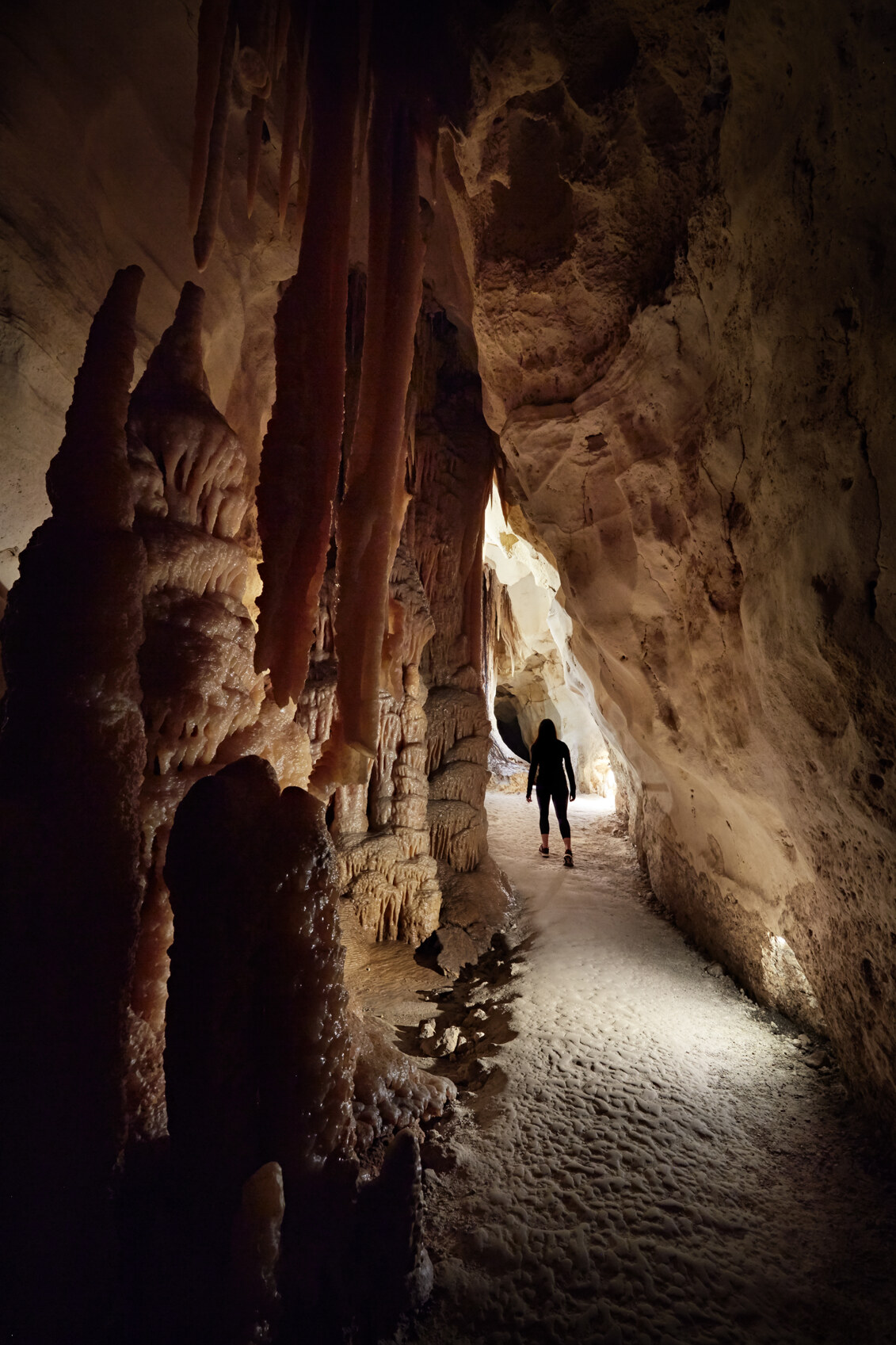 Discover the otherworldly beauty of Princess Margaret Rose Cave. Image credit Glenelg Shire Council.
Glenelg Shire boasts what is considered to be one of Australia's earliest and largest aquaculture ventures. Near Heywood is the Budj Bim National Heritage Landscape, where for thousands of years Gunditjmara people engineered and constructed an extensive aquaculture system. The area shows evidence of a large, settled Indigenous community systematically farming eels for food and trade. Tours of the area are designed to allow visitors to experience and understand Aboriginal culture and the Indigenous way of life.
Just outside of Casterton is Warrock Station, birthplace of the Kelpie, Australia's favourite working dog. The first pup of the breed was born at the sheep station in the 1870s. Warrock Station itself was built in 1893 and is now classified by the National Trust. The station boasts 33 structures and is also home to Victoria's most significant collection of Colonial/Gothic revival style farming buildings from the 1840s. Dog lovers will definitely want to make their way to the Australian Kelpie Centre.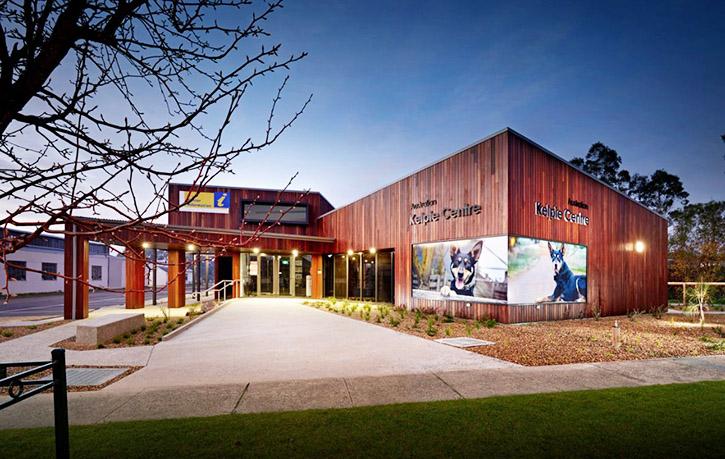 The Australian Kelpie Centre in Casterton. Image credit Glenelg Shire Council.
The coast of Glenelg is prime whale watching country. Humpbacks, Southern Right Whales, Blue Whales and the occasional Orca visit Portland Bay and Cape Bridgewater Bay on their transit through the Southern Ocean each winter. Whales have even been known to enter Portland Bay and bump right up against the wharves.
Health, education and other amenities
Portland is the centre of retail and commercial activity in the Shire, most of which is based around Percy Street with its retail outlets and eateries. These outlets spill over into Bentinck Street, which overlooks a grassy foreshore, the town's marina and Nuns Beach.
Glenelg Shire falls under three local area health providers: Portland District Health, Western District Health Service and South West Healthcare. Residents have access to a number of hospitals and emergency care providers. Portland District Hospital and Warrnambool Base Hospital are the two main public hospitals in the area, both of which have 24 hour emergency departments, and the private St John of God Hospital in Warrnambool.
There is a good level of education provision in Glenelg Shire, with more than a dozen primary schools, four secondary colleges and a partnership between the council and Deakin University designed to increase local participation in tertiary education. There are plenty of playgrounds spread throughout the Shire, with the main cluster located in Portland, and the council runs an Active Your Way programme designed to support local sports and recreation.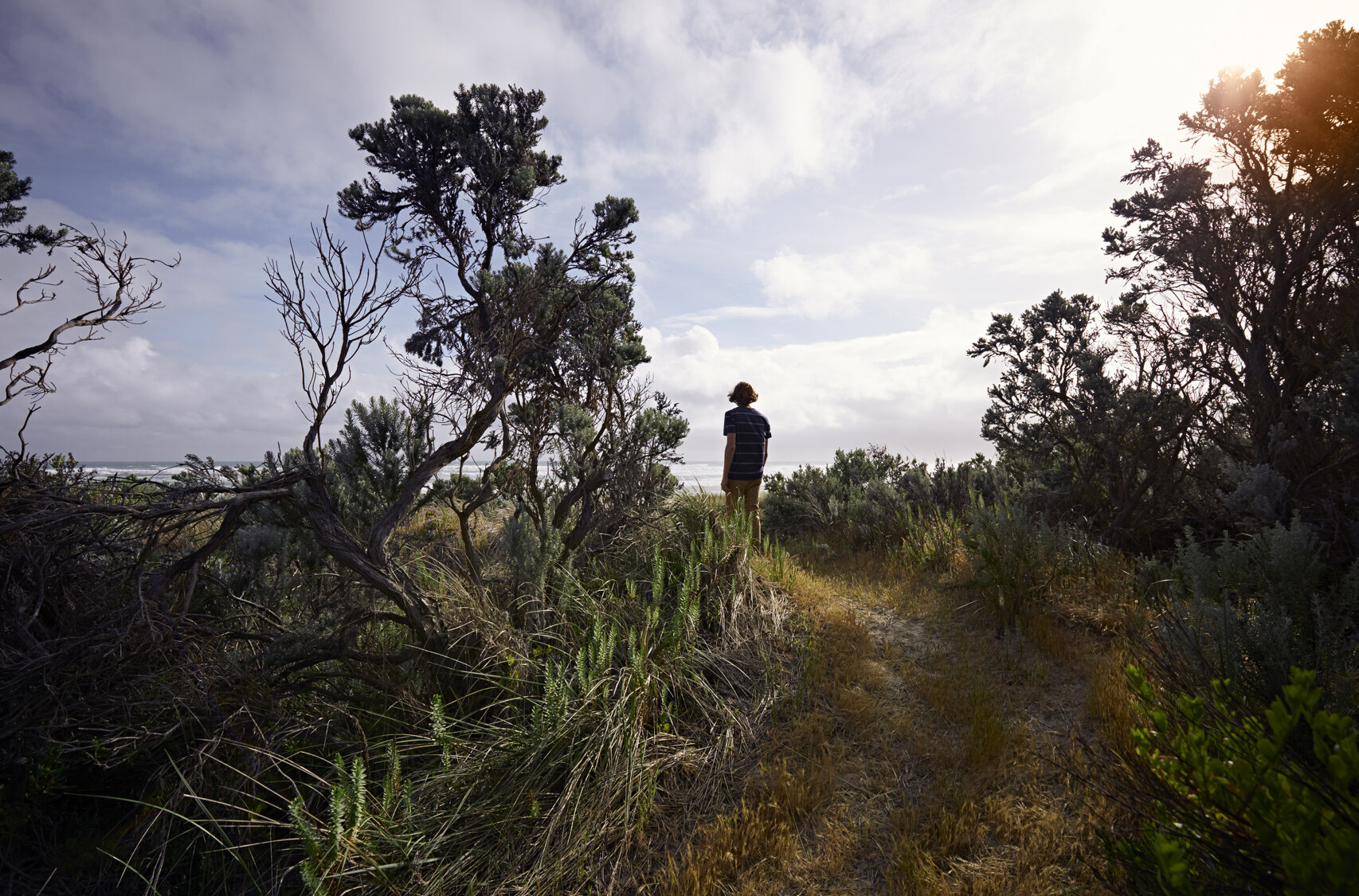 There are tracks galore for keen hikers. Image credit Glenelg Shire Council.
Walkers and hikers will have no problem staying fit and active. The Great South West Walk is a 250km bushwalking trail that runs from Nelson in the west to Warrnambool in the East, tracking alongside the Great Ocean Road. This world-class experience includes four unique walking environments: the Forest Walk; the Glenelg River Gorge walk; the Discovery Bay Beach walk; and the Capes and Bays walk. The trail winds around tall hardwood forests, the pristine Glenelg River, aboriginal cultural sites, sandy bays, rugged cliffs and freshwater lakes.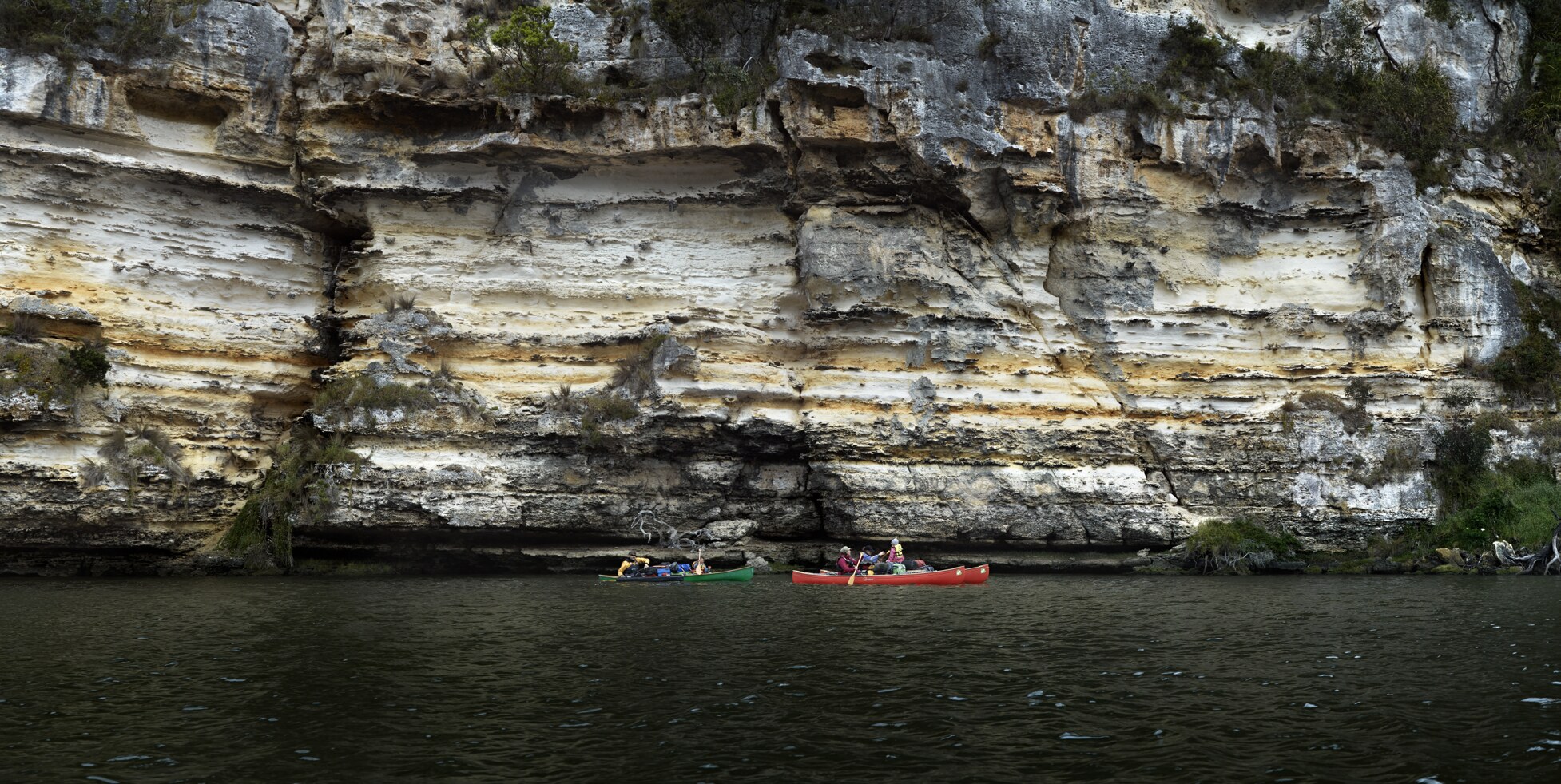 The Glenelg River is also a centre of activity in the region. Image credit Glenelg Shire Council.
---
For further information
If you want to know more about living in Glenelg Shire, visit www.glenelg.vic.gov.au or contact the Shire Council at enquiry@glenelg.vic.gov.au or by phone on 1300 453 635.
---
Real Estate for Sale in Glenelg, VIC
Discover your new haven in the beautiful Glenelg, Vic. Find Real Estate for Sale below.
---