Swimming amongst seals with Dive Jervis Bay. Image credit: Jordan Robins
Welcome to the picturesque waters of Jervis Bay, New South Wales
Jervis Bay New South Wales, in the Shoalhaven region, is one of Australia's most beautiful and peaceful coastal destinations. Littered with stunning beaches and hideaway coves, and home to some of the whitest sands in the country, you don't have to look far to find your own slice of heaven in this grand inlet. Located just a scenic four-hour drive down the coast from Sydney's CBD, the popularity and acclaim of this region has exploded in recent decades, and it is now known for its celebratory yet relaxed atmosphere and its great variety of swimming spots and other activities and adventures.
The best of beaches and coves in Jervis Bay, New South Wales
Honeymoon Bay is one of the most stunning and secluded places to swim in New South Wales, and has earned a reputation as the ultimate hideaway cove in the Jervis area. This spot is notable in its location, perched on the uninhabited East-facing coastline of the formidable Beecroft Head where the navy closes doors to the public throughout each week, and it is remarkable in the unique formation of its crescent shaped beach and the mirrored rocky outcroppings that protect this tranquil cove from the rougher waters out in the bay.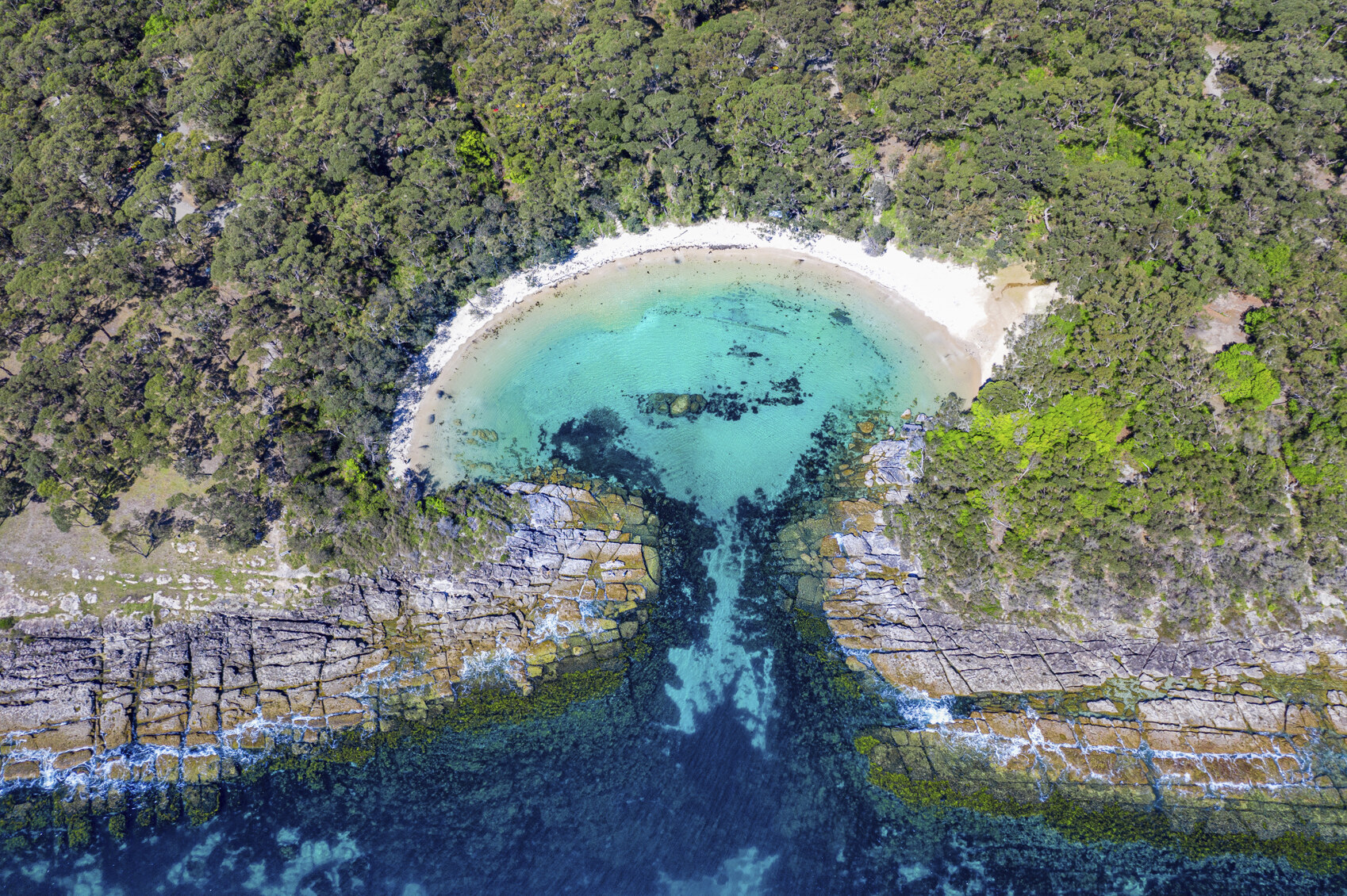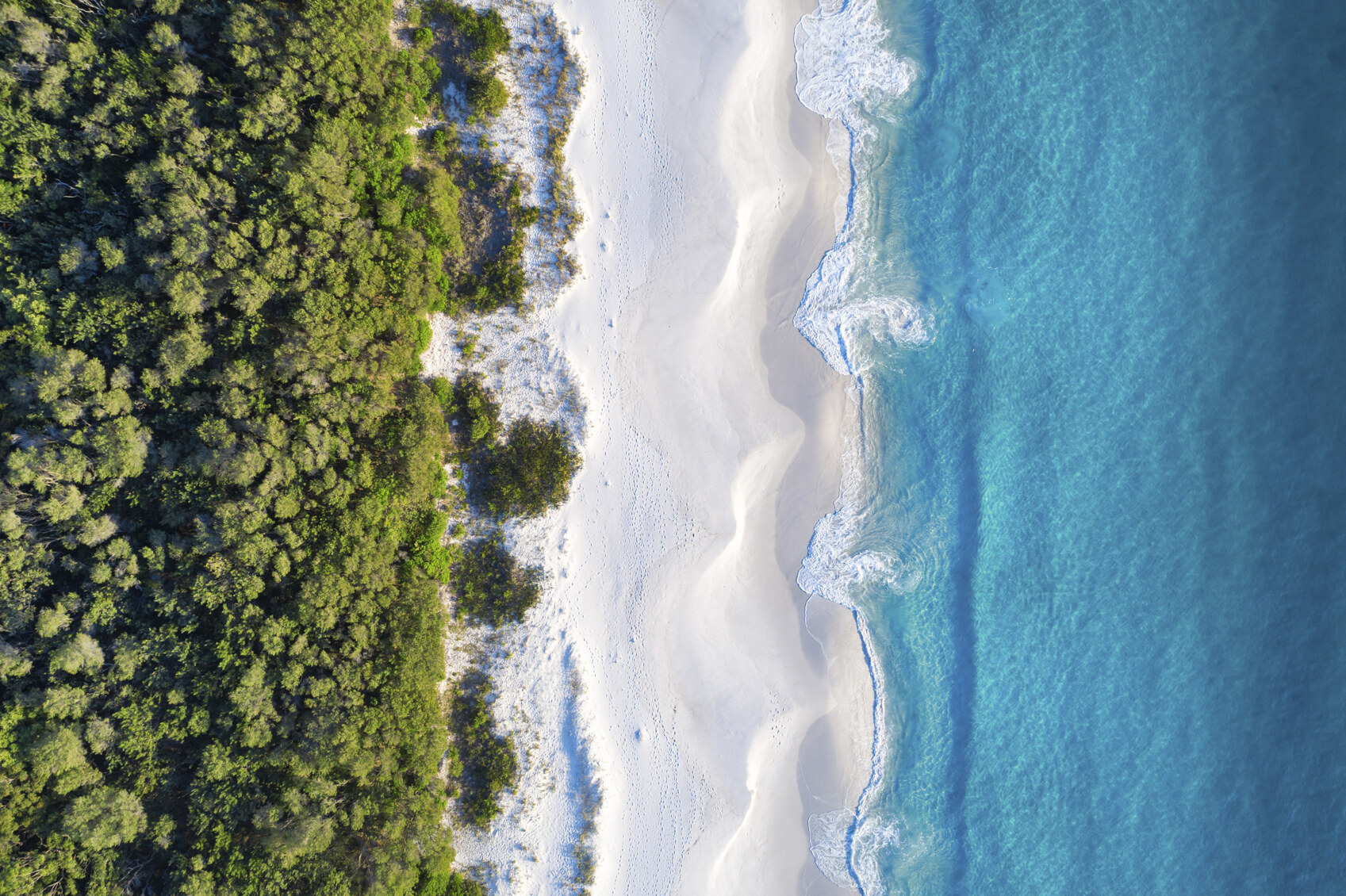 Birds eye views of Honeymoon Bay (left) and Hyams Beach (right). Image credit: Jordan Robins
If you're looking for the whitest sands south of the Whitsundays, look no further than the renowned Hyams Beach. With its eponymously named village stretching into the rolling hills above, this picture-perfect spot just a short drive south of the central town of Vincentia is quickly becoming the most famous beach in Jervis Bay. The small size of the village and its rapid growth in recognition mean the time is right to stake your claim in this little piece of paradise - but make sure you get in quick, before there's no more room.
Murrays Beach is world-class. It is located on the Southern headland of Jervis Bay, where the forested expanse of Booderee National Park meets the sea, and is one of Australia's most spectacular beaches. Starkly struck against the Southern headland, Bowen Island breaks the rough Tasman Sea swells and allows for the presence of a shallow peaceful shoal just a stone's throw from the most intense and exposed waters anywhere in the bay. From the sands of Murrays Beach, swimmers and snorkellers can paddle out and be greeted by one of New South Wales most striking and beautiful slices of sea.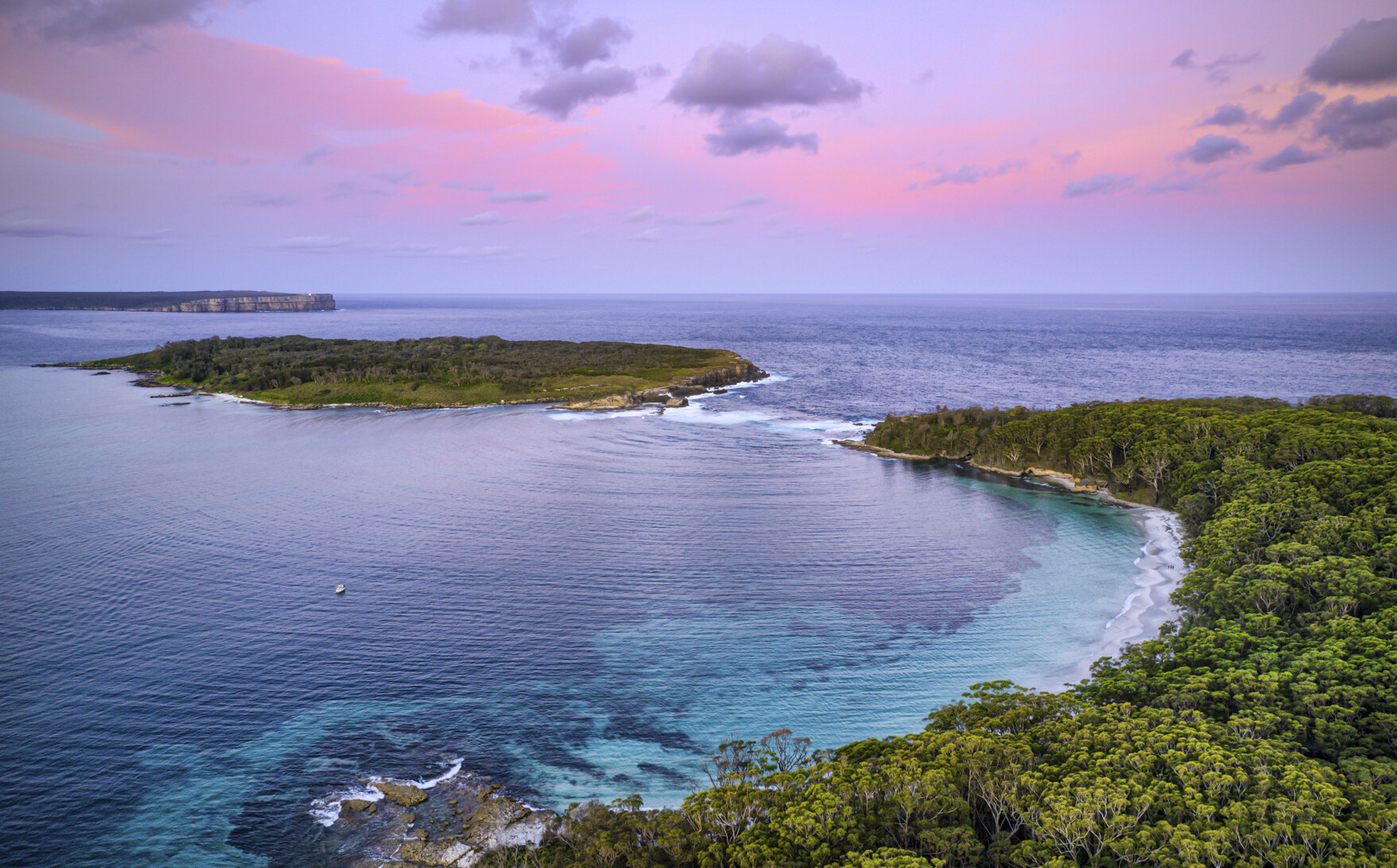 Murrays Beach and Bowen Island. Image credit: Filippo Rivetti
What lies below in Jervis Bay, New South Wales
Jervis Bay isn't just home to great beaches; it's a paradise and haven for marine wildlife of all kinds, and you can get up close and personal to it all with Dive Jervis Bay. Whether you're a SCUBA enthusiast or a total beginner, this bustling local business is here to show you around the magical underwater world that is hidden beneath Jervis' open waters. Perhaps the most incredible experience offered at Dive Jervis Bay is the opportunity to swim with some of the most magnificent creatures of the ocean, from families of seals and dolphins to the enormous and intimidating Humpback whale. For just $199 (or $169.15 if you book right now), have an adventure you'll never forget and share the water with the magnificent beasts that pass through this inlet.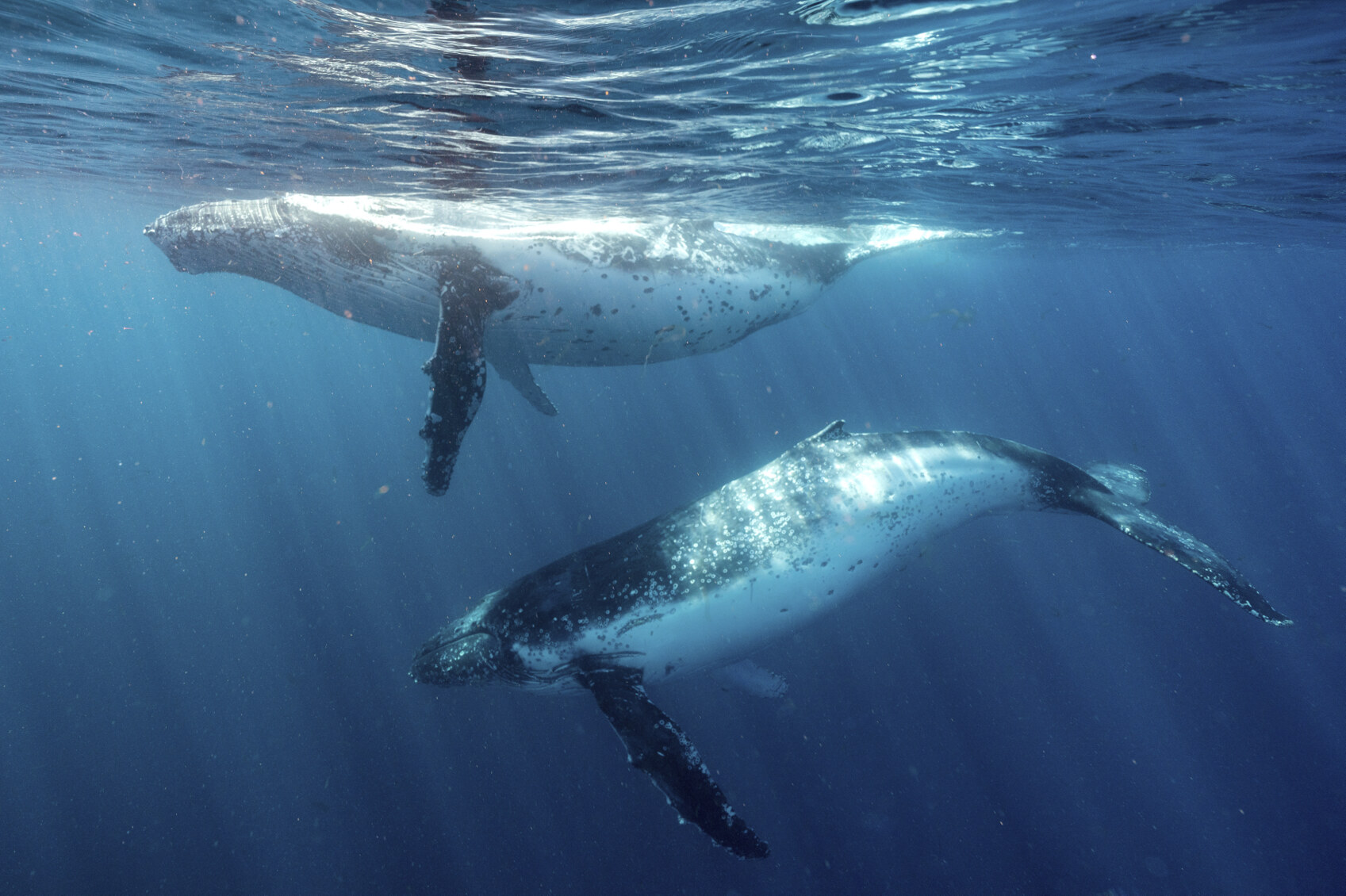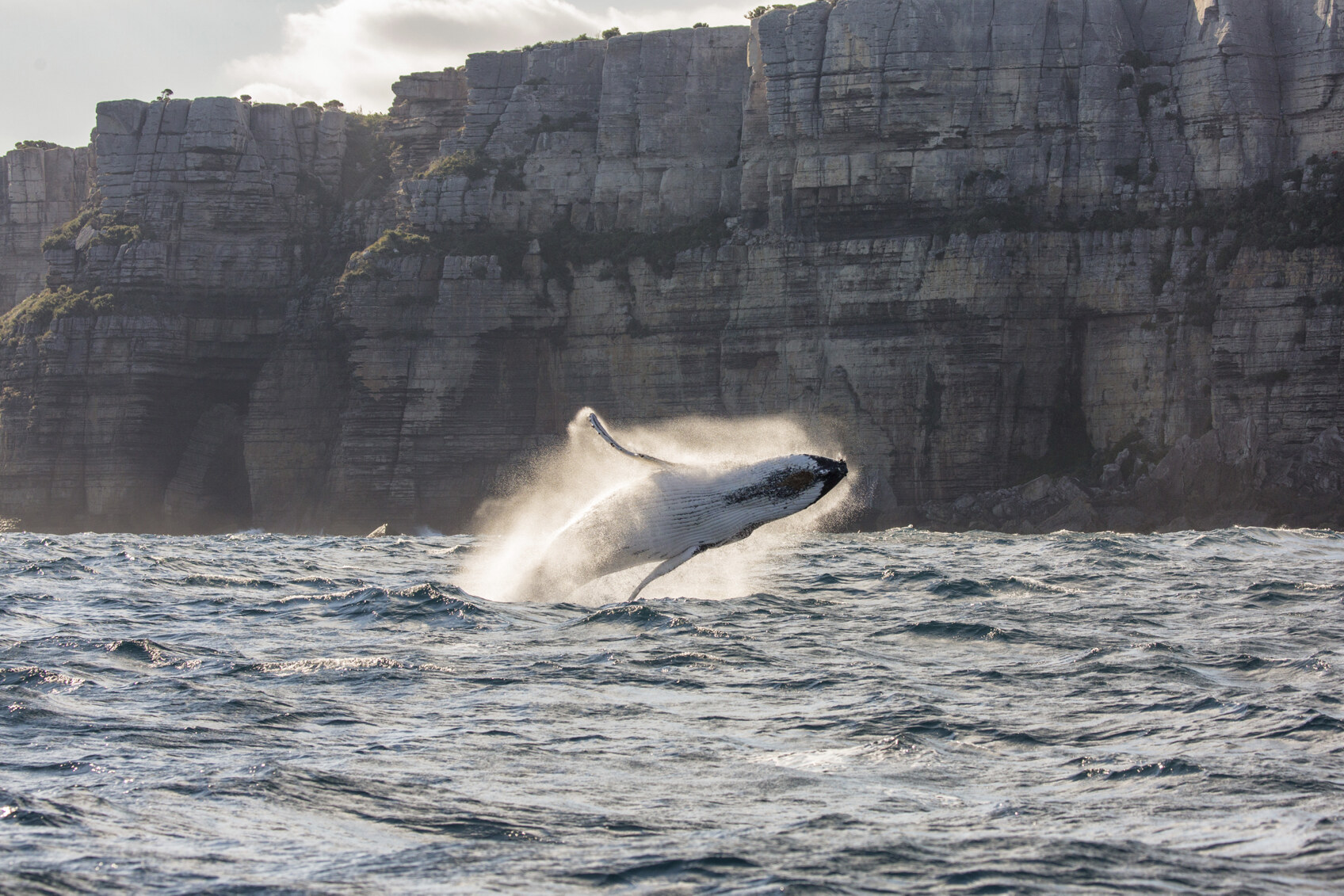 Whales above and below the surface of Jervis Bay. Image credit: Jordan Robins
If the view from below isn't your speed, whale and dolphin watching are also popular experiences in Jervis. Point Perpendicular Lighthouse, on the southern tip of Beecroft Head, is a particularly active spot for watching humpbacks from the land, although you're more likely to catch a glimpse on one of the many whale watching cruises that criss-cross the bay. Jervis Bay Wild is your ticket to nature's great aquarium. With their flagship vessel, Port Venture, affectionately nicknamed The Whale Whisperer, this Huskisson based company offers unforgettable whale and dolphin cruises. Book for October or November, and you might even get to see female Humpbacks nursing their young in the safety of Jervis Bay.
Pub and grub by the water in Jervis Bay, New South Wales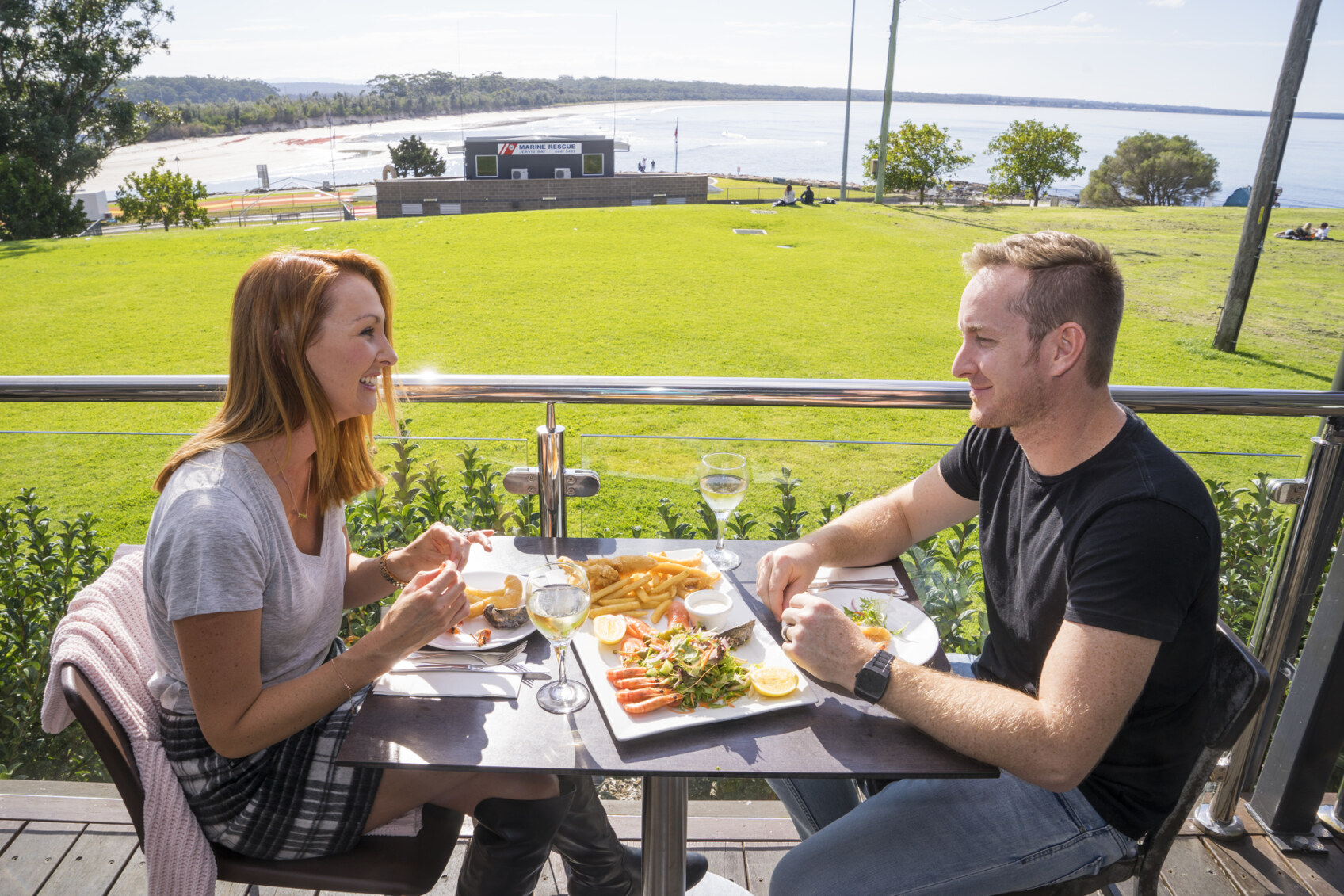 A couple dining with a view at the Huskisson Hotel. Image credit: Dee Kramer
Make the most of your time in Jervis Bay with a stop in at one of our three picks for the best places to eat and drink by the water, starting with the Huskisson Hotel; the oldest and most beloved pub in the bay. Located right on Shark Net Beach in (you guessed it) Huskisson, this is a proper Aussie pub in form and function, with gorgeous vistas of the bay from the upstairs pavilion. Choose from the more traditional pub bistro offering timeless staples like chicken parmigiana, Aussie style burgers, and a Black Angus rump steak, or try the exciting fusion of sea-to-table and American style BBQ dishes at the Pavillion Bar & Kitchen.
Down in the sleepy village of Hyams Beach, there's only room for one shop, so they made sure to make it a good one. The Hyams Beach Store & Café, on oceanside Cyrus Street, is a charming little café and eatery with outstanding gourmet coffee. Stop in for a relaxing brunch after a dip in the crystal blue shallows of the beach, and you'll be welcomed with friendly and efficient service, a calming atmosphere, and absolutely delicious food. Don't leave without ordering a coffee of your choosing, as it's the speciality at Hyams Beach Store & Café - theirs is amongst the best in regional NSW.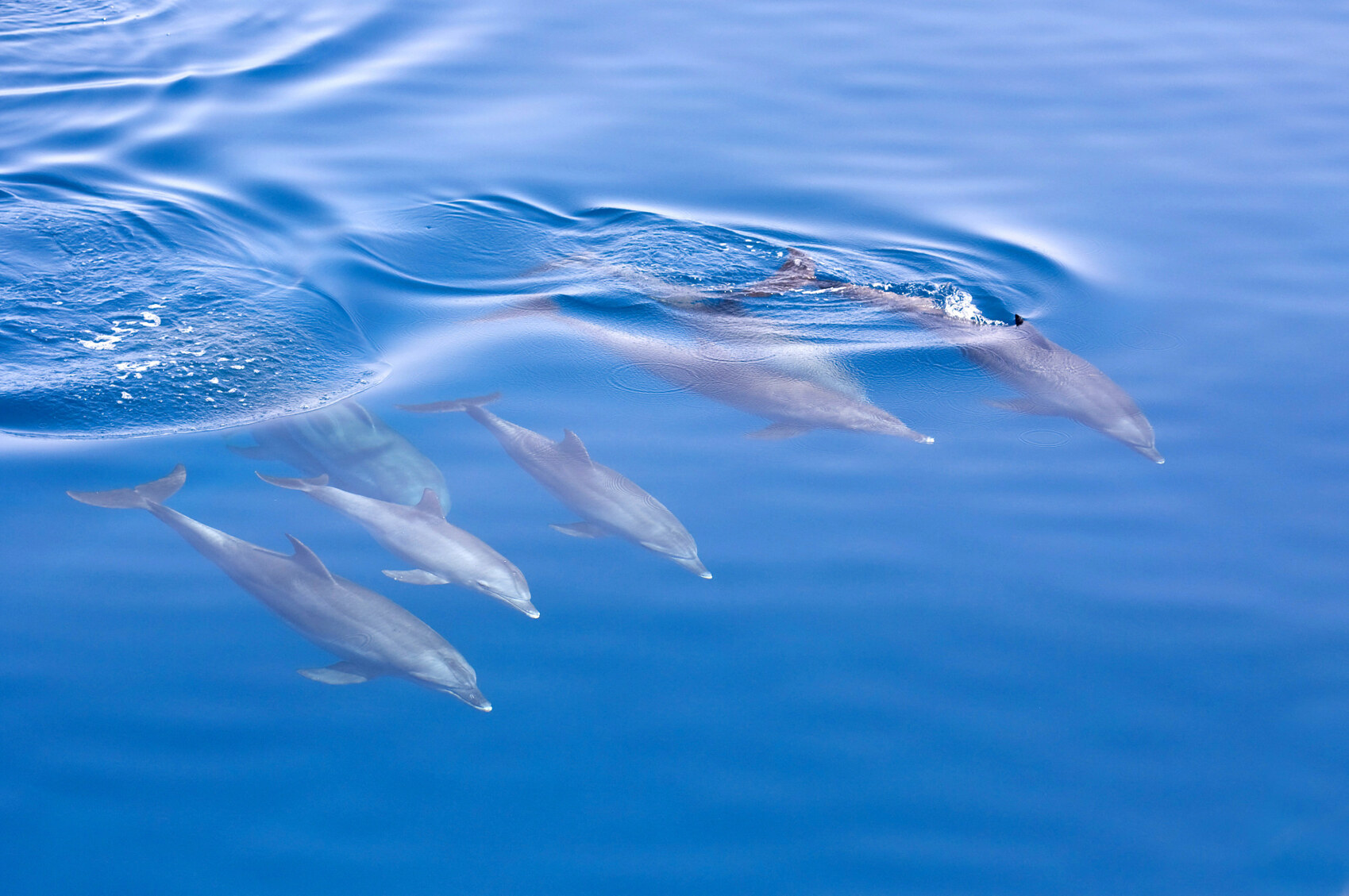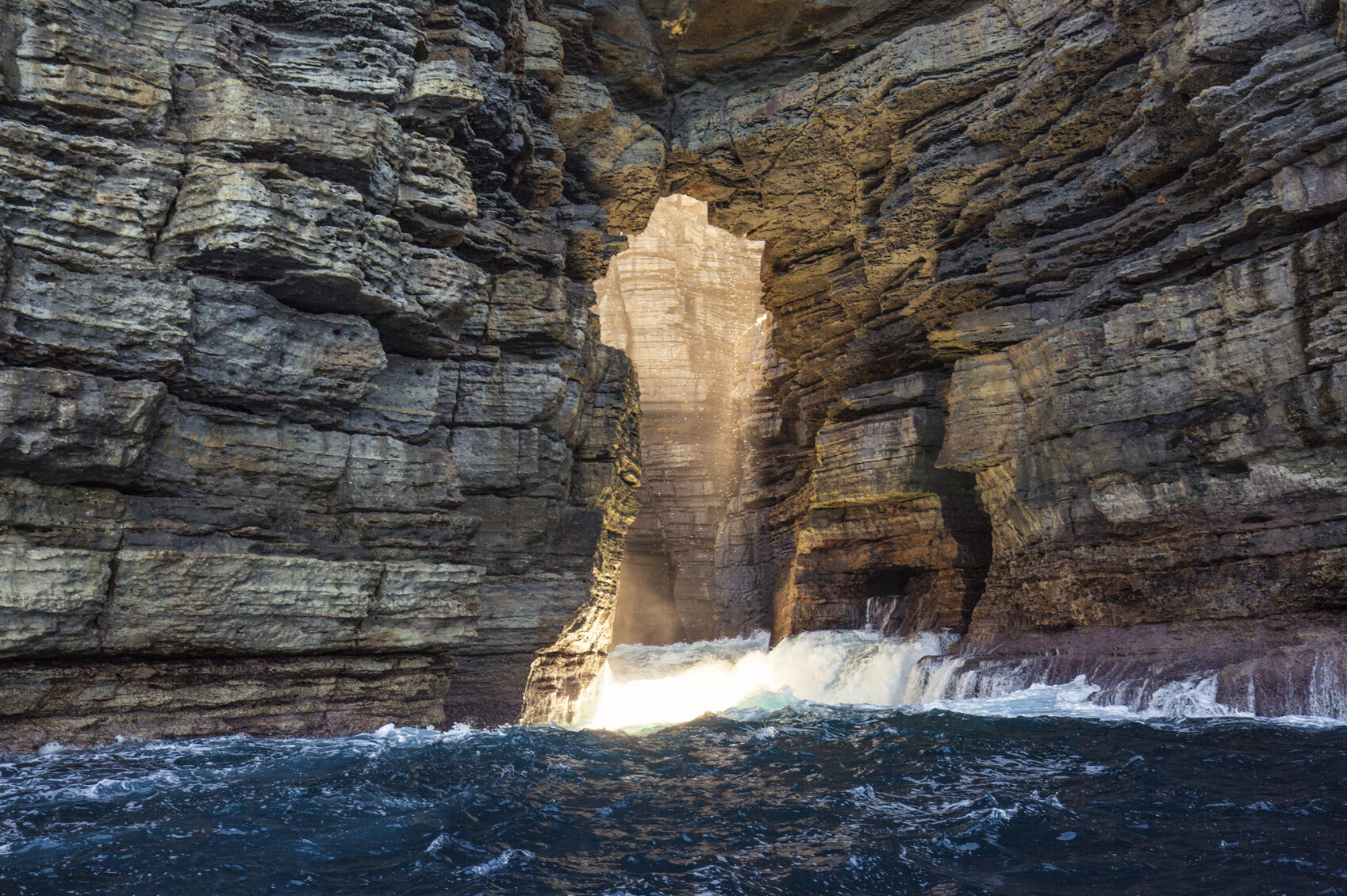 A school of dolphins swimming, and the rocky coastline of Jervis Bay. Image credits: Jervis Bay Wild, Jordan Robins
Back at Shark Net Beach in Huskisson, just a couple of minutes down the road from the Huskisson Hotel, Kanpai Japanese Restaurant & Dining is Jervis Bay's number one spot for fine dining and Japanese cuisine. With a menu created by Yoshi Tanimo that draws inspiration from the flavours of contemporary Western cookery as well as traditional Japanese dining, and a unique space consisting of a sleek indoor restaurant and kitchen and an outdoor bar with sashimi, sake, and even a tapas style grill, welcome surprises are plentiful at this exciting and modern foodie's delight.
For further information
If you're interested in visiting or relocating to the Jervis Bay, New South Wales area, find more information here or on the Shoalhaven council website, or contact them at council@shoalhaven.nsw.gov.au or phone at 1300 293 111.