Stunning winery in the Swan Hill region. Image credit: Victorian Wine Industry Association
Relax in Swan Hill
The change of pace to be found in the serene Swan Hill, VIC is a welcome respite from the hustle and bustle of everyday life. Northwest of Victoria in the Loddon Mallee region, Swan Hill is just three and a half hours from Melbourne and five and half hours from Adelaide. Situated right on the Murray River, you will be met with picturesque views and activities for all ages, from swimming, kayaking and fishing for the mighty Murray Cod.
Renowned for its fresh local produce and its reputation as a growing agricultural hub, Swan Hill, VIC offers plenty of opportunities. The region places a strong emphasis on paying homage to the original custodians of the lands - the Latji Latji, Tati Tati, Wemba Wemba, Barapa Barapa and the Wadi Wadi Nations - through its focus on Aboriginal heritage and cultural connection to the land. Upon arrival, you will feel right at home with sunshine, good food and wine, charming towns and spectacular natural wonders.
Agriculture and industry in Swan Hill, VIC
The Swan Hill region is recognised as the heart of Australia's food bowl and has one of the most productive and diverse agricultural sectors in Australia. This is due in large part to the region's favourable climate, rich fertile soil, diverse farmland and modern irrigation infrastructure.
The major agricultural products and commodities found in the region include irrigated horticultural, stone fruit, vegetables, and nuts - the Swan Hill region currently boasts the biggest almond farms in the Southern Hemisphere. Swan Hill also has cattle and sheep and broad acre cropping for grain, including wheat, barley and vetch.
Your weekend trips to the farmers market will never disappoint, as Swan Hill, VIC is fortunate enough to service fresh food markets at both ends of the season. With its committed and stable workforce of skilled workers, Swan Hill is an ideal location for farmers, so maybe it's time to invest in that bit of land in the country!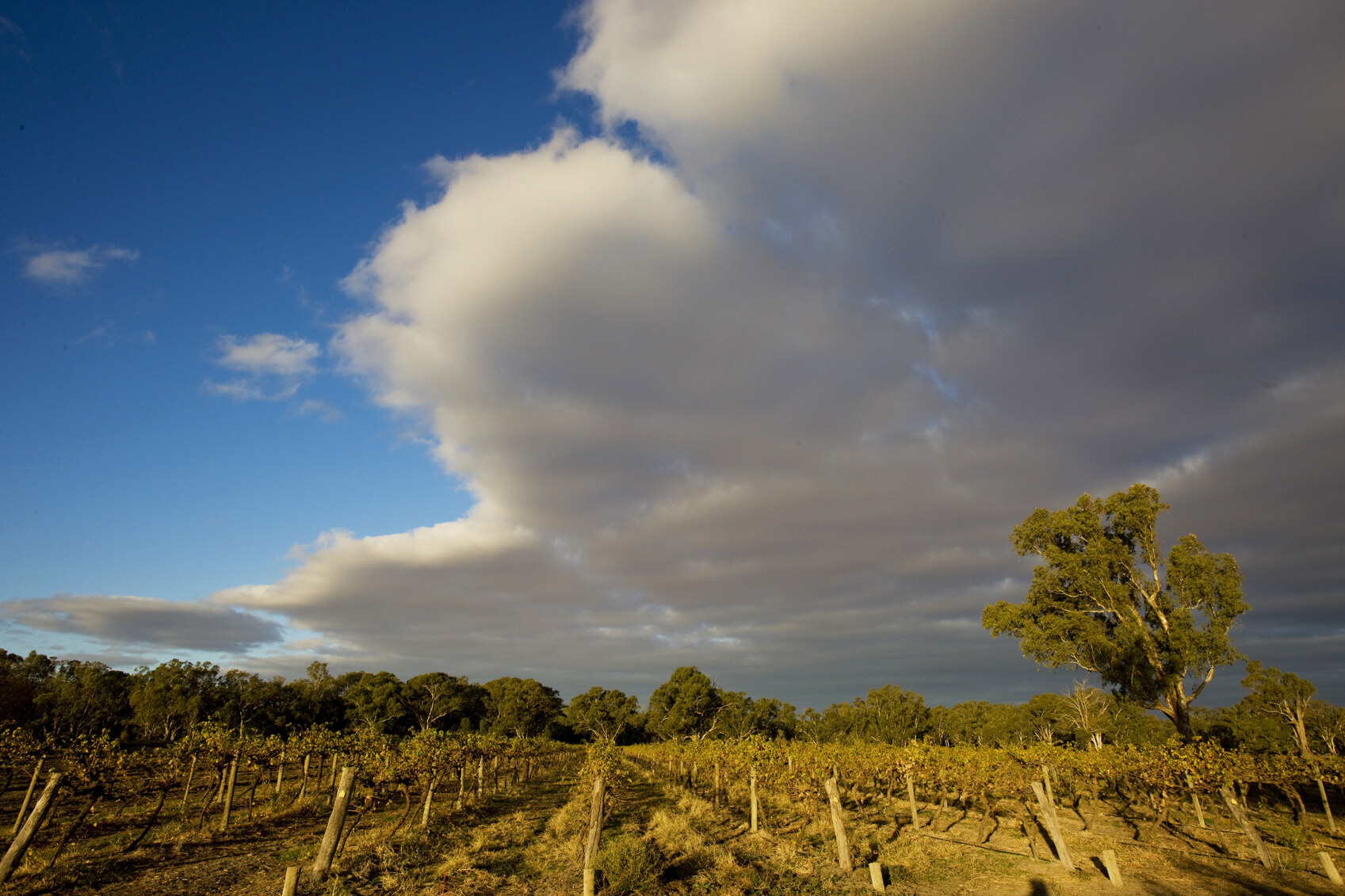 Vast vineyards at a winery in Swan Hill. Image credit: Victorian Wine Industry Association
Swan Hill, VIC provides many rewarding opportunities for sustainable and successful employment & investment in industries including local government, agriculture, hospitality, retail, management and many others. Jobseekers can peruse Swan Hill's website Connect U, a hub of information that helps to help new residents with employment resources such as the Swan Hill Regional Joblink portal.
Culture and activities in Swan Hill, VIC
Swan Hill offers an abundance of popular attractions and activities for people of all ages to enjoy. Take a trip back in time to the 1850 at the immersive Pioneer Settlement. Experience complimentary vintage car or horse and carriage rides whilst taking in the sights of Riversdale, Keats Cottage and the Lower Murray Inn. Reflect on how far we have come from the days of mud-brick kitchens and blacksmiths, or maybe try some old-fashioned lollies from the General Store - there is so much to see and do.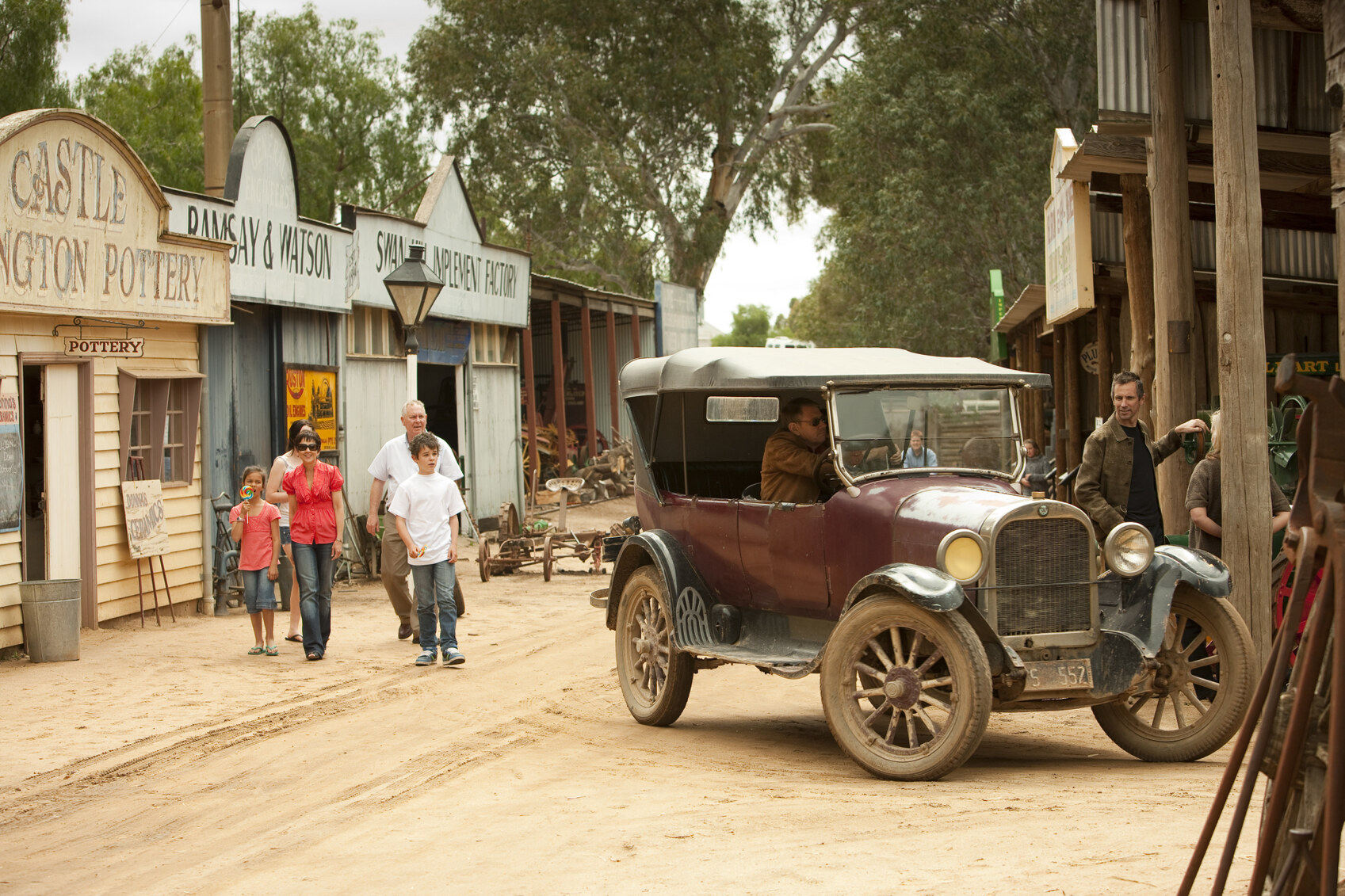 A family enjoy the main street of Swan Hill Pioneer Settlement. Image credit: Visit Victoria
Learn how to play golf and make it a weekly outing at the Murry Downs Golf and Country Club, only minutes from the mighty Murray River. The Club House also offers coffee and a snack at the café, or delicious dinners in the bistro seven days a week. It is a wonderful community hub, providing regular activities including bingo, poker and more.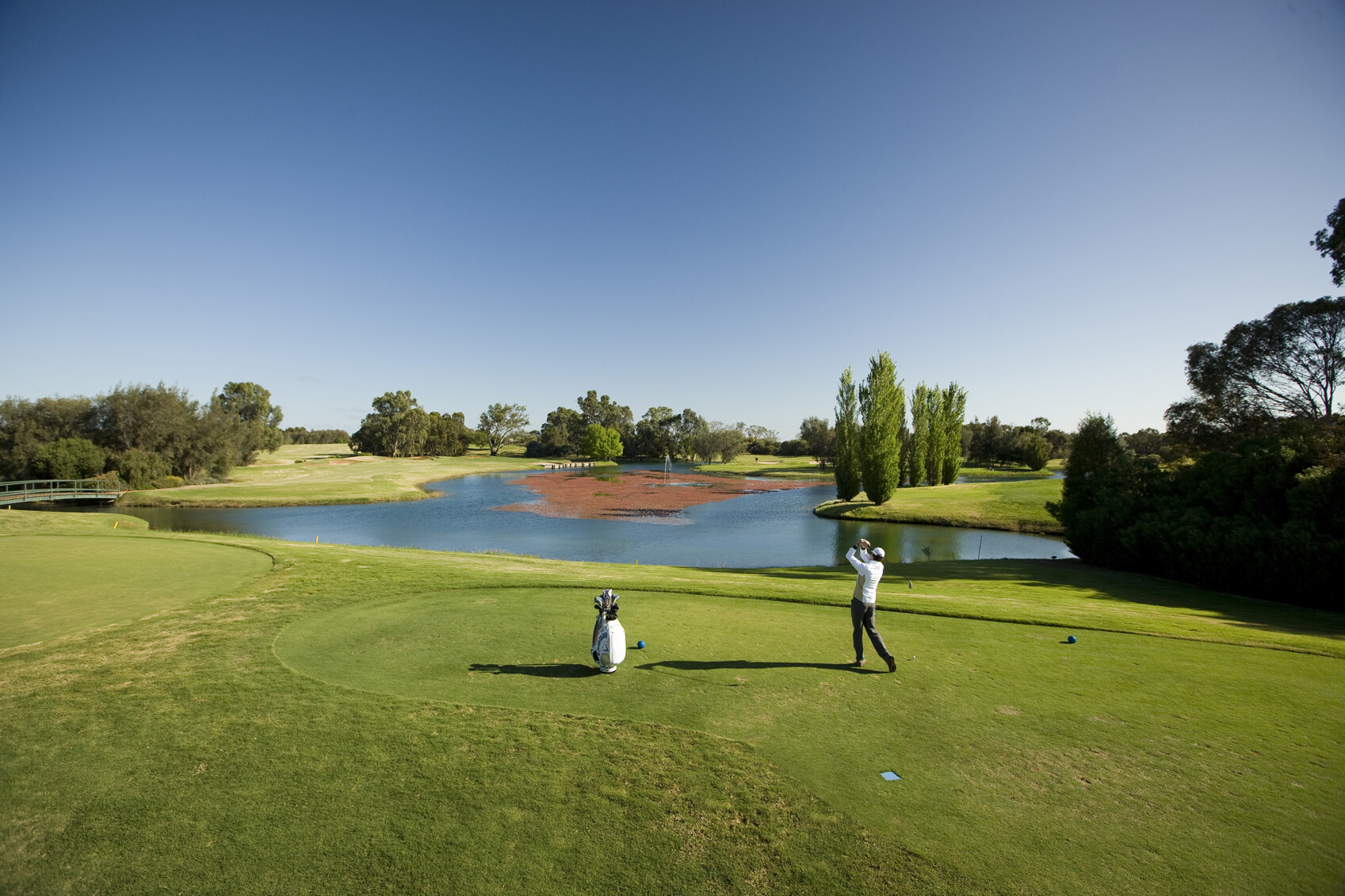 The fairways at Downs Golf course. Image credit: Visit Victoria
Take a cruise on the historic PS Pyap down the Murray River. Built at Mannum in South Australia in 1896, T=the PS Pyap travelled 500 kilometres each week selling goods to settlers at over 60 settlements and landing places along the river. You can now board for an hour departing from the Pioneer Settlement wharf each day, taking you upriver past the BIG4 Riverside Caravan Park, Murray Downs Marina and the historic Murray Downs Homestead.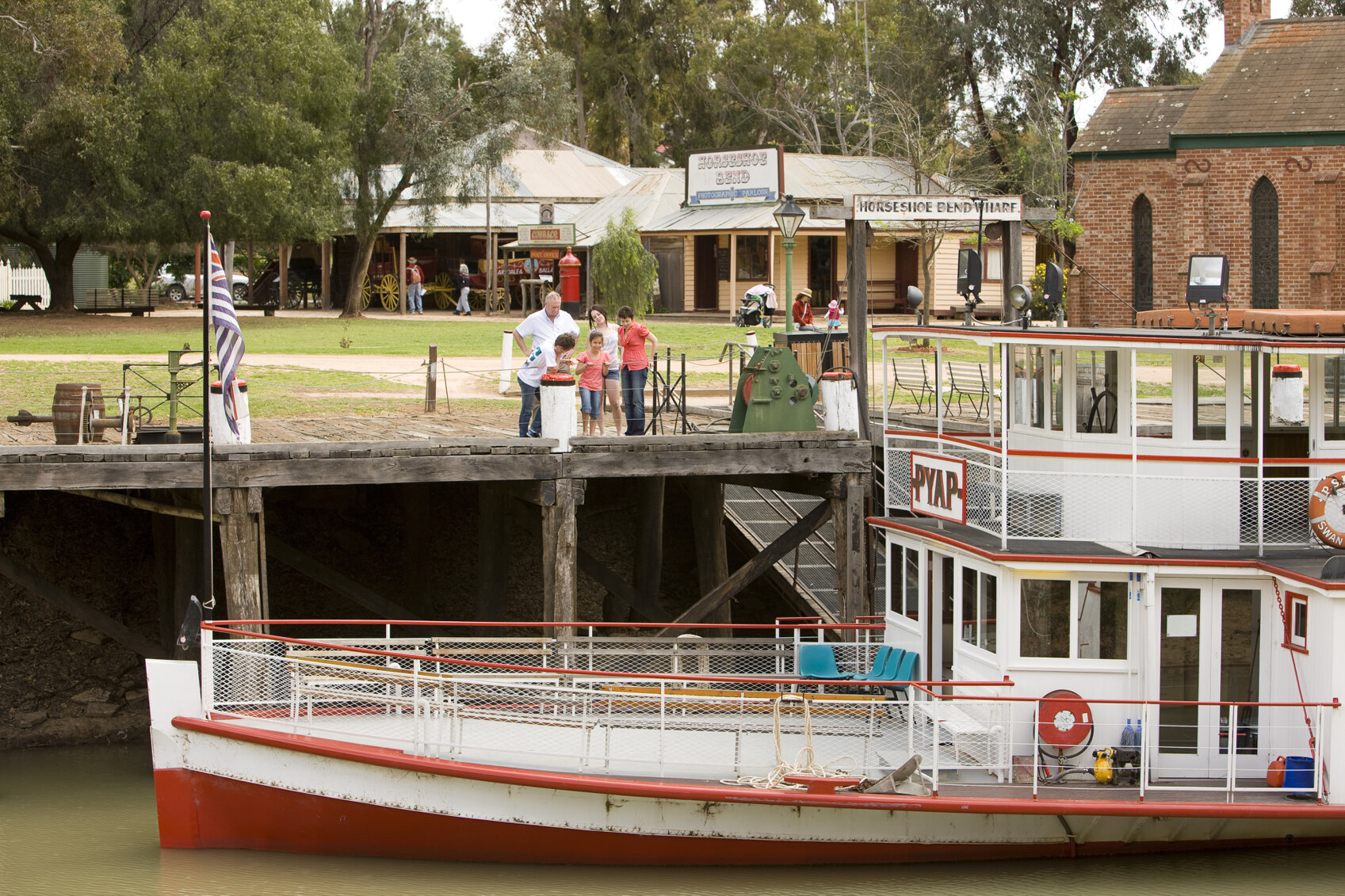 The PS Pyap docked at the Pioneer Settlement. Image credit: Visit Victoria
Camping is a great way to enjoy the wonders of the outdoors beneath the glorious Southern Cross. Swan Hill is well-equipped for camping with caravan parks, camping grounds, and free camping spots ideal for RVs, caravans, or just a simple tent. A popular camping spot is the Nyah Recreation Reserve, just a 20-minute drive from Swan Hill, which is a shady, spacious camping ground where you can enjoy riverfront views and relaxed walks.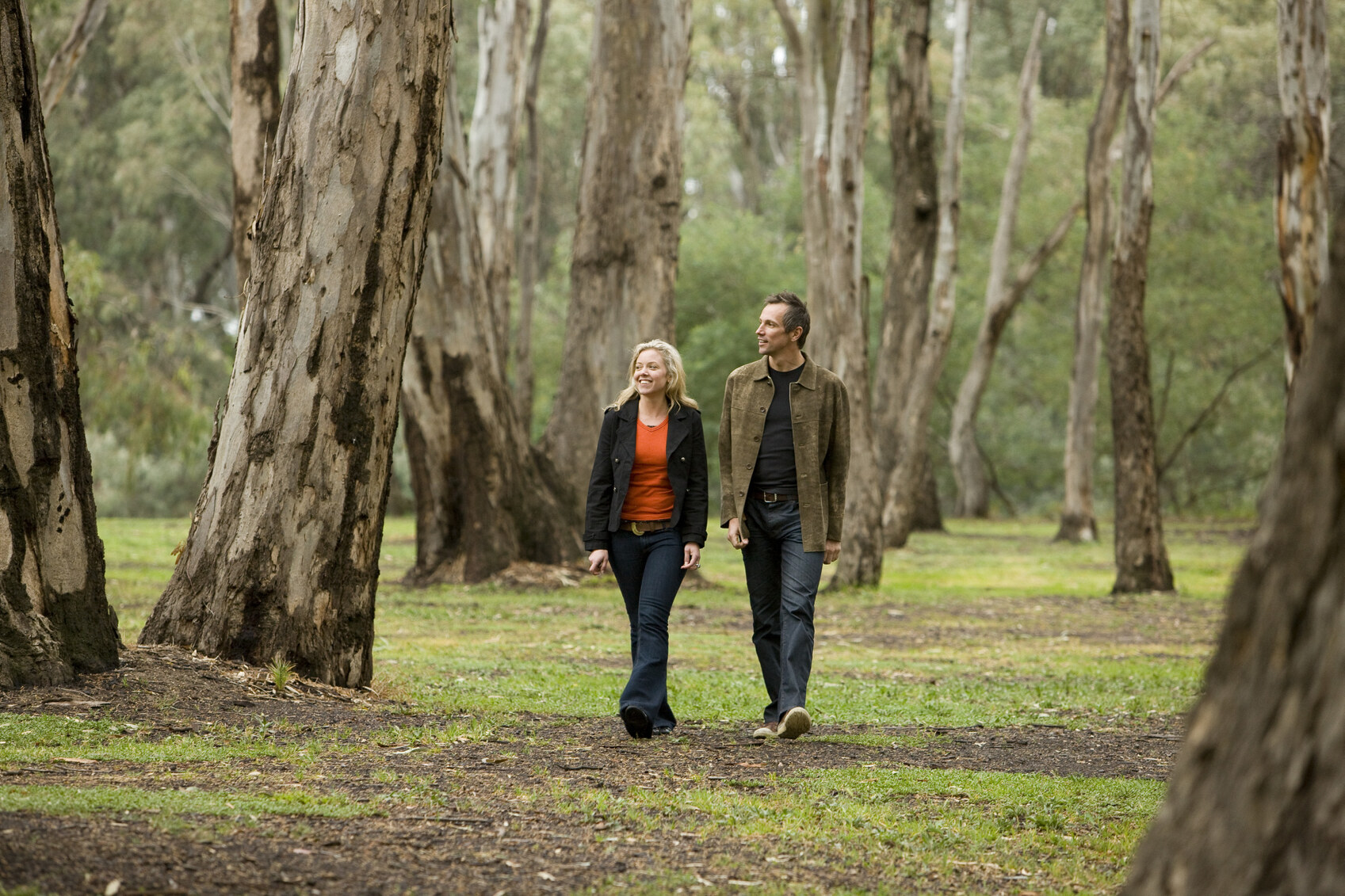 A couple walks through the Nyah Vinifera State Forest, Swan Hill. Image credit. Visit Victoria
Take advantage of Swan Hill's growing number of vineyards and cellar doors. Wander through the vast country landscapes and visit wineries such as Andrew Peace Wines where you can sample the unique local varietals. During October, you can also celebrate your love of wine at the Australian Inland Wine Show.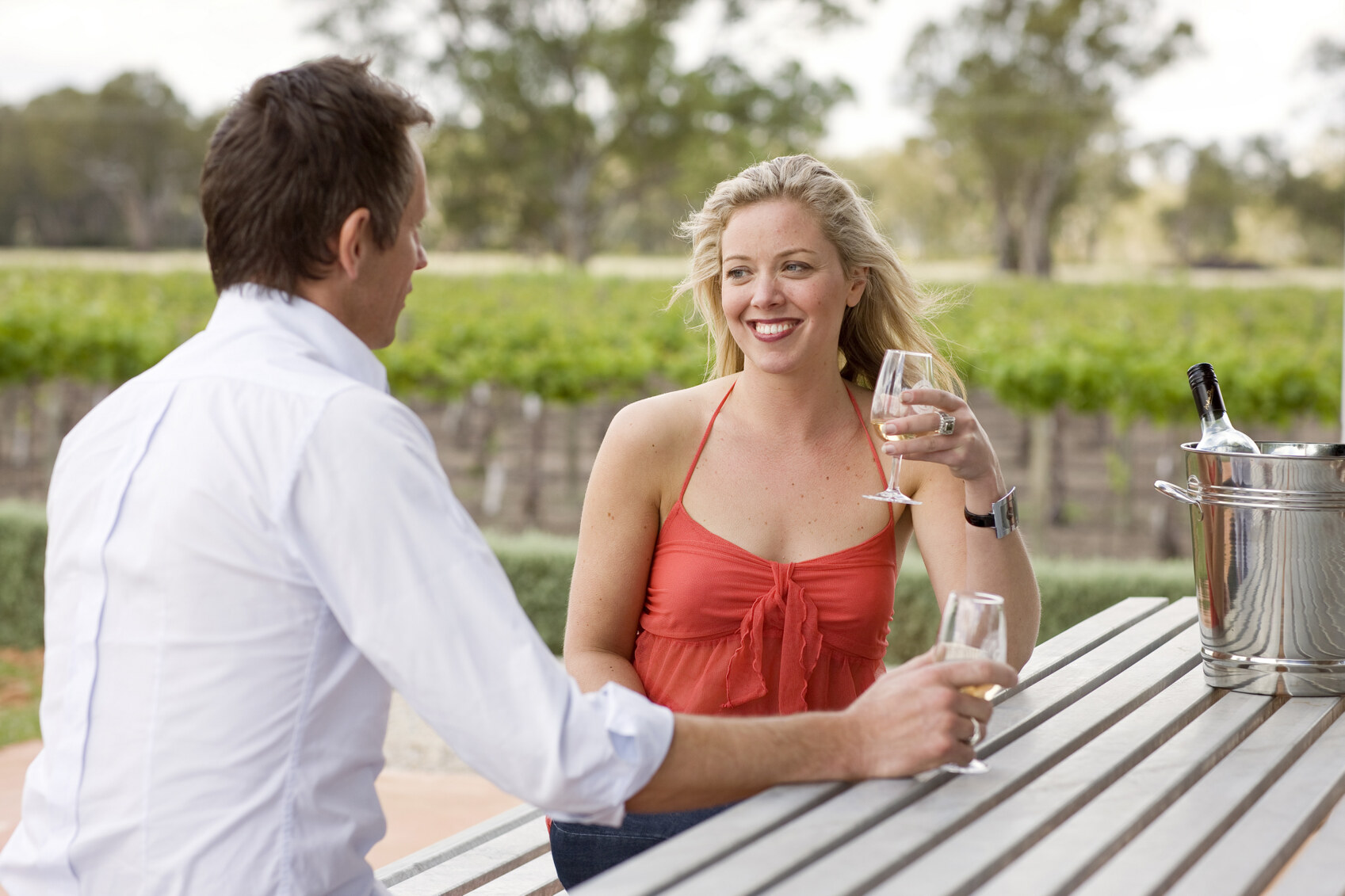 Time flies at Andrew Peace Wines, Swan Hill. Image credit: Visit Victoria
Where to eat in Swan Hill, VIC
Tasty Thai food with a lively ambience. Java Spice Restaurant is the perfect place to end your week or grab an affordable, reliable takeaway. Be transported to Thailand with their inside dining options or outdoor authentic huts.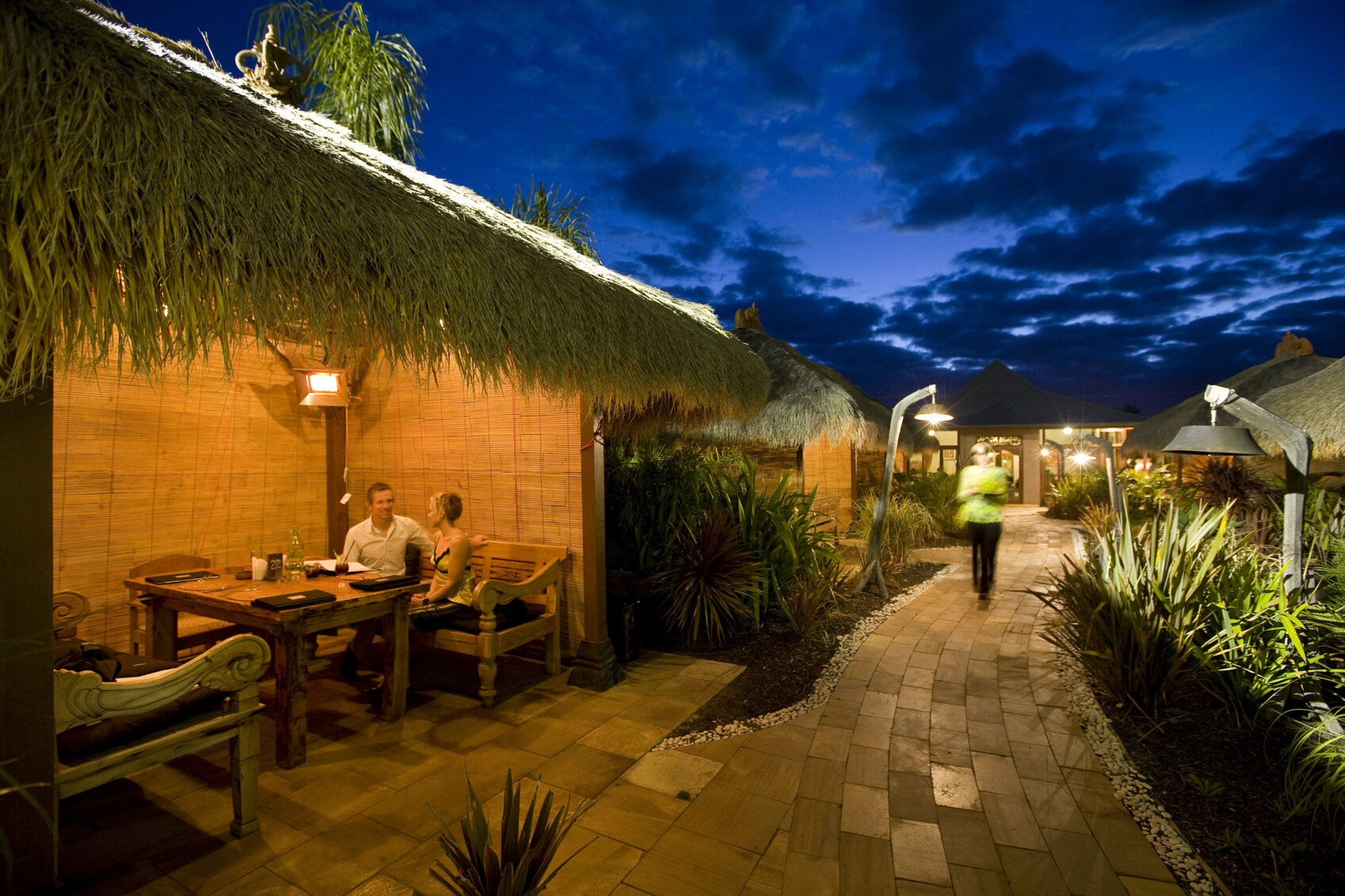 Dine alfresco at Java Spice Restaurant, Swan Hill. Image credit: Visit Victoria
Swan Hill's only restaurant set on the Murray River offers diners amazing views and delicious food. Enjoy genuine Australian cuisine with great customer service on the river.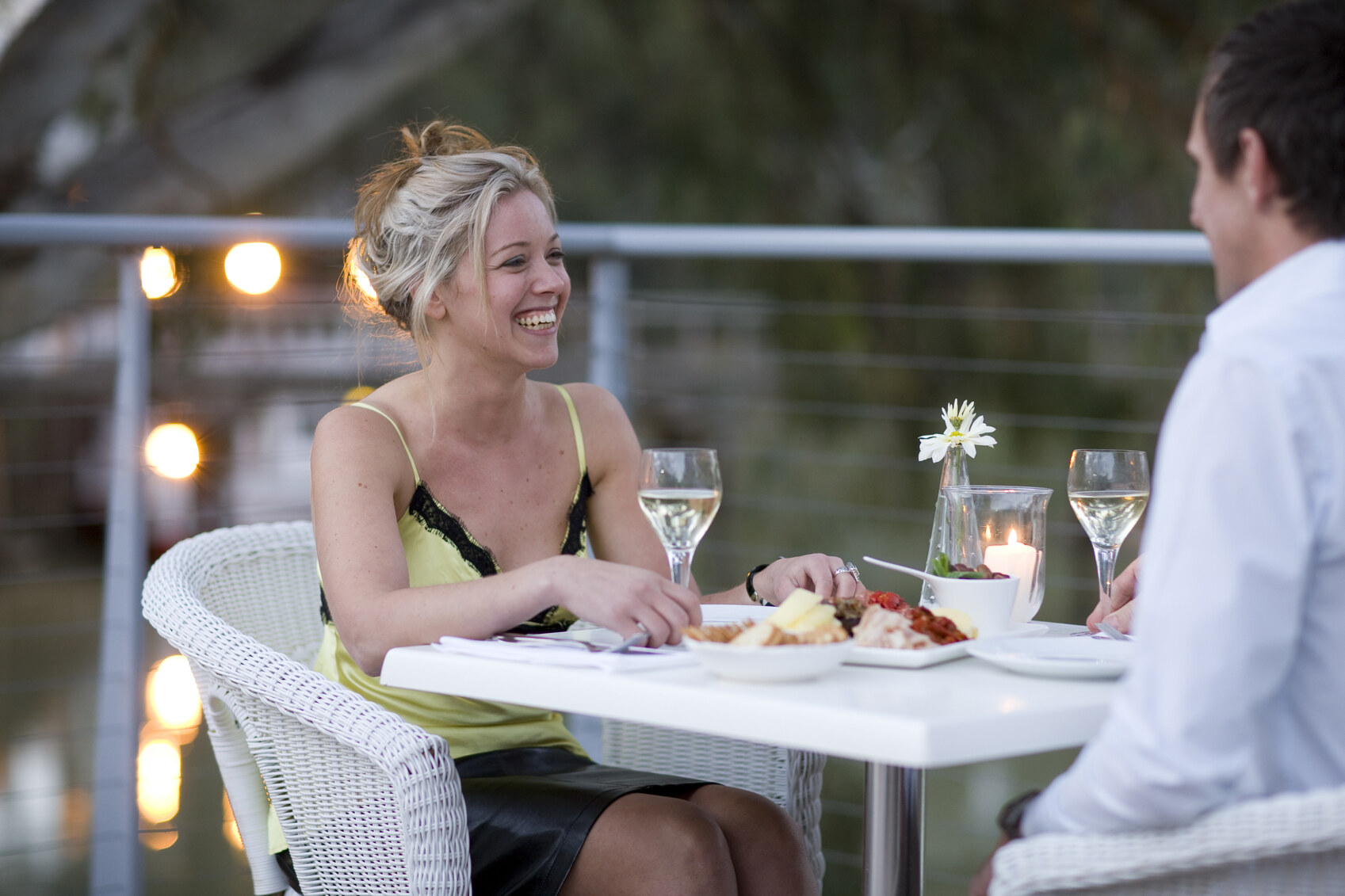 Take in Murray River views at Spoons Riverside Café Restaurant, Swan Hill. Image credit: Visit Victoria
Swan Hill is renowned for its abundant, fresh local produce. Look out for the many roadside stores where you can find a delicious snack. Support our farmers and sample the region's great food!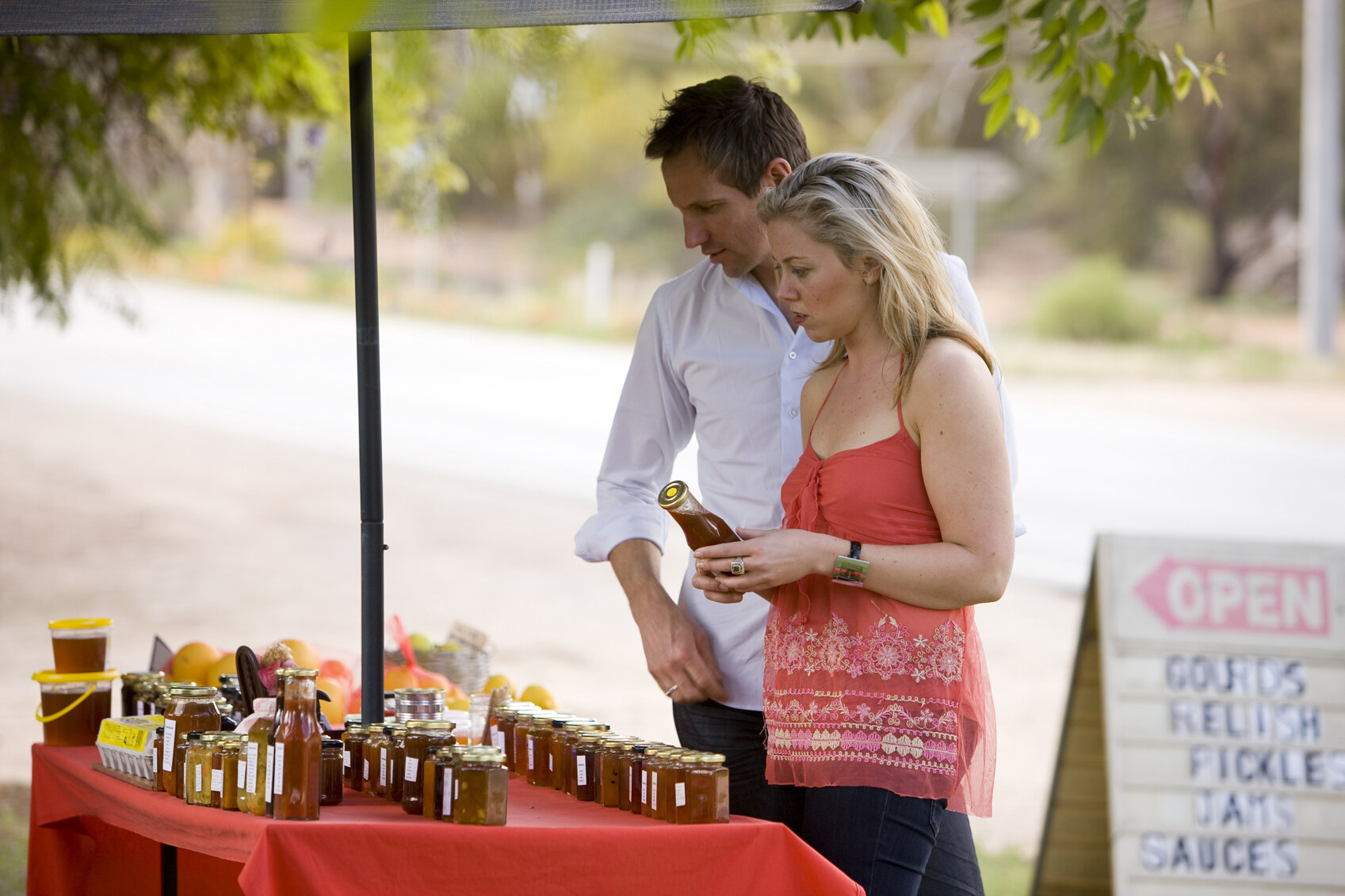 Delicious local goods are found at roadside stops. Image credit: Visit Victoria
Local amenities in Swan Hill, VIC
Swan Hill, VIC provides high-quality education and training opportunities for young and old alike. The region offers multiple primary and secondary schools for children to grow and learn in a welcoming community. Additionally, a specialist school for children with disabilities and the Payika Campus of the Victorian College of Koorie Education both operate in the area, ensuring all members of the community have access to high-quality education services. Tertiary education is offered at the Sunraysia Institute of TAFE campus, which offers courses across a wide range of industries. Parents can rest assured as their children are guaranteed quality education in Swan Hill.
Maintaining a healthy lifestyle is easy in Swan Hill, with a range of facilities guaranteed to keep you and your family both physically and mentally well. Swan Hill District Health provides residents with a variety of health care services including basic medical care, dental care, surgical services and much more. In addition to medical services, Swan Hill prides itself on having a variety of gyms, fitness and wellness centres, along with extensive bike and walking trails, keeping you fit and healthy so that you can enjoy all the benefits of living in Swan Hill.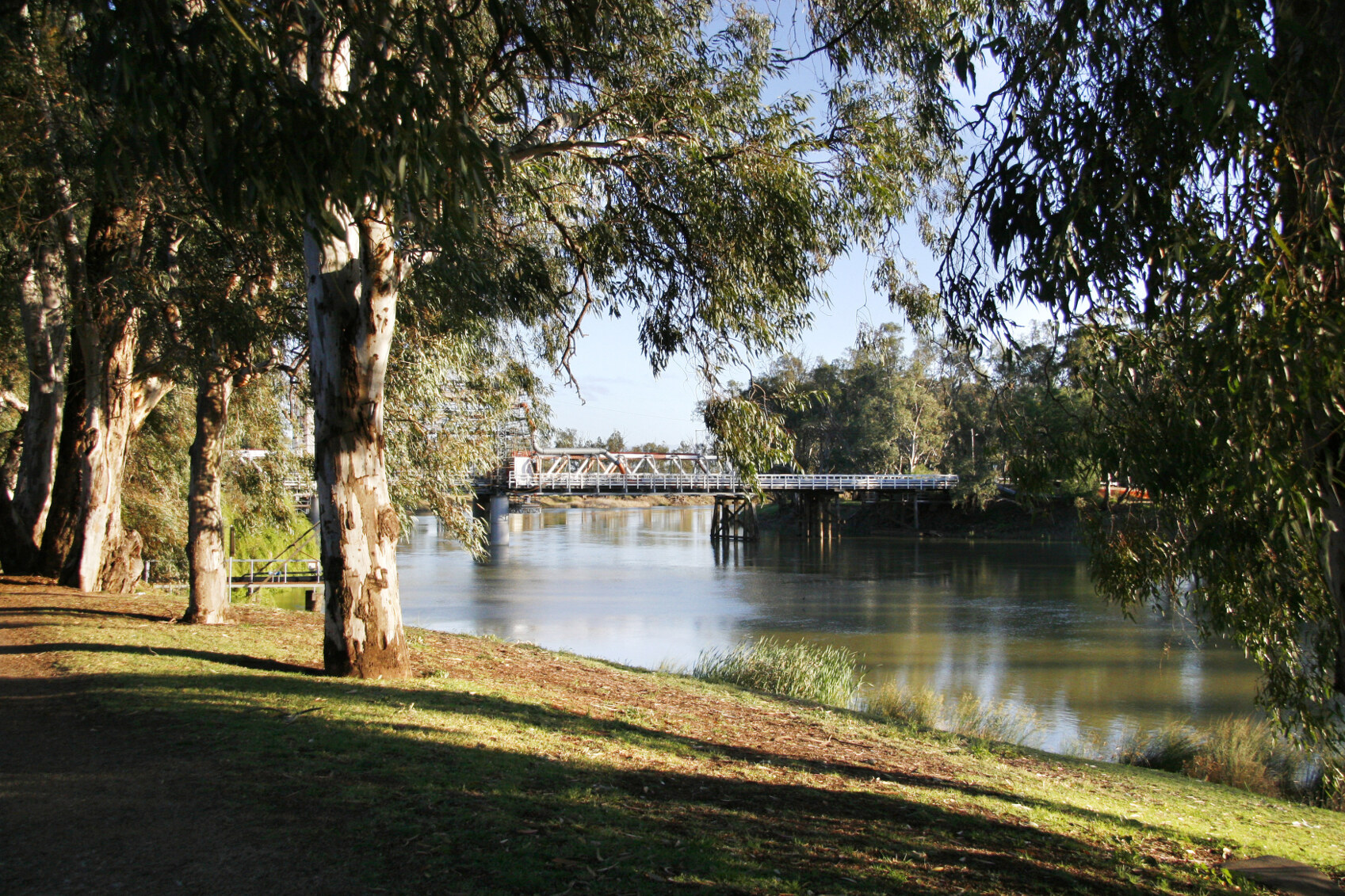 The peaceful Murray River, Swan Hill. Image credit: Visit Victoria
---
For further information
If you're interested in visiting or relocating to Swan Hill, find more information on the Swan Hill council website, or contact them by email at council@swanhill.vic.gov.au or by phone at (03) 5036 2333.
---
Real Estate for Sale in Swan Hill, VIC
Discover your new dream home in Swan Hill, VIC. Find Real Estate for Sale below.
---