The shifting patterns and colours of the Gascoyne seen from the air. Image credit Blue Dog Digital.
Hitting the road
The story of the Australian outback can be told through its roads, real and fictional. The national imagination wends its way from the Great Ocean Road to the Birdsville Track, down Fury Road and along the Highway to Hell until it ends at a track winding back to that old-fashioned shack. Yet taking to the road and doing the circuit was long seen as the province of grey nomads, until a new breed of wanderer emerged.
Mark Jensen, founder of Blue Dog Digital, is one of the new wanderers, exploring Western Australia's top end along with partner, Glen, and their 5 year old Blue Heeler, Gus. With their lives neatly stowed in their Ford Ranger 4WD, and the stylish and compact Mobi Nomad hooked on the back, the trio are spending several months exploring the Pilbara and Kimberley while Mark captures the region's dramatic beauty in a series of stunning photographs.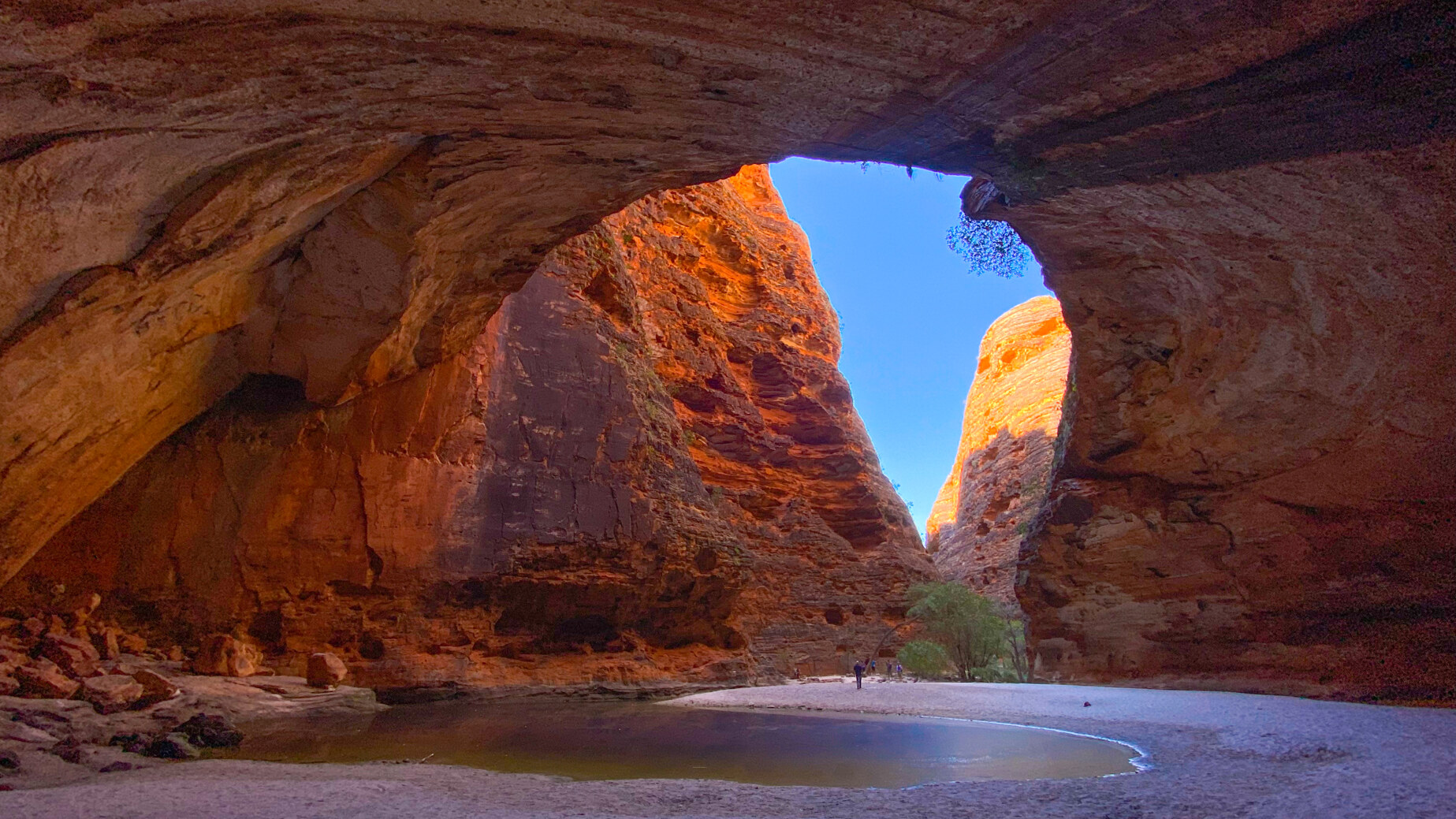 A wind-carved erosion cave in the Bungle Bungles. Image credit Blue Dog Digital.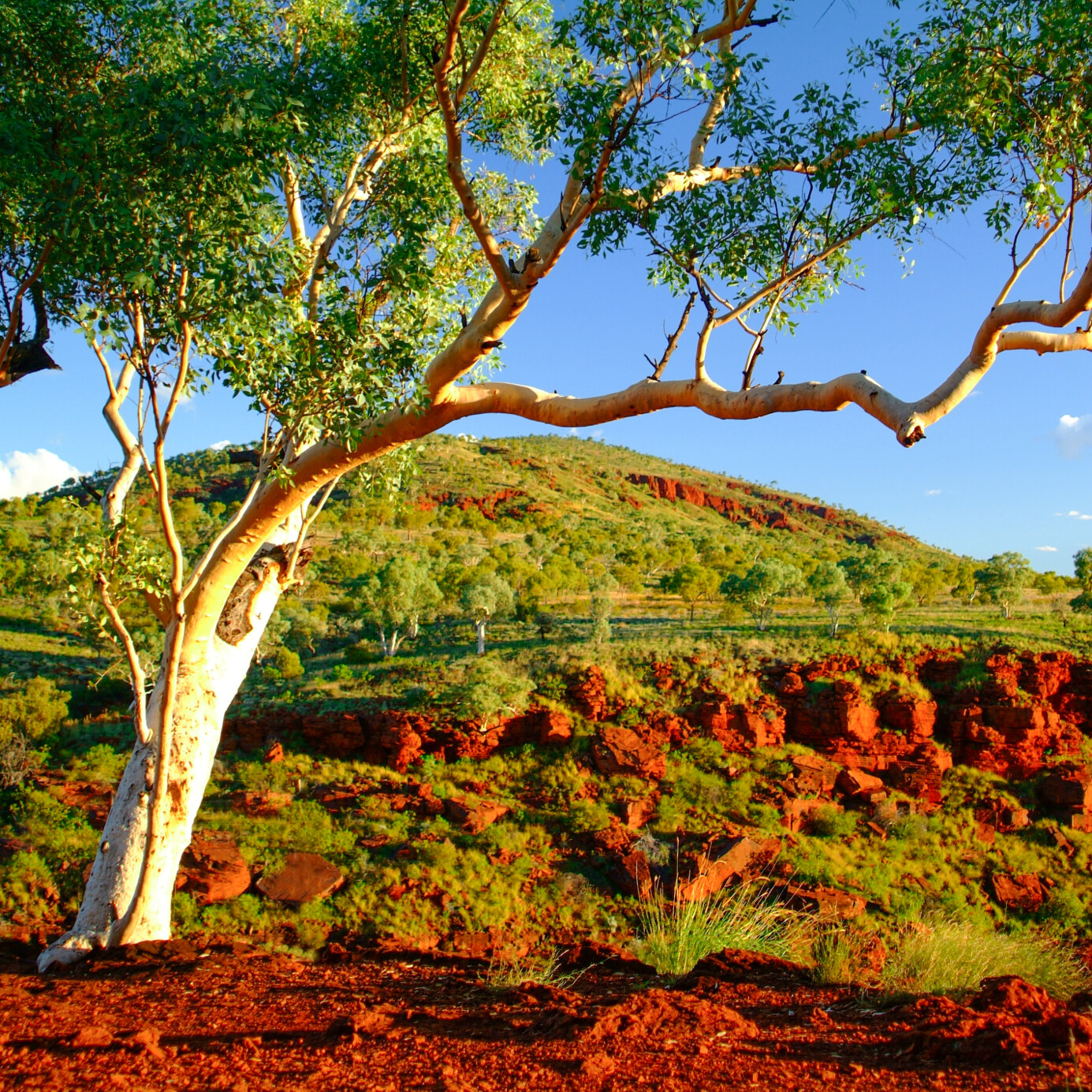 The striking colours of Karijini National Park in the Pilbara. Image credit Blue Dog Digital.
"This trip is about following my passion and practicing my craft," says Mark. His body of work is a combination of stunning landscapes, images of their life on the road and photos of epic poser and all round good dog, Gus. Mark uses a drone to capture his striking aerial images of the land. Drones equipped with cameras have become a valuable tool in Australia's wide open spaces, increasingly used for aerial surveying, site inspections and to audit stock and equipment, as well as photography.
Landscape perspectives
"I'm a country boy, I grew up on Wogarno Station outside Mount Magnet and I've always been drawn to the Kimberley and Pilbara," Mark says. "The first time I saw Wogarno from a drone it was a revelation. The patterns, the perspective, it just blew my mind." Eight years spent working FIFO in WA only enhanced Mark's love of the outback. "Seeing it from the window of a plane is something I never got sick of," Mark adds. "There's always something new to see and the impact just wows you every time. My love of colour and form is a really important aspect of my work, and a big part of what keeps bringing me back to this landscape."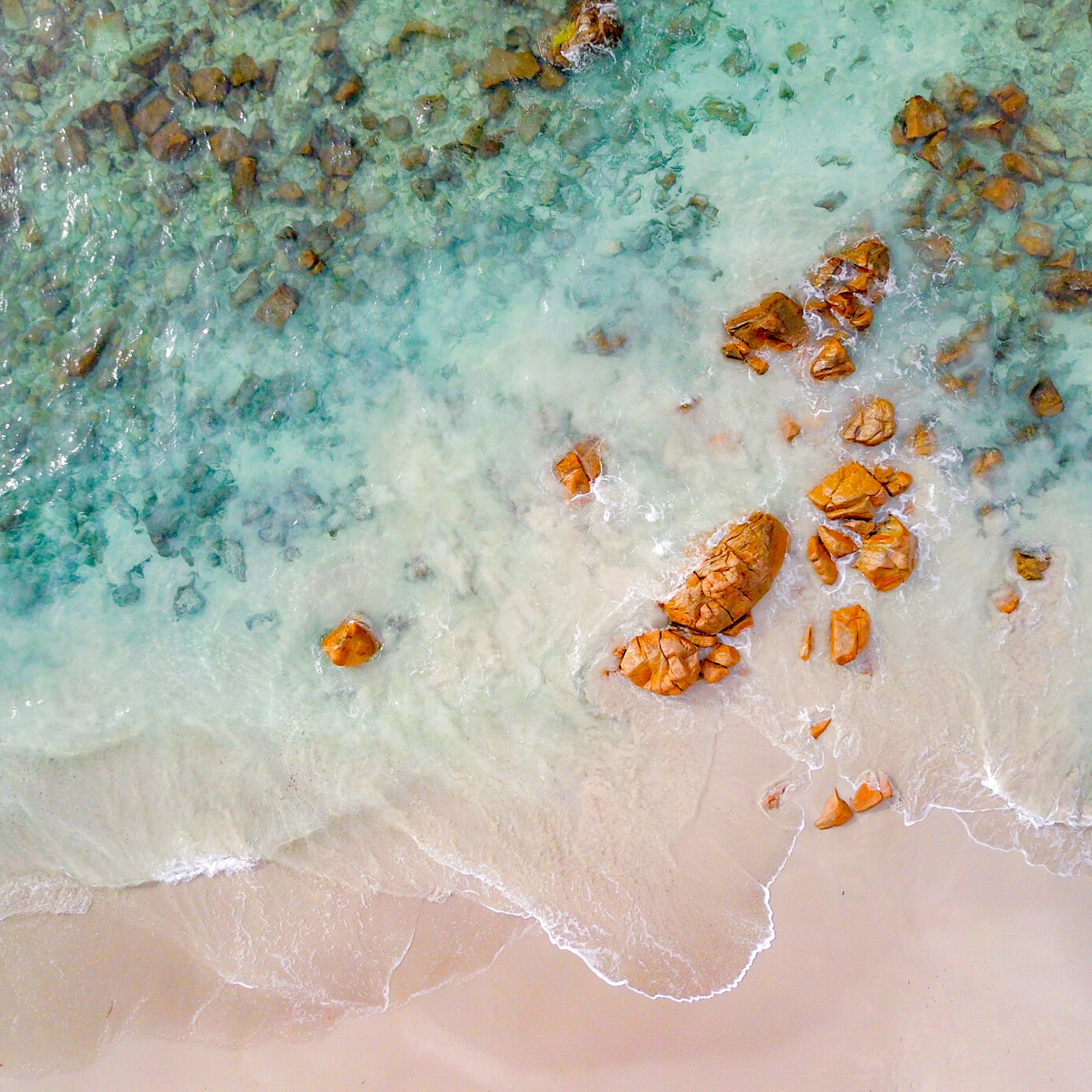 Mark captures the patterns of water and sand in Leeuwin-Naturaliste National Park, WA. Image credit Blue Dog Digital.
When the opportunity to take long service leave came along, Mark grabbed it with both hands. "Though our original plan was to spend time in Sydney and Europe," Mark admits. Of course events intervened and the pandemic derailed Mark and Glen's trip. "We decided to take to the road instead, and I'm so glad it happened the way it has. Even though we both grew up and worked in the outback there's so much we haven't seen. There's so much to see there will never be enough time to do it all."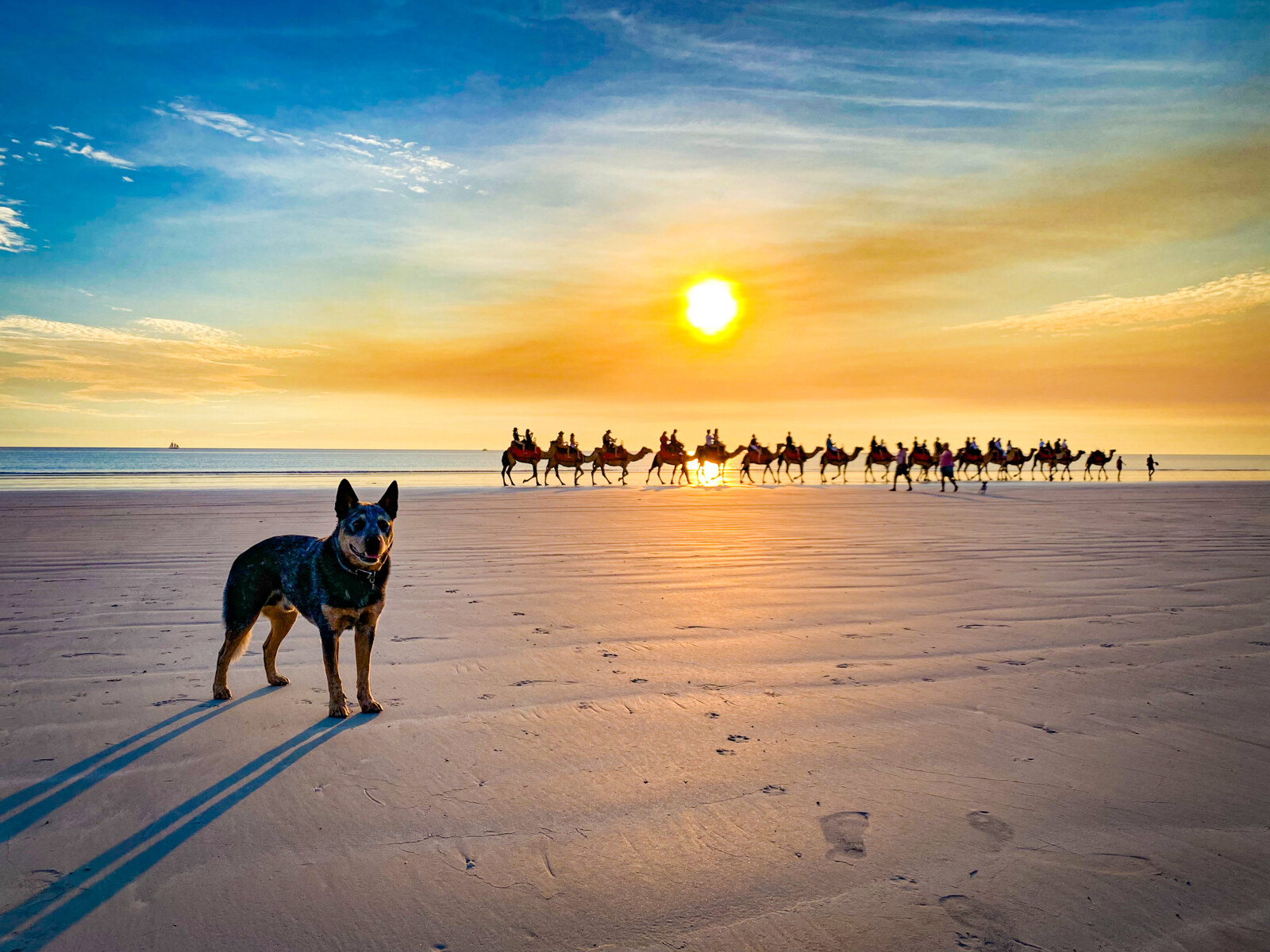 Very good boy Gus on Cable Beach in Broome. Image credit Blue Dog Digital.
The adventure began with a stay at Wogarno Station, and from there the gang headed to the coast and meandered northwards, taking in Geraldton, Shark Bay, Monkey Mia, Carnarvon, Exmouth, Karratha and Port Hedland en route to Broome. After a month in Broome they headed to Darwin, taking in El Questro and Lake Argyle en route. The guys were initially unsure how Gus would handle the long hours on the road. "Of course, he loves it, both the travel and the photo shoots," says Mark. "He's a natural! I'm not stage managing him at all, he just stops and strikes a pose." Gus and his ever-present Bluey toy have become a big hit on the road, even scoring their own feature on ABC Perth.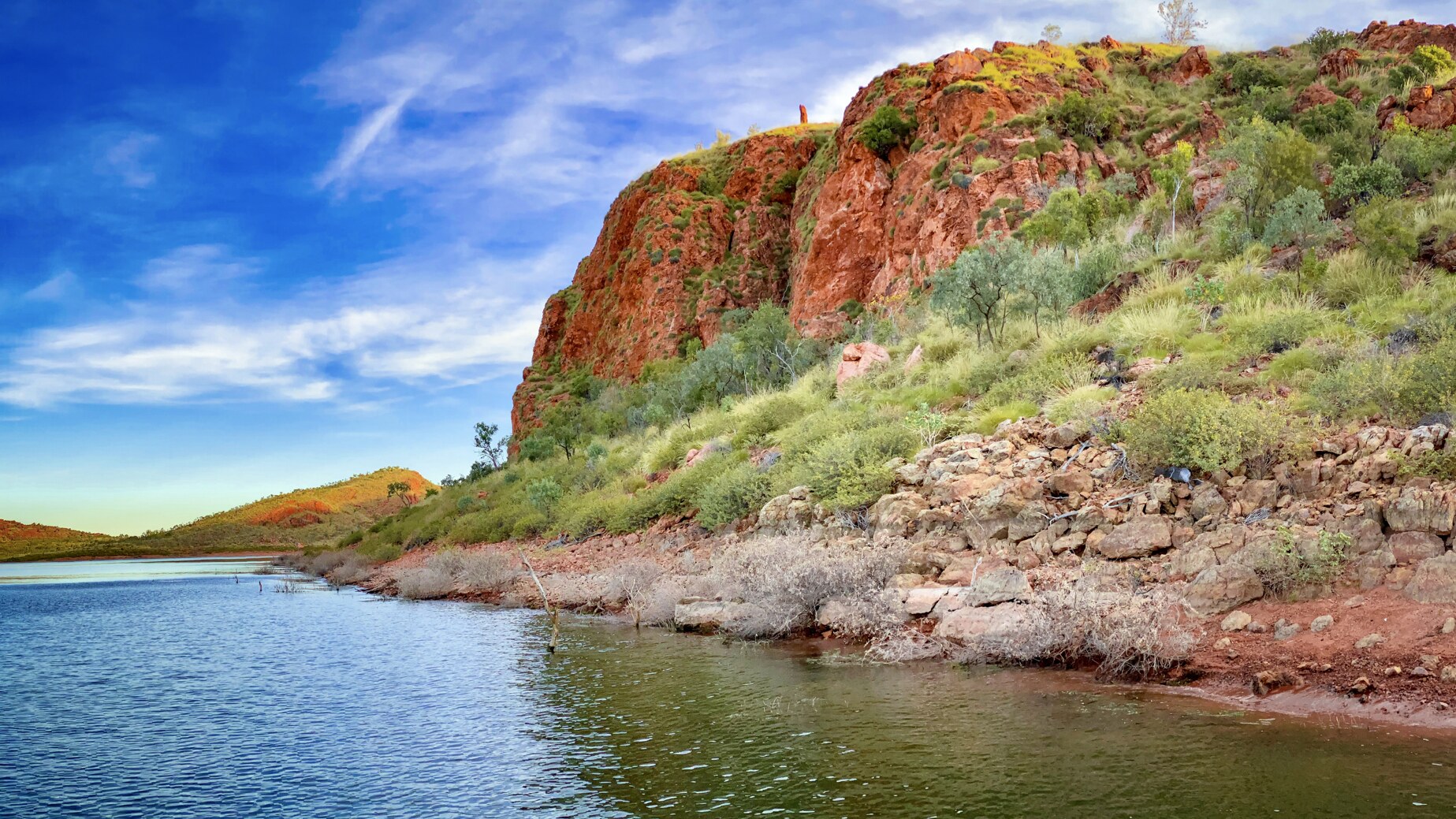 The rich and raw majesty of Lake Argyle, jewel of the Kimberley. Image credit Blue Dog Digital.
Vast beauty
This is rugged country, but that doesn't have to mean roughing it. The Mobi Nomad is set up for gourmet camp cooking, and the guys turn out some pretty spectacular meals. "Cooking amazing food outdoors and eating in beautiful settings is one of our things," says Mark. "On the road everyone wants to either check out our cooking or the van. I joke that we should get referral fees from Mobi because so many people are interested in the Nomad." The nights spent in the van have been interspersed with stays at luxury destinations like Barn Hill Station and Cygnet Bay Pearl Farm, owned by friend and 2021 Australian Farmer of the Year, James Brown.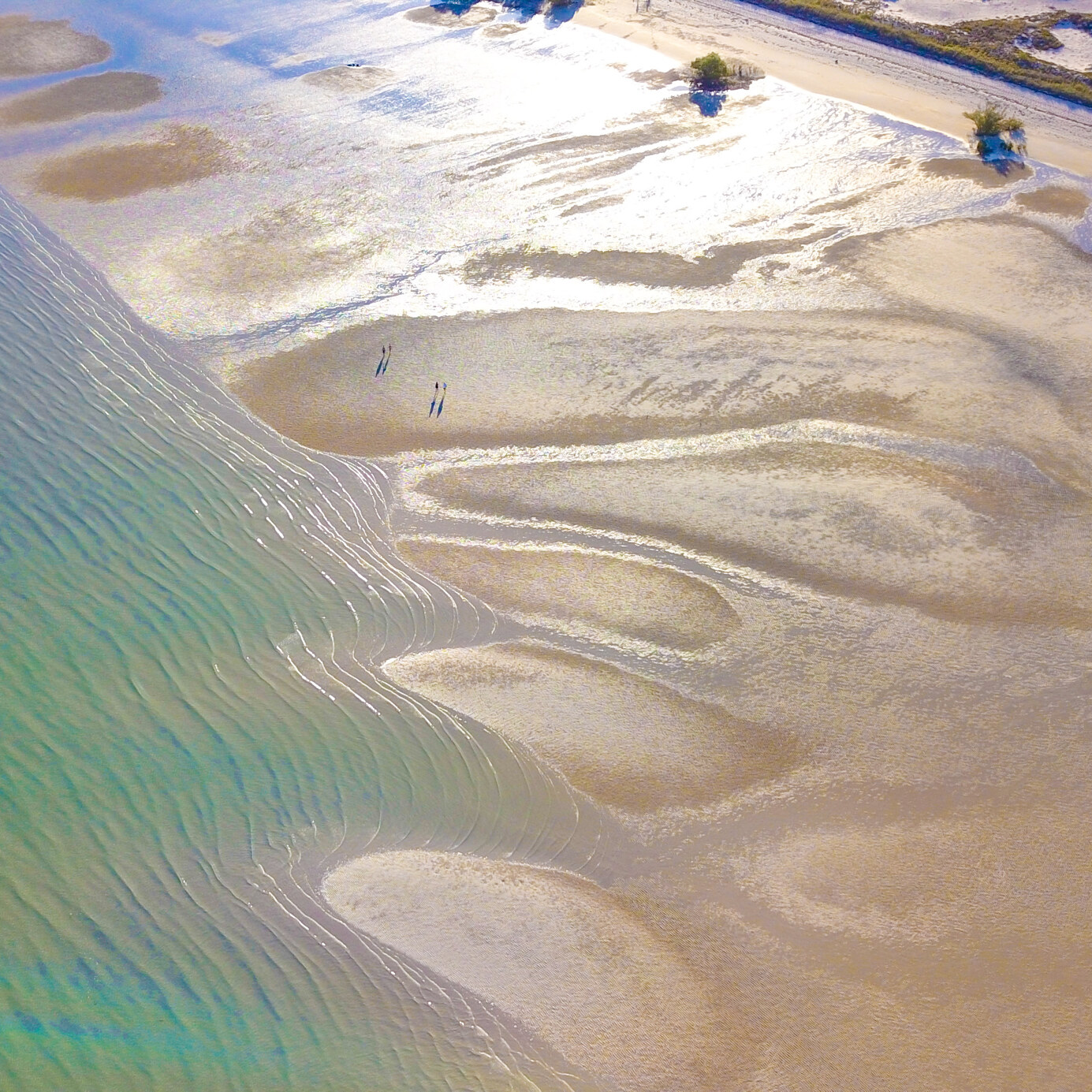 The light plays on the shallow water of Cygnet Bay. Image credit Blue Dog Digital.
After a stay in Darwin, the plan is to head for the Flinders Ranges, taking in Alice Springs and Uluru on the way, before heading home to Perth across the Nullabor. "Or, depending on what happens with COVID, we'll go home the way we came," says Mark. "There's still so much to see and take in. Until you experience it, it's hard to understand how varied this part of the country is. There's so much raw beauty spread out across this wide and distant landscape."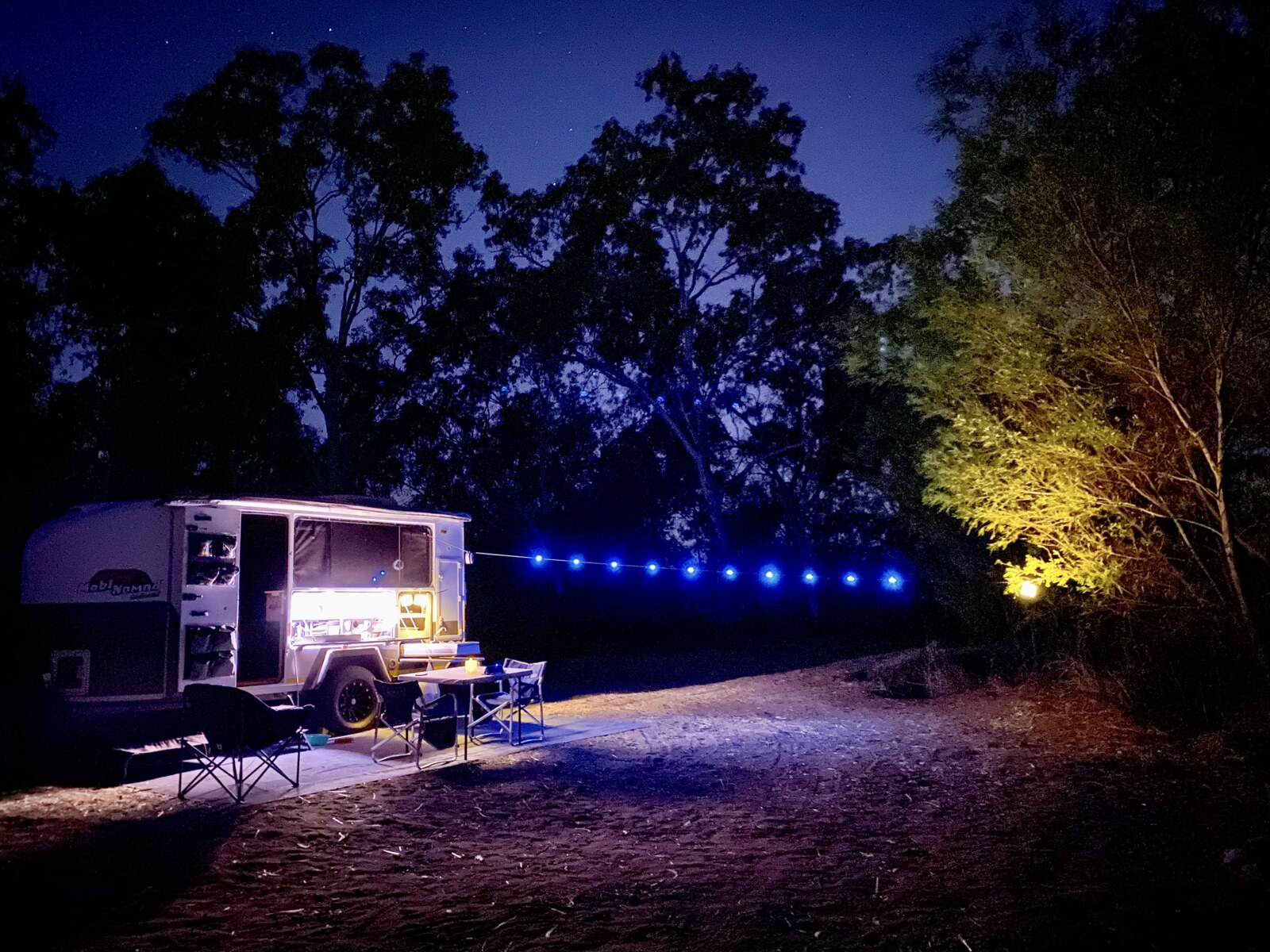 Mark's Mobi-Nomad set up for dinner under the stars. Image credit Blue Dog Digital.
For more information
If you're interested in purchasing images from Mark's collection or following the rest of the journey head to Blue Dog Digital on Instagram.