Sheep graze on the plains of Weddin Shire. Image credit Weddin Shire Council.
Settle down in Weddin
Weddin Shire is located in the Central West region of New South Wales. It's a peaceful district in easy reach of both capital cities and regional centres. Grenfell, the major town in Weddin, is a leisurely half day drive from Sydney, a couple of hours from Canberra and only 30 minutes off the Newell Highway at West Wyalong or Forbes.
Weddin's origins are steeped in the gold rush and agriculture, its early richness obvious in the preserved heritage architecture that graces many a main road in the district. Weddin was the birthplace of Henry Lawson and the haunt of Bushranger Ben Hall. Today around 3600 people call the district's 3600km2 home, making it a great option for those seeking to escape the hustle and bustle of city living.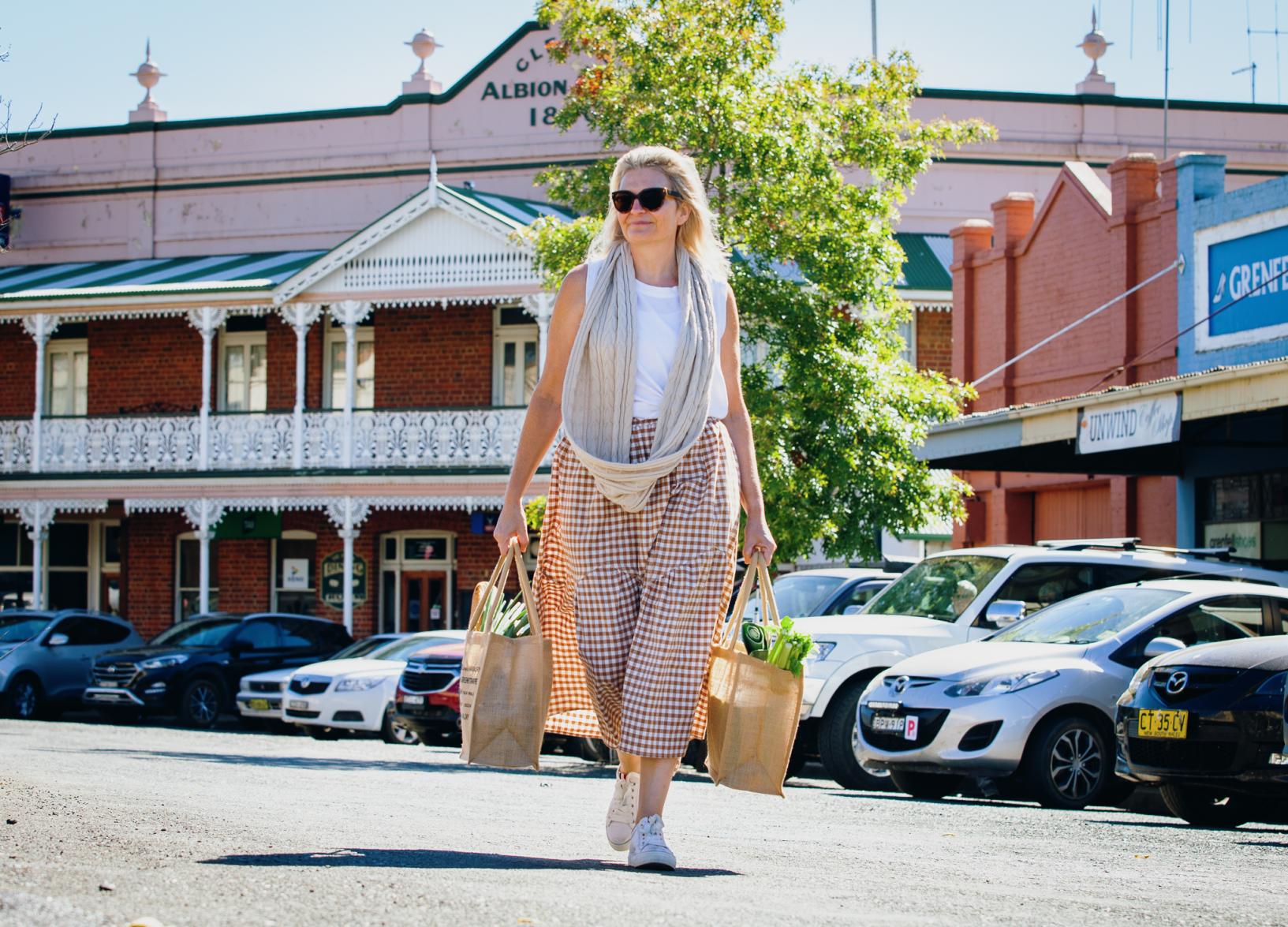 The towns and villages in Weddin Shire boast historical architecture. Image credit Weddin Shire Council.
It is also the perfect countryside in which to enjoy the best of NSW's seasonal weather. Summers are fine and hot, autumn comes in crisp and cold leading to fabulous colours in the landscape. Winter calls for snuggles next to the fire, and spring brings breathtaking patchworked landscapes of green and gold.
Agriculture and industry in Weddin, NSW
In 1866 gold was discovered in Grenfell and in the years that followed the region became the richest in the colony. Since the end of the gold rush, the shire's economy has been based on mixed farming agriculture, and has consistently flourished. Weddin contributes $198.042 million annually to the economy, the bulk of which is produced by the agricultural industry.
The Weddin Shire produces wheat, canola, barley, lambs and wool. Services such as machinery dealerships, wool brokers, grain handling companies, agriculture suppliers and metal fabrication businesses mean farmers are supported year-round.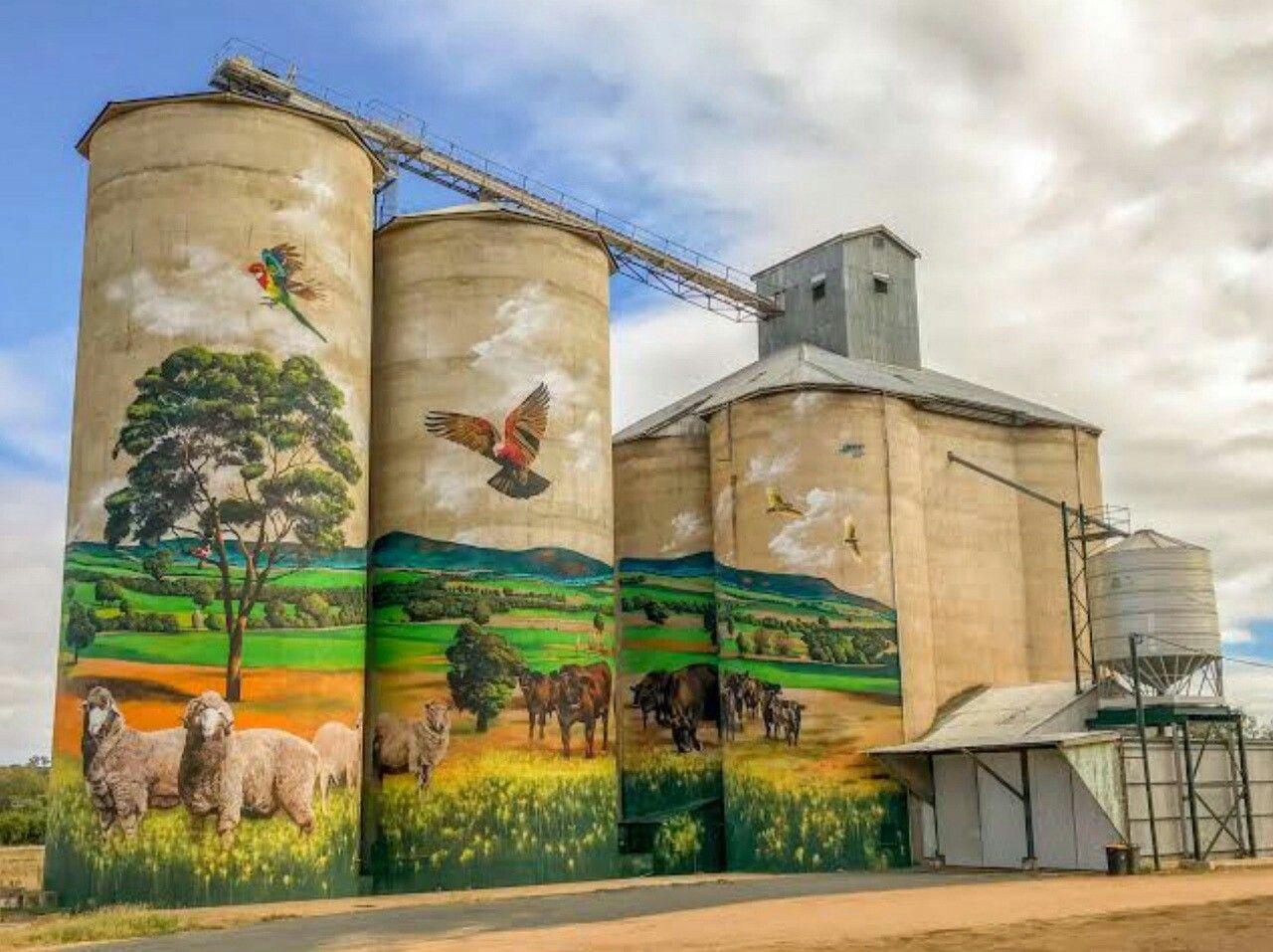 The Grenfell Commodities Silos are part of the working and cultural fabric of the area.
Nearby developments such as the Canberra International Airport and Inland Rail mean more opportunities will arise for local businesses and proximity to the Parkes Special Activation Precinct keeps costs down and industry booming.
Where to live in Weddin, NSW
In Weddin Shire the population tends to cluster around the township of Grenfell and the villages of Caragabal, Greenethorpe and Quandialla. If you're looking for community, you cannot go wrong with any of the towns in Weddin Shire. The region is known for its friendly locals, fertile land and the accessibility of a multitude of recreational activities.
Nestled in a picturesque valley at the foot of the Weddin Mountains, Grenfell is a beautiful town and one of the region's hidden gems. The heritage Main Street is lined with historic facades and, behind them you'll find old fashioned customer service combined with modern shopping experiences. As the major town in Weddin Shire, Grenfell is also the regional centre and offers residents the opportunity to indulge in boutique shopping and gourmet cafes as well as get the basics taken care of.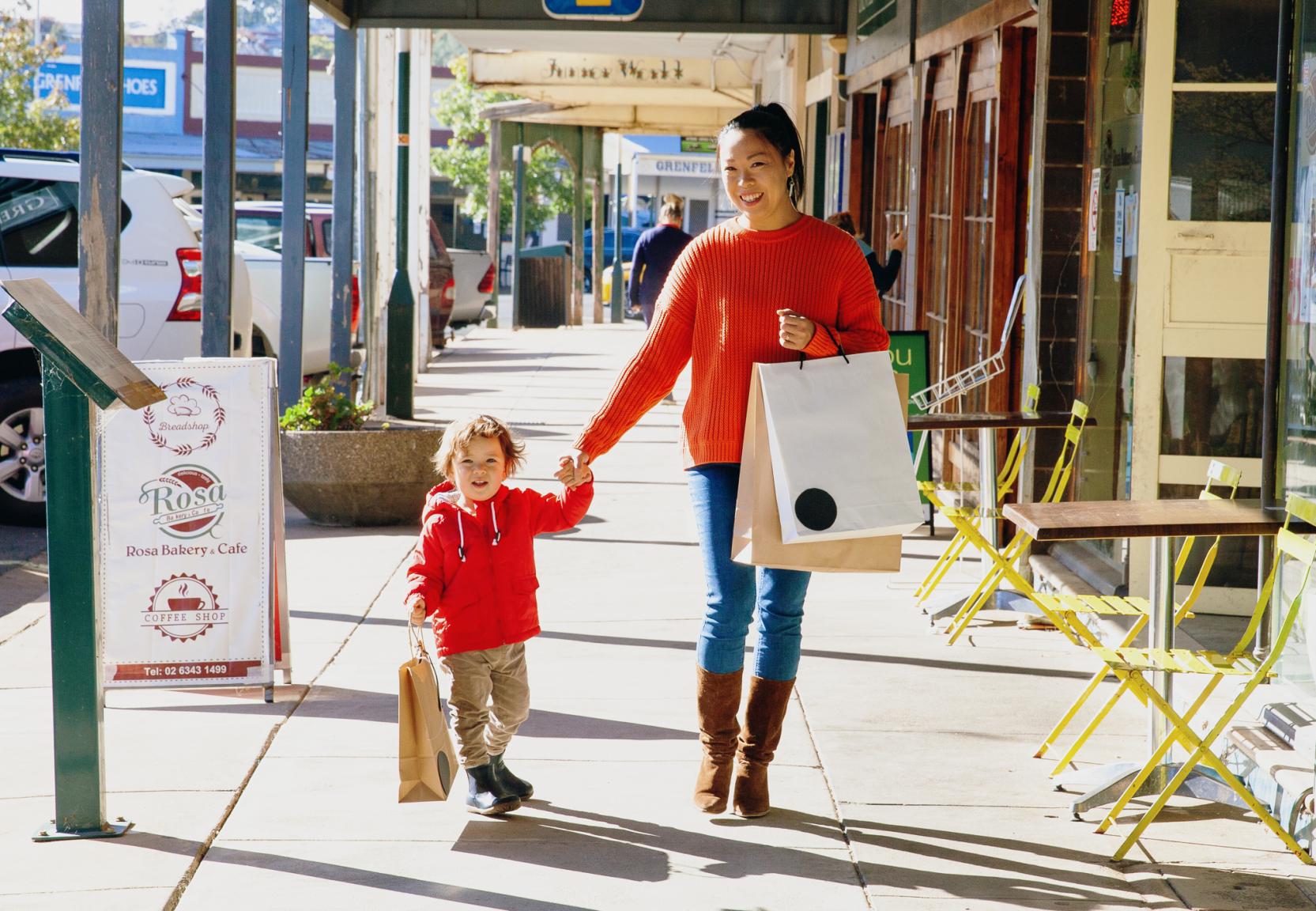 Weddin Shire is a great choice for families. Image credit Weddin Shire Council.
If you're seeking a village lifestyle in Weddin Shire, you're in luck. Carabagal is a small village with big facilities, offering a school, hotel and golf course, and is renowned for its gorgeous public bird art. Greenethorpe also has a school, an art gallery and is home to the gorgeous Iandra Castle. Quandialla is on the western edge of Weddin, close to the border with Bland, and boasts another local school and the gorgeous Bland Hotel.
Health, education and facilities
Grenfell itself boasts a preschool and long day care centre, a public primary school, a catholic primary school, a Henry Lawson High School and a TAFE campus. There are also several public primary schools spread between the villages, as detailed above. Seniors are well cared for through support services and assisted living programs. Weddin Shire is part of Western NSW Local Health District and Grenfell has a hospital, two doctors, many allied health services and a dentist.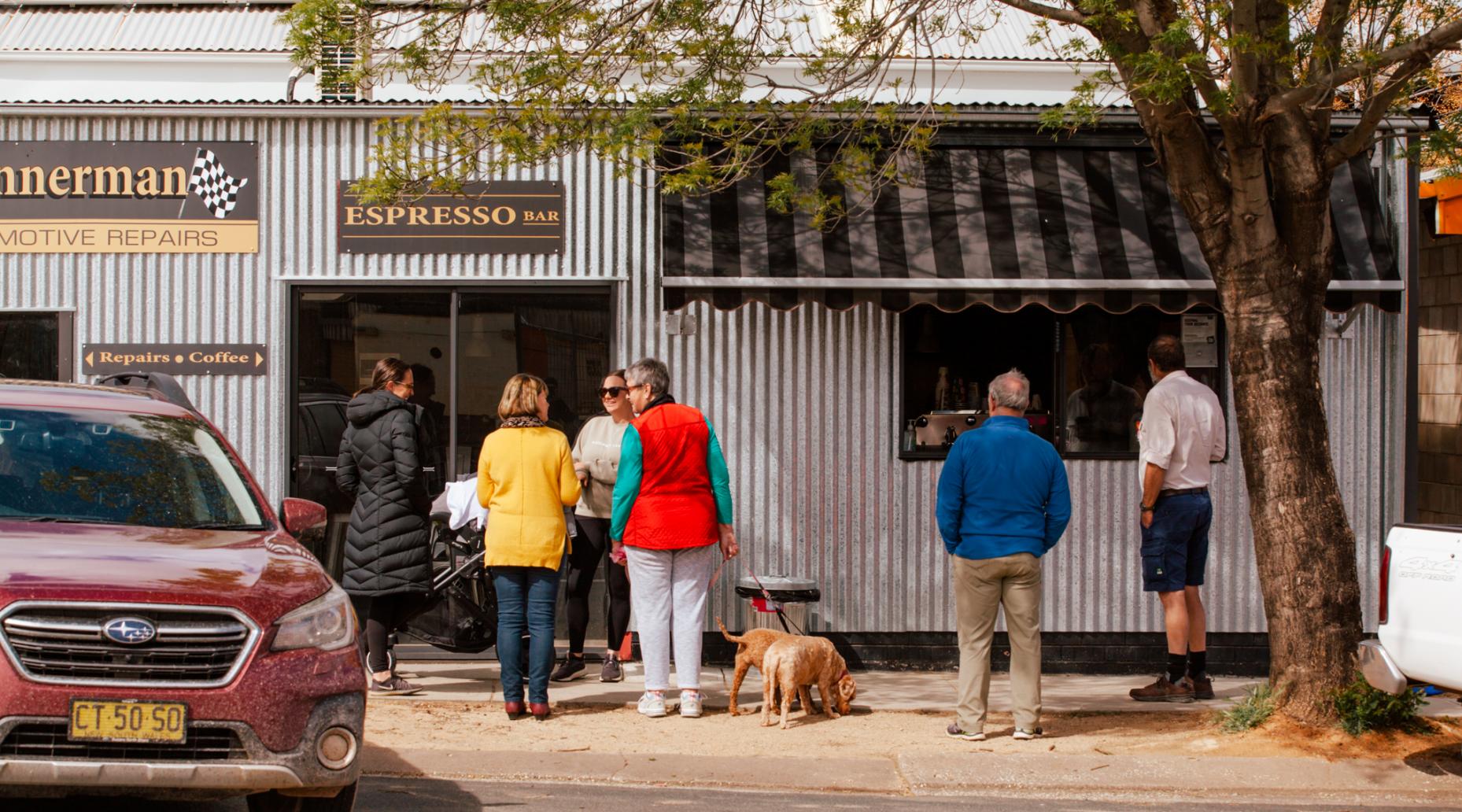 Grab coffee at a favourite gathering spot for locals in Grenfell. Image credit Weddin Shire Council.
The business and retail sectors are solid and prosperous, providing a range of legal and accounting services and two credit unions. With a 7-day supermarket and a range of retail stores, boutiques, personal care services and tradespeople, Grenfell provides everything you need whilst nearby centres of Bathurst, Orange and Wagga Wagga are all close by.
Culture and activities in Weddin, NSW
Weddin has a thriving arts community with workshops and exhibitions held frequently throughout the year, and a number of community groups and organisations that cater for a wide variety of interests and needs. The Historical Museum, the Chrysler Car Museum, and the Men's Shed. To meet the active needs of local residents, Weddin Shire Council maintains an aquatic centre, parks and gardens and multiple sporting fields.
Weddin is known for its friendly sense of community and it will not take long for you to see why. Community spirit abounds, with many local organisations running on volunteer power. The Grenfell Art Gallery and Caragabal Country Golf Club are just two examples of local places that offer both amenities and the opportunity to get involved.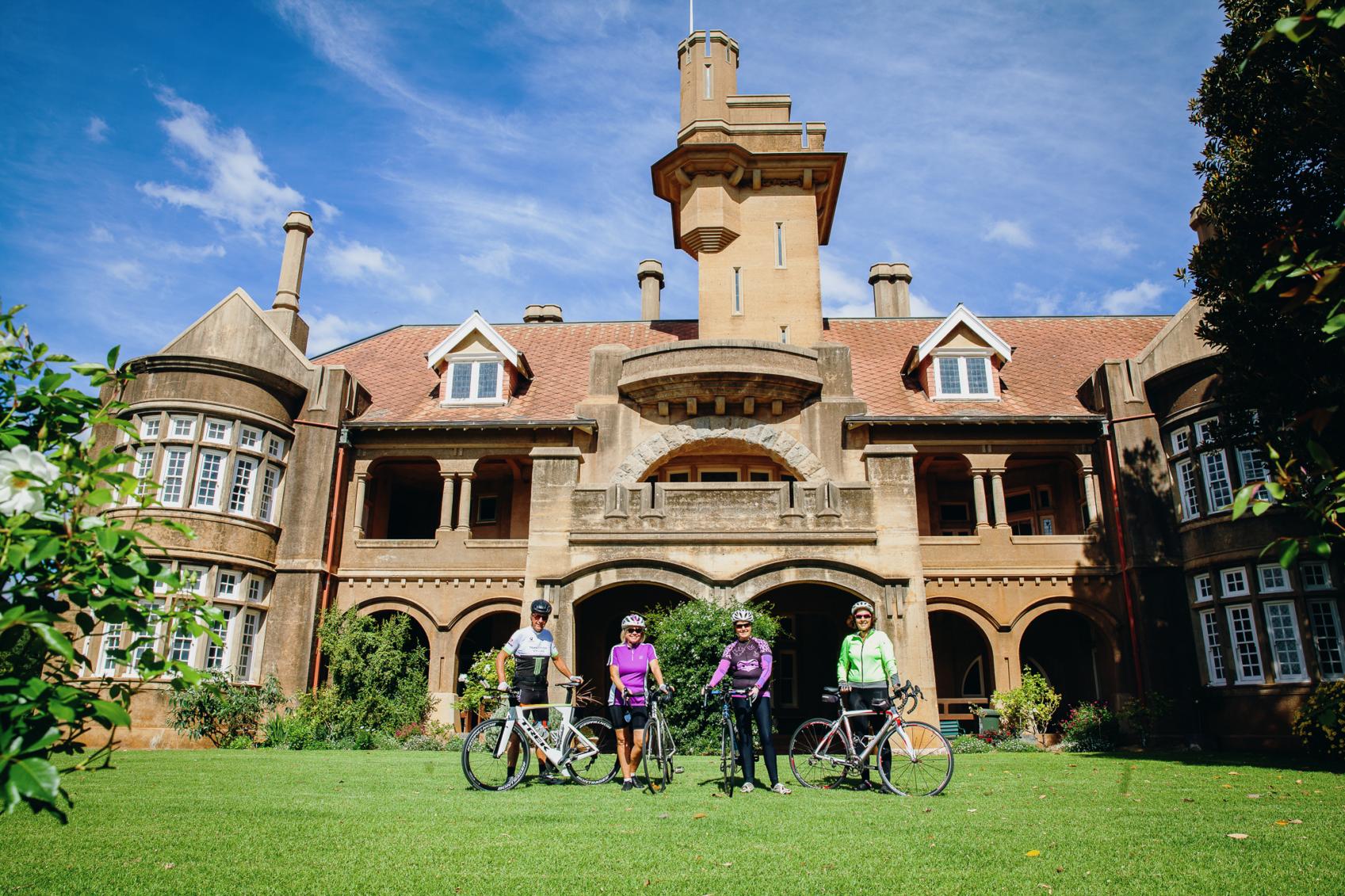 A bike ride is a great way to take in the beauty of Iandra Castle. Image credit Weddin Shire Council.
Weddin Shire is also the home to a number of tourist attractions that also provide entertainment and activity for the local community, including Iandra Castle, the Grenfell Commodities Silo art trail and Weddin Mountains National Park.
---
For further information
If you want to know more about living in Weddin Shire, visit www.weddin.nsw.gov.au or contact the Shire Council at mail@weddin.nsw.gov.au or by phone on 02 6343 1212.
---
Real Estate for Sale in Weddin, New South Wales
Discover your new haven in the beautiful Weddin, NSW. Find Real Estate for Sale below.
---