Stunning rock faces on Mt Hope in Loddon, Victoria. Image Credit: Loddon Shire Council
The Best of Rural Living in Victoria
Explore the spectacular Loddon Valley, VIC with its lush hinterland, rich history and diverse range of attractions. Located in the stunning North Western Victoria, the region is approximately 200km north of Melbourne, and its proximity to major centres such as Bendigo, Kerang and Echuca allows residents to enjoy a rural lifestyle without compromising on amenities. Embrace the natural open spaces the region offers, you might even be surprised by some hidden gems. Get to know the warm community of the Loddon Shire whilst discovering the local townships which are rich with gold rush heritage. The region's growing population is currently home to around 7,400 people. Tourists gravitate to Loddon Shire due to its unique ability to offer a laid-back rural lifestyle with access to urban amenities.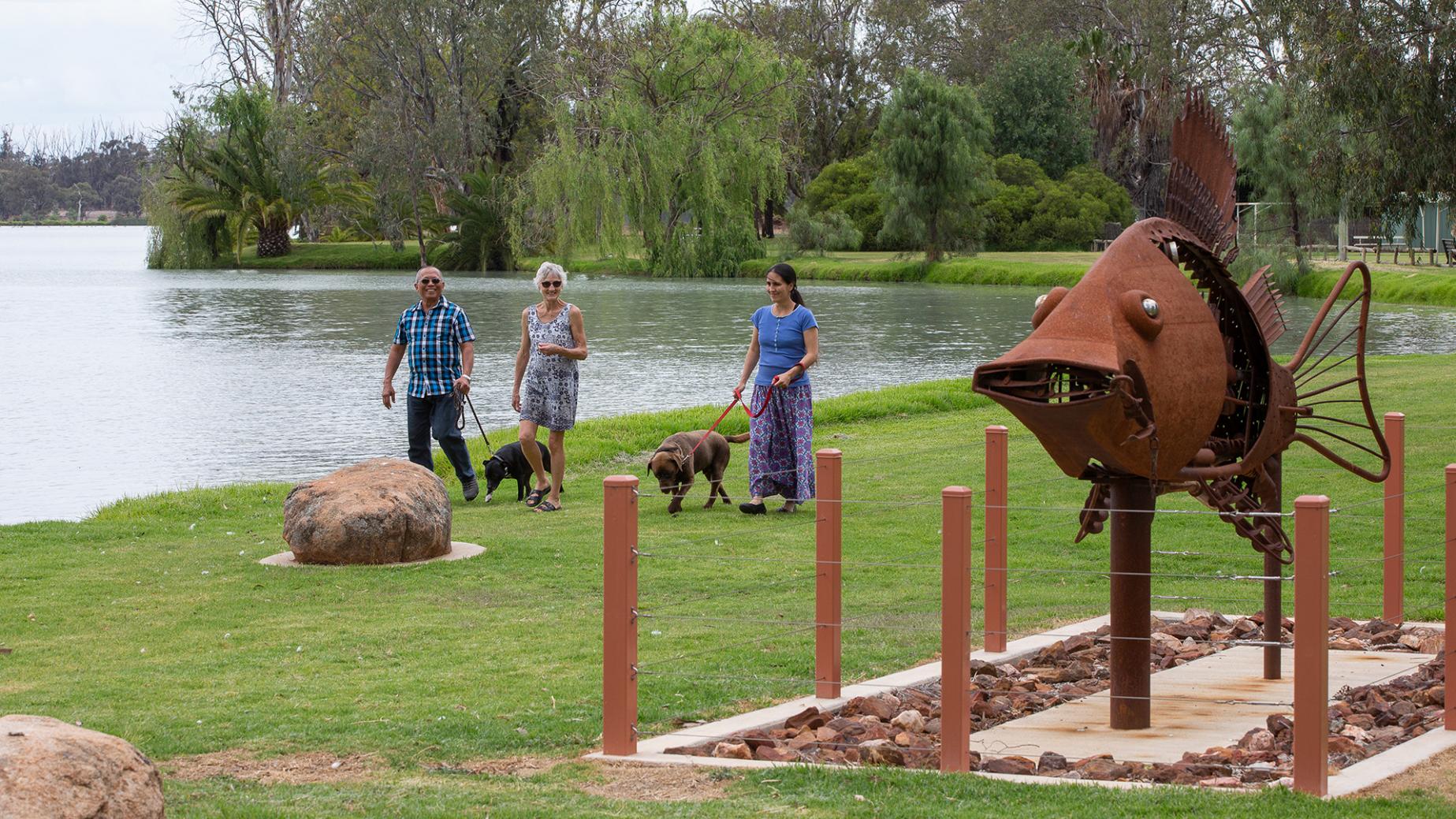 Locals enjoying the scenic sculpture walk by the water in Loddon Valley. Image Credit: Loddon Shire Council
Agriculture and Industry in Loddon Shire, VIC
The Loddon Valley's expansive agriculture and industry sectors allow for individual growth and success. With a wide range of agricultural industries represented in the region, including dairy, horticulture, viticulture, cropping, lamb and intensive poultry and piggeries, the Loddon Valley has broad appeal as an agricultural destination. The Loddon Shire, VIC is predominantly rural, with its population spread among several towns and rural areas. The Loddon Valley's economy is mostly characterised by agricultural production, due to its prime location.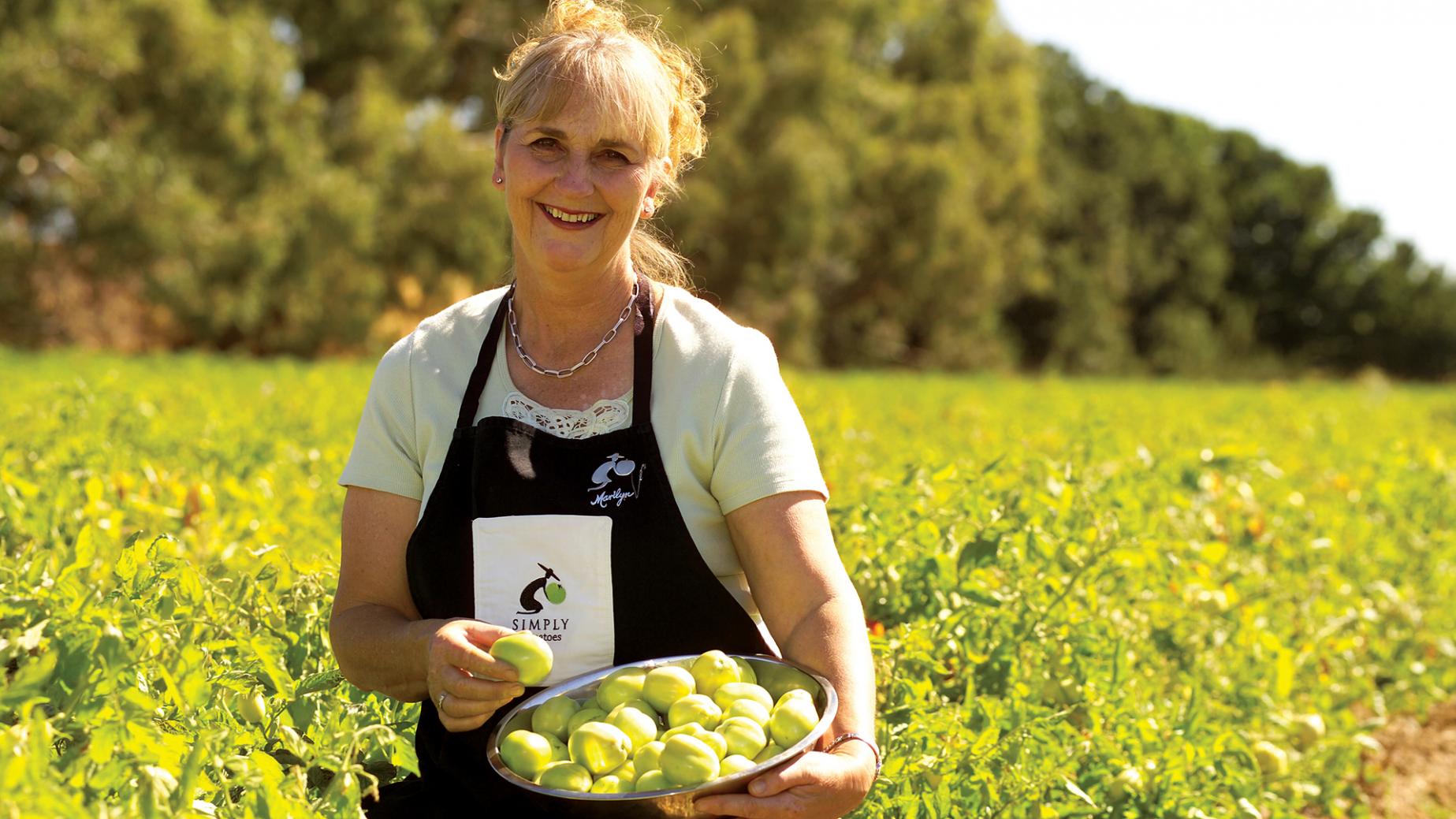 Vibrant produce at Simply Tomatoes in Loddon, Victoria. Image Credit: Loddon Shire Council
Culture and Activities in Loddon Shire, VIC
Get lost in Loddon Valley's glorious outdoors, from appreciating the sweeping agricultural pastures, trekking to new heights to experience breathtaking views, easy bushwalks in peaceful settings, bird watching and scenic picnic areas surrounded by local flora and fauna. Loddon Valley is home to the wild at heart offering unstructured adventures in the great outdoors. The Valley stretches over 6,700 kilometres and features State and National Parks, get lost swimming in pristine waterways or exploring the lush forests, how about a night under the stars in your own camper's paradise by the Loddon River or on top of Mount Kooyoora. In the hotter months take a dip in the popular Serpentine Creek, a safe place to swim, paddle and canoe. Be sure to keep an eye for the beautiful array of birds you can spot from the water.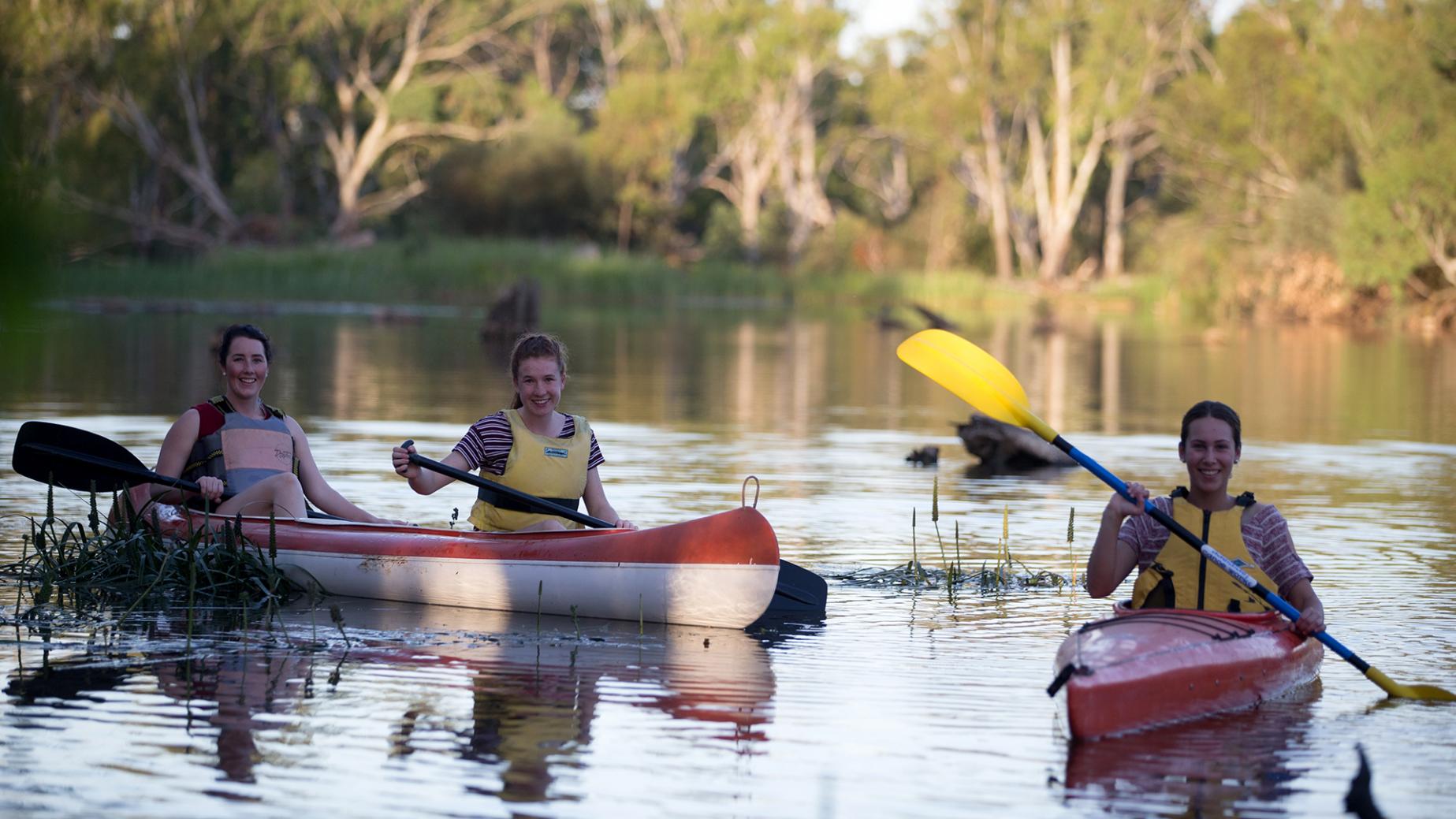 Fun on the water, canoeing down Loddon Valley River. Image Credit: Loddon Shire Council
Immerse yourselves in Loddon Valley's rich local heritage, you won't be disappointed! The Gold Rush era played a large part in the making of this region. Renowned for being home to the world's biggest gold nugget, the Welcome Stranger. Spend the day reviving old ghost stories with Wedderburn's self-guided walking tour. The two-kilometre walk provides an intimate local perspective on the history and culture of this fascinating town, founded on gold. Get an authentic taste of the past with a visit to Wedderburn's General Store Museum, with a remarkable collection of everyday goods that tell a story of life from the heydays of the goldfields to the swinging '60s. The locals rallied, opened the store as a museum, and have been adding to the collection ever since. Behind the store, you will find the coach builder's workshop houses the original blacksmith forge and horse-drawn buggies.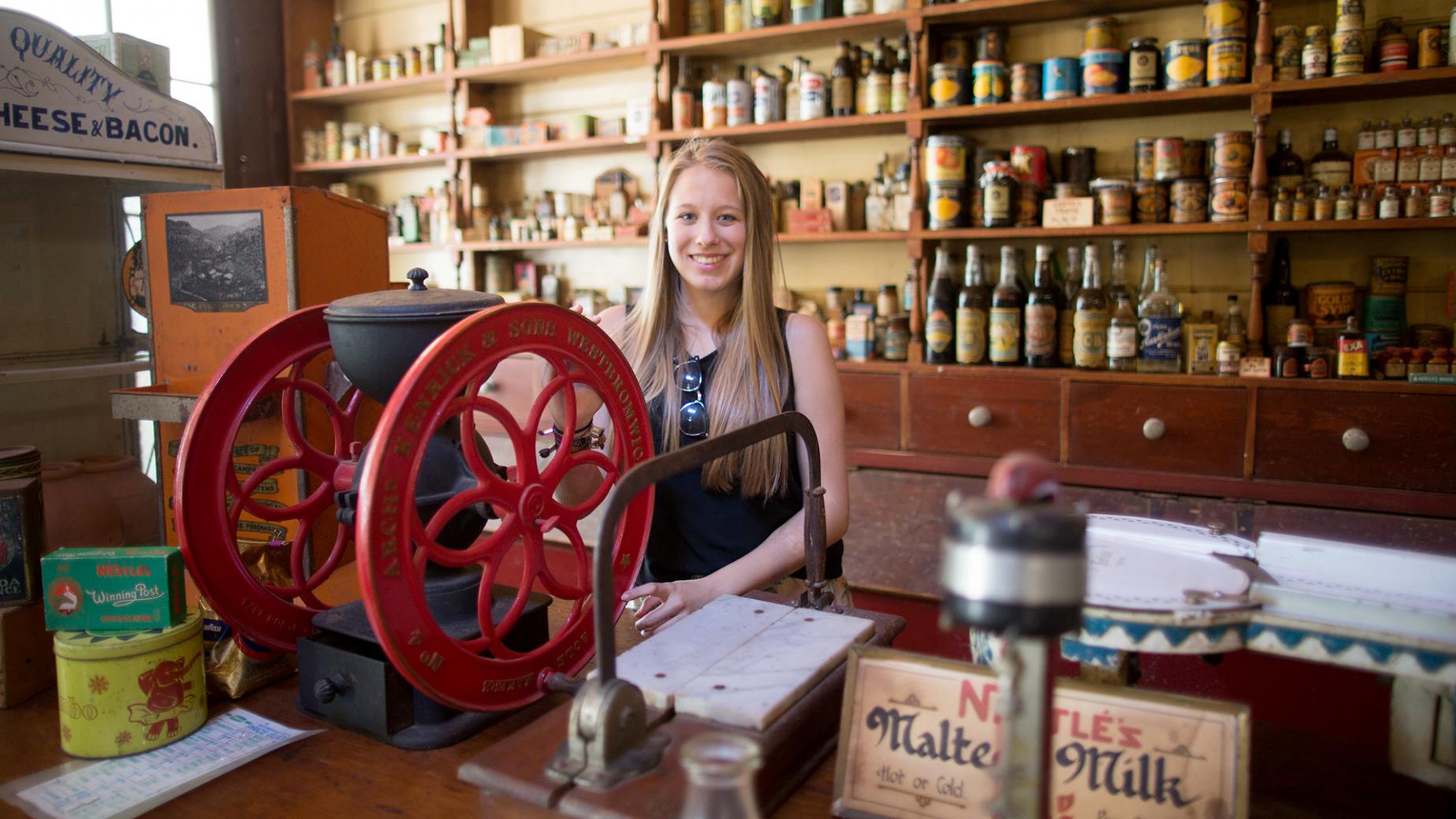 Take a trip to the past at Wedderburn's General Store Museum. Image Credit: Loddon Shire Council
Loddon Shire, VIC has proven to be a place for all, as their vibrant arts and culture sector runs deep through the area. Explore sacred Aboriginal scar trees, spectacular life-size spanner sculptures and lively boutique studios. Embrace the rich Aboriginal culture through the glorious art, such as the black box trunks with distinct oval scars from the days when the Dja Dja Wurrung took the bark for drinking vessels, baby carriers and canoes. Canoe trees are now rare in Australia but there are around 10 of them in the bed of Lake Boort. Take a short trip to admire the unique Piccoli's Star Spanner Sculpture Garden, aka the Spanner Man. John Piccoli's larger-than-life spanner sculptures, placed in the sprawling country garden of his family farm is truly unforgettable! Support local artists at the historical Wedderburn Coach House Gallery and Museum whose vibrant program changes regularly. Local markets and festivals also help to celebrate the art and culture which is so alive in the region. Loddon Valley showcases art and culture from all walks of life, engage and widen your understanding through this impressive selection.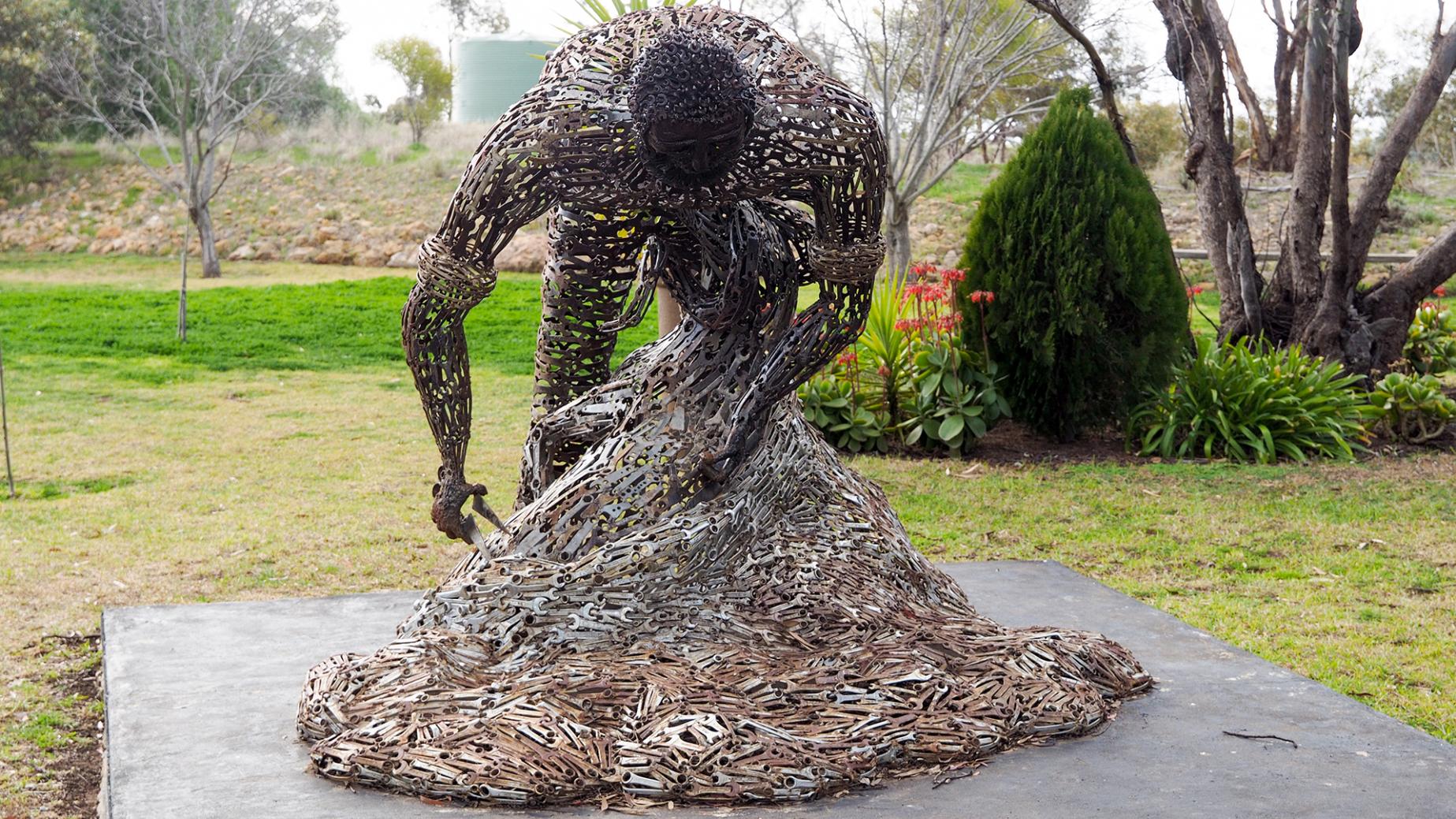 John Piccoli's fascinating life-size sculpture, Spanner Man. Image Credit: Loddon Shire Council
Local Amenities in Loddon Shire, VIC
You will be pleased by the quality of education offered in Loddon Shire, VIC with a variety of options to meet every child's needs. With childcare centres, primary schools and combined secondary schools, quality childrens' education is guaranteed.
Residents are very well supported by the medical infrastructure in Loddon Valley. High quality mental and physical health is guaranteed at any of the healthcare clinics with Inglewood and Districts Health Service being one of the main facilities in the region, offering access to a range of health services.
The local Council is focused on maintaining and improving community facilities with recent significant investments into a range of facilities, including the major refurbishment of the local swimming pools and works to community halls. Council also partners with local community groups to help deliver facilities and events to bring the community together. As the community grows, Loddon Valley, VIC residents will continue to thrive in an open and warm environment.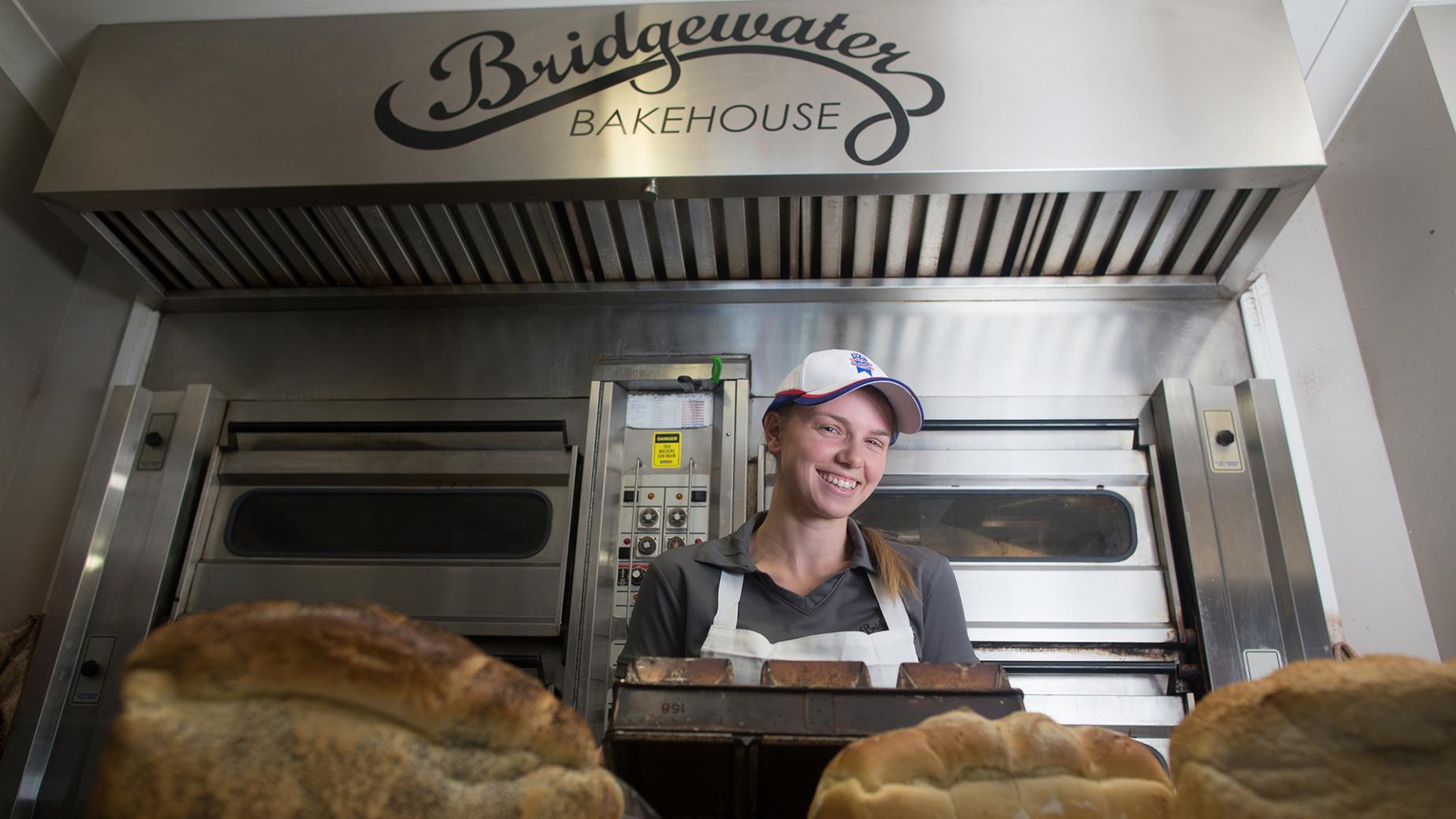 Smiles all around at Bridgewater Bakehouse in Loddon Shire. Image Credit: Loddon Shire Council
---
Further Information
If you're interested in visiting or relocating to the Loddon Valley region find more information on the Loddon Valley council website, or contact them at loddonvisitorinformation@loddon.vic.gov.au or (03) 5494 3489.
---
Real Estate for Sale in Loddon Shire, VIC
Discover your new home from a range of properties for sale in Loddon Shire, VIC. Find Real Estate for Sale below.
---