Aerial view of the Tangalooma Wrecks. Image credit: Tourism and Events Queensland
A laidback lifestyle in Moreton Bay
Sandy coastlines, clear water and vibrant communities are found in Moreton Bay, QLD. The bay is half an hour from Brisbane's city centre, extending from Caloundra down to the Gold Coast Seaway. A fisherman's oasis, the waters are home to both amateur fishing adventures and important commercial fishing operators providing fresh highly sought after seafood, such as delectable Moreton Bay bugs.
The key attraction for residents and tourists alike are the 360 beautiful islands located in the bay. Some have been converted into residential islands like Bribie Island, while others are tourist hot spots like Moreton Island (the world's third-largest sand island), and the popular North Stradbroke Island. A wonderland of hidden swimming holes, lush hinterland, sunny days and a fresh local produce, Moreton Bay is a beautiful place to raise a family or escape for your next holiday.
Moreton Bay, QLD was initially discovered by the British navigator Captain James Cook in 1770 as he sailed through the South Passage between the main offshore islands that lead to the bay. Interestingly, the name, misspelled, was also originally applied to the mainland area that eventually became Queensland. Today, Moreton Bay is home to more than 475,000 resident and is a warm and welcoming community. The Moreton Bay lifestyle embraces the natural beauty of Australia from coast to hinterland, and provides a plethora of employment opportunities.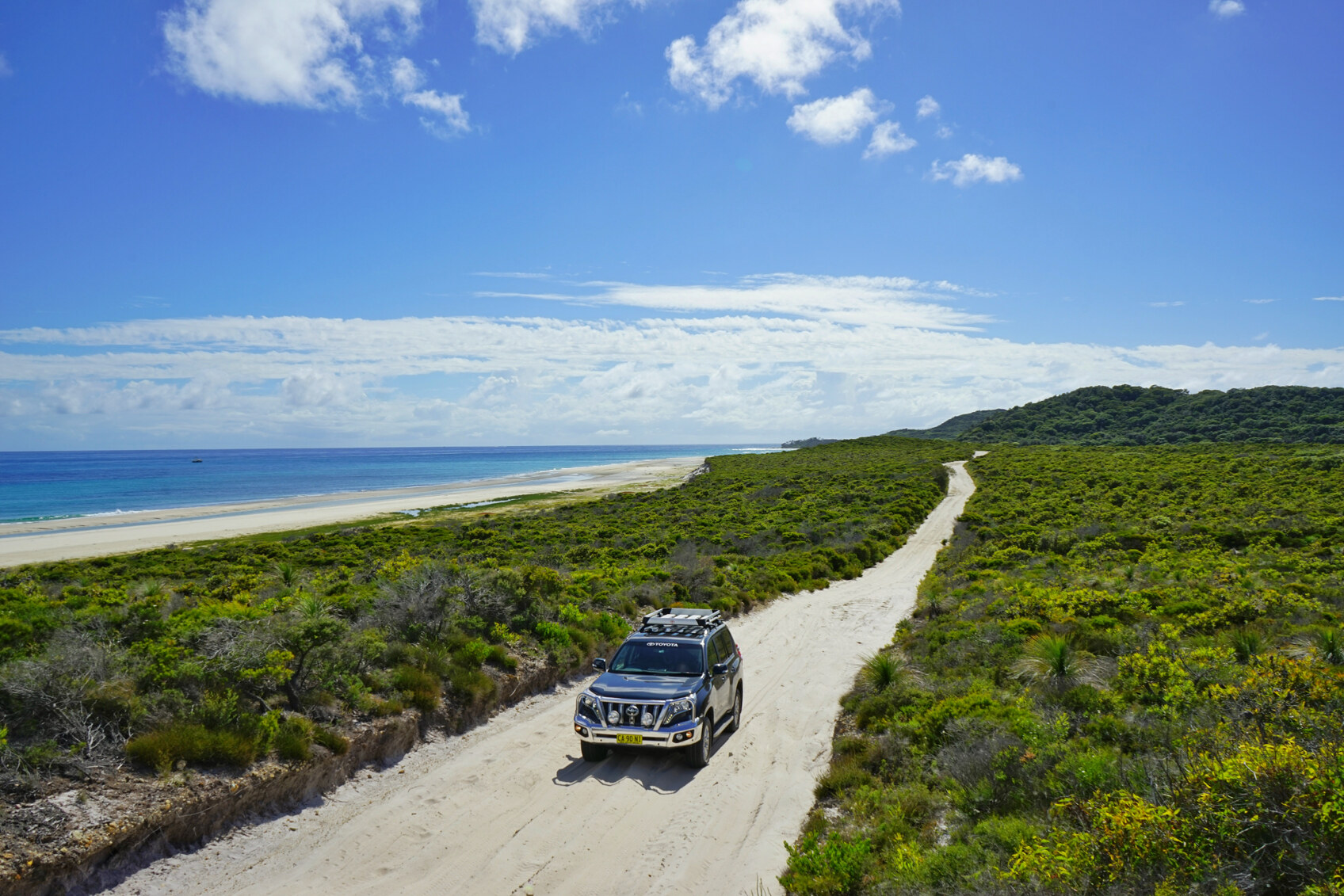 Exciting drives on Moreton Island. Image credit: Tourism and Events Queensland
Agriculture in Moreton Bay, QLD
The region's thriving agribusiness industry provides farmers, exporters, processors, retailers, and chefs with the ideal destination to succeed. Moreton Bay, QLD has the key fundamentals which aid in a comfortable working environment, and its access to major transport and infrastructure, rich soils and a subtropical climate all contribute to the region's $846 million agricultural industry.
Cover your Pavlova with local fresh fruit, as Moreton Bay has the largest strawberry producing area in Australia, a $110 million berry fruits industry, over one-quarter of Australia's pineapple crop and heavenly amounts of macadamia and avocado production each year. The region is also focused on keeping its agribusiness sector clean and green, using innovative strategies such as the Wamuran Irrigation Scheme.
Local Culture and Activities in Moreton Bay, QLD
There is plenty to discover in Moreton Bay, a unique destination which has something for everyone. You can experience the essence of Australia's outdoors with native nature-filled hikes, hidden swimming holes and 4WD's through the region. The region is renowned for its waterfalls, swimming holes and creeks where you can take a dip or, during the cooler months, relax with a book enveloped in a leafy refuge.
Rocky Hole is a popular swimming hole, carved into the natural contours of Mount Mee's granite filled gullies and accessible via 4WD. Meanwhile, hidden in Belthrope Forest Reserve you will find Stony Creek a boulder-hopping paradise where you will be met with a spectacular natural swimming hole. Enjoy your time exploring all the hidden gems in Moreton Bay, discovering local wildlife and soaking up the sun.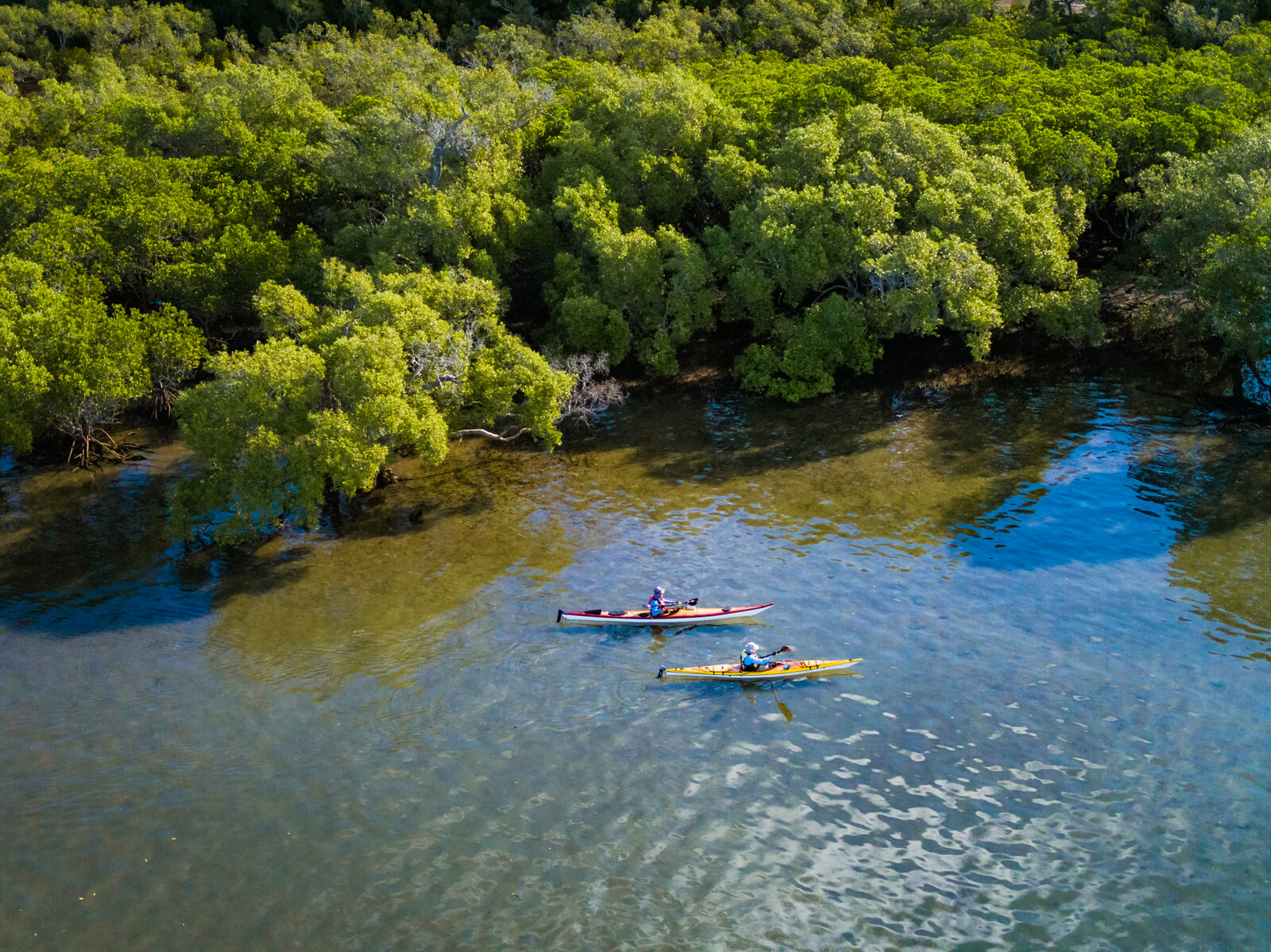 Relaxing kayak through Southern Moreton Bay Islands. Image credit: Tourism and Events Queensland
Sunrover Tours makes it easy to see all of Moreton Bay, QLD offering everything from day tours to two- to three-day adventures. You can explore locations on Moreton Island, including a snorkel or kayak through the Tangalooma shipwrecks, a visit to Cape Moreton Lighthouse, or a dip in the fresh tea tree-infused waters of Blue Lagoon. It's even possible to hand-feed wild dolphins at Tangalooma Resort!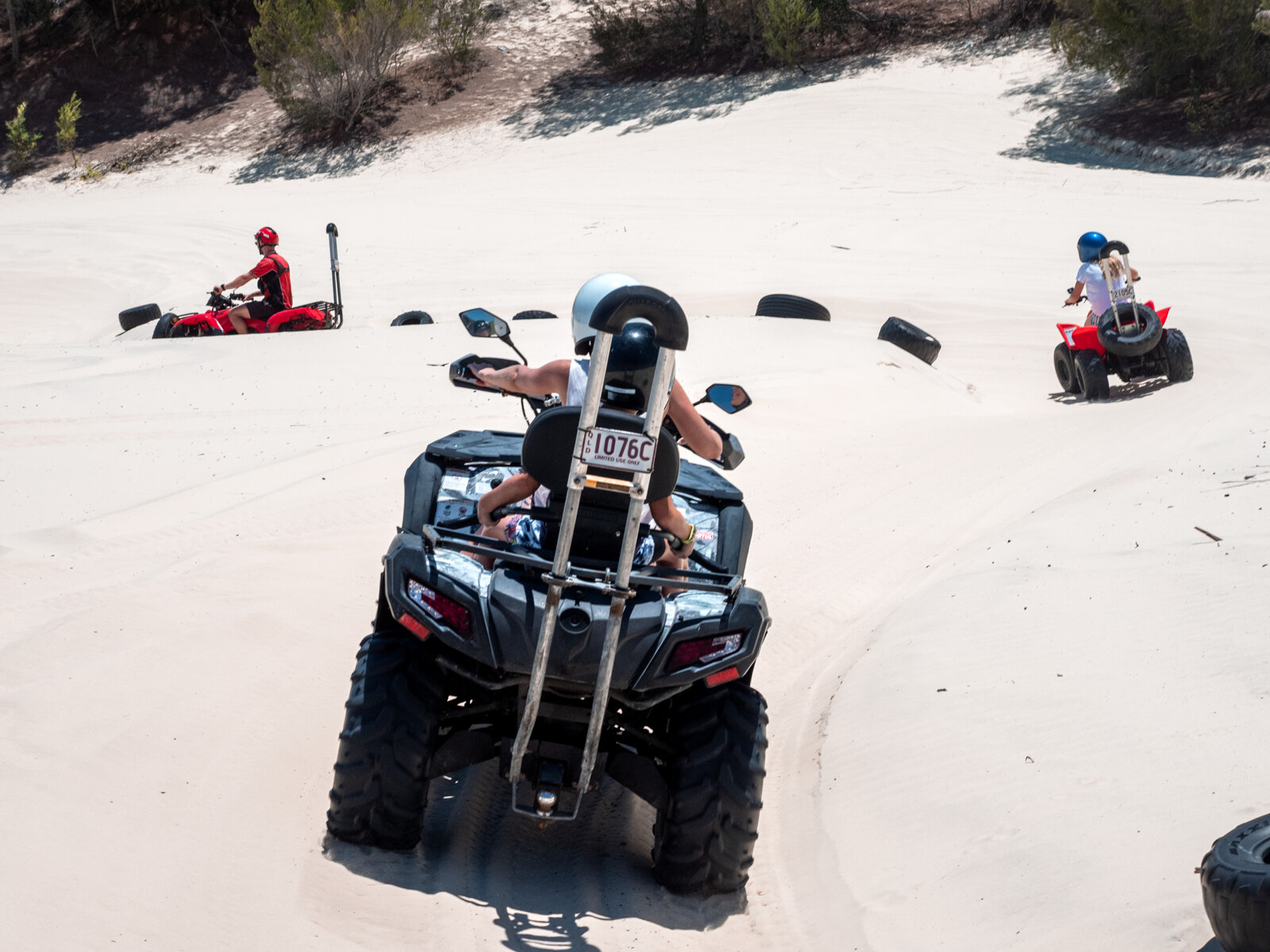 Quad biking at Tangalooma Island Resort. Image credit: Tourism and Events Queensland
For those looking for a more laid-back activity to suit the whole family, there's nothing quite like spending a day picking strawberries under the warmth of the winter sun. Visit the quaint, family owned working farm, Rollin Farms, where they offer a 'Pick Your Own' experience (from July to October), and end your relaxing stay with homemade strawberry jams and strawberry ice creams.
LuvaBerry is another farm offering a 'Pick Your Own' experience during the winter months or a farm tour. This farm also offers has a variety of fresh produce: sweet strawberries, as always, but also an abundance of finger limes, fresh herbs, passionfruit, locally-made chutney, goats cheese and native bee honey.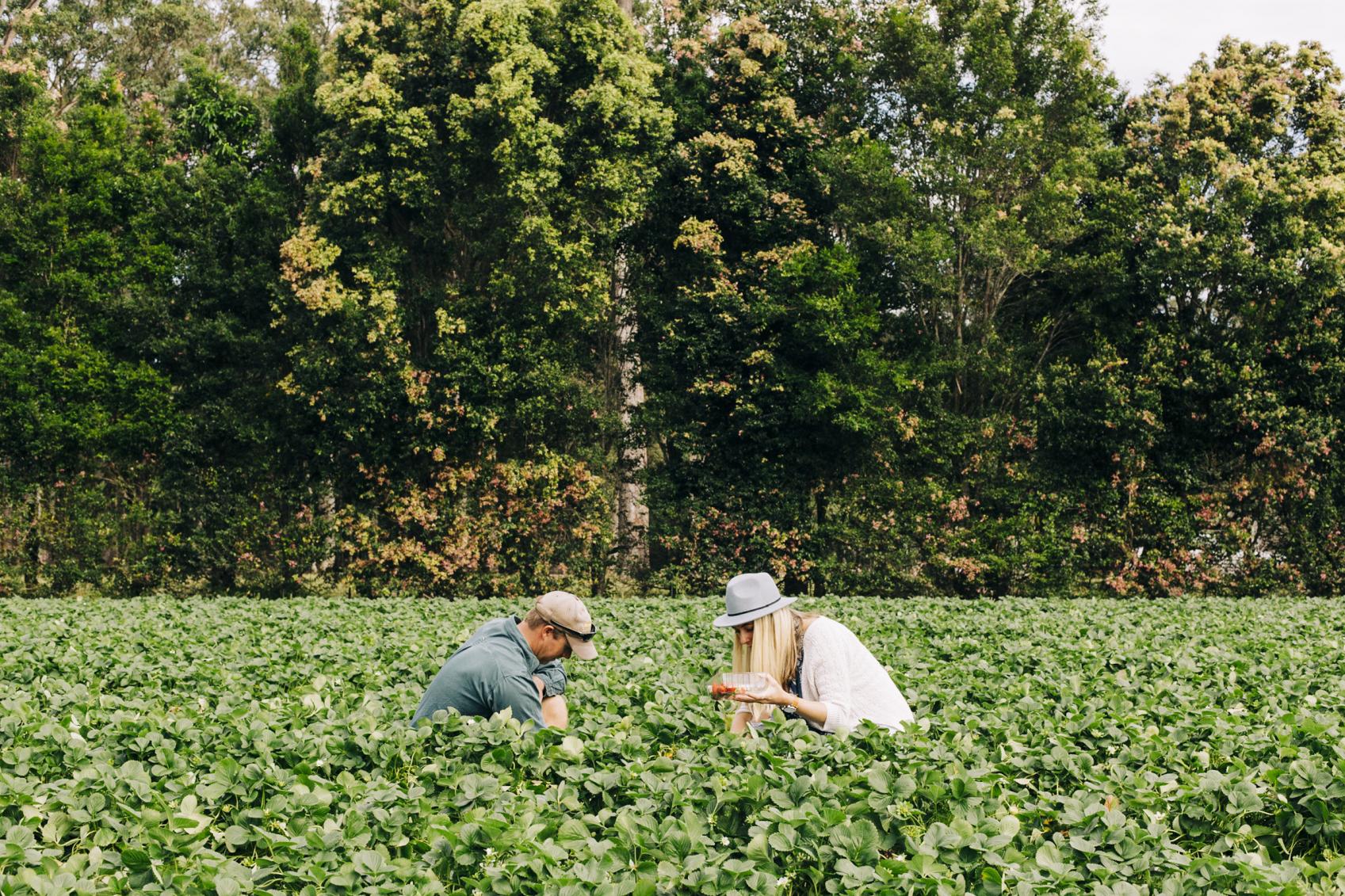 Strawberry picking in Moreton Bay. Image credit: Tourism and Events Queensland
Aesthetes can immerse themselves in the world of art in the region - the Moreton Bay region has many thriving art and craft centres that showcase the work of budding and renowned artists alike.
The award-winning Abbey Museum of Art & Archaeology allows you to travel through time. With artefacts from prehistoric hunters to the rise and fall of the Roman Empire, you'll soon arrive at the Industrial Revolution before making your way toward more modern discoveries. Learn something new, and see how far we have come in terms of technology and human endeavours!
Visit Caboolture Regional Art Gallery where you will find an array of artworks from the best local artists, as well as a space which showcases lesser known local artists. Playing host to nationally significant artwork and specially curated exhibitions, Caboolture Regional Art Gallery is a special place with a lot of history.
Local Amenities in Moreton Bay, QLD
Moreton Bay, QLD strives to provide a quality education, and offers a variety of options to meet every child's needs. With public and private daycare centres, Catholic and independent primary schools, and over 15 secondary colleges, children's' education is guaranteed without having to travel far from home.
Residents benefit greatly from the medical infrastructure in Moreton Bay, QLD. Mental and physical health is guaranteed to be looked after by visiting any one of the numerous healthcare clinics. From psychology to maternal health care, Moreton Bay offers general and specialist services.
Moreton Bay prides itself on efficient public transport, consistently maintaining and increasing community access to transport inside and outside the region. TransLink coordinates and integrates public transport services in South East Queensland and provides several bus services to the airport precinct and around the region.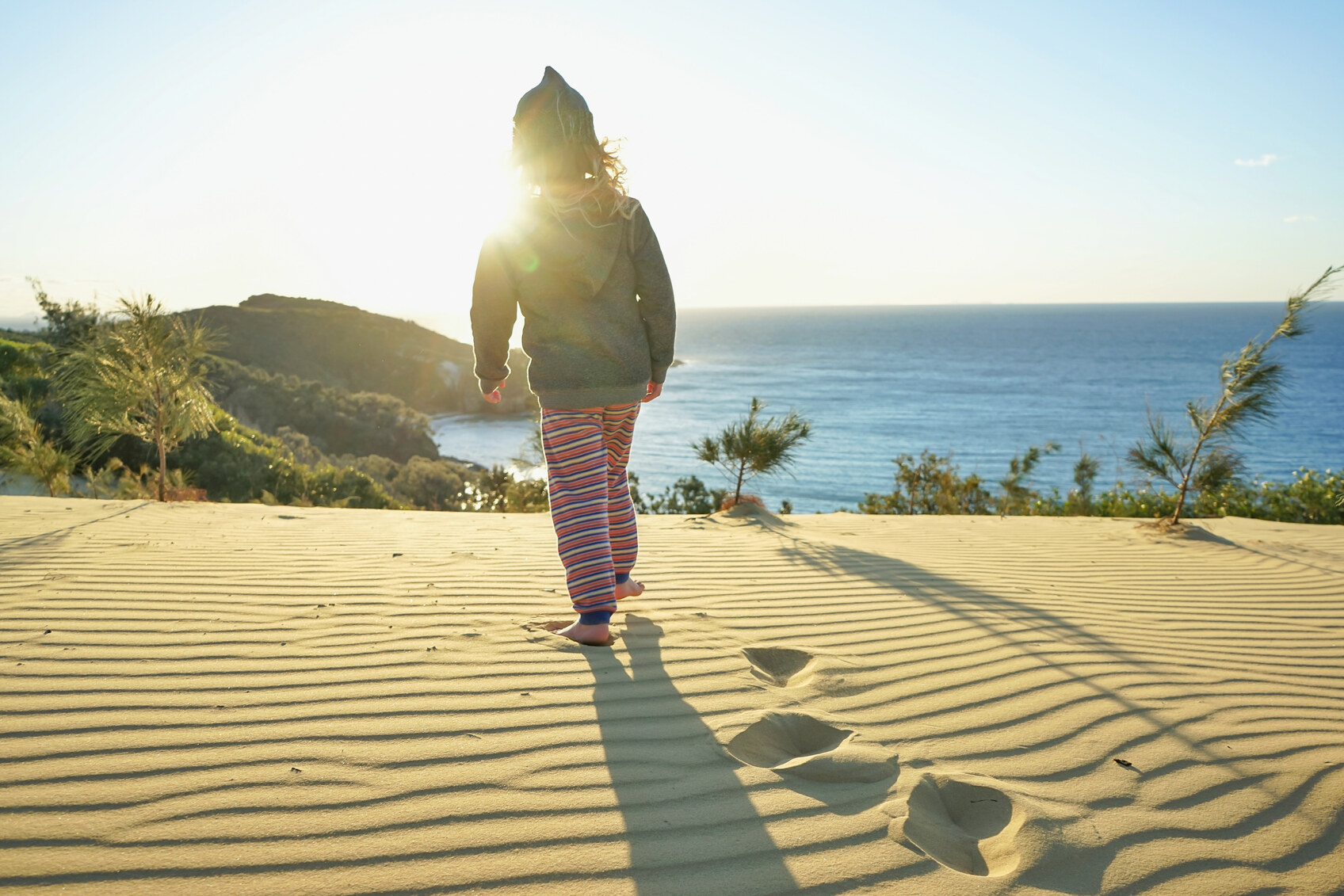 Stunning views from the Moreton Bay sand dunes. Image credit: Tourism and Events Queensland
---
For Further Information
If you're interested in visiting or relocating to Moreton Bay, find more information on the Moreton Bay council website, or contact them by email at mbrc@moretonbay.qld.gov.au or by phone at 1300 477 161.
---
Real Estate for Sale in Moreton Bay, QLD
Discover your new dream home in Moreton Bay, QLD. Find Real Estate for Sale below.
---