Guests at Zephyr Horses trot out onto the sands of Bilongil Beach. Image credit: Destination NSW
A new kind of destination
Up in the lush coast of NSW's Northern Rivers region, in the cultural powerhouse that is Byron Bay, the tourism landscape is changing.
Bayshore Drive in Byron's north is probably best known as the gateway to Element's of Byron. It's hard to miss this 5 star wellness hotel with its great flowing white roofs and neighbourhood of villas stretching deep into the forest, but drive a little further down the road and you'll find an experience even more unique, tucked into an unassuming rustic property. At Zephyr Horses, horse trekking has come to Bilongil Beach. Offering guided rides through the forest and hinterland and out to the beautiful white sands, here you can see the familiar sights and sounds of Byron's stunning waterside from a whole new persective, and feel truly one with these magnificent creatures. Zephyr Horses, however, is just one piece of an exciting new package.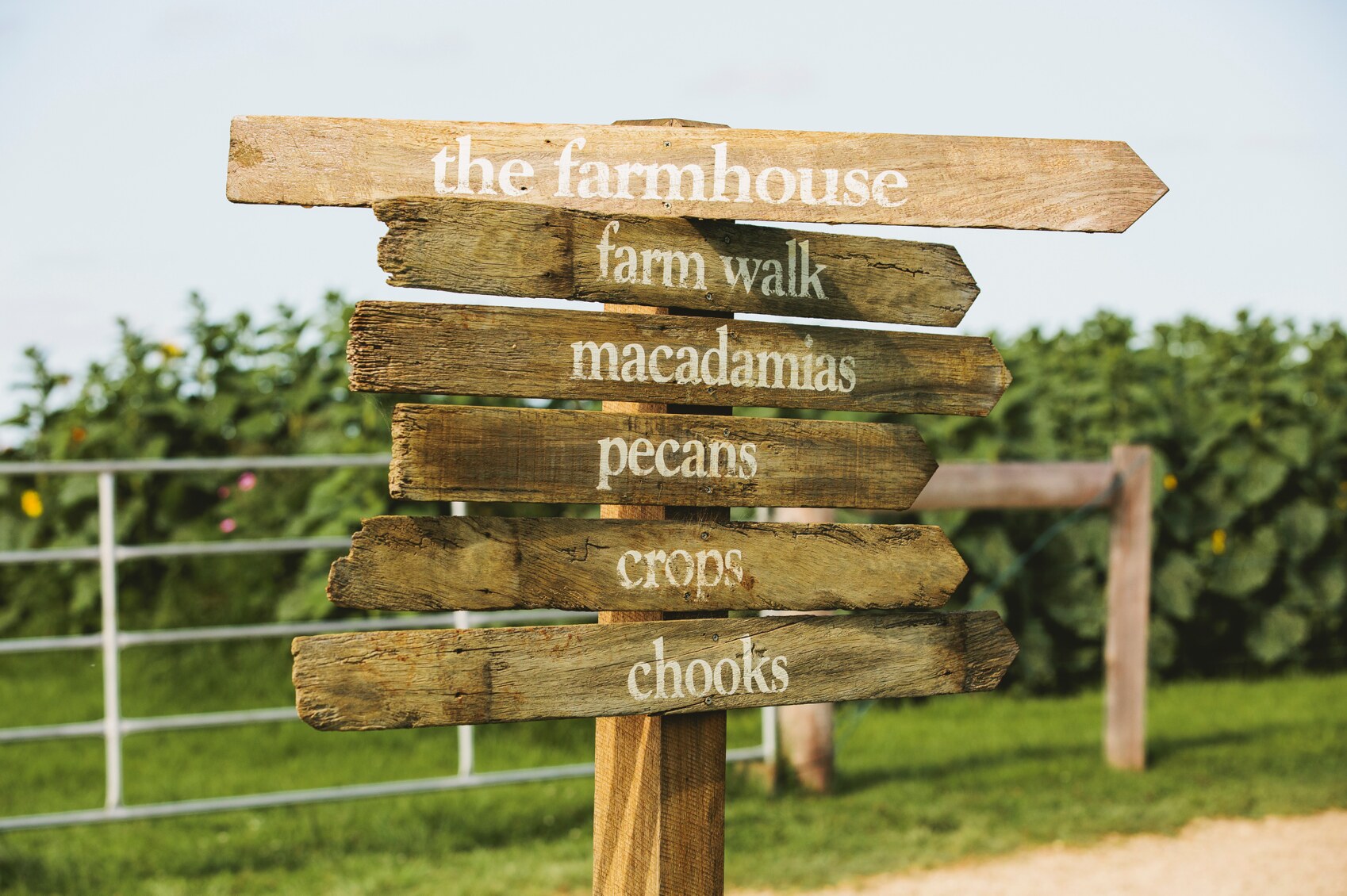 Signpost at The Farm at Byron Bay. Image credit: Destination NSW
Welcome to The Farm at Byron Bay. This bustling complex on an 80 acre operating farm is home to a variety of farm to table offerings. Share a meal and a drink at the acclaimed restaurant, Three Blue Ducks at The Farm, where chefs Darren Robertson and Mark LaBrooy serve their own delicious creations from produce and livestock raised on site and in the Byron area. On your way out, stop in at The Bread Social and grab a freshly baked loaf, or have a peruse of The Produce Store where you can take home fresh ingredients and more, all sourced either from The Farm itself or from other local businesses.
This development is part of a new wave of tourist businesses offering a unique style of upmarket agro-tourism. There is a growing demand for this kind of experience and environment. Without doubt, there is something in the popular culture of Byron Bay, from its embracing of hipster chic to the emphasis on spirituality and connection to nature, that simply screams out for a more socially and environmentally concious form of tourism. In many ways it is the essence of Byron distilled.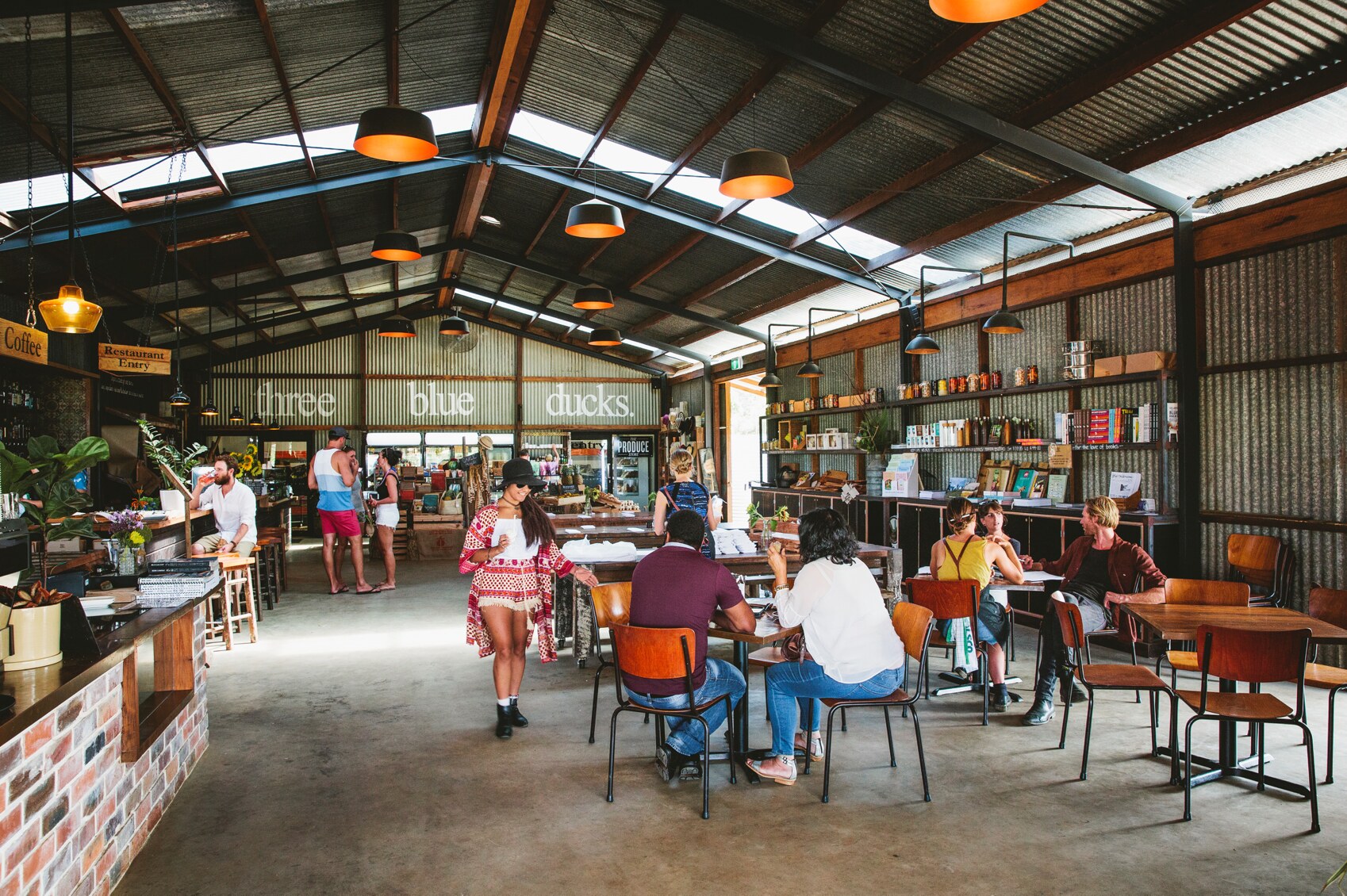 Three Blue Ducks at The Farm, Image credit: Destination NSW
It's not just the dedication to a farm to table experience that makes this unique destination special, but the dedication to a person to person experience. In a town that welcomes so many this is an especially welcoming spot, with its friendly vibe and staff of passionate locals. When Sydney couple Tom and Emma Lane set up shop here in 2015, they could not have known just how much the community would embrace the idea, and how much their dream would do for the local farming community. Today it is one of Byron's most atmospheric and popular locations, and the only way to go is up.
Drink Byron Bay from the source: the best of breweries & distilleries
One part of the Byron scene that has exploded in the last 10 years is its breweries and distilleries. Drinks brewed in Byron Bay are making waves up and down the coast. One particular story began in 2008, when three friends with combined decades of experience in the brewing industry decided to start their own adventure. 13 years later, business is booming at Stone & Wood Brewing Co and their flagship Pacific Ale is one of the most beloved beers in bottle shops and pubs around Australia.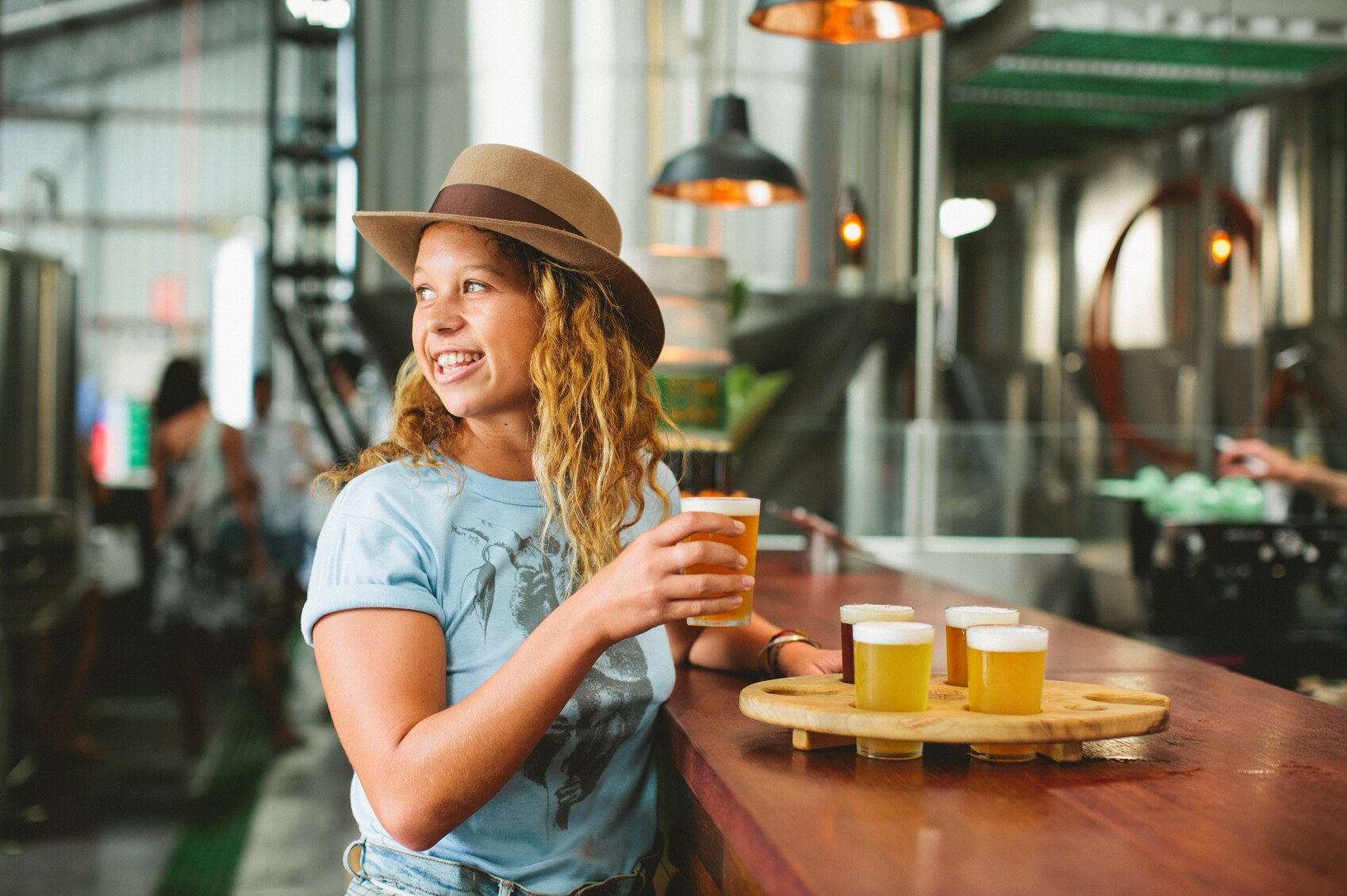 A beer tasting session at Stone & Wood Brewery Byron Bay. Image credit: Destination NSW
Located on the East side of town, on Centennial Circuit, this brewery is a chic and modern watering hole which has been a hit with Byron's residents. They offer seven distinct beers and a cider on their regular roster, and an ever changing variety of limited release beers under the Pilot Batch umbrella, the best of which get a national release as part of the Counter Culture series. It's clear to see the passion for beer that goes into every bottle that comes out of this Byron Bay staple.
In the hills of Byron's hinterland, there's another local spot making a big name for itself. Perched in the heights of the Brooks family's 96 acre farm, Cape Byron Distillery was born out of a love for the lush natural rainforests that once covered every inch of this corner of the country. Over 30 years, Pam & Martin Brooks have reclaimed and reinvigorated that ecosystem. They have planted over 35,000 subtropical rainforest trees on their property and created what has been described as an oasis for native animals.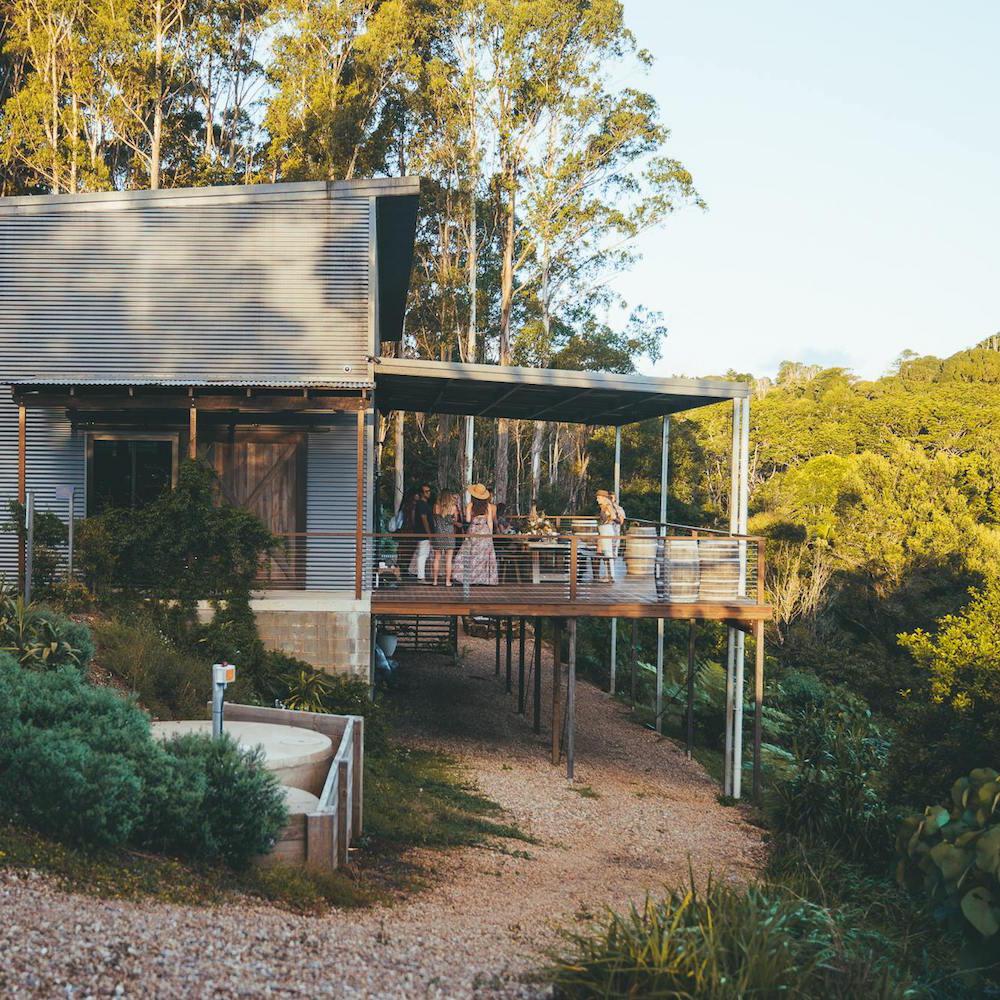 Cape Byron Distillery. Image credit: Cape Byron Distillery
Since 2016, this boutique farm has been distilling high quality gins and liqueurs in a custom made copper pot still, affectionately named George, using locally sourced botanicals, many of which are grown in the property's extensive rainforests. Stop on in for a tour of the reclaimed land and the distillery, and afterwards relax with a few seasonal cocktails on the balcony and take in the spectacular view. With this family business getting ready to expand into the whisky game, it seems that yet another Byron Bay success story is poised for national recognition.
Properties for sale in Byron Bay, New South Wales
---

Quintessential Small Scale Hobby Farm
Located in the much sought-after Myocum area, this small-scale quintessential hobby farm is set on 6 lush acres with a small creek and a pretty, spring-fed dam. With a private driveway leading to the renowned Phil Anstey, architect-designed home, this property is a rare offering that boasts a host of attractive features.
Immaculately presented, the four-bedroom home features beautiful scenic outlooks of the surrounding picturesque country and landscaped native gardens from every room.
With high cathedral ceilings, polished timber floors and an abundance of natural light, the contemporary floor plan flows freely, leading out to the wrap-around undercover deck that is ideal for relaxing as you overlook the gardens, the landscaped open-air fire pit and plunge pool.
For more information please click here.
---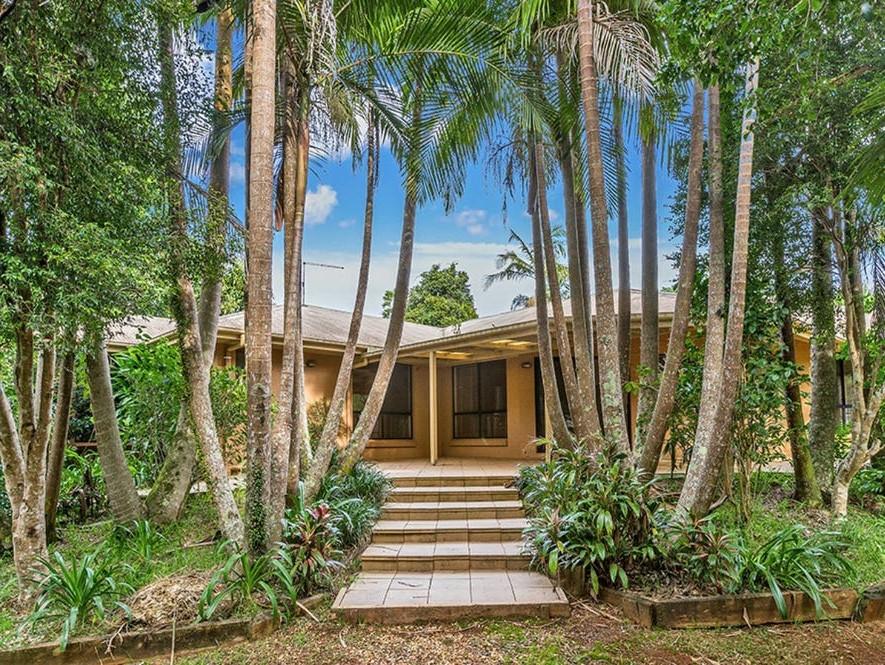 4 bedroom home for lease in Bangalow
Stylish 4 bedroom family home in Bangalow. for lease. Light filled open plan kitchen and dining areas, gas cook top and electric oven. The dining area flows out onto the back patio, great for entertaining and opening further onto the landscaped lawn area, perfect for sitting back and watching the children play. All bedrooms with ceiling fans and built in robes. The home is only a few minutes drive from Bangalow's schools, shops and restaurants and only a 15 minute drive to our magic Byron Bay beaches.
For more information click here.
---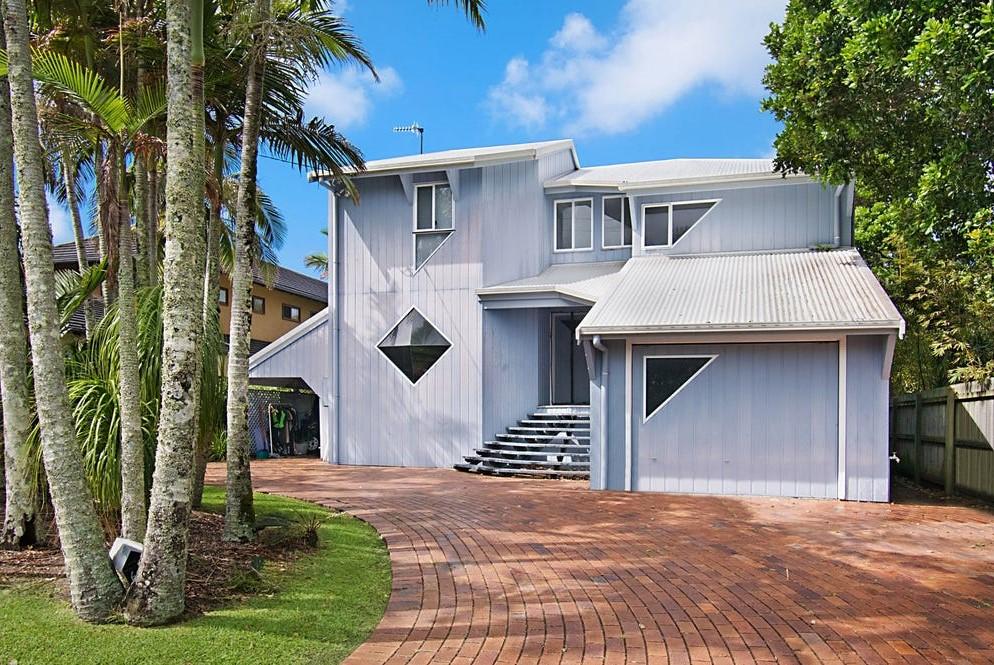 Beachfront Byron
Ultimate beachfront position on Alcorn St in sought after Suffolk Park, a suburb in the Byron Shire of the Northern Rivers region New South Wales, approximately five km south of Byron Bay.
This funky multi-level beach house, with unique architectural design on approximately 613 m2, offers the ultimate relaxed coastal lifestyle. An exclusive 20 metre beach track leads you from the back garden to the golden sands of Tallows Beach in approximately 20 seconds.
On the south side of Cape Byron, Tallows Beach curves gently to the south for 6.5km to Broken Head. This beach, when viewed from the lighthouse and Cape Byron, is one of the most photographed in the country. At the northern end of Alcorn St the beach is backed by the Byron Bay Recreation Reserve.
Three bedrooms, two bathrooms, open plan living and a connection to a huge deck with covered gazebo, ideal for alfresco entertaining or simply relaxing and enjoying the sounds of the ocean.
Live the dream with this ultimate beachfront property. Start the day with a beach walk and a swim, or a surf, then relax at home with the sound of waves as your background music.
Suffolk Park has grown to the point of having its own identity, offering Post Office, Pharmacy, Cafes, Bakery, Tavern and fantastic village atmosphere. Situated just south of Cape Byron, Suffolk Park is a ten-minute drive from Byron Bay, its eclectic culture and world renowned beaches and surfing.
For more information click here.
---
Further information
If you're interested in visiting or relocating to the Byron area, have a look at the following links: