Sunset picnic at the Vivere Retreat in South Gippsland. Image credit: Visit Victoria
Discover the South Point
Escape to the rolling green hills of South Gippsland, VIC in Victoria's south-east. You might mistake yourself for being on the set of The Sound of Music, but who can complain. Located in the stunning Gippsland region, and only a two-and-a-half-hour drive from Melbourne CBD. South Gippsland has plenty of natural wonders to discover from unspoilt beaches, rugged coastlines, alpine regions, lush rainforests and rolling plains. The renowned Wilson's Promontory National Park draws visitors from across the globe to witness its untouched beauty and enjoy bushwalking, camping and its abundant wildlife. However, the locals welcoming spirit is what truly makes South Gippsland a wonderful place to visit or even relocate to.
South Gippsland, VIC has a rich history that stretches back first to the traditional owners of the land being the Gunnai, Bun Wurrung and Wurundjeri Aboriginal people. European settlement dates back from the 1840s, but major growth was seen through the 1880s into the early 1900s, when many villages were established, spurred by coal mining and the construction of railway lines. Significant development occurred during the interwar period and the post-war years, aided by soldier settlement. Today you will find steady population growth with a current population of 30,248 people.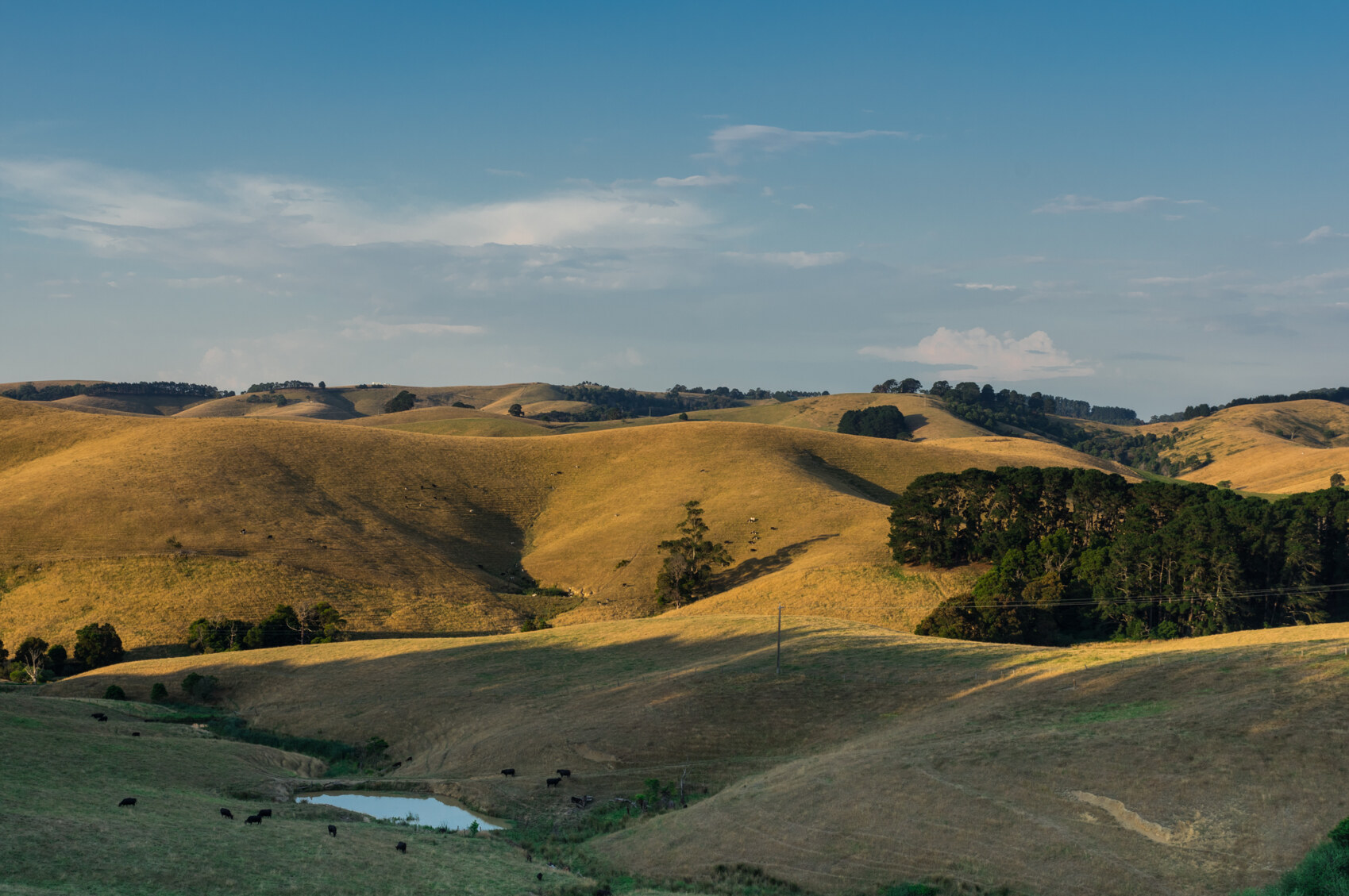 Green rolling hills of South Gippsland in Victoria, Australia. Image credit: Nilsversemann
Industry and Agriculture in South Gippsland, VIC
Prosperity and opportunity are at your doorstep in South Gippsland, with the region having one of the lowest unemployment rates in Victoria. Agriculture, tourism, manufacturing and associated businesses are key industries in the area. A significant proportion of the rural area is used for timber production and agriculture, with dairy, beef and snow pea farming being the main agricultural pursuits. South Gippsland is also regarded as one of the most important dairy production areas in Australia. There is also some fishing and viticulture. Rich soils, a temperate climate and reliable seasonal rainfall have made South Gippsland one of the premier regions in the state for a range of agribusiness pursuits. The region is renowned for its "clean, green" farming operations, known for being innovative and forward-thinking when it comes to farming. Tourism is an important industry, especially in the coastal areas, due to the regions phenomenal natural wonders and iconic Wilsons Promontory National Park.
Culture and Activities in South Gippsland, VIC
Of course, Wilsons Promontory National Park is a must see! Situated on the southernmost tip of mainland Australia, stand on the edge and look out over the endless clear water and know Antarctica is just beyond. Walk remote coastal bushland trails and swim at pristine beaches dominated by granite tors. Camp under the velvety night sky at Tidal River or hike to a more secluded campsite. Keep an eye out for the local wildlife, as there are plenty of friends to be made!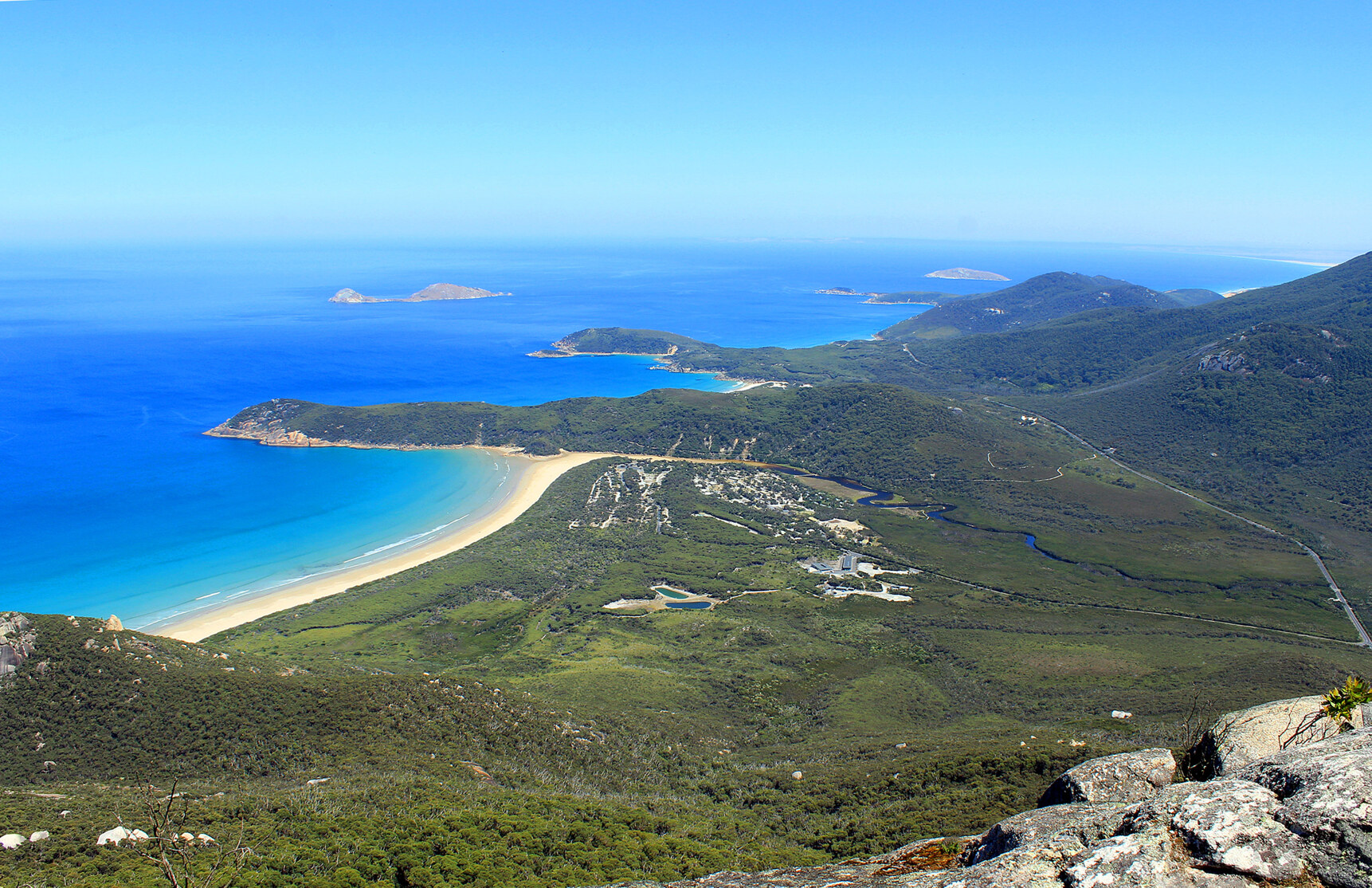 Amazing views from Mount Oberon of Wilson Promontory in South Gippsland. Image credit: Juliakuleshova78
Visit the iconic Long Jetty in Port Welshpool, with its sweeping views of the gorgeous coastline, a favourite fishing spot for locals and visitors. The impressive 850-metre-long jetty has a rich history dating back to the 1930s when it was constructed as the main port for Gippsland, once used as a base for industrial vessels. Today you can find an onsite, open-air museum that describes the diverse history of the Jetty.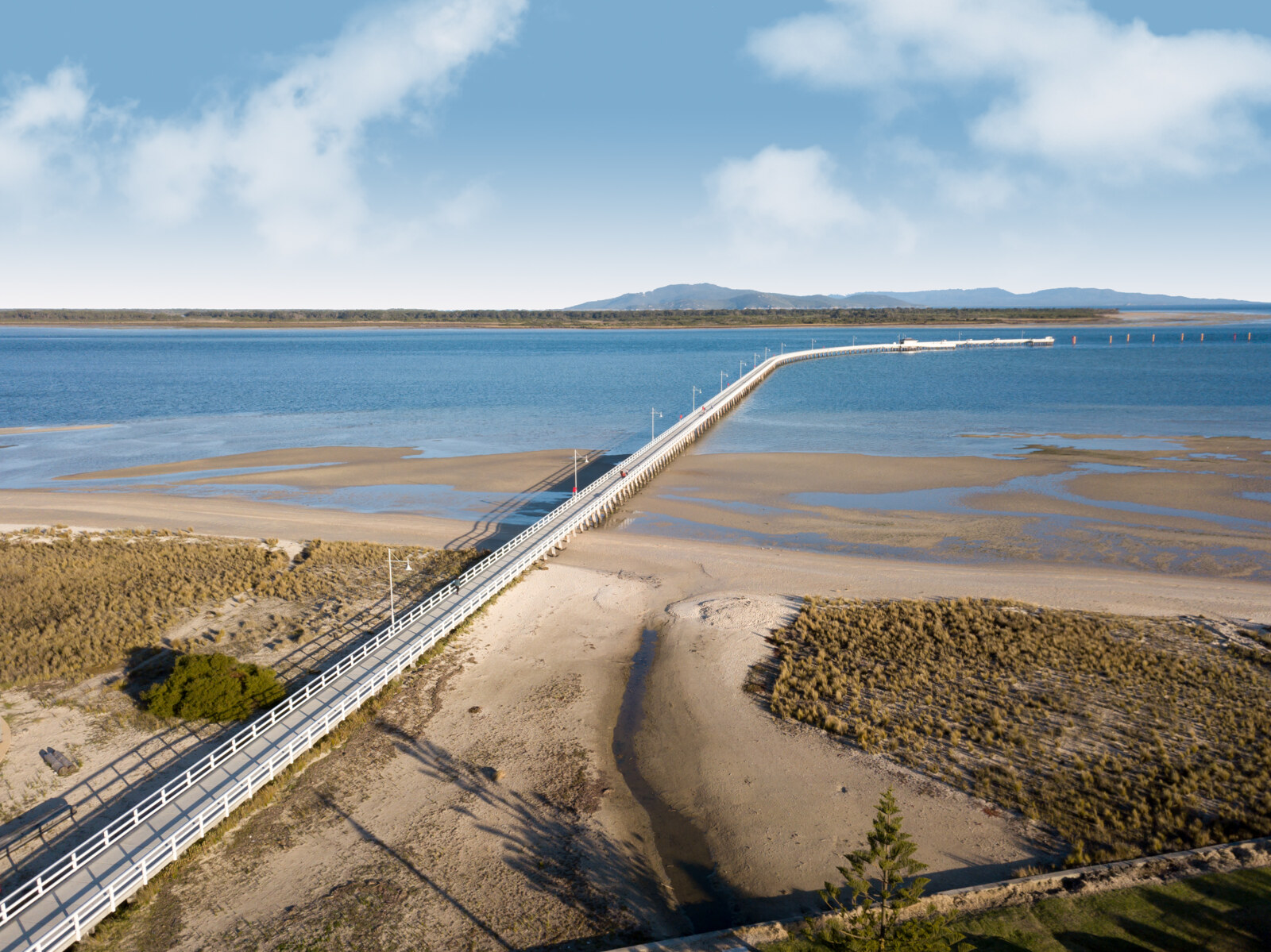 Aerial view of the Port Welshpool Jetty in South Gippsland, Victoria Australia. Image credit: Kym McLeod
Step back in time at Coal Creek, a quaint town on the skirts of Korrumburra in South Gippsland, VIC recreated to mimic life in the 1800s. Stroll down streets with original, heritage buildings and machinery on display for all to see. Coal Creek Heritage Park has many themed days throughout the year which are extremely fun and great for families to enjoy! Ride the bush tramway, dine in the cafe, take a picnic or simply enjoy the natural bush surroundings. Talk to the volunteers to gain a better understanding of the town's heritage and be amazed by their craftsmanship and skills.
Immerse yourself in the canopy of a lush rainforest on Corrigan's Suspension Bridge located in Tarra Bulga National Park. Corrigan's Suspension bridge is a 1.25 km walk from the car park at Tarra Bulga Visitors centre. Get spectacular views of the valley below and the decadent vegetation that surrounds it. Spend the day at the park with access to BBQ facilities, bush walks, and amazing picnic locations. A visit to Corrigan's bridge is a must when visiting South Gippsland.
Enjoy days at the ocean where you can frolic at 90 Mile Beach, with its beautiful clear water and soft golden sand. The beach runs from Port Albert in South Gippsland, VIC to Lakes Entrance in East Gippsland. The beach is a popular destination for summer visitors and has different allocated spots for fishing, camping, and safe swimming. Come and enjoy this stunning beach year-round, whether that's swimming in the warm waters during summer or taking in the beauty of the unspoilt surroundings on crisp, wintery days.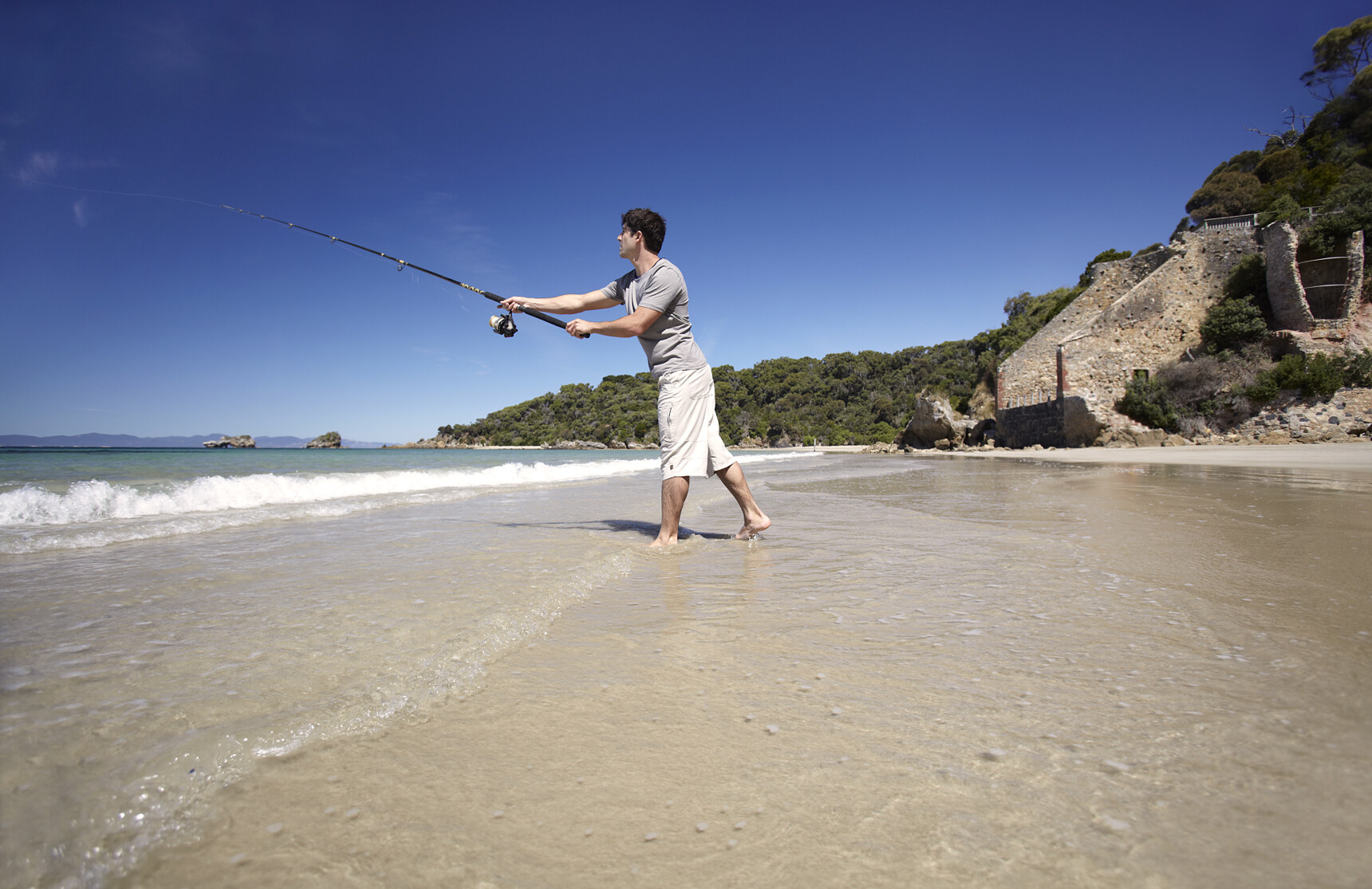 Summer days fishing at 90 Mile Beach, in South Gippsland. Image credit: Visit Victoria
South Gippsland, VIC also offers a diverse range of biking trails for all levels. The Great Southern Rail Trail and Tarra Trail are picturesque, scenic trails which are extremely popular amongst bike riding enthusiasts. Take the full 74 km journey or choose shorter segments for a more leisurely outing. Stop and explore the towns linked along the trail with their unique stories and experiences as well as terrific coffee, shopping and dining. Embrace the panoramic views of the regions natural wonders whilst you ride smooth gravel trail surfaces.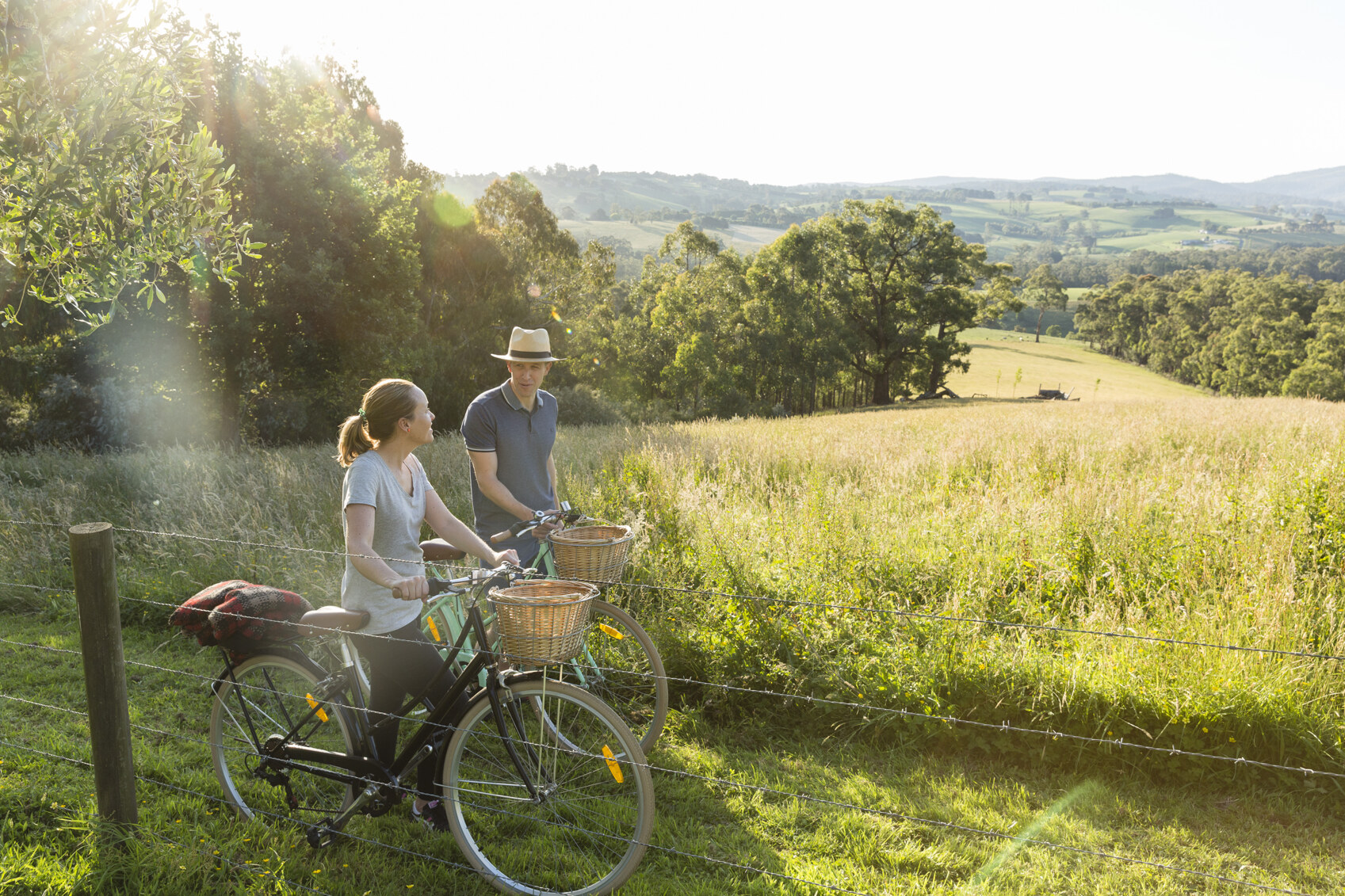 Easy bike rides at Vivere Retreat, in South Gippsland. Image credit: Visit Victoria
Local Amenities in South Gippsland, VIC
South Gippsland strives for quality education and having a variety of options to suit your child's needs. With public and private daycare centres, Catholic and independent primary schools, secondary colleges, your child is guaranteed a quality education without having to travel far from home. Tertiary education is also available in the area, with a TAFE campus at Leongatha.
Residents benefit from the high-quality medical infrastructure in South Gippsland. Mental and physical health are very well catered for at one of the numerous healthcare clinics. From psychology to maternal health care, South Gippsland offers general and specialist services with the South Gippsland Hospital being the main medical facility in the area.
Families on Norman Bay beach on Wilsons Promontory National Park in Gippsland, Australia. Image credit: Nilsversemann
---
Further Information
If you're interested in visiting or relocating to the South Gippsland region find more information on the South Gippsland council website, or contact them at council@southgippsland.vic.gov.au or (03) 5662 9200.
---
Real Estate for Sale in South Gippsland, VIC
Discover your new haven in the beautiful South Gippsland, Vic. Find Real Estate for Sale below.
---