Temora New South Wales – The Friendly Shire
The Shire of Temora New South Wales has origins steeped in farming and gold. While the goldfields may no longer be active, the Shire remains in the heart of the grain growing area of southern New South Wales.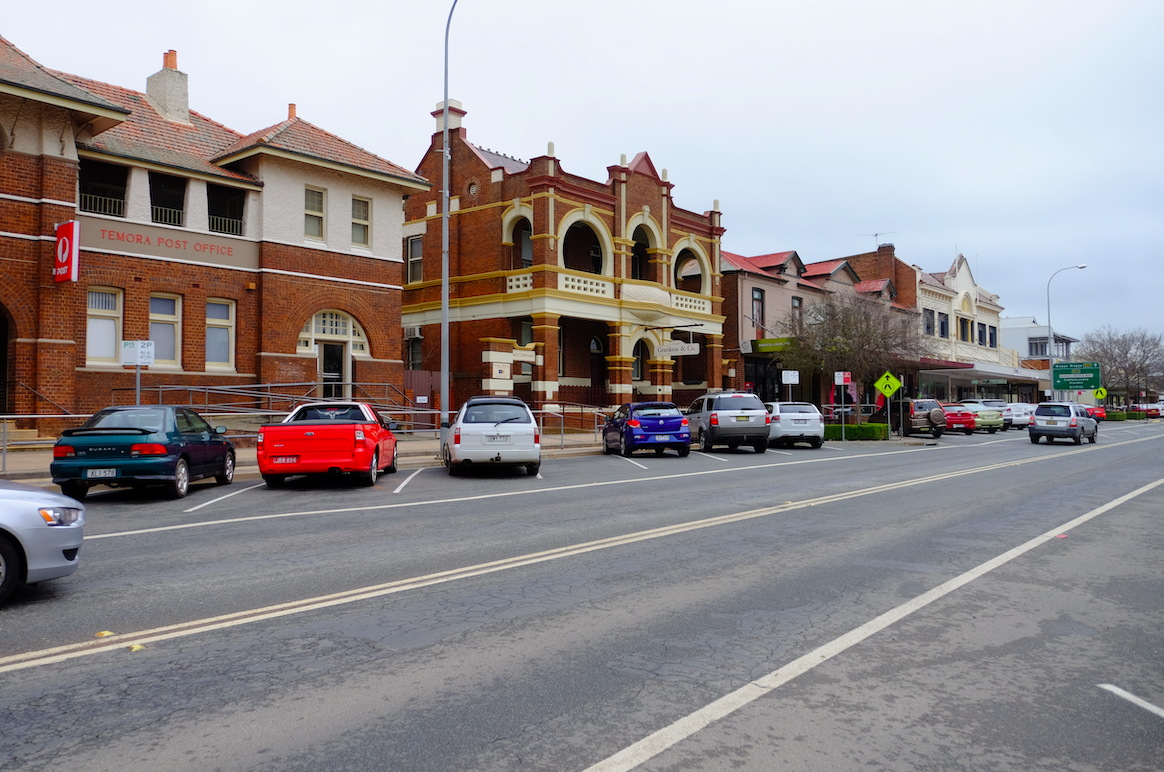 The main street of Temora New South Wales
Temora New South Wales is located in the centre of the Riverina region of the state, which is an important grain producing region of over 5 million hectares. The Riverina delivers 2.5 million tonnes of grain (cereals, pulses and oilseeds) and is valued at over $792 billion annually.
According to the 2016 census, the population of Temora New South Wales is 6,236. The region showed a population increase at an average rate of 0.9% from the previous census in 2011. Based on these figures, projected population growth suggests that by 2036, Temora's population should reach almost 6,800.
Services such as electricity, gas, water and waste as well as construction, transport and healthcare contribute significantly to the estimated output generated by Temora New South Wales' economy of $672.058 million. The agriculture, healthcare, education and retail sectors are the highest ranked employment industries in the region.
Agriculture in Temora New South Wales
Temora New South Wales punches well above its weight within the agricultural industry.
Wheat, canola, barley, oats and other cereal crops, as well as fat lambs and wool, dominate the agriculture production in the area, with a contribution of around $158 million in output in 2016. Services such as machinery dealerships, wool brokers, sheepologists, grain handling companies, agriculture suppliers and the Temora Agricultural Innovation Centre (TAIC) mean producers in the area are supported from sowing to harvest and in between.
TAIC sits on over 30ha on site on the edge of Temora that is managed as a combined research and commercial mixed farm by FarmLink Research on behalf of Temora Shire Council. The centre provides dryland and irrigated plots for field trials as well as office and laboratories for a range of leading Australian and international organisations. Farmlink is Australia's premier farming systems group, with over 400 members across southern NSW.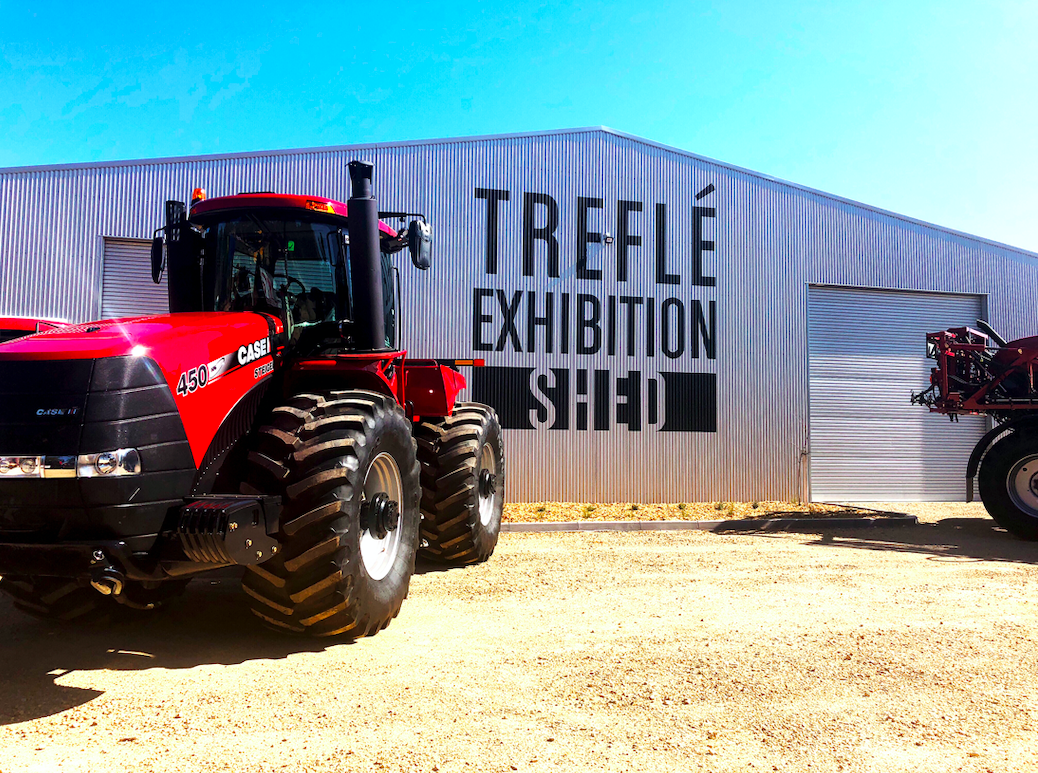 Tractors outside the Trefflé Exhibition Shed in Temora New South Wales
Nearby, developments such as the Inland Rail project mean more opportunities will arise for local farmers and agronomists, and proximity to the Boman Special Activation Precinct keeps costs down and industry booming.
The soil and rainfall conditions are typical of the major cereal and canola production areas of southern NSW, making Temora ideal for field crop, pasture and livestock research, development and extension. Annually the rainfall average is 525 mm and the soil is predominantly of an acidic red duplex profile.
Local culture and activities
Temora Shire is well known for aviation activities, which bring in a large percentage of tourism dollars. The Temora Aviation Museum is home to the largest collection of wartime aircraft in the Southern Hemisphere, and their regular showcase events bring hordes of visitors to the region several times a year.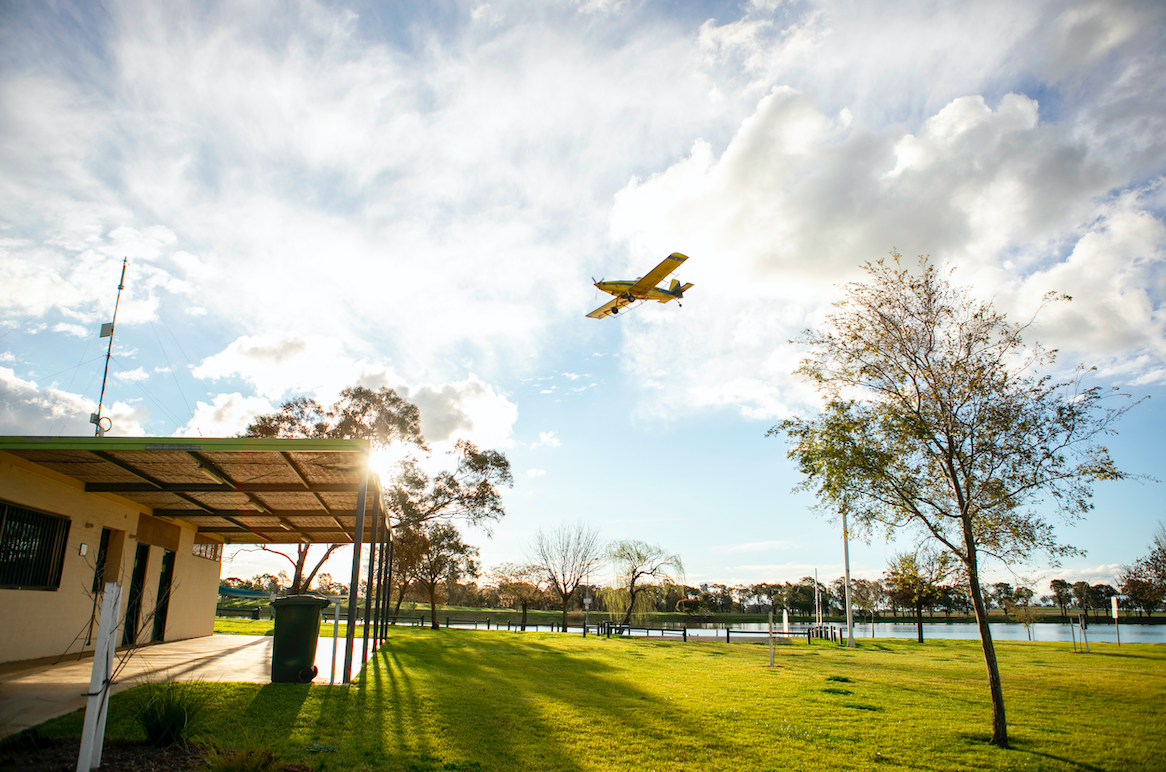 A prop plane making its way over Temora
Biennially, Warbirds Downunder sees the temporary population of Temora increase by up to 25,000 people over one weekend as spectators travel from all corners of the globe to participate in the event.
Temora New South Wales has a thriving arts community with workshops and exhibitions held frequently throughout the year, and a number of community groups and organisations that cater for a wide variety of interests and needs. The Bundawarrah Cultural Centre is home to the Temora Rural Museum, the Ambulance Museum, Temora's community radio station, men's shed and an art gallery with ever-changing exhibitions.
A newly renovated Town Hall, a cinema, an outdoor amphitheatre and numerous heritage buildings provide excellent venues for regular musical and theatrical performances.
Temora is known as "the friendly shire" and it will not take long for you to see why. Community spirit abounds, with many local organisations running on volunteer power. For instance, the Temora Town Hall Theatre is an 82 seat cinema with all the modern facilities showing new releases, classic films and special events all year round -- and it is run almost entirely on volunteer muscle.
Temora New South Wales' local amenities
The Temora Shire boasts several childcare centres, pre-schools, family day care, and OOSH as well as two primary schools, one high school, a Catholic central school (K-10) and a public central school (K-12). Local youth are supported through a range of weekly workshops, holiday programs and special events - all free to those aged 10 – 25. Seniors are well cared for through support services, nursing homes and assisted living programs.
The business and retail sectors in Temora New South Wales are solid and prosperous, providing a range of legal and accounting services as well as three major banks and a credit union. With two supermarkets and a range of retail stores, boutiques, personal care services and tradespeople, the town provides the essentials, whilst nearby Wagga Wagga has all the services of a regional centre.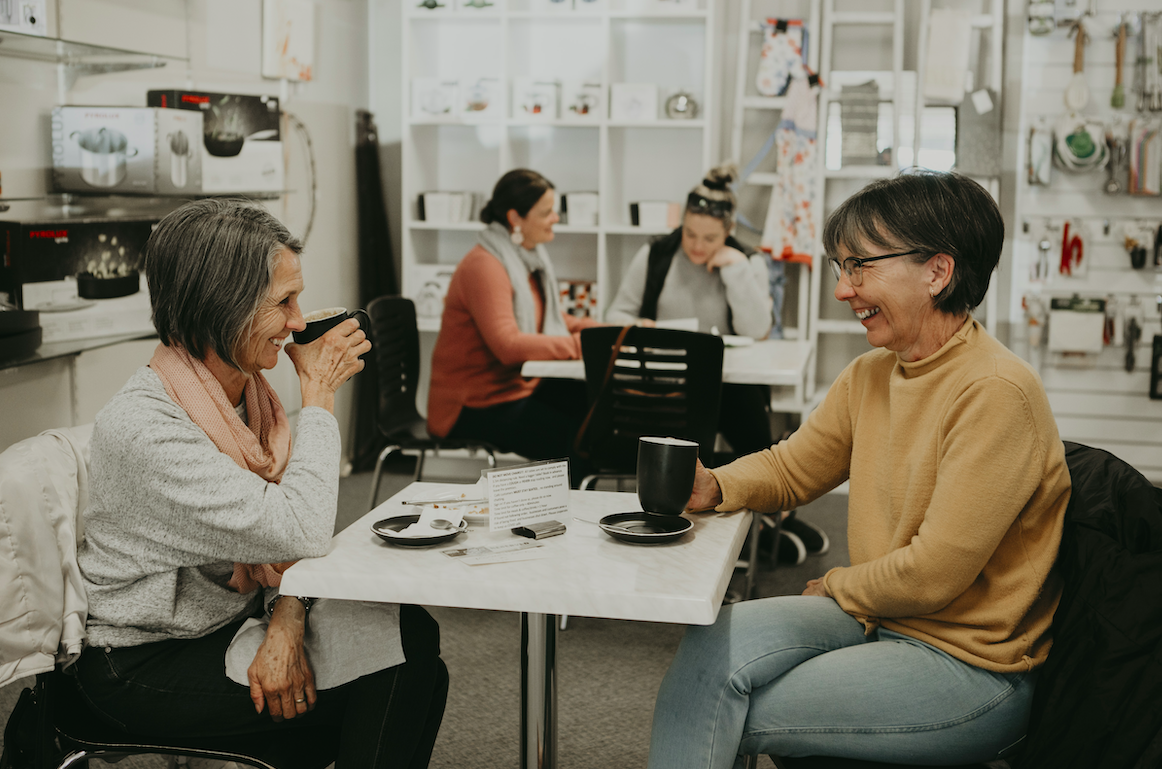 Locals enjoy a cup of coffee at one of the many cafés in Temora New South Wales
If you're looking for a small community with a big heart, you cannot go past Temora New South Wales. With a welcoming community, fertile land and plenty of recreational activities to keep you entertained, the Temora Shire really delivers.
For further information:
If you want to know more about living in Temora New South Wales, visit www.temora.nsw.gov.au or contact the Shire Council at temshire@temora.nsw.gov.au or by phone at 6980 1100.
Author: Kate Slapp is the Communications Officer at Temora Shire Council, and a Temora resident of nearly 20 years.