Zenith Beach in Port Stephens. Image credit: Destination NSW
The 10 Best Beaches Regional in New South Wales
There's no doubt that New South Wales is a beach lovers paradise; the near 2000km of Pacific Ocean coastline is absolutely littered with them. There's hardly a stretch from Eden in the South to Tweed Heads in the North that isn't blanketed by golden ribbons of sand, lapped at by the Tasman Sea swells, and filled with smiling faces splashing in the summer sun. The ocean way of living is the only way for the scores of seaside dwellers in our most populous state. It is more than just recreation for many, but a spiritual and personal connection to the land and the sea; a way to feel at home in nature. What nature would you rather feel at home in than the stunning beaches of New South Wales. People travel from every corner of the globe to stake a shady spot on the sandy shores of the Waratah state, and while Sydney's hectic metro beaches like Bondi and Manly often attract the most attention, most of the state's best places to dip into the ocean are found out in the regions. There truly aren't many better places to explore the coastline, so here at GoRegional we've decided to round up our top picks for the 10 best beaches to check out in regions New South Wales.
Murray's Beach
On the Southern head of Jervis Bay, one of New South Wales' most beloved coastal regions, Murray's Beach is a genuine gem. The white cove is found where the Governor Head reaches out from the Southern tip of the bay, up towards the starkly struck Bowen Island. In the narrow stretch between them, a reef has formed, leaving the waters to the West shallow and protected from the raucous swells of the Pacific Ocean. From Murray's Beach, you can paddle out into this spectacular equilibrium of clear waters, teeming with life and peacefully sheltered, yet nestled in a truly dramatic and wild location. The channel is an outstanding location for snorkelling amongst the sea wildlife of Jervis Bay, or just laying back on an inflatible and letting the sunshine wash over you. The keen adventure will find secluded sea caves buried amongst the windswept rocks of the headland. All in all, swimming here is an unforgettable experience in one of Jervis Bay's most beautiful and remote locations.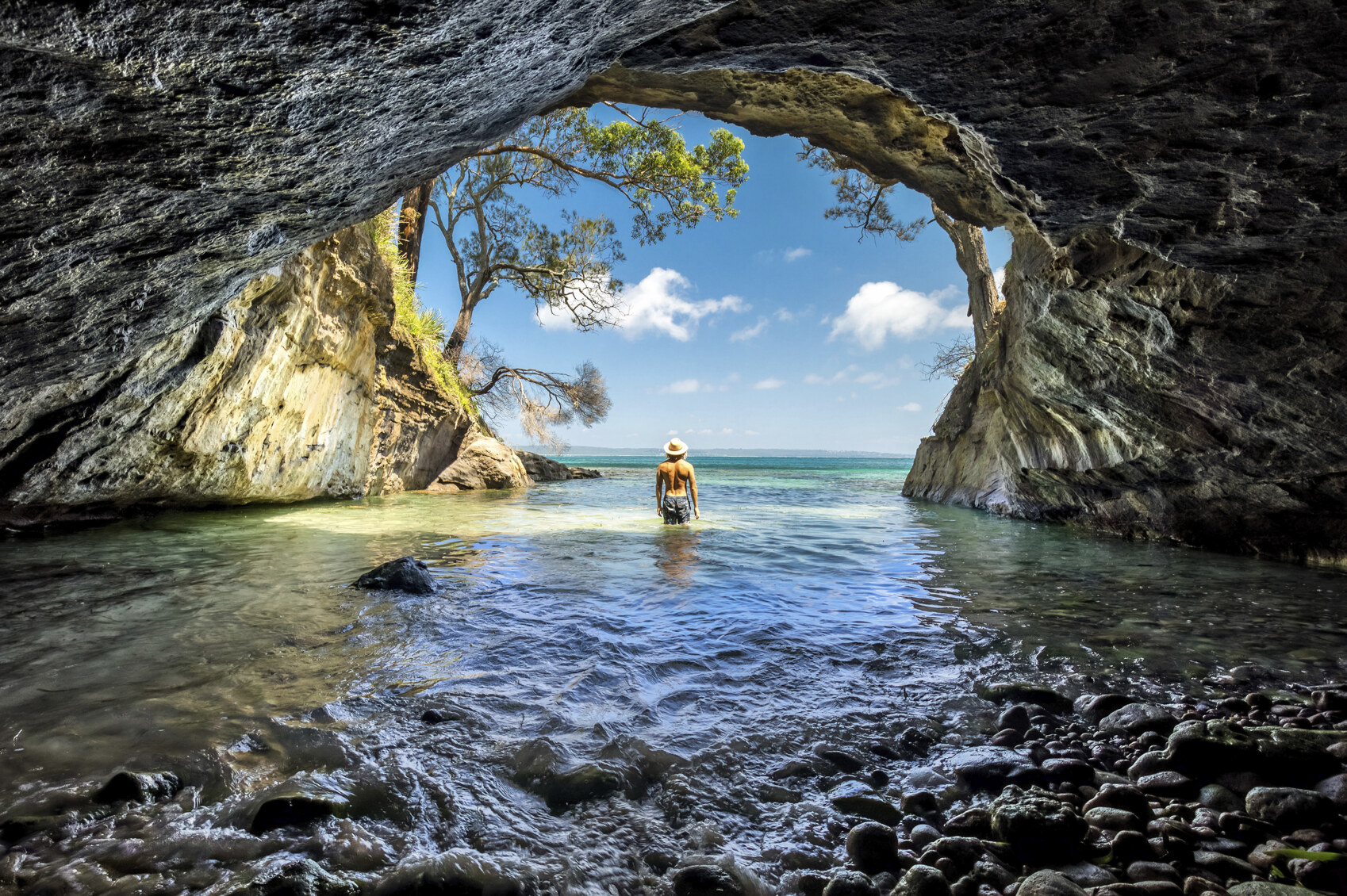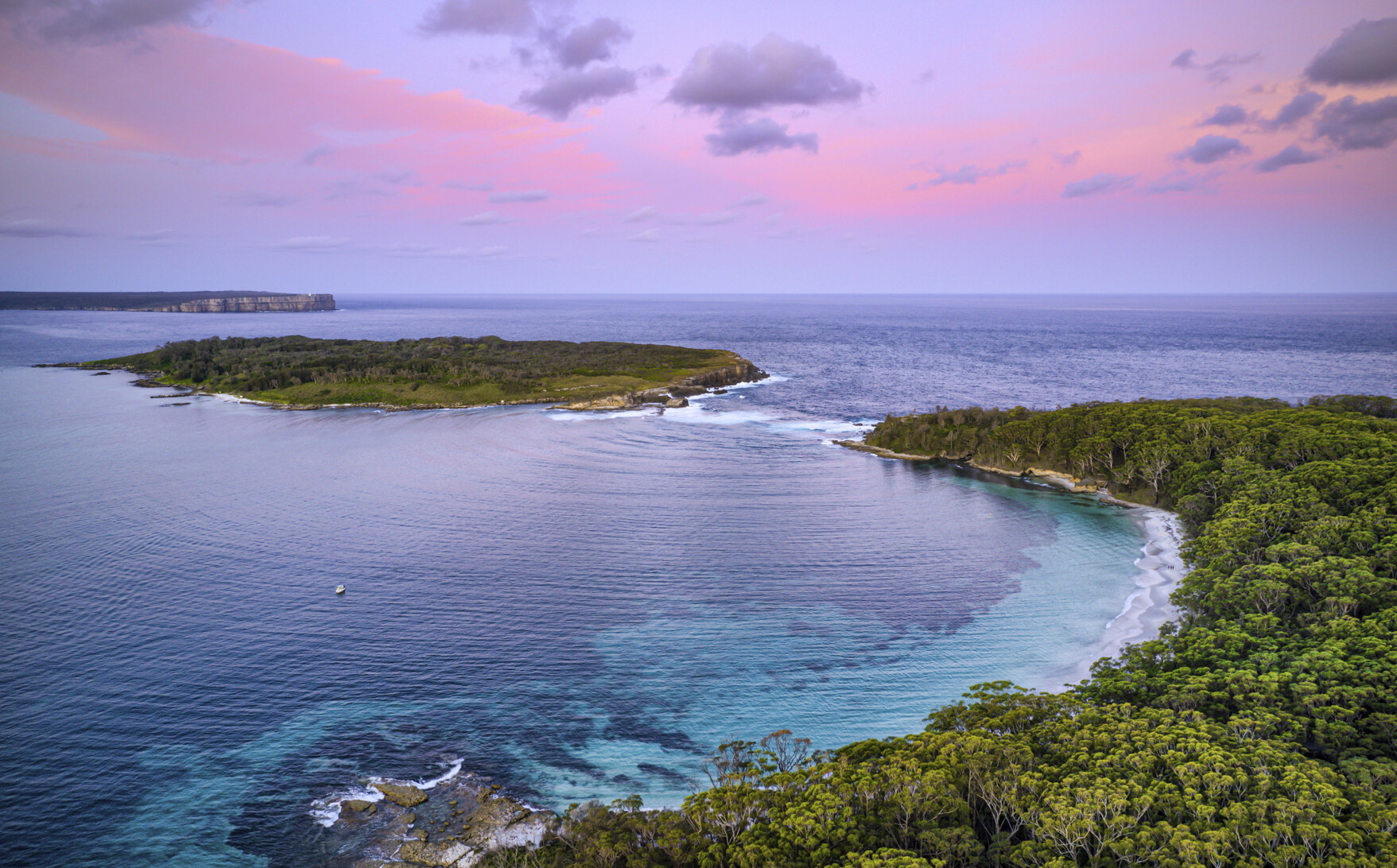 Murray's Beach (right) and a nearby sea cave (left). Image credit: Jordan Robins & Filippo Rivetti
Wategos Beach
Wategos Beach is the star of the show in Byron Bay, arguably New South Wales' most famous coastal town. In the place that defines and embodies bohemian culture and beach bum living for most Australians, it stands above the rest as the ultimate place to be on a sunny day, and one of New South Wales' very best beaches. Located on the North facing side of Cape Byron, what this captivating little cove lacks in size, it makes up for in natural beauty, quality surf and swimming, and the vibrant cultural scene surrounding it. Not only that, but Wategos Beach comes second place among the Easternmost beaches in mainland Australia; defeated only by its brother, Little Wategos Beach, just over the rocks. It's easy to get swept up in the scene and the feeling that Byron Bay gives people. People travel from all over the world to soak up the vibe and enjoy the waters here at Wategos Beach, and there's simply no better spot in regional New South Wales to swim and sunbathe in the day, and party through the night.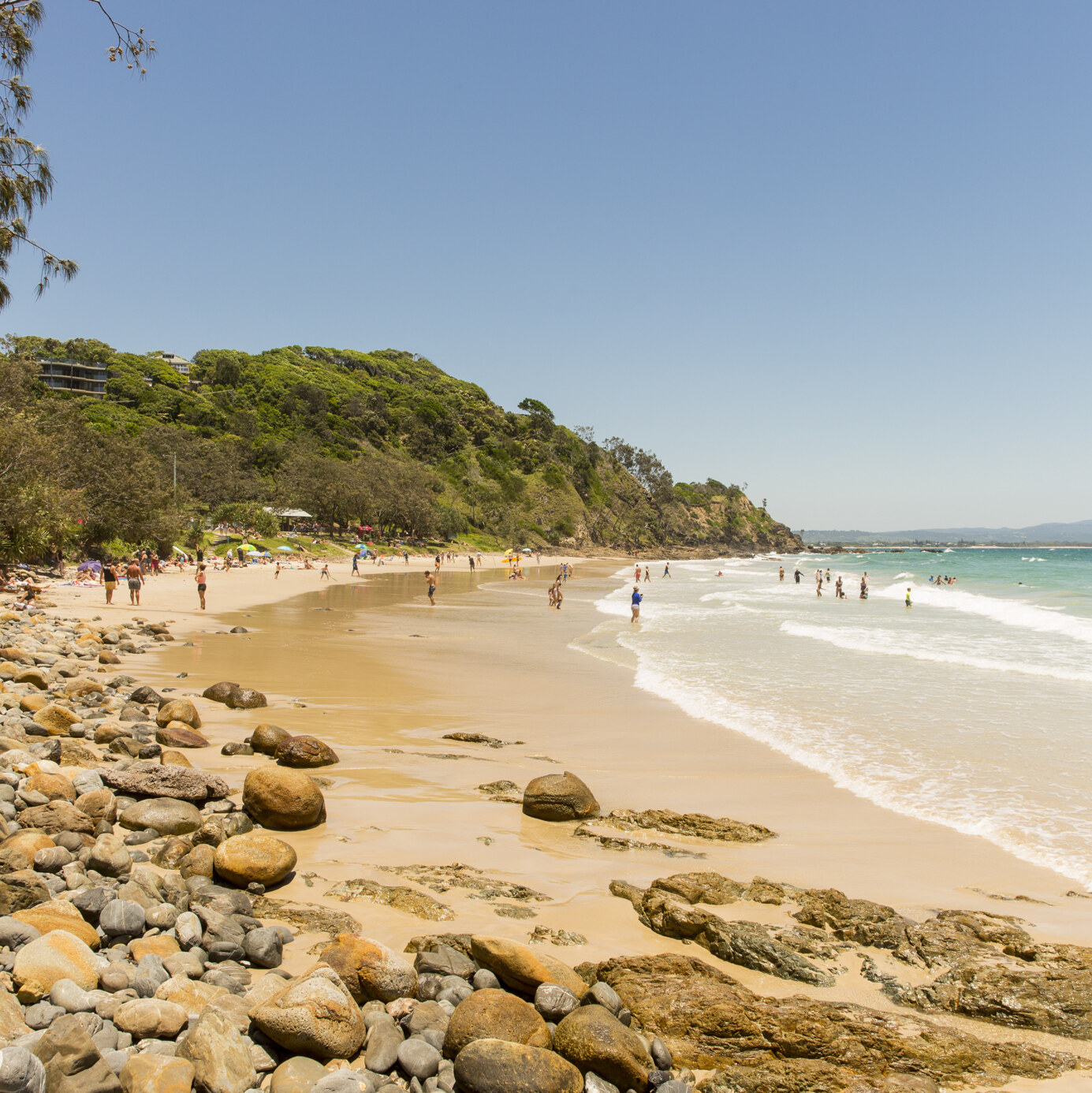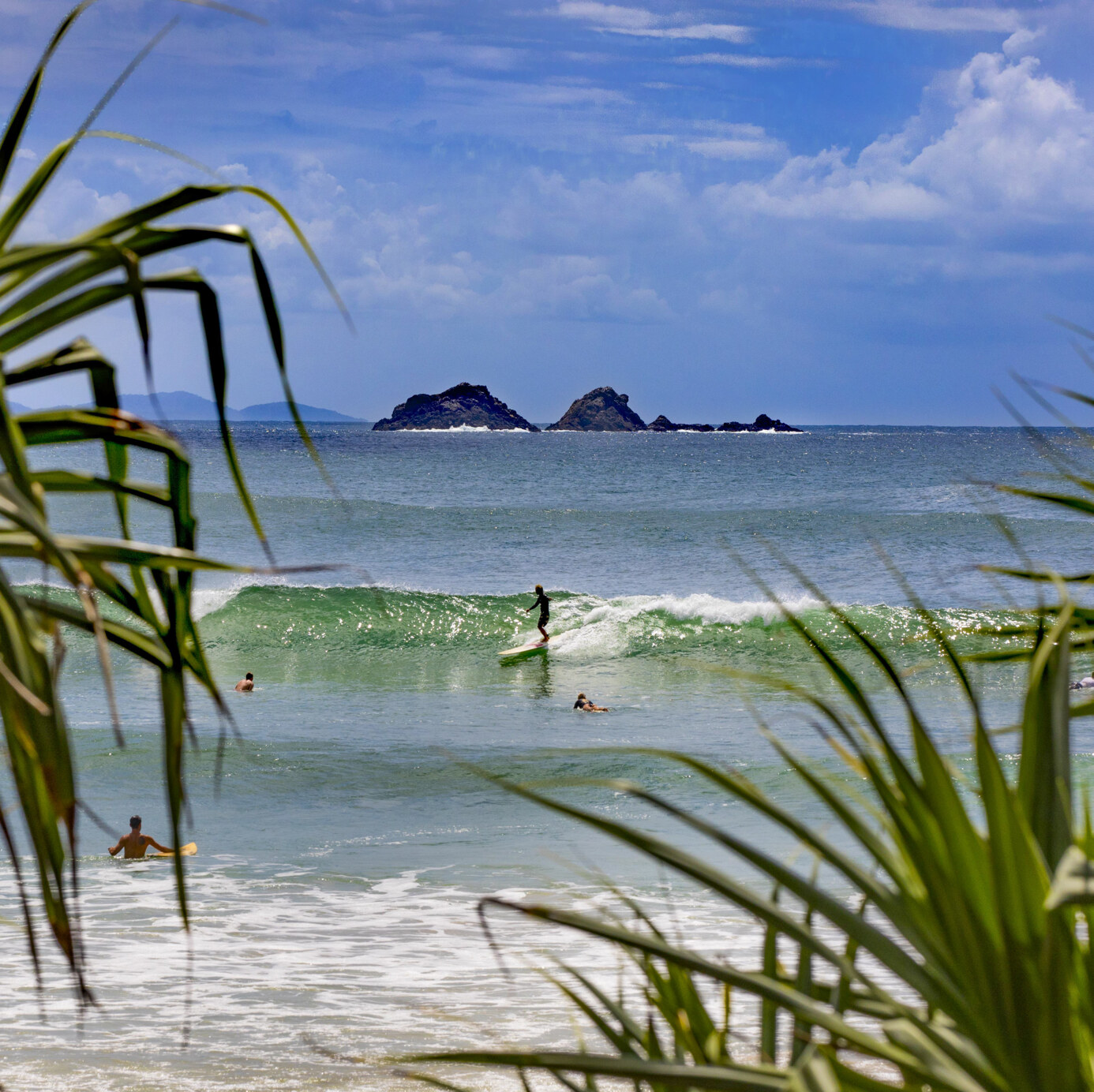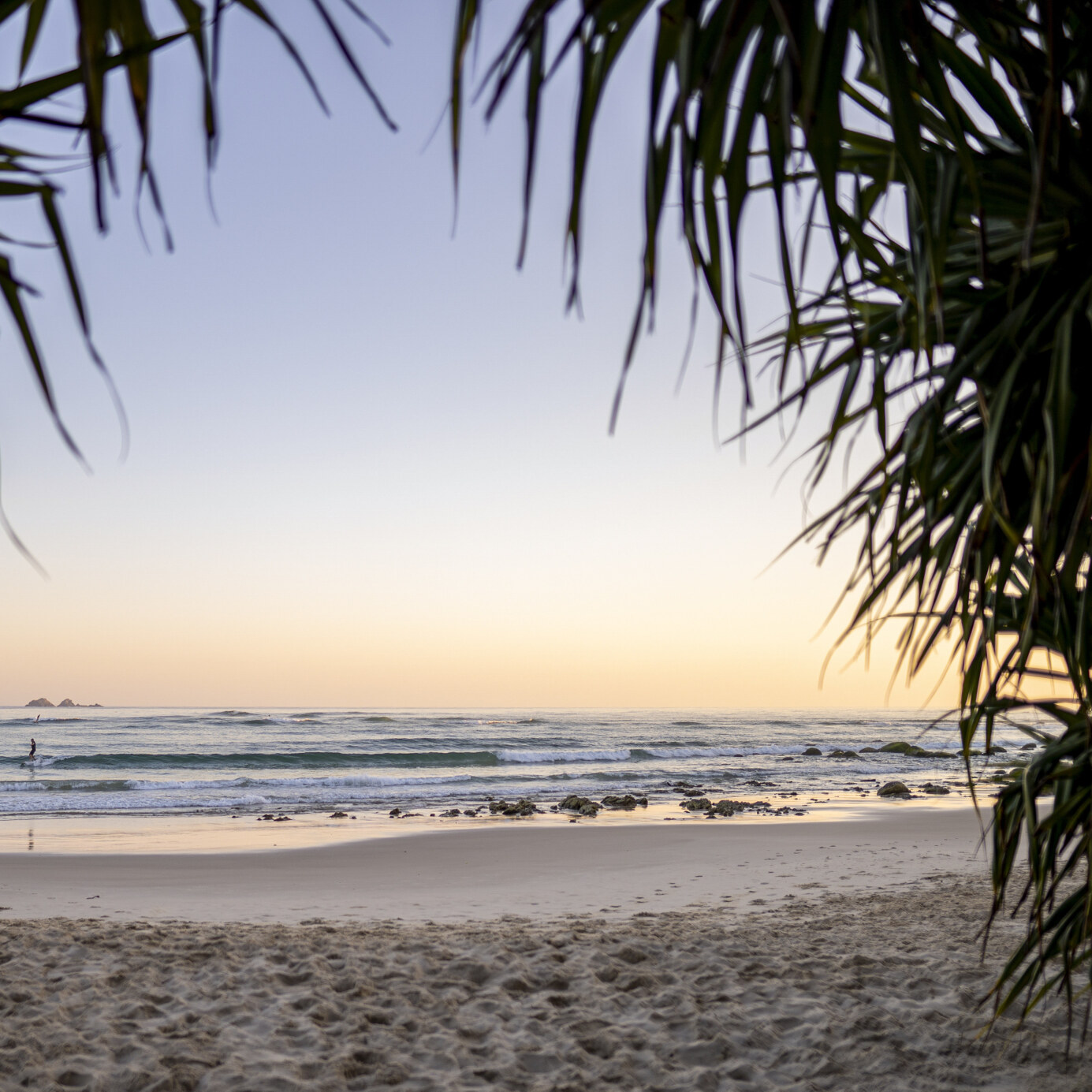 Catching sun and surf at Wategos Beach. Image credit: Destination NSW
Birubi Beach
Welcome to New South Wales answer to Cable Beach. Birubi Beach is a vast extent that runs all the way from Anna Bay in Port Stephens to the Northern suburbs of Newcastle 34 kilometres to the South, and at it's widest the dunes stretch an extroadinary 2 kilometres back into the hinterland. This sprawling sandy wilderness is a treat to explore, whether on foot, in a 4 wheel drive, or most popular of all, via camel trekking. A variety of local companies, including Oakfield Ranch, offer guided group tours on camelback, and it's an experience worth visiting for. Once you're saddled in and those hoofs are trudging through the vast expanse of undulating sand and brush, you'd be forgiven for thinking for a moment you'd stumbled onto the desert shores of Namibia or Arabia. It's not just the sand that's worth seeing here either, as the water here is fully exposed to the Pacific Ocean swells and makes for fantastic surfing and swimming all along Birubi Beach's endless shores. With nary a crowd in sight even in busy season, it's undoubtedly one of regional New South Wales' best beaches.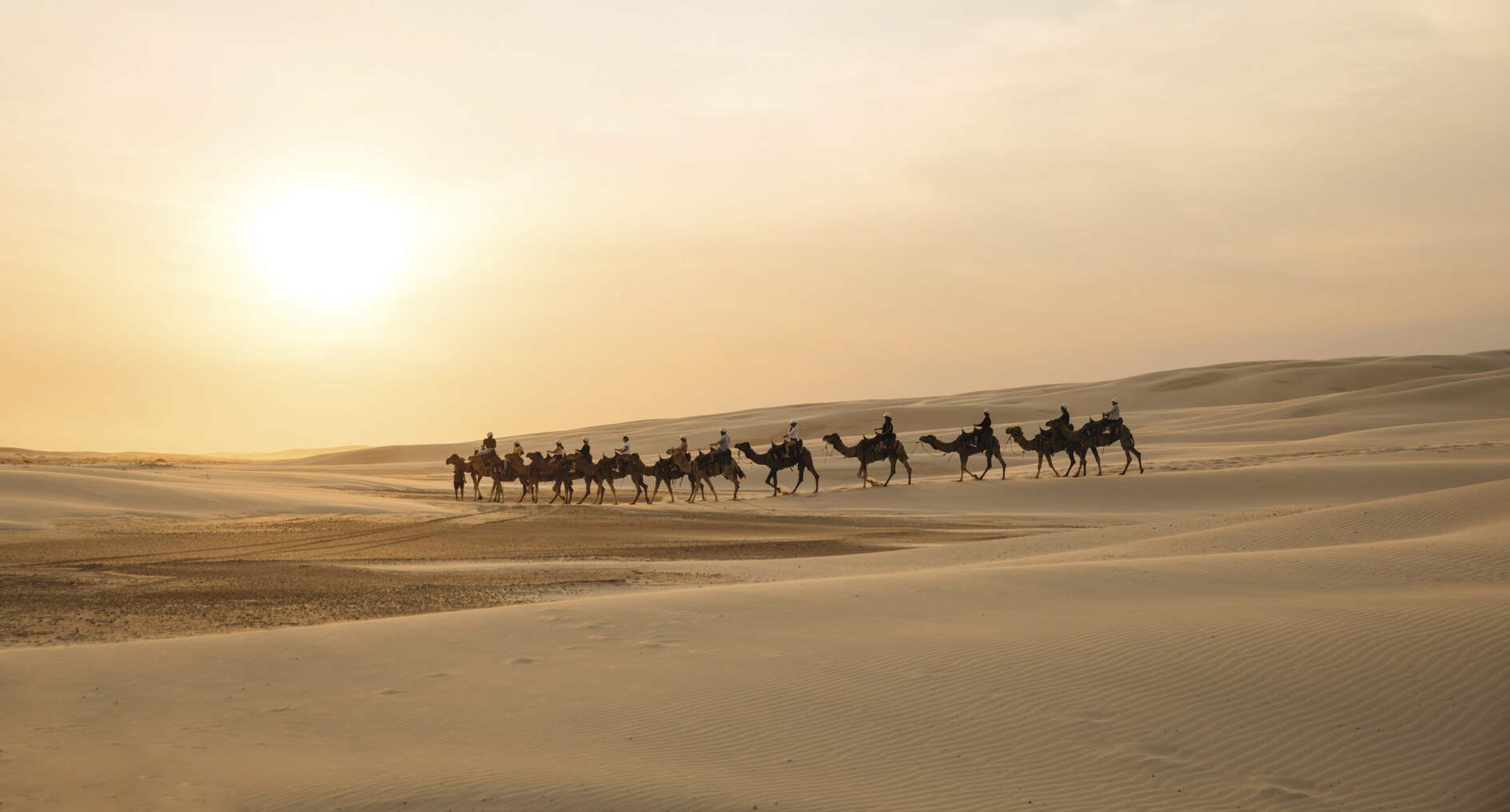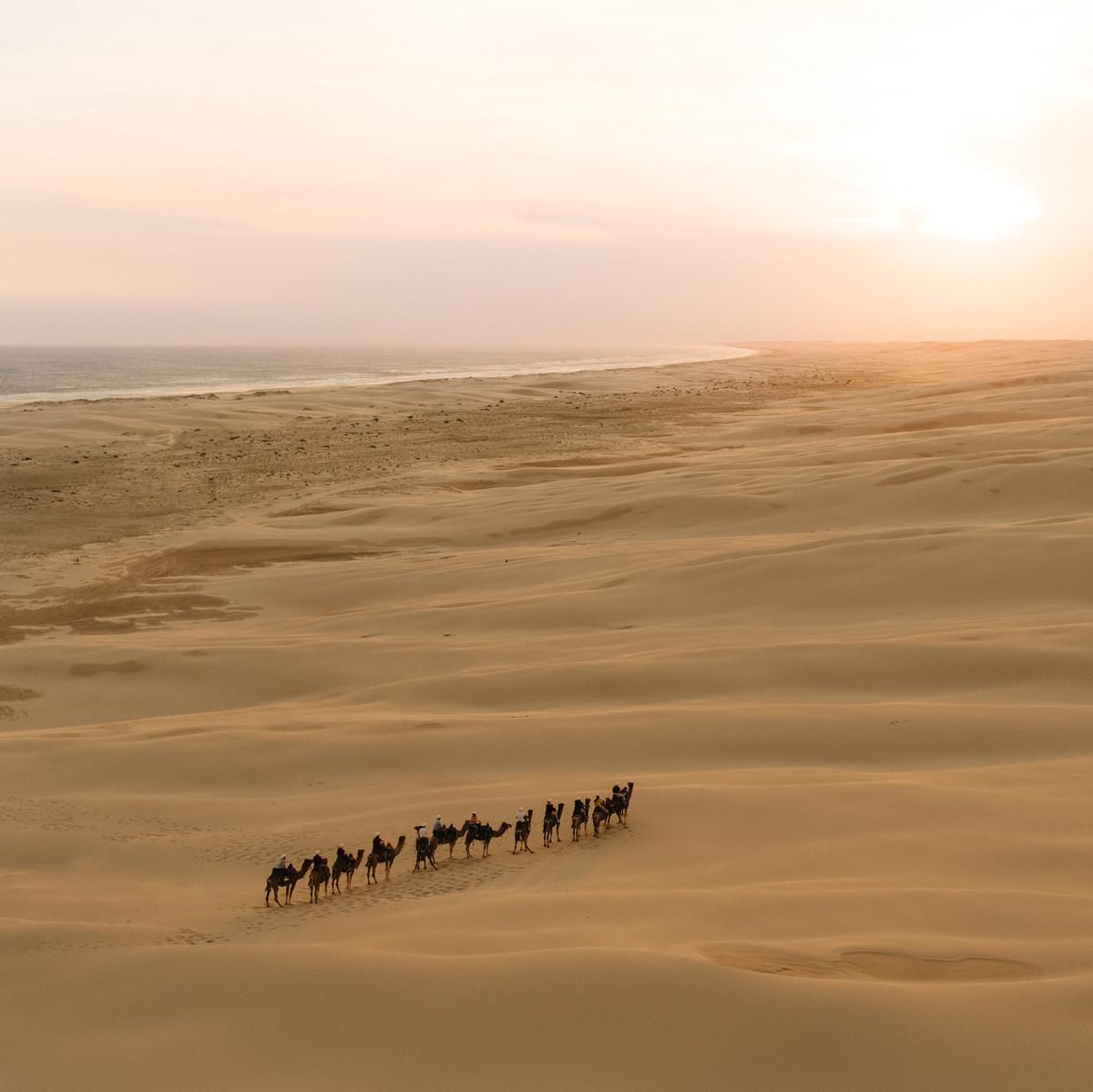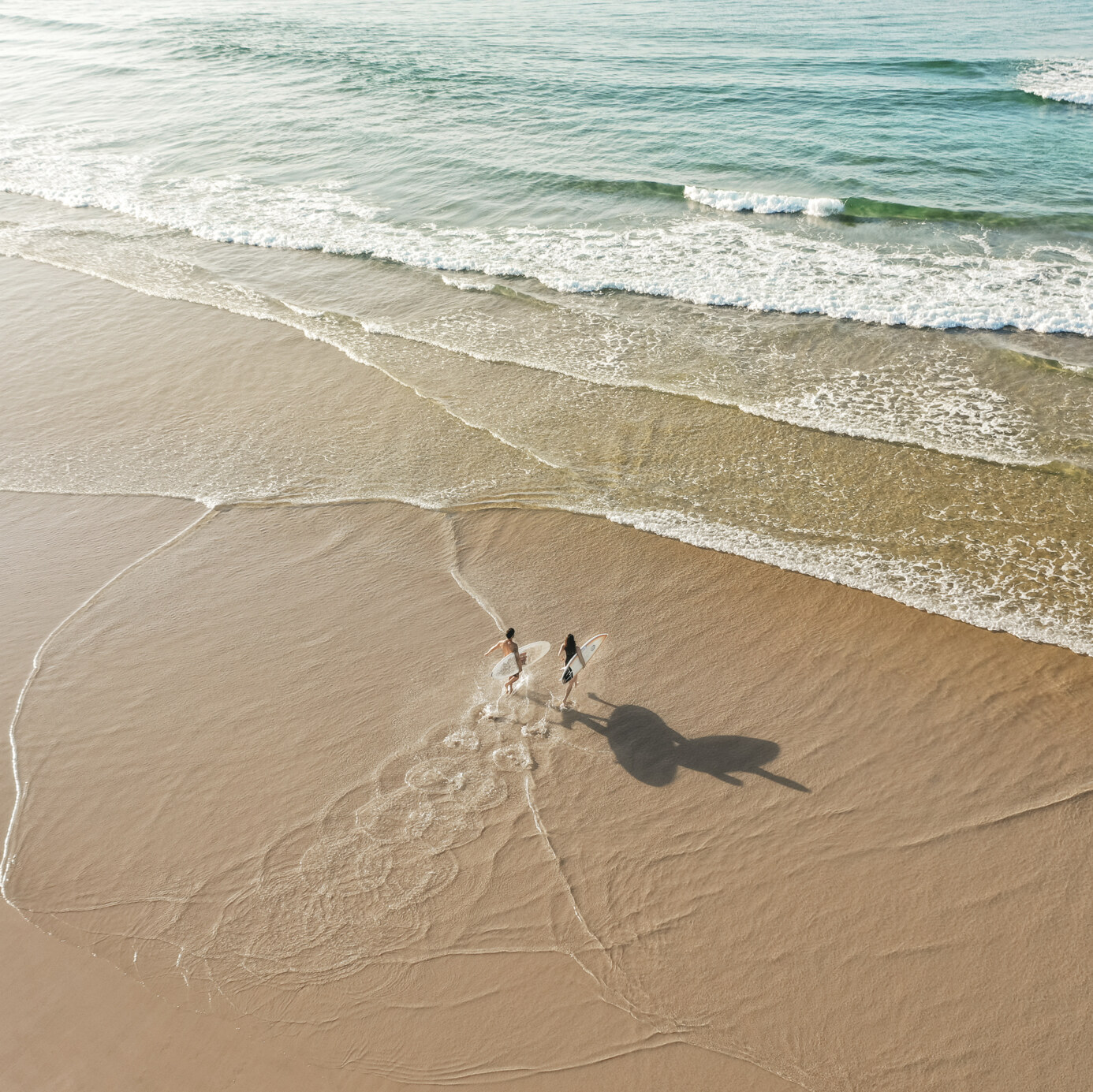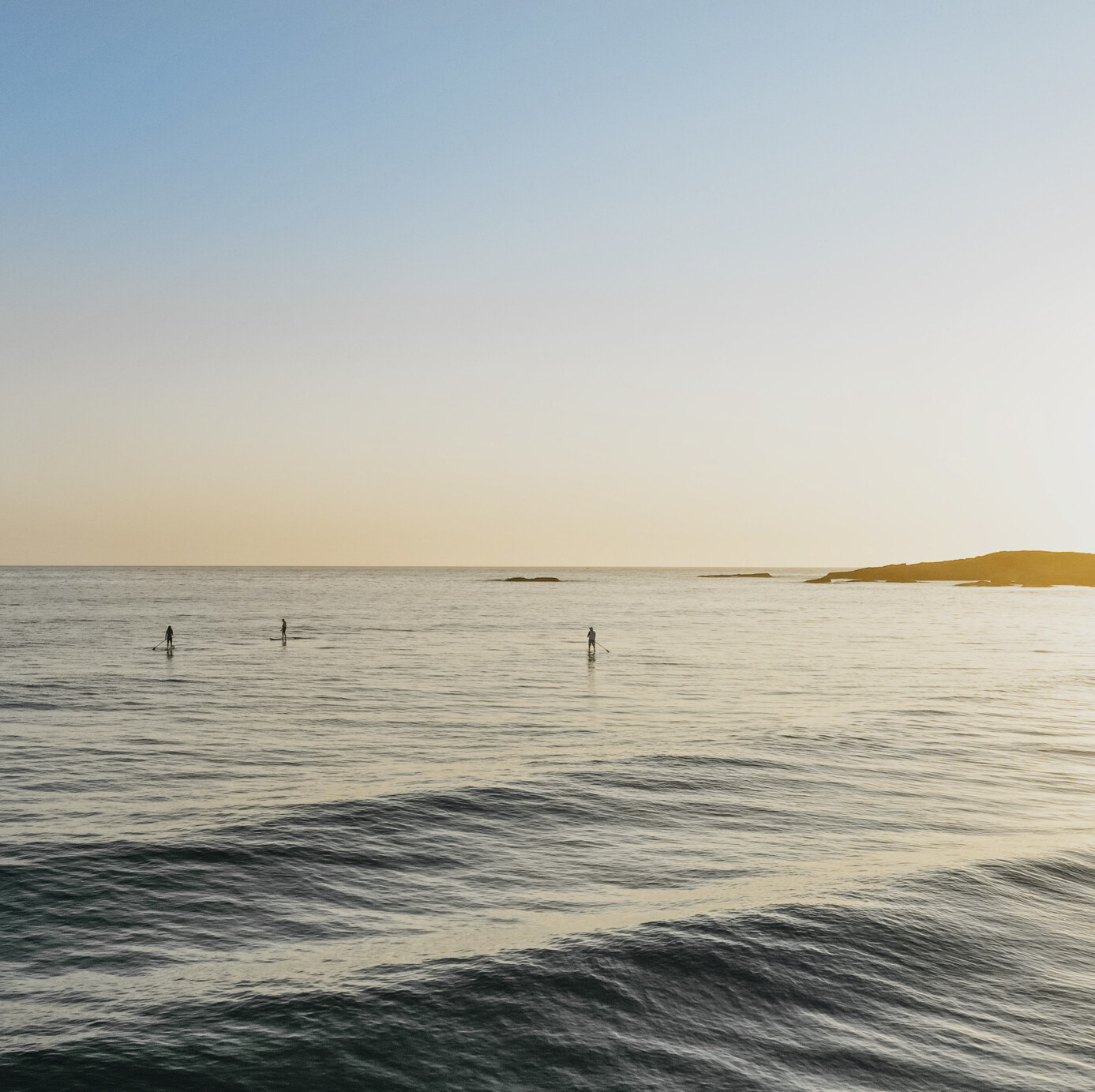 Camel trekkers, surfers, and paddle boarders enjoy Birubi Beach. Image credit: Destination NSW
McKenzie's Beach
In the beloved region of New South Wales' coast known as Bateman's Bay, there are plenty of quality options for a day at the beach, but McKenzie's Beach truly stands out for its untouched and calming atmosphere. Located just South of Pretty Point, about 14 kilometres from the town centre of Bateman's Bay, this is a genuine local's favourite and is absolutely perfect for a family day out. The gentle and cool waters are ideal for teaching the kids to swim amongst the waves, and with stunning views of the rocky point to the North there's plenty to look at too. The bolder swimmers will delight in paddling out to Orangestone Cove; a dramatic hideaway inlet on Pretty Point that's just a couple of hundred metres from the beach. There's plenty of fun to be had for the whole family here at McKenzie's Beach, and its location at the heart of one of regional New South Wales best beach destinations makes it an absolute must visit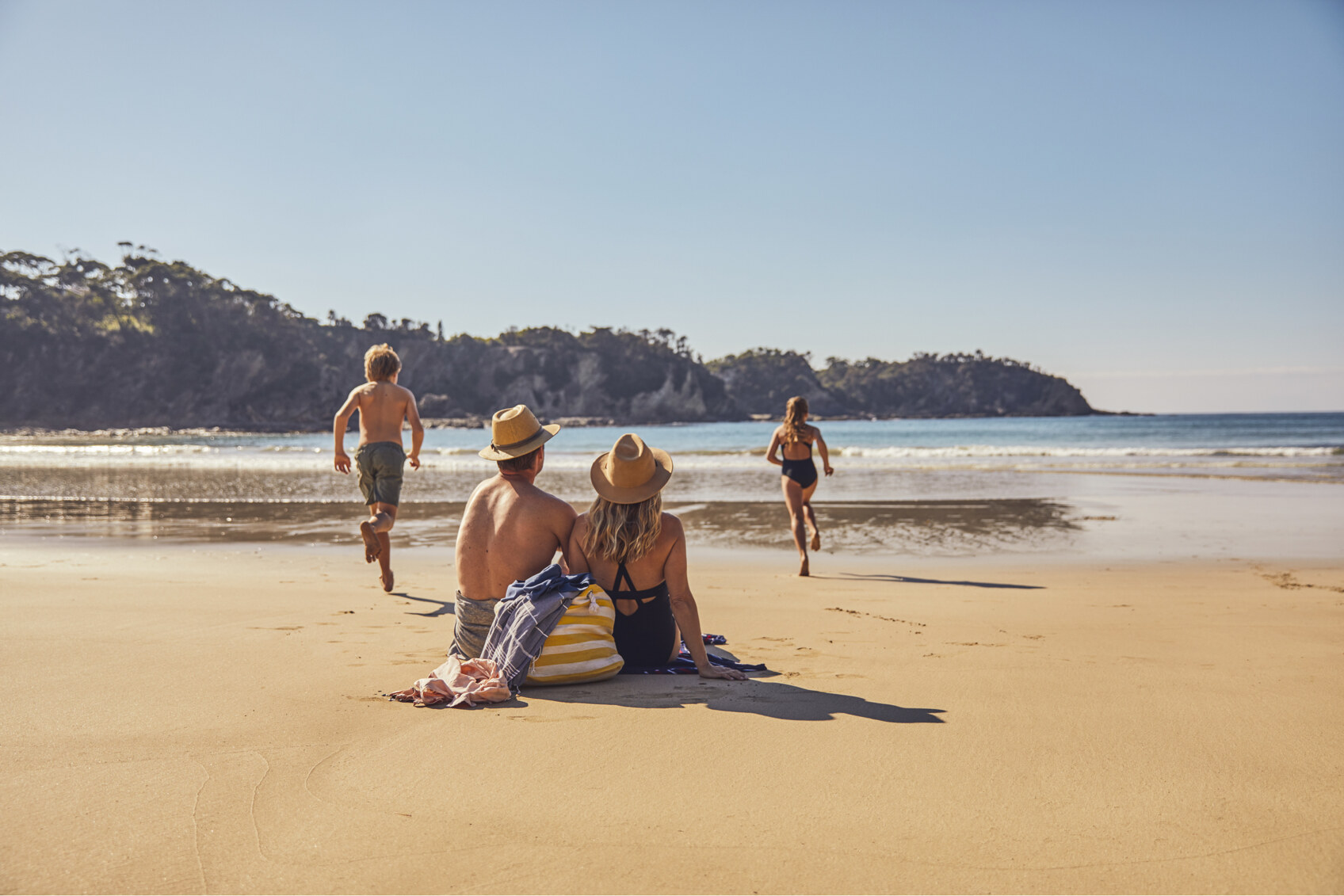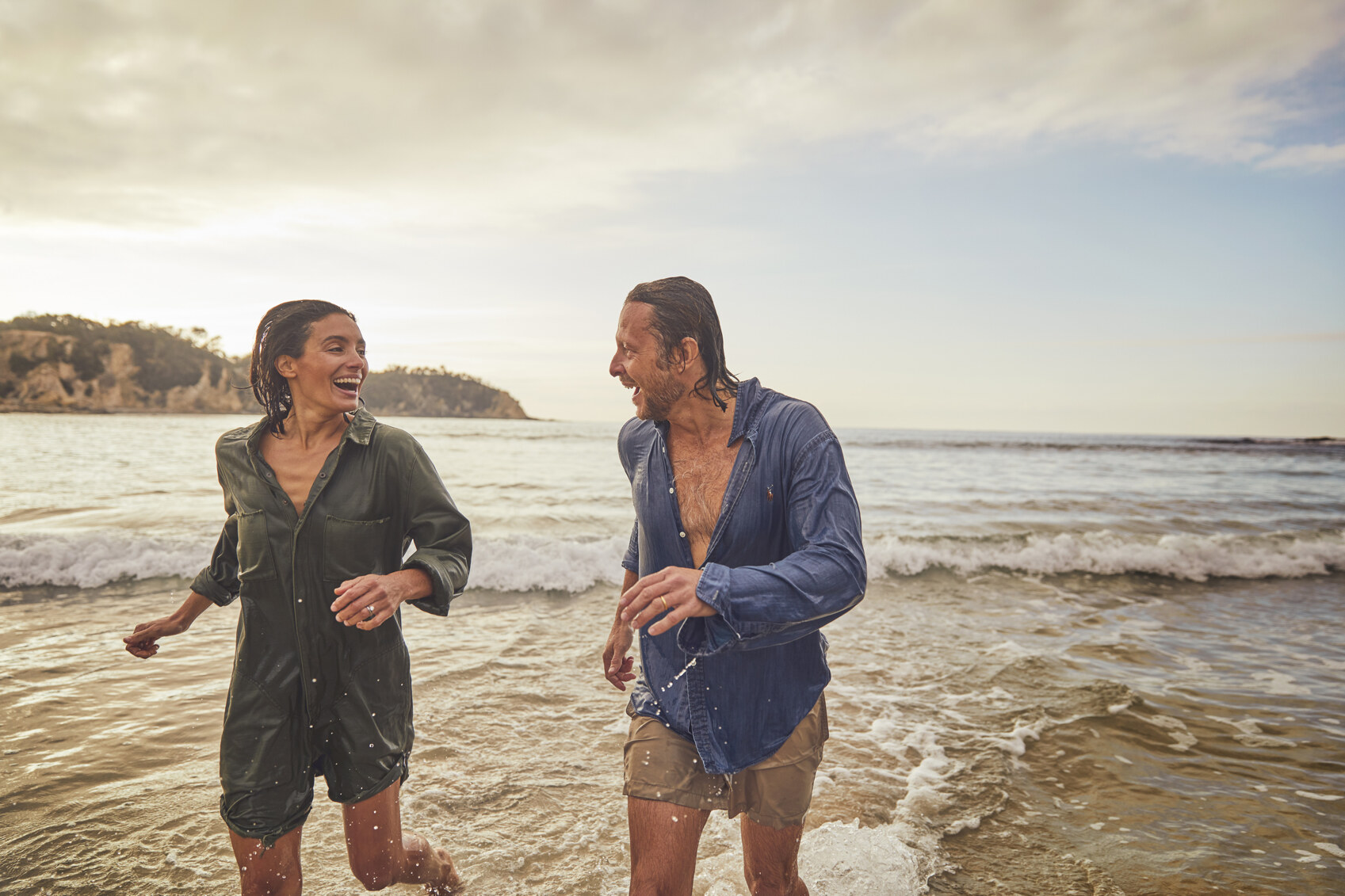 A family day out at McKenzie's Beach. Image credit: Destination NSW
Hyam's Beach
We return to Jervis Bay, this time to Hyam's Beach where you can dig your feet into the whitest sands in New South Wales. The quiet and relatively young town of Hyam's Beach may only be home to a single shop, but mosey on down to the water and it's easy to see why so many flock here in the summer time. The sands at Hyam's stretch for kilometres and are as white and clean as they come, beset by sparkling crystal blue water that laps gently at the shores. It is among the most idyllic beaches anywhere in Australia, and it's not surprise that is has become one of the most popular beach towns in the state. A long stroll down the smooth sands here at Hyam's Beach feels truly relaxing and transportative, owing to the simple perfection of this meeting of sun and sand. The beach, and the town that rises above it, seem to represent the ideals of coastal relaxation, and once you get to know it you'll surely agree that Hyam's Beach is one of regional New South Wales' very best.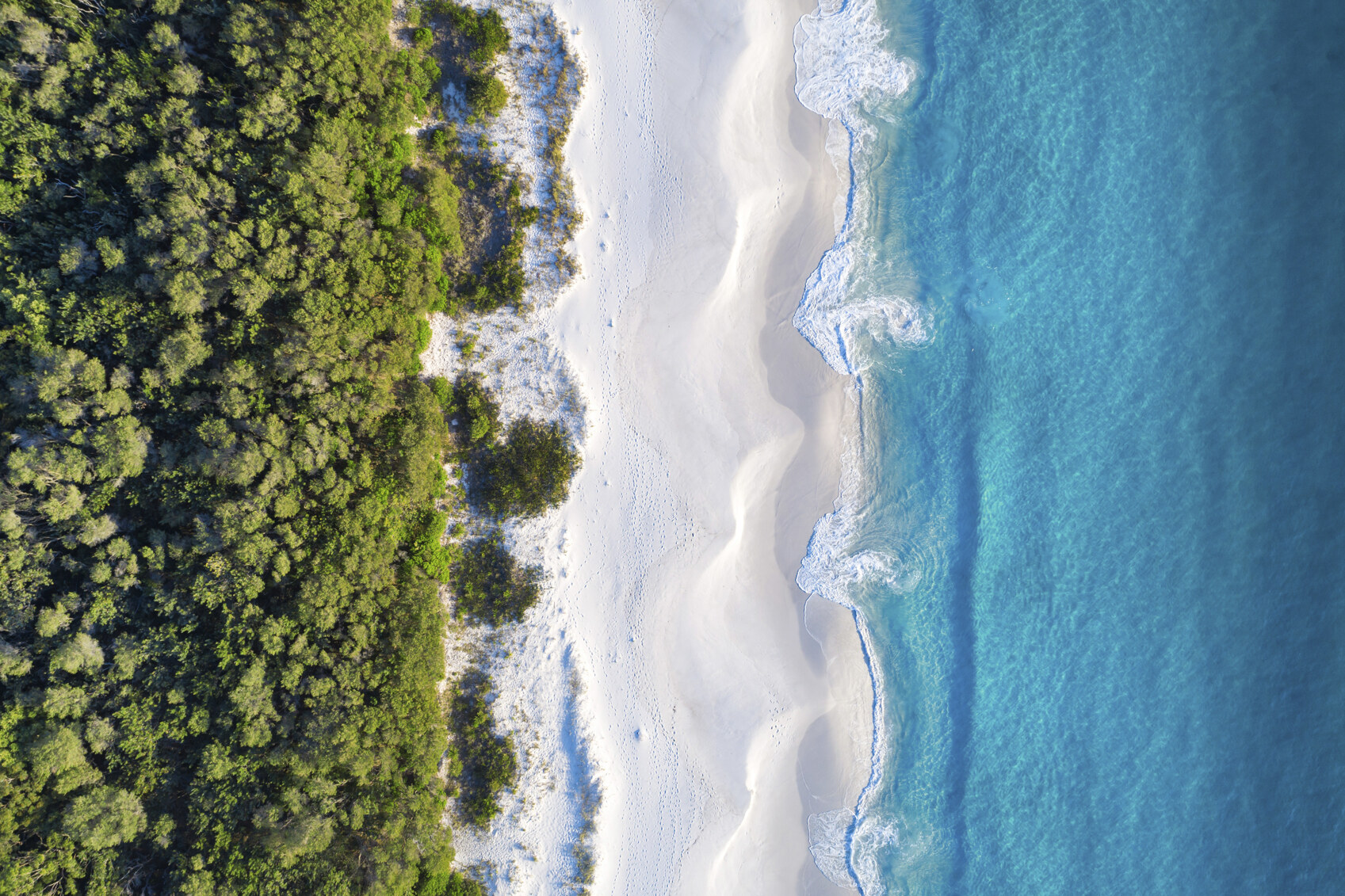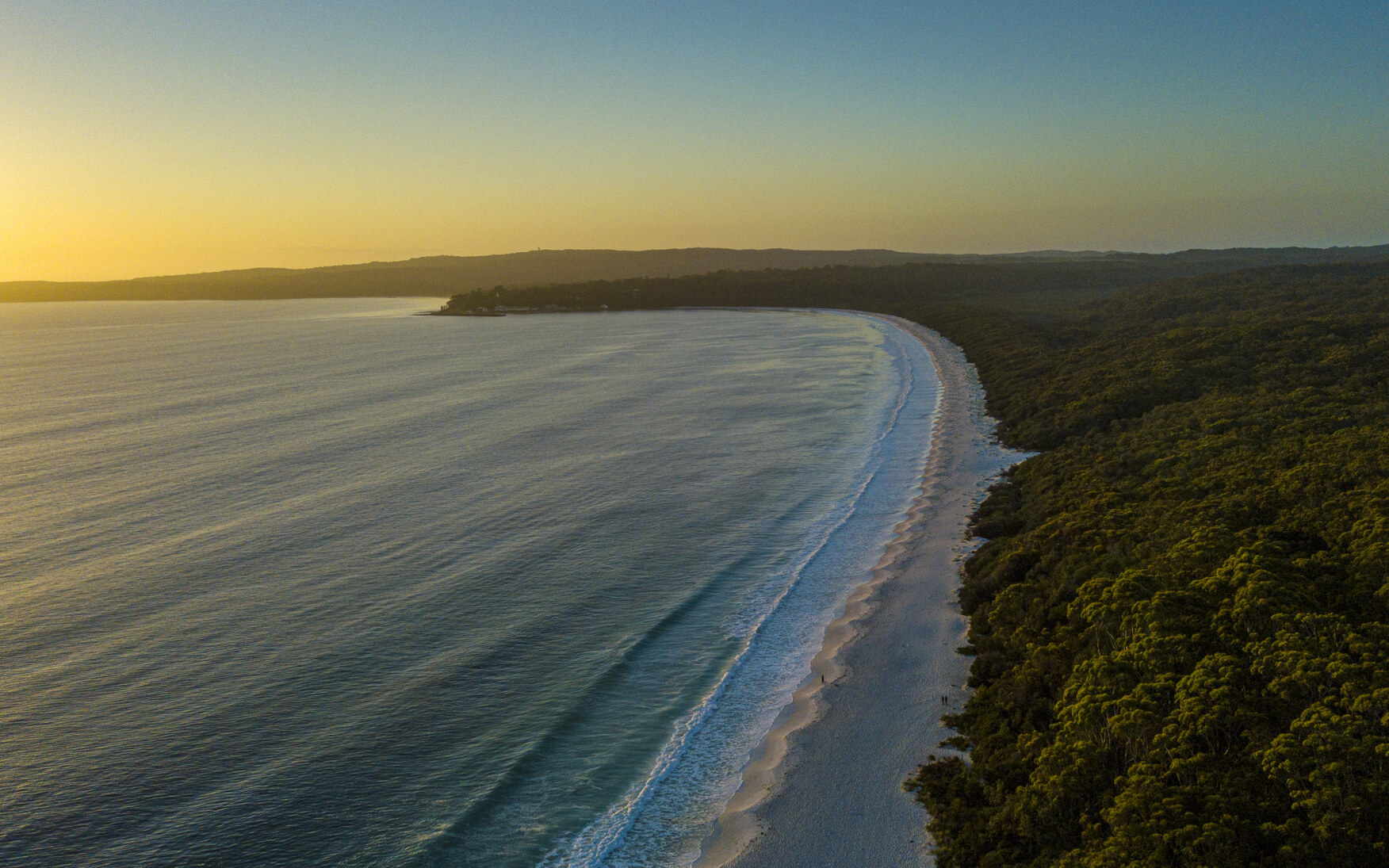 The white sands and blue waters of Hyam's Beach. Image credit: Jordan Robins & Destination NSW
Zenith Beach
Zenith Beach is one of the most dramatically located beaches anywhere in Australia. It lies in the shadow of two towering coastal peaks; Tomaree Mountain, the conical peak that rises from the Southern headland of Port Stephens, and Stephens Peak, which cuts a similar silhouette to the South of the sands. The mountains cradle Zenith Beach, and infuse it with a feeling of remoteness and wild beauty, and this scene makes for some of the most spectacular coastal views that can be found in New South Wales. Morning or afternoon are certainly the times to visit as the sunsets and sunrises here are truly memorable. While it may all feel like a wilderness, Zenith Beach is conveniently located just a short walk or drive from Shoal Bay, a relaxed beach town in the popular region of Port Stephens. There's no shortage of amenities and community surrounding this spot, and with plenty of other beaches worth visiting up and down this stretch of coast, one could spend a whole holiday by the shores of Zenith Beach.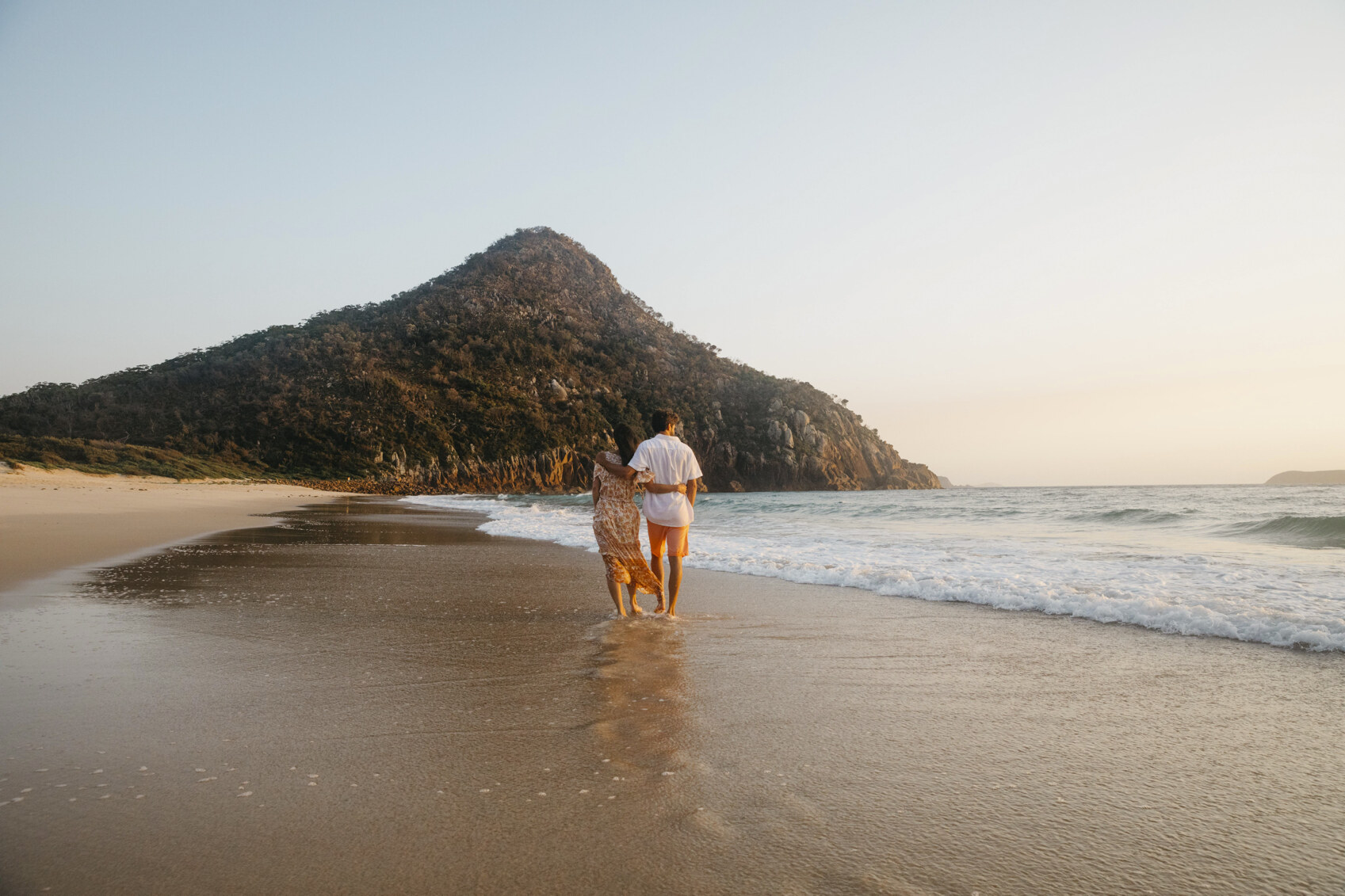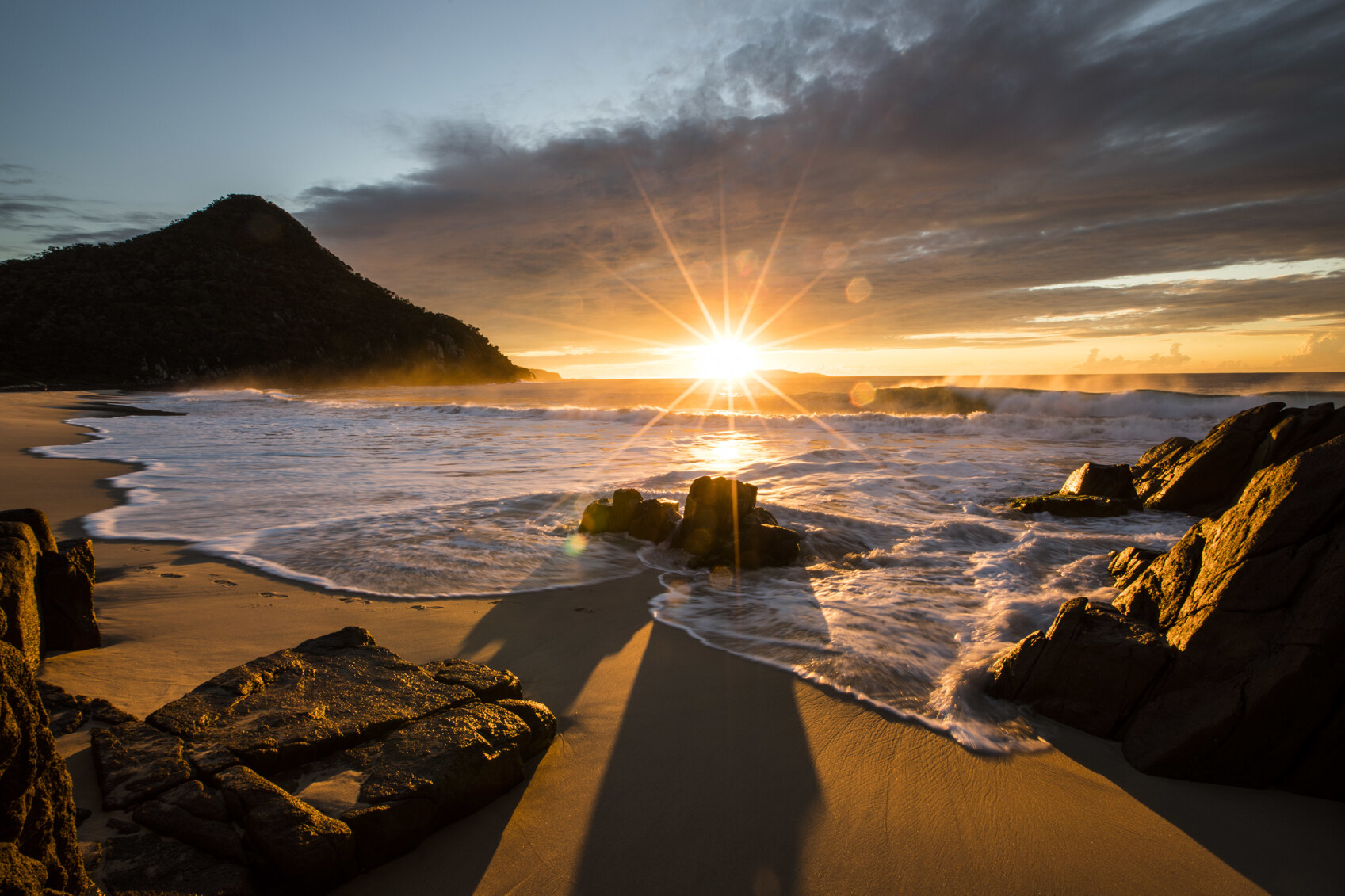 Zenith Beach and the towering Tomaree Mountain. Image credit: Destination NSW
Caves Beach
The Central Coast is one of New South Wales' best regions for exploring the sea and sand, and is home to such beloved beaches as Avoca Beach and Pearl Beach, but one truly unique coastal spot can be found in the region's north, by the Swansea Channel. Caves Beach is a regular sandy beach most of the way down, but tread along the rocks at the Southern end and you'll find an absolute paradise of stunning sea caves, enourmous in size and captivating in their jagged beauty. These caverns have been eroded piece by piece over millenia by the endless lapping of waves, leaving behind one of the most beautiful pieces of coast in New South Wales, perfect for watching the sun rise or set over the horizon as the sea spray stings the air. The beach itself is no slouch by the way; a typically picturesque and relaxed Central Coast classic, with the colourful and relaxed town of Swansea rising above it.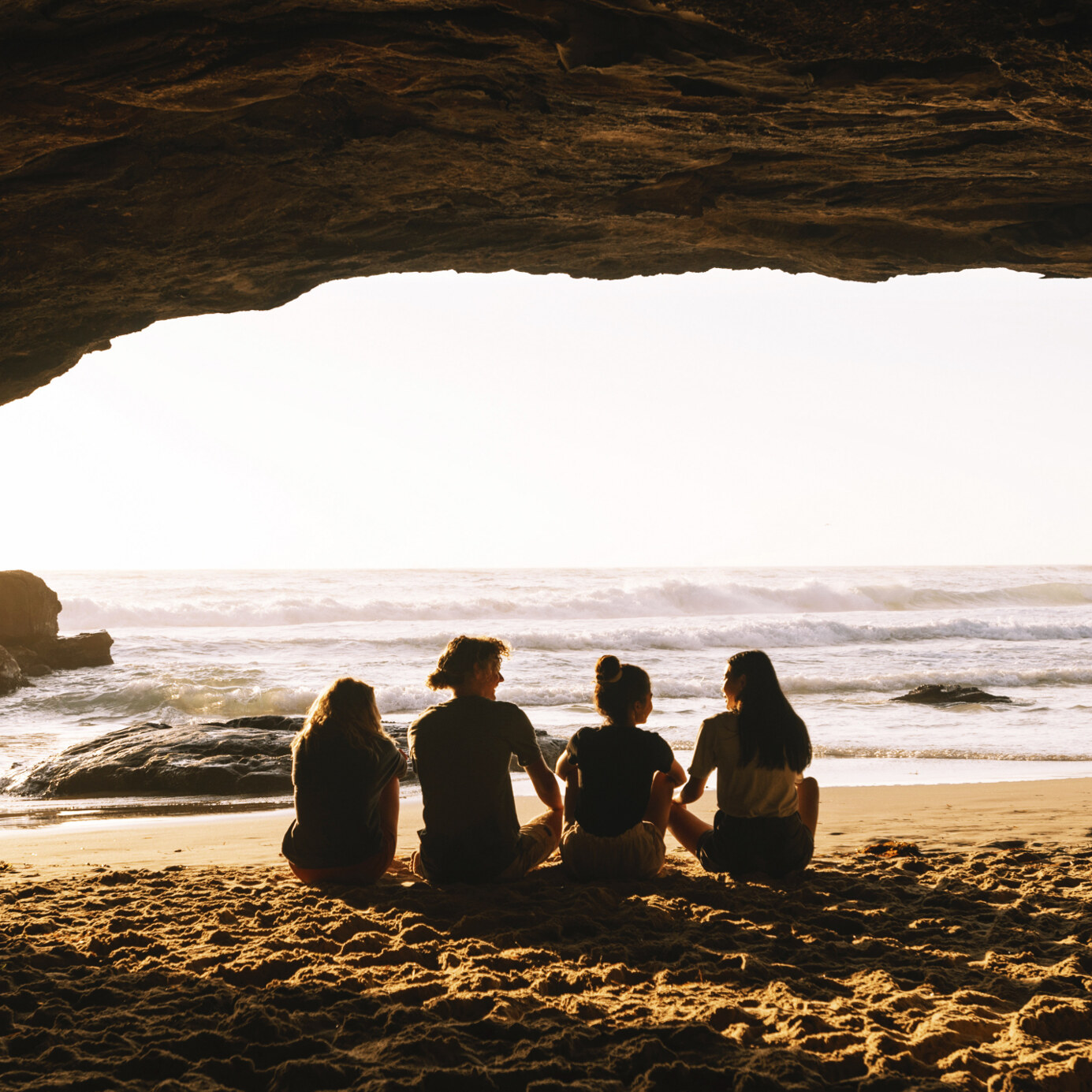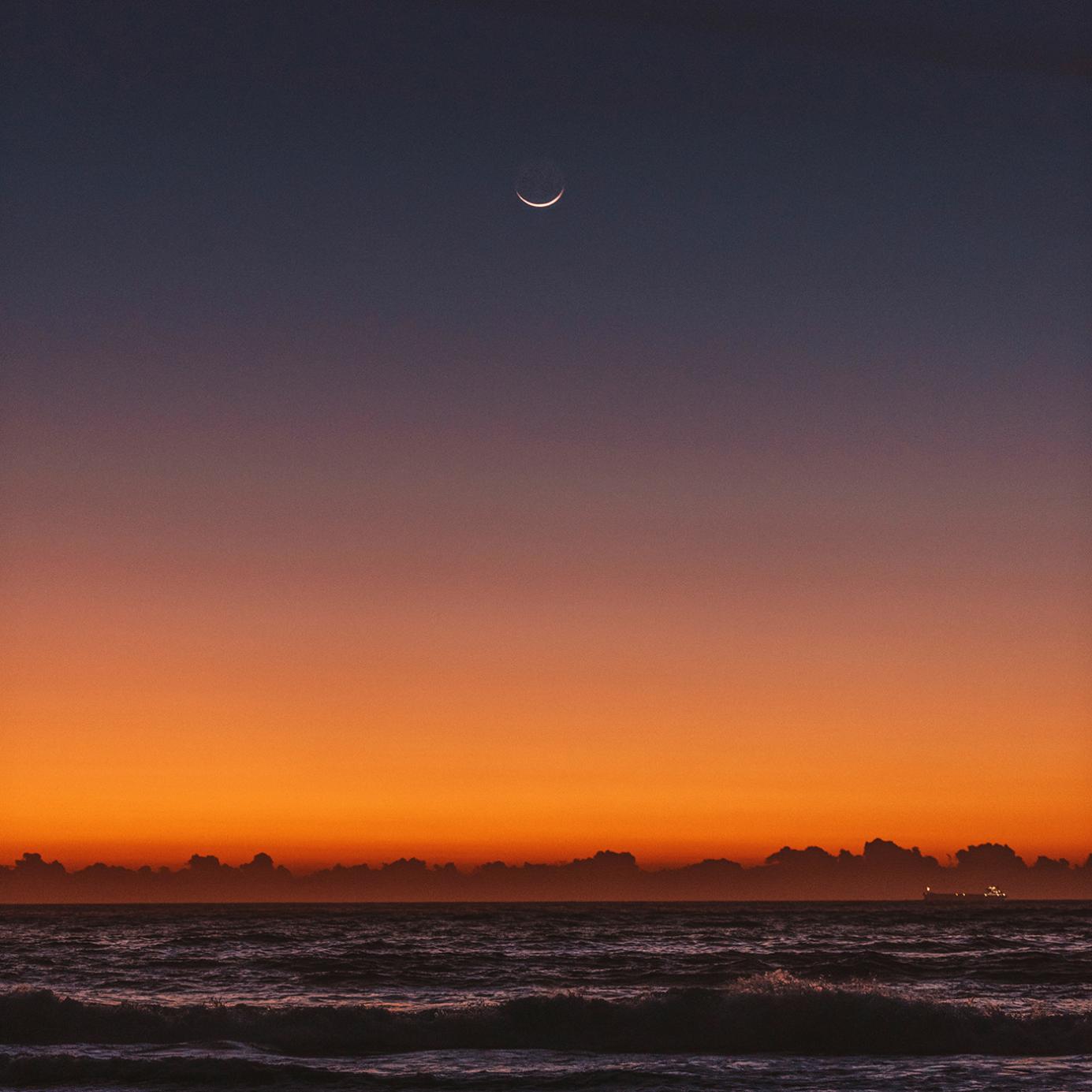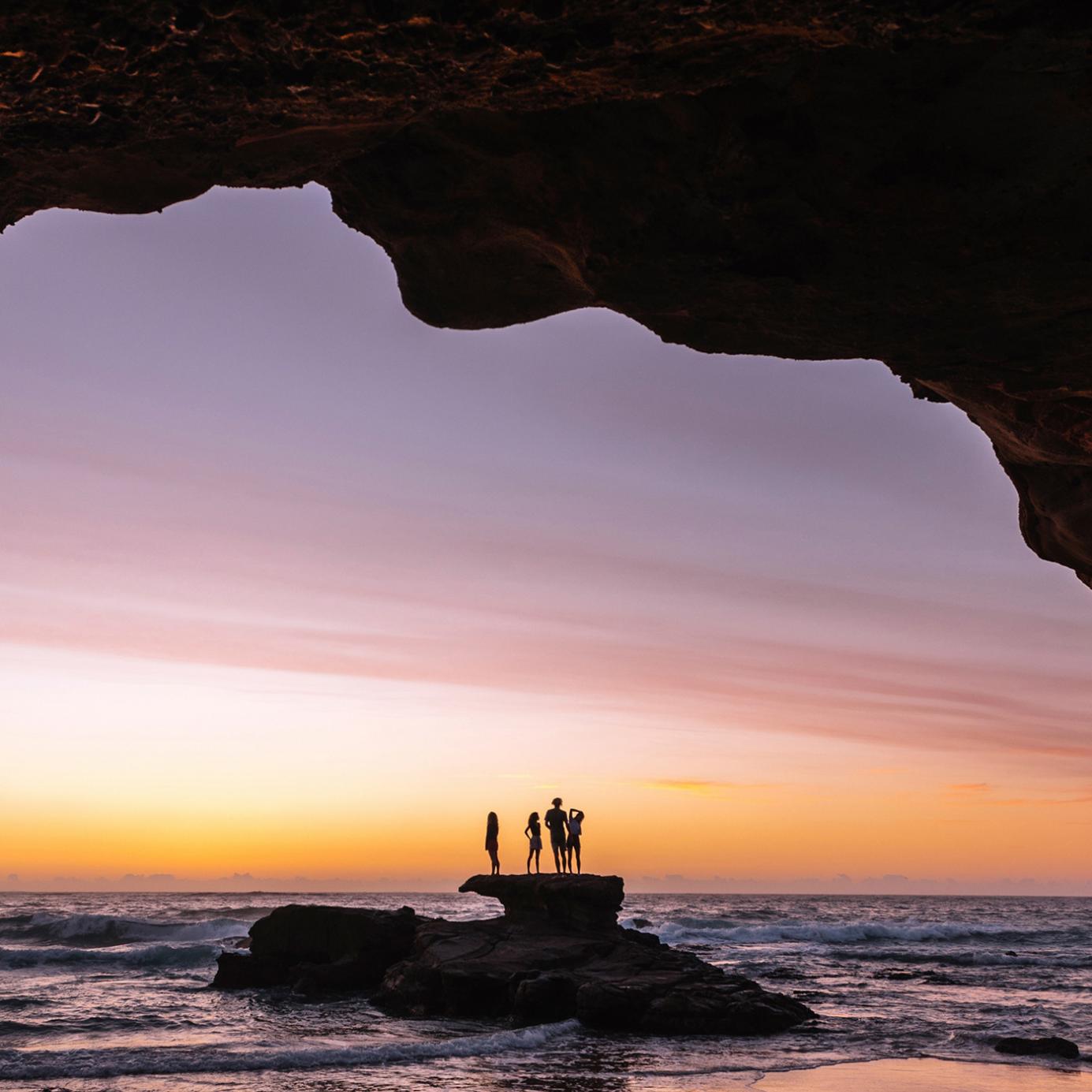 The sea caves of Caves Beach. Image credit: Destination NSW
Wattamolla Beach
Wattamolla Beach is a secluded and spectacular camping beach just inbetween Sydney and Wollongong in the Royal National Park. This forest expanse, which just so happens to be the second oldest National Park in the world, is filled with sandy coves and and stunning sea cliffs along it 20 kilometre coastline, and though many are worth visiting none stand out quite like Wattamolla Beach. This gorgeous little inlet has become one of the most popular beaches to visit among Illawarra residents and Sydneysiders alike. The swimming here is as good as it gets. The ocean water off the shore is calm; thoroughly secluded by walls of rock that travel perpendicular to the beach over 300 metres, while the waves crawl over the beach into a picturesque and clean lagoon, ideal for a relaxing summer swim. A waterfall cascades over this lagoon, and at high tide is transformed into a natural diving board. All in all, Wattamolla Beach is a secluded slice of regional beach living, located just a quick drive from the big city.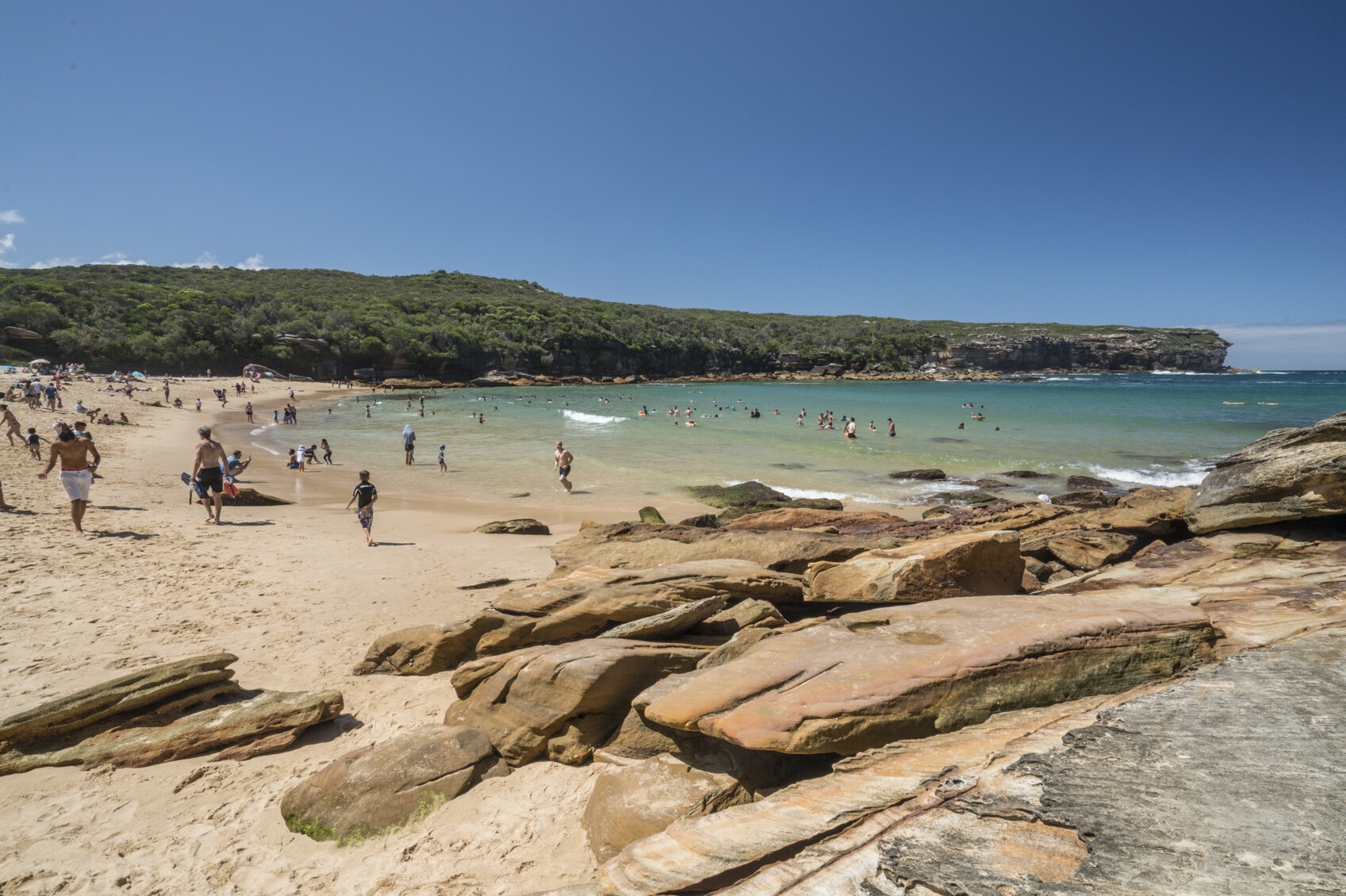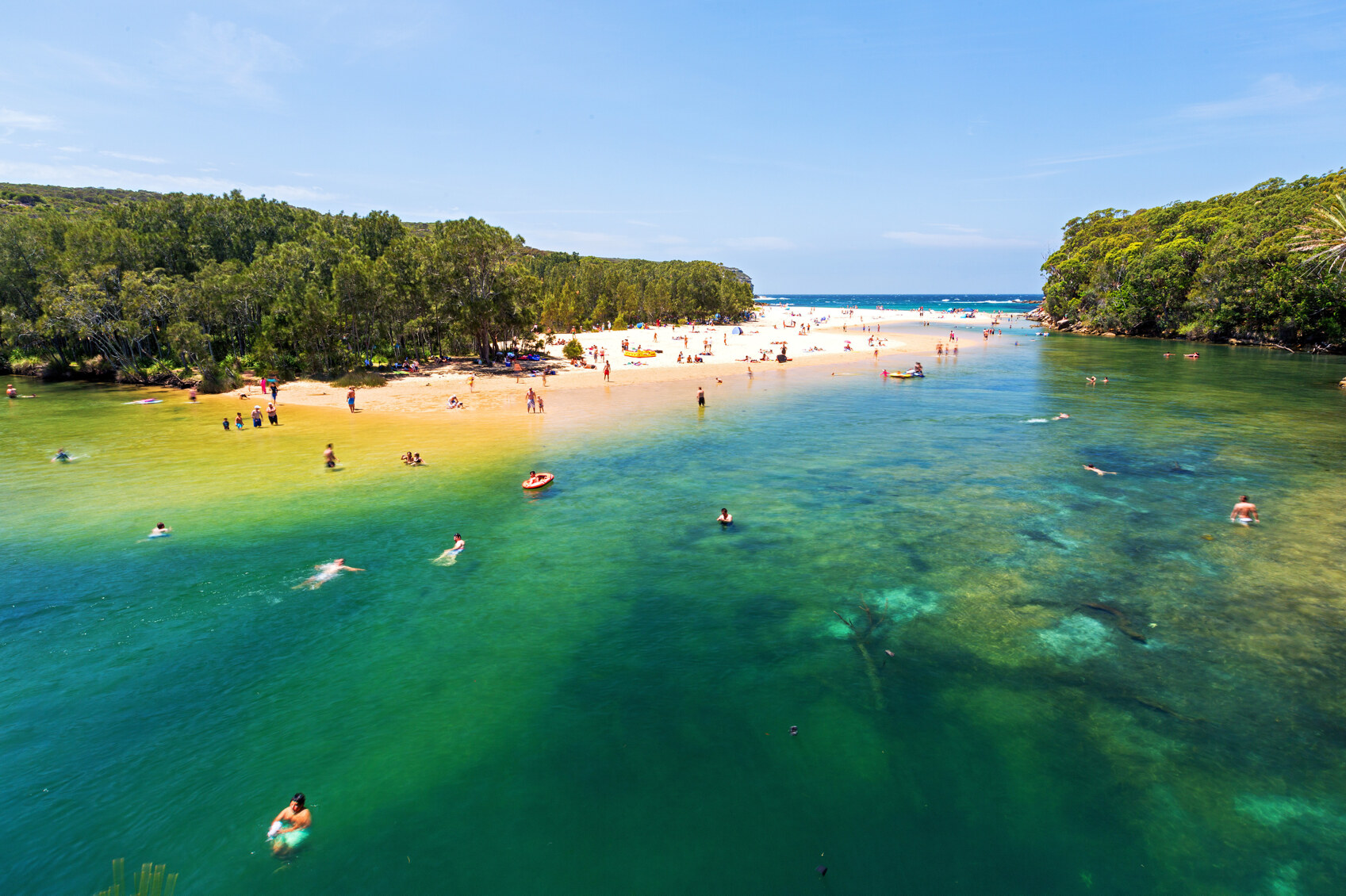 The beach (left) and lagoon (right) at Wattamolla. Image credit: Destination NSW & Dee Kramer Photography
Elizabeth Beach
Elizabeth Beach is the jewel of Booti Booti National Park, one of New South Wales' most underrated coastal paradise. This North facing surf beach is found on the narrow spit that seperates Wallis Lake from the ocean, and is a dual threat with the Tasman sea on one side, and the shores of the vast lake just a short walk the other way. The beach is truly scenic as well, as Booti Hill towers over it in the backdrop, and offers some gorgeous viewpoints of beach, as well as neighbouring Shelly Beach and Seagull Point. In the winter months, you can take a stroll up the hill with binoculars in tow and have ample possibility of sighting migrating whales headed down the coast. Any time of year though, this is a fantastic spot for a surf. The Pacific swells crash into the shores here day in and day out here at Elizabeth Beach, and the Northern aspect causes waves to break in an even manner perfect for surfing.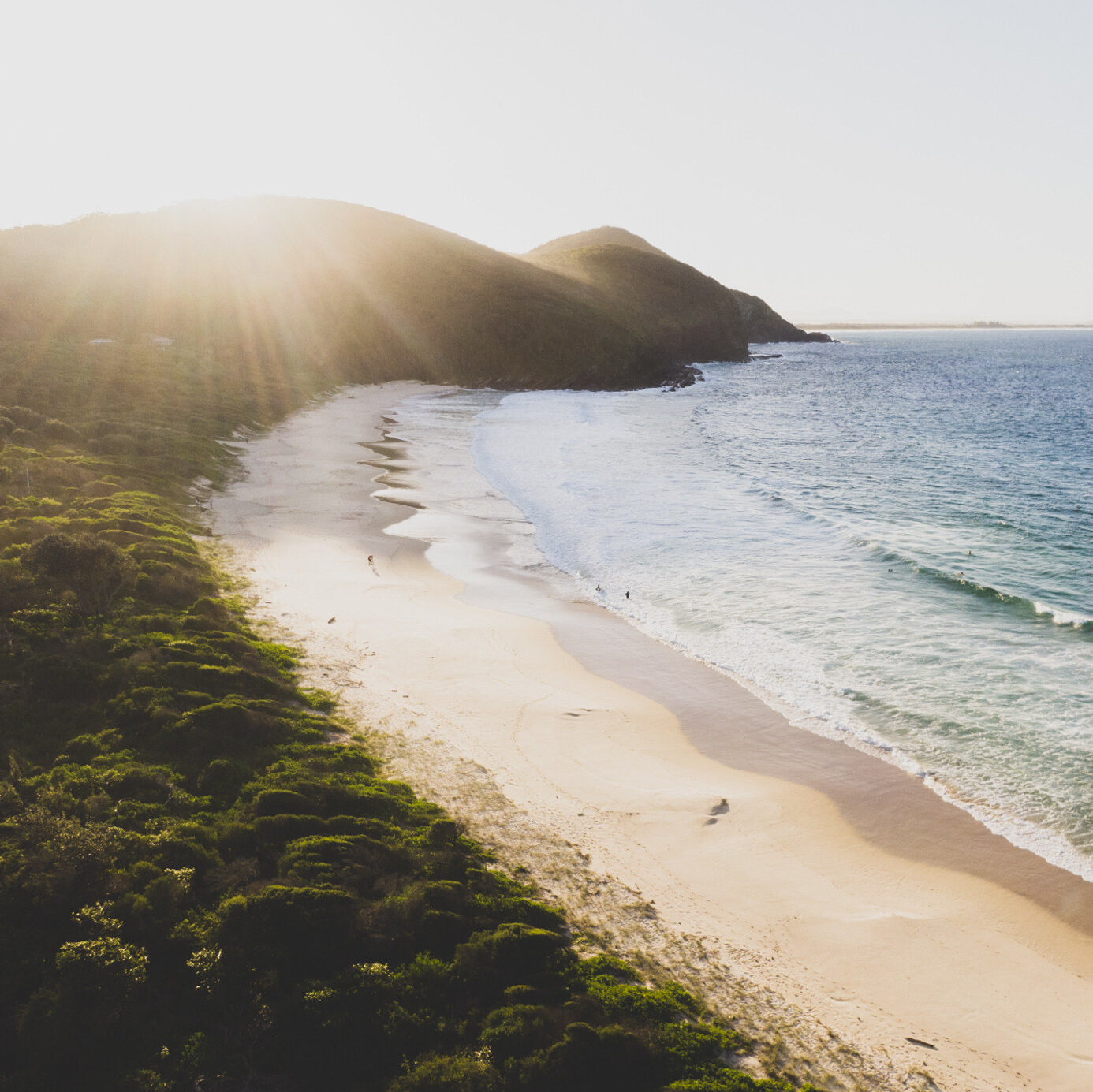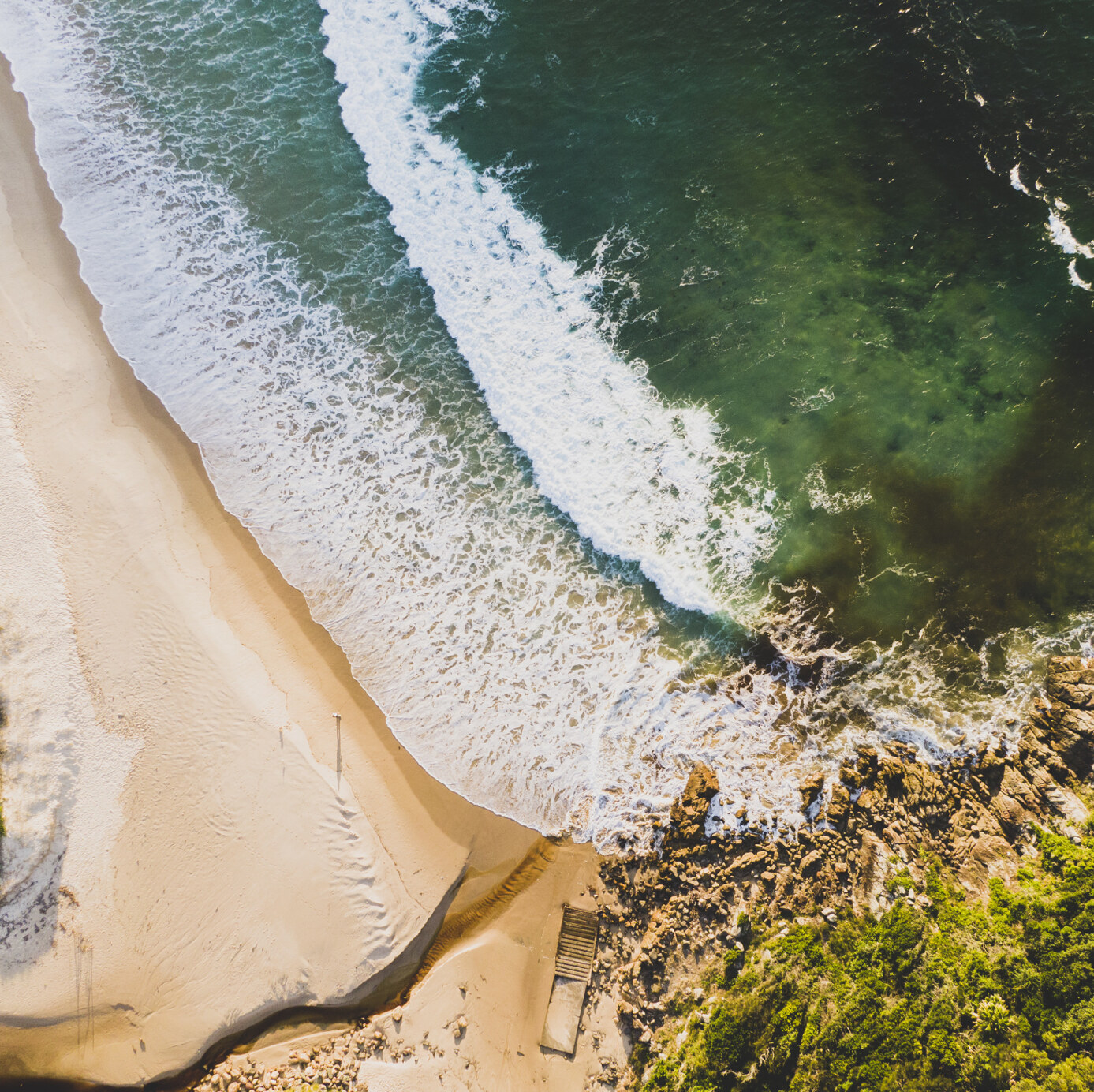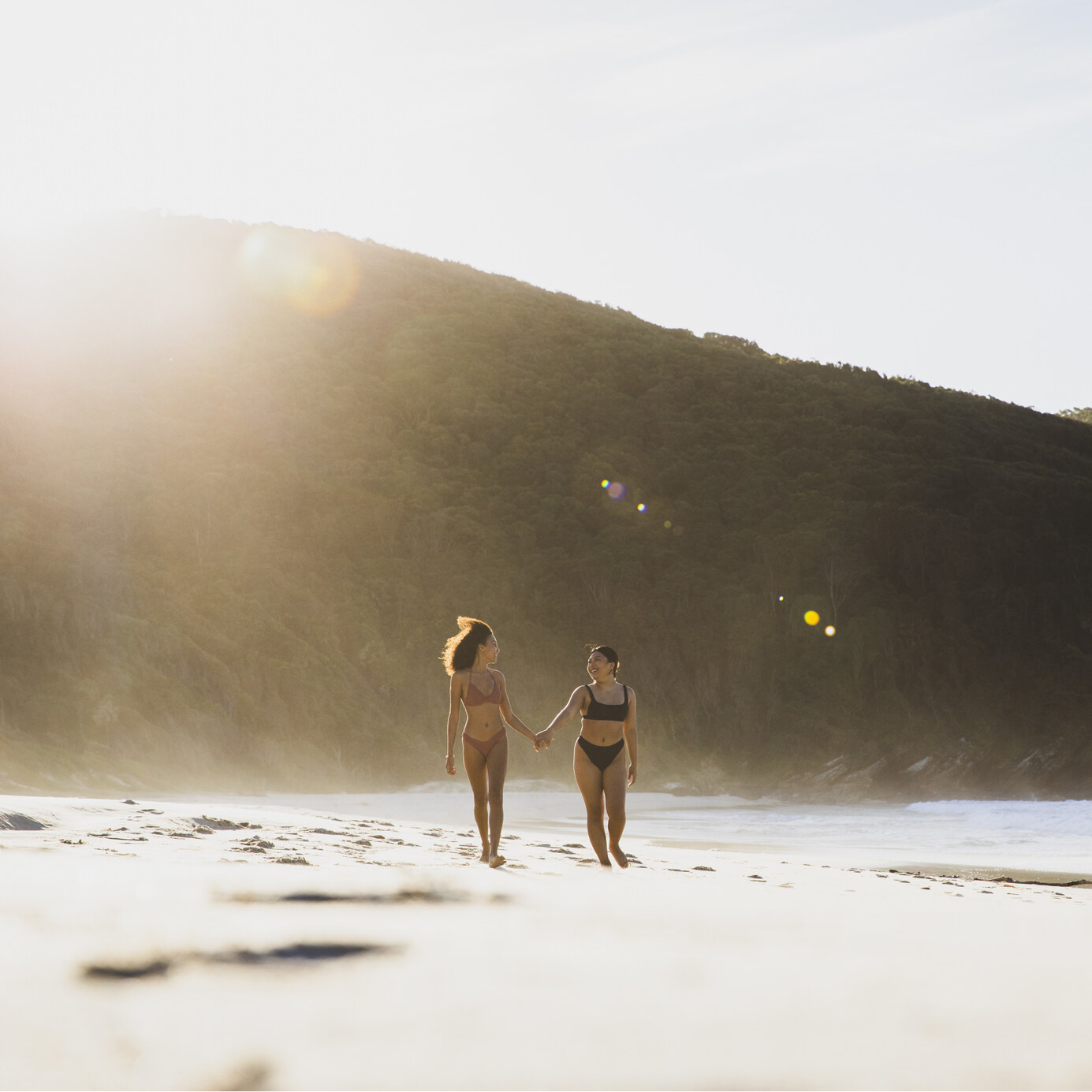 Elizabeth Beach sparkling in the sun. Image credit: Destination NSW
Blinky's Beach
For our final beach, we're taking a trip to a place far away that you might not often think of as New South Wales. 600 kilometres East off the coast of Port Macquarie, rising out of the Tasman sea, stands one of Australia's most extroadinary natural wonders and a bonafide beach paradise; Lord Howe Island. This magnificent volanic remnant was first discovered by English sailors in 1788, who one imagines could hardly have believed the untouched, uninhabited natural paradise that they layed eyes on. Today it is one of New South Wales most famous and sought after tourist destinations, and one look at Blinky's Beach makes it easy to see why. This extroadinary unspoilt surfing beach on the West coast of the isle lies just South of town and is set against perhaps the most spectacular beach backdrop you could hope to find. The twin peaks of Mount Gower and Mount Ligbird rise dramatically out of the seas, conjuring images of the great cliffs of Kauai, and dwarfing the beach below. With uninterrupted swells from the vast Pacific Ocean to the West, and the extroadinary isolated beauty of Lord Howe Island all around, this is truly one of the most spectacular beaches anywhere in Australia.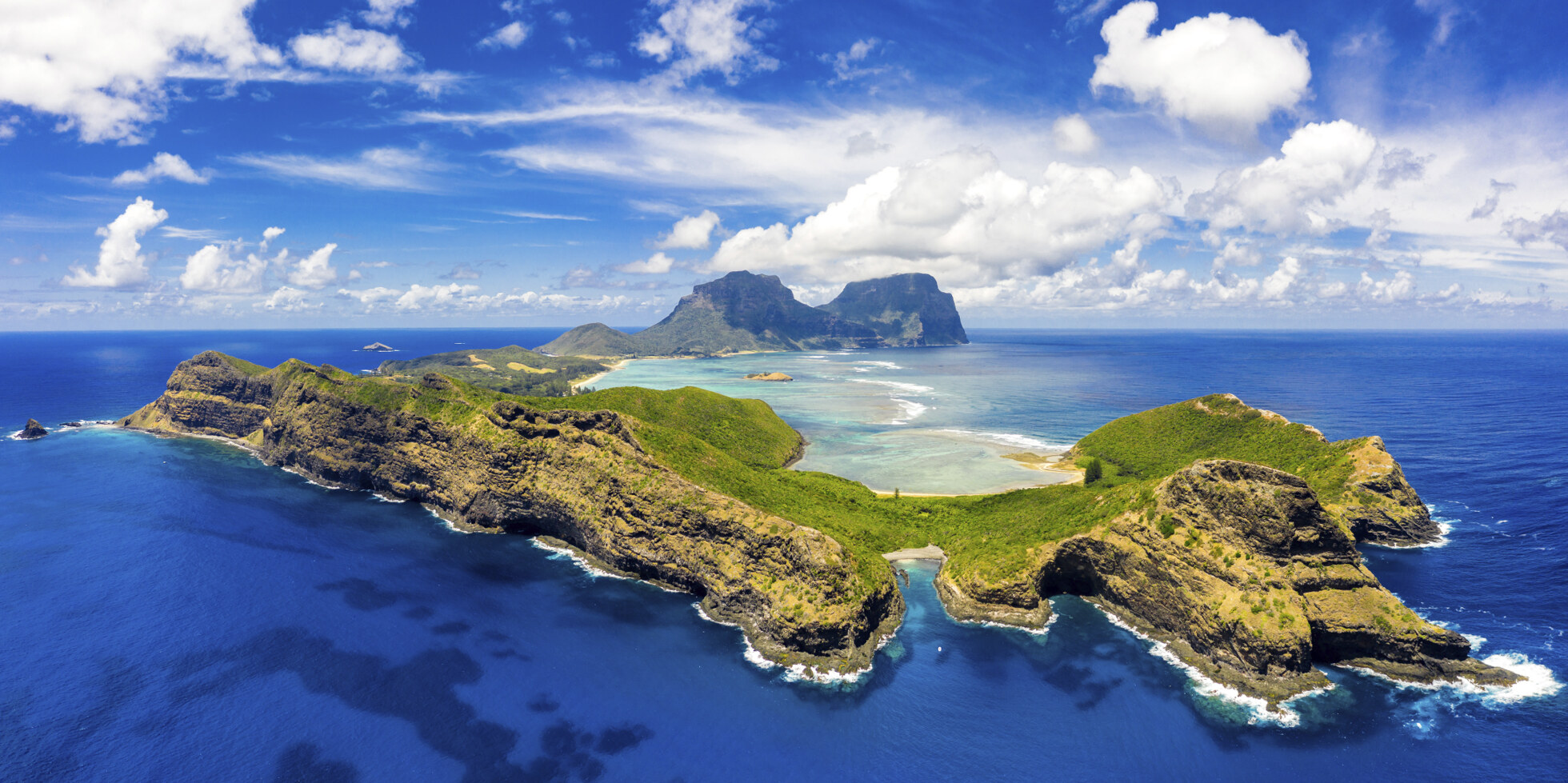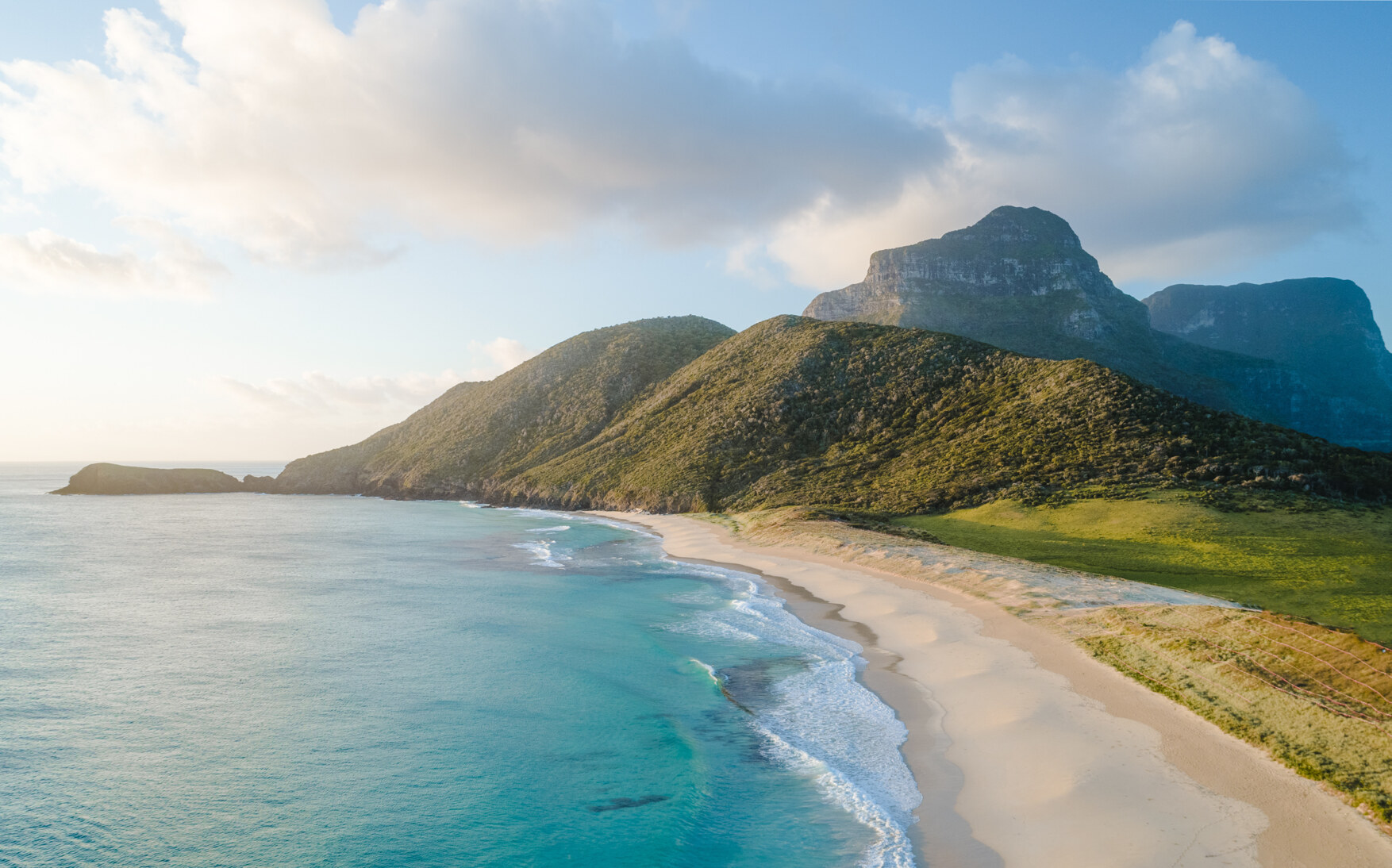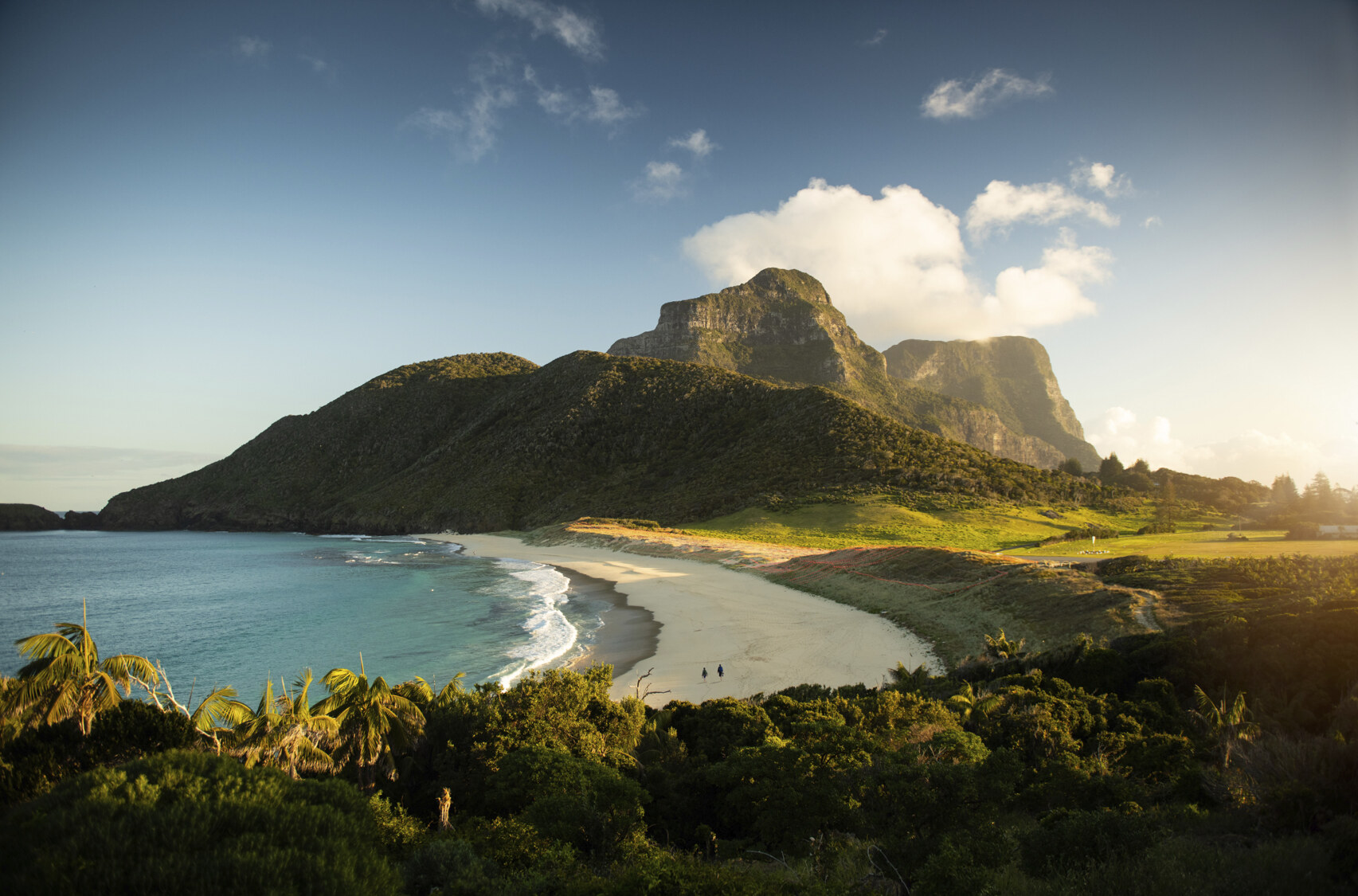 A panoramic view of Lord Howe Island (top), and Blinky's Beach in morning and afternoon light (left and right). Image credits: Jordan Robins, tom-archer.com, Zach Sanders