A hiker explores the seaside mountains of Flinders Island. Image credit: Tourism Australia & Graham Freeman
The Bass Strait: Tasmania's Windswept Isles
In the vast ocean channel that seperates Tasmania from the Australian mainland, known as the Bass Strait, there are over 50 distinct islands to discover. From King Island in the West to Flinders in the East, the oft forgotten shores of these tiny Tasmania's hold many wonders. With natural expanses abound, from rugged oceanview peaks to golden unspoilt beaches, exploring the Bass Islands will open your eyes to a magical piece of Australia that flies happily under the radar. There are vibrant towns and villages with a rich community spirit, there's world class golf, beautiful untouched beaches, national parks, and mountains with endless islands vistas. Fishing is the local tradition, and evenings are traditionally capped off with wine and fresh seafood, especially crayfish which are so flavourful and abundant in the Bass Strait. The natural environments here are truly unique and memorable, and best of all, visiting often means having these places all to yourself.
King Island
The most popular destination in the Bass Strait; King Island is a remote and captivating rocky island about halfway between Cape Otway in Victoria, and the North-Western tip of Tasmania. The King Island Airport, not far from the central town of Currie, welcomes flights from Launceston, Hobart, and Melbourne, and is your gateway to exploring the rugged and majestic coast of this lonesome isle a near 100 kilometres out to sea. Amidst the craggy cliffs and howling winds here, there are some truly fantastic beaches; sprawling, stunning, and with barely a soul in sight. Martha Lavinia Beach, on the Eastern coast, is a classically Australian surf beach that cops the full face of the stormy Bass Strait swells, and is the place to be on a sunny day in King Island. This golden ribbon of sand curves around Martha's Point in the wilderness of the Lavinia State Reserve, and is prone to clean tubes and endless sets when the Bass Strait swells are pumping. This is real adventure surfing on an idyllic and remote slice of coast, and while this is certainly a contender for the best break in the region, it's just one of many postcard ready surf beaches on the East coast of King Island.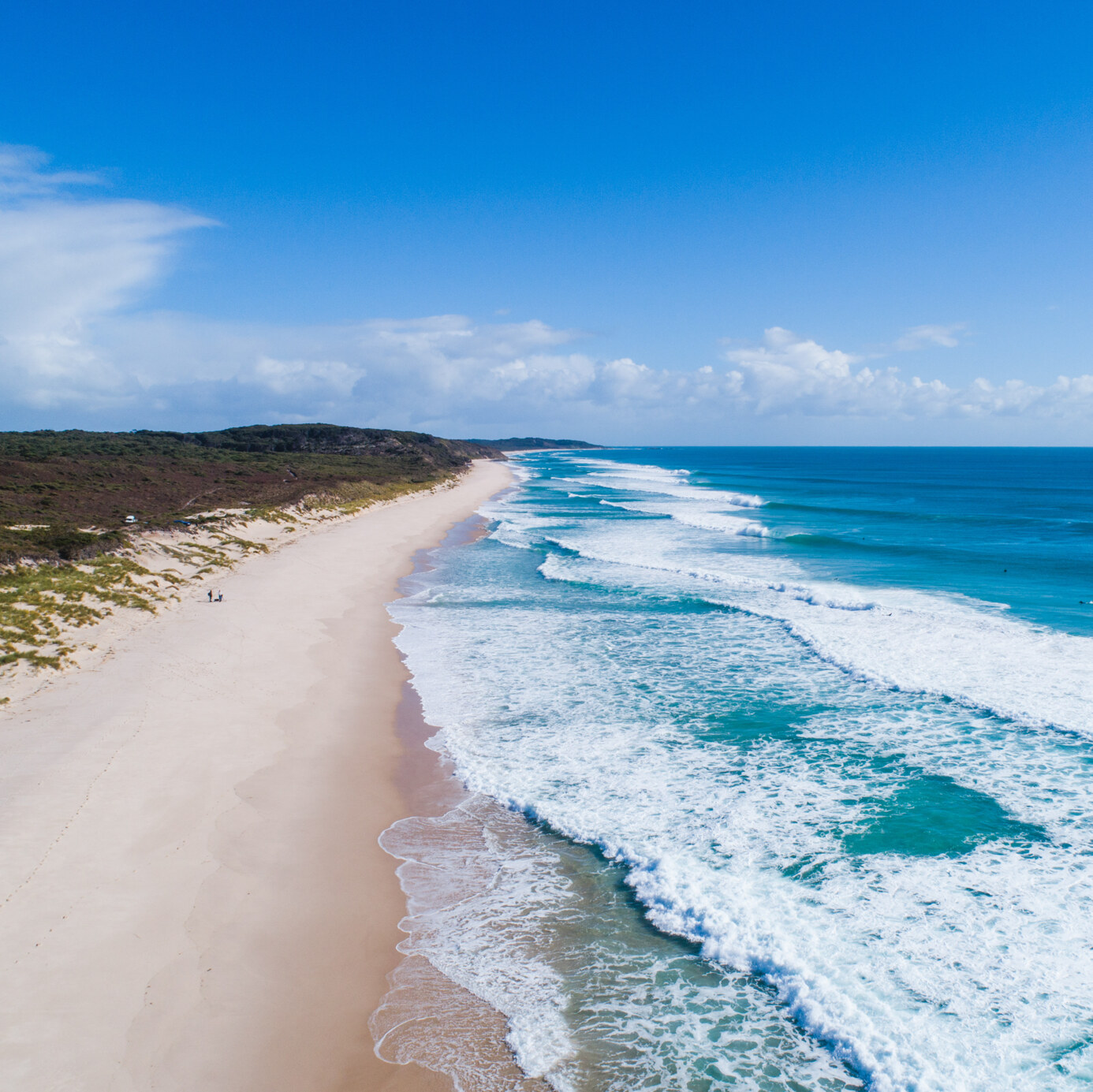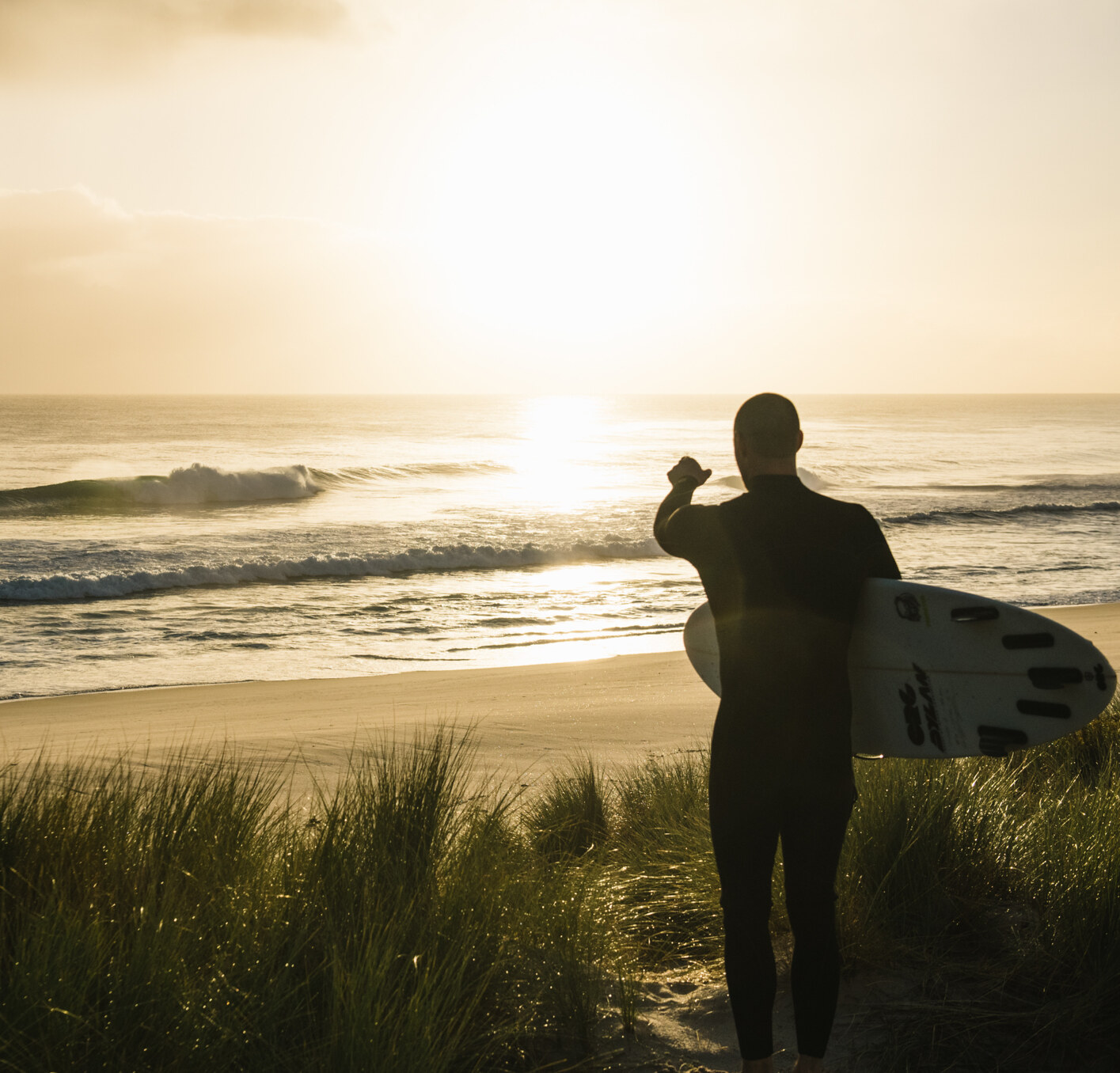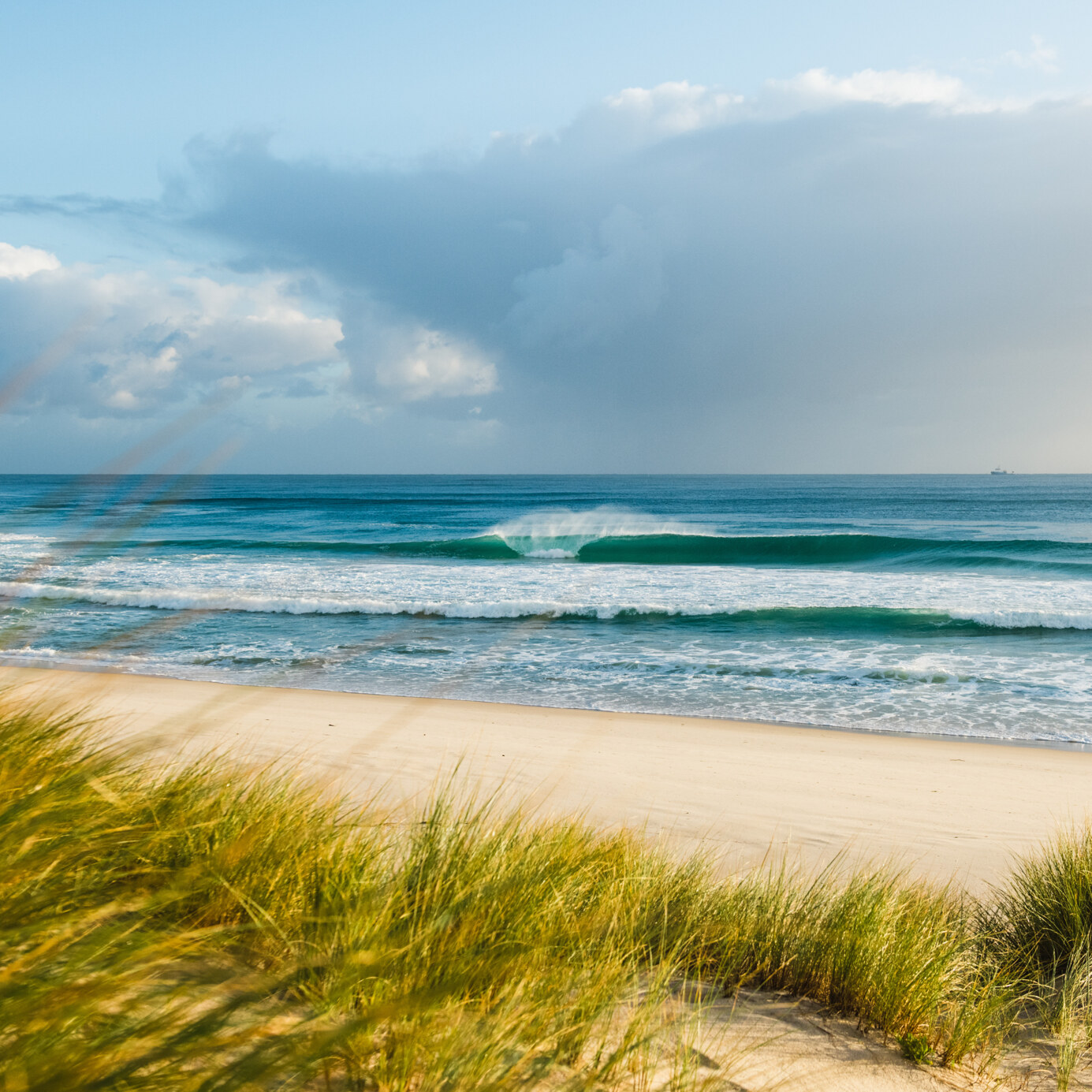 Waves pumping at Martha Lavinia Beach, King Island. Image credit: Stu Gibson
If you're looking for a luxury retreat to settle down into after a long day of exploration, look no further than Ettrick Rocks. This complex of seaview accomodation was designed by acclaimed Tasmanian architects, Rosevear & Stevenson, whose modern and geometric structures are some of the most impressive to come out of Australia in recent years. Visitors here at Ettrick Rocks can choose from one of three dwellings offering unspoilt ocean views and all the many comforts of home, from a fully equipped kitchen to automated touch controlled blinds. With the ocean just a minute away, days are spent swimming in the rock pools and discovering unique marine life, or simply relaxing with a book and a glass of wine, watching the waves roll in. In the afternoon, wallabies frolick amongst the tall grass just metres from your rooms. This is truly one of Tasmania's best holiday getaways, here in your own slice of King Island.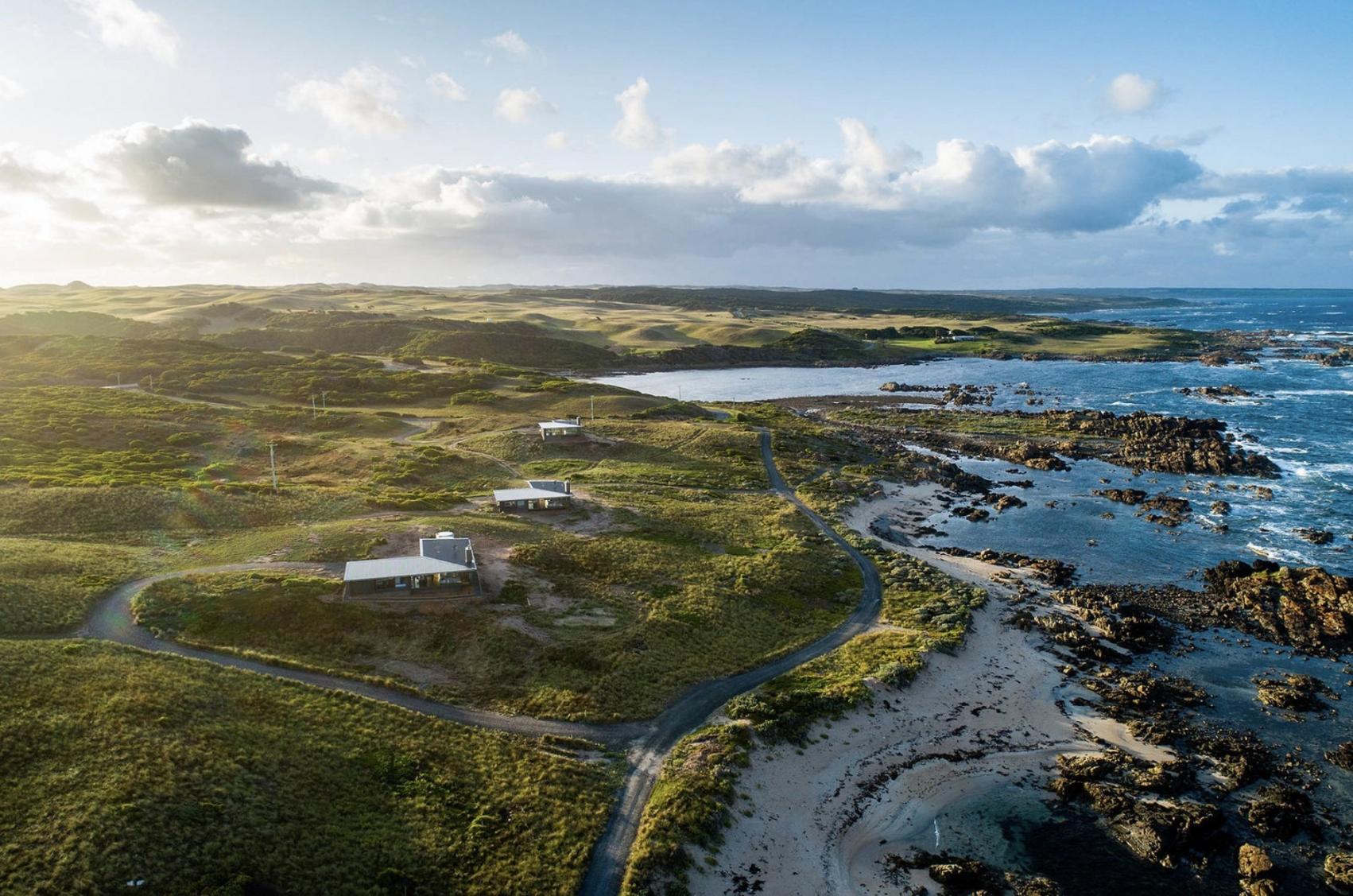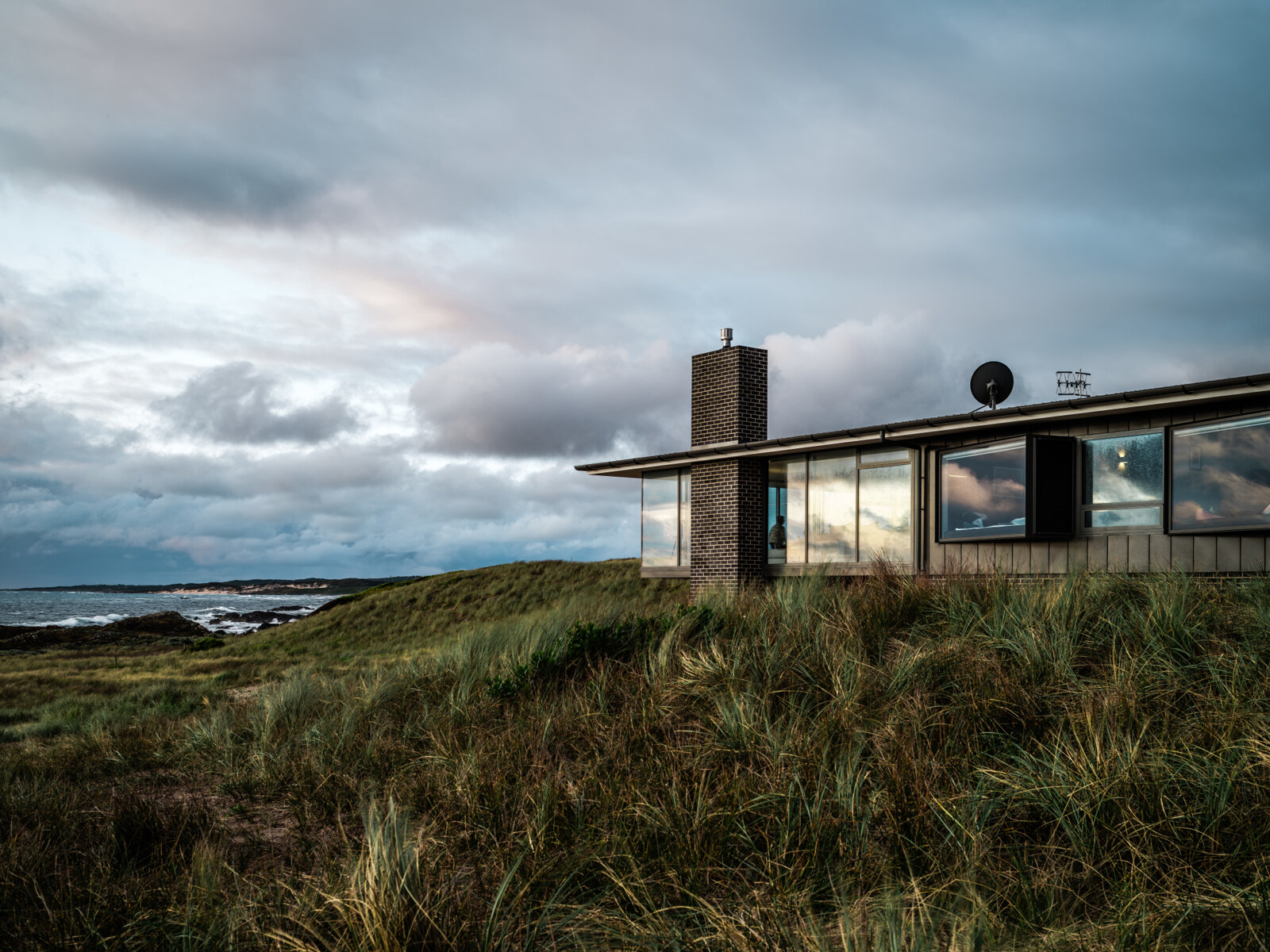 Dramatic coastal accomodation at Ettrick Rocks. Image credit: Stuart Gibson
The pursuit of Golf may not be the first reason you'd think of to travel to a remote and windswept isle, but enter King Island; Australia's answer to the Scottish coast. The tradition of Links Golf is a longheld and much admired one on the bare and rocky coastline of the British Isles (in particular Scotland and Ireland). It is a style defined by enourmous sloping greens and rock hard unforgiving fairways, set against the open seas and reinvented moment to moment by the everchanging winds. Avid players will gleefully travel from a world away to tee off on a windy morning at St Andrews or Muirfield, but now at last there's a closer alternative for the Aussie golfer. In the early 2010s, a handful of architects saw the potential to bring world class Links style Golf to Australian shores, amongst the wind and rocks of King Island that so resemble the sports home, and now the remote isle is home to two of Australia's most acclaimed courses; Ocean Dunes Golf Club and Cape Wickham Golf Links.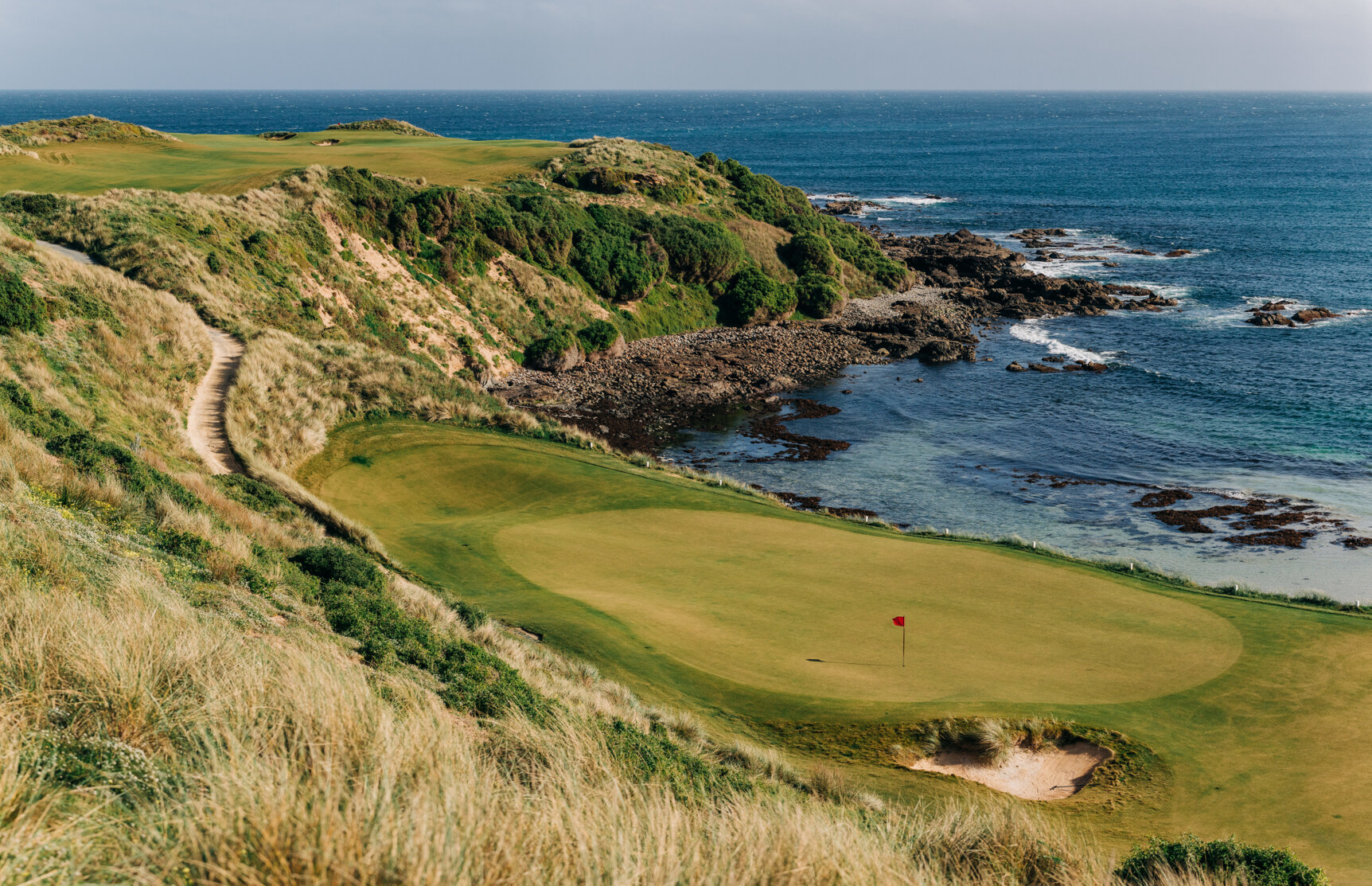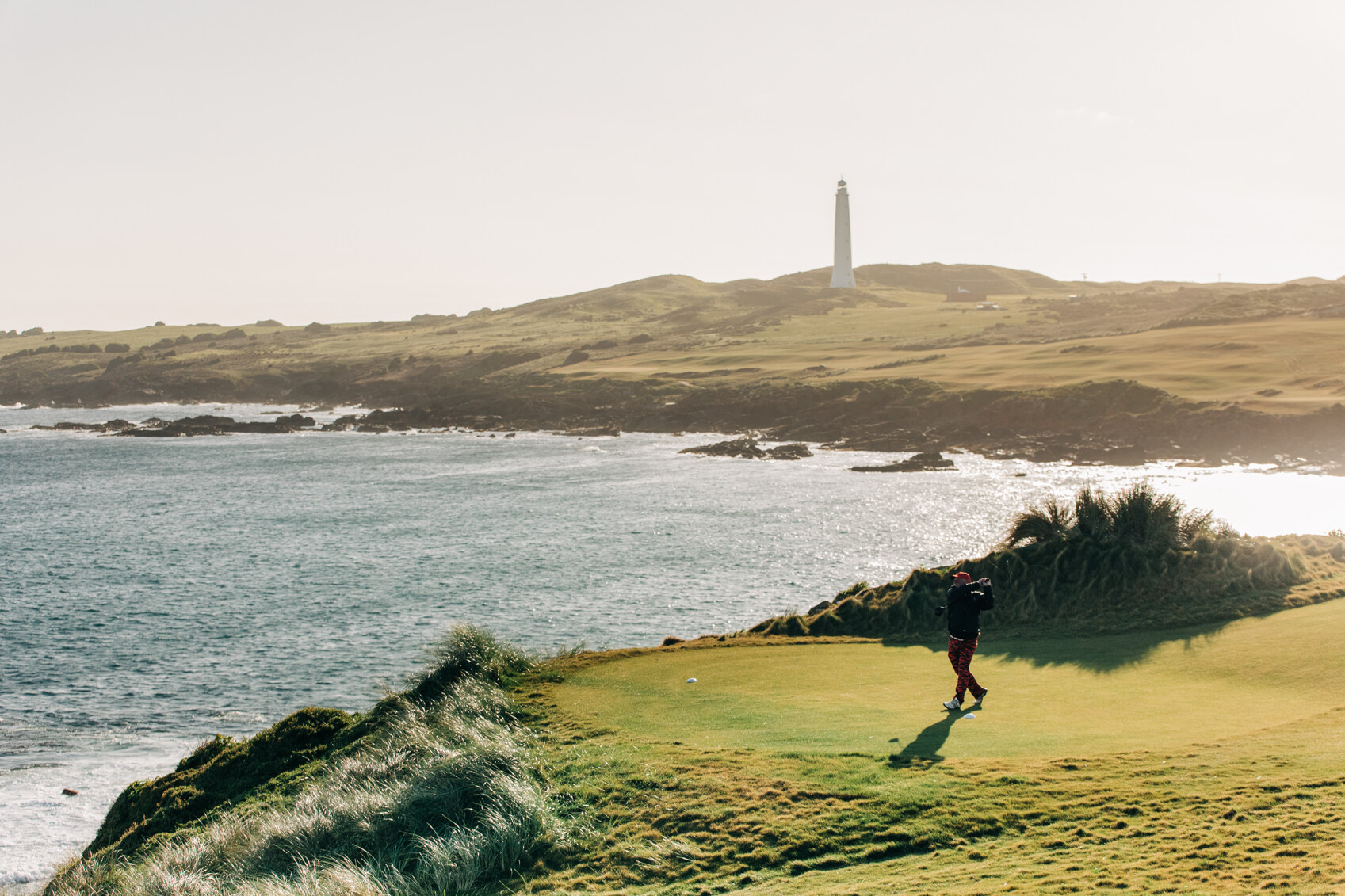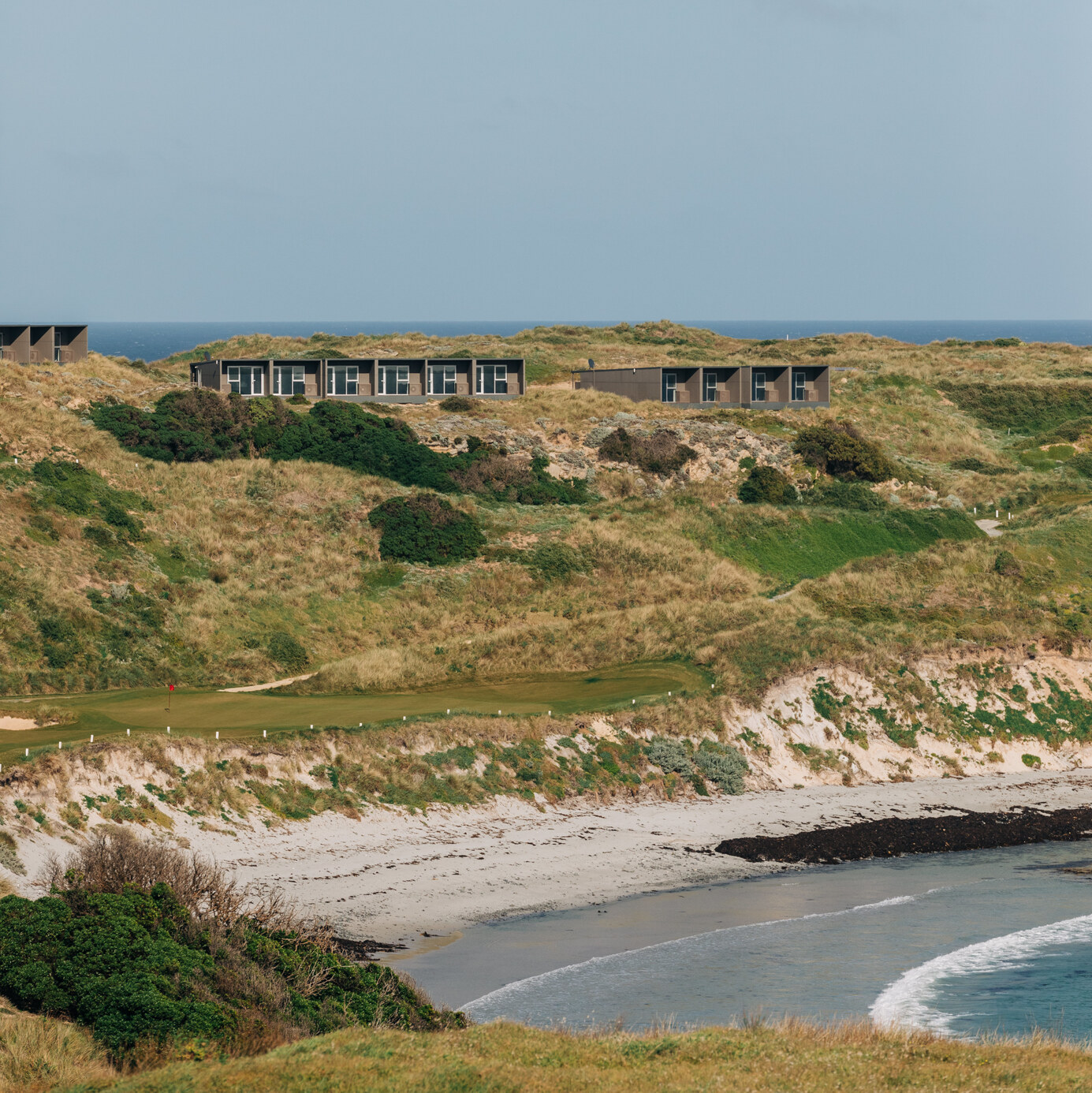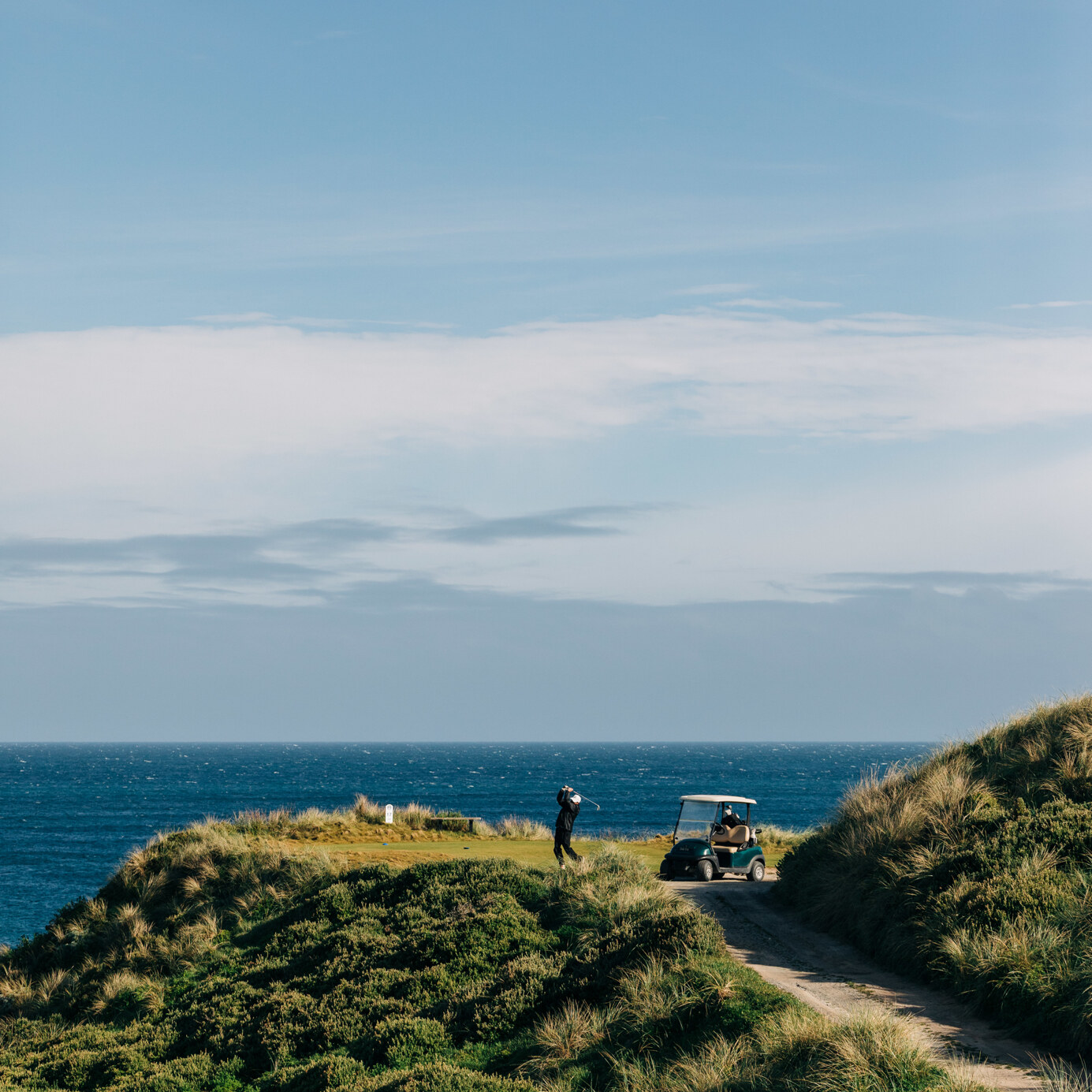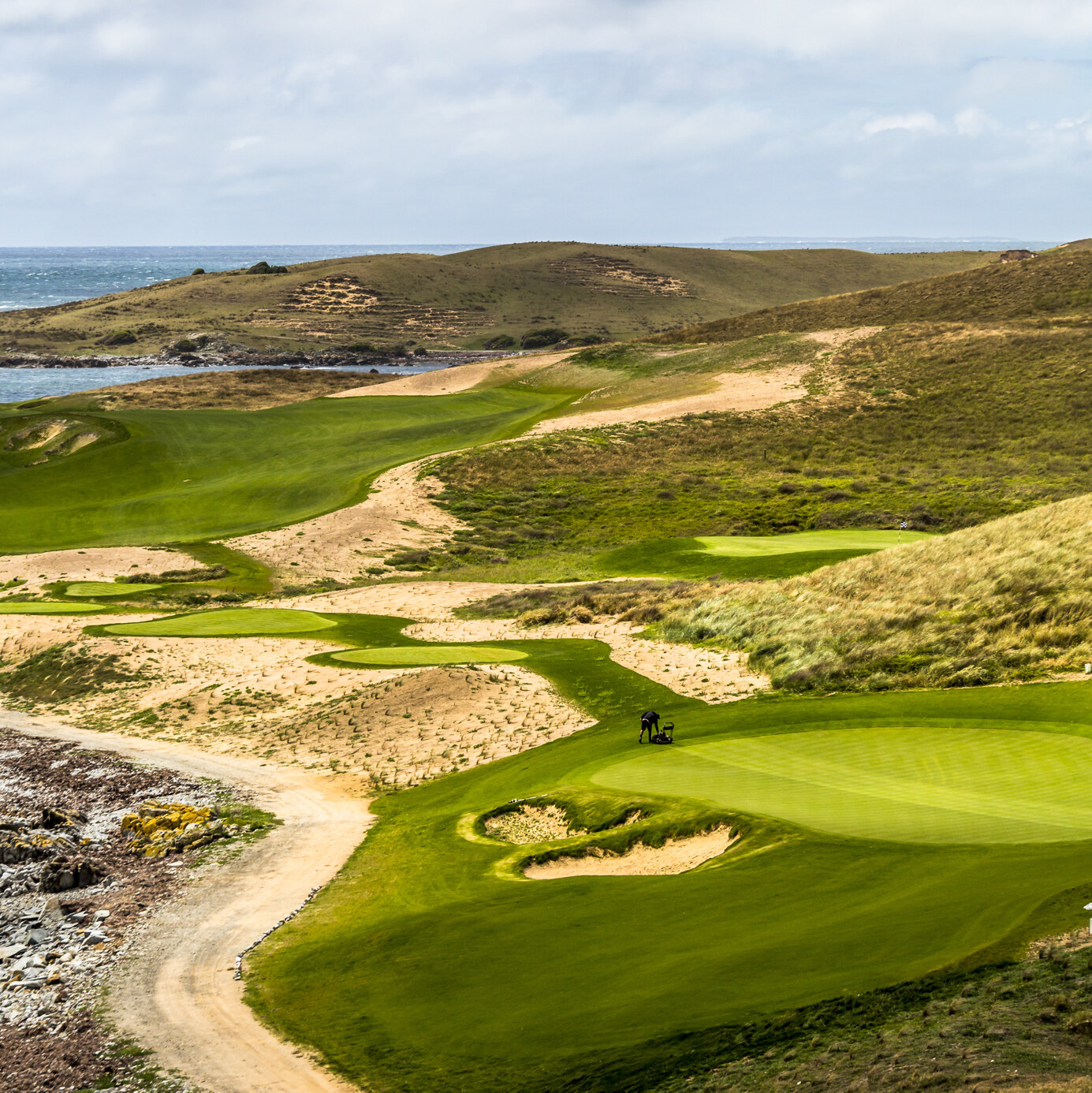 Cape Wickham Golf Links. Image credit: Andrew Wilson & Adam Gibson
The real star of the show is Cape Wickham; a Championship 18-hole links course snaking through the rugged escarpmants and undulating hills in the shadow of the historic Cape Wickham Lighthouse. Golf Australia named this the number one public course in the country, and it recieved 2nd place among all courses. This marvel of a modern links golf club was opened in 2015 to plenty of fanfare, and has thoroughly lived up to the hype. Cape Wickham Golf Links boasts 16 villa style accomodation rooms that sit perched above the fairways with breathtaking views of the coast all around, as well as gourmet restaurant showcasing the delicious freshly caught Bass Strait seafood and Tasmanian wine. When you look around here, it's no wonder pros have said about Cape Wickham that "every shot is like playing into a postcard", and this incredible course is available to the public all year round.
If difficulty is your priority, why not book a tee time at King Island's other major golf destination, the Ocean Dunes Golf Club, opened a year after Cape Wickham. This sprawling links style course is more conveniently located than its older brother, just a few minutes outside of Currie, and offers one thing in more abundance than perhaps any other golf course in Australia; challenge. The fairways here are roaring with wind from all directions and in all seasons, and they dance around the dunes and creeks with two signatures par 3s that demand anxiety inducing tee shots over the open ocean. Of playing Ocean Dunes, golf writer Craig Read said "it's soul destroying, swing destroying, and financially crippling; I'm book to play there again next January." For those who love to be pushed by their golf, this is the destination course for you.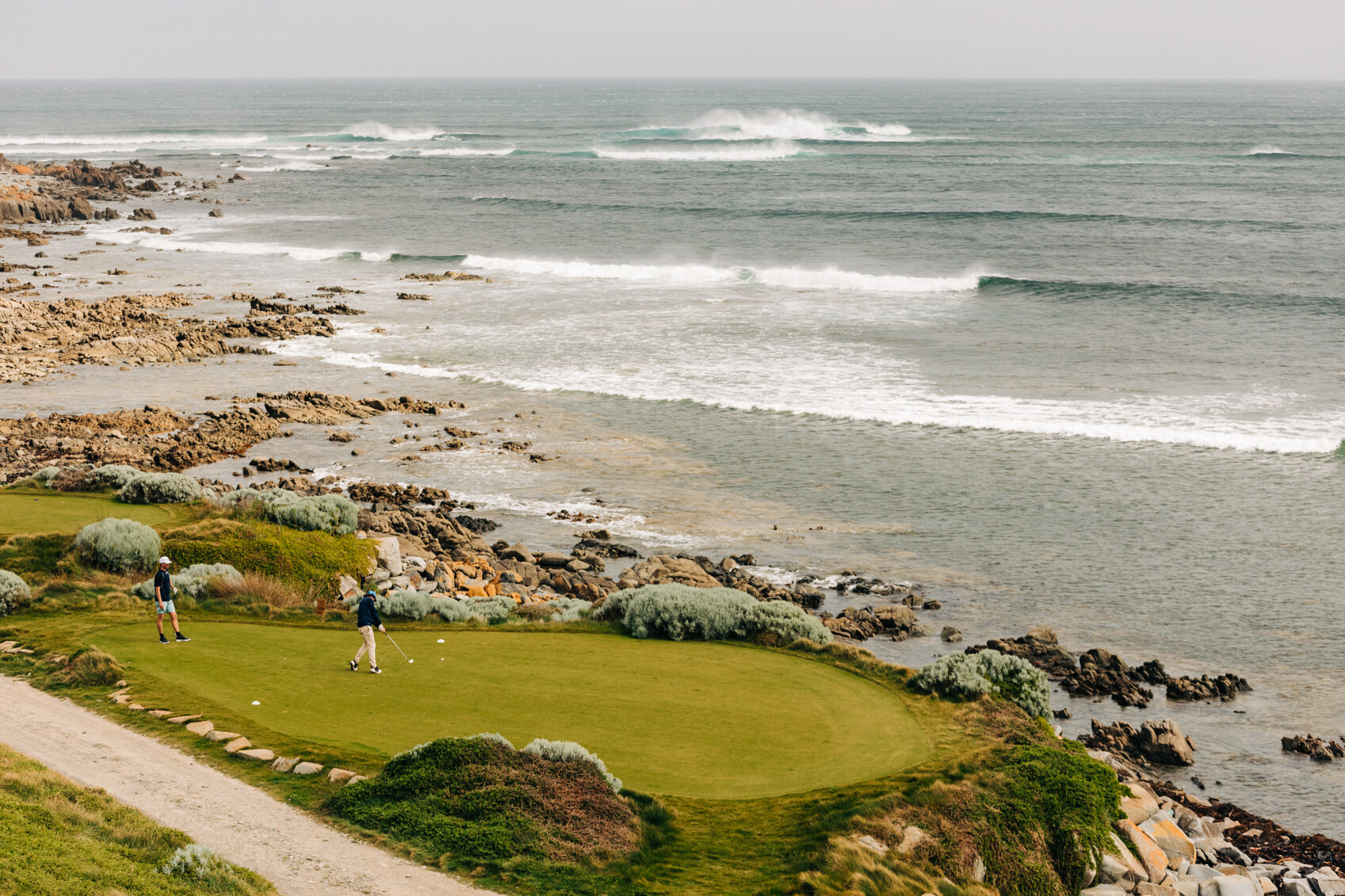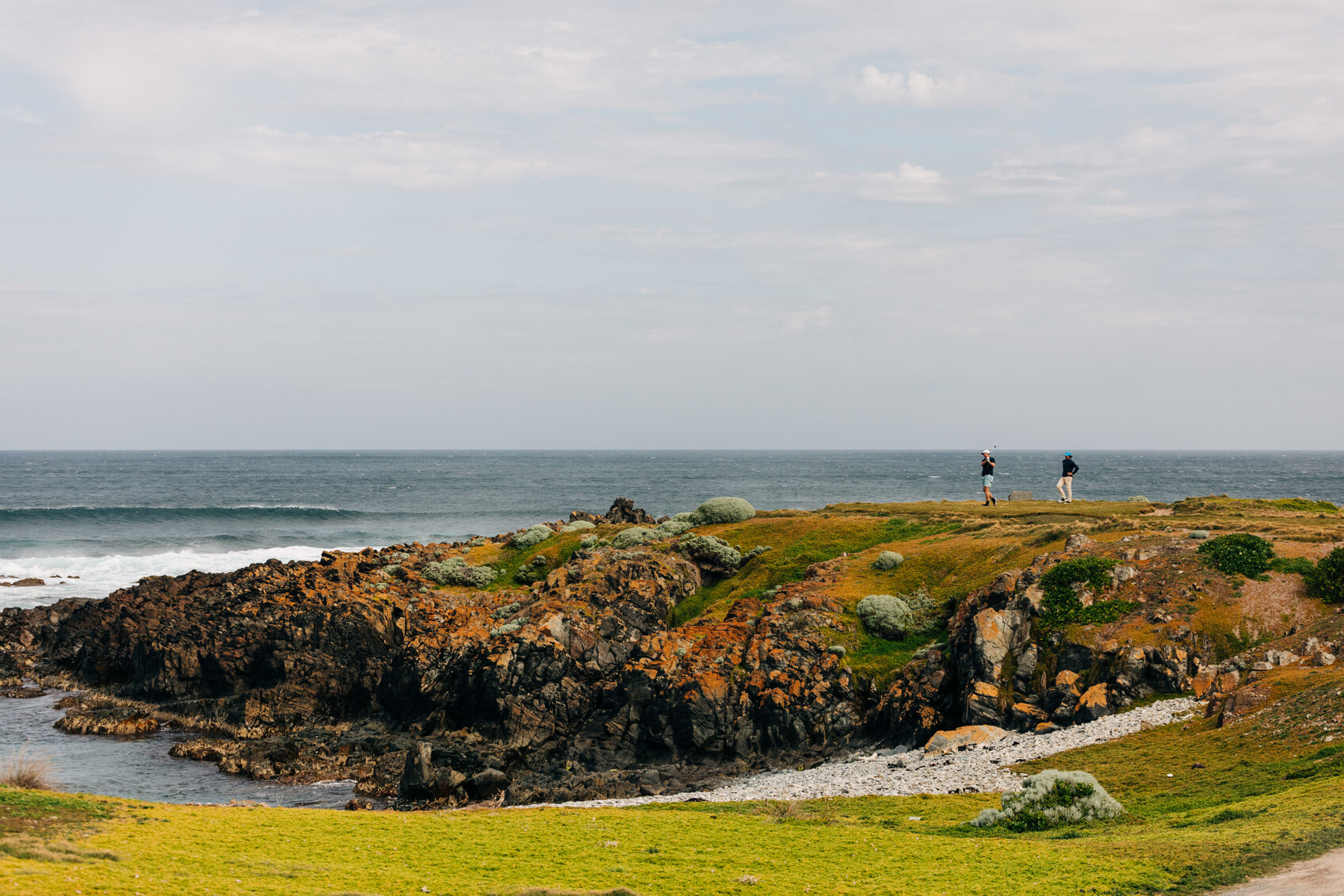 Ocean Dunes Golf Club. Image credit: Adam Gibson
The Furneaux Group
Not far from the North Western tip of mainland Tasmania, the Furneaux Group is the largest collection of islands in the Bass Strait, and perhaps the most beautiful. Flinders Island is it's jewel, but the archipeligo is home to Cape Barren Island, Clarke Island, Prime Seal Island, Badger Island, any many other smaller stretches of forested land peering out from the seas. There are two main towns, Whitemark on the West Coast and Lady Barron on the South coast. The region is most easily accessed by a quick flight from Launceston Airport to Whitemark, and alternatiely there is a scenic and relaxing 8 hour ferry loop that runs between Lady Barron and the Tasmanian town of Bridport. Once here, you'll have at your feet a vast and beautiful archipeligo with vibrant communties and delicious food and wine.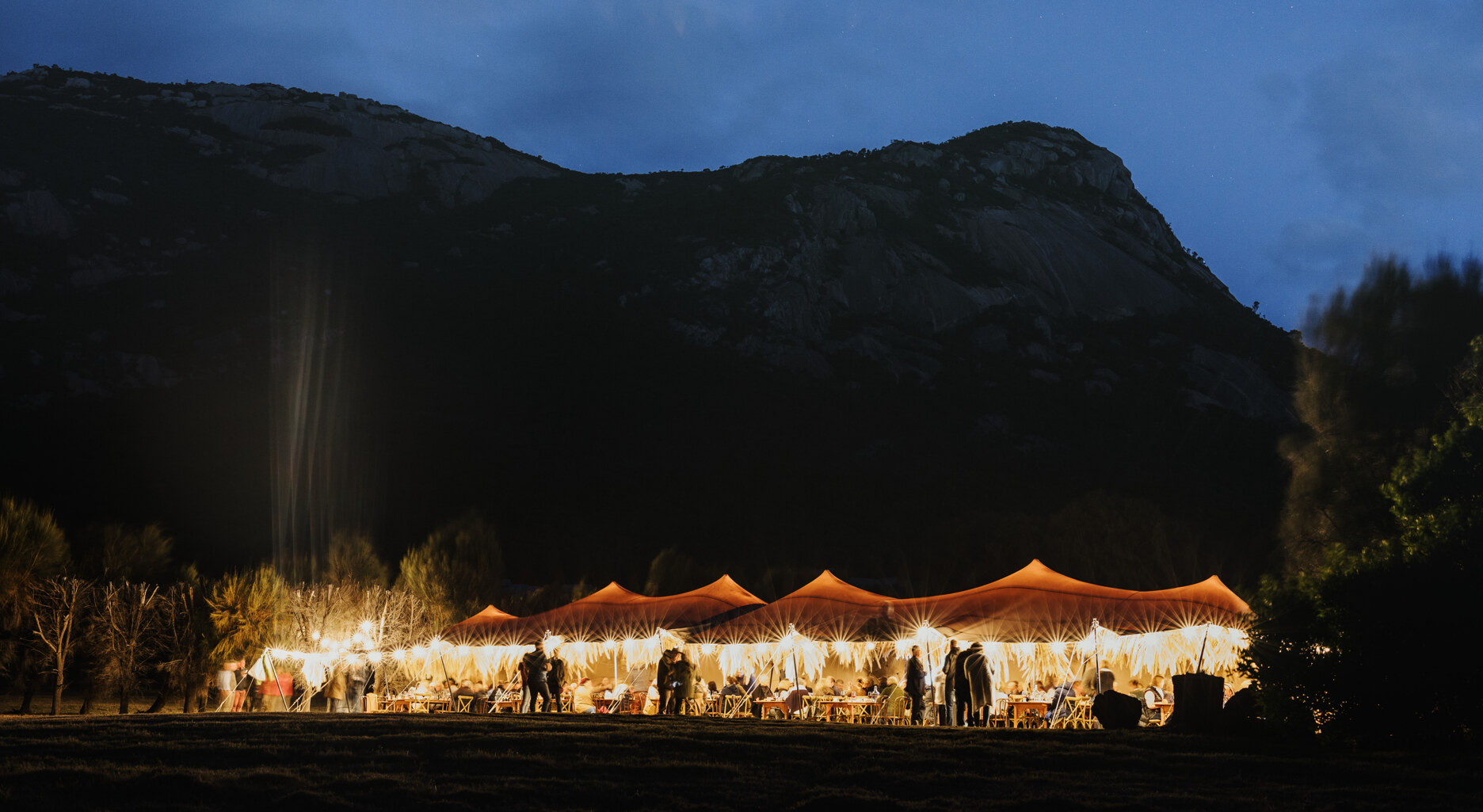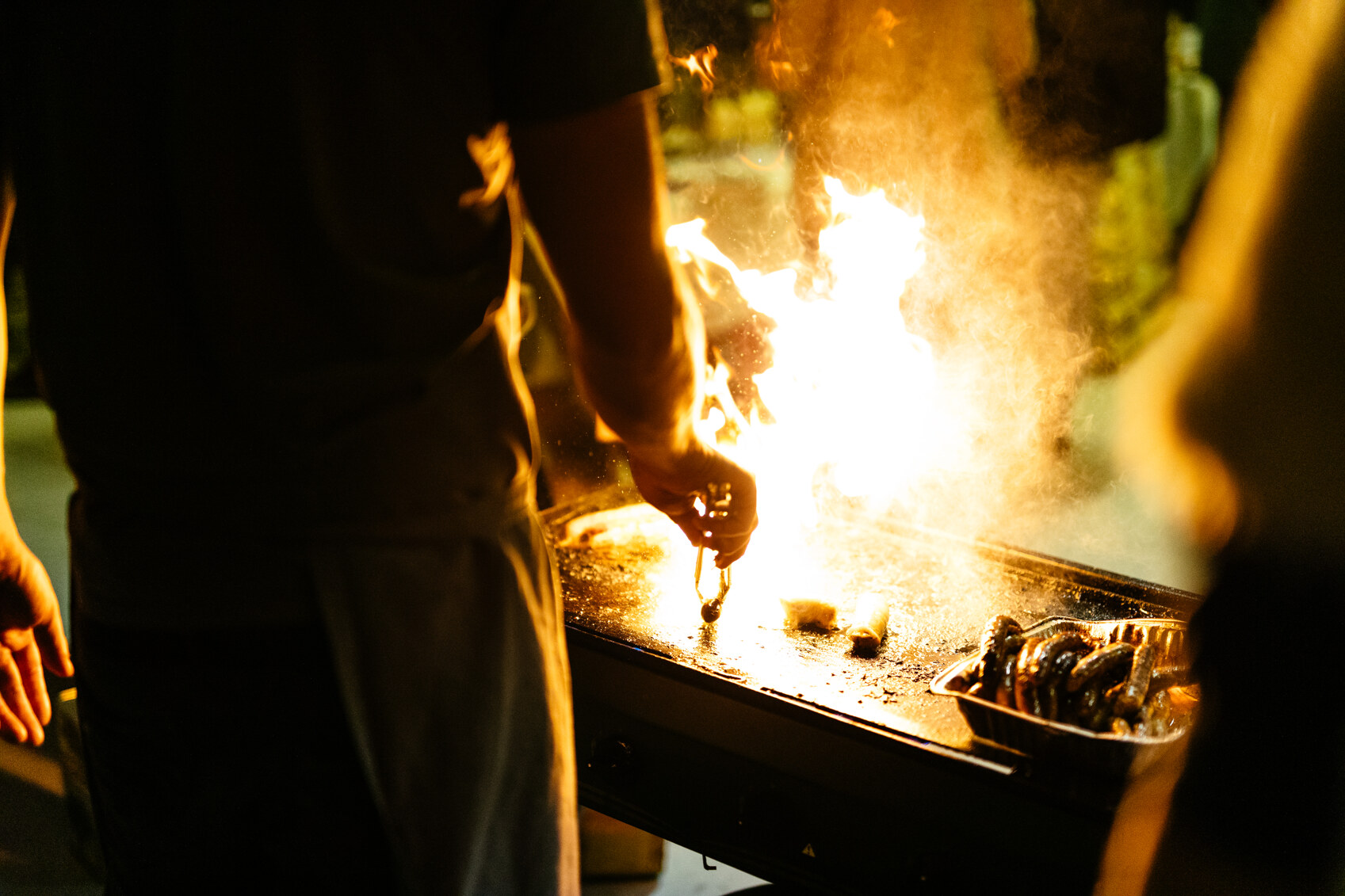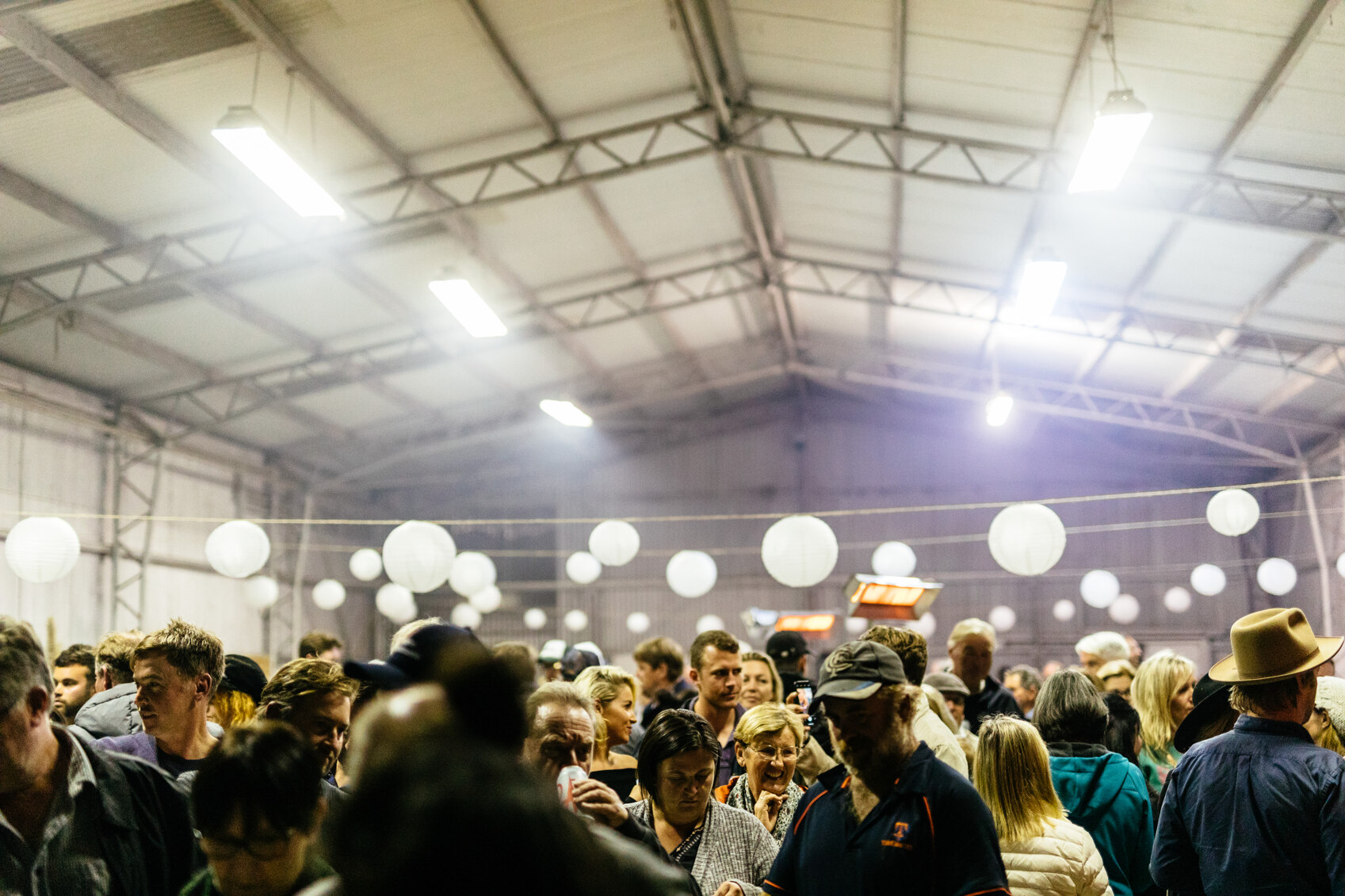 The Flinder's Island Food & Crayfish Festival. Image credit: Adam Gibson
The Flinders Island Food & Crayfish Festival, held every year in April, is the biggest event on the calender here in the Furneaux Group. This is a weekend long showcase of all that Flinders Island has to offer, and a celebration of the fishing traditions and delicious fresh cray that are so beloved in this unique archipeligo. Activities include group boating and fishing sessions with local experts happy to teach visitors anything they'd like to know about the waters here, as well as hiking and birdwatching amongst the trails and nature reserves of Flinders Island. The highlight of the weekend is the Sunday long lunch. Make sure you book your table, as it will be a bonafide feast filled with delicious crayfish and locally grown produce, outstanding Tasmanian wines, and local community spirit.
If you're looking for a fix of delicious Flinder's Island food that's available year round, check out The Flinders Wharf; a licensed gourmet cafe and restaurant right by the water in Whitemark. This charming and modern spot was opened in April of 2019 as the new premier fine dining spot on Flinder's Island, and the sizeable location offers alfresco and waterside dining, a bar and a produce shop, and live music on select nights. There's even a seperately owned distillery on site; the Furneaux Distillery, whose high quality and award winning spirits can be tried neat or in a variety of cocktails from The Flinders Wharf's menu. With panoramic views of the West coast and the Bass Strait, this is easily the most scenic dining experience on Flinders Island, and the acclaimed food and drink is well worth the price.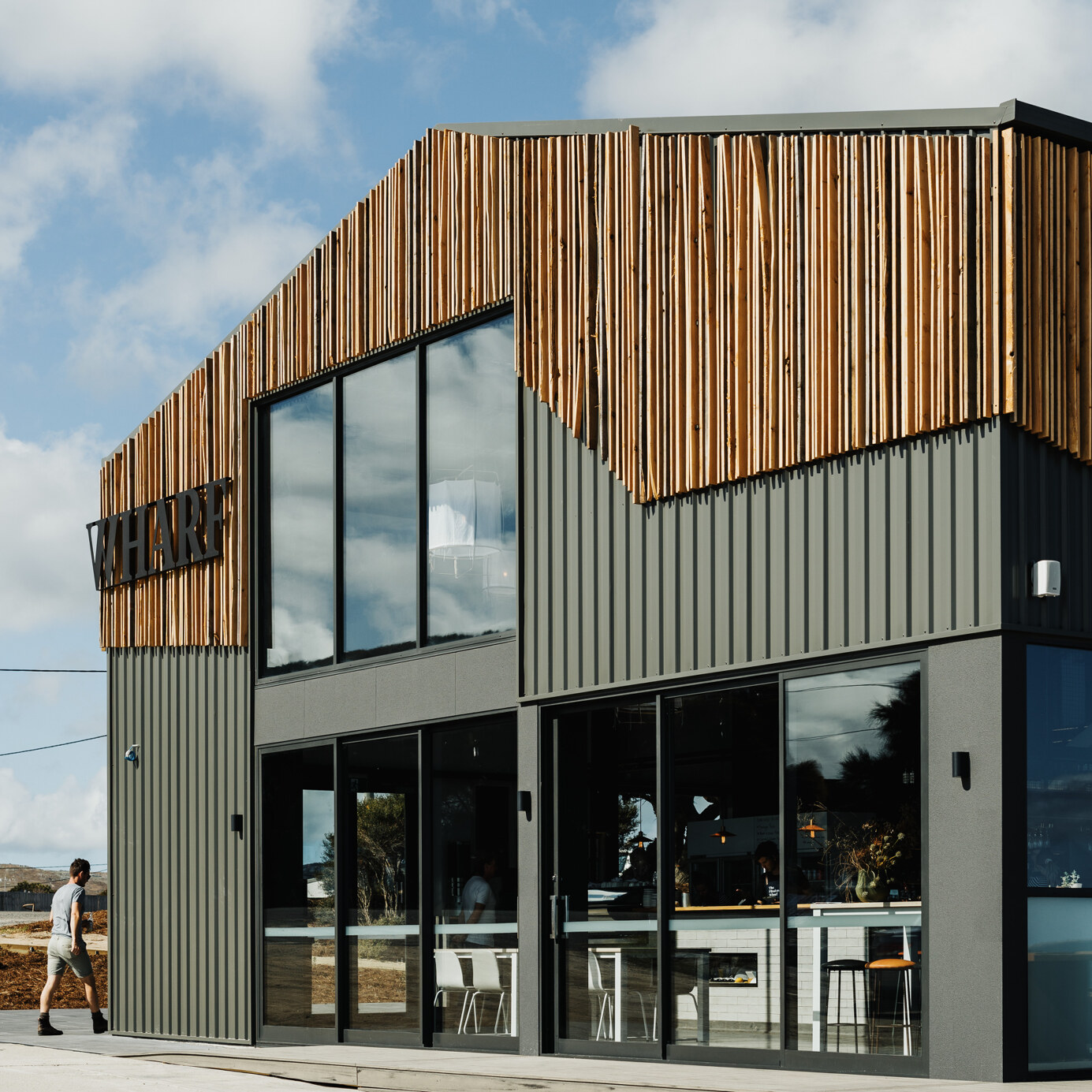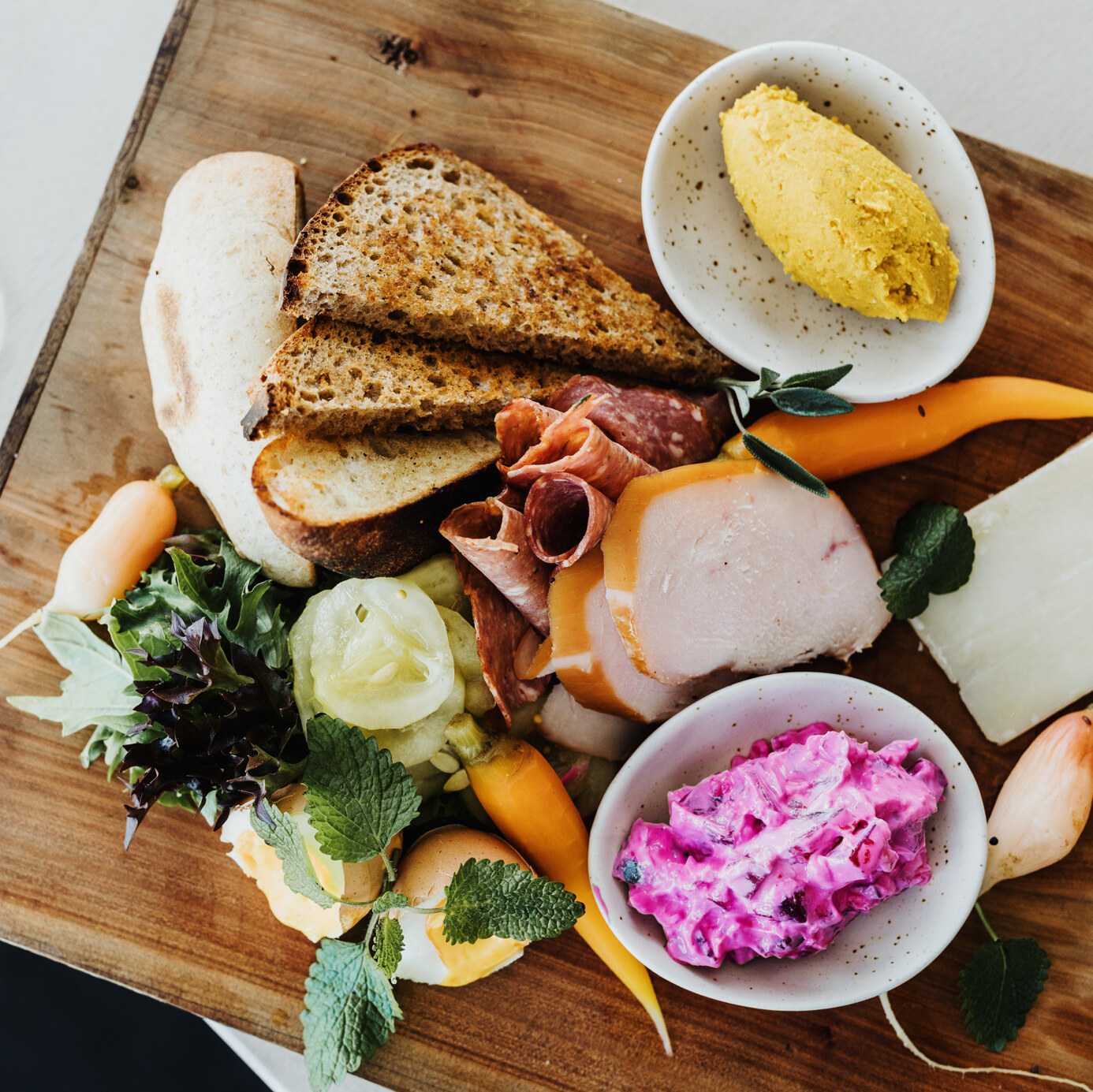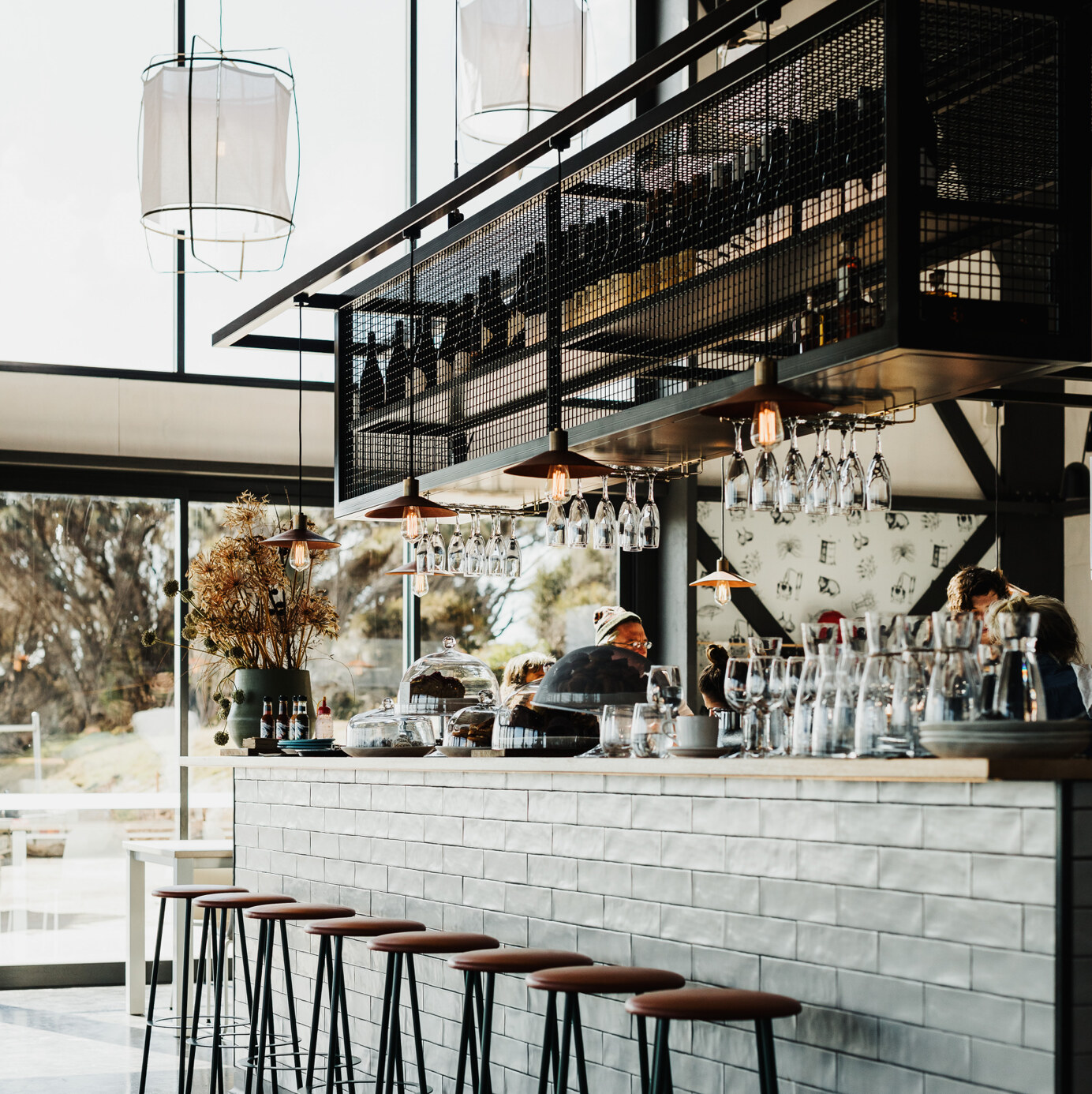 The Flinders Wharf. Image credit: Adam Gibson
While there's no shortage of food and culture to enjoy and immerse yourself in, it is the natural beauty of Flinders Island and the Furneaux Group that really takes the breath away. With a plethora of conservation areas and one stunning national park, there's so much protected environment to explore here, and so many gems to uncover. One of our favourite spots to discover on Flinders Island is Killiecrankie Beach, a stunning unspoilt cove on the North facing coast of the isle. Named after the town of Killiecrankie, a quaint single road settlement that is found at the Northern end of the bay, this region of the Furneauxs has long been known and sought after by the rockhounds of Australia for it's abundance of stunning and pure topaz; known to local's as 'Killiecrankie Diamonds'. Today it is one of Australia's best under the radar beach destinations. With sprawling white sands, the most perfect crystal blue swimming waters, and the dramatic shadow of Mt Killiecrankie to the North, there are few beaches more idyllic and inviting than this far away wonderland.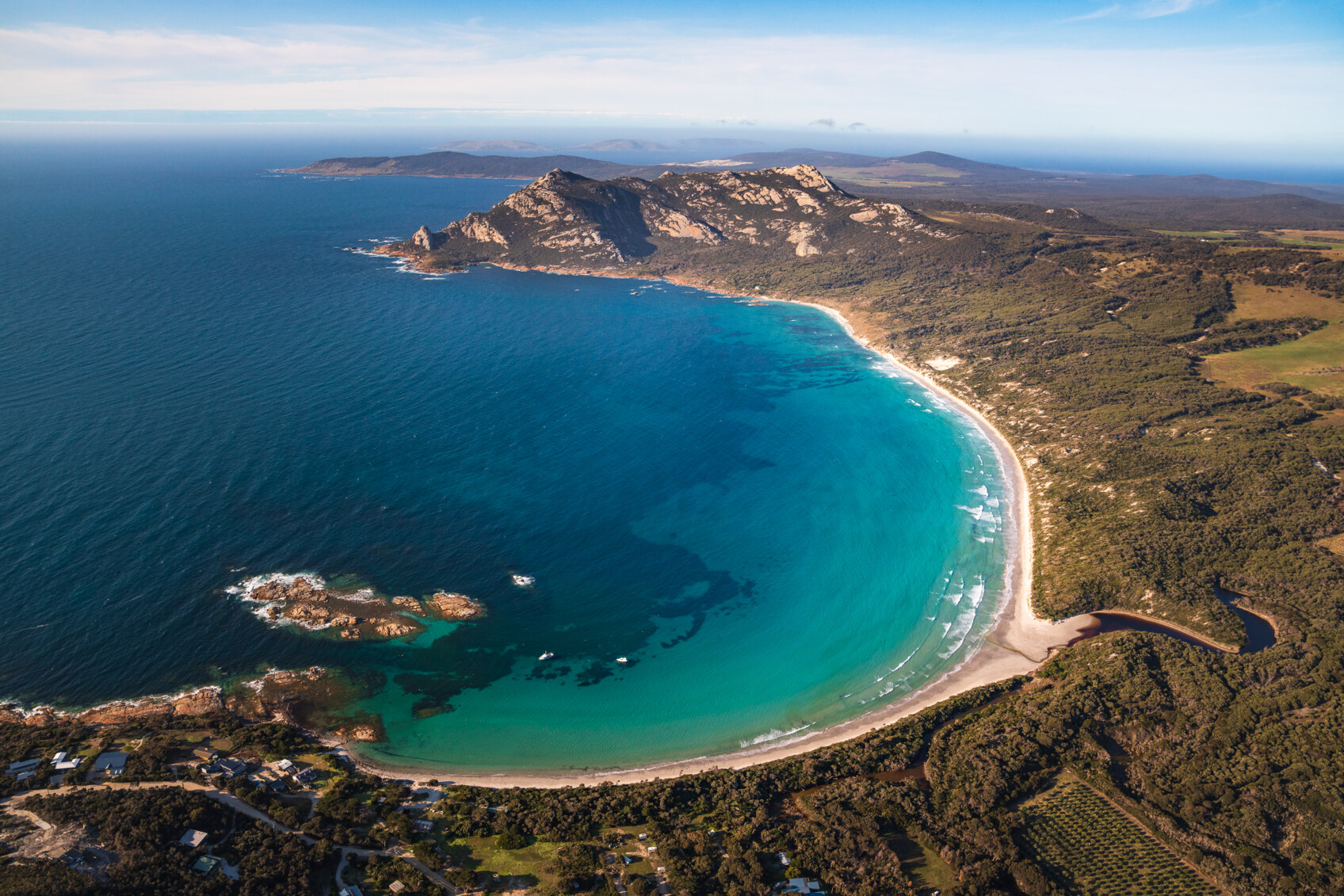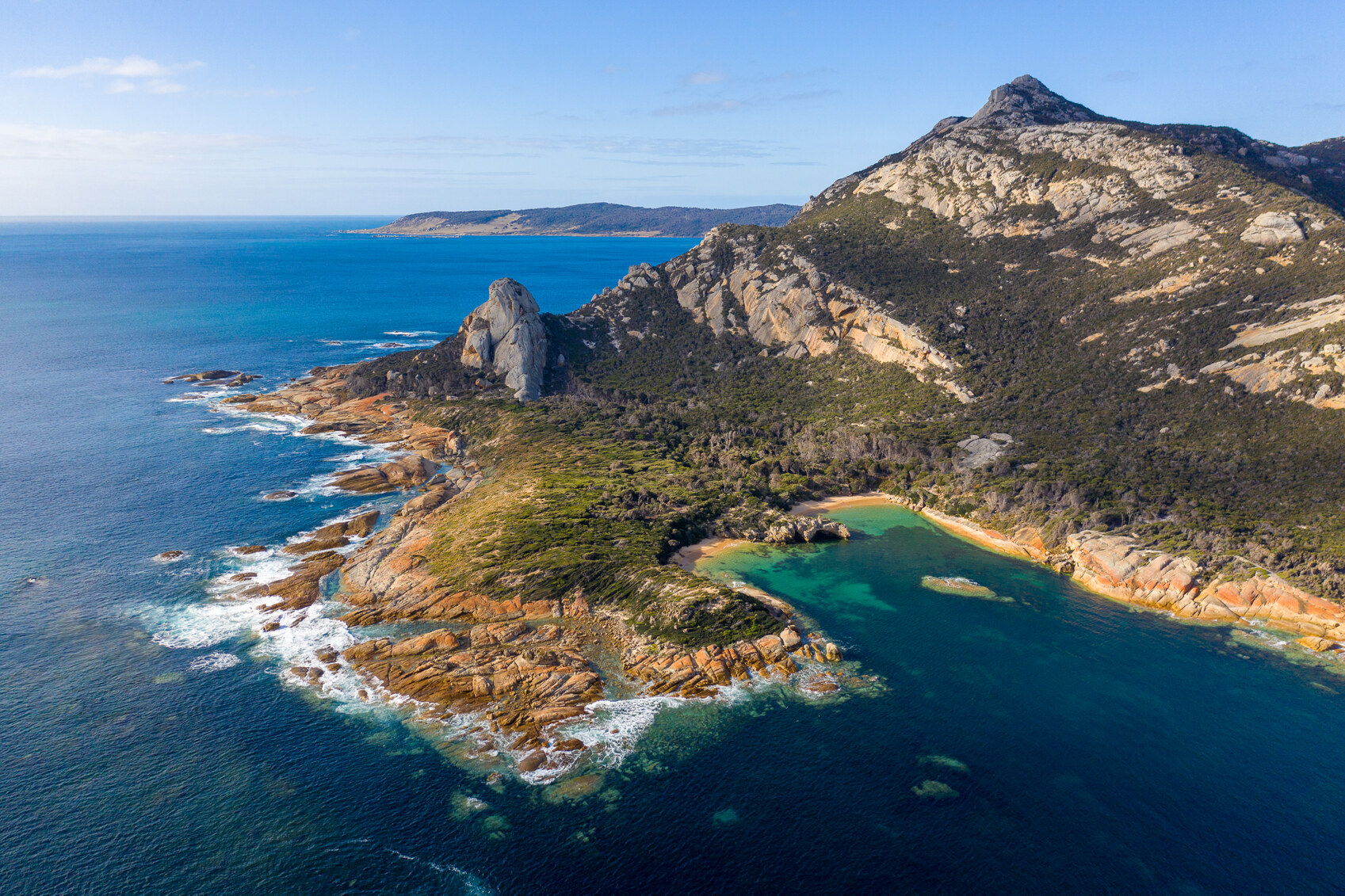 Aeriel views of Killiecrankie Beach and Mount Killiecrankie. Image credit: Luke Tscharke
Perhaps the most impressive natural feature of Flinders Island though, is the magnificent Strzelecki National Park. The only national park in the Furneaux Group, this spectacular seaside range of granite peaks on the island's South coast was established in 1967. Amidst it's many troughs, canopies, and cliffsides, the topography culminates at the summit of Mount Strzelecki, the highest point on the island, from which 360 degree views of the jawdropping scenery all around are well worth the hike. It is an isolating and yet mind blowing place to be. If the exhausting mountain ascents aren't really your speed, not to worry. This diverse national park is filled with turquiose coves and golden untouched sands to sink into. From Trouser's Point to the parks Eastern extent over 10 kilometres away, the beaches here are coloured by red and orange rock formations and sit in the welcome shade of towering granite peaks. The setting is so truly beautiful, it might be hard to believe it when you look around and realise you are the only one there. If that ever isn't the case, there's 15 other picture perfect spots within walking distance. This is a dreamlike coastal paradise, that is yet to be discovered by the wider world of beachgoers. Get in now for your perfect secluded beach holiday.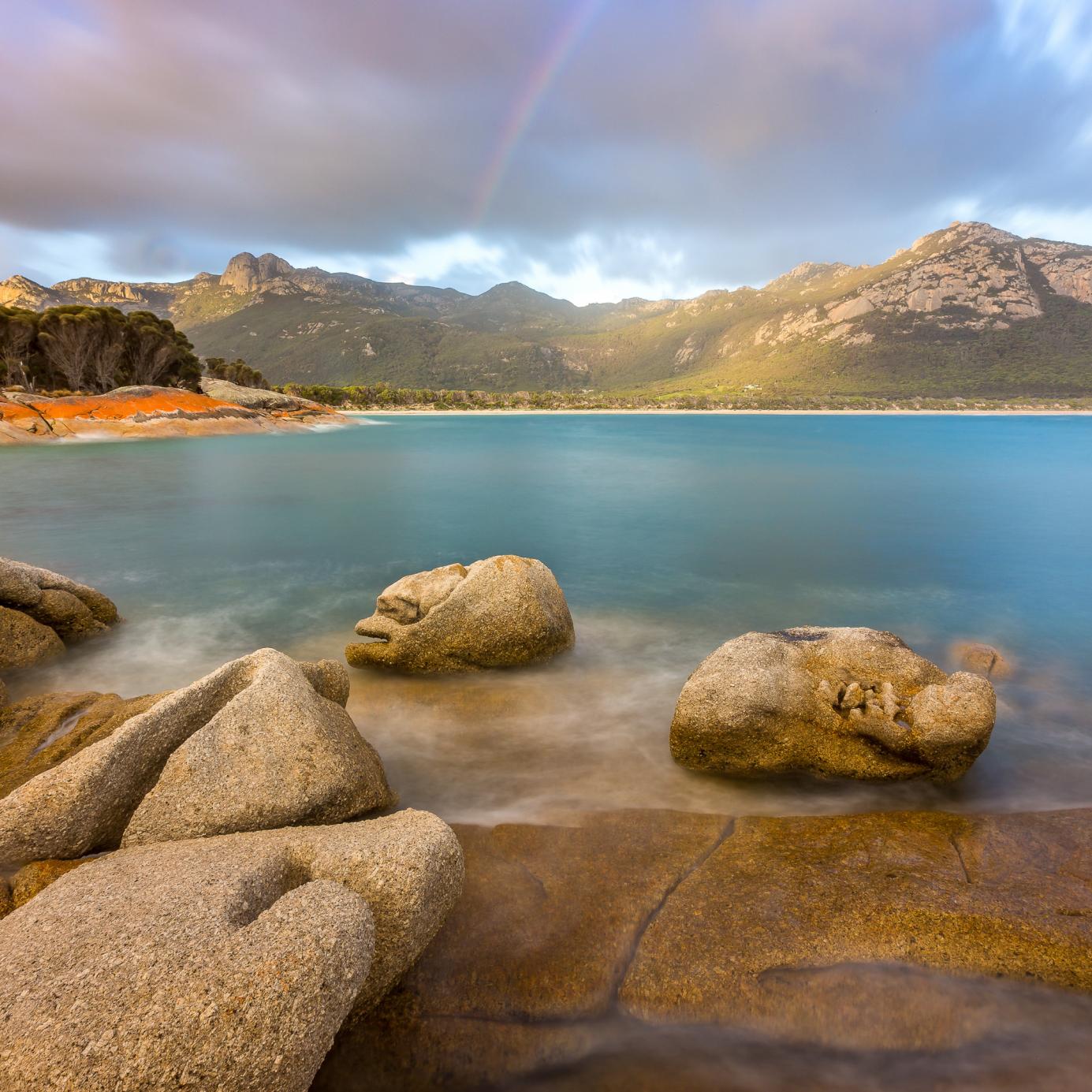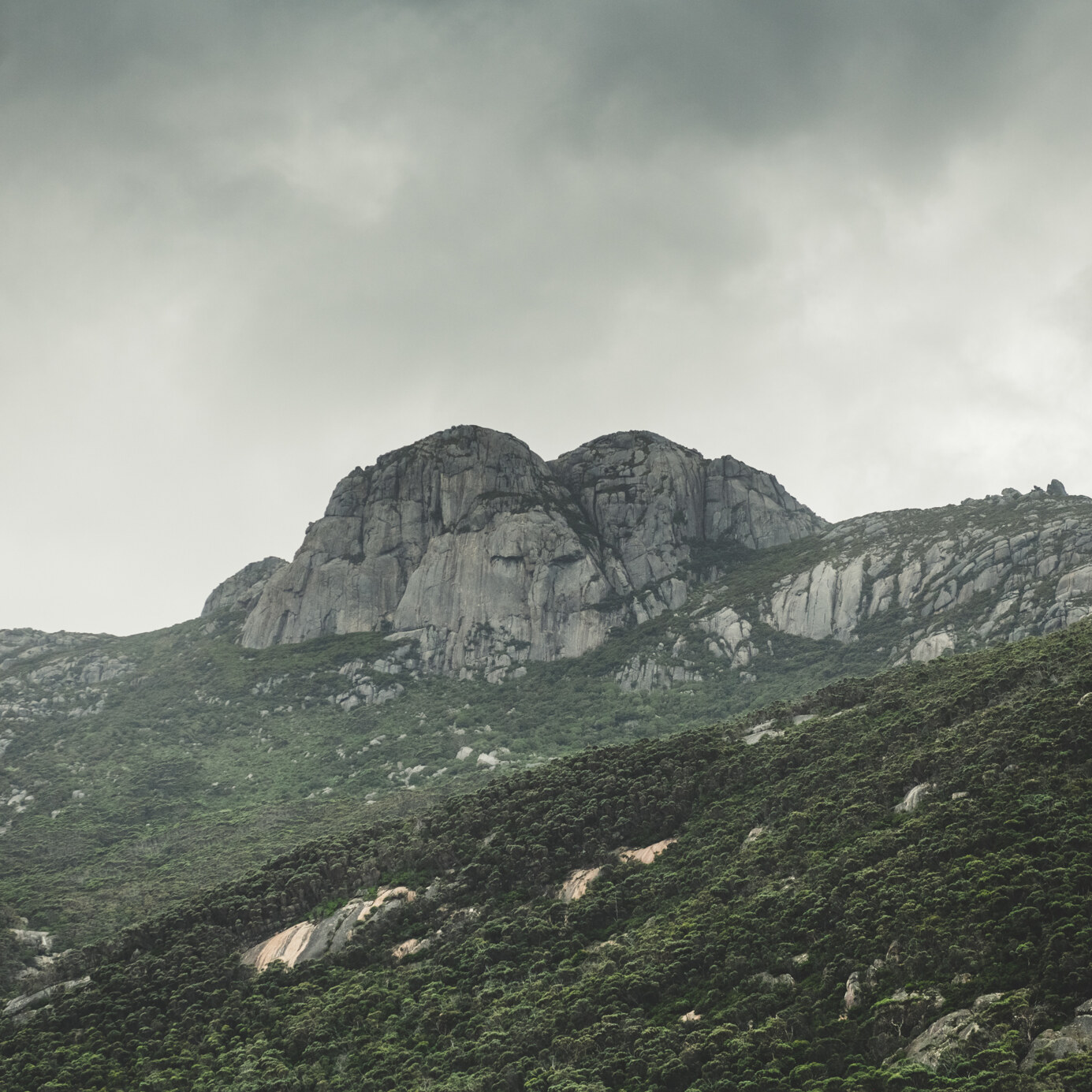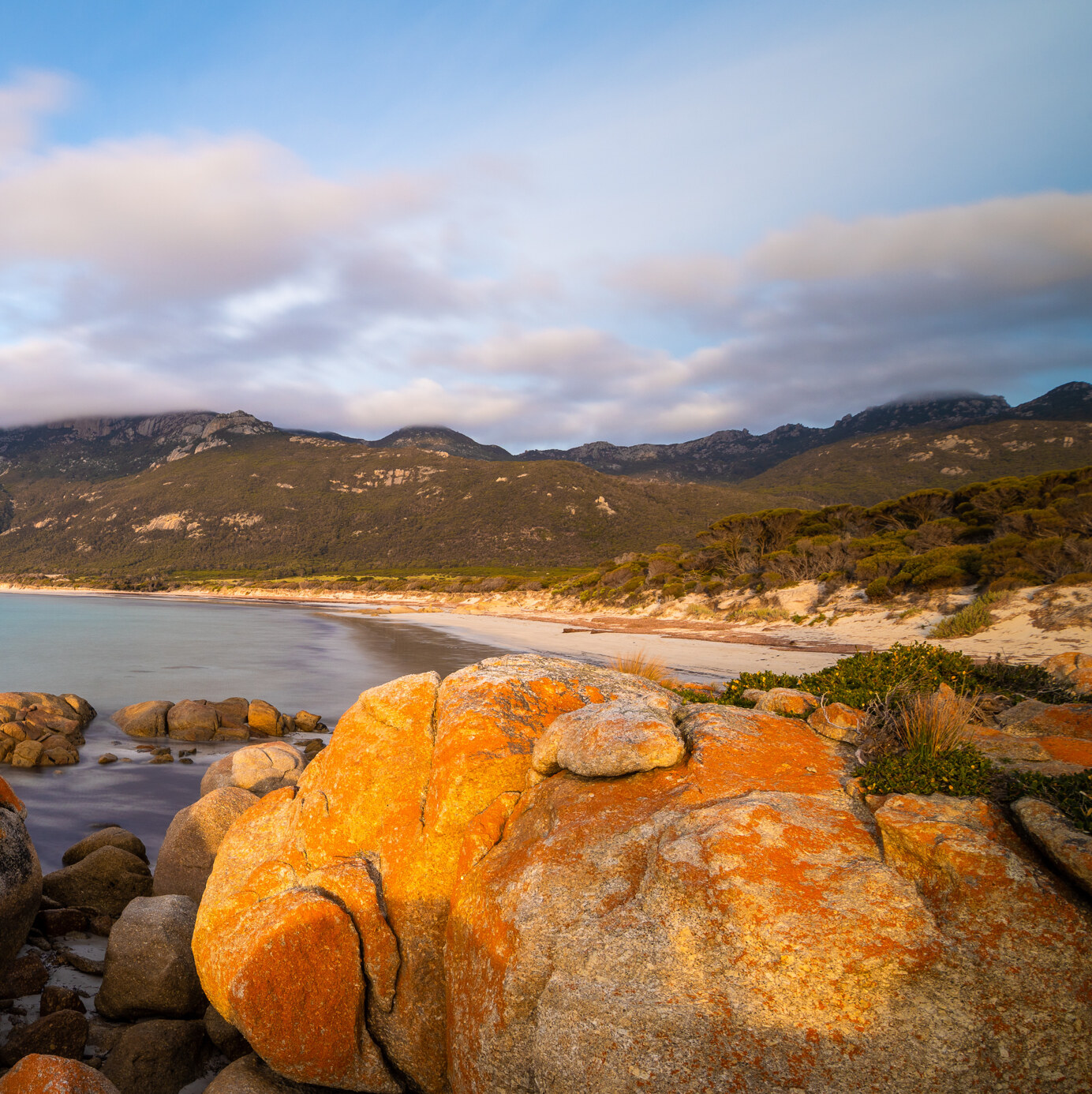 The spectaculer landscapes of Strzelecki National Park, including Trousers Point (bottom) and the peak of Mt Strzelecki (top centre). Image credit: Stu Gibson & Dietmar Kahles