Fly fishing on the Meander River, in Tasmania. Image credit: Adam Gibson
A New Home in Northern Tasmania
Escape to the lush hinterland of the Meander Valley, TAS region located in the heart of Northern Tasmania. Its prime location is just a 50-minute drive from both Launceston and Devonport, where you will find a welcoming community with a love of their region and its rich history. Relax in the picturesque scenery of the surrounding mountain ranges of Quamby Bluff and Mother Cummings Peak and the Greater Western Tiers just beyond. Admire the traditional architecture in the local villages and embrace the renowned Meander River which flows through the centre of the township, surrounded by sweeping, green pastures and native flora and fauna. The region is home to some of the state's best short walks, world heritage listed wilderness, scenic cycling trails, trout fishing and gourmet local food producers. Meander Valley is quintessential country living, with a modern attitude, recognised as having one of Tasmania's most progressive and forward-thinking councils. Make Meander Valley your next home or visit for an epic holiday.
Meander Valley, TAS has a rich history; respect is unquestioningly payed to the Traditional Custodians of this land, the Pallittore Aboriginal people. European settlement occurred in 1822 and today the region has a growing population estimated to be around 20,000. Residents can enjoy an area characterised by heritage buildings and green pastures with an old-worldly feel. Transport to a different time, whilst the community itself is continually progressing and prospering, a great place for families to settle.
Agriculture and Industry in Meander Valley, TAS
Meander Valley has a large agricultural sector with around 435 rural businesses farming an area of over 105,000 hectares. Farming is predominately livestock; dairy, beef and sheep account for almost 75 percent of total farmed area. The remainder consists of cropping; vegetables, potatoes poppies, pasture seeds and cereals. The rich soils and prime farming land combined with the diverse climate allows for a range of agricultural growth, from high rainfall and relatively cool areas in the south and west to warmer and drier areas in the east towards Launceston. This land is on basalt, the soils are deep, well‐structured free draining and suitable for intensive cropping. Agriculture, manufacturing, transport and logistics based businesses all show great opportunity for residents to benefit due to Meander Valley's geographic location and the affordability of the industrial zone land.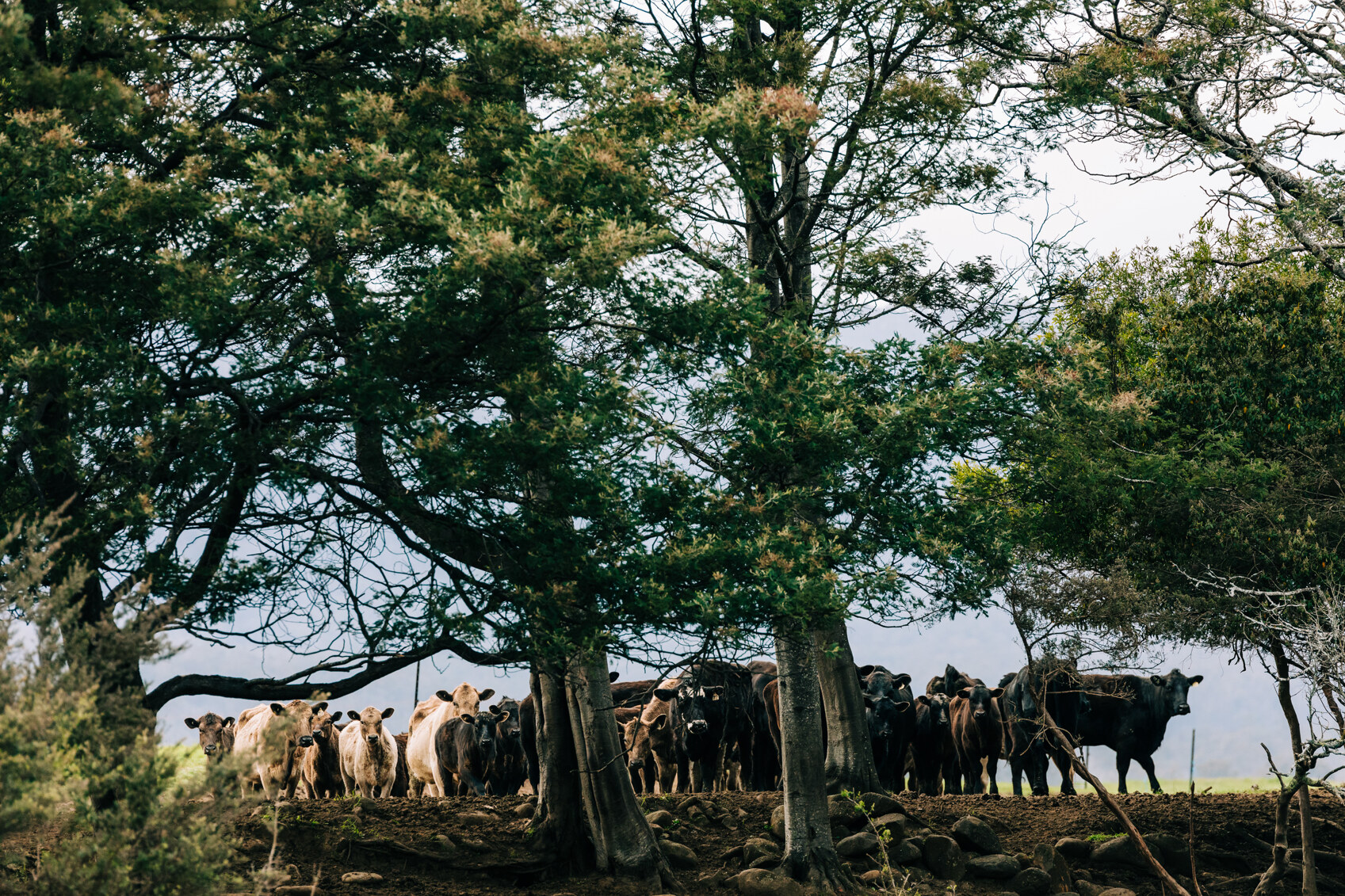 Cattle by the Meander River, in Meander Valley. Image credit: Adam Gibson
Culture and Activities in Meander Valley, TAS
There is so much to explore in Meander Valley both above and under the ground! Visit Mole Creek Caves and explore the hidden gems just below your feet. There are over 300 magnificent caves, the two main caves being Marakoopa and King Solomon's, said to once have been home to the Palittorre people. Try something completely unique and unforgettable, the best part is, come anytime of the year as the climate never changes inside the caves.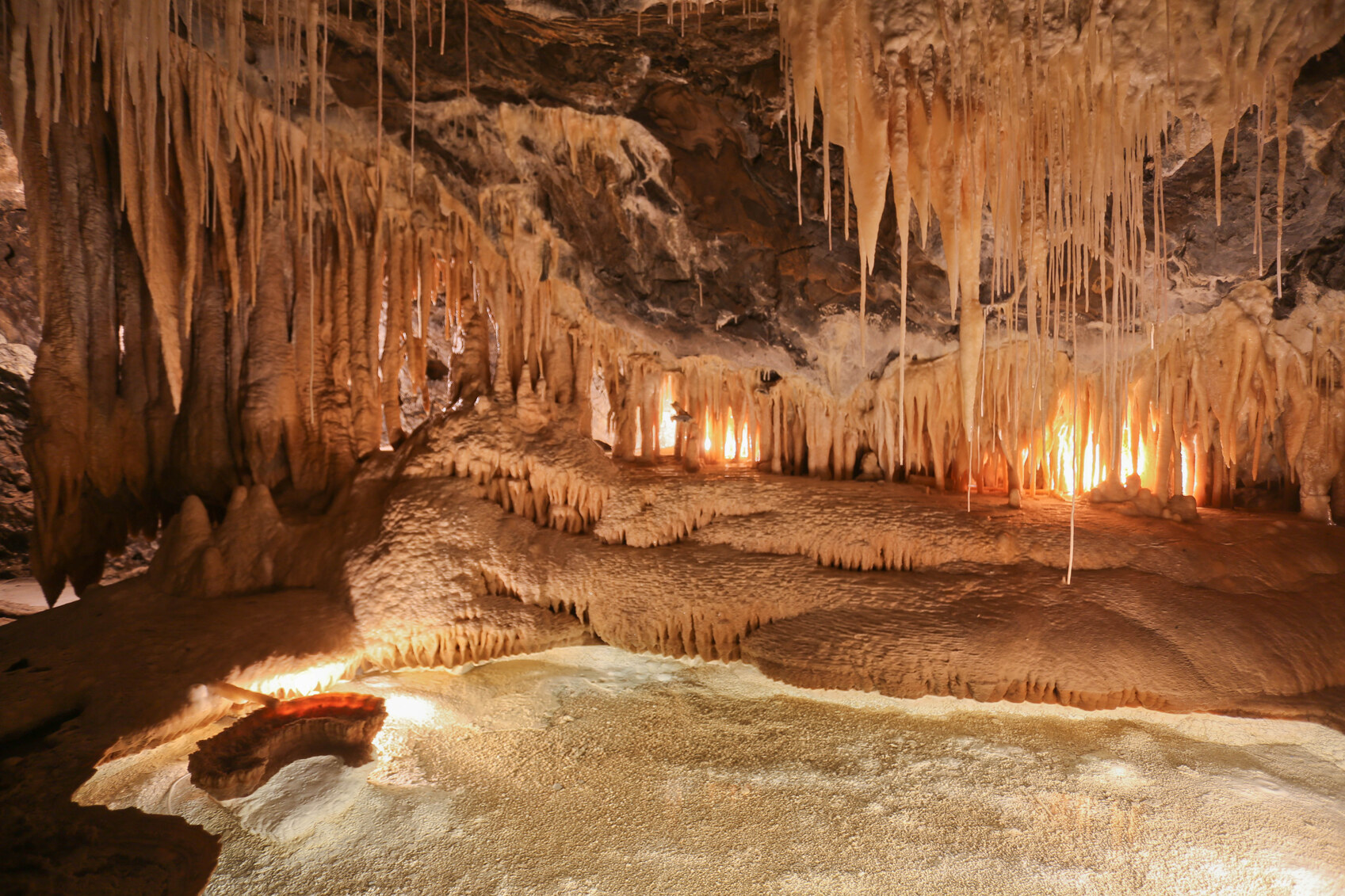 Mole Creek Caves tour in Meander Valley. Image credit: Tourism Australia & Graham Freeman
Immerse yourselves in the wonders of Northern Tasmania's serene outdoors. Liffey Falls is the perfect place located in the foothills of the Greater Western Tiers, the State Reserve is enveloped by a cool temperate rainforest and is part of the Tasmanian Wilderness World Heritage Area. You will be met with a spectacular multi-level waterfall, lush green forest and picnic areas.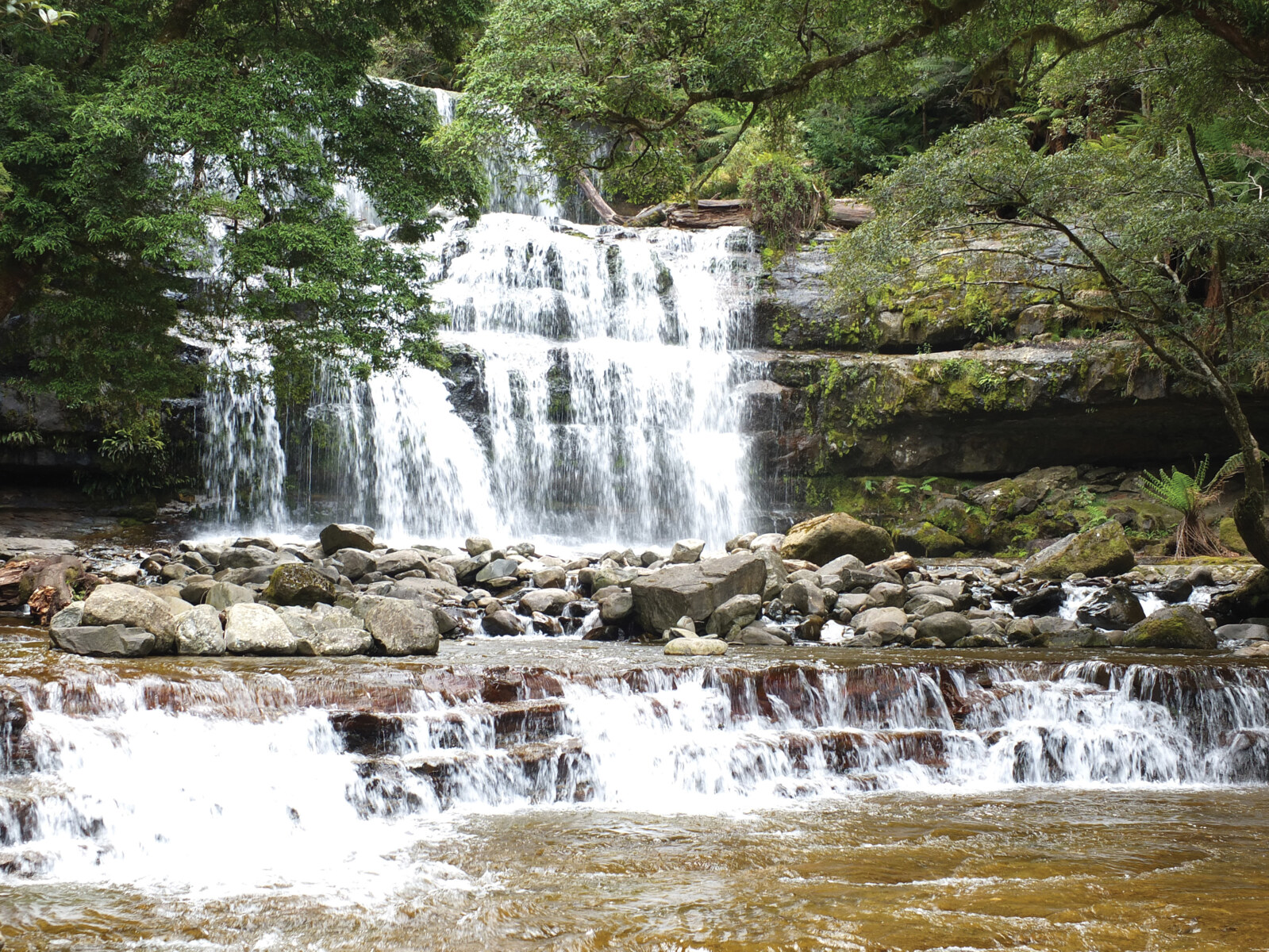 Great Short Walks in Liffey Forest Reserve. Image credit: Tourism Tasmania & Masaaki Aihara
A visit to Driftwater is highly recommended. As fly-fishing is such a popular recreational activity for both locals and visitors of the Meander Valley region, Karen and Peter Brooks have created Driftwater to share their knowledge and passion for fly fishing. Stay a few nights at the renovated century old homestead, surrounded by heavenly gardens and brush up on your fishing skills.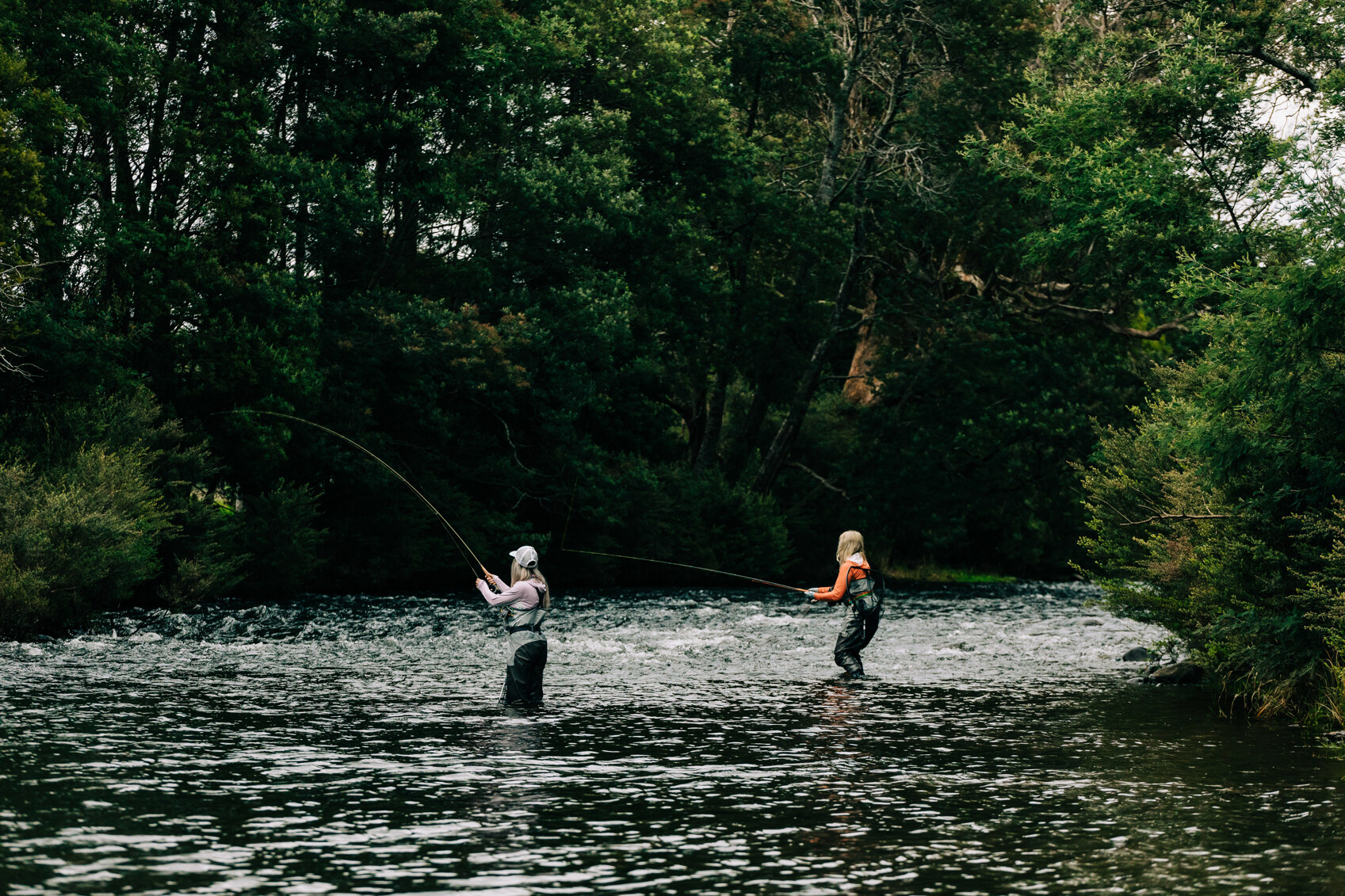 Fly fishing on the Meander River, at Driftwater. Image credit: Adam Gibson
Get lost in Westbury Maze, a traditional two-metre-high hedge maze which will have you stumped by its many twists and turns. After you have defeated the maze, stop for a well-earned treat at the café.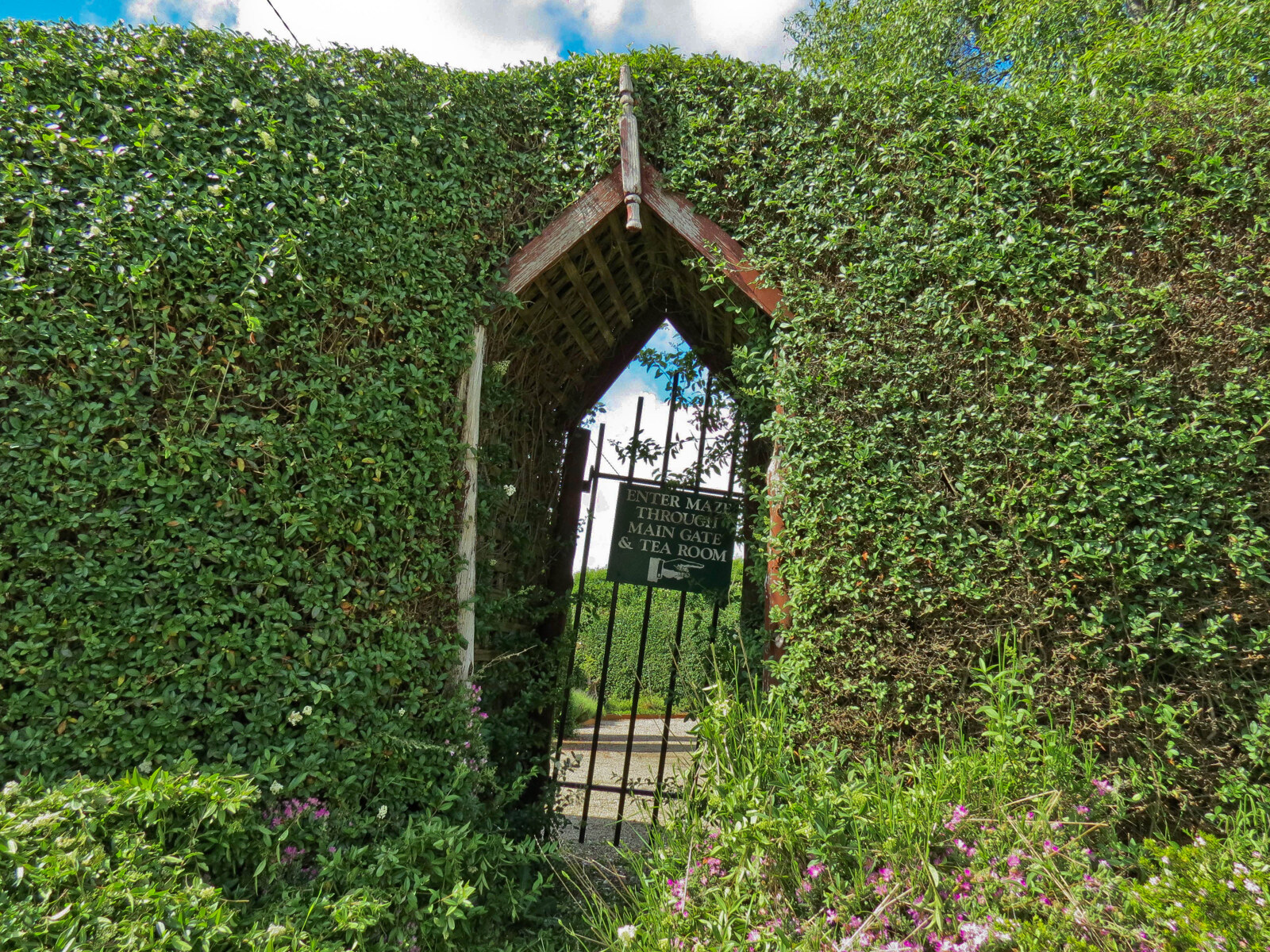 Westbury Maze and Tea Room in Meander Valley. Image credit: Tourism Tasmania & Kathryn Leahy
Stop and satisfy those sugar cravings at Christmas Hill's Raspberry Farm. Enjoy the three-course lunch meal, chocolate covered raspberries, fresh homemade raspberry ice cream or how about a serve of raspberry infused coffee! Support this local commercial working raspberry farm and enjoy a unique tasting experience.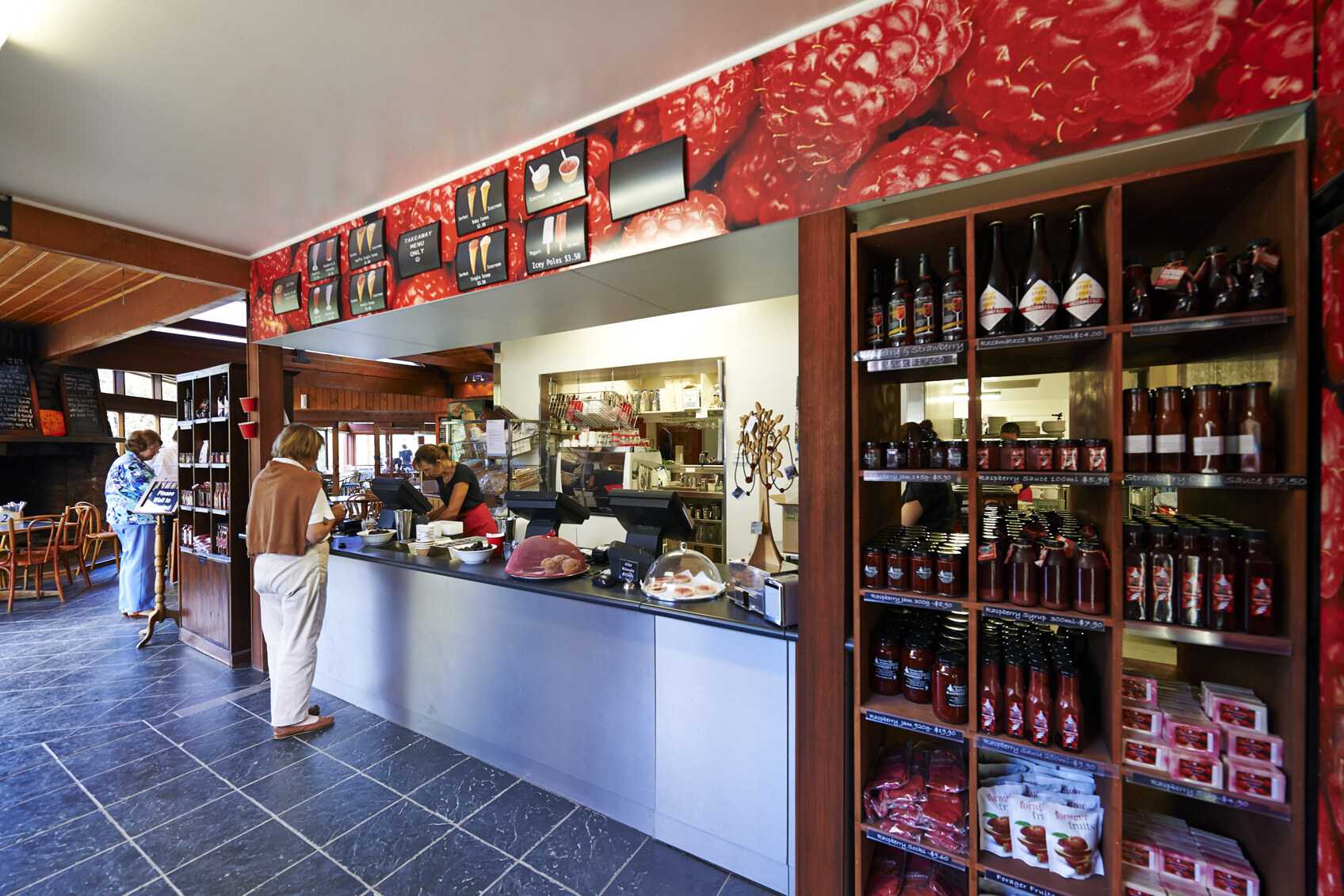 Christmas Hills Raspberry Farm Cafe, in the Meander Valley region. Image credit: Phil Kuruvita
Meander Valley is a place for all and has amazing art exhibitions and museums in the region. "Artwork in Silk Yarns" is a spectacular large scale textile project of four quilted, soft sculpture silk panels. One for each season, it provides the viewer with a glimpse into the landscapes, culture, and heritage of the Meander Valley people. Modern upgrades were made in 2020, you can now be amazed by the accompanying virtual reality presentations and narration, to get a more in-depth visceral experience.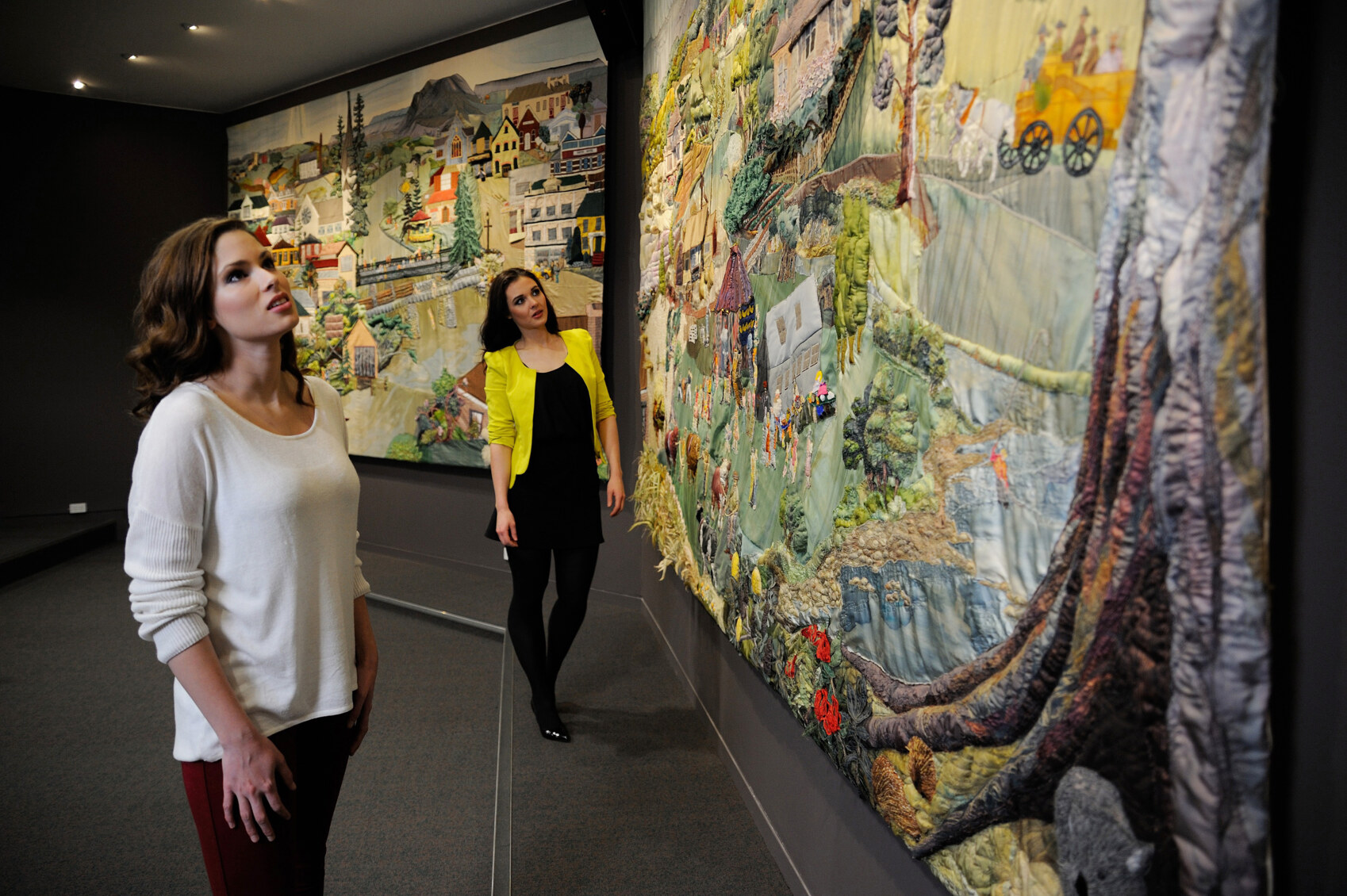 Yarns Auditorium, Great Western Tiers Visitor Centre, in Meander Valley. Image credit: Chris Crerar
If history is more your thing and you would like to gain a better understanding of the evolution of the farming industrial machinery used in the region, Pearns Steam World has you covered. With the largest collection of steam engines in the Southern Hemisphere, admire the massive vintage tractor fire engines. They don't only cater for machines with displays showing a settler's cottage and the life stories of four generations of Pearn women. The family can also enjoy a ride on the mini steam train and picnics under the sun.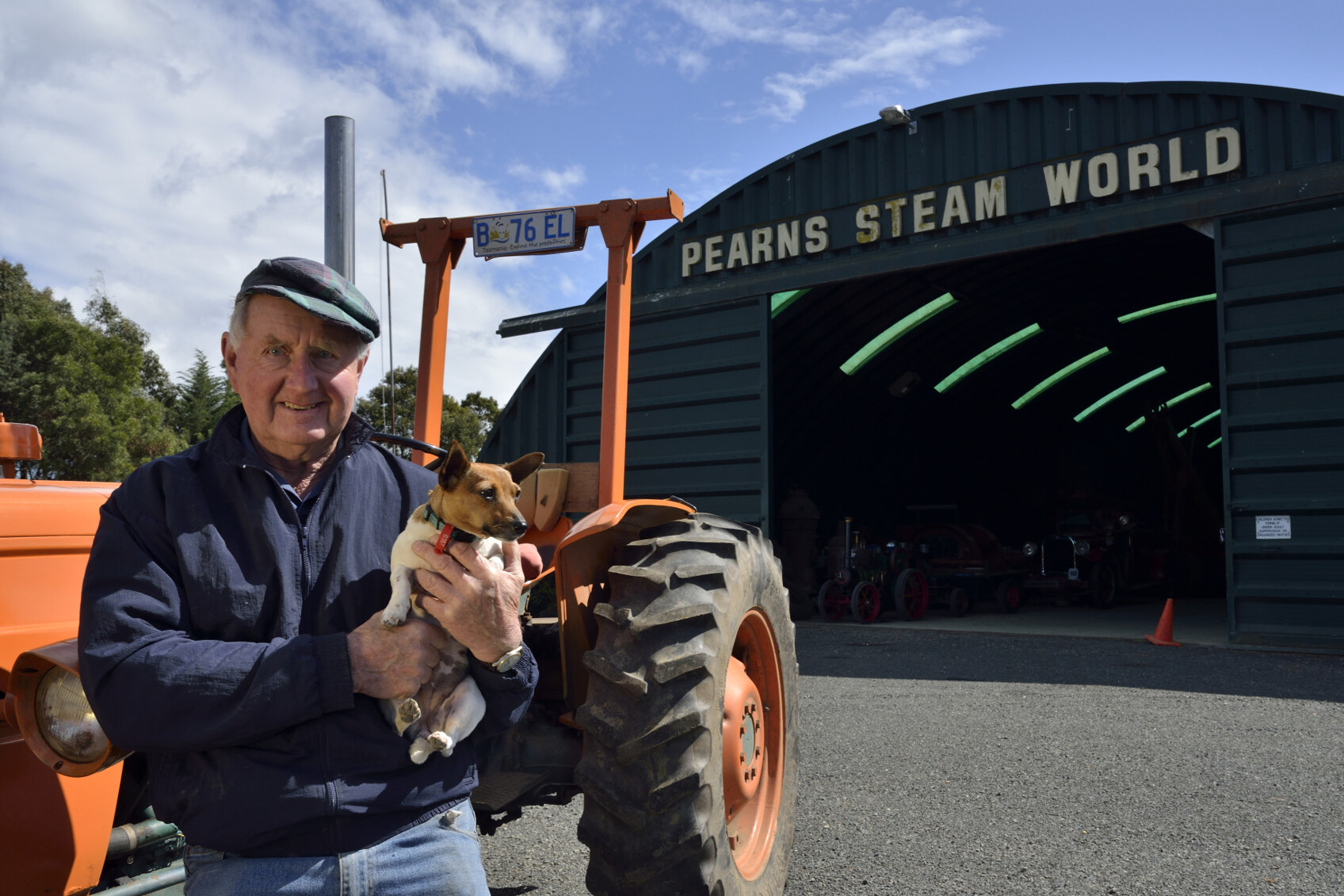 Pearns Steam World, in Meander Valley, Tasmania. Image credit: Chris Crerar
Local Amenities in Meander Valley, TAS
Meander Valley provides quality education and offers a variety of options to meet every child's needs. With day-care centres, Catholic and independent primary schools, and a secondary school, quality childrens' education is guaranteed without having to travel far from home.
Residents are very well supported by the medical infrastructure in Meander Valley. High quality mental and physical health is guaranteed at any one of the numerous healthcare clinics, Westbury Medical Centre being one of the main facilities in the region. From psychology to maternal health care, Meander Valley offers general and specialist services.
A range of different facilities for sport, recreation and events are in the region. Including many sporting grounds, performing arts centres, and public swimming pools. All help to create the strong community which Meander Valley, TAS is known for.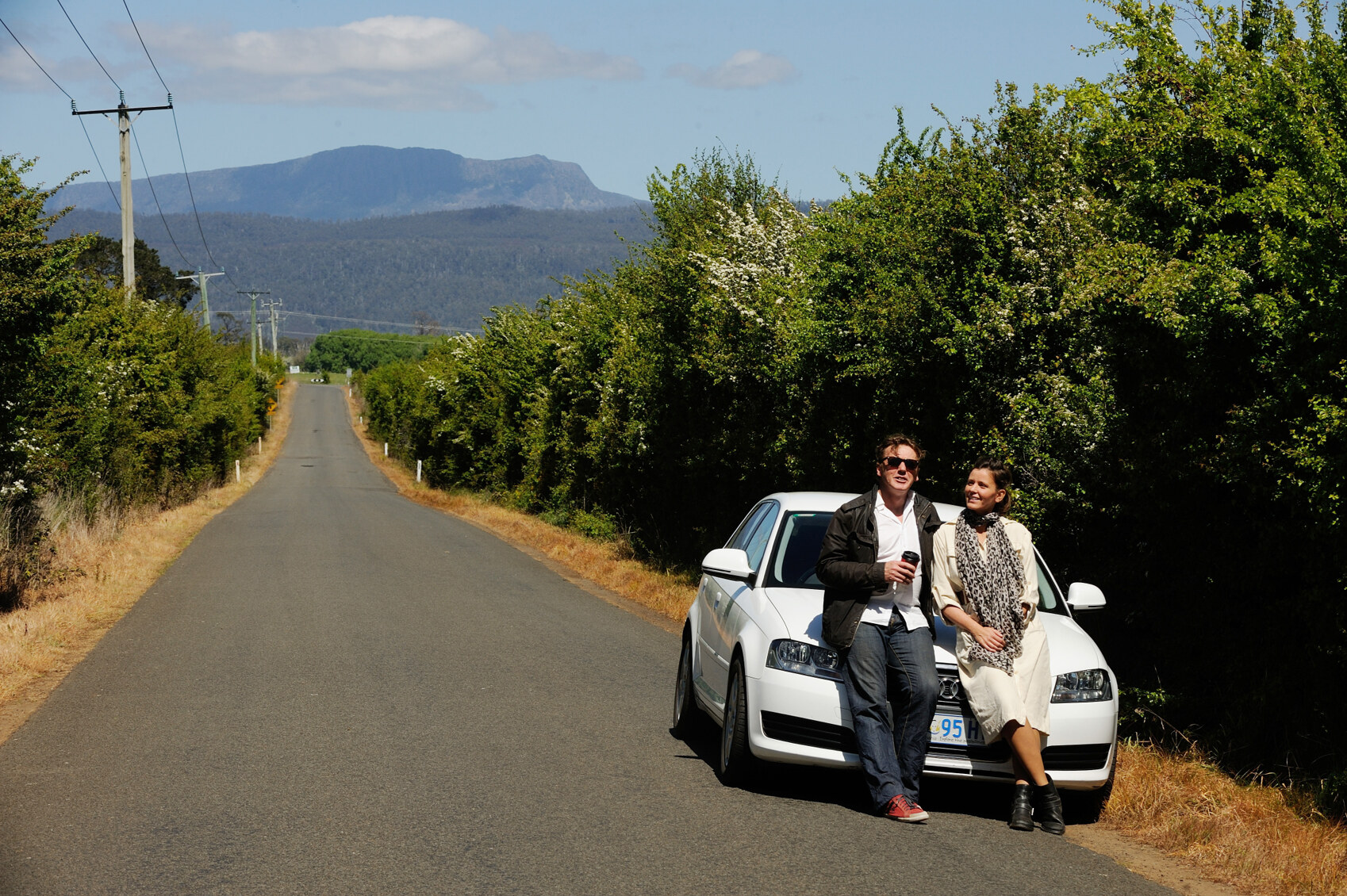 A couple touring the Meander Valley region in Northern Tasmania. Image credit: Chris Crerar
---
Further Information
If you're interested in visiting or relocating to the Meander Valley region find more information on Meander Valley's council website, or contact them at mail@mvc.tas.gov.au or (03) 6393 5300.
---
Real Estate for Sale in Meander Valley, TAS
Your dream home is waiting for you in the stunning Meander Valley, TAS. Find Real Estate for Sale below.
---