Come on up to Upper Hunter Shire, the Horse Capital of Australia!
Located north-west of Newcastle and south of Tamworth, NSW's Upper Hunter Shire is a paradise for outdoor enthusiasts (including those who enjoy wine tasting at local vineyards.)
In the north of the region is the Upper Hunter Shire. The shire encompasses the towns of Scone, Merriwa, Murrurundi and Aberdeen, as well as many historic, charming villages and extraordinary national parks. The whole region has an active equine culture: Scone is renowned for its quality horse studs and Merriwa is the birthplace of the Pony Club.

Horses on parade at the Scone Horse Festival
An agricultural hub
Agricultural industries are the major employers in the Upper Hunter Shire region. The Merriwa district in the west was originally known for its quality wool and fat lambs, but broad acre grain production and beef cattle have also grown in recent years.
The agricultural industry doesn't just include on-farm production; it is supplemented by farming contractors, agricultural supply businesses, transport, and local manufacturing.
The region has a temperate climate that is conducive to agriculture, with an annual rainfall of about 600-800 mm.
Activities and festivities in the Upper Hunter Shire
The Upper Hunter Shire plays host to a number of cultural events and festivals that provide quality entertainment for the whole family.
The Merriwa Festival of the Fleeces, held on the June long weekend each year, celebrates the region's rich agricultural history. The highlight is the iconic 'running of the sheep', complete with their red socks.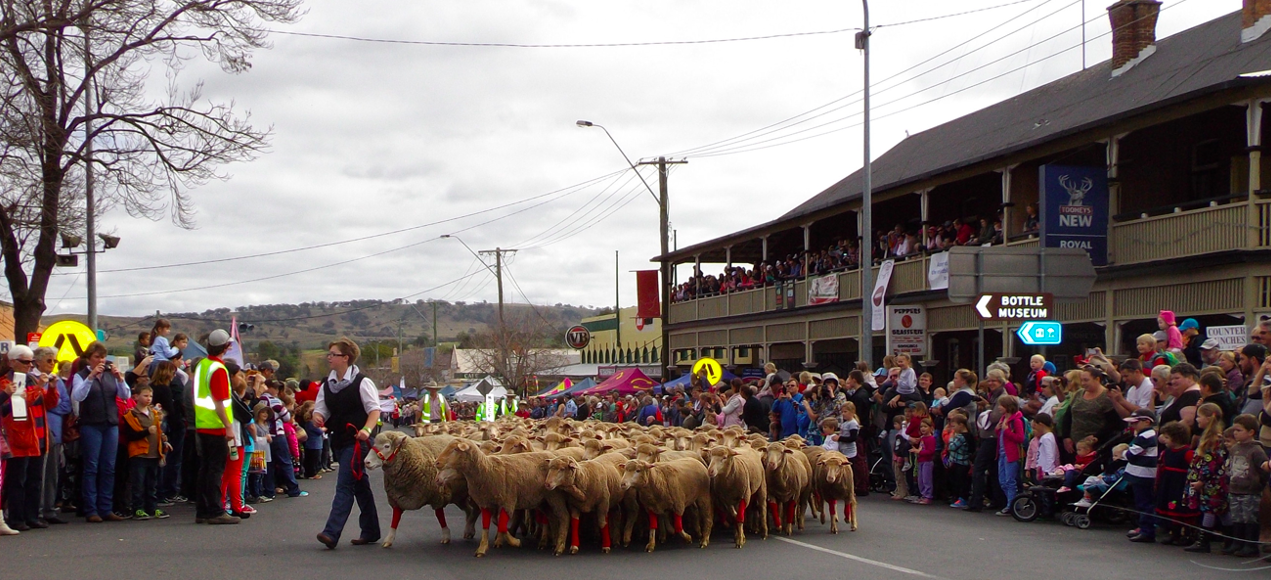 Merriwa's annual Festival of the Fleeces
The annual Scone Horse Festival is also not to be missed! The festival pays homage to all horse breeds, from Thoroughbreds to Australian Stock Horses and draught horses, along with the men and women who dedicate their lives to these animals. It features events such as a street parade, charity rodeo, sheep dog trials, and all manner of equestrian competitions, from polo to a 2-day racing carnival. The grand finale is a family picnic on Lake Glenbawn, complete with fireworks.
For those who are all about the finer things in life, a visit to the Upper Hunter Shire's magnificent wineries is in order. The localities of Denman, Jerrys Plains and Merriwa all feature wonderful cellar doors where you can stop for a delicious meal and a glass (or more) of local wine.
Adventure in the Upper Hunter Shire
You're spoiled for choice when it comes to exploring the outdoors in the Upper Hunter Shire New South Wales.
Battery Rock, a collection of spectacular volcanic basalt rock formations estimated to be around 35 million years old, is only a short drive from Merriwa. This formation is both aesthetically and geologically fascinating, and it makes a great place for a picnic.
When you're in Scone, you can't pass up a visit to Lake Glenbawn, just 15 minutes away. The lake boasts pristine water and some of the best freshwater fishing in NSW, and is surrounded by picturesque green hills that are home to plenty of wildlife.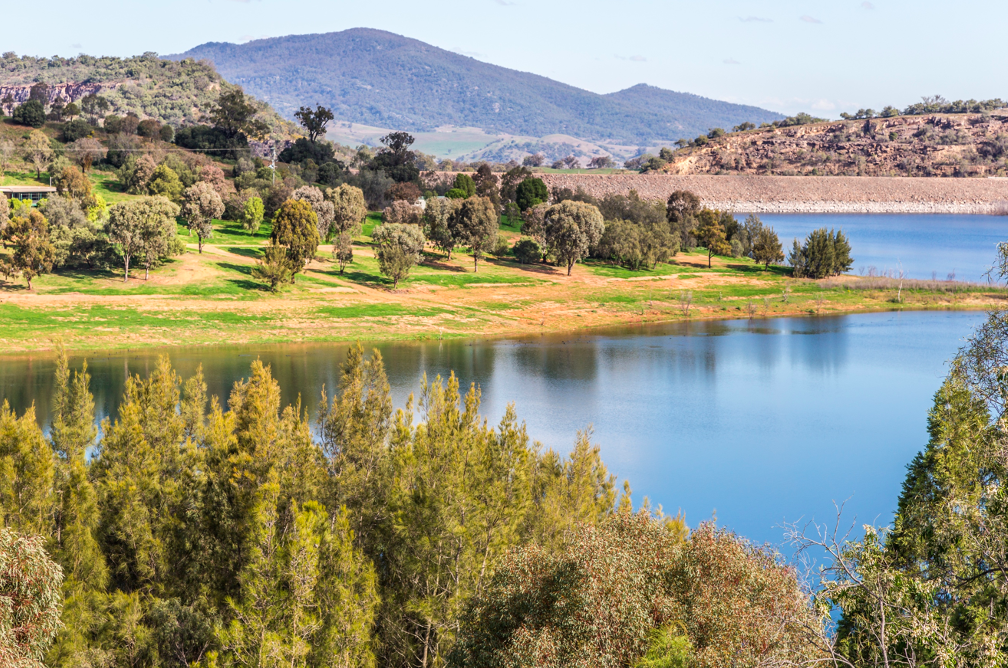 The beautiful Lake Glenbawn in Upper Hunter Shire New South Wales
For further information:
Whether you're a passionate equestrian, an avid outdoor adventurer, a knowledgeable farmer or a wine connoisseur, the Upper Hunter Shire has something for everyone, so come on up!
If you're considering a move to the Upper Hunter Shire, or just want to learn more about life in this part of rural NSW, you should check out the council's website here.
You can also contact the Merriwa Visitor Information Centre by phone at 6521 7046 or by email at merriwavic@upperhunter.nsw.gov.au.
Be sure to have a look at some of our favourite farms for sale in and around Upper Hunter Shire below, too!
Author: David Gatwood is the Manager of Business Services for Upper Hunter Shire Council.
Cover image credit and copyright to Upper Hunter Shire Council
---