Narrandera New South Wales- find your home on the banks of the Murumbidgee
Adjacent to the Sturt and Newell Highways lies Narrandera New South Wales. Bordering rich agricultural land to the east and the Murrumbidgee Irrigation Area to the west, the Shire is uniquely situated in the Riverina region.
Narrandera is also positioned between Sydney and Melbourne as well as Wagga Wagga and Griffith, keeping its residents in proximity to multiple urban centres. This allows them to enjoy the very best of country life without having to be far from great urban services, facilities, and opportunities.
The Shire is home to almost 6,000 people, and the Narrandera township is the commercial and administrative heart of the area. Combining a gorgeous natural environment, agricultural productivity, and historical richness, Narrandera New South Wales is the ideal home for many.
Agriculture in Narrandera New South Wales
Known for its temperate climate, the Shire boasts warm summers and cooler winters, with an average annual rainfall of 462 mm. Agricultural activity in Narrandera New South Wales is therefore dominated by dryland, broad acre farming.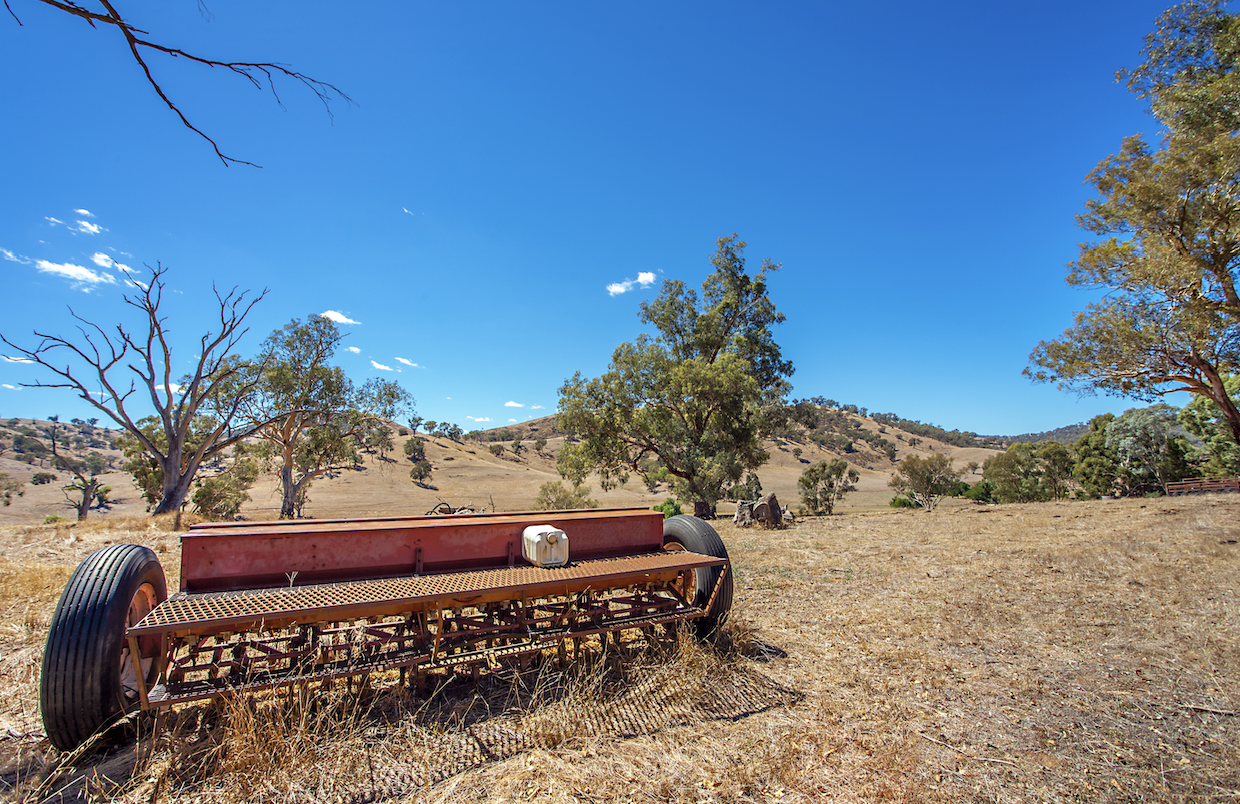 Farming country in Narrandera New South Wales
Most agricultural activity is done by crop farmers, who grow grains, legumes, and oilseeds. However, horticulture and apiculture are also present in Narrandera, with a number of honey and orange farms in the area. In addition, the region is home to numerous cattle and sheep farmers, with wool and meat produced at high levels.
Approximately 24% of the workforce in Narrandera NSW works in agriculture, and almost 89% of its land is devoted to agricultural production, making this sector central to the economic health of the region.
Local culture and activities
The Narrandera Shire is known for its rich local history and culture, and a great place to start exploring it is at the Visitor Information Centre. In addition to getting information about what there is to see and do locally, you can also see the Big Playable Guitar, a famous local landmark from the 1980s that is sure to bring a smile to your face.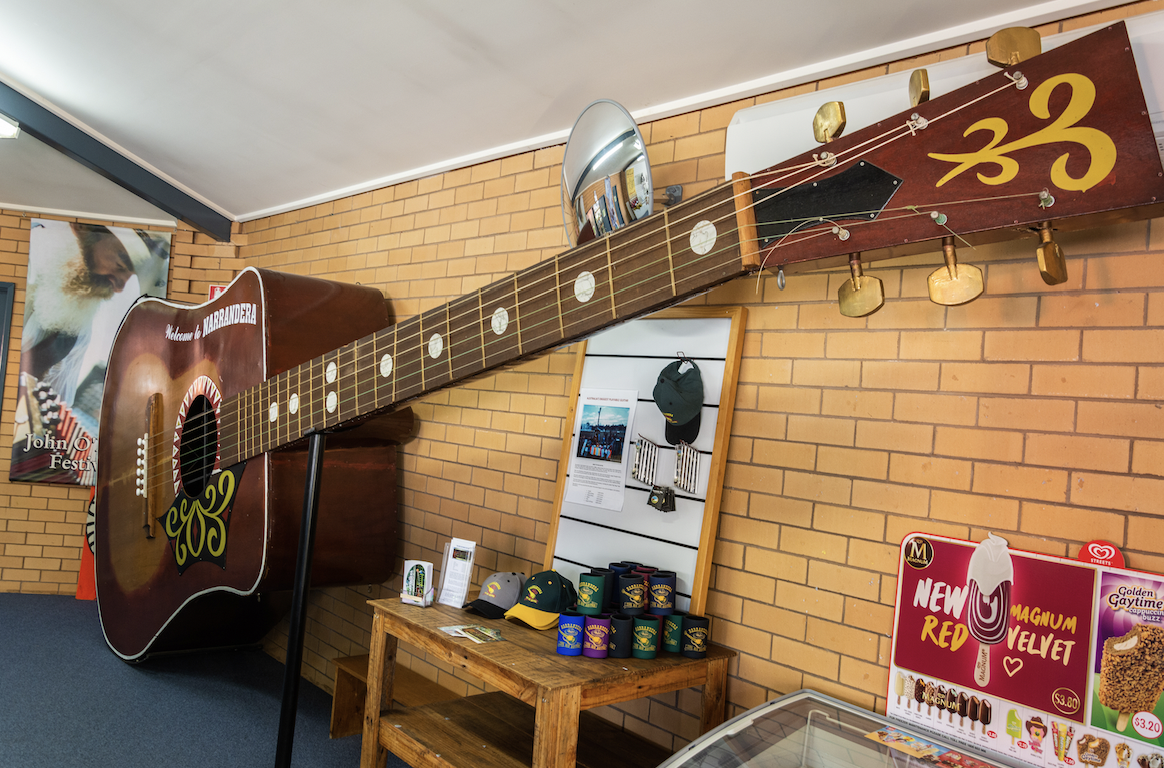 The Big Playable Guitar at the Narrandera Visitor Information Centre
There are a number of things you can see in the Narrandera New South Wales region that are difficult to find anywhere else. These include the Heritage Railway Bridge, which is one of several rare iron lattice bridges installed across New South Wales in the 1880s, and the Memorial Gardens, which is home to one of the two ceramic Royal Doulton Fountains built in the world.
Culturally, visitors and locals alike can enjoy the award-winning water tower artwork scattered across town. A stunning visual collection of landmarks, each tower is designed to reflect a part of the local environment – featuring lizards, koalas, and the Murrumbidgee River – and local history.
For history buffs, Narrandrera NSW also boasts a number of historical buildings, some dating back to the late 1800s and early 1900s. Visitors can admire the architecture of St. John's Uniting Church or even stay at the Historic Star Lodge, which is heritage-listed by the National Trust of Australia.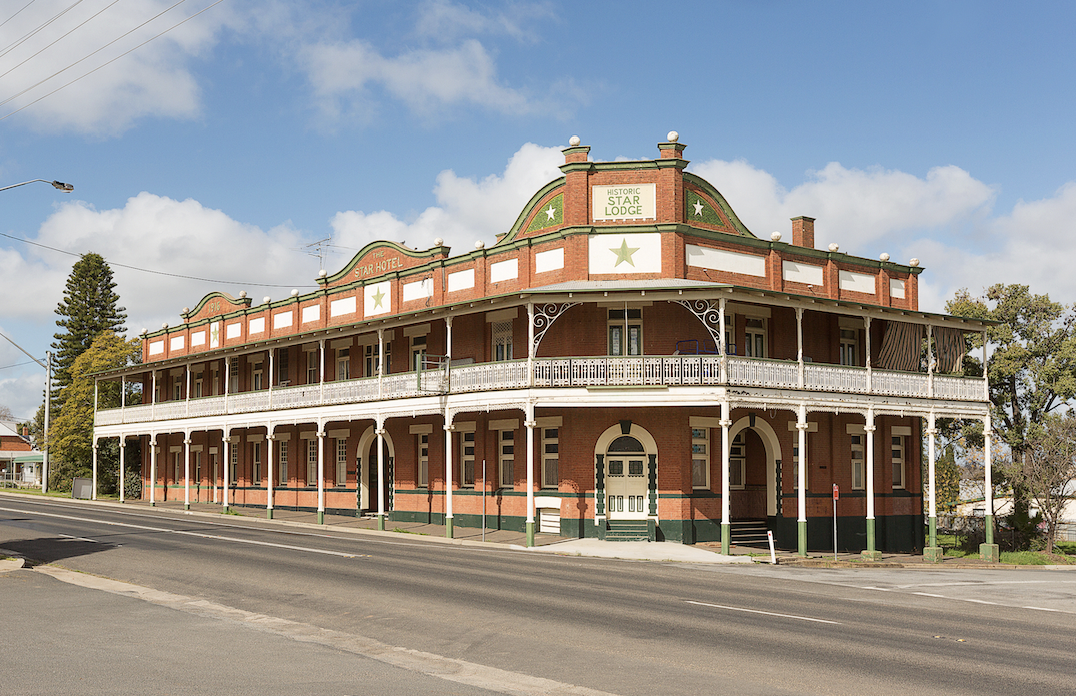 Narrandera New South Wales's Historic Star Lodge
Narrandera is also home to the Sandhills Artefacts art gallery, which displays and sells hand-crafted Aboriginal items such as didgeridoos, boomerangs, and coolamons. Interested visitors can take a tour of the traditional land with Michael Lyons, a Wiradjuri nation man, who offers insight into the historical and cultural background of the region and its Aboriginal population.
Outdoor activities in the region include visiting the Narrandera Nature Reserve and the Regeneration Reserve near the Murrumbidgee River, which is home to upward of 200 healthy koalas. Nature lovers can rest assured that koala sightings also occur upstream and downstream of the reserve and across the region, too.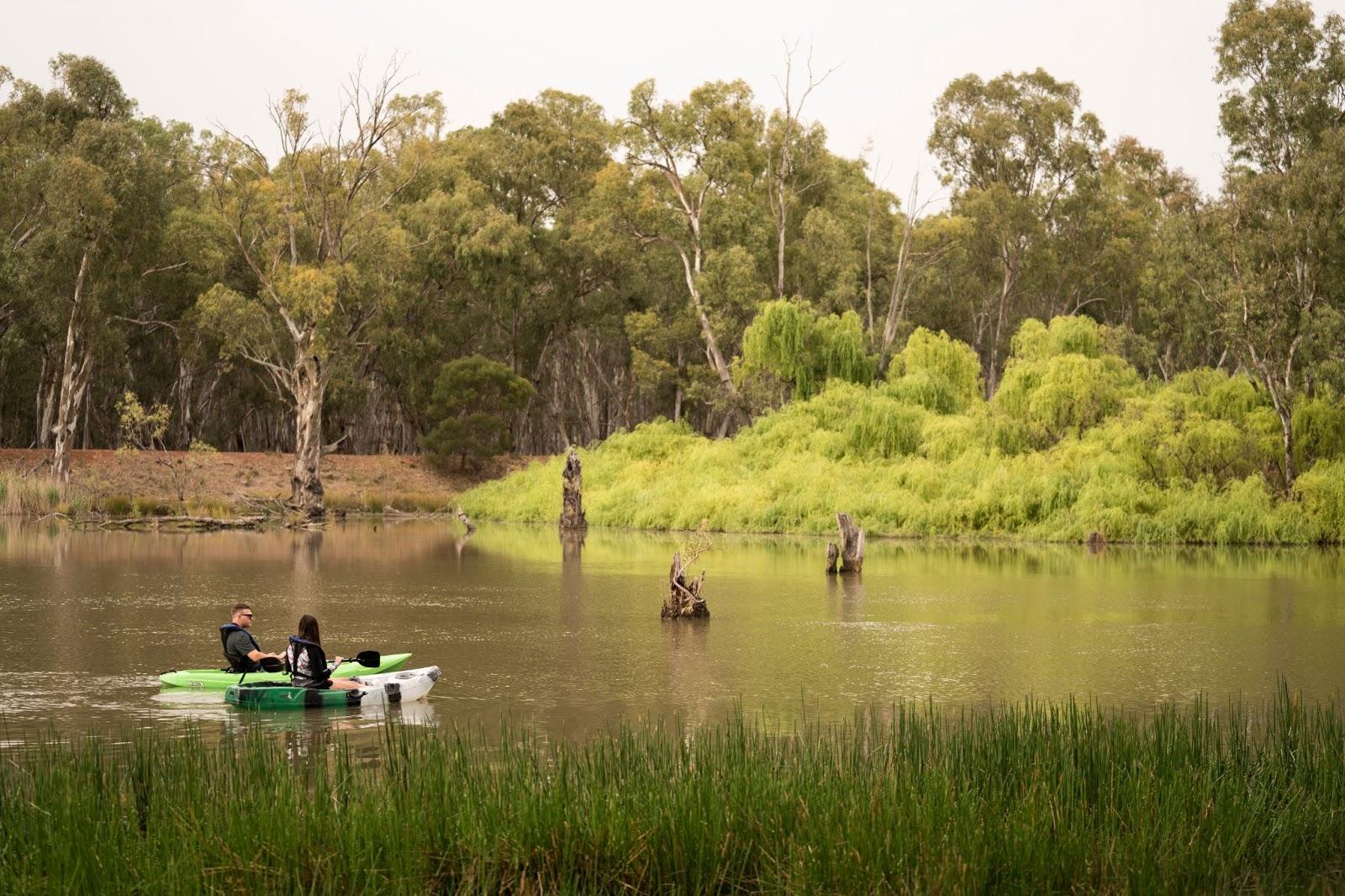 Canoeing at Rocky Waterhole in Narrandera NSW
Local amenities in Narrandera New South Wales
Residents can take comfort in the excellent medical infrastructure that Narrandera and the surrounding region have to offer. A range of medical and health facilities is available in the area, including three hospitals – Narrandera Hospital, Wagga Wagga Base Hospital, Calvary Riverina Hospital – and other dental, nursing, and surgical centres.
Narrandera New South Wales also offers a wealth of choice for education. There are a number of early childhood services, three preschools, two primary schools, three high schools, and four universities/TAFE institutions. With so many options, the education of every member of the family is provided for in Narrandera from beginning to end.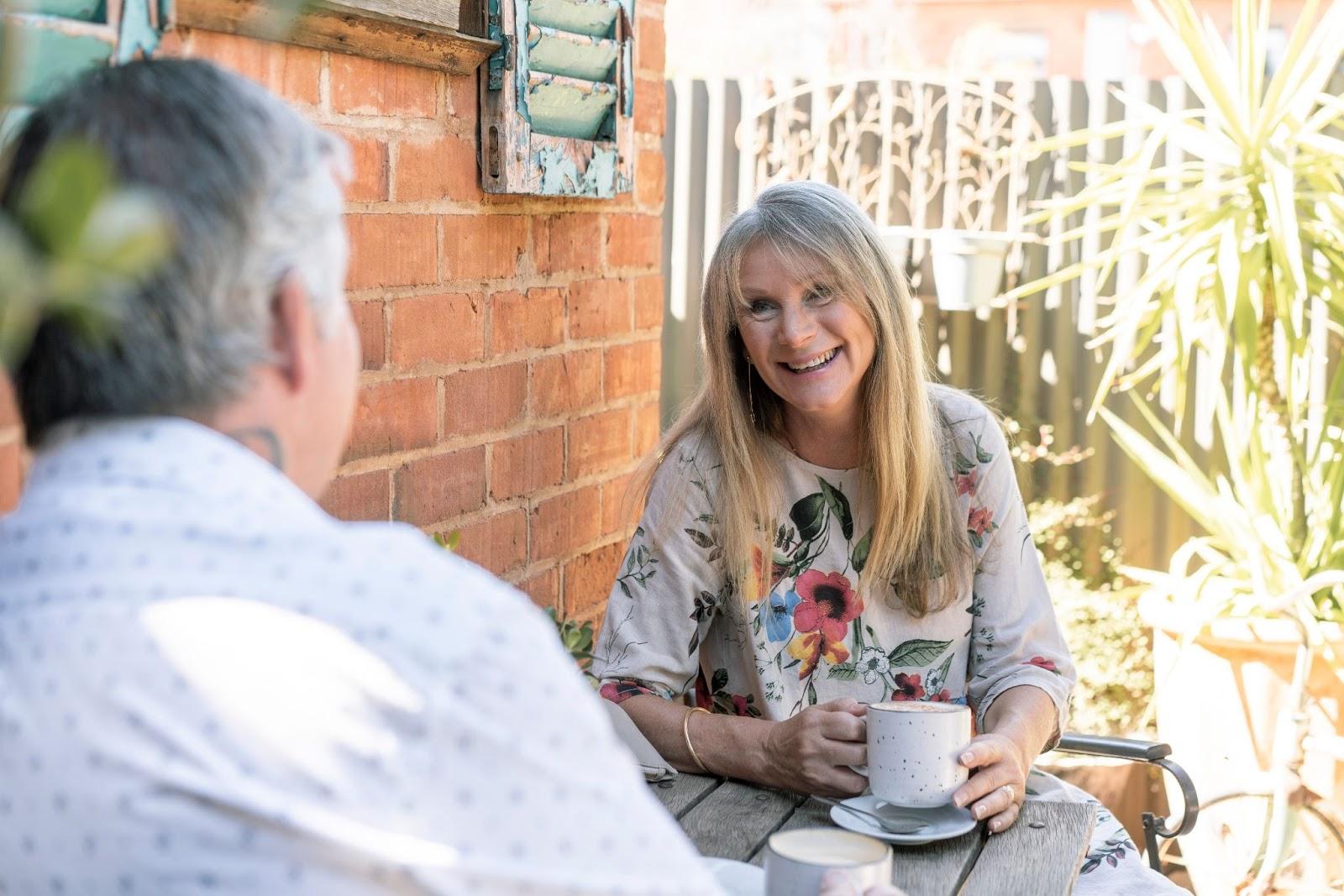 After dropping the kids off at school, there are many cafés in Narrandera New South Wales where Mum and Dad can kick back and relax, including this one: the Red Door Café
Sporting and recreational facilities like the Marie Bashir Park, the Lake Talbot Water Park, and the many sport clubs operating out of these centres, help make Narrandera Shire a healthy and active community. Tennis, golf, bowling, netball – if you can name it, you can play it. Narrandera truly has something for everyone.
For further information
If you want to know more about living in Narrandera New South Wales, visit www.narrandera.nsw.gov.au. You can also contact the Shire Council by email at council@narrandera.nsw.gov.au or by phone on 02 6959 5510.