Explore life in Streaky Bay
Situated on the west coast of the Eyre Peninsula, breathtaking Streaky Bay is one of South Australia's emerging regions. Streaky Bay is an enticing mosaic of pristine natural wonders, endless sandy beaches, countless fishing spots, spectacular coastline, fine cafes and pop-up food vans.
The Whyalla and Eyre Peninsula region is an area of great natural beauty, with landscapes that range from largely untouched native scrubland and farming country to cliffs and extensive surf beaches. The inland areas of the district are largely dominated by pastoral country dotted with original salt lake environments where wildlife still abounds.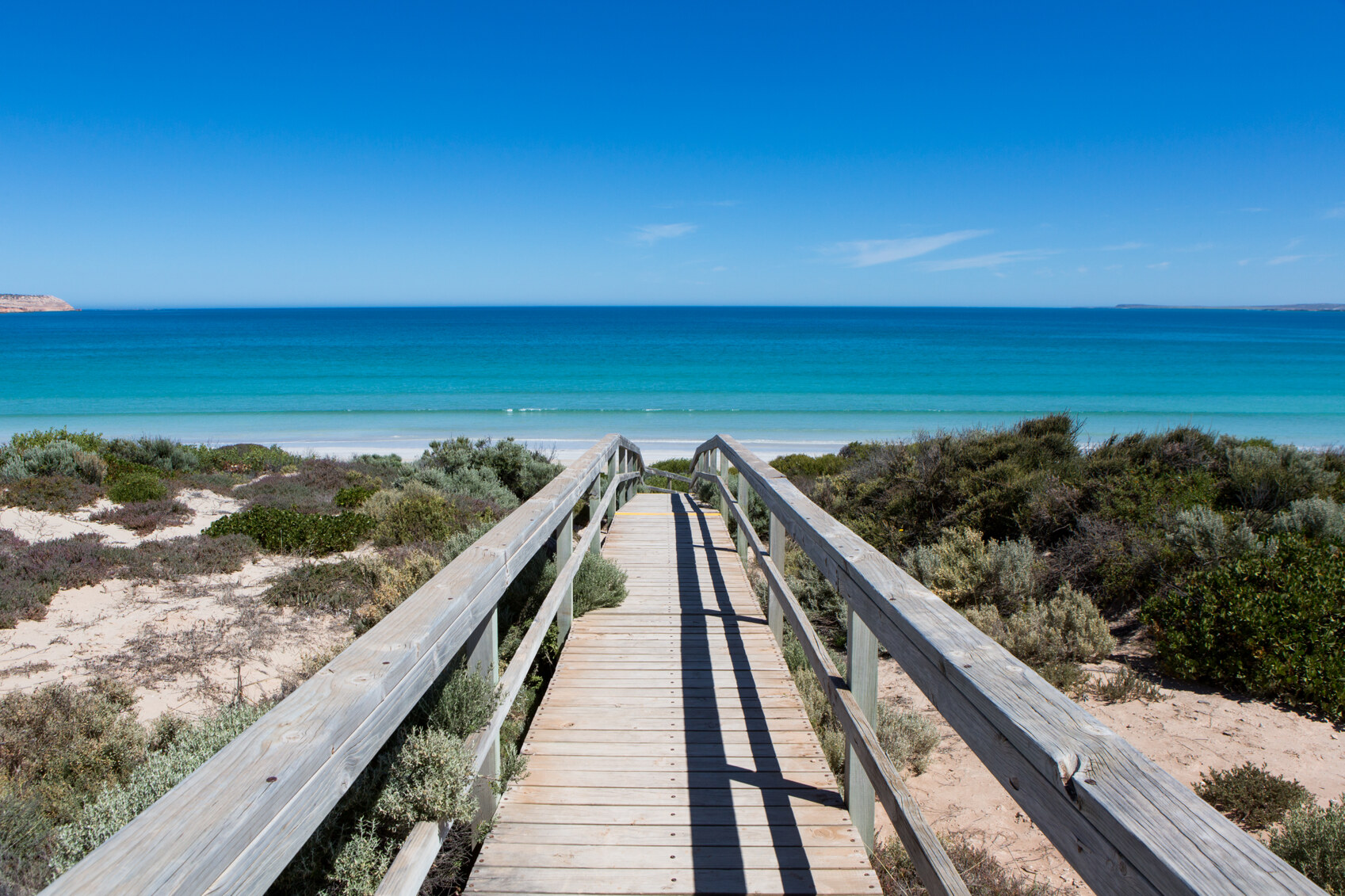 Boardwalk leading to the beach. Image credit Streaky Bay District Council.
With more than 360km of the most spectacular coastline on the Great Australian Bight cradling over 6000 square kilometres of agricultural land, the Streaky Bay region offers great country living, both coastal and inland.
Agriculture and aquaculture in Streaky Bay, SA
The region has traditionally supported a strong agricultural economy, centred on sheep and crops such as wheat, barley and other cereals. Streaky Bay's economy is dominated by the agricultural sector, which is carried out in arid and semi arid conditions with dry land farming techniques being successfully applied. Agriculture is the second largest industry in the wider region, and activity on the Eyre Peninsula accounts for approximately 40% of South Australia's total agriculture production.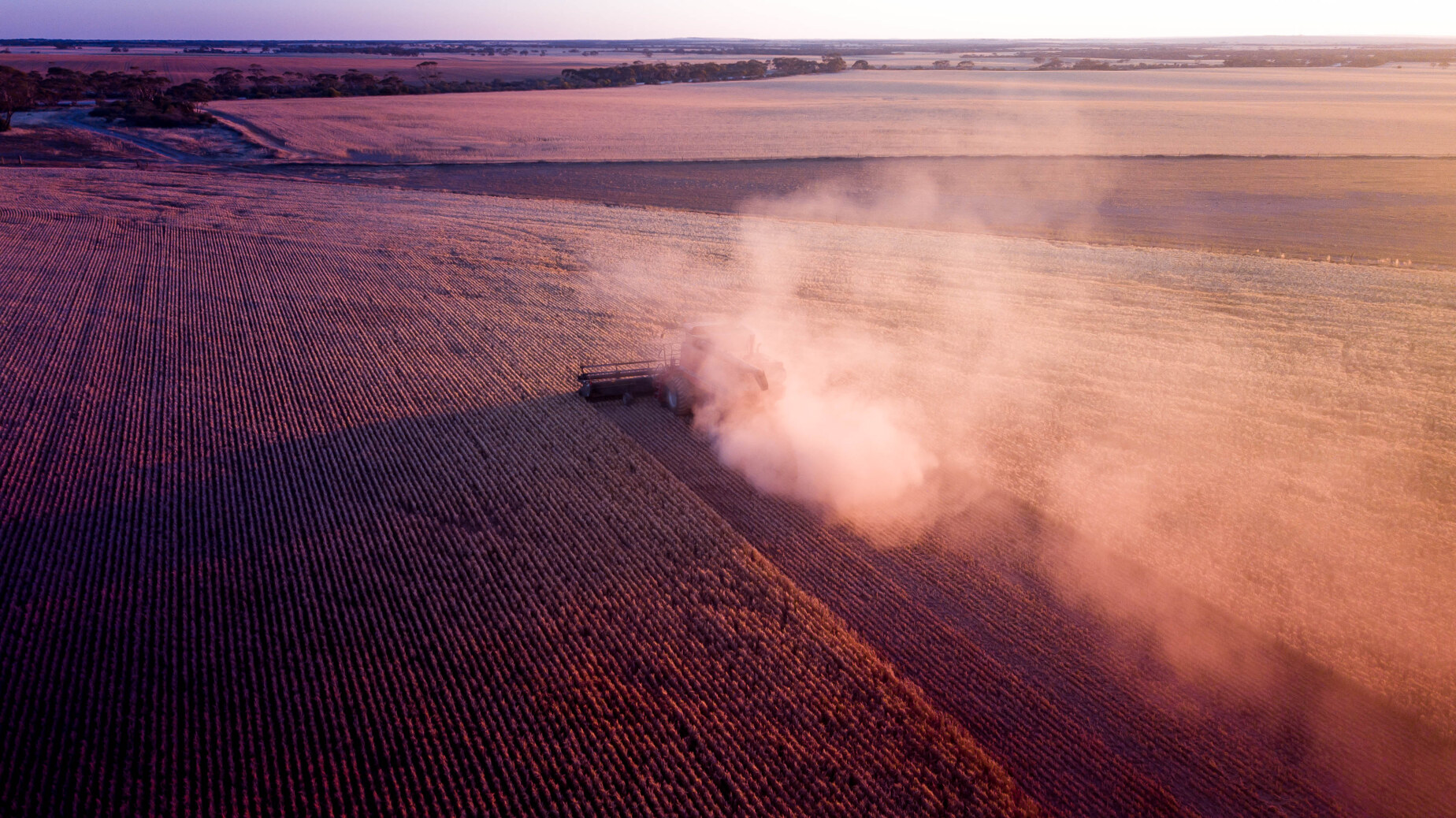 Crops being harvested in inland Streaky Bay. Image credit Bec Brace.
Streaky Bay now has a growing reputation as a seafood and aquaculture centre. The region is an important element of the industry in South Australia. The wider region accounts for approximately 80% of South Australia's seafood produce and is highly export focused. Industry sectors of significance include King George whiting, shark fishing, southern rock lobster, wild abalone and oysters.
Streaky Bay is also hugely popular with amateur anglers, which ties into the region's other employer of significance - tourism. The District Council of Streaky Bay has a strong focus on tourism development, with a focus on effective and sustainable tourism, support for tourism development and growing partnerships and collaborations with local stakeholders.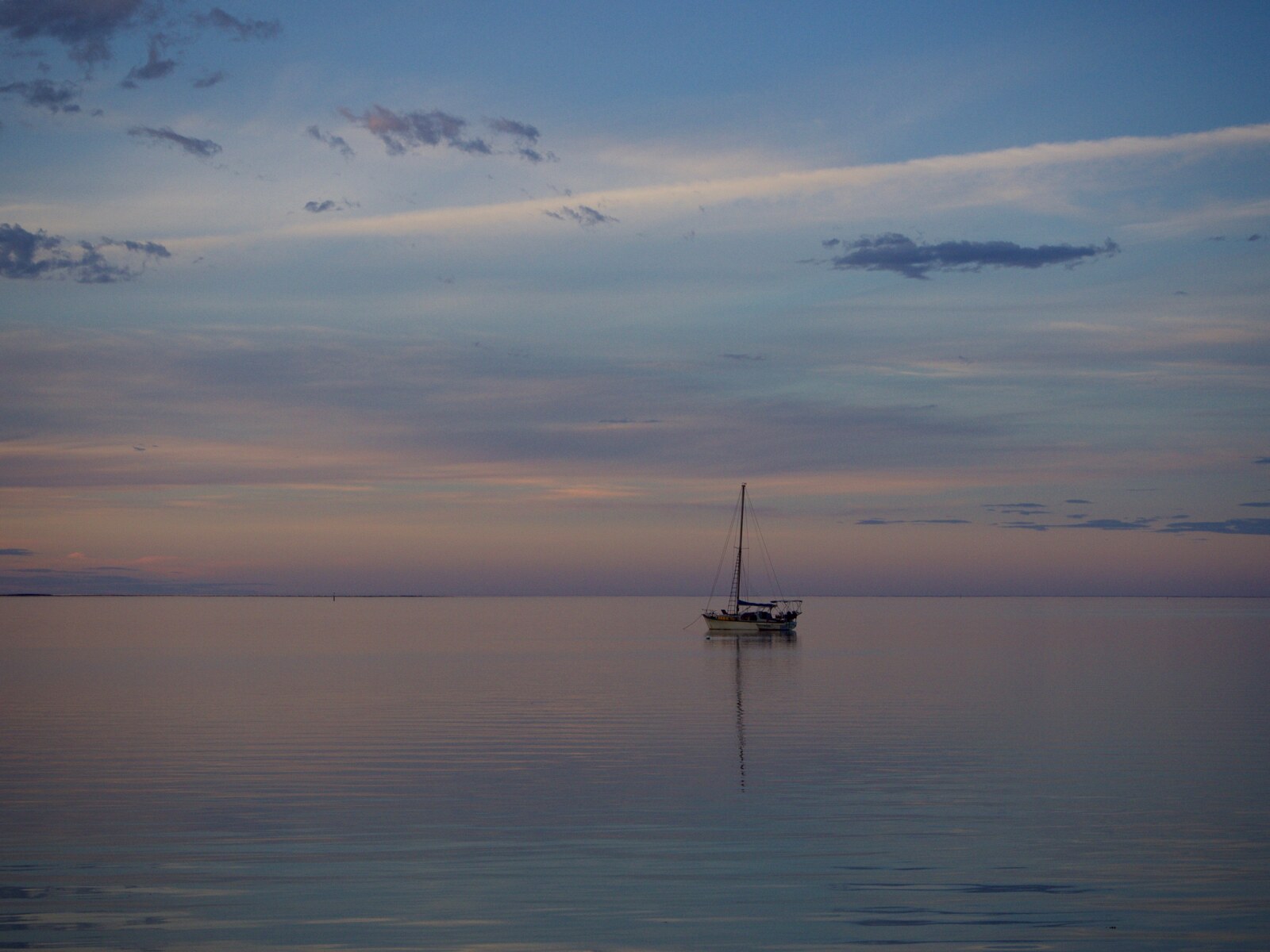 A fishing boat at anchor in Streaky Bay. Image credit Bel Marwe.
Where to live in Streaky Bay, SA
The first question you need to ask yourself is outback or beach. The local population tends to cluster along the coastline, which is where you'll find most of the region's towns. If you're looking for greater seclusion, there are still plenty of inland options.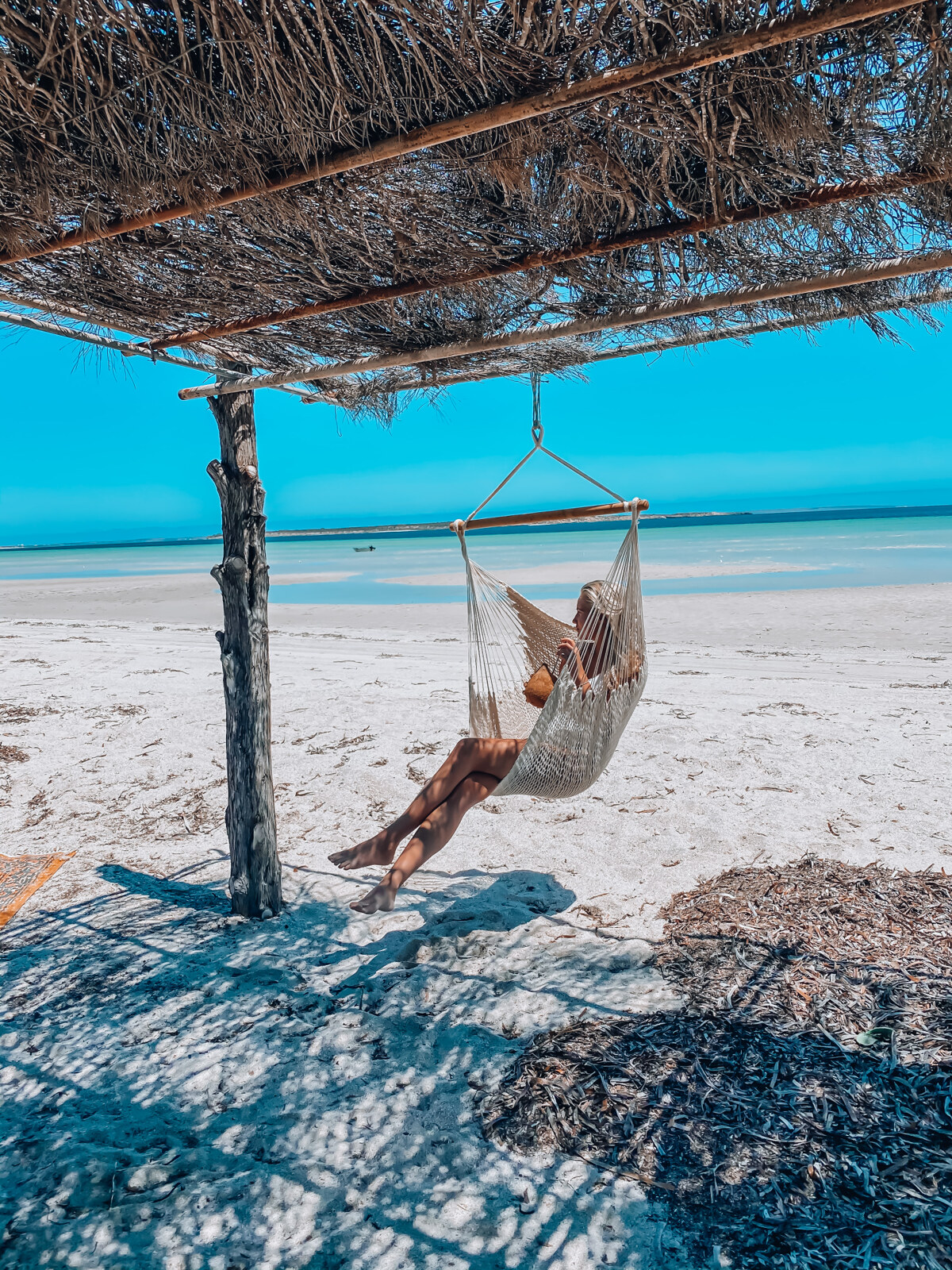 Choose the coast for that holiday at home vibe. Image credit Charlotte Linke.
If you're looking to settle near a gorgeous beach, you're spoilt for choice. The township of Streaky Bay is the largest settlement in the region, but there are plenty of smaller towns and settlements worth checking out. Have a look at Wirrulla, Poochera, Haslam, Sceale Bay, Baird Bay, Eba Anchorage and Perlubie Landing. The region is proud of its community of warm and friendly locals and every location has its own charm, so search out the atmosphere that works best for you.
Health, education and facilities
The Streaky Bay region falls under the Eyre and Far North Local Health Network, which means residents have access to a wider range of health services than are available in the immediate locality. There is access to a 24hr emergency service at Streaky Bay Hospital, which also offers a number of acute care and aged care beds. There is also a community owned GP practice, Streaky Bay and Districts Medical Clinic, that provides the region with a comprehensive GP service.
There are two schools that form the core of the educational opportunities in Streaky Bay District. Streaky Bay Area School and Miltaburra Area School both offer classes and pastoral care for students from Preschool or Reception to Year 12. Streaky Bay Area School is the larger of the two schools, with over 250 students. Miltaburra has around 65 students.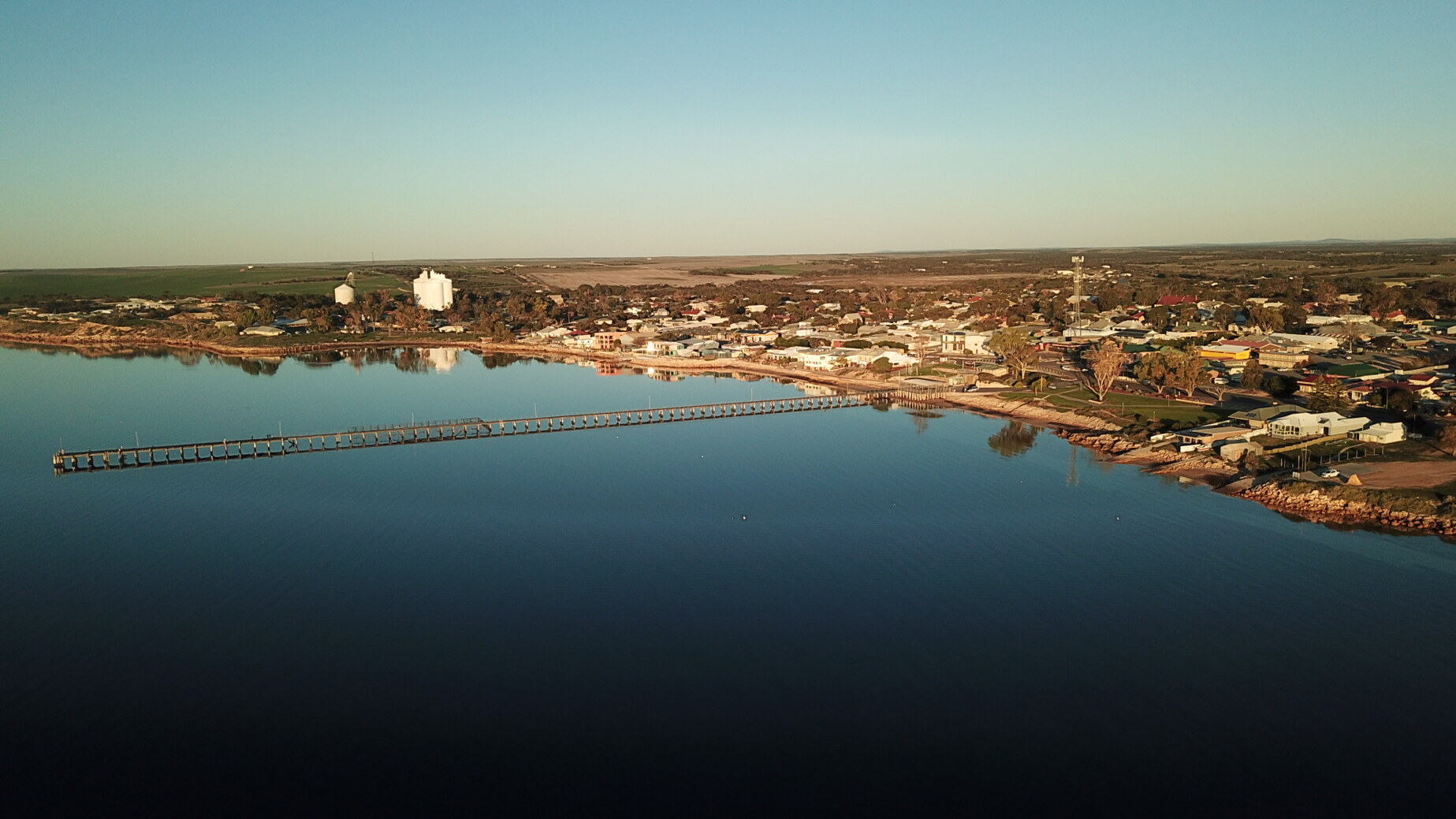 Streaky Bay looking beautiful in the golden afternoon light. Image credit Wayne Daniel.
Streaky Bay is the business hub and service centre of the district, with excellent facilities for shopping, an airport, a community library and jetty pool. Food is a highlight in Streaky Bay and there's plenty of local fresh produce available from the fish shop, bakery and, in the summer months, pop up food vans serving fish fresh from the ocean. Enjoy local delicacies like oysters, abalone and wine from the Eyre Peninsula. Boat ramps are a big part of life in a fisher's paradise, and Streaky Bay District Council maintains several for public use.
Things to do in Streaky Bay, SA
Streaky Bay welcomes visitors from around the world, which is a bonus for locals, as the amenities introduced to cater to the tourist trade are designed to enhance everyday life in the region. Anglers come to Streaky Bay to catch the 'big one' and experience fishing at stunning locations around the coastline. Local catches include King George whiting, blue swimmer crab, snapper, salmon, flounder and squid.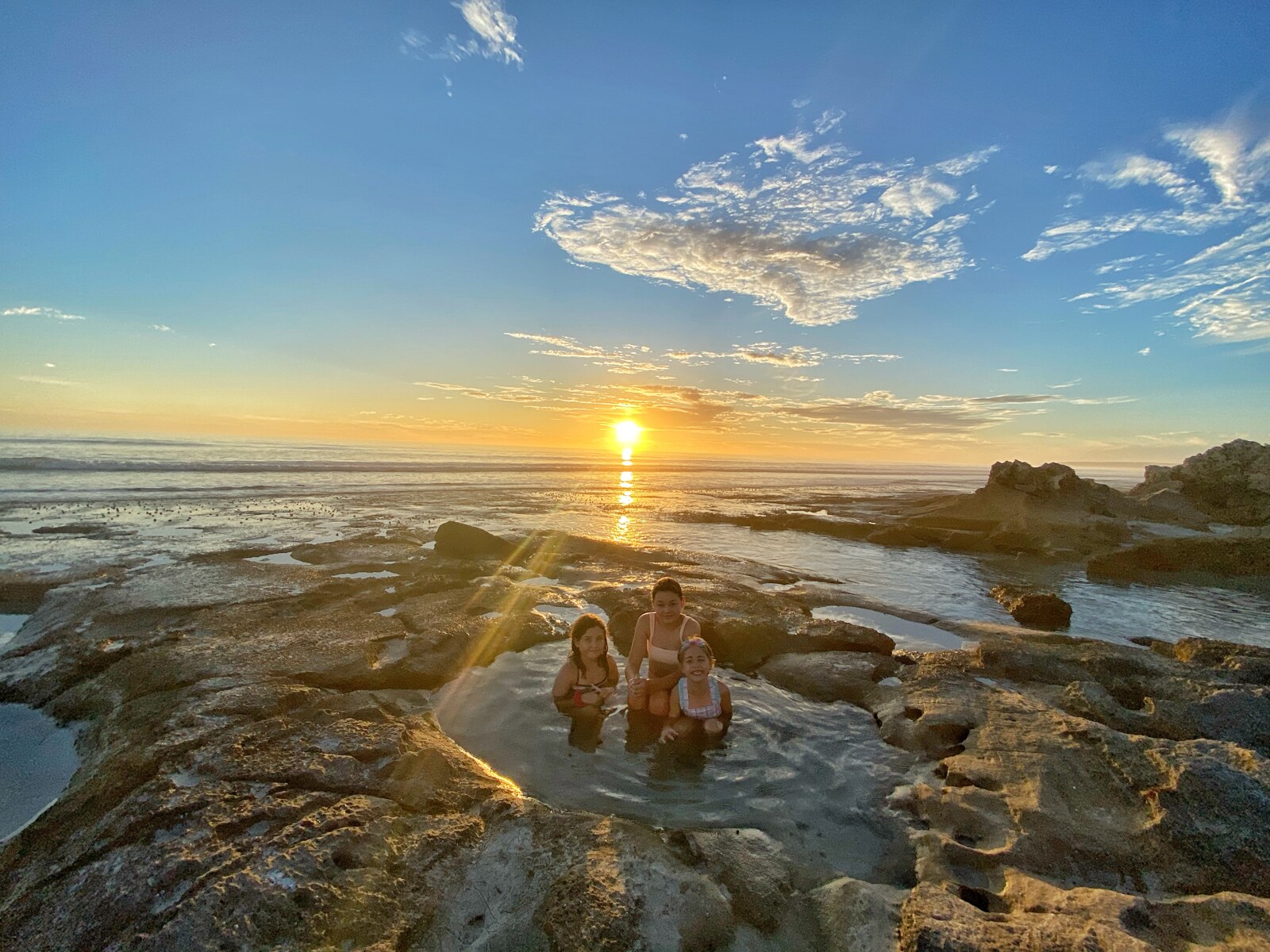 Taking a dip in one of the protected rockpools. Image credit Brooke Montgomerie.
Want to hit the beach all summer and stay active? Go for a swim at beautiful Tractor Beach then take a walk along the trail to Highcliffs, where sea stacks loom out of the Southern Ocean. Popular surf beach Granites boasts a lagoon-style rock pool, perfect for a sedate swim while you watch surfers catch a wave. Spend hours exploring rock pools or snorkelling around reefs at Smooth Pool. Check out Speeds Point and marvel at the massive surf bombie just off the coast, the location of Australia's very first big wave surf competition. Yanerbie is a perfect location for a BBQ lunch and a safe swimming beach. There are designated 4WD drive tracks along the coastline and into the sand dunes. Get in a spot of surf fishing at Hallys Beach or take in a breathtaking sunset at Murphy's Haystacks, a 1500-million-year-old geological wonder. There's literally a beach for everyone on the Streaky Bay coastline.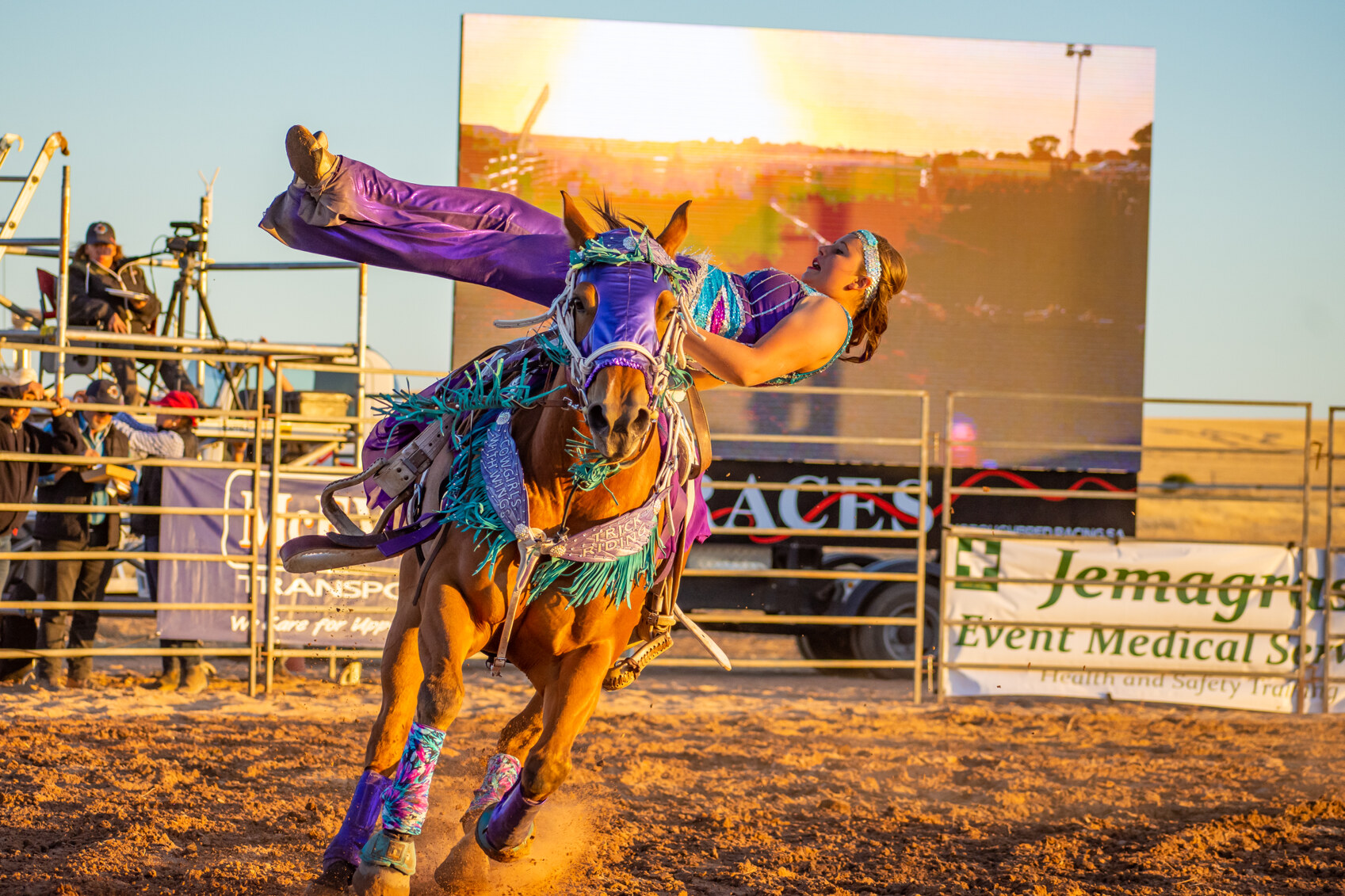 A rider showing her skills at Rodeo by the Sea. Image credit Bec Brace.
If you need a culture hit, there's the Streaky Bay National Trust Museum, the Poochera Museum and the Powerhouse Museum, with its collection of over 400 working engines. There are also local events spread throughout the year. Make sure you keep room in your calendar for the Perlubie Beach Sports Day, Family Fish Day, the Streaky Bay Races, Rodeo By The Sea, the New Year's Eve Festival and A Taste of Streaky Bay, an elegant long-table lunch right on the bay.
---
For further information
If you want to know more about living in the District of Streaky Bay, visit www.streakybay.sa.gov.au or contact the District Council at dcstreaky@streakybay.sa.gov.au or by phone on 08 8626 1001.
---
Real Estate for Sale in Streaky Bay, SA
Discover your new haven in the beautiful Streaky Bay, SA. Find Real Estate for Sale below.
---